The amazing adventures of the Coe family and everything you need to know to make the most of your visit to Glencoe, New Mexico
After a winning or losing at the horse races in Ruidoso Downs, you can drive 10 minutes east on Highway 70 to the tiny town of Glencoe, New Mexico to visit a few attractions where you can spend your winnings or cheer up after your losses. Before I say more about those attractions, let's first learn a bit more about this small, agricultural town of roughly 200 residents.
Table of Contents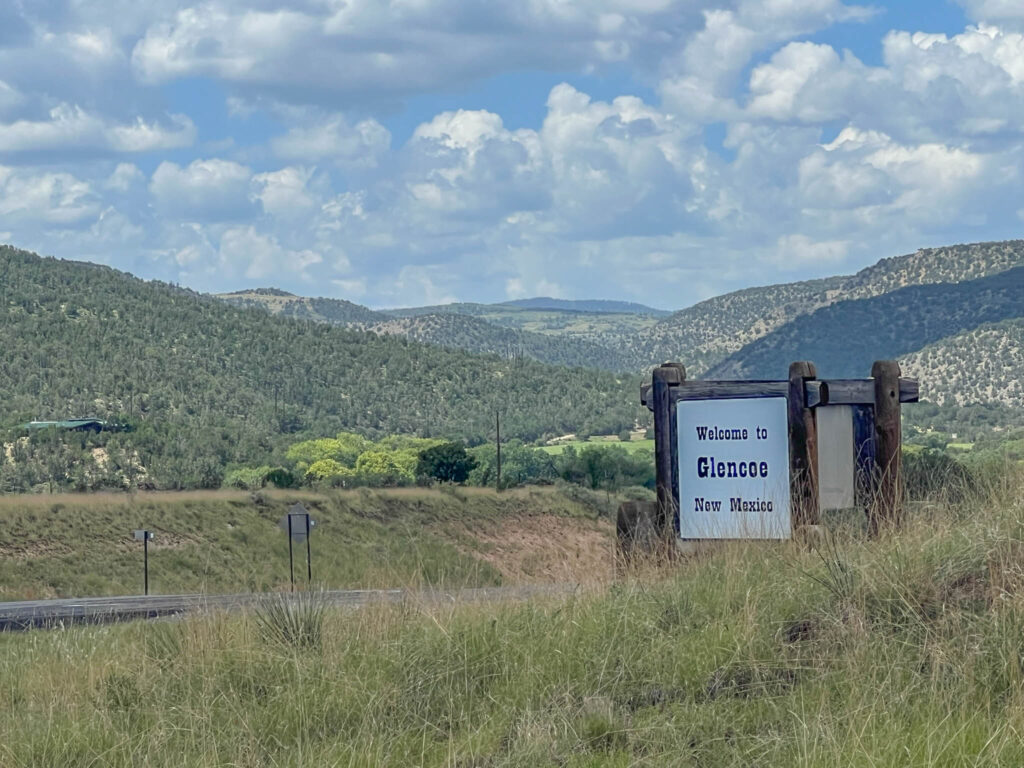 Brief History of Glencoe
If the name Glencoe conjures up images of rugged, green hills and foggy, damp weather in the Highlands of Scotland, you'd be right! There is a village called Glencoe in the Highlands of Scotland. Not that you care, but I was fortunate enough to pass through that town in Scotland the mid-1990s. But for this post, we're focusing on Glencoe, New Mexico, with semi-green hills and a dry climate. Glencoe, New Mexico even had a distillery for awhile but it closed during Covid.
The name Glencoe is derived from the word "glen", which means valley, and "Coe", which refers to a family name. So I suppose you can call it the valley of the Coe family or Coe Valley. This group of Coes originally lived in Iowa and Missouri. In the 1870s, some adventurous members of the family decided to emigrate to New Mexico. To make a long, but interesting, story short, they eventually homesteaded in a valley near present-day Ruidoso. Two of the early arrivals, George Coe and his cousin Frank Coe, ended up with a little more adventure than they perhaps bargained for when they left the Midwest. After all, they ended up becoming outlaws and hanging out with Billy the Kid on the losing side of the Lincoln County Wars. In addition to being ranchers, the early occupations of George Coe and Frank Coe are often listed as "Old West Cowboys and Gunmen", although I doubt that's what they put on their business cards.
After the Lincoln County War, George and Frank laid low in Nebraska and Colorado for awhile but they eventually made their way back to Glencoe. In 1884, George Coe was granted amnesty from New Mexico Governor Lew Wallace, paving the way for him to open his ranch and become a successful and respected member of the community. After building a school in the valley in the 1880s, the Coes wanted to have a post office setup in the valley, as the closest post office was twelve miles away in Fort Stanton. In their petition to the U.S. postal authorities, they sent in the name of "Glencoe" since they considered it to be a Coe community, and the name has stuck every since.
Like George, Frank Coe was also able to dodge a bullet, so to speak, and he was never charged for his alleged crimes. Instead, he ended up buying a ranch and spending 50 years together with his wife and their six children. Descendants of the Coe family still live in the area today.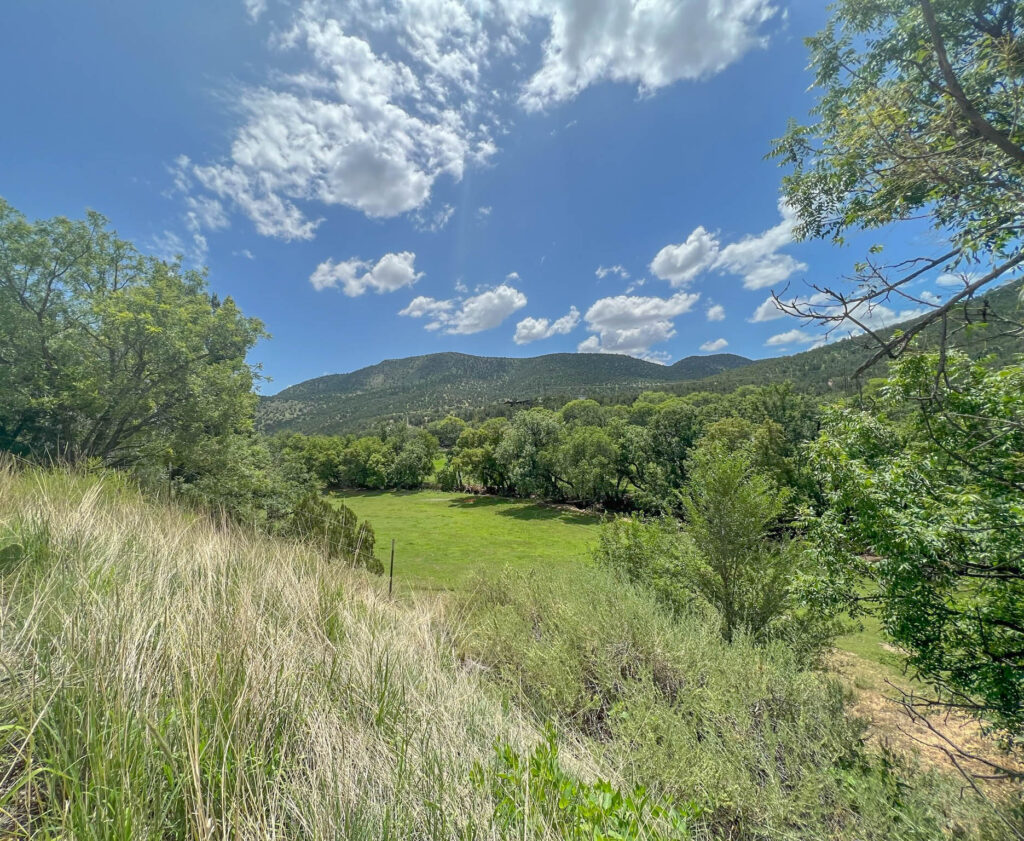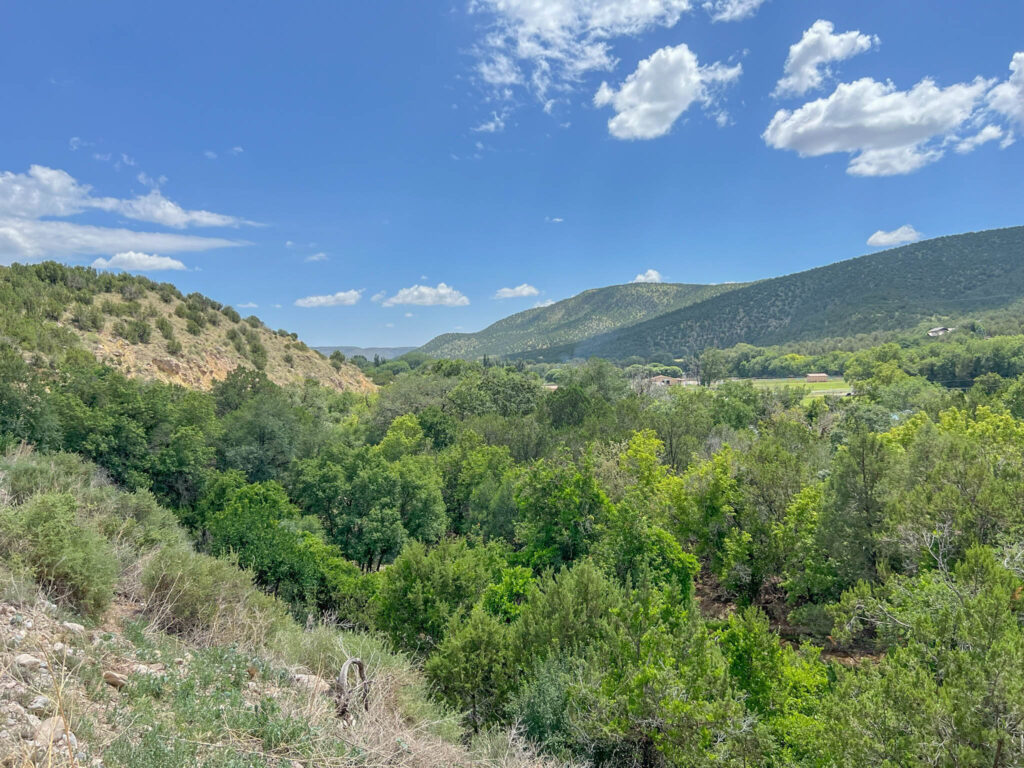 One famous resident of Glencoe who became part of the Coe family was Louise Holland Coe. Louise was born in Texas in 1896 and went on to complete a Bachelors degree in Education with a minor in Spanish from the University of New Mexico. She decided to teach in a one-room adobe grammar school that was located about two-miles away from her ranch home. Not only was it convenient, but it also gave her an opportunity to teach the children of her friends and neighbors. However, it was not an easy position for a new teacher. For starters, the students only spoke Spanish. In addition, there were only twenty desks for the forty-five students, and she was the only teacher at the school. But Louise embraced the challenge and taught at the school from 1916 to 1918. Eventually, Louise was able to consolidate the school with another one that was a few miles away. In 1919, Louise married rancher Wilbur Coe. If you're thinking that Louise got married and then settled down at home, you'd be wrong.
In 1920, women won the right to vote in New Mexico and in 1921, women were allowed to run for office. With Wilbur's support, Louise took advantage of that opportunity and was able to become New Mexico's first female senator in 1925, a role she held until 1941. During that time, Louise was also elected to become the first woman Senate president pro tempore in the nation. She held the pro tempore role from 1929 – 1941. Of course, I had no idea what it means to be a "pro tempore", so I looked it up. "Pro tempore", or "pro tem" for short, means "for the time being". In other words, the person in the pro tem role presides over the Senate in the absence of the Senate president and is therefore considered the second-highest ranking leadership position in the New Mexico Senate. Given that she held the pro tem role for 12 years, "for the time being" apparently doesn't apply to how long you can actually serve in that role. Perhaps the term "multo tempore" ("a long time") should be added to the title. Louise also chaired the Senate Education Committee, where she championed many education initiatives. After stepping down from politics in 1941, she returned to Glencoe while also spending time traveling the world.
Louise and Wilbur sound like an amazing couple and the larger Coe clan certainly has some interesting stories to tell. Fortunately, some of these stories are documented in books. Louise Holland Coe wrote two books: Lady and the Law Books (1981), and High Roads to Friendships (1984), both of which are hard to find. Her husband Wilbur Coe also wrote a book called Ranch On The Ruidoso, The Story Of A Pioneer Family In New Mexico 1871-1968, which is also not that easy to track down. Wilber's uncle, George Coe, started the trend by writing a book in 1934 called Frontier Fighter: The Autobiography of George W. Coe Who Fought and Rode with Billy the Kid (1934). That book is even tougher to find if you want a physical copy of the book. Thankfully, it's available on Kindle as an ebook for only $0.99! Needless to say, I bought the kindle book, which helped me with some of my research for this article. I was also able to buy a used copy of Wilbur's book, but I haven't had luck finding Louise's books yet.
Where to Stay in Glencoe
Believe it or not, there are places to stay in Glencoe. I spoke with one creative Airbnb owner who has set up seven rental options on his 38-acre property. One of his rentals is the Hippie Hotel Airbnb that includes 9 beds and 2 bathrooms in a remodeled mobile home. The Hippie Hotel is furnished with "hippie decor" that includes blacklights, 60's and 70's memorabilia, and 3D glasses to take full advantage of the visuals. Two other rental units have a golf theme, one with a golf simulator and another with an indoor putting green carpet. The rest of the rentals are glamping in renovated RVs. Campfires are only permitted when the fire risk is low. Renters also have access to board games, ping pong, cornhole, darts, an outdoor basketball court, and an 18-hole chip-and-pitch pasture golf course. There's even a hilltop gazebo that guests can use for weddings, reunions, and company parties. The entire 38-acres is "critter-fenced" to prevent wildlife from paying any unwanted visits and to contain the people-friendly dogs that roam and protect the property. No pets are allowed to avoid any issues with the host's dogs, although plans are in the works for pet-friendly glamping options in future.
Where to Eat in Glencoe
There aren't any restaurants or grocery stores in Glencoe, so you'll be heading to Ruidoso Downs, Capitan, or Tinnie if you'd like to eat out. The one exception is that the owner of the Hippie Hotel Airbnb will cook breakfast upon request.
Things to Do in Glencoe
There are tons of outdoor activities the Glencoe-Ruidoso area, such as hiking, horseback riding, skiing, golfing, and mountain biking. But if your plan is to hunker down indoors in the town of Glencoe, then you have a few different options to choose from.
St. Anne's Chapel
The first indoor option is very limited, as it's only open for a few hours, once a week. Built in 1934, and named after Frank Coe's mother-in-law, St. Anne's Chapel is a small Episcopal church that's listed on New Mexico's register of cultural properties. The building was designed by John Gaw Meem, a Brazilian-born architect who settled down in Santa Fe in 1920. John was originally a civil engineer in Virginia, New York, and Brazil. After getting diagnosed with tuberculosis, he decided to move to Santa Fe, New Mexico and check-in at the Sunmount Sanatorium in the hope that the desert climate would help him recover. The culture and architecture of New Mexico captivated John and inspired him to change directions and become an architect. His biggest project was remodeling the La Fonda Hotel in Santa Fe, which happens to be the same hotel where Louse Holland Coe stayed when she worked in the New Mexico Senate. I recently stayed at La Fonda, so perhaps I'll do a story about that hotel in the future.
How in the heck did John Gaw Meem get involved with designing a small church in Glencoe, New Mexico? I'm guessing that it probably had something to do with his parents. It turns out that John's parents were missionaries of the Episcopal Church. St. Anne's Chapel happens to be an Episcopal Church. Regardless, John Gaw Meem was involved in the design, and St. Anne's Episcopal Church became the first permanent protestant church in the Ruidoso-Hondo Valley. Services are held once a week at 9:30am each Sunday. I arrived around noon on a Sunday and missed that narrow window. As a result, I was only able to visit the outside of this small church, which was still interesting to see.
Note that St. Anne's isn't the only church in town. San Ysidro Catholic Mission church and cemetery is in town, but it's only used for funerals these days.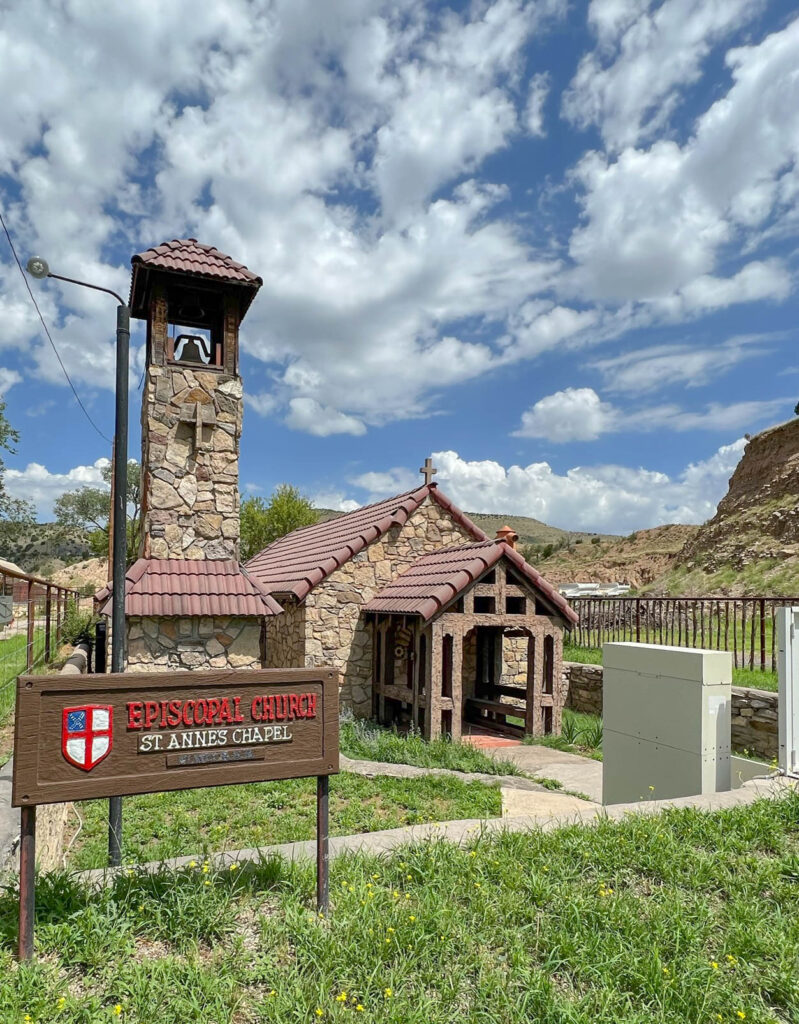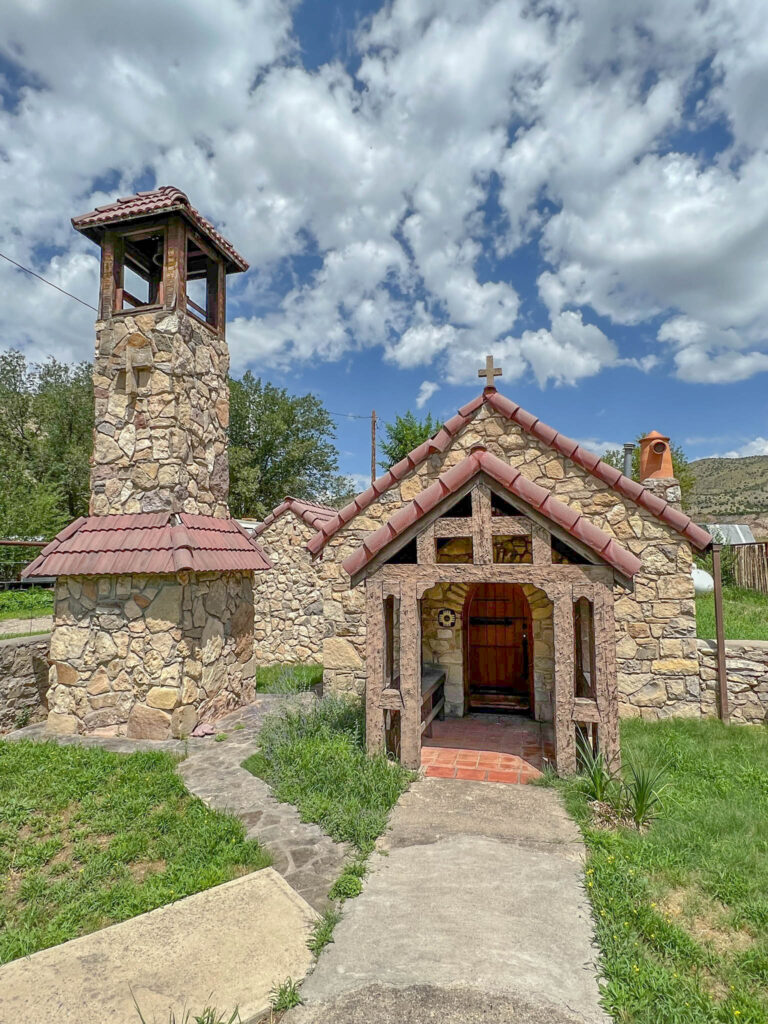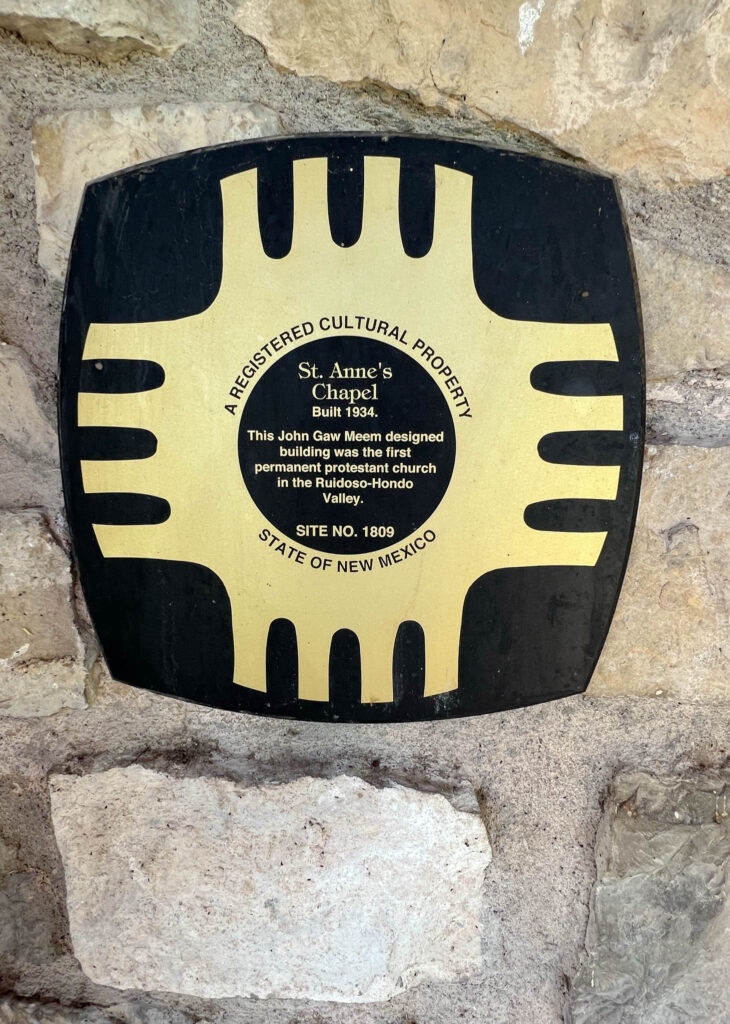 WOODSWAN: From Tree Stump to Beautiful Modern Furniture
Another interesting stop in Glencoe is WOODSWAN Furniture, located at 27489 US HIGHWAY 70, where the Glencoe distillery used to be co-located. This is not just any old furniture store. WOODSWAN's raw materials are rescued fallen trees, tree stumps, and reclaimed wood which these talented woodworkers turn into beautiful furniture that still maintains the beauty and character of the original tree. Each piece is designed, built, and sourced in New Mexico. Their products include dining tables, end tables, entry tables, shelves, mantles, charcuterie boards, and more. The showroom is open from Thursday to Saturday from 10am – 5pm and by appointment from Sunday to Wednesday.
The four images below are used by permission from WOODSWAN from their website and Instagram page. As you can see from the images, it's well worth a stop!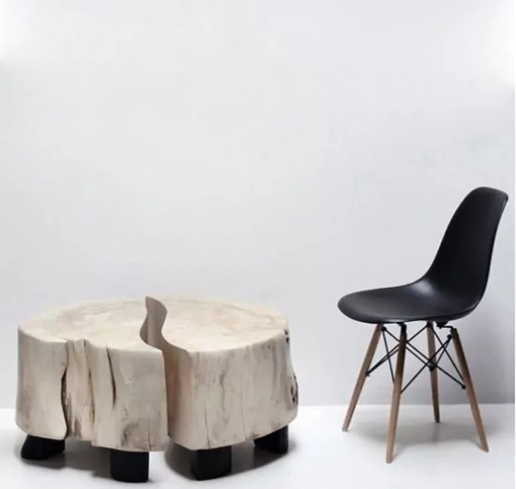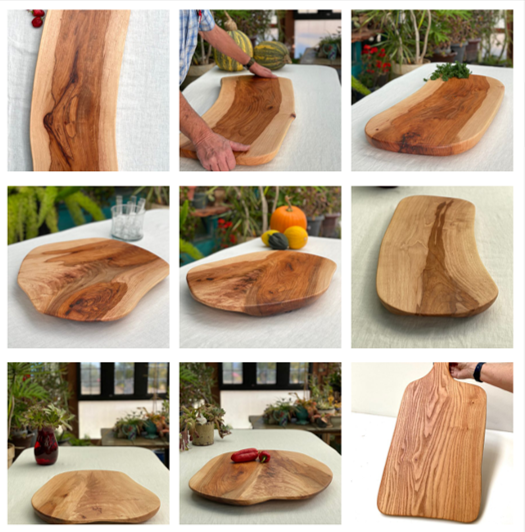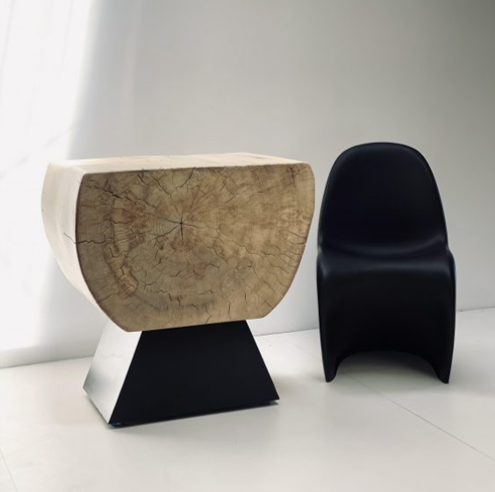 Fox Cave
When I made my way to visit Fox Cave, I envisioned a small, dark cave with a few signs explaining how the caves were used throughout history. I was wrong. Very wrong.
My first tip off that this wasn't just a cave was the subtle signage off the highway.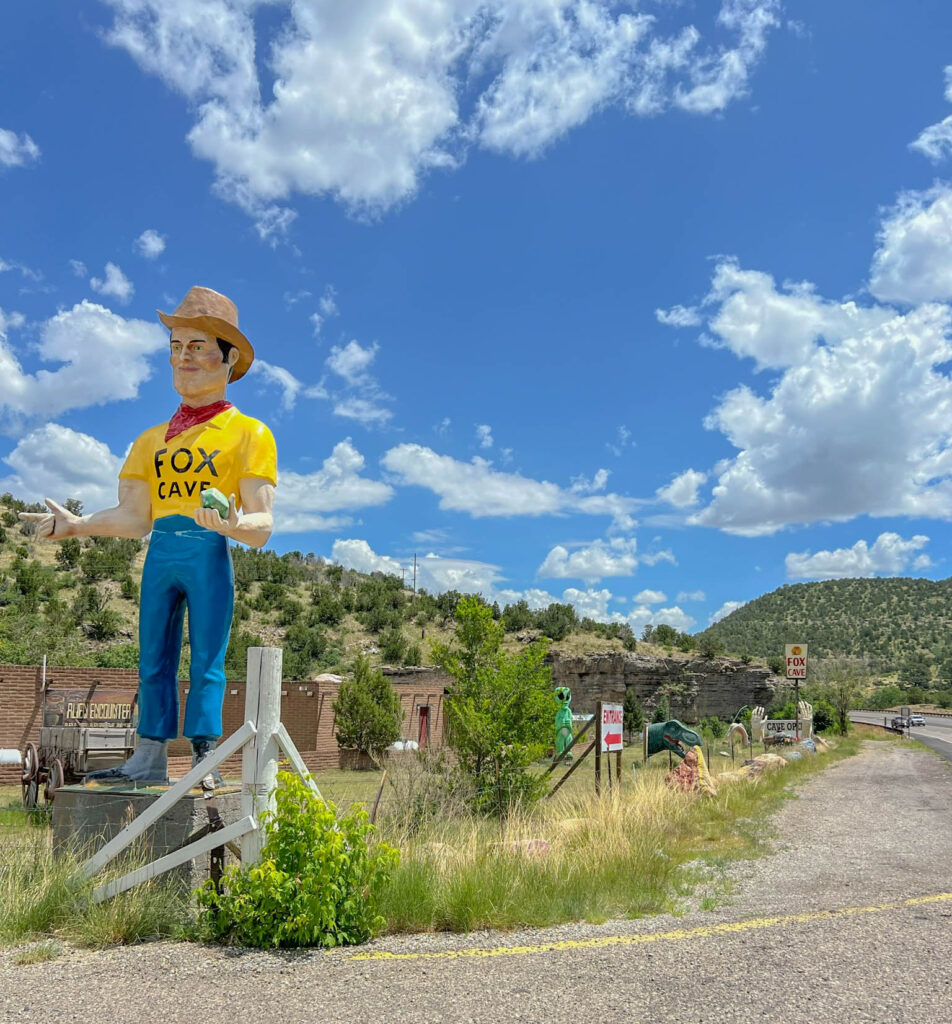 You'll also drive by eye catching props of the Ruidoso River Museum as you make your way to the Fox Cave parking areas. The Ruidoso River Museum has all kinds of historical documents and items such as the badge worn by Pat Garrett, the former Lincoln County Sheriff who played a central role in the Lincoln County War.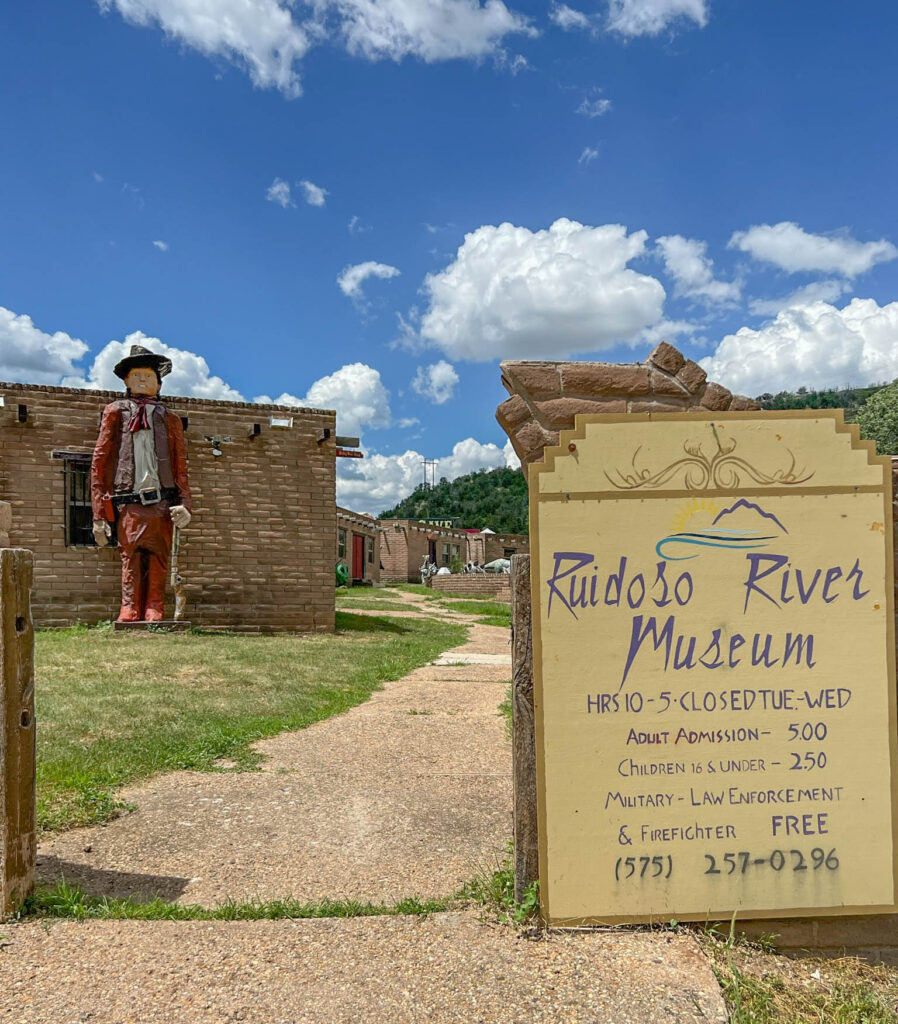 As I approached Fox Cave, I started to get the sense that it contained a gift store with all kinds of rocks, gems, and other souvenirs. Here are a few photos of the outdoor scene.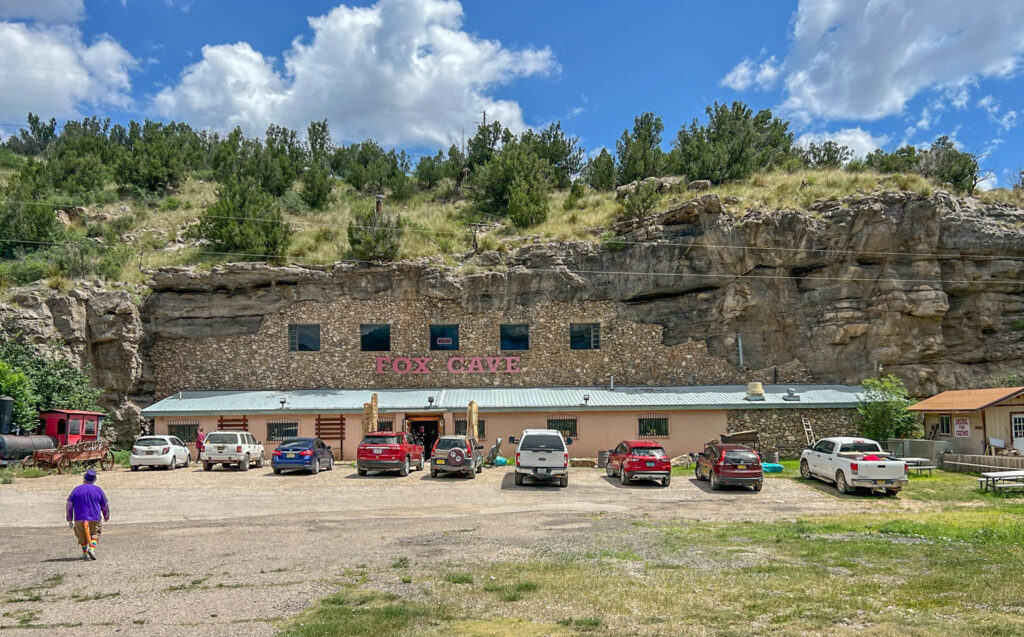 Yes, you are seeing that correctly …
Then there's the front entrance.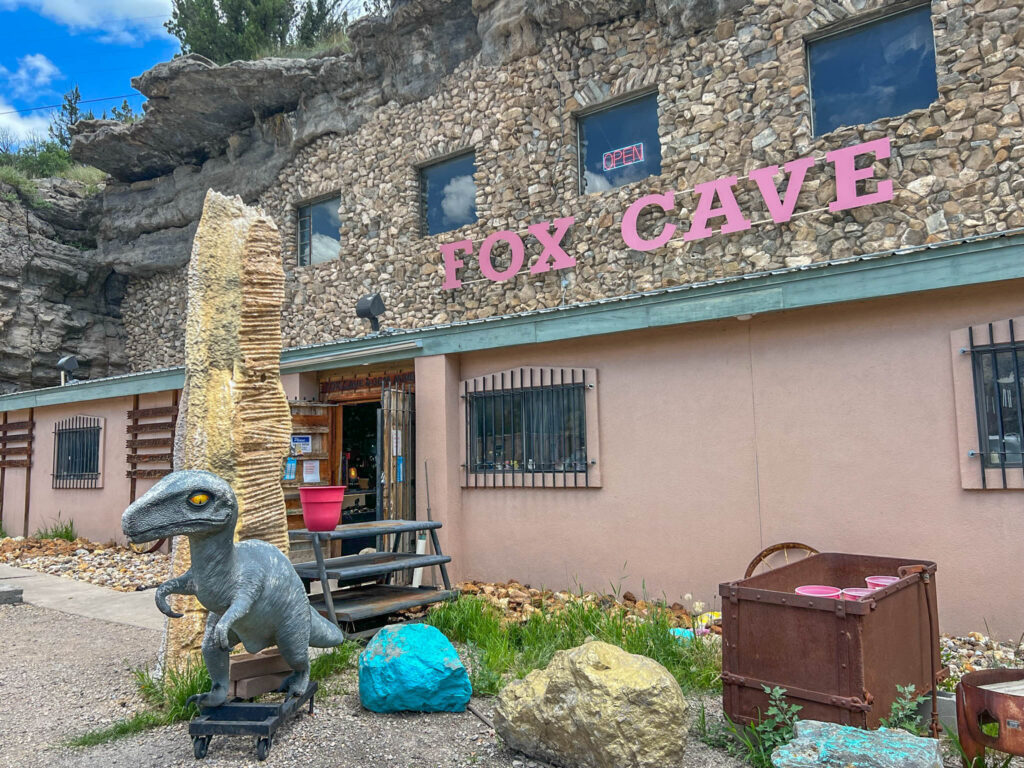 If you think there's a lot going on outside of Fox Cave, you ain't seen nothing yet. Here's a taste of what you might find when you go inside.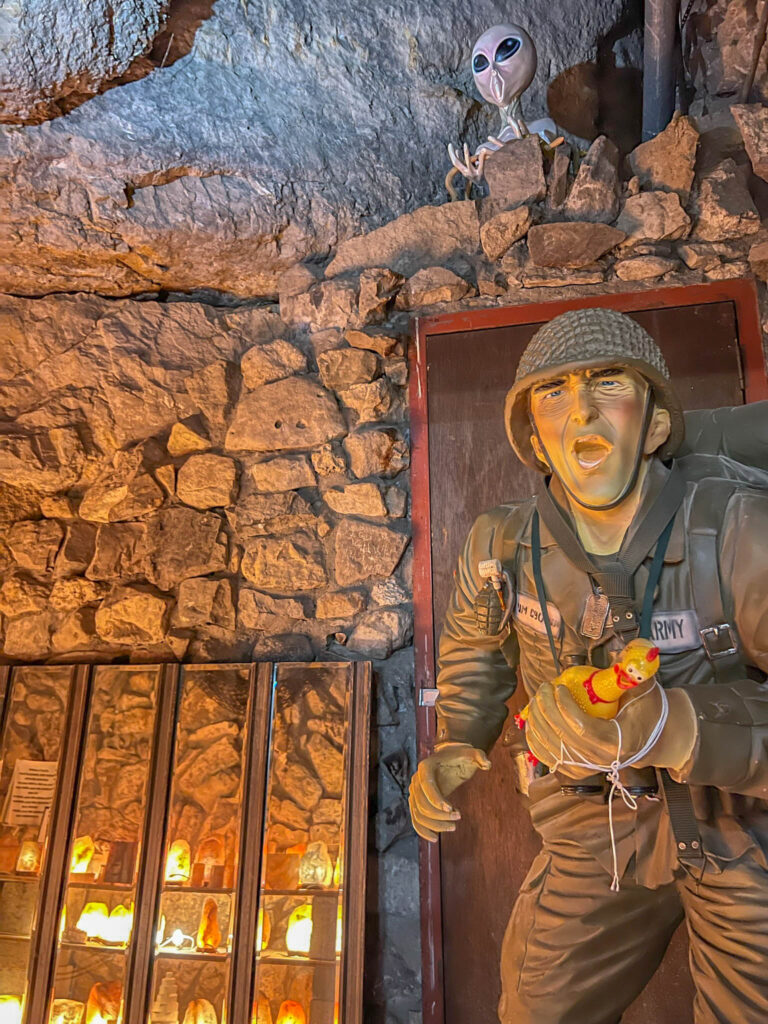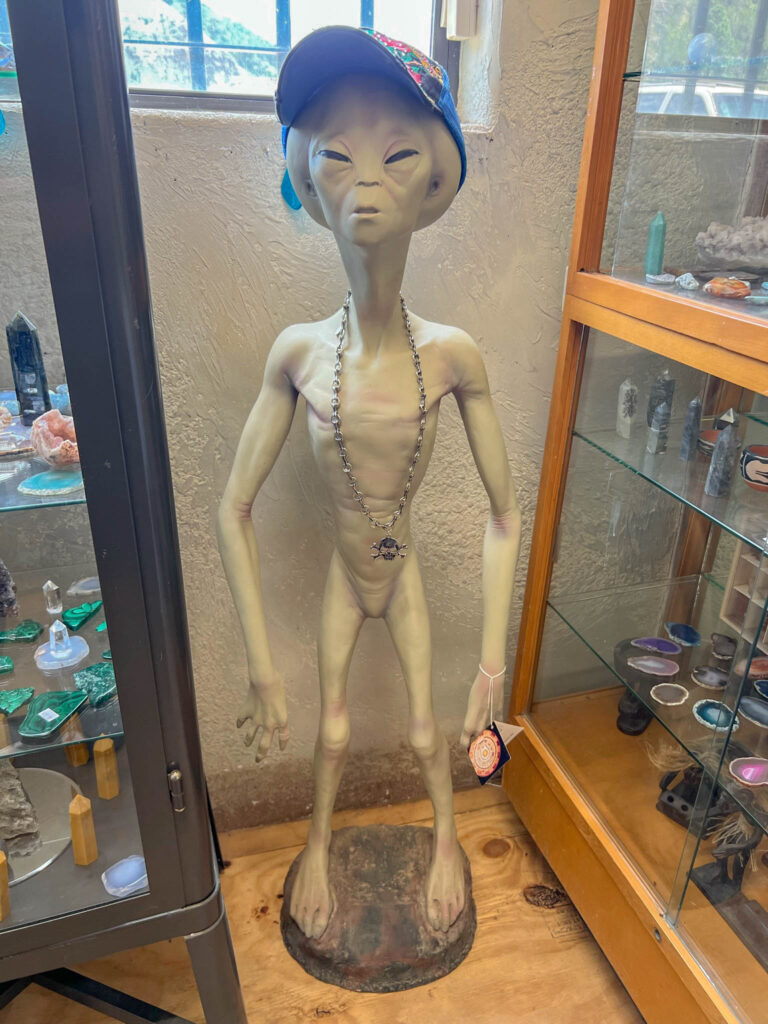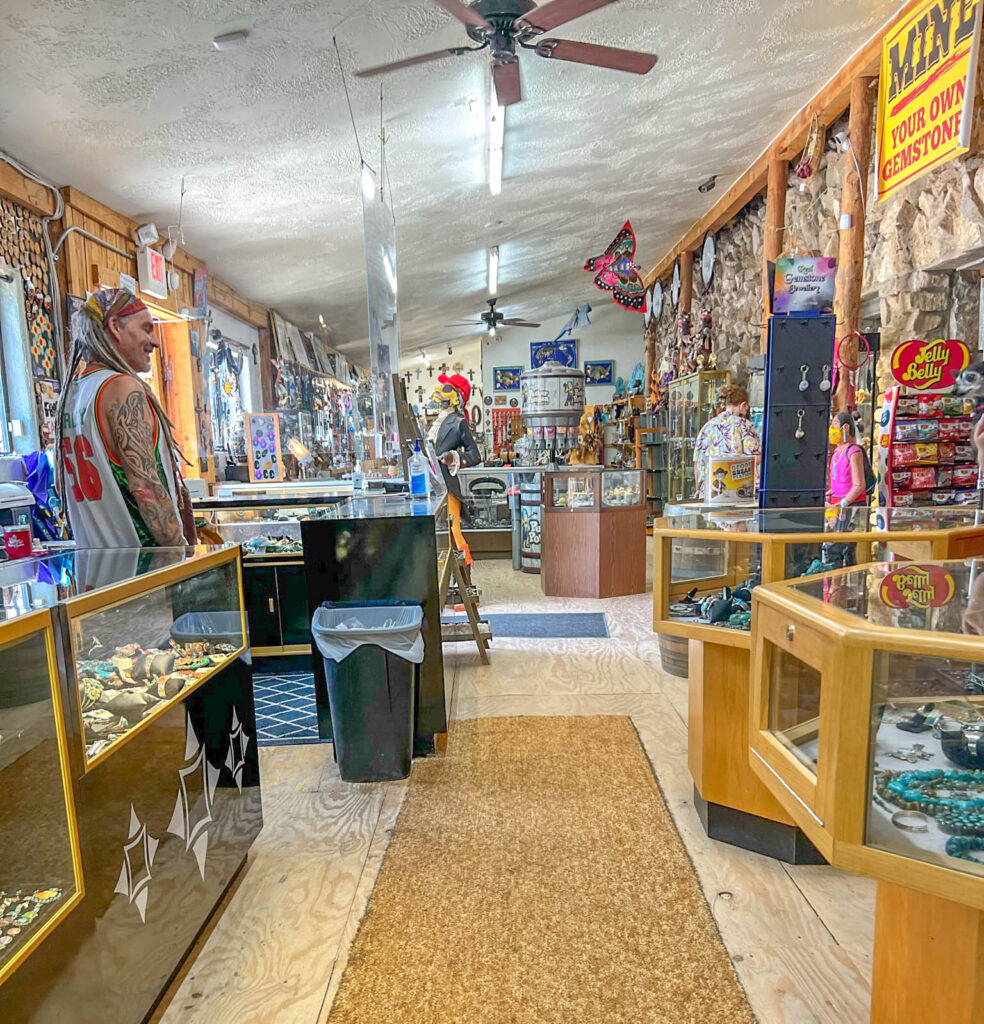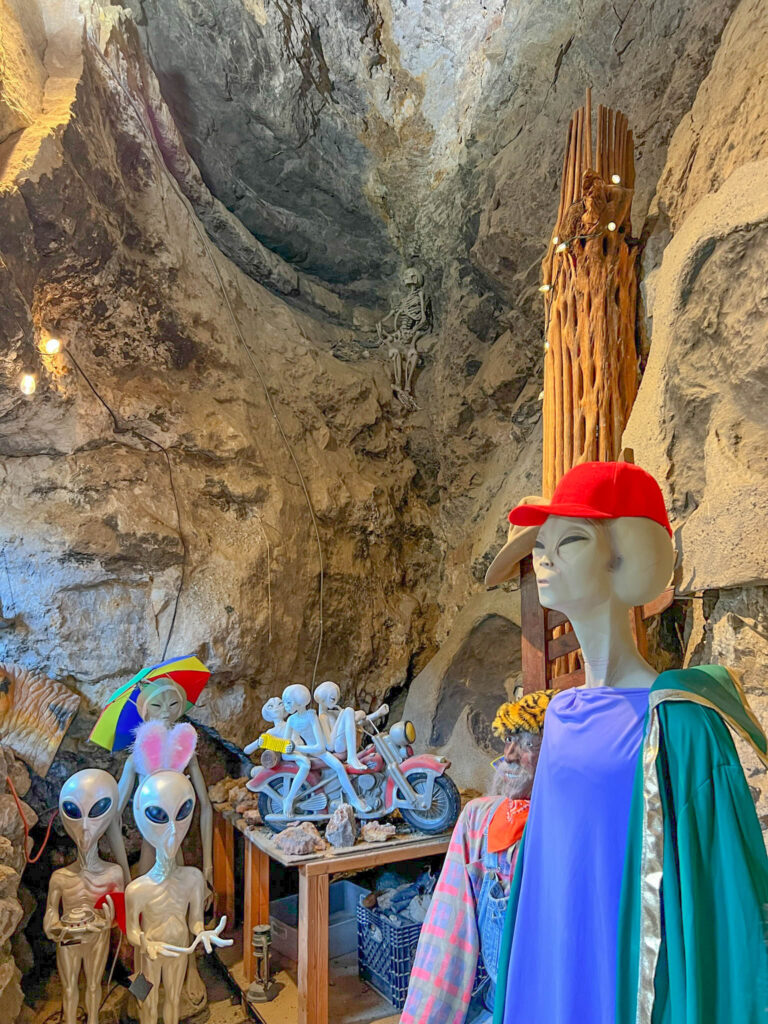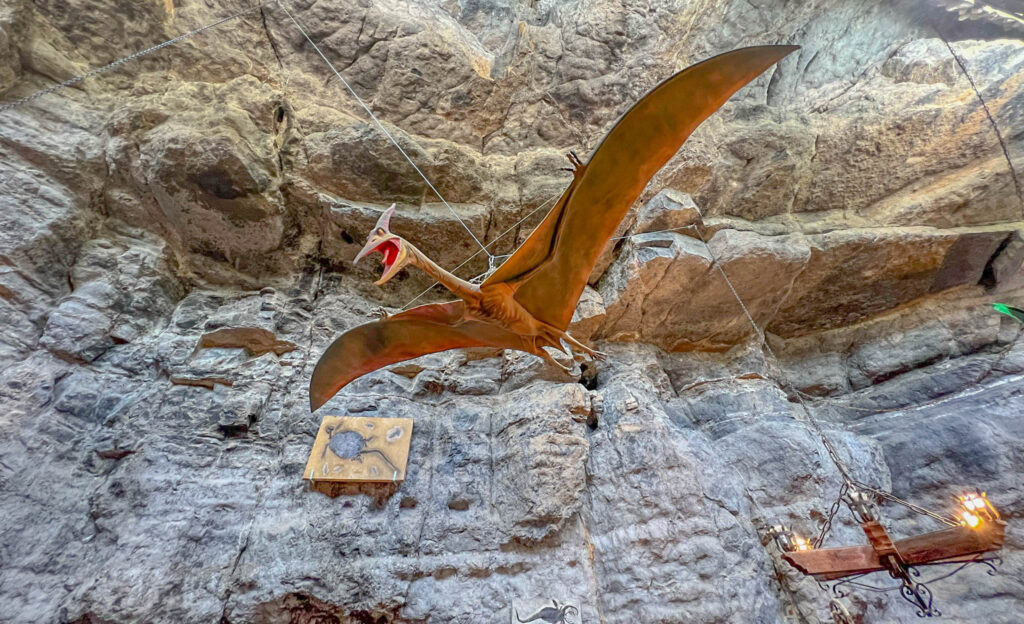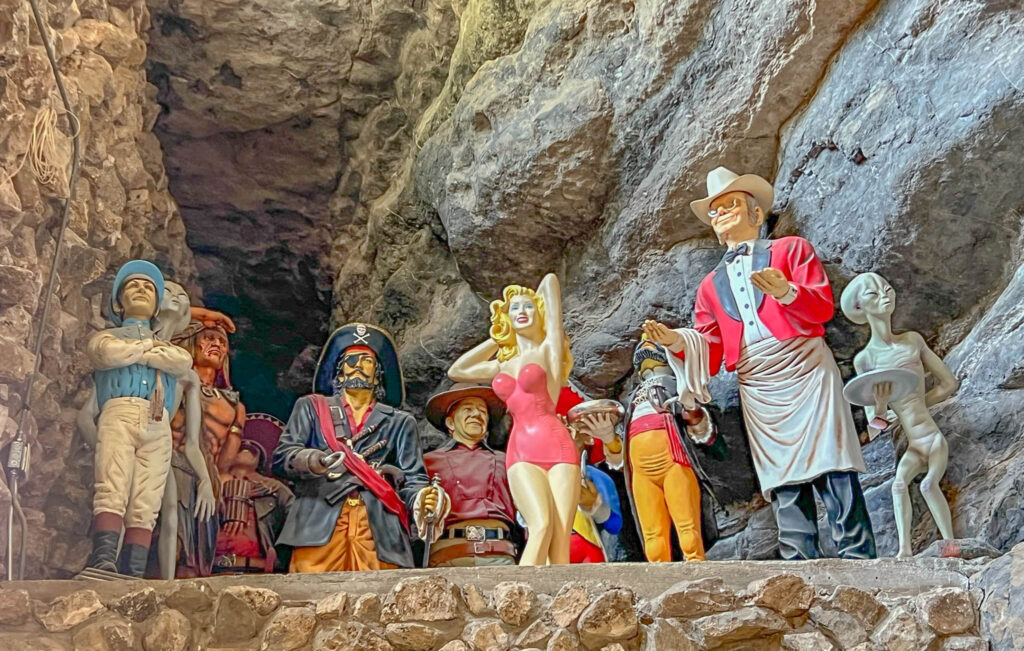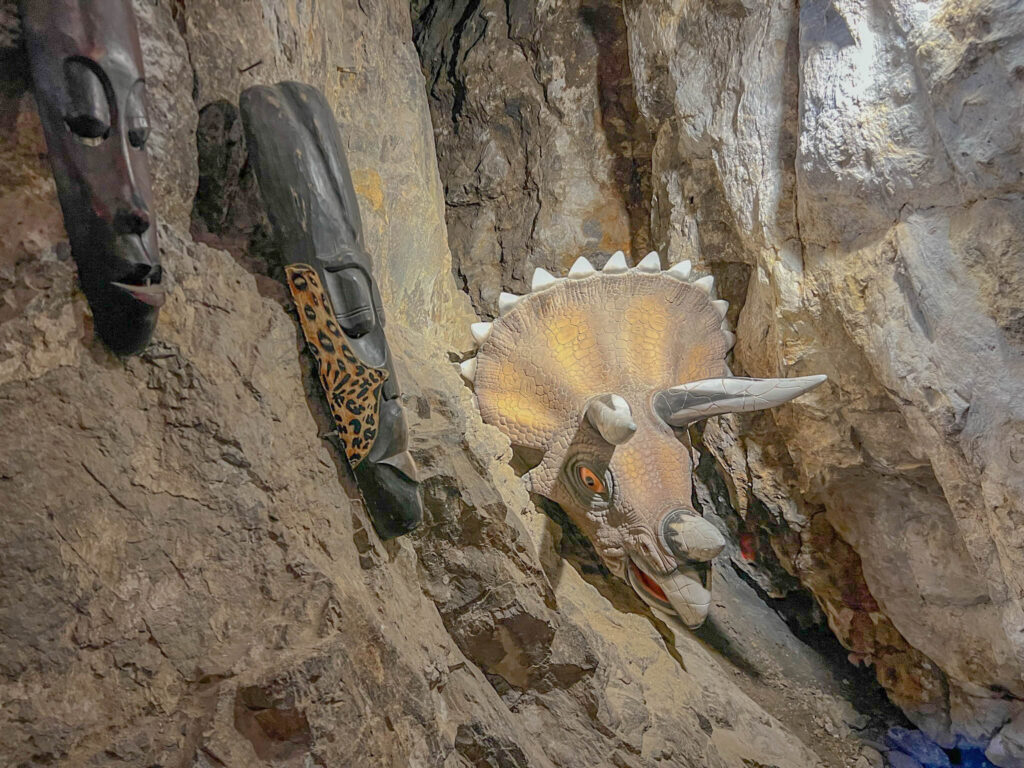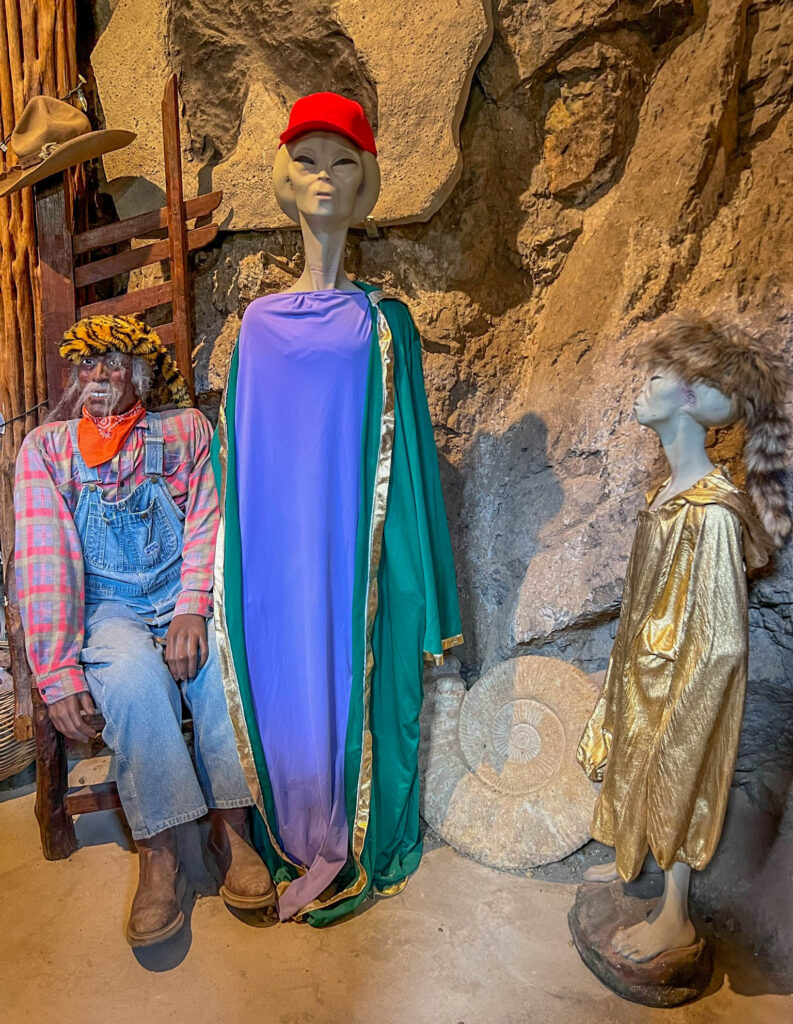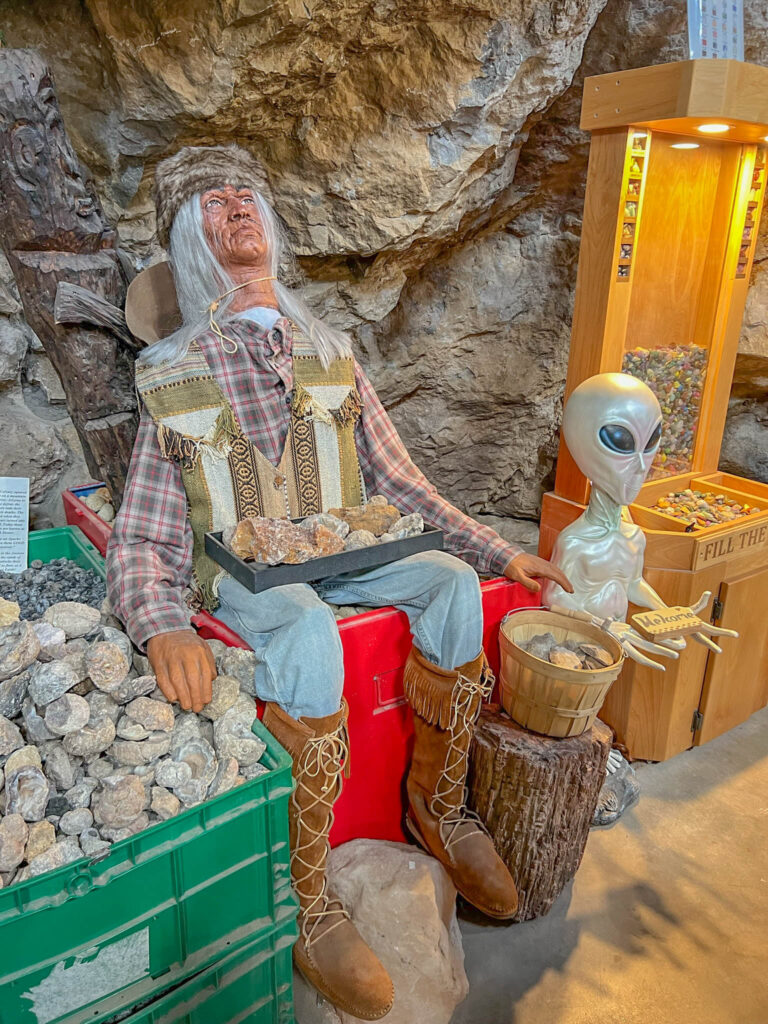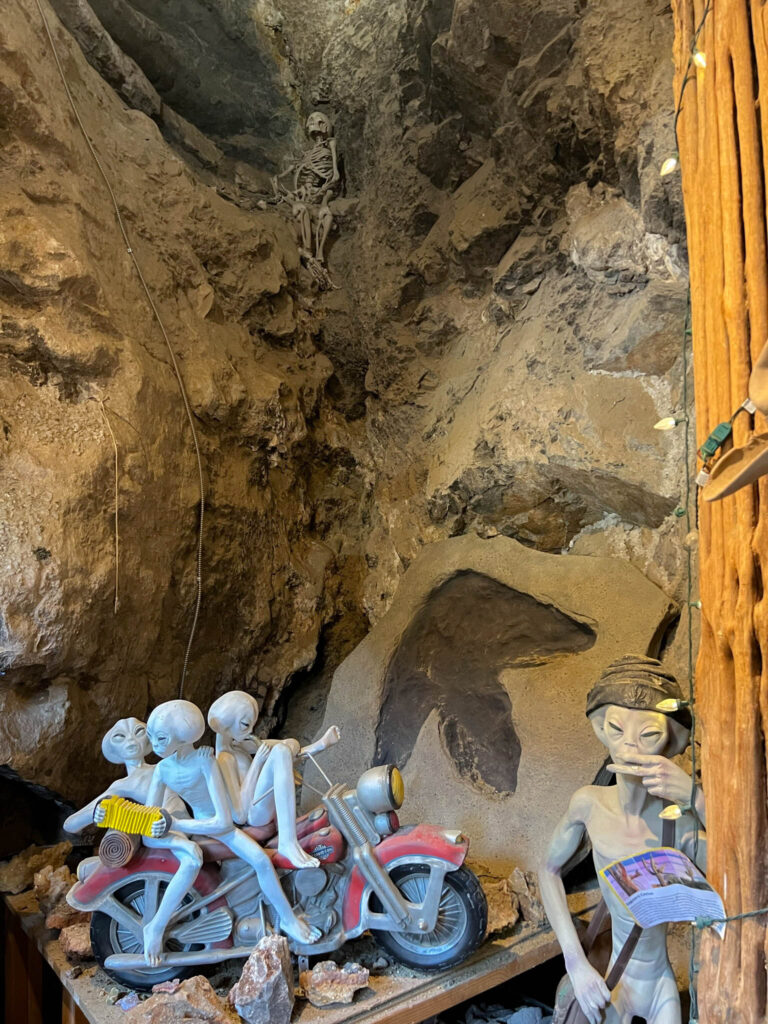 Fox Cave was started by an east coast gemologist named Arnold Duke who went to school at New Mexico State University many years ago. Today, he owns Fox Cave (in Glencoe), Ruidoso River Museum (in Glencoe), and the Ruidoso Trading Post (in Ruidoso). If you're into geology and rocks, then you'll definitely want to go here. If you're just looking for a few laughs and souvenirs, then Fox Cave makes for a fun break and there are some good souvenirs as well.
Now you have several good reasons to stop the next time you're passing through Glencoe.
---
Thought for the Week
For this week's edition of the "Thought for the Week", I decided to look for a Scottish quote in a nod to the Coe clan. I came across this Scottish proverb as a helpful reminder for all of us:
"Wink at small faults, for you have great ones yourself."
— Scottish Proverb
---
Thanks for reading and happy travels!
Mark (The New Mexico Travel Guy)
Mark Aspelin, The New Mexico Travel Guy (www.newmexicotravelguy.com), is a travel writer and author of two books who has enjoyed a wide variety of adventures in his travels to over 100 countries and all 50 U.S. States. His current project involves visiting EVERY town in his home state of New Mexico (there's over 500 towns) and writing a story about each one. When not traveling, Mark lives as a recluse in the mountains outside of Albuquerque, New Mexico where he's available to write well-researched, accurate, and entertaining articles on assignment for editors. He can be reached at [email protected]