Faywood is one of the many towns in New Mexico that most people have never heard of. After all, this town of 20 – 40 people isn't exactly a booming metropolis. But if you mention "City of Rocks State Park", you may get a few affirmative head nods, particularly from people who like camping. Many people consider City of Rocks to be one of the best New Mexico State Parks for camping.
Well, The City of Rocks State Park happens to be located in the town of Faywood, along with a hot springs that's popular among nudists. Heck, at Faywood Hot Springs, you can combine camping and nudism by camping in their clothing optional campground! More on that shortly. First things first, here's some background about the town of Faywood.
Table of Contents
History of Faywood
The area around Faywood Hot Springs has a long and colorful history. Things kicked off around 35 million years ago with volcanic activity, followed by millions of years of erosion, that resulted in the unusual rock formations you can see today at the City of Rocks State Park. This region has been used by people since prehistoric times, as evidenced by pottery and other artifacts that have been found in the area. The Mimbreno Indians called this place home from 750 – 1250 AD, followed by the Apache Indians. Early Celtic petroglyphs found in the region suggest that the Celts were the first westerners to arrive, followed by the Spaniards in the mid-1500s.
In 1785, the place was called "Ojo Torro" or "Bull Spring" by a Captain Martinez who saw wild bulls drinking water at the Hot Springs. A few decades later, the region became part of Mexico for 25 years (from 1821 – 1846) until Mexican troops peacefully yielded to the United States Army. In 1851, the hot springs were called "Ojo Caliente" or "hot spring" by the US Boundary Commission, and it became a well-known stopover for people migrating westward to California. To capitalize on this traffic, a string of people tried to turn the area into a money-making hot springs and hotel.
To help you picture what the area around the Hot Springs looks like, here's a short video snippet.
Like I said earlier, it's not a booming metropolis.
The first people who attempted to commercialize the hot springs were two former El Paso sheriffs named A. Kuhne and William "Billy" Watts. They filed a homestead claim in 1859 and decided to build a bath house and hotel. They called it "Hotel of Accommodation". I'm guessing they didn't have a strong background in marketing.
In the late 1860s, at the end of the Civil War, the property was purchased by the Mastin family. The Mastins set up lodging and bathing facilities for travelers who were passing through. They also grew vegetables and operated a dairy.
Next up was Richard and Mary Hudson. Richard was an orphan from England who, with his adopted family, migrated from New York to California in search of gold. He ended up becoming part of the 5th California Infantry and was sent to New Mexico Territory. After the war ended, Richard decided to stay in New Mexico Territory to get back to the family's original plan of searching for gold. Around the same time, he was elected as Grant County's first sheriff. His mining career was short lived, as he was shot through both of his arms during a fight with Apache Indians near Pinos Altos (~40 miles northwest of Faywood). So, Richard ditched his pick axe and shovel and was elected Judge of the Probate Court, which was the highest office in Grant County.
Then, a funny thing happened to Richard. Richard suffered from gout, a type of arthritis caused by excess uric acid that usually ends up in the big toe. His friends suggested he soak in the hot springs to see if that would help relieve his gout. To Richard's surprise, it worked. He became convinced that the hot springs (known as the Mimbres Hot Springs) had healing properties that should be shared with others. So, Richard decided to build a small hotel that included a six-room bath house. Each room in the bath house contained a wooden bath tub, a small window to provide lighting, a cot, and a chair. In 1879, the Hudsons changed the name of the place from Mimbres Hot Springs to Hudson Hot Springs.
Given that any historical account of New Mexico is apparently mandated to include a reference to "Billy the Kid", here's a Billy the Kid-related factoid. One of the customers at the Hudson Hot Springs hotel and bath house was Catherine McCarty, the mother of Billy the Kid. Now that I'm in compliance, let's continue.
After ten years of operating the hotel as a resort spa, tragedy struck the Hudsons. In 1892, the place caught fire and was burned to the ground. The Hudsons had poured all their money into the resort and had allowed their insurance to expire. So, they were forced to walk away. The moral of the story is to always maintain your homeowners insurance.
The next person who attempted to make a profit from the hot springs was Andrew Graham, who bought the property in 1894. Graham decided to build "the fanciest hotel in New Mexico Territory" and called "Casa del Consuelo". Consuelo can mean "comfort", "consolation", or "solace", but the most common translation I've seen in historical accounts is "House of Delight". While this translation may create the perception of a slightly different vibe, it appears to be in reference to the fact that it was an upscale place and each room had hot and cold running water in the rooms. The fancy, 60-room hotel was completed in 1896. In the end, Andrew overextended himself financially in building the hotel and decided to sell it.
Finally, to put us out of our misery on name changes, let's introduce Tom McDermott. Tom McDermott was a hardware merchant and flour mill operator from Edgerton, Minnesota who suffered from chronic pain in his stomach. Ulcers were believed to be the culprit. A friend recommended that Tom visit Casa de Consuelo to see if that would help. Similar to Richard Hudson's experience, it worked! By soaking in the water and drinking the water, Tom's ulcers disappeared. He went back to Minnesota and somehow convinced two of his friends into moving to New Mexico to buy the property. I'm speculating that Tom's sales pitch involved lots of alcohol on a cold winter day in Minnesota.
Tom and his friends, J.C. Fay and William Lockwood, purchased the Casa de Consuelo property in 1900. They renamed the place "Faywood Hotel Springs", which is a combination of the surnames of two of the three partners, J.C. Fay and William Lockwood. Tom McDermott must have drawn the short straw or was unsuccessful in getting buy-in for the name "McFaywood". Funny enough, J.C. Fay and William Lockwood didn't stick around long, but Tom McDermott was in it for the long haul.
In the early 1900s, business was good for Faywood Hot Springs. This was largely due to Camp Cody, an Army base that was created in the nearby town of Deming. Many of the Casa de Consuelo guests were military personnel at Camp Cody or were family or friends of military personnel. After the war, business tanked. Eventually, the hotel was torn down. But Tom stuck around and continued to live on the property until 1947, when he died at the age of 97.
Today, Faywood (~30 minute drive from Deming) is a "census-designated place" in Grant County. And yes, Faywood Hot Springs, has a new owner. Thankfully, the new owners haven't changed the name … yet.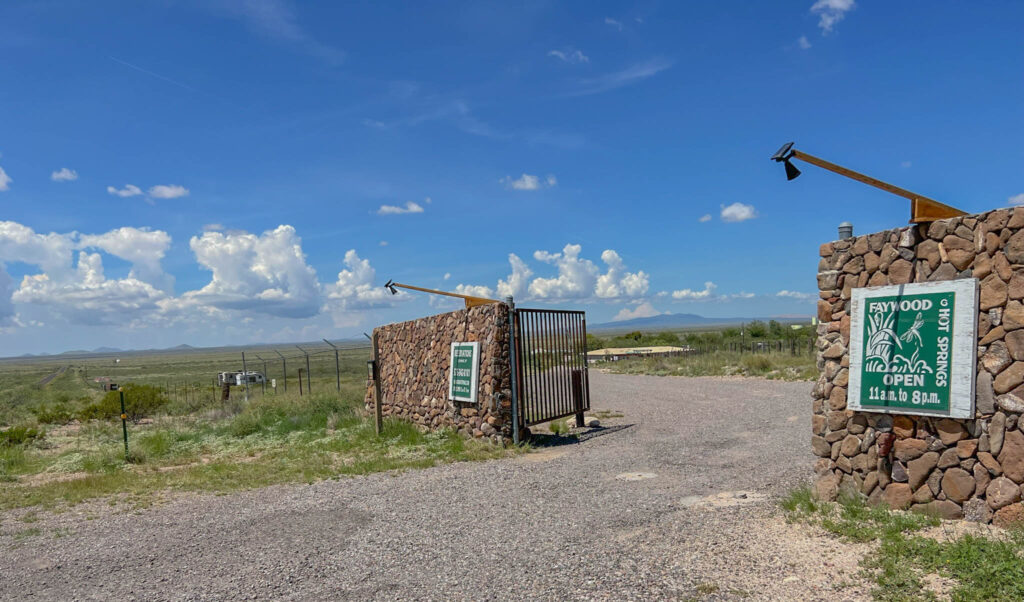 Things to do in Faywood
Visiting Faywood today, it's not hard to imagine what life was like in older times. After all, there's not much there. You'll find a post office, a few ranches and houses, a church, and many loud cicadas. Ok, that last part about cicadas isn't a sure thing, but there was a loud chorus of them when I visited. Of course, you'll also find the City of Rocks State Park and Faywood Hot Springs, so that's what I'll focus on for the rest of this post.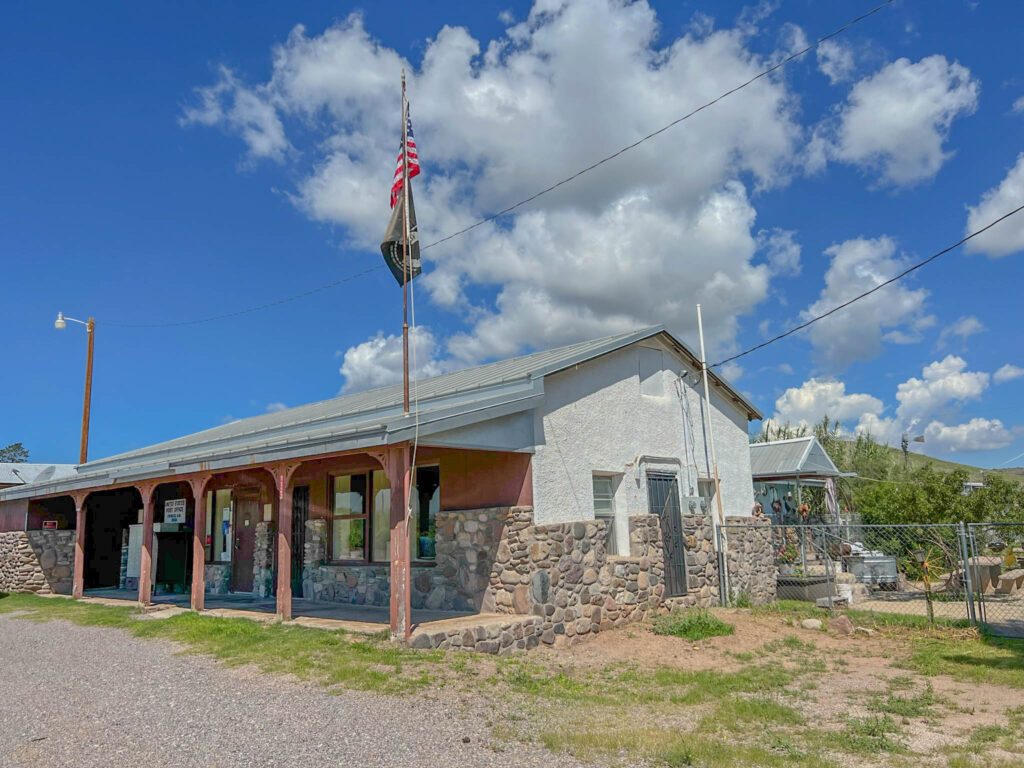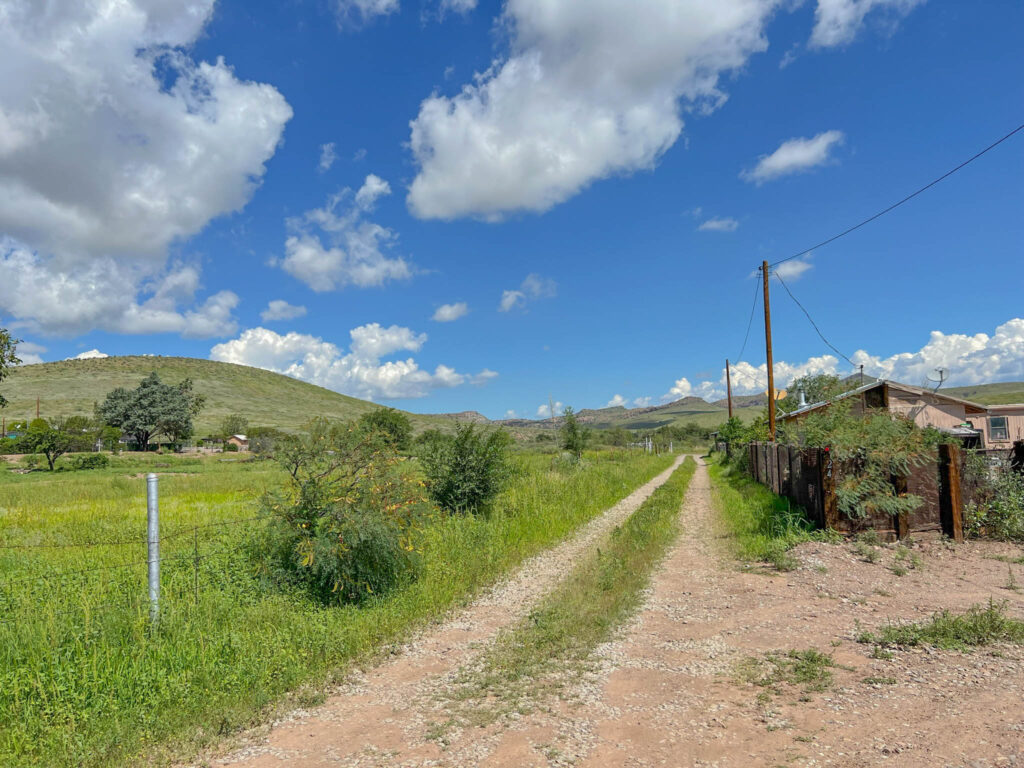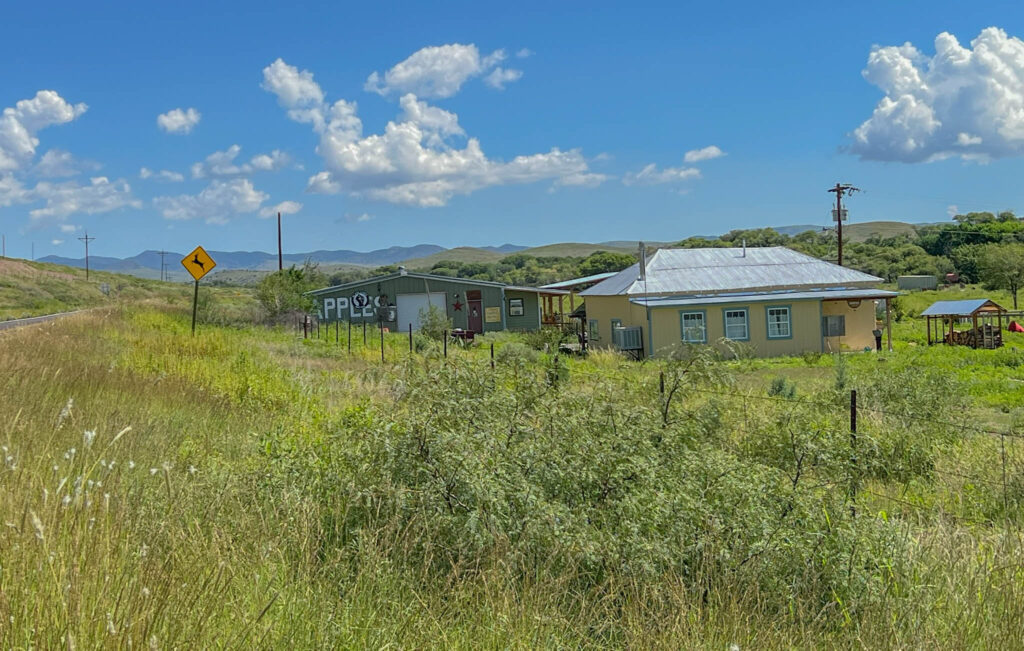 Faywood Hot Springs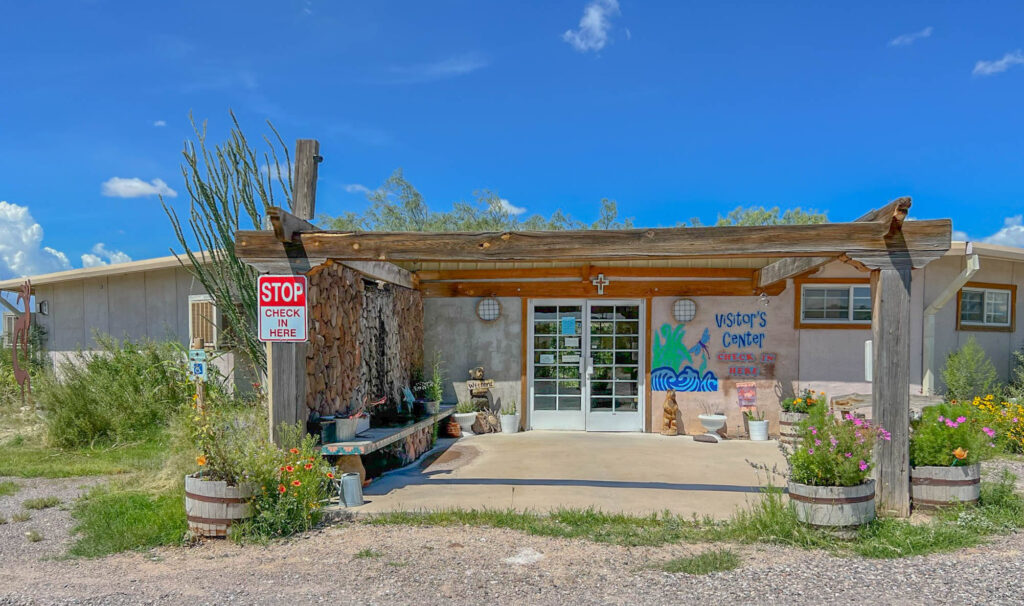 When driving to Faywood Hot Springs, you'll probably feel like you're in the middle of nowhere, even though it's only 30 minutes from Deming. Faywood Hot Springs has a laid back, rustic vibe. This may be partly due to the clothing optional camping areas and hot springs that are available. I'm told the clothing optional areas are popular. Faywood Hot Springs also has cabins, camping, RV sites, and hot springs that are clothing required, so you get to choose your own adventure.
If you're thinking that you'll get the Santa Fe Ten Thousand Waves spa experience, you'll be disappointed or pleased, depending on your preferences. I've been to Ten Thousand Waves several times, and have even stayed overnight in their upscale Japanese ryokan-style lodging. Ten Thousand Waves is more upscale, expensive, and crowded, which is expected given that it's located 10-minutes from downtown Santa Fe. Having said that, I haven't been to Ten Thousand Waves since they changed their policy in 2020 to no longer accept walk-ins. They now require reservations for their community pools ($58 per person for 90 minutes) to limit the number of people, which is a good move in my opinion as it was getting way too crowded. Perhaps I'll do a separate post about Ten Thousand Waves in the future as it will give me a good excuse to check it out and see what it's like today with the new policy.
Similarly, Faywood Hot Springs no longer accepts day use guests for the public pools. You either need to have a reservation for a private pool or you need to be an overnight guest. The cheapest way to get access to the pools is to book a private tub ($36.50 minimum) or camp (cheapest is $26.75 per night for a tent site or $36.50 for an RV site).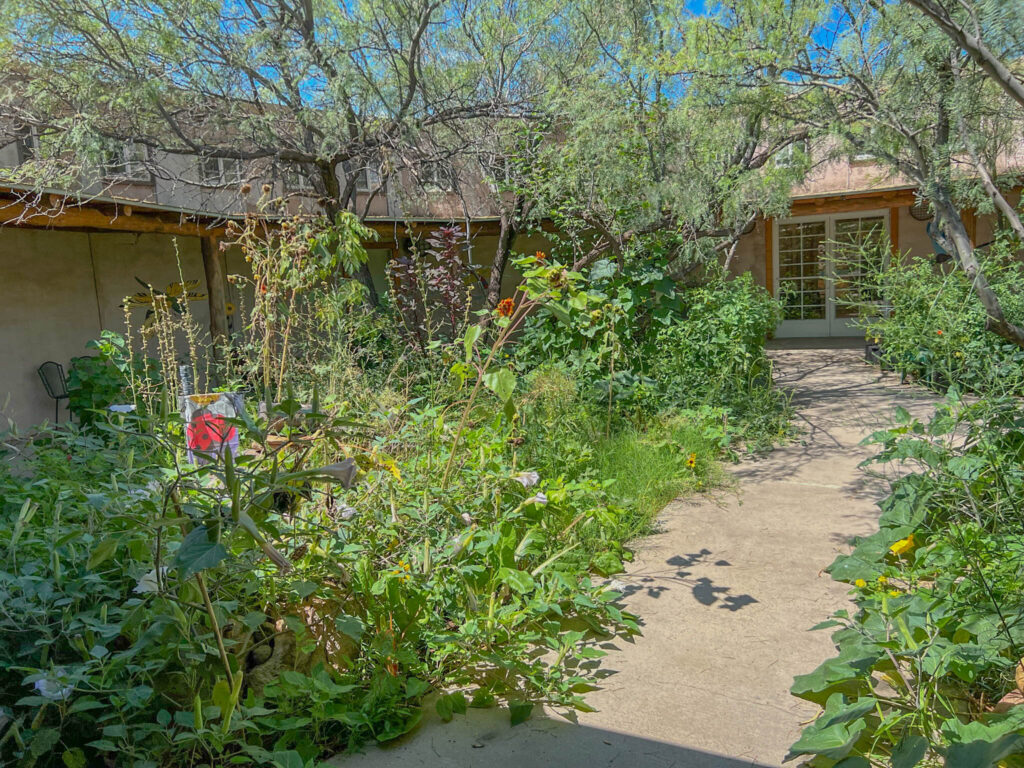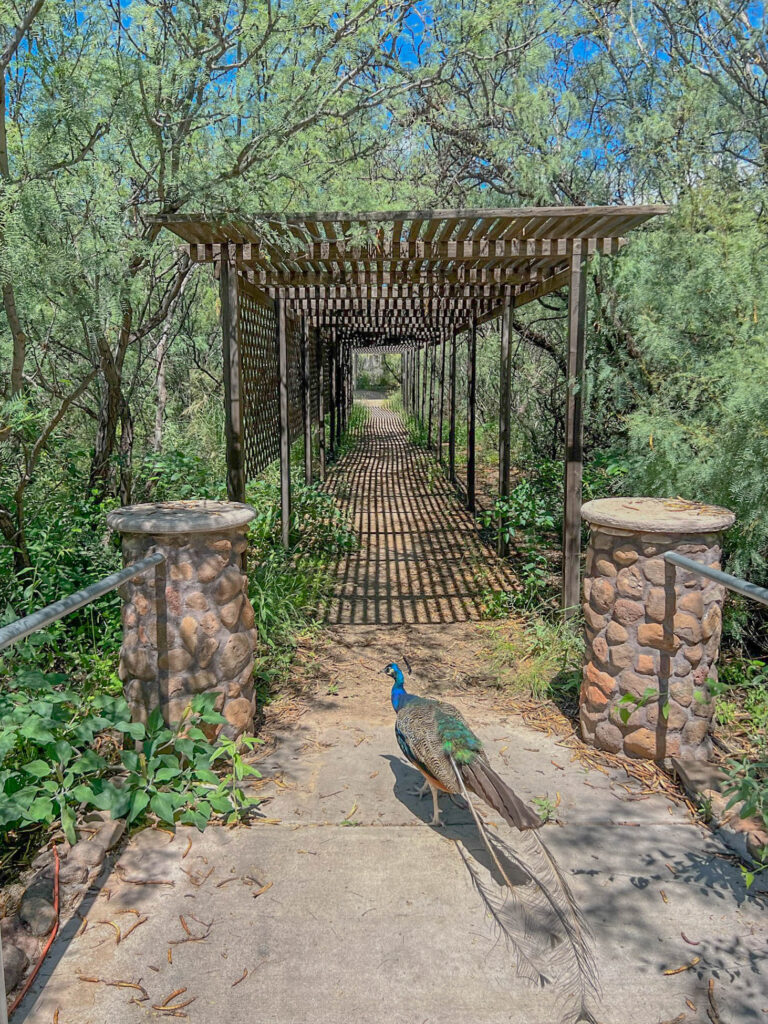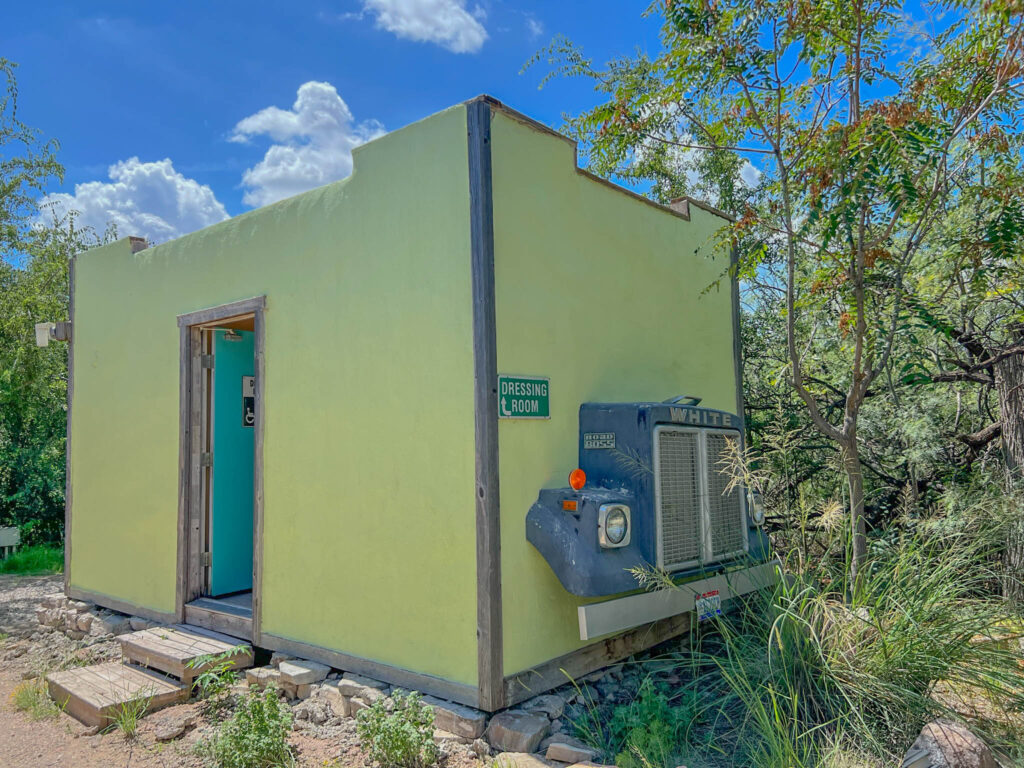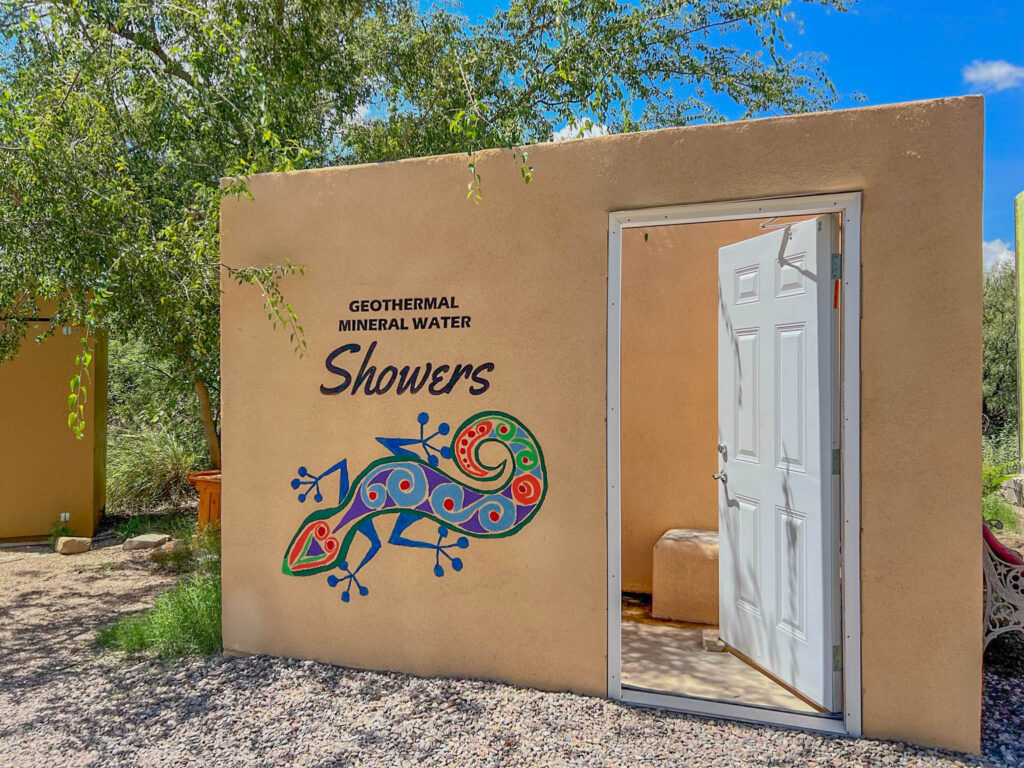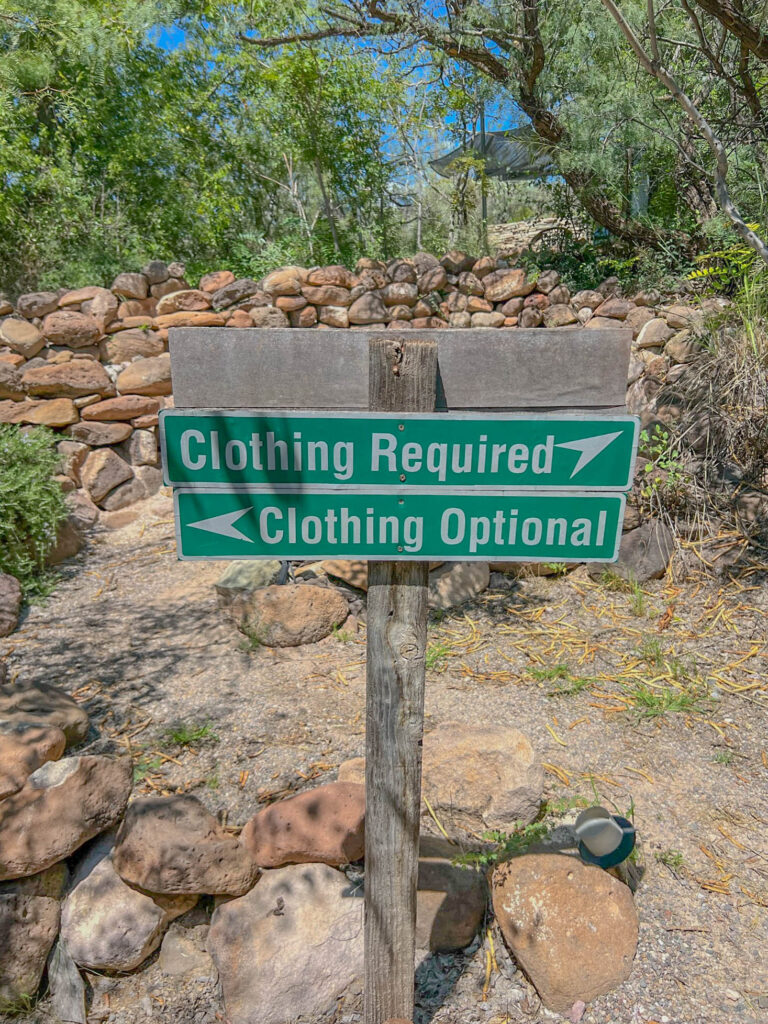 I've been to Faywood Hot Springs twice. On my first visit, I rented a tiny cabin in the clothing optional camping area … in the winter! It was the cheapest cabin ($77 per night) and I figured the cold winter weather (high of 60 and low of 30) would turn it into a clothing required area by default. I was right. The other cabins range from $103 – $200 per night, as they're larger and accommodate more people. By paying $77 for the cabin, that also gave me unlimited access to the pools. On my second visit, my son and I just went for a quick soak (rented a private pool) prior to camping at City of Rocks.
When I say small cabin, I mean it. But it was comfortable. It may or may not be quiet at night, depending on who is camping next to you in the campground. When I stayed at the casita, there was a group of campers in a converted school bus and two converted vans that were parked nearby. They were playing music from their speakers and I had a sneaking suspicion they were enjoying some chemically enhanced fun. But they were nice, and I ended up soaking in a hot tub that evening with them. It was fun to hear their stories. More on that in a moment. First, some photos of the casita.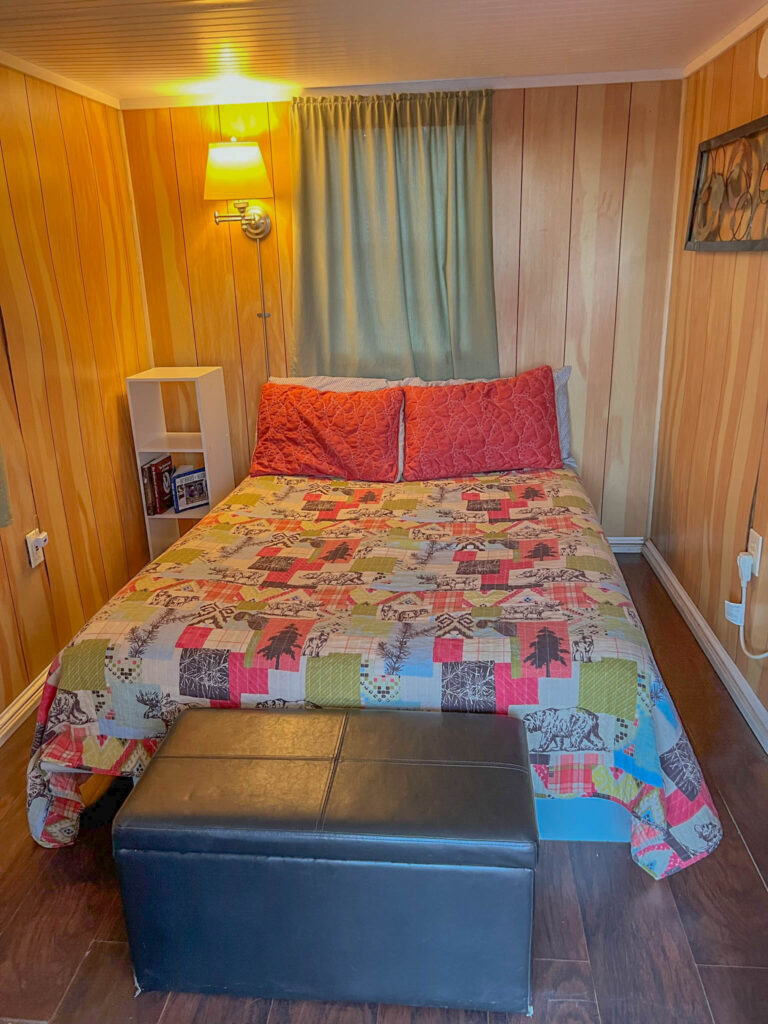 There are four private pools that you can rent by the hour (Adults are $18.25 / hour and children are $8.75 / hour, with a $36.50 per hour minimum charge). These rates also give you access to the clothing optional public pool area and the clothing required public pool area. Each of those public areas has several pools to choose from.
You can find information about each of the pools on the Faywood Hot Springs websites.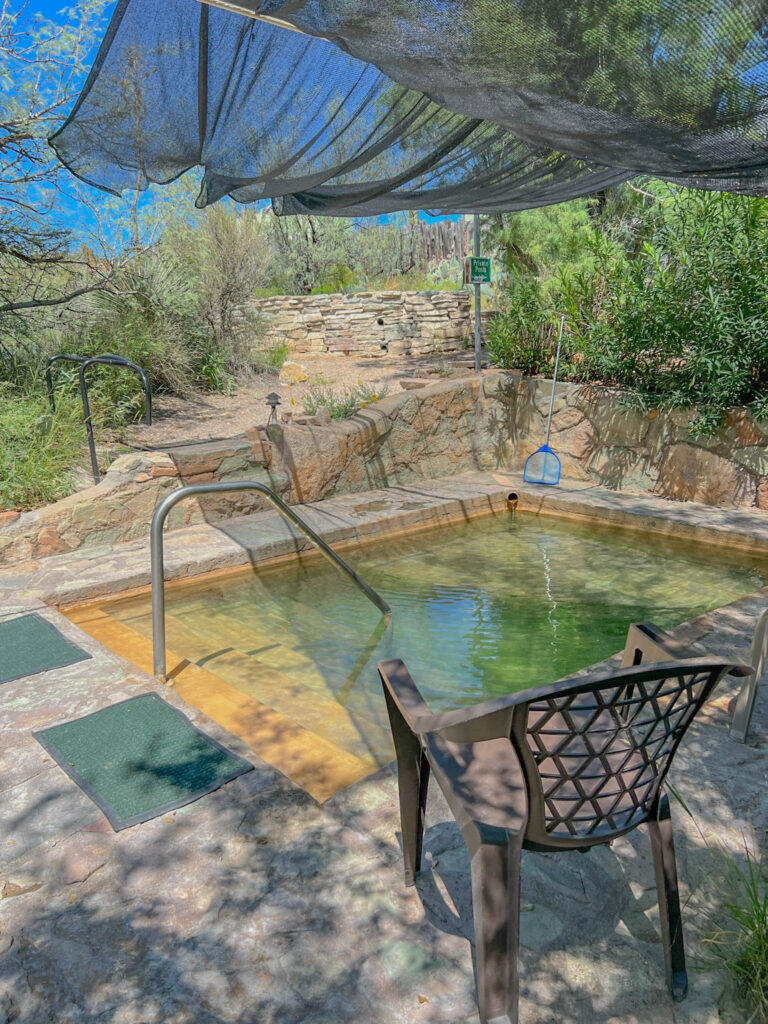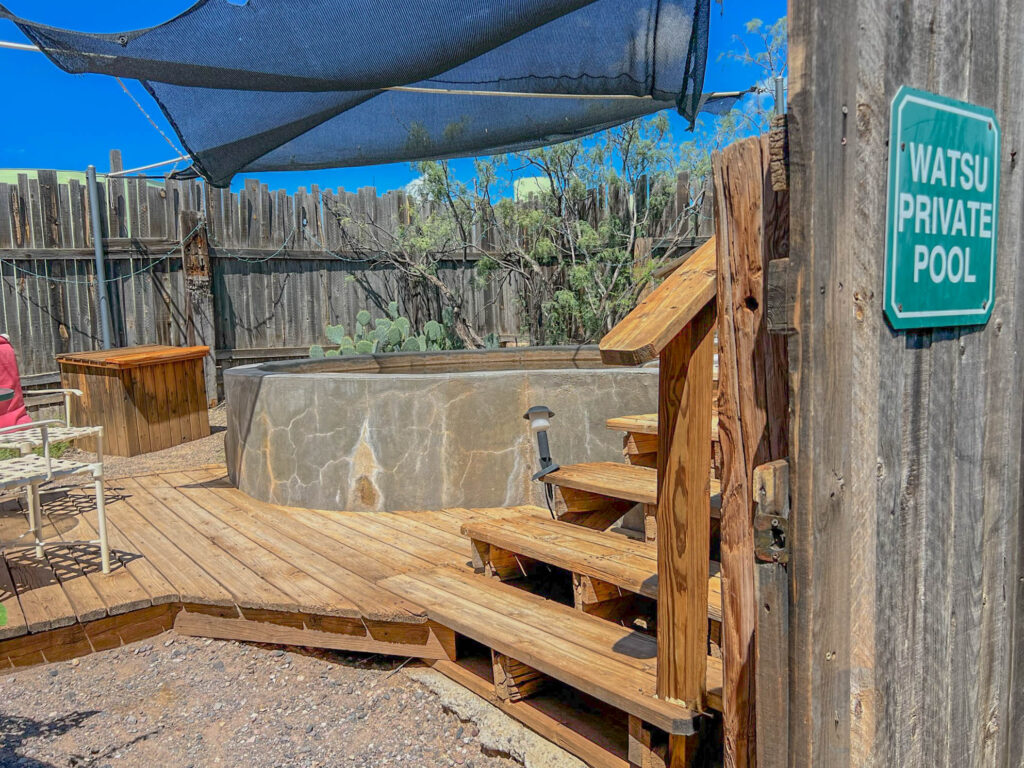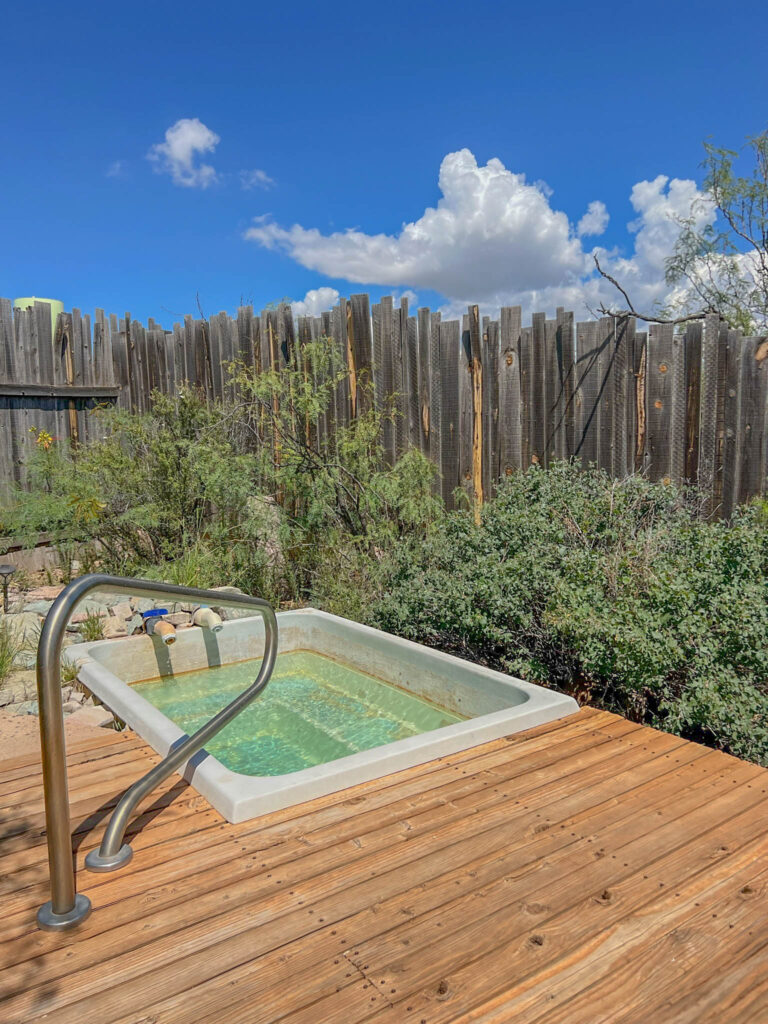 I inadvertently ended up going to the clothing required public pool at the same time as my fellow campers. But I'm glad I did, as I enjoyed their stories. They were from California and Washington but were on a long road trip which included time to do some prospecting in the hills in and around Faywood. I'm not sure what minerals they were looking for, although they did mention something about turquoise. About 20 minutes into our soak, one of the Faywood Hot Springs staff members joined us. He entertained us with some stories about the years he spent working for a traveling carnival. They didn't ask me any questions, so I just listened, which suited me just fine. It was fun sharing the hot tub with them and I wished them well on the rest of their travels.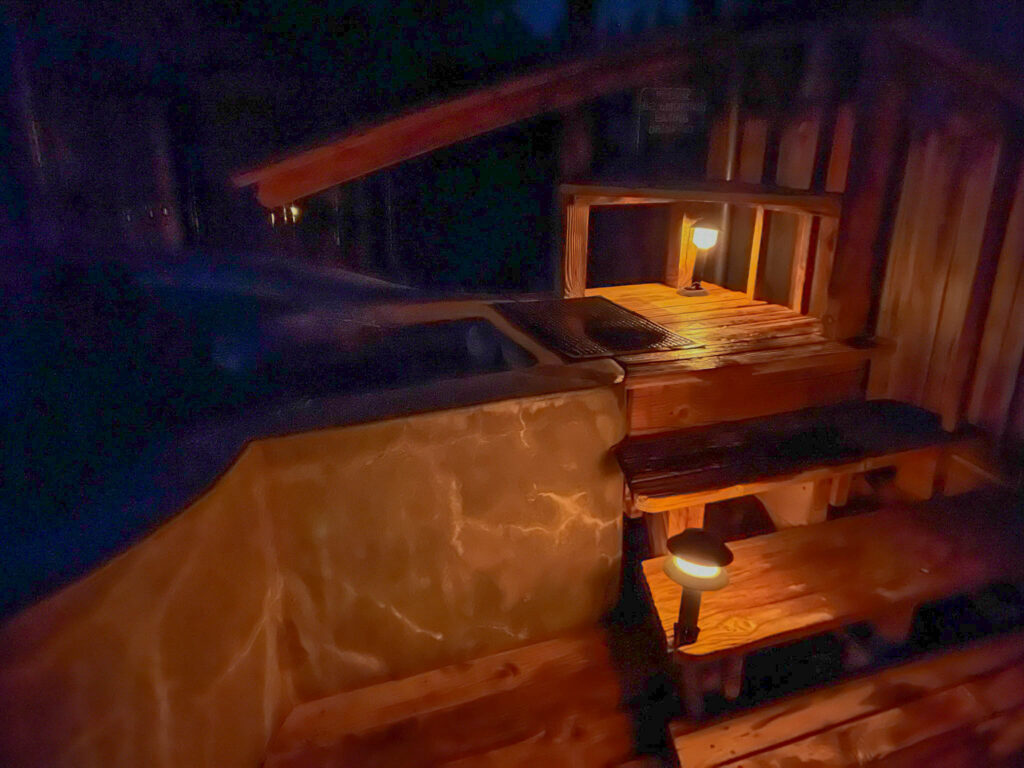 After a decent night of sleep, I woke up around 7am to the sounds of a curve-billed thrasher, Cassin's sparrow, American robin, white-winged dove, ruby-crowned kinglet, and rock wren (thank you Merlin app!). Then, I braced myself for a cold outdoor shower. It was 33 degrees at the time. The water came out extremely cold for the first minute or so. I was just about to abandon ship, when it started to warm up. After my shower, I quickly dried-off, put on some layers, and went back to the casita to pack up and hit the road. The end of an enjoyable stay at Faywood Hot Springs.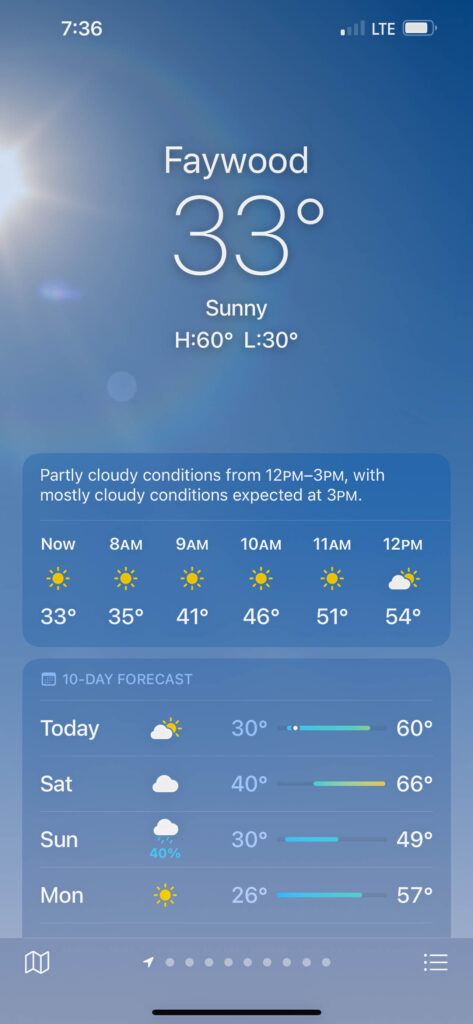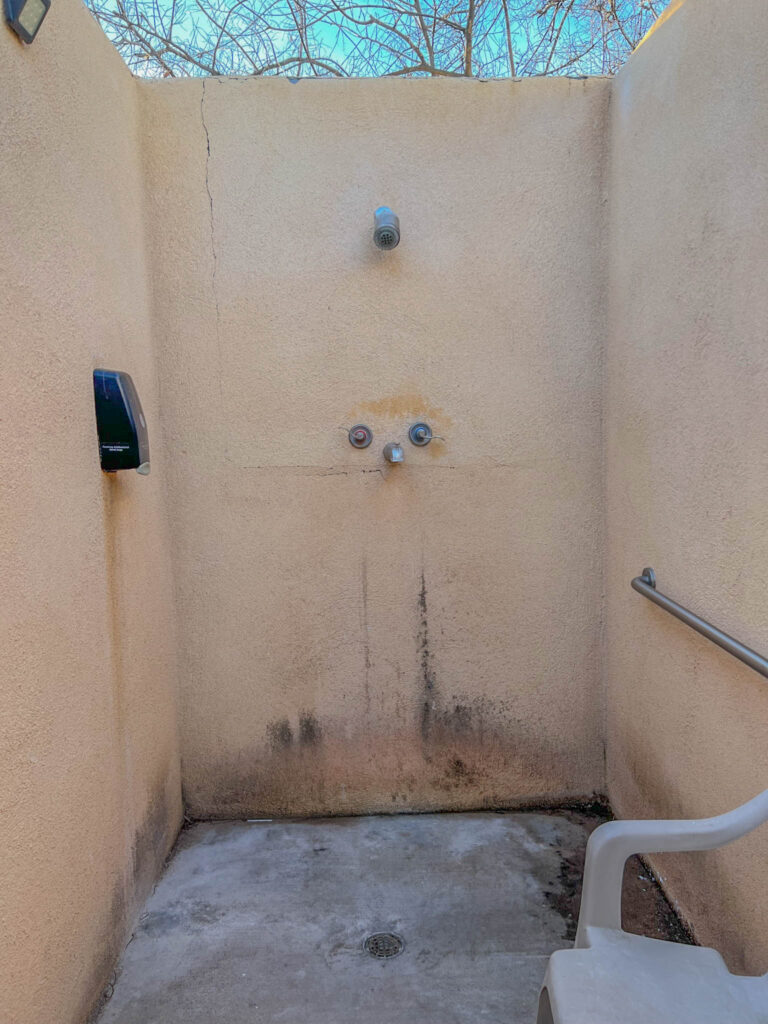 City of Rocks State Park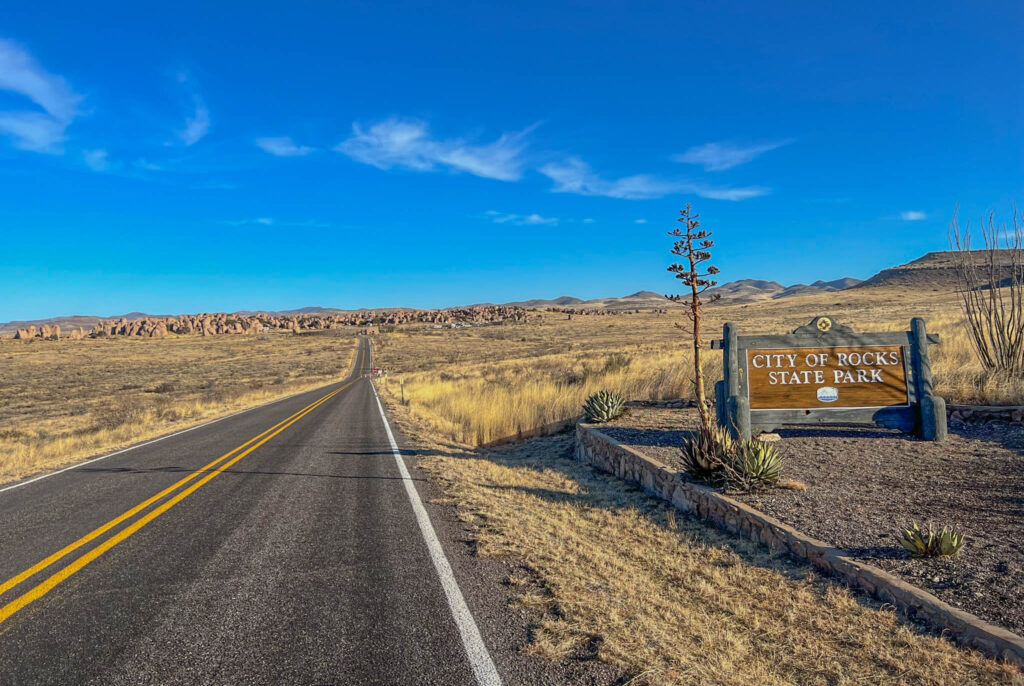 City of Rocks is an unusual place. It's basically a large outcropping of unusually shaped rocks in the middle of nowhere. And it's a good place to camp. I dragged my son there with me. Fortunately, he was happy to join me as he was eager to test out his hammock and new sleeping bag. Plus, it gave us a chance to look for snakes and other critters at night, which served as a fun reminder of a recent trip to the Peruvian Amazon where we shared some intense nighttime herpetology adventures.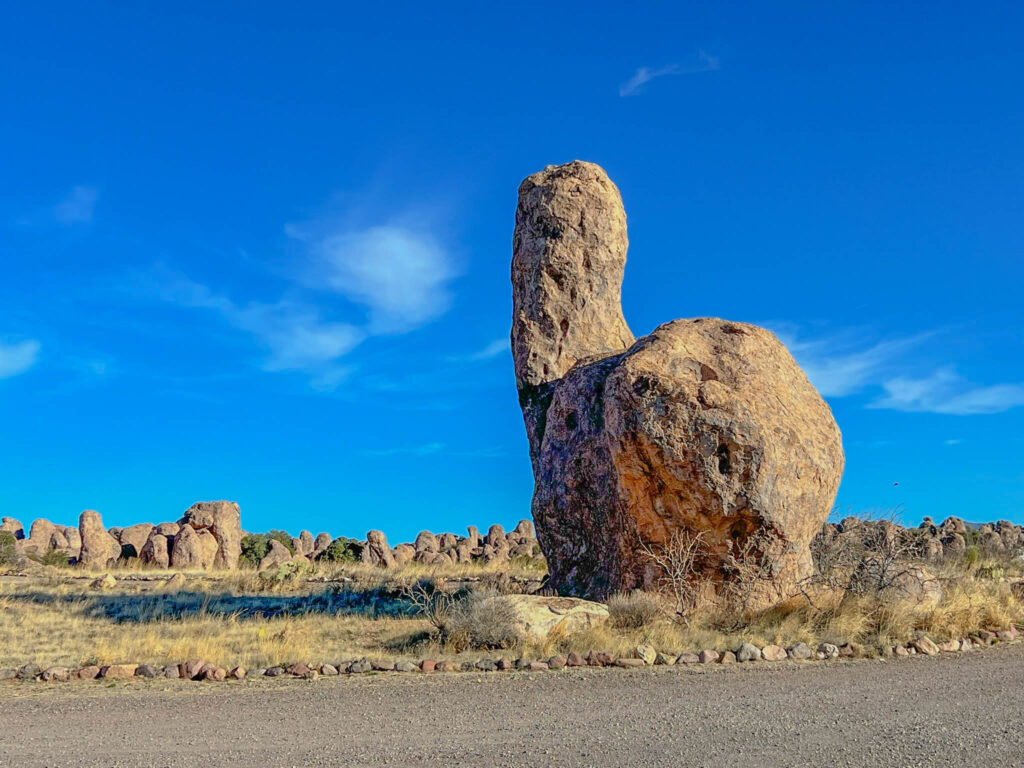 Camping
City of Rocks State Park is a nice place to camp. We were particularly spoiled since we were camping on a Tuesday night and practically had the entire Park to ourselves. Many of the campsites are nestled among interesting rock formations, giving you a greater sense of space and privacy compared to a typical campsite.
My son decided to sleep in his hammock, without any covering, while I slept on my Bounty Hunter Compact SUV Sleeping Platform made by Freeway Camper Kit that fits my car perfectly. I also add a Hasika tailgate tent and window screens on my side windows so that I can sleep with the back of my car and side windows open without getting bugs in my car. Well, at least not too many bugs. I had one June beetle join me until I was able to catch it and put it back outside.
Despite the warm weather (the low was in the low 70's and the high was 97 degrees), I was able to get some sleep. My son had a bit more trouble sleeping, for several reasons. First, was a black-tailed jackrabbit that decided to scamper at high speed through our campsite in the middle of the night. Later, we both heard some very loud screeches nearby, sort of like something you'd hear in a horror movie. Fortunately, it's something I've heard before. It's the screech of a barn owl. If have you haven't heard a barn owl screech before, let's just say it gets your attention. Here's a link to what a barn owl screech sounds like. It's pretty distinct.
A short time later, the barn owl flew right over our camp and landed on the rock directly above my son's hammock. In other words, my son didn't sleep very well. He said he probably got about 2-3 hours of sleep, while I probably doubled that. But it was still a fun night, as we both enjoy wildlife encounters like that. Many of our favorite trip memories and stories are the times when we were the most uncomfortable.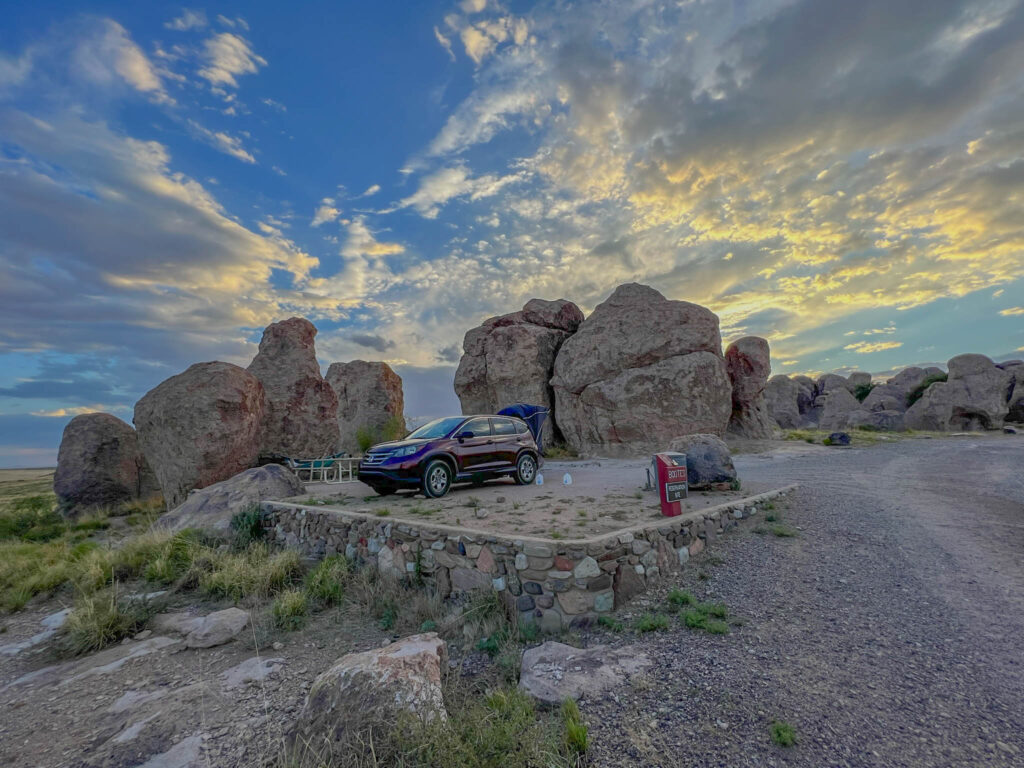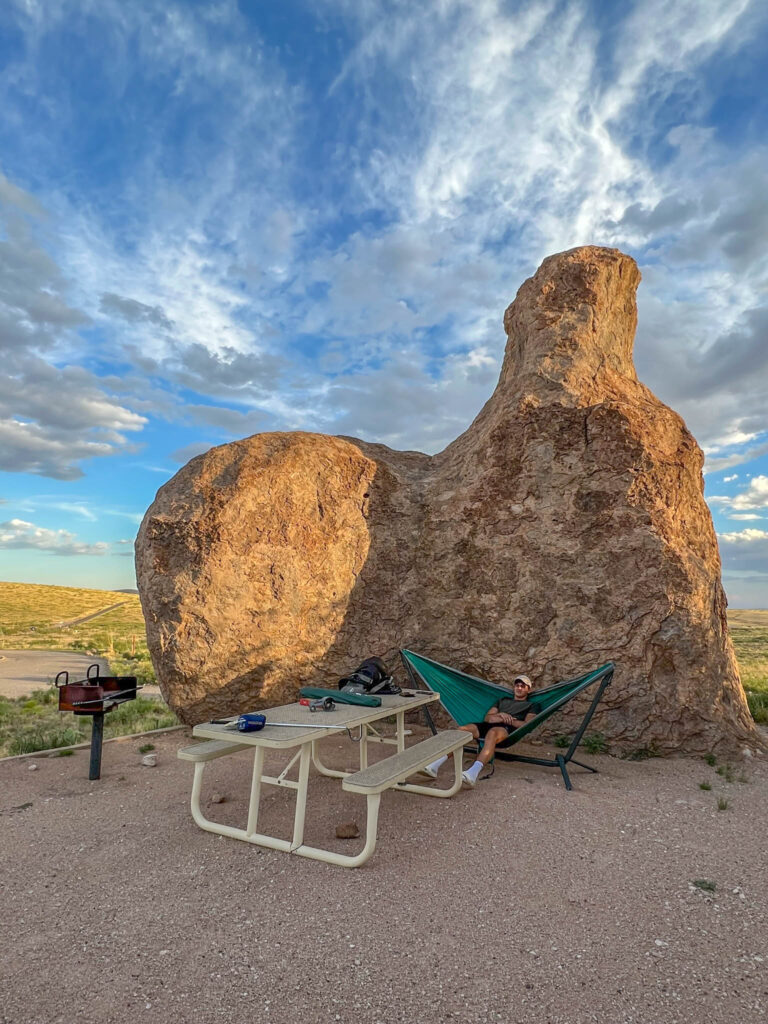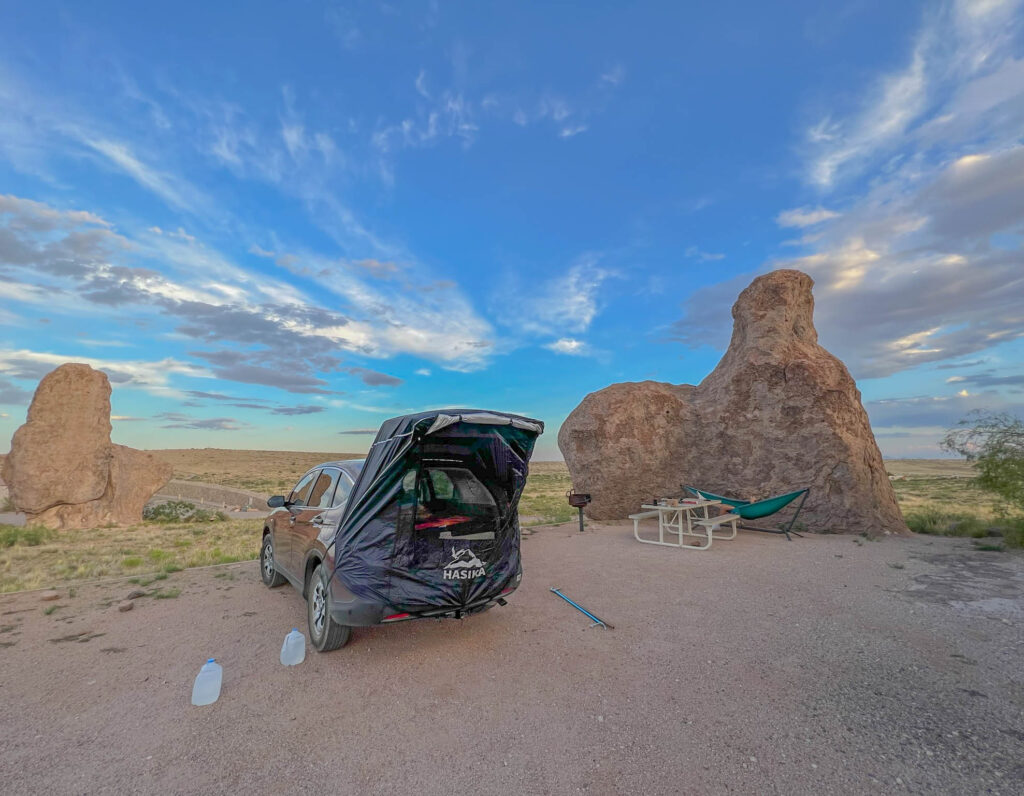 Hiking Trails
City of Rocks offers a variety of trail options for hiking, running, or mountain biking. Two popular trails include the following:
Hydra Trail: This is an easy 3.3-mile loop in the State Park that can be used by hikers and mountain bikers. Dogs are permitted, as long as they're on a leash. The elevation gain is 164 feet, so it's not a strenuous hike. There are also a few cutover trails that give you the option to shorten the hike.
Table Mountain: This is a moderate 5.5-mile out-and-back hiking trail that takes you to the summit of Table Mountain (summit is at an elevation of 5752 feet). The elevation gain of the trail is only 695 feet, so it's not a strenuous climb. For an average hiker, it takes around 2 – 2.5 hours to complete the hike. Dogs are permitted on this trail too, and the leash rule still applies.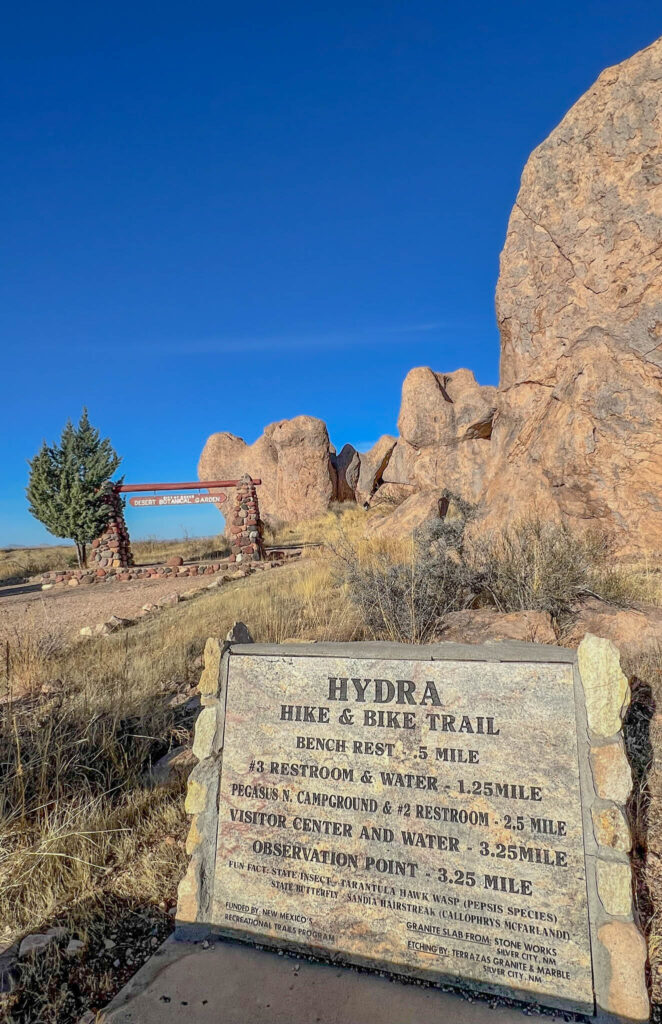 Another fun activity is to simply wander around the interesting rock formations. That's what my son and I spent most of our time doing, as we thought it would be a good place to look for snakes in the summer heat.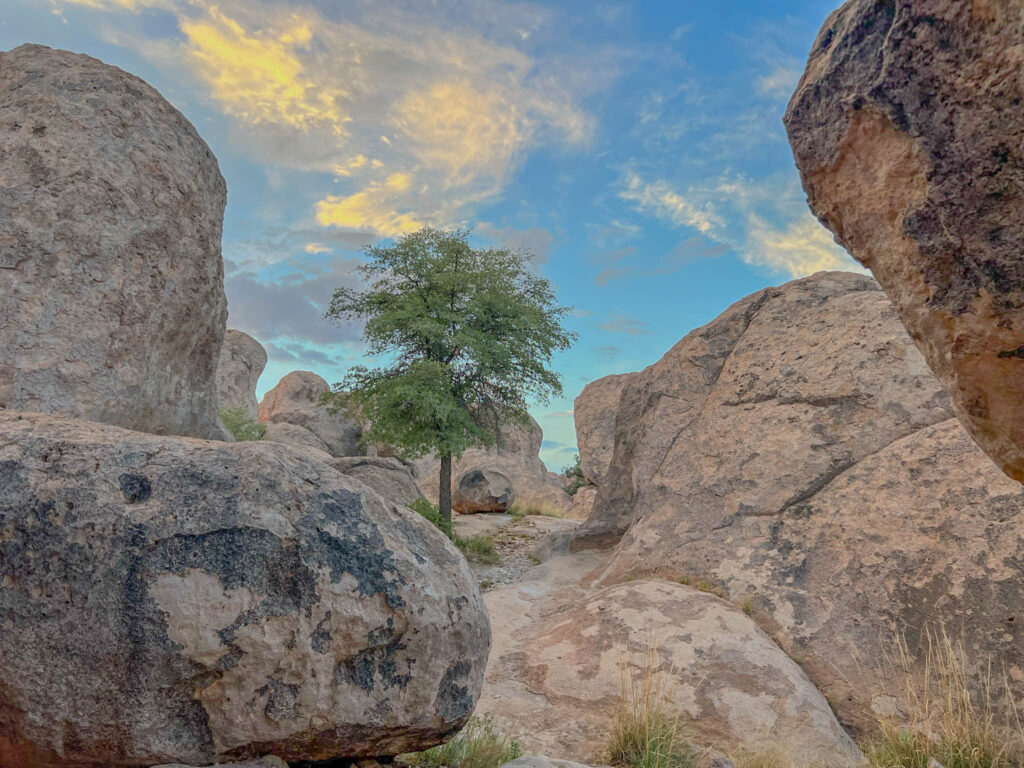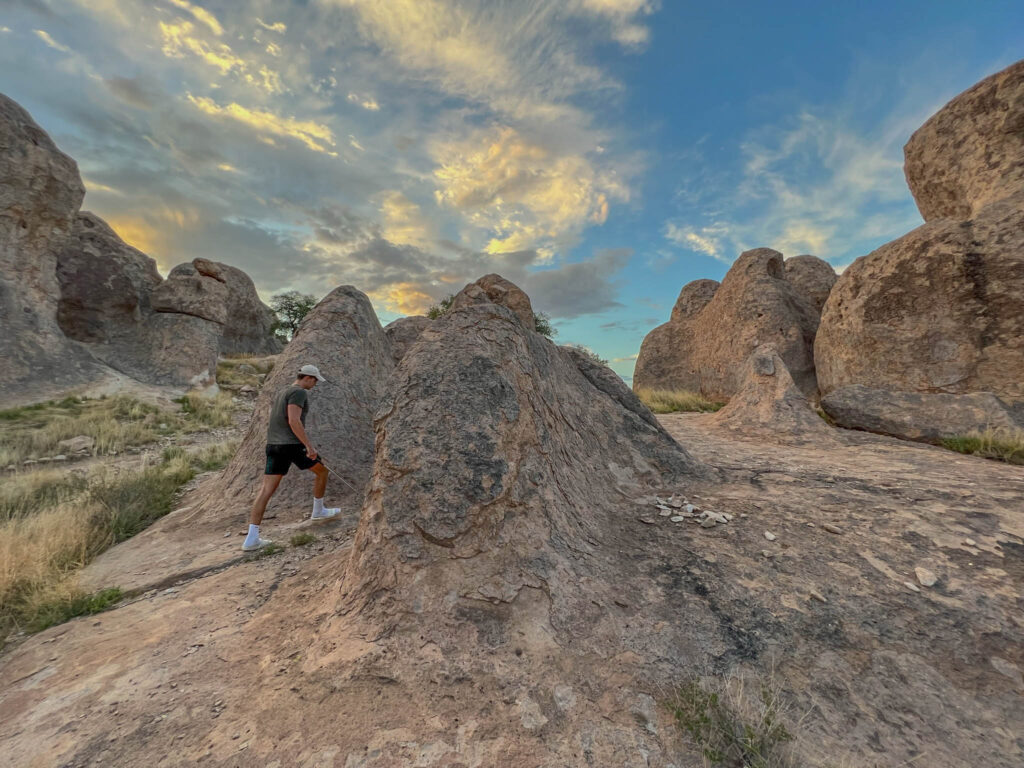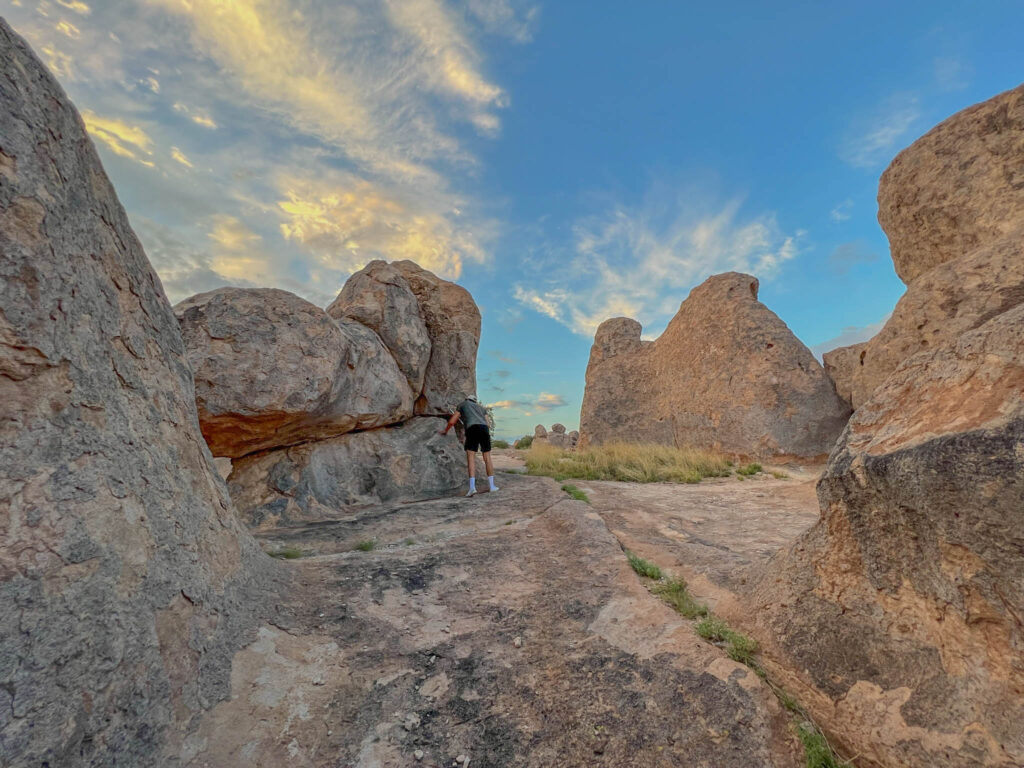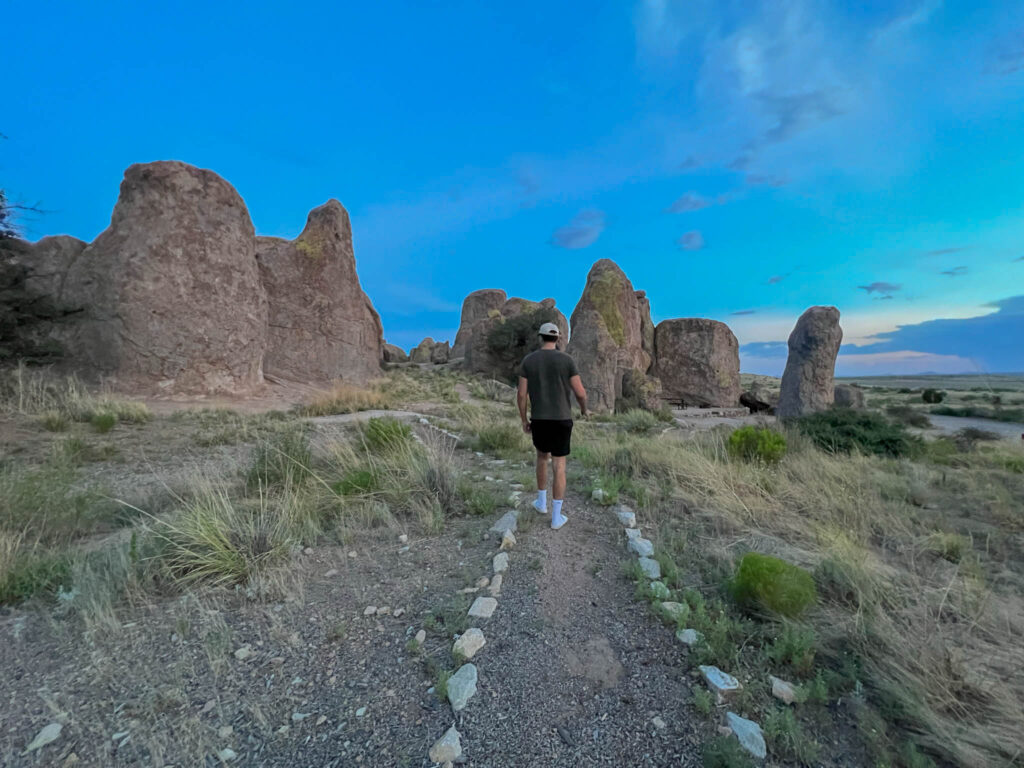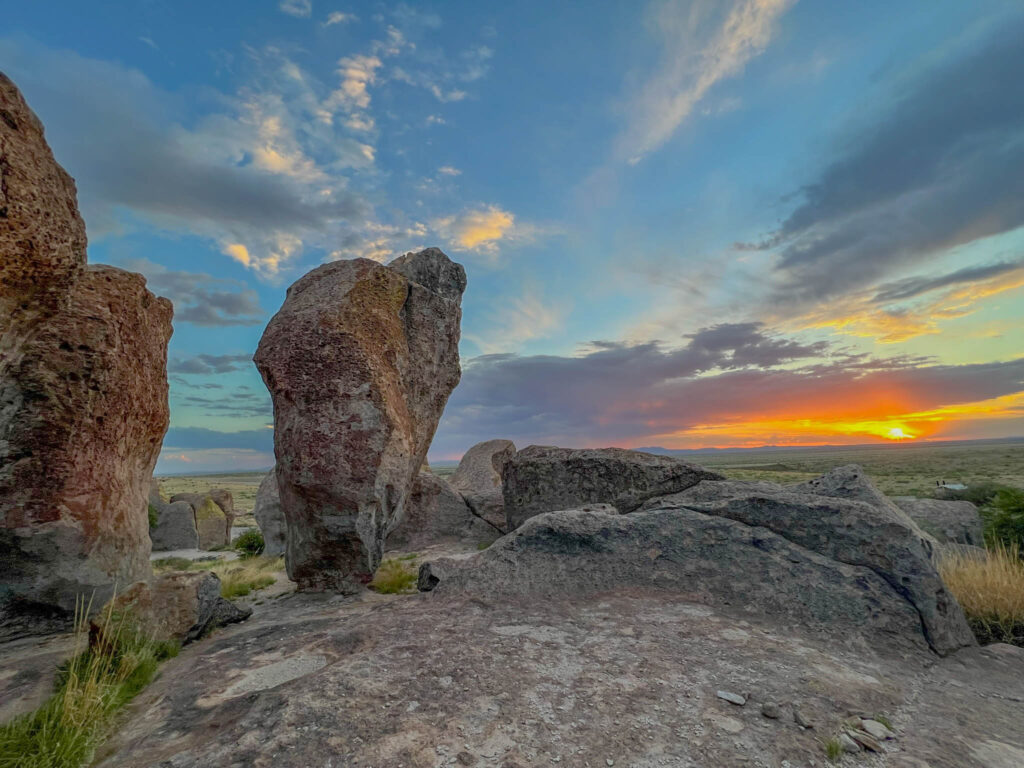 Wildlife
My son and I spent several hours looking for critters, both at sunset and at night. We were specifically looking for snakes. Unfortunately, we didn't find any. But we're pretty sure that some snakes saw us. So, what did we see? Here's a list of some of the animals we encountered at the City of Rocks State Park.
Desert cottontail rabbit
Black-tailed jackrabbit
Cactus mouse
Kangaroo rat
Western Toad
Couch's Spadefoot Toad
Whip scorpion
Tarantulas (3 of them)
Blue Grosbeak
Canyon Towhee
Spotted Towhee
Cassin's Sparrow
Mourning Dove
Ash-throated Flycatcher
Cactus Wren
House Finch
Lesser Nighthawk
Barn Owl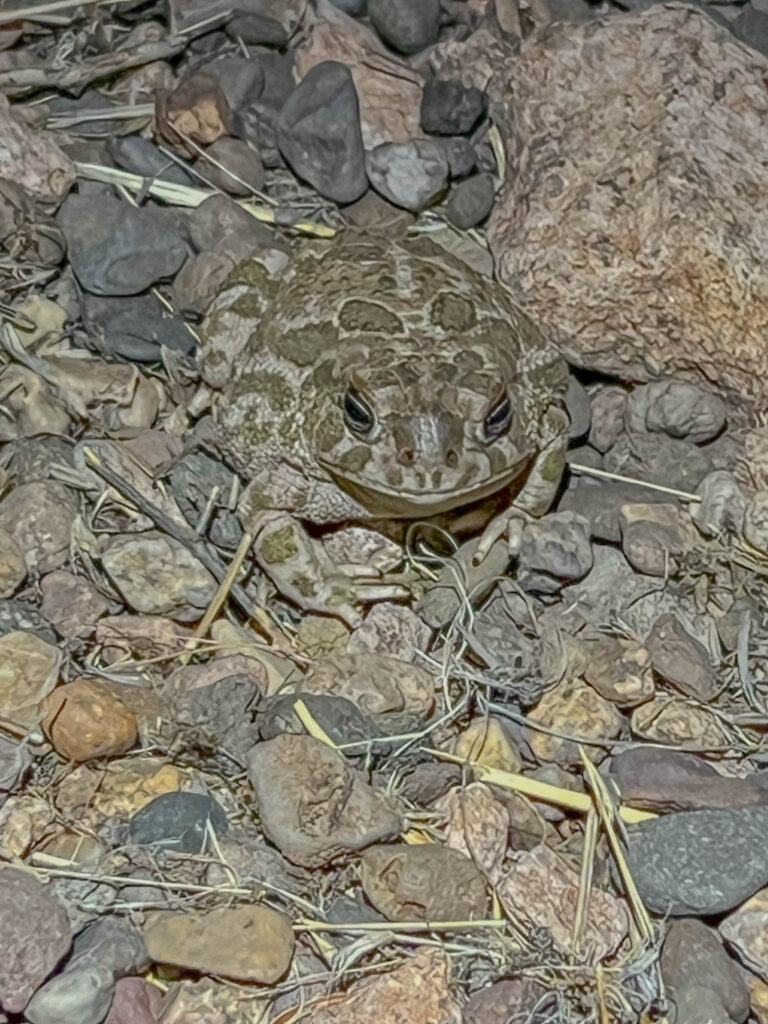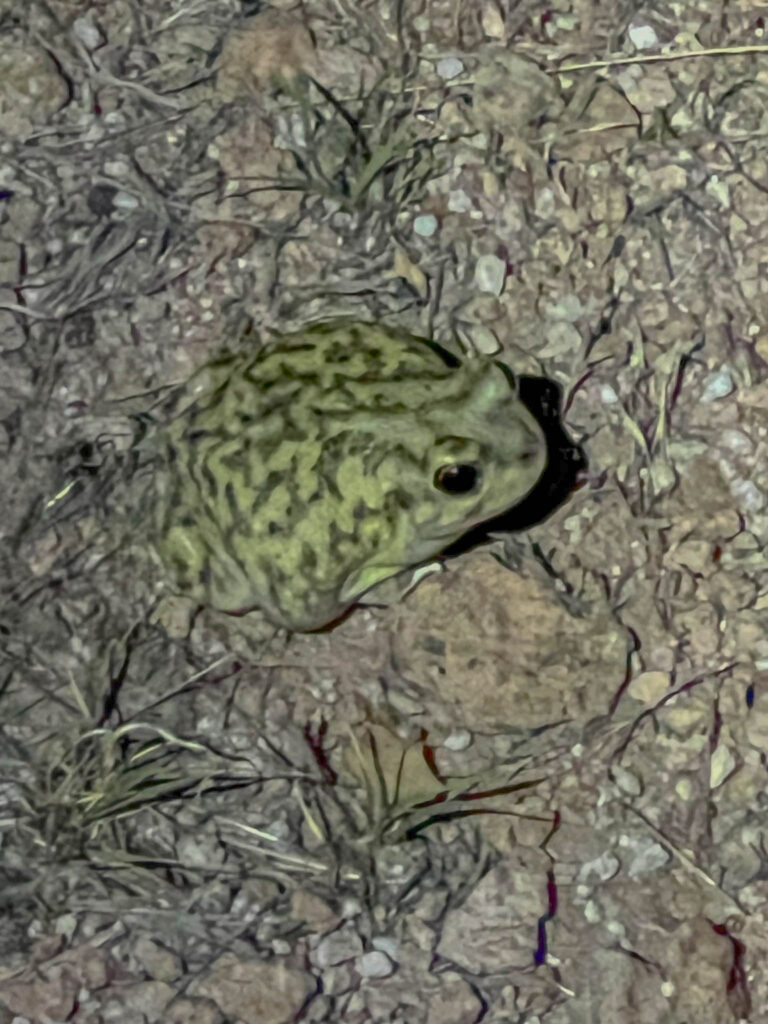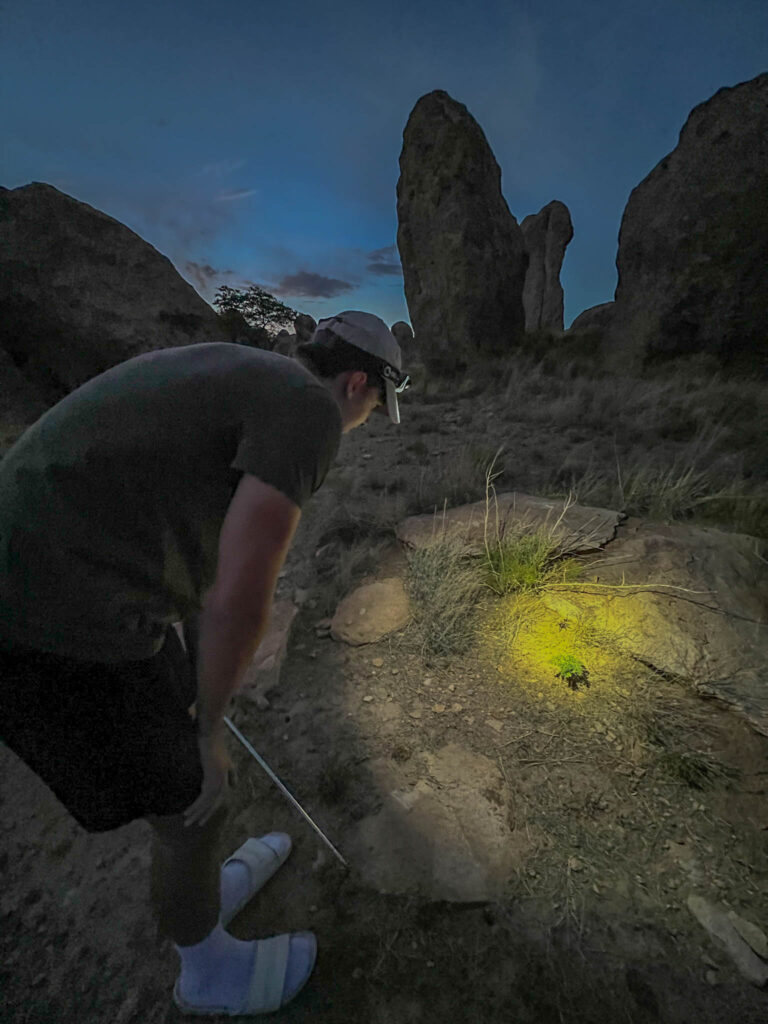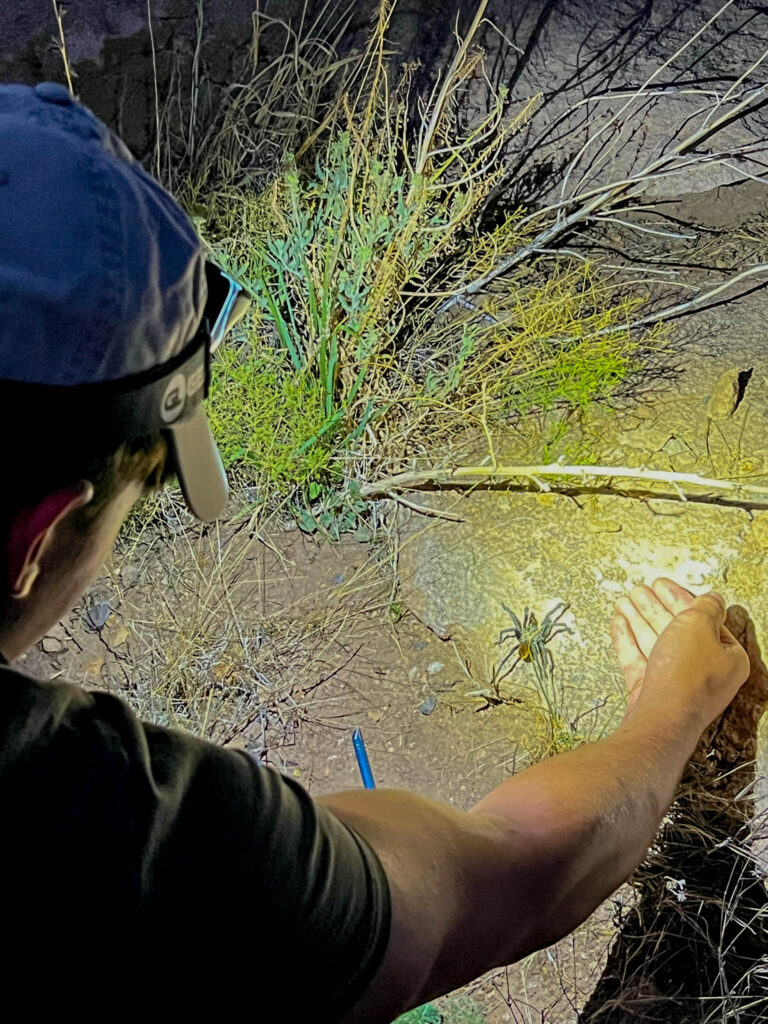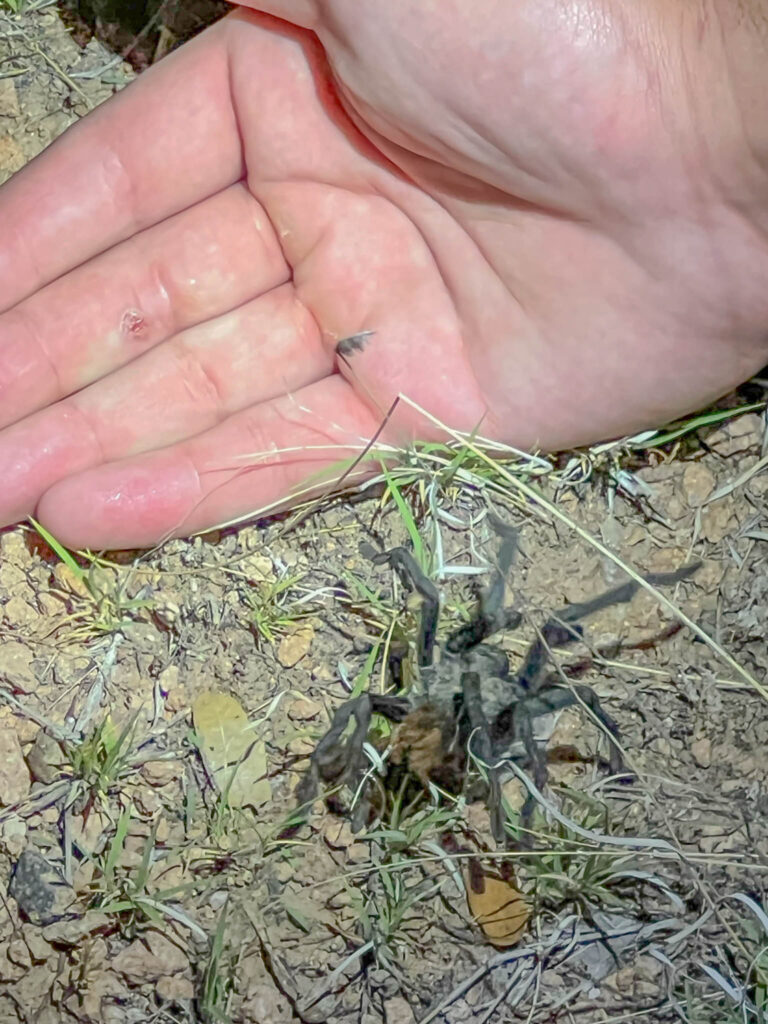 Other Attractions in Faywood
There are no restaurants or services available in Faywood. But there is a church and a ranch that you can visit, so here's a bit more about those options.
Mission San Jose ( Roman Catholic Church)
While driving along Route 61 through Faywood, you'll no doubt see the Mission San Jose Roman Catholic Church. The church was established in 1893 and has been active ever since. There's an interesting story associated with this church. In 1951, there was a strike that was held against the Empire Zinc Company due to its exploitation and discrimination toward Hispanic workers at the Company's zinc mine located near Hanover, New Mexico. The strike was primarily in response to unequal hours and wages, but it was also related to the fact that there were separate, far inferior, facilities for Hispanics at the mine. This was also true in the local schools. There's a lot more to it, but the short version is that the strike became a big story. The strike eventually served as the plot for a 1954 film called "Salt of the Earth", which was filmed in Silver City, New Mexico and featured many local miners and their families. Two of the leaders in the mine workers union movement, Juan and Virginia Chacón, featured prominently in the film, as Juan was the union president and Virginia was active in the Ladies Auxiliary. As a result, Juan became an actor in the "Salt of the Earth" film. His wife, Virginia, was played by a professional actress, Rosaura Revueltas.
As for how this ties back to the Mission San Jose Church, it turns out that Juan and Virginia Chacón attended church at Mission San Jose (aka Misión de San Jose) and they are buried in the cemetery behind the church.
If you're hoping to go into the church, chances are high that it will be closed when you visit. Mass is only held on every other Saturday at 3:30pm. Had I timed it right, I would have attended so that I could check it out. In case you don't believe that I would, I refer you to my post about San Antonito, New Mexico.
Since I don't have any photos of the interior, here are some pictures of the church from the outside.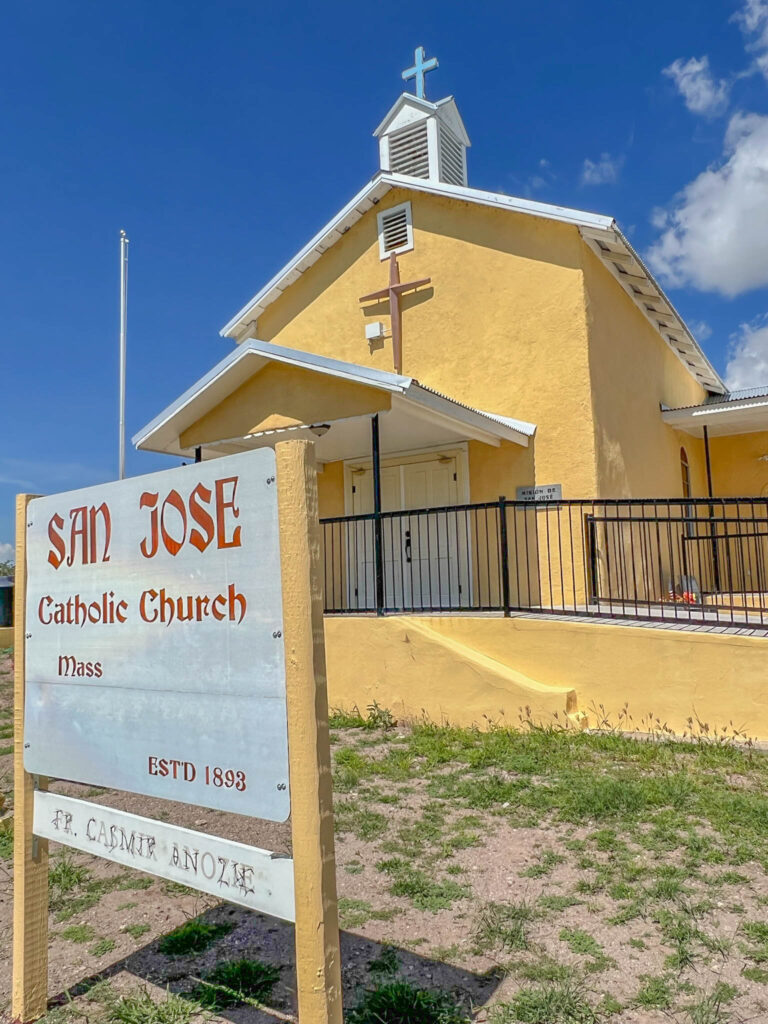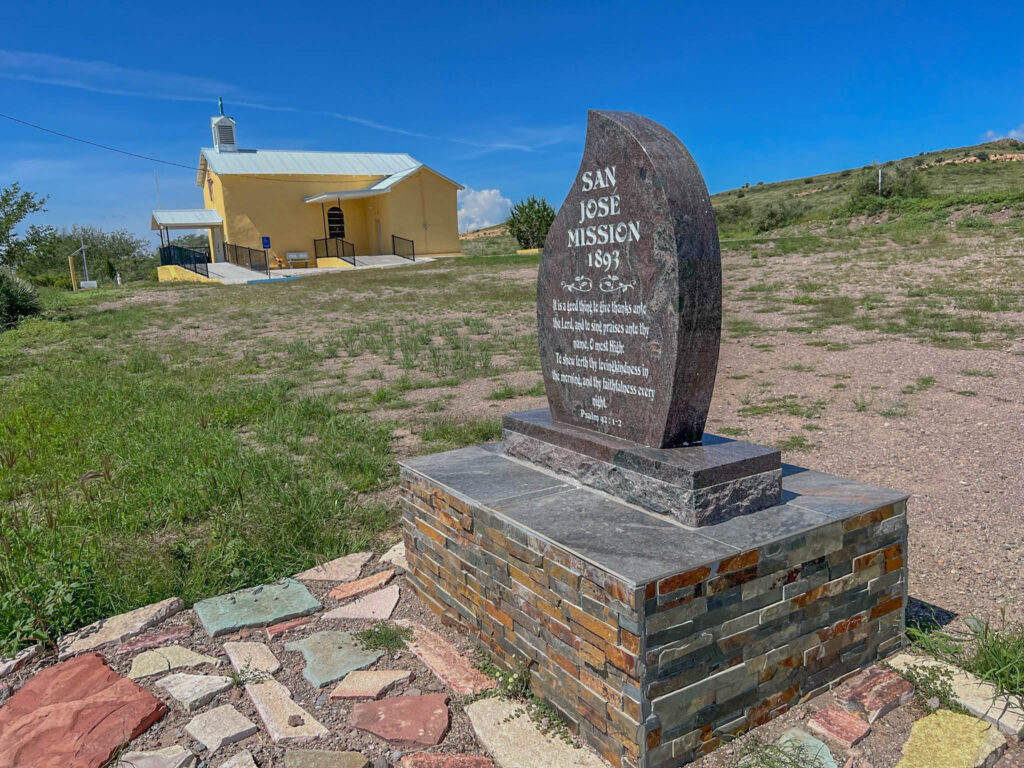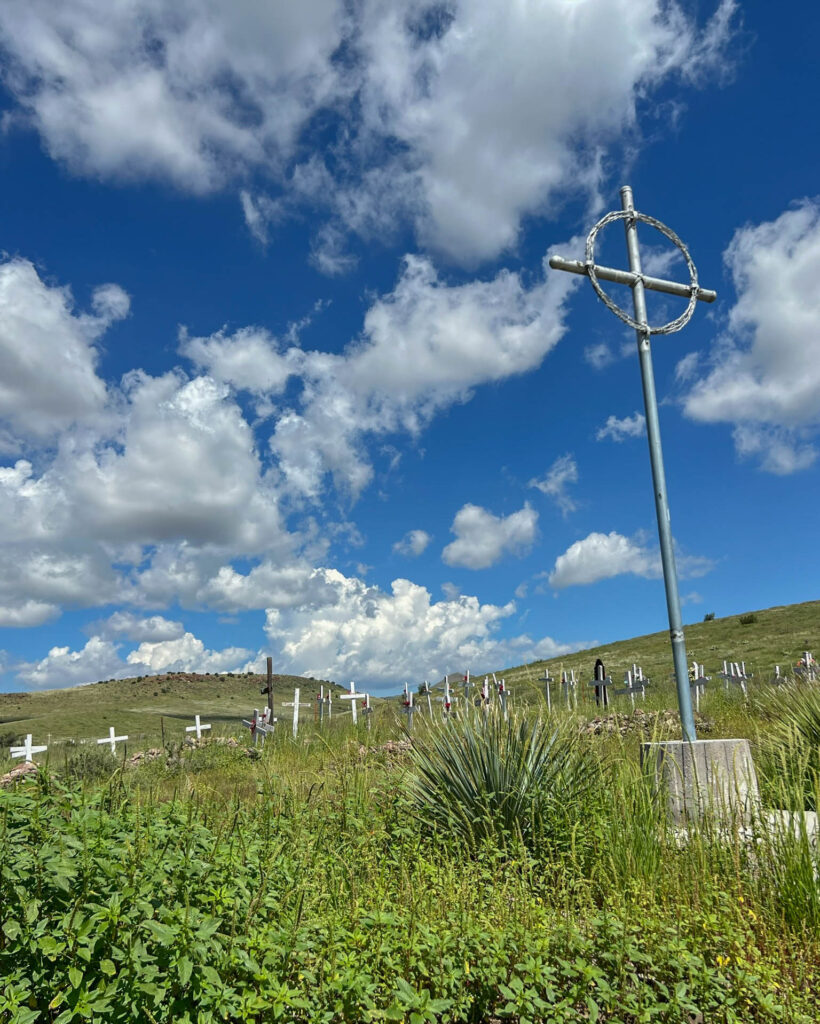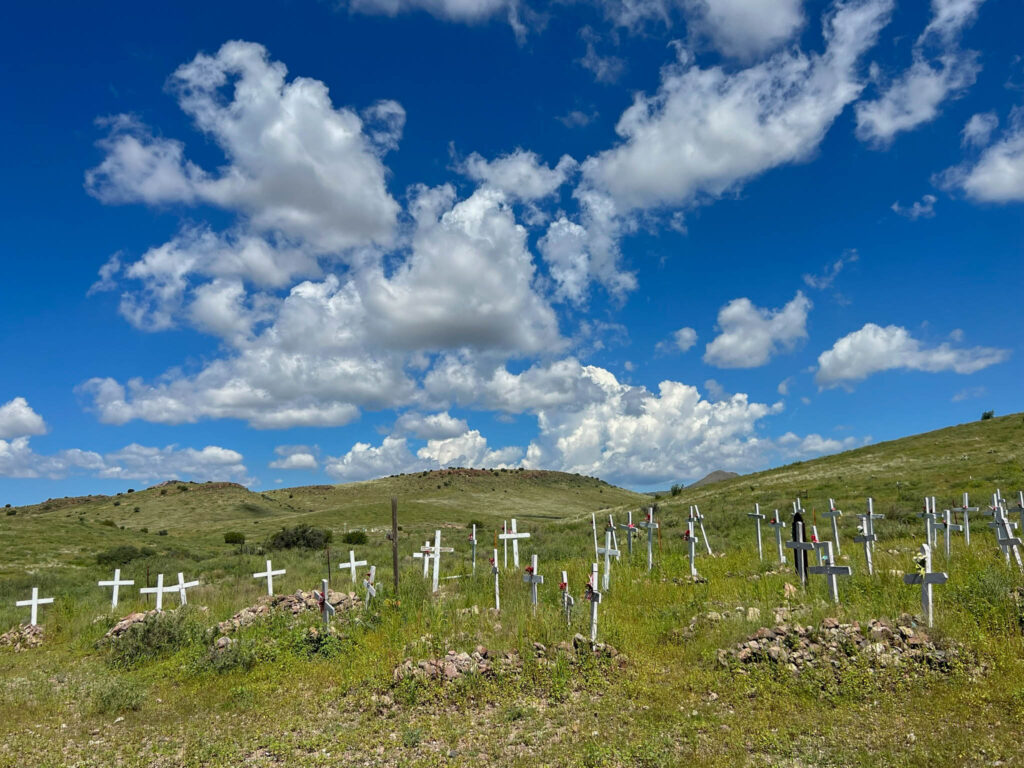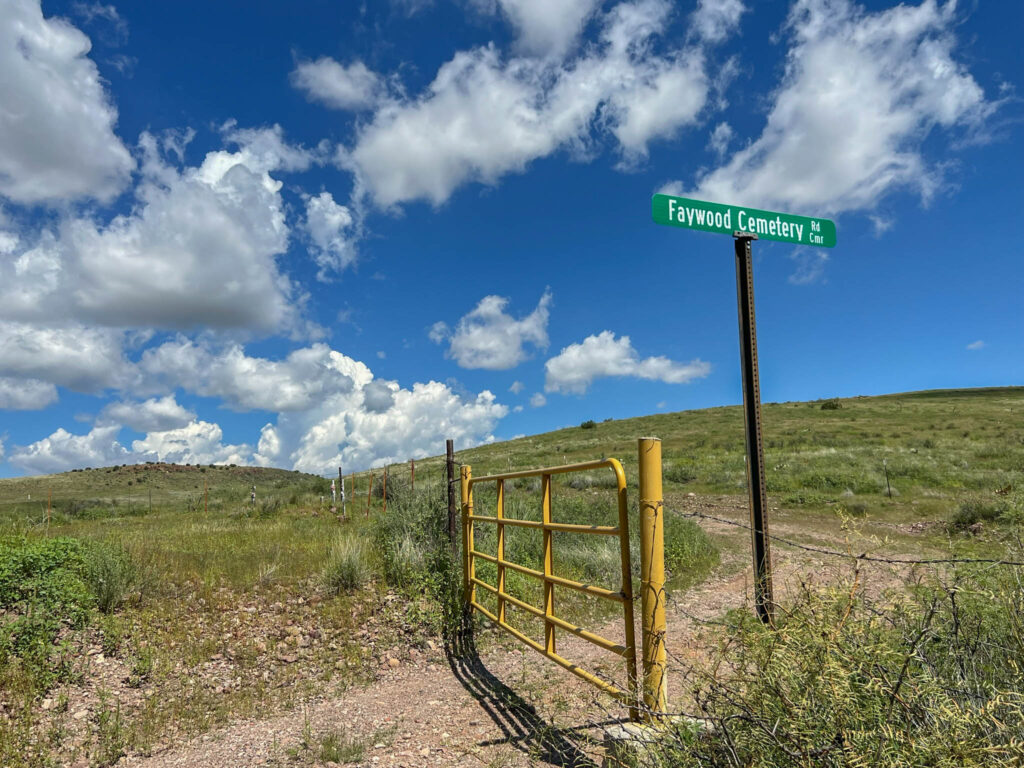 NAN Ranch
If you're interested in staying on an active cattle ranch during your visit, consider staying at the NAN Ranch in Faywood. NAN Ranch has been in the current owner's family for four generations. The ranch is situated on thousands of acres of land, which you can explore as a guest if you're staying in one of their rental accommodations. The Ranch features bunkhouse cabins, a bungalow-style Rancher's house, and a group-sized Lodge, with a wide range of pricing, depending on your needs. Note that the ranch has a 2-night minimum stay.
While driving through Faywood, I tried to call NAN Ranch but my cell phone reception was non-existent. As a result, I decided to drive there instead to say hello, but encountered an unusual obstacle. A river. I didn't see anybody walking around in the distance, so I decided to turn around as it didn't feel right to show up without giving them advance notice.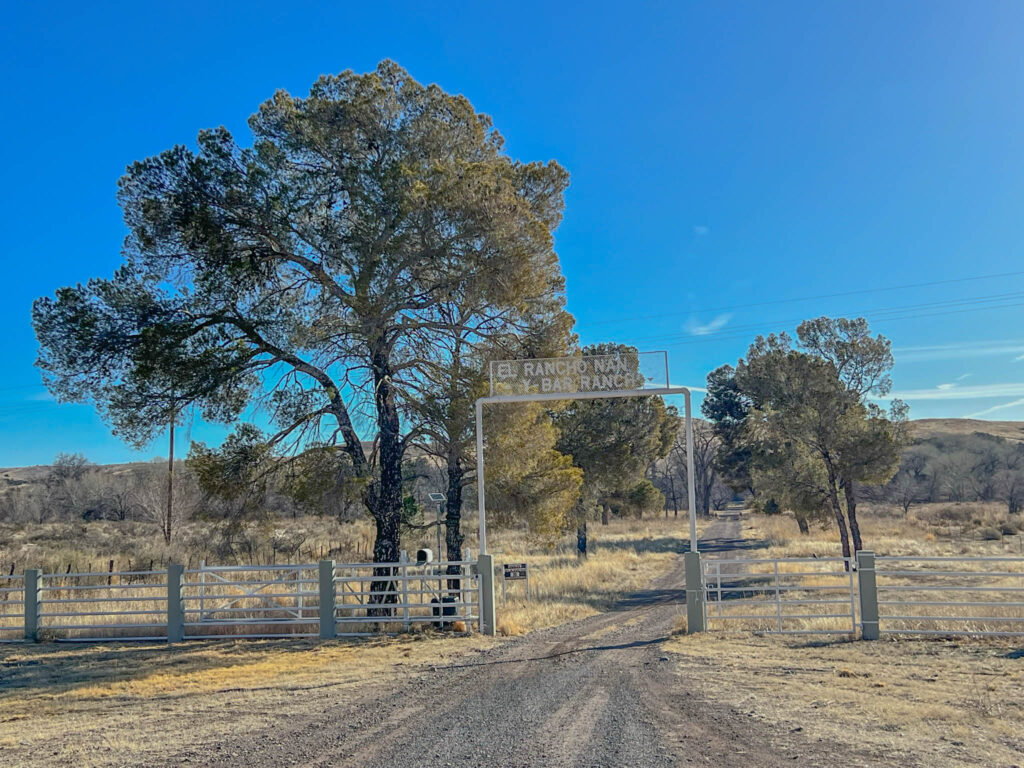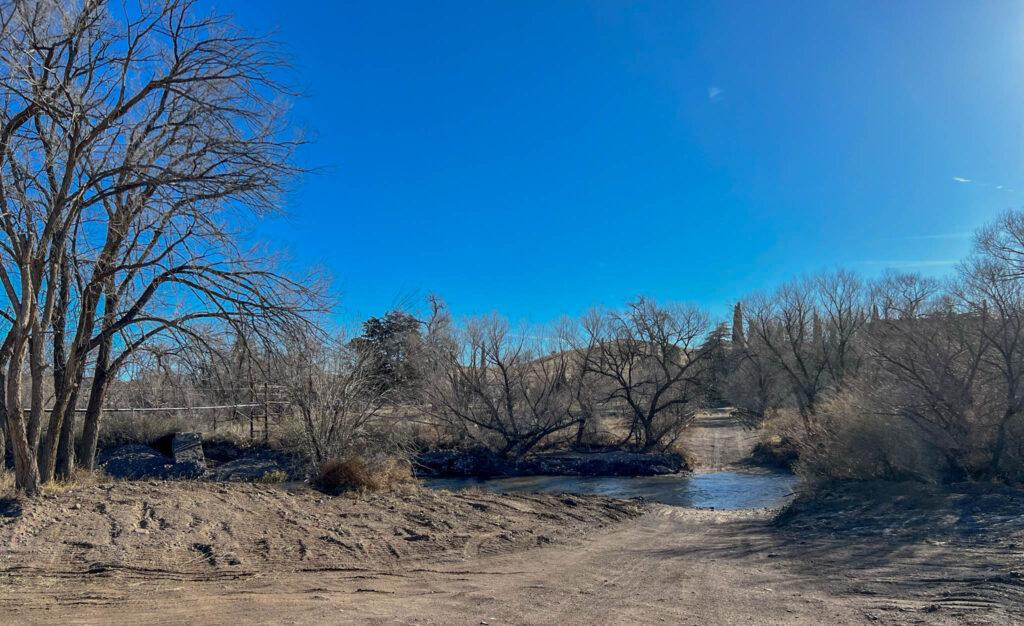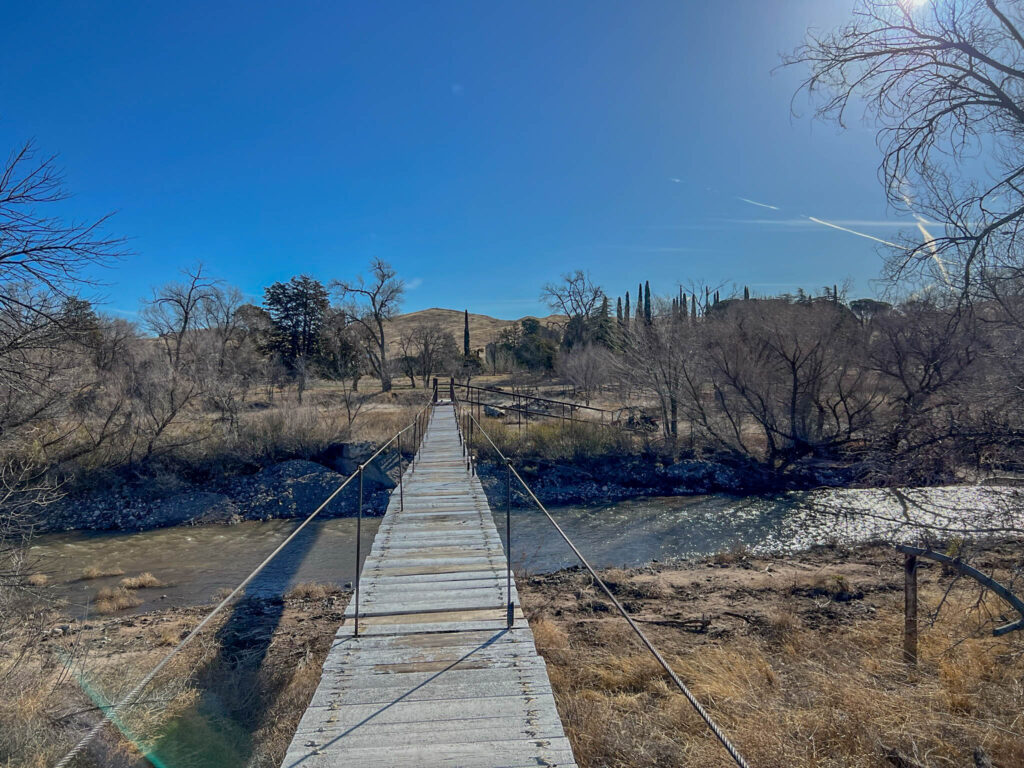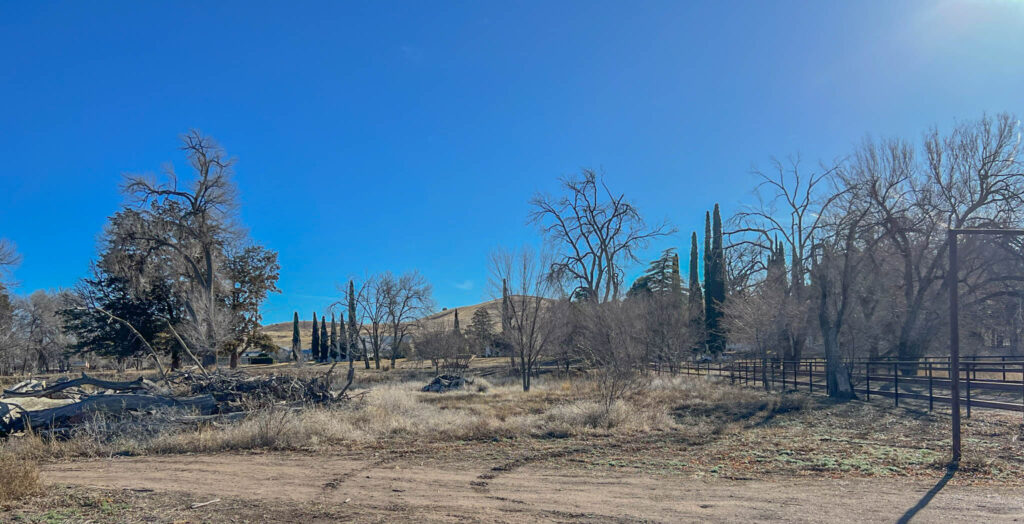 I later called the owners of NAN Ranch (once I got back home) and learned more about the Ranch. It sounds like a great spot for wildlife and I'm planning to stay there the next time I'm passing through Faywood.
I hope this post gives you some ideas of things to do the next time you're in Faywood!
---
---
Thought for the Week
Today's thought for the week is on the lighter side. It's a good quip from humorist and writer Dave Barry, with his take on camping.
"Camping is nature's way of promoting the motel business."
— Dave Barry
I've certainly had plenty of camping experiences that make me appreciate that sentiment, but City of Rocks isn't one of them!
---
Thanks for reading and happy travels!
Mark (The New Mexico Travel Guy)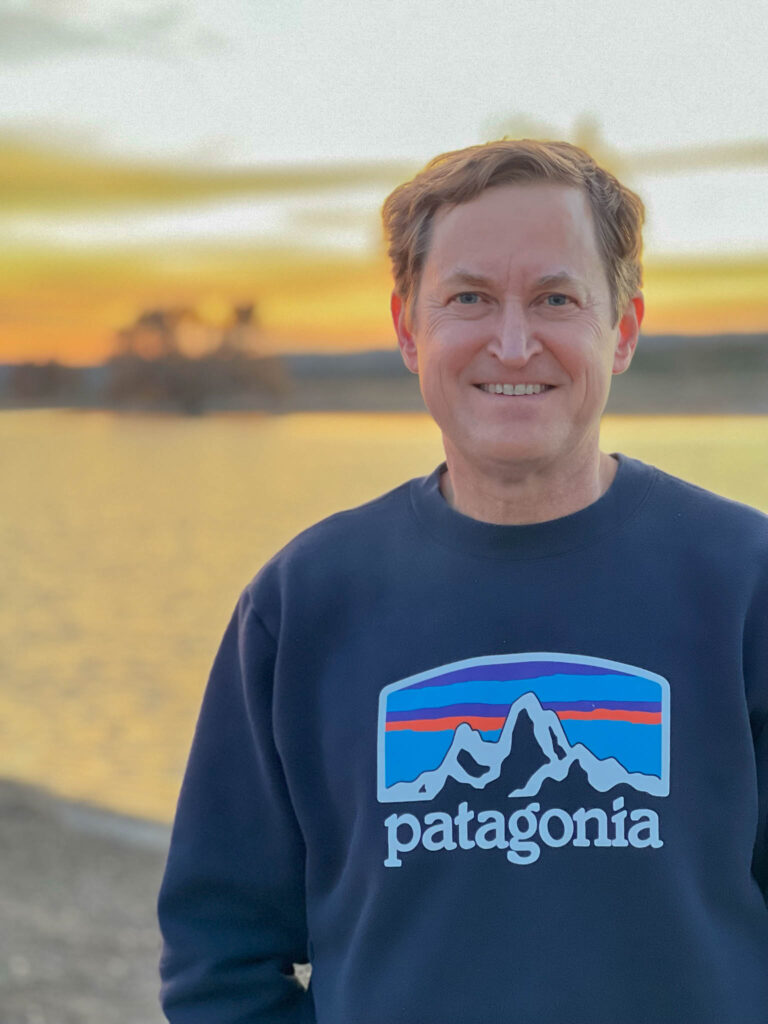 Mark Aspelin, The New Mexico Travel Guy (www.newmexicotravelguy.com), is a travel writer and author of two books who has enjoyed a wide variety of adventures in his travels to over 100 countries and all 50 U.S. States. His current project involves visiting EVERY town in his home state of New Mexico (there's over 500 towns) and writing a story about each one. When not traveling, Mark lives as a recluse in the mountains outside of Albuquerque, New Mexico.