At first glance, you'd think New Mexico and Japan have very little in common, other than some good Japanese restaurants. Heck, even that may come as a surprise. Sushi in New Mexico? Yes, despite being landlocked in a high desert, we have some good sushi restaurants. You may also be surprised to learn that one of Albuquerque's sister cities is Sasebo, Japan, which helped inspire the creation of the Sasebo Japanese garden at the ABQ BioPark. New Mexico and Japan also share some common, but not so pleasant, history related to World War II.
I've always had a strong affinity for certain aspects of Japanese culture and aesthetic. Years ago, I had a roommate jokingly refer to me as their "Japanese roommate", due to my tendency to be clean, quiet, and polite, which I considered to be a compliment. If I had to pick one place to live for a year outside of the United States, I'd pick Japan. This is based on a short, two-week trip to Hokkaido and Honshu back in the 1990s, as well as the interactions I've had with many Japanese people since then. I'm planning to visit Japan again in 2024, this time with my 18-year old son along for the journey.
New Mexico is home to a small community of over 1,000 Japanese people, mostly in Albuquerque. Given my interest in Japanese culture, I try to take advantage of relevant events that periodically pop up in New Mexico. Two recurring events that pop up each year in Albuquerque are the Obon and Aki Matsuri Festivals, which will be the focus of this post. I'll also share some other resources in case you want to learn more about other upcoming Japan-related exhibits and performances in New Mexico. But first, some history. Don't worry, I'll keep it short.
Table of Contents
Historical Connections Between New Mexico and Japan
Nuclear Bombs
Ok, you're probably already thinking about one not-so-pretty historical connection between New Mexico and Japan. Think Los Alamos National Labs, White Sands Missile Range, Hiroshima, and Nagasaki. Yes, we're talking about the uncomfortable connection of nuclear bombs, with New Mexico being the location where the bombs were developed and Japan being the location where the bombs were dropped.
During World War II, the first atomic bomb was built as part of the Manhattan Project at Los Alamos National Laboratory in Los Alamos, New Mexico. The first atomic bomb was then tested at the White Sands Missile Range on July 16, 1945 at a site now referred to as Trinity Site, about 28 miles from San Antonio, New Mexico. These events are featured in a newly released film called Oppenheimer, in reference to physicist Robert Oppenheimer who was director of the Los Alamos National Laboratory at the time. The atomic bombs were then dropped on Hiroshima (August 6, 1945) and Nagasaki (August 9, 1945), immediately killing an estimated 80,000 people in Hiroshima and 40,000 people in Nagasaki. Many tens of thousands more died from cancer and other illnesses related to radiation poisoning in the years that followed.
On a side note, when I worked at Sandia National Laboratories about 20 years ago, I was part of a small delegation that hosted group of ~20 nuclear scientists and administrators from Japan. As part of that experience, I had the unusual opportunity to join our Japanese friends for a visit to the National Museum of Nuclear Science & History in Albuquerque and the Bradbury Science Museum in Los Alamos. It felt a bit awkward walking through the exhibits with our colleagues, particularly when a subset of them decided to pose in front of an old newspaper with a headline that referenced the "bombing of Japs". But history is what it is, and all we can do is learn from it and hopefully never repeat the many tragic events of World War II.
Confinement Camps in New Mexico
Another uncomfortable and lesser-known historical connection between New Mexico and Japan is the fact that New Mexico was home to four confinement camps that imprisoned people of Japanese descent (referred to as "Nikkei") who lived in New Mexico during World War II. These confinement camps were located in Lordsburg, Santa Fe, Fort Stanton, and Baca Camp (aka Old Raton Ranch) located 13 miles east of Fort Stanton near Lincoln, New Mexico. You can read more about that history in a document called "Confinement in the Land of Enchantment" that was put together by the New Mexico Japanese American Citizens League with grants from the National Park Service's Japanese American Confinement Sites (JACS) Program.
Bataan Death March
A third connection between New Mexico and Japan is the Bataan Death March, a grisly World War II event that is remembered each year in New Mexico through a commemorative run at the White Sands Missile Range. The original march took place in the Philippines on April 9, 1942 when the Japanese Army forced 75,000 Filipino and American prisoners of war (POWs) to march 65 miles through oppressive heat and humidity to get to other camps. Any "POWs" who went to ground or fell were instantly shot. Many others were bayoneted, shot, beheaded, or severely beaten, whether or not they fell. I put "POWs" in quotes because Japan didn't recognize the Filipino and American troops as POWs. In the end, somewhere between 5000 – 18,000 Filipinos and 500 – 600 Americans were killed during the forced march. The Japanese commander responsible for the march, and two of his officers, were eventually tried for war crimes and sentenced to death.
Today, the Bataan Memorial Death March is a marathon (26.2 miles) that takes place each March on a variety of paved, dirt, and sandy surfaces at the White Sands Missile Range, near Las Cruces, New Mexico. As a Vietnam vet, my dad loved this event and he completed it over 10 times. I joined my dad on four occasions, but I opted for the shorter 14.2-mile honorary option for two of those races.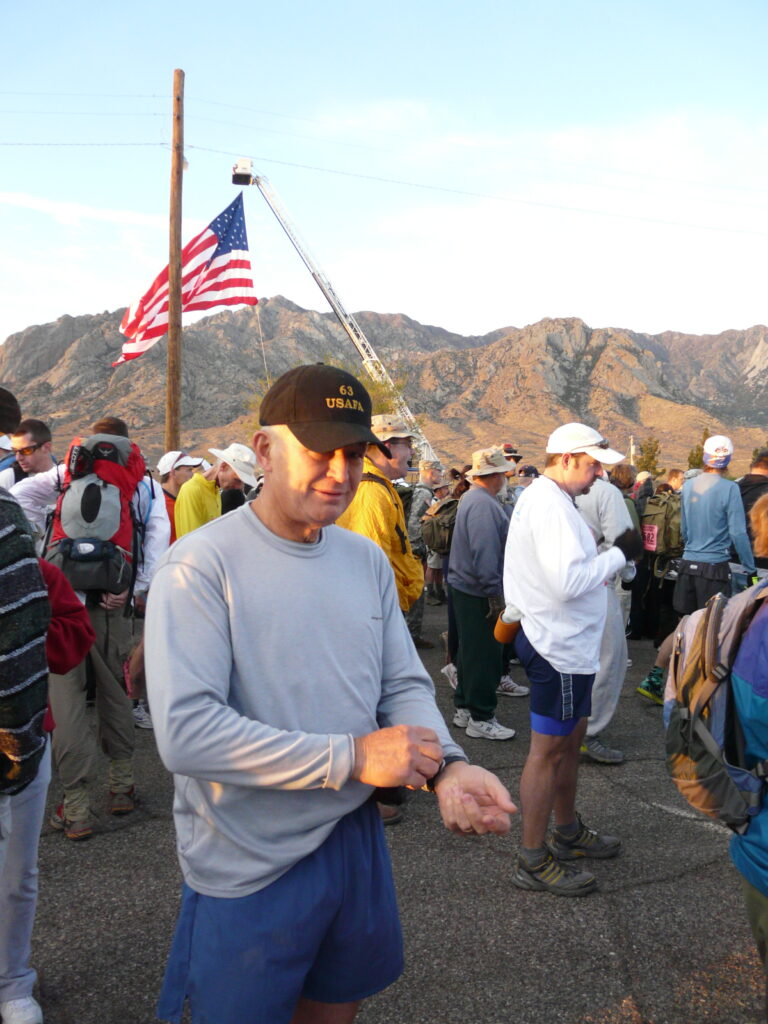 As the race website says, the Bataan Memorial Death March is "more than just a marathon". It's an impressive event, featuring US military teams, civilian teams, and individuals from across the country, as well as some international competitors. I say "teams" because you can sign up as a team of 5 members and each team member must cross the finish line within 20 seconds of each other. To make it more challenging, your team can choose to enter a heavy division where each member carries a 35 lb. pound pack during the march. For either the heavy division or light division, all military teams are required to march in uniform and boots. Civilians can wear whatever they want to wear.
Prior to COVID, the event attracted around 10,000 marchers. The event was canceled in 2020, held virtually in 2021 and 2022, and marchers could participate in person or virtually in 2023. To help inspire you and keep your perspective, the event also used to feature survivors of the real deal in 1942. Unfortunately, that tradition has come to an end as there are few, if any, survivors still alive today.
Sister Cities: Albuquerque and Sasebo
Finally, a happier and more recent connection between New Mexico and Japan is the fact that Albuquerque, New Mexico and Sasebo, Japan are considered to be "sister cities". Albuquerque actually has ten sister cities, Alburquerque, Spain, Ashgabat, Turkmenistan, Chihuahua, Mexico, Guadalajara, Mexico, Helmstedt, Germany, Hualien, Taiwan, Lanzhou, China, Lusaka, Zambia, Rehovot, Israel, and Sasebo, Japan. These partnerships were formed by the Albuquerque Economic Development Department in an effort to implement a city ordinance to promote and encourage "private and public programs to further the development of greater friendship and understanding between the people of Albuquerque and cities of other nations." The partnership between Albuquerque and Sasebo was formed over 55 years ago when "individuals from both cities met and became friends during the Korean War."
Japanese Cultural Events in New Mexico
New Mexico has two organizations that are dedicated to supporting and sharing Japanese culture: Santa Fe Jin and the New Mexico Japanese American League. These organizations help support two annual Japanese cultural events in New Mexico, the Obon and Aki Matsuri festivals, which I'll describe below.
The Obon Festival at the ABQ BioPark Japanese Garden
Obon is a special time of year when the souls of the dead come back to visit the living. It's similar to the "Day of the Dead (Dia De Los Muertos)" tradition (November 1-2) that we know very well in New Mexico. In Japan, Obon takes place during a holiday period around August 12th – 15th, when the entire country takes a break to celebrate the "festival of the dead". This is a time for the dead and the living to unite to eat, drink, and share good times together. You may see it referred to as the Bon festival or as Obon, with the honorific "o" added to "Bon". During this celebration, people put electrified paper lanterns inside or outside of their home. If it's the first Bon holiday after a family member has died, the lantern, or a very small fire, is placed outside to help the loved one find their way back for the first time.
Obon is also a time when family members visit the graves of the their ancestors and perform a ritual cleaning of the grave stones. A variety of Bon dances are also performed. Finally, at the end of the Bon period, the family sends off the ancestors with another fire and, if the location is near water, lanterns are set out to float out to sea. Each candle represents a soul of the ancestors. That's the basic gist, but you'll find different variations of these events, depending on where you are in Japan.
In Albuquerque, the traditional Obon festivities are condensed down to just a few hours. The celebration takes place at the Sasebo Japanese Garden at the ABQ BioPark. And if you read the "sister city" section above, you know why "Sasebo" is the name of the Japanese Garden. The Obon festival at the ABQ BioPark includes taiko drumming and dancing demonstrations, followed by the opportunity to create a lantern that you can place in the lake at the ABQ Botanic Garden. As an ABQ BioPark Zoo Docent, I volunteered at the Obon Festival last year and I'll be helping with the festivities again this year.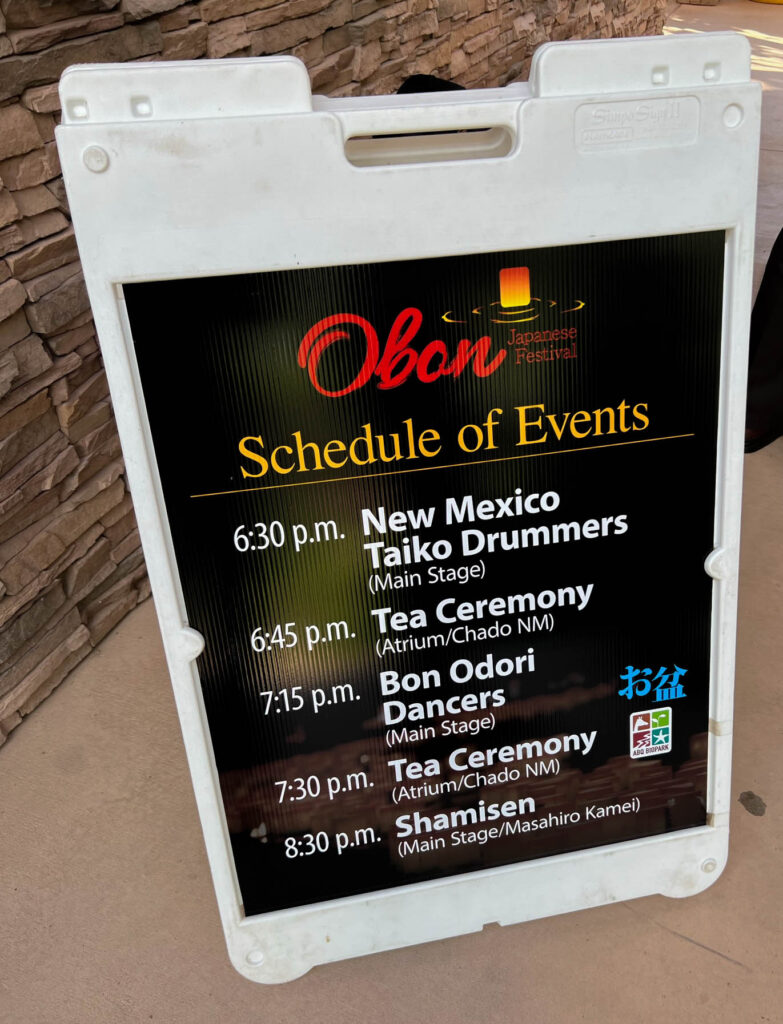 If you've never been to the four-acre Sasebo Japanese Garden in Albuquerque, it's definitely worth visiting. It was designed by landscape architect Toru Tanaka and opened in September of 2007. The garden features a koi pond, waterfall, stone lanterns, pagoda sculptures, stone and wooden bridges, and a mixture of Japanese and local plants. Here are some photos to give you a better idea of what to expect.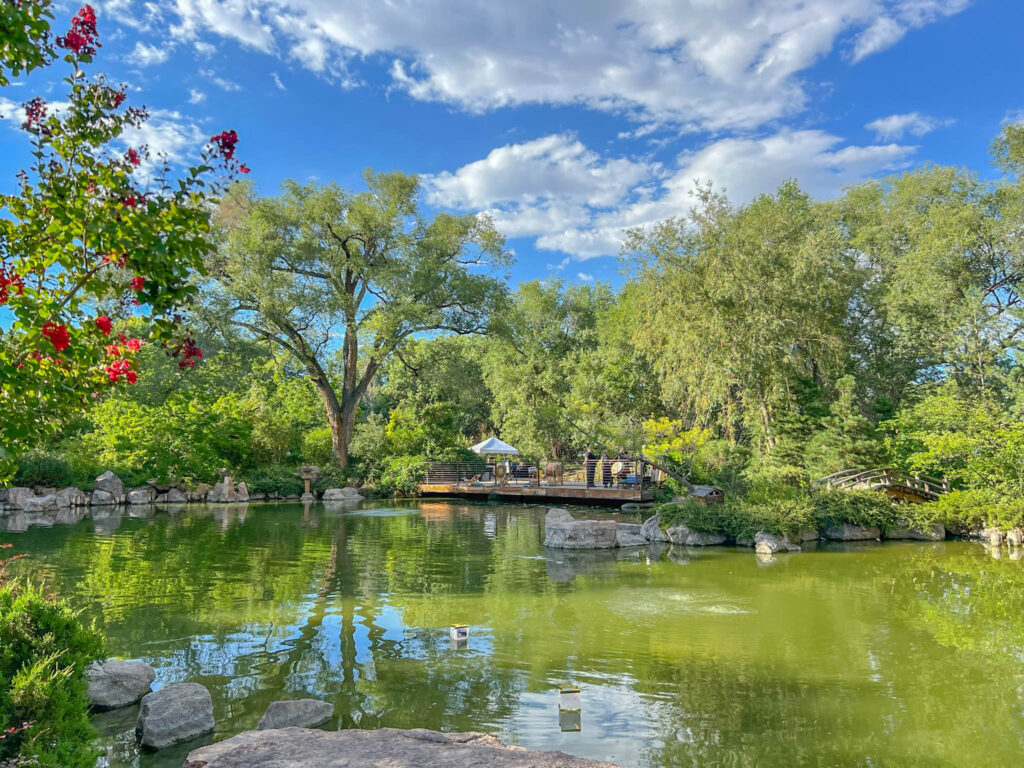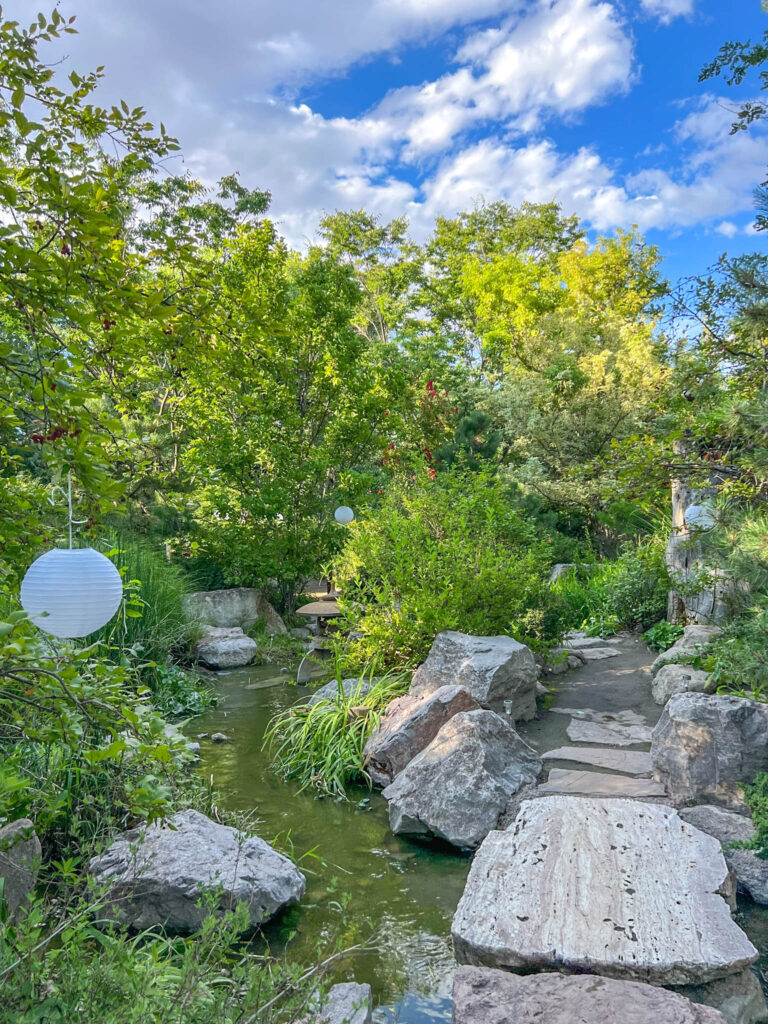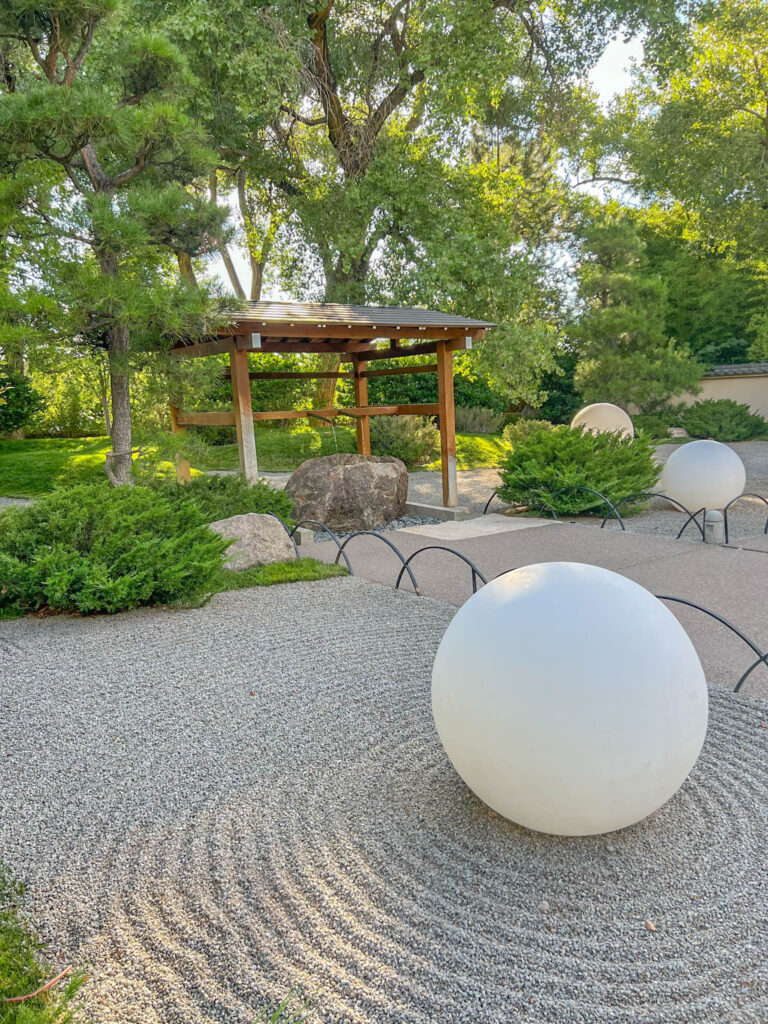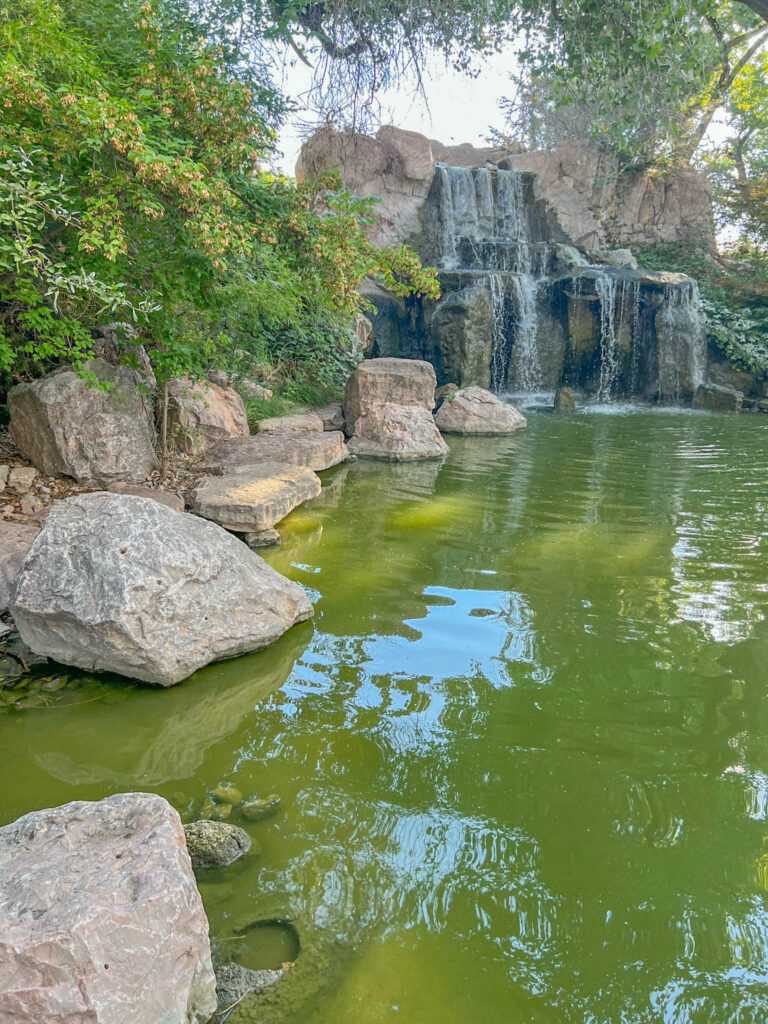 This year (2023), the Obon Festival takes place on Thursday, August 3rd from 6pm – 8:30pm. Attending the Obon Festival gives you an opportunity to see the garden at night. It also gives mosquitoes a chances to feed on you as the sun goes down, so plan accordingly.
In an unusual twist, this year's Obon Festival takes place at the same time that the Silver Sky Blues Band is performing blues, rockabilly, and soul music at the Botanic Garden. That's an unusual soundtrack for a traditional Japanese cultural event, but that's how we roll in New Mexico. It will be interesting to see how that combination of events works out this year. I'm not sure if they are still planning to have Taiko drumming, dancing, or tea ceremonies this year given the circumstances. Perhaps the Japanese garden is far enough away from the concert stage to make that a viable option. But I do know that lantern floating will be up and running as I'll be helping to set things up. Plus, given that my father passed away in April of this year, I'll certainly be sending off a lantern to honor him this year.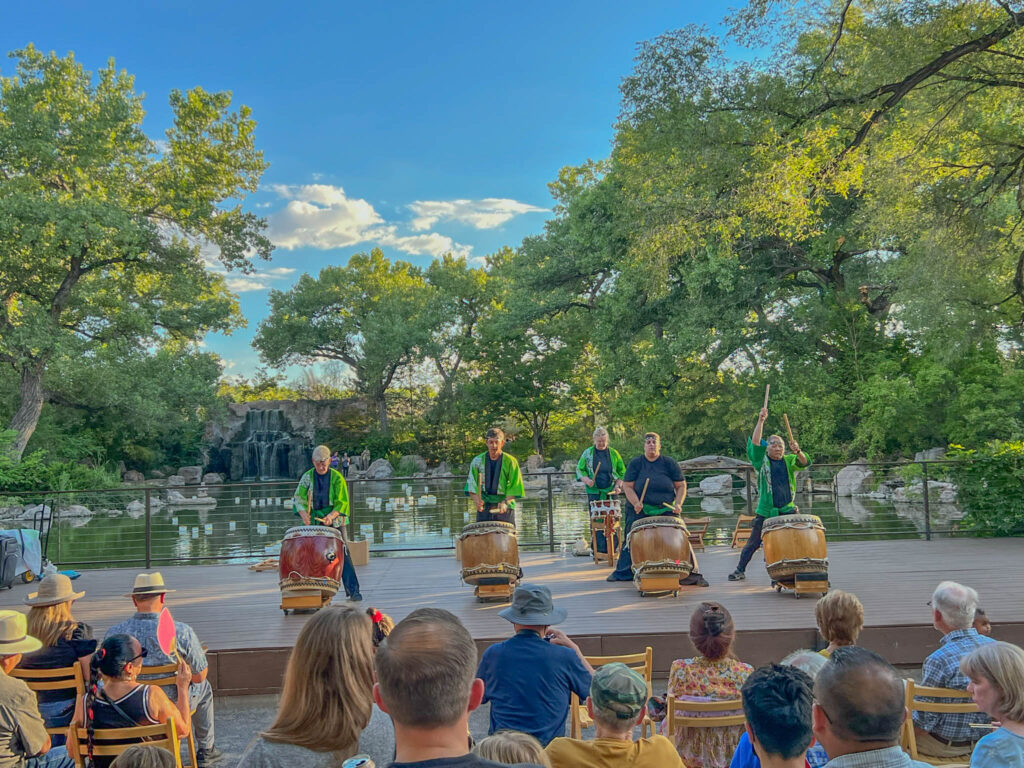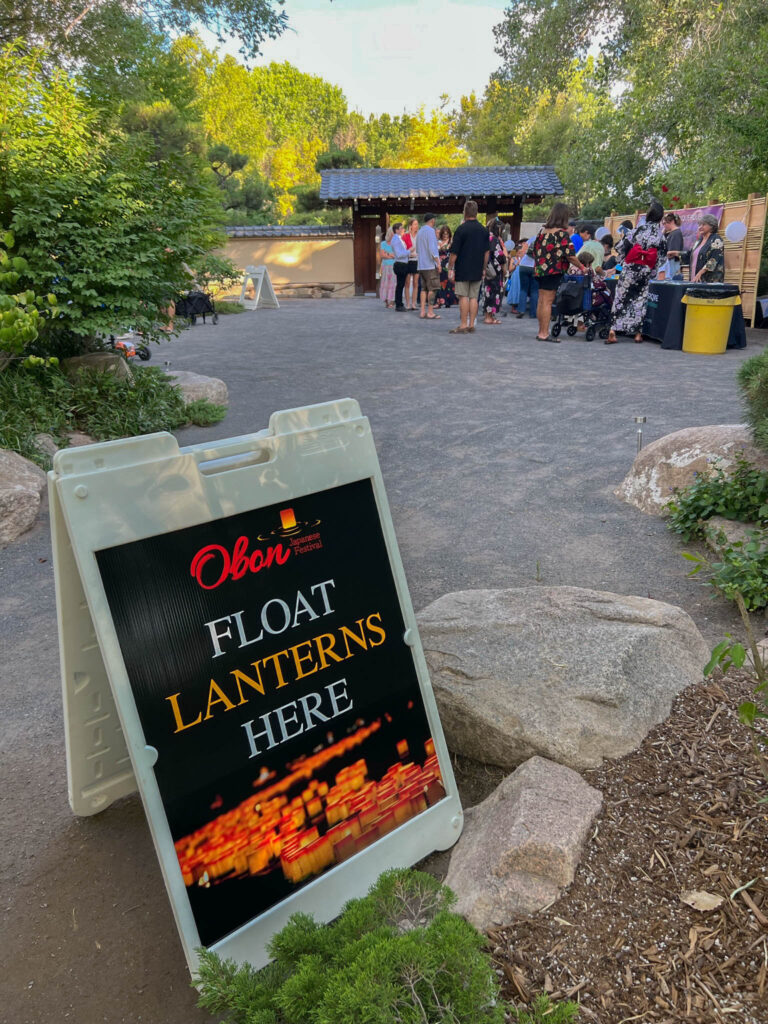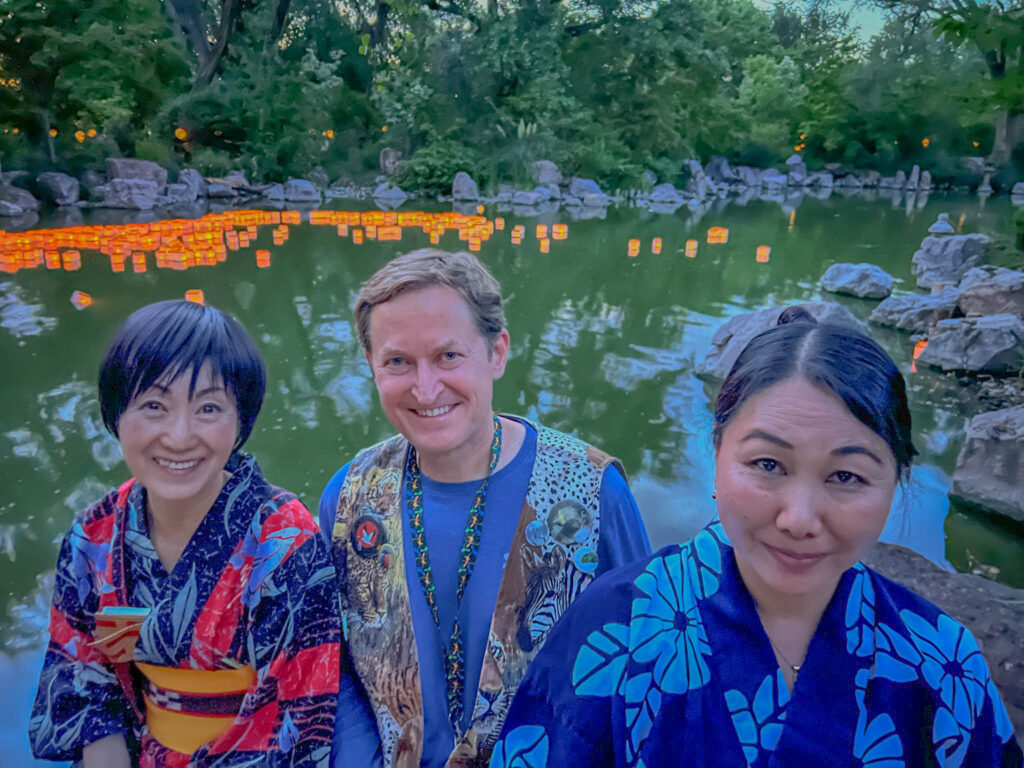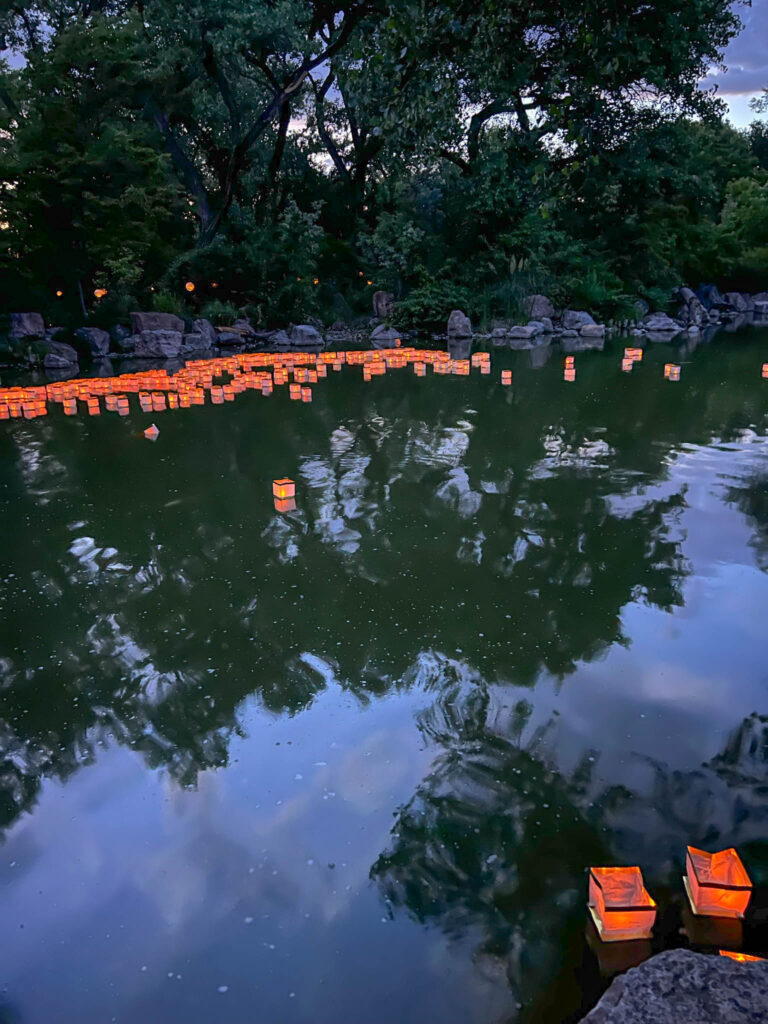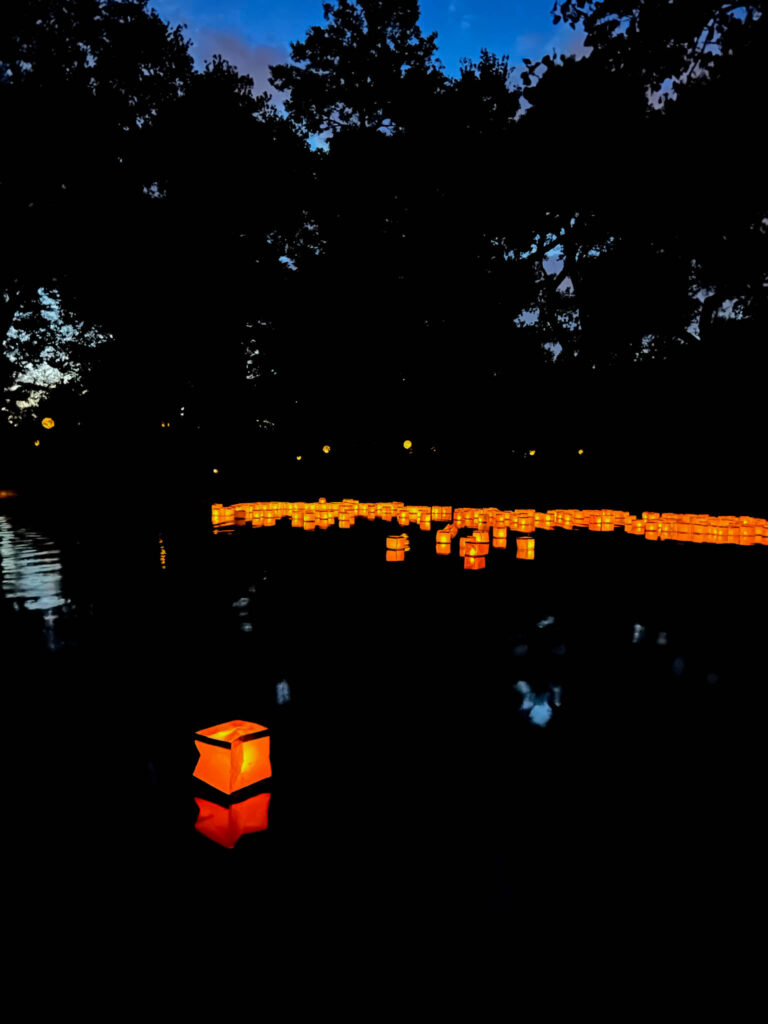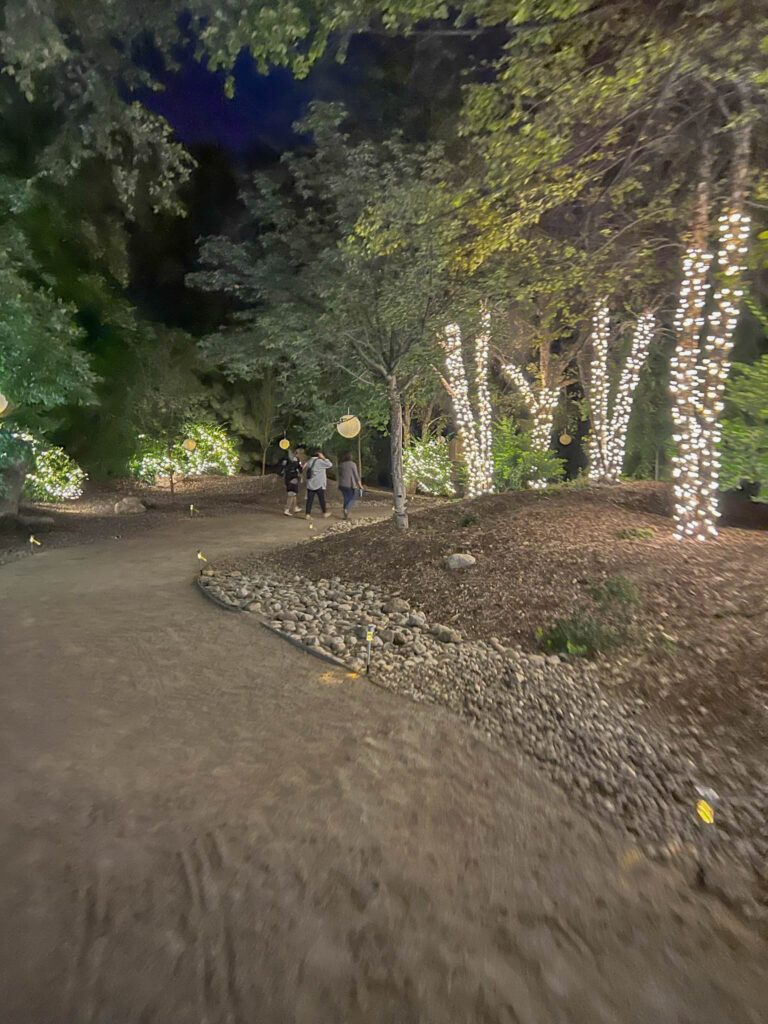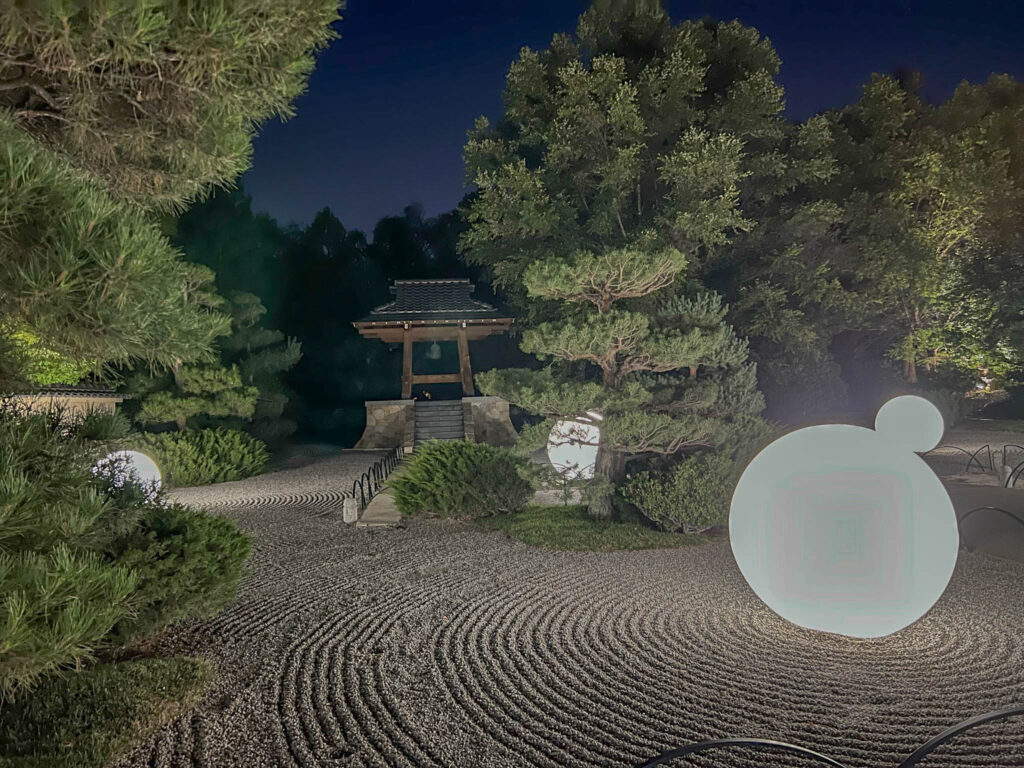 Aki Matsuri
Another Japanese festival that takes place each year in Albuquerque is called Aki Matsuri, which I've seen translated as "Fall Festival", "Autumn Festival" or "Harvest Festival". This year (2023) it will be held on September 24th at the New Mexico Expo. This is a new location for Aki Matsuri and I've never been to New Mexico Expo, so I'll be interested in checking it out. Last year, it was held at the Veterans' Memorial Park.
The Aki Matsuri festival in Japan is a time to thank the gods for a successful harvest and for the health of each family in the community. It may include a parade of miniature shrines (mikoshi), music and dance performances, and plenty of food. The change of seasons is also celebrated with rituals such as praying to cleanse yourself of past wrongs and to pray for future blessings. Visitors may write their wishes on wooden tablets and hand them to ascetic monks (shugendō) who chant Buddhist sutras as they throw the tablets into a sacred bonfire. This action serves to bless the wishes of the participants.
In Albuquerque, the Aki Matsuri Festival features music and dance demonstrations, arts and crafts activities, and vendors with a wide variety of food, art, and other Japanese-themed products for sale. The theme of the 2022 Aki Matsuri Festival was "Tsuru", which means "crane". As a full-fledged craniac (In 1995, I was an aviculturist who helped raise cranes at the International Crane Foundation), I was obliged to attend, and I dragged my parents with me to get them out of their house for a change of scene.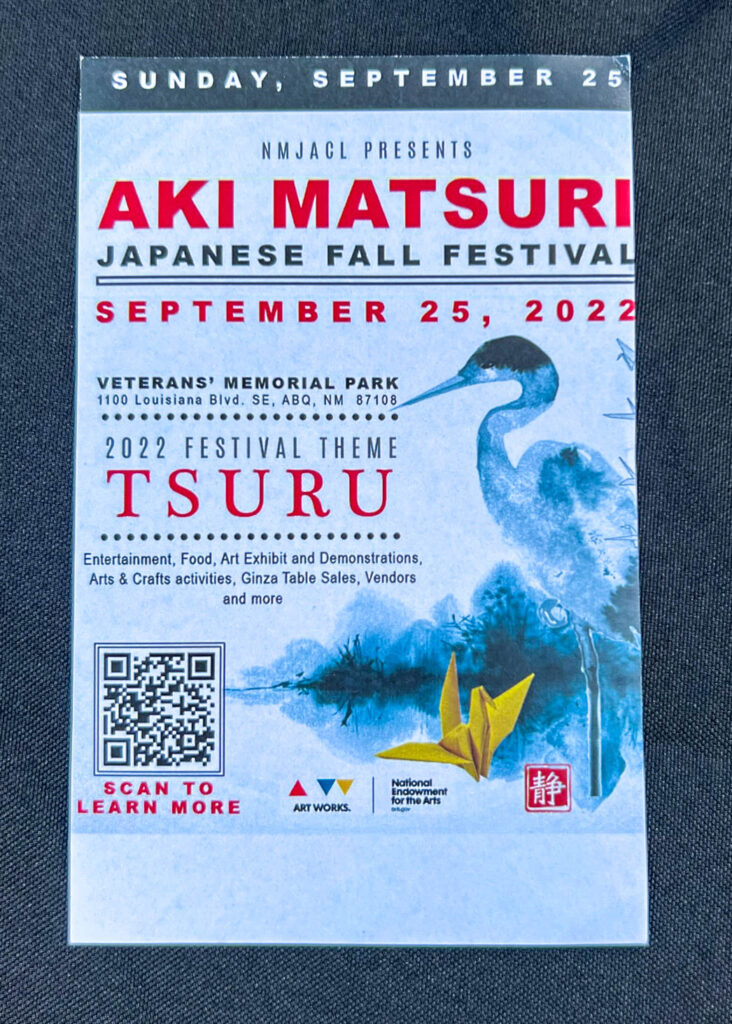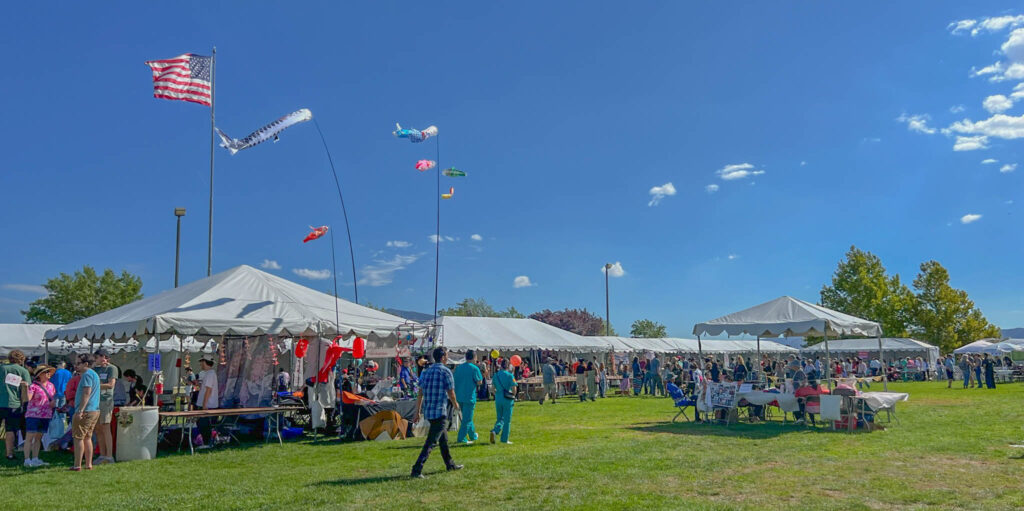 Taiko Drumming Demonstration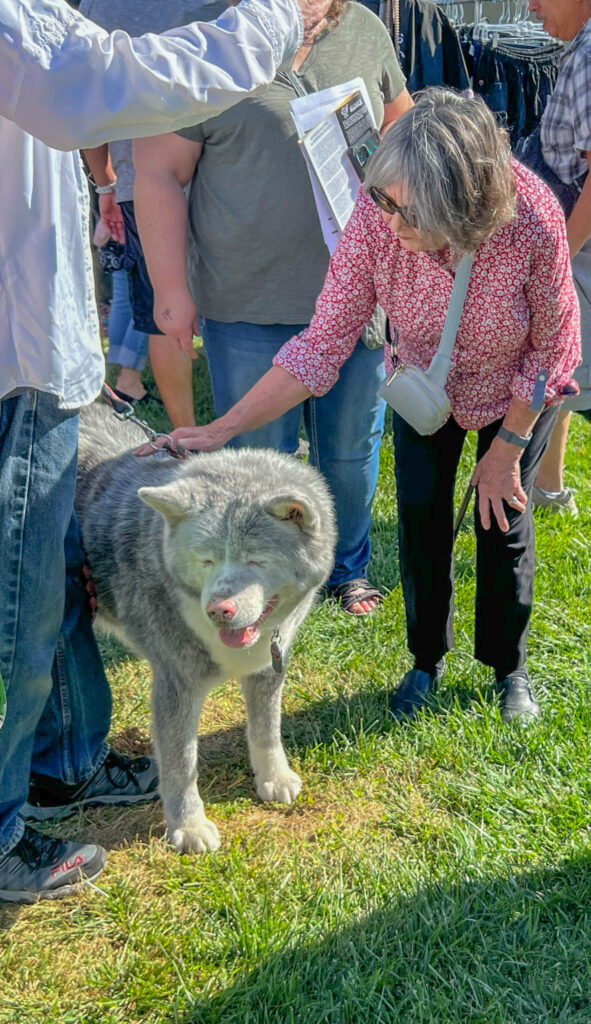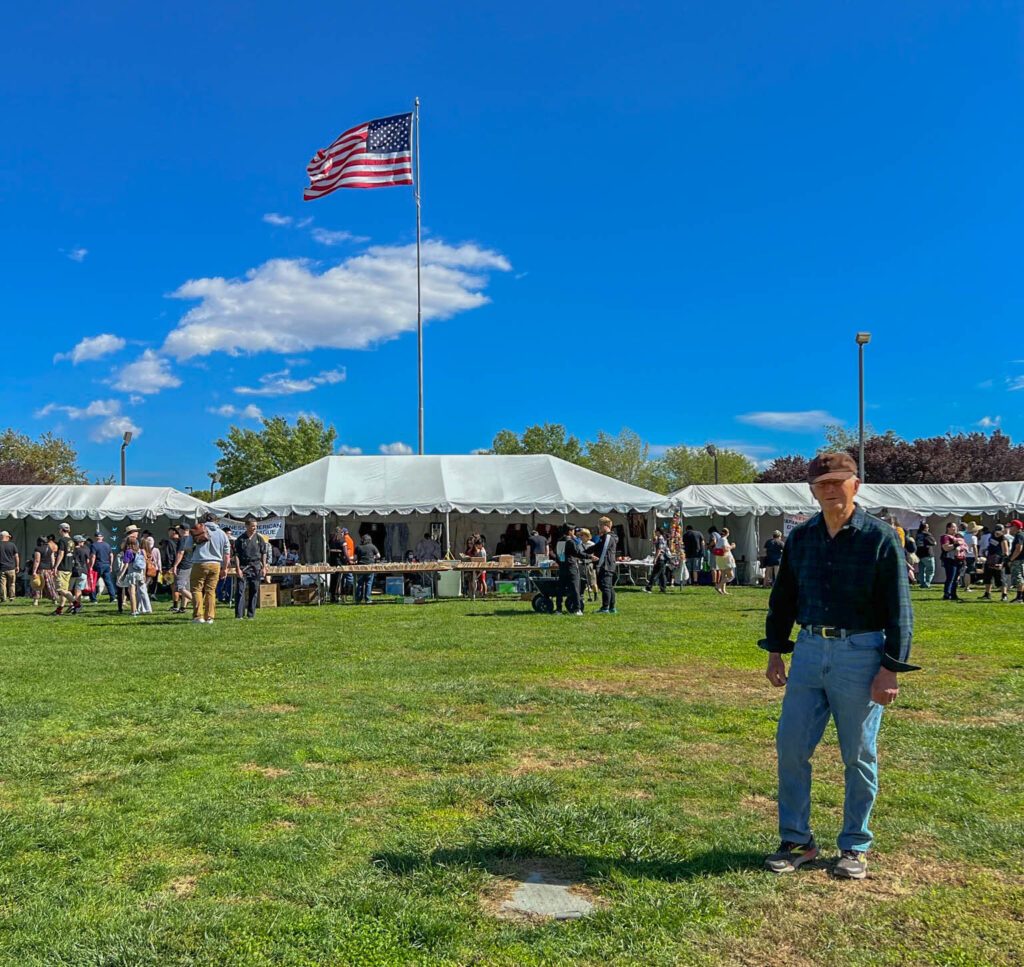 Here are the details (below) for the 2023 Aki Matsuri Festival: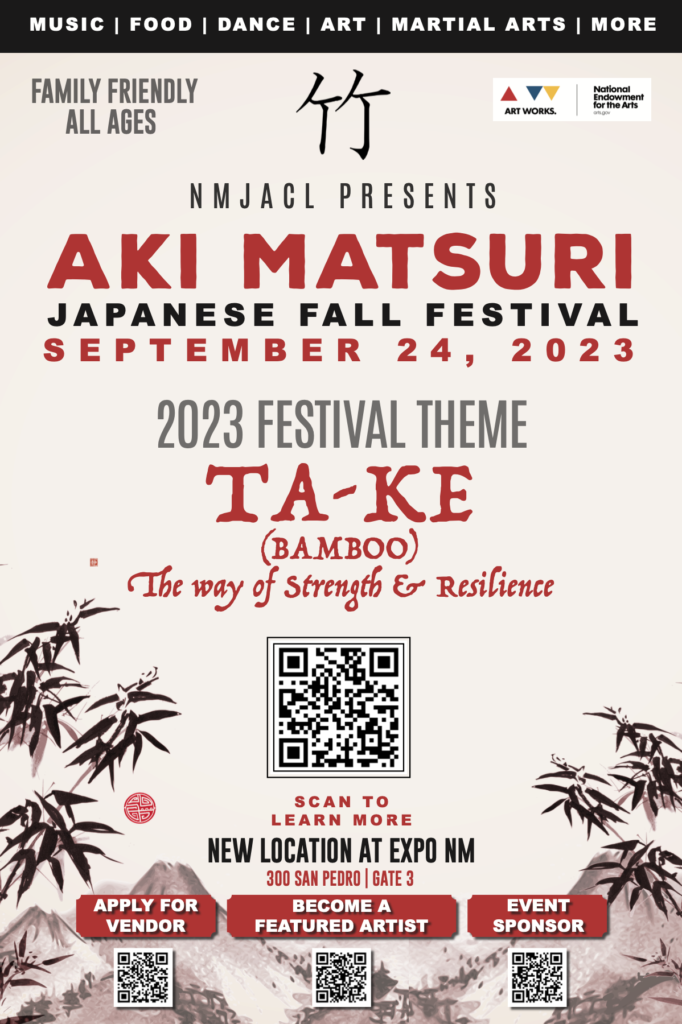 Museum of International Folk Art
Other than the two annual festivals, New Mexico does have some Japanese-themed exhibits and performers on occasion, particularly at the the Museum of International Folk Art in Santa Fe. For example, in the past (2014), the Museum of International Folk Art had an exhibition of more than 200 Japanese kites, along with demonstrations. While it's too late to see the kites, it's not too late to see another exhibit that's currently on display called Yōkai: Ghosts & Demons of Japan. The word Yōkai is a generic word that includes "demons, ghosts, shapeshifters, and strange and supernatural beings". The exhibition is scheduled to end on September 4, 2023, so it looks like I'll be heading up to Santa Fe soon to check it out. I'll update this post when I do.
Where to learn more about Japanese Cultural Events
If you're curious about other Japanese cultural events in New Mexico, a good place to start is to check out Santa Fe Jin's Facebook page and the New Mexico Japanese American Citizen's League website. You may also check the Museum of International Folk Art website for possible exhibits or performances.
---
---
Thought for the Week
For this week's thought for the week, I'll give us something to chew on from Japanese Buddhist scholar and writer, Daisetsu Teitaro Suzuki, aka D.T. Suzuki (1870 – 1966), who helped spread interest in Zen Buddhism and Shin Buddhism to the West.
"When we start to feel anxious or depressed, instead of asking, "What do I need to get to be happy?", the question becomes, "What am I doing to disturb the inner peace that I already have?"
— D.T. Suzuki
---
---
Thanks for reading and happy travels!
Mark (The New Mexico Travel Guy)
Mark Aspelin, The New Mexico Travel Guy (www.newmexicotravelguy.com), is a travel writer and author of two books who has enjoyed a wide variety of adventures in his travels to over 100 countries and all 50 U.S. States. His current project involves visiting EVERY town in his home state of New Mexico (there's over 500 towns) and writing a story about each one. When not traveling, Mark lives as a recluse in the mountains outside of Albuquerque, New Mexico.