Each year as the fall colors start to fade and the weather starts to get cold in New Mexico (stop laughing if you're from Alaska, North Dakota, or similar place), tens of thousands of visitors begin to arrive at the Bosque del Apache National Wildlife Refuge in San Antonio, New Mexico. These visitors are of the winged variety, in the form of cranes, geese, and ducks. A few people show up too, most of them looking a bit nerdy with binoculars and camera equipment. Some of these people show up for the birds, some are there for famous green chile hamburgers, but most are there for both.
As a dedicated "craniac" who used to help raise endangered species of cranes in captivity at the International Crane Foundation, I've been known to make the pilgrimage to the annual Festival of Cranes on multiple occasions to see my old pals. This year was no exception. In other words, I'm one of those aforementioned nerds carrying binoculars and camera equipment, although this time I just brought my binoculars and used the camera on my phone.
What's it like to visit the town of San Antonio and the Bosque del Apache National Wildlife Refuge? Read on to find out.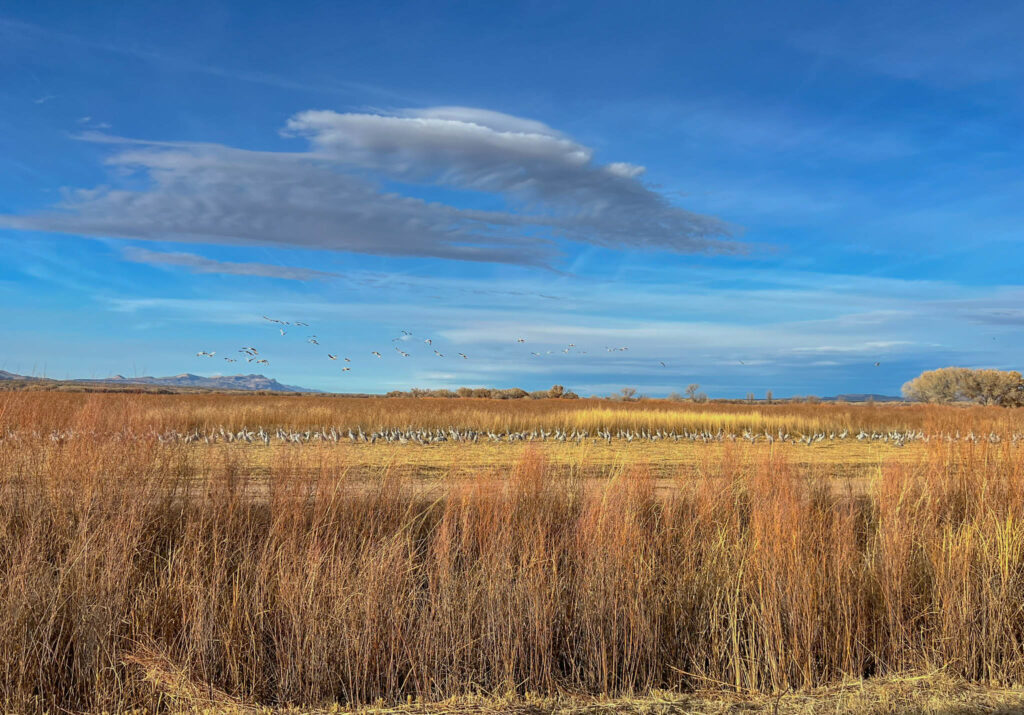 SAN ANTONIO, NEW MEXICO
If you drive south from Albuquerque on I-25 for about 70 minutes, you'll run into San Antonio, a small agricultural town of less than 100 people that is known for green chile hamburgers and it's proximity to the birding mecca Bosque del Apache National Wildlife Refuge. Lesser known (at least it was to me) is the fact that San Antonio was the birthplace of hotel magnate Conrad Hilton. Conrad was born in San Antonio on Christmas Day in 1887, so he probably got short-changed on his birthday gifts each year. His father ran a general store that was partially converted into a 10-room hotel, giving Conrad a chance to learn the business and develop entrepreneurial skills that clearly served him well in life.
San Antonio was also known for being a hangout for nuclear scientists who worked on the first nuclear bomb as part of The Manhattan Project. So there were two kinds of nerds who regularly visited San Antonio back then. Trinity Site is only 28 miles from San Antonio. In case you're not in the know when it comes to nuclear stuff, Trinity Site is the name of the site where the first nuclear bomb was detonated on July 16, 1945. Trinity Site is part of the White Sands Missile Range, and you can only visit that national historical landmark twice a year, usually the first Saturday of April and October. Those days can change but it gives you a rough idea of when to visit if you want to go to Trinity Site. I cheated and was able to see Trinity Site outside of those dates (and outside of the fence that encloses the monument), because I worked at the White Sands Missile Range for two years. But that's a topic for another time. Let's get back to birds.
BOSQUE DEL APACHE, NATIONAL WILDLIFE REFUGE
One of the biggest attractions of San Antonio is the Bosque del Apache National Wildlife Refuge. Granted, that's not saying much given the lack of competition. But for birders, this place is pretty amazing. According to eBird, 382 species have been observed at Bosque del Apache National Wildlife Refuge, making it one of the best places to go birding in the United States. Other sites list the number of species as "over 340 species" of birds, but you get the idea. There are lots of birds at Bosque del Apache National Wildlife Refuge. If your goal is to see the greatest diversity of birds, then you'll probably want to visit during the migratory season in late April / early May or in the fall. If your goal is to see a large number of birds, without worrying about how many different species you see, then you'll want to visit anytime from late November to late January. That's when you can see tens of thousands of sandhill cranes, Ross's geese, and snow geese, along with other species. That's also the reason why the annual Festival of Cranes is typically held the weekend before Thanksgiving. Having said that, in 2022 it was held from December 1 – 3, 2022.
If you're visiting New Mexico during the Festival of Cranes, it's worth checking out. The festival offers a wide variety of birding and photography workshops and lots of friendly people. This year, I attended a phone photography class, which is why I wasn't lugging around camera equipment.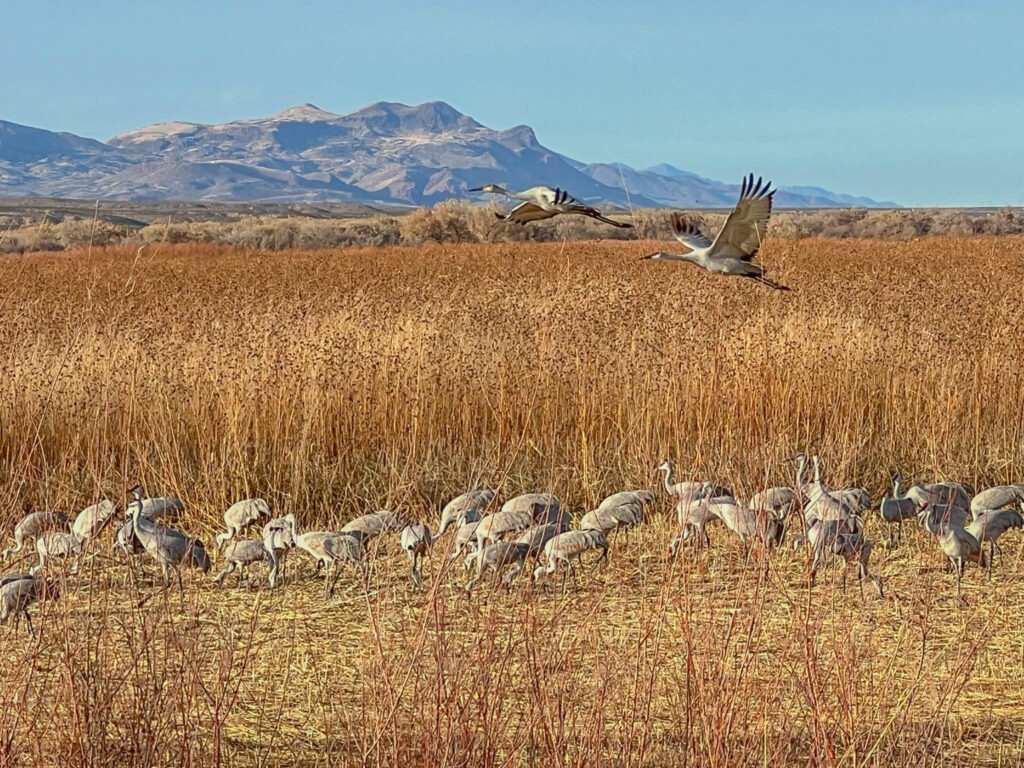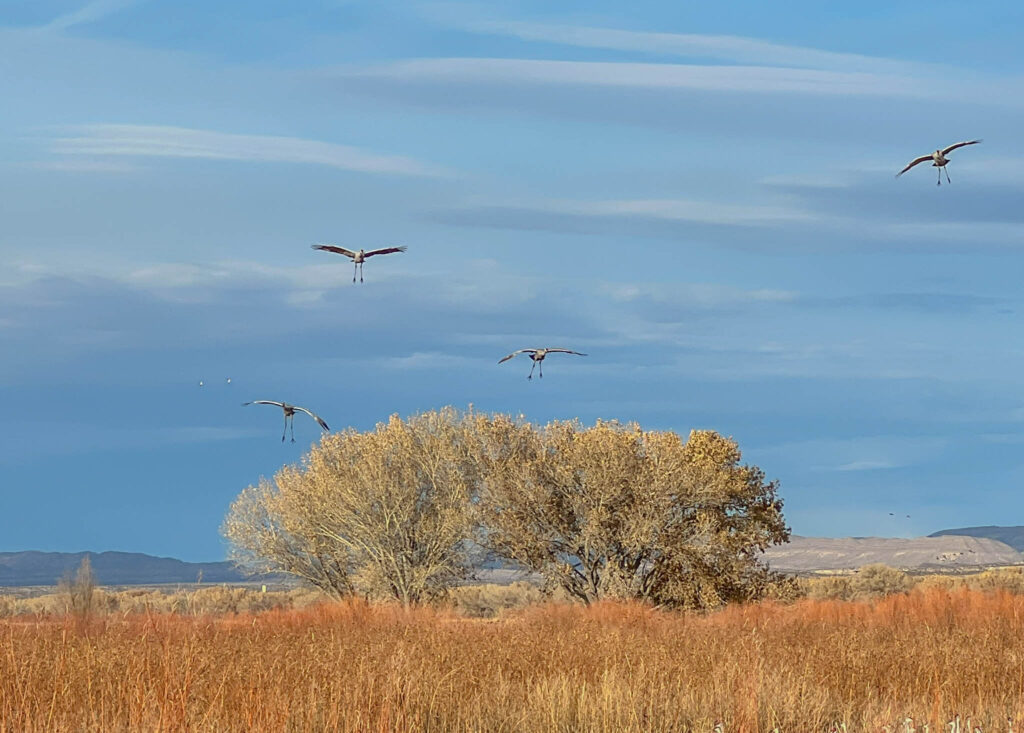 The logistics of visiting the Bosque del Apache National Wildlife Refuge is pretty simple. There's a 12-mile tour loop for vehicles that is split into a March Loop and a Farm Loop. The refuge website has a lot of helpful information to help you plan your visit. Before you get to the tour loops, you'll run into the visitor center which has friendly staff that can provide you with the latest guidance on where to go, depending on your goals and the time of year of your visit. After the visitor center, you simply hop in your car and drive one of the loops, stopping along the way at the established observation areas or pulling off to side of the road whenever your heart desires to check out wildlife or snap a photo.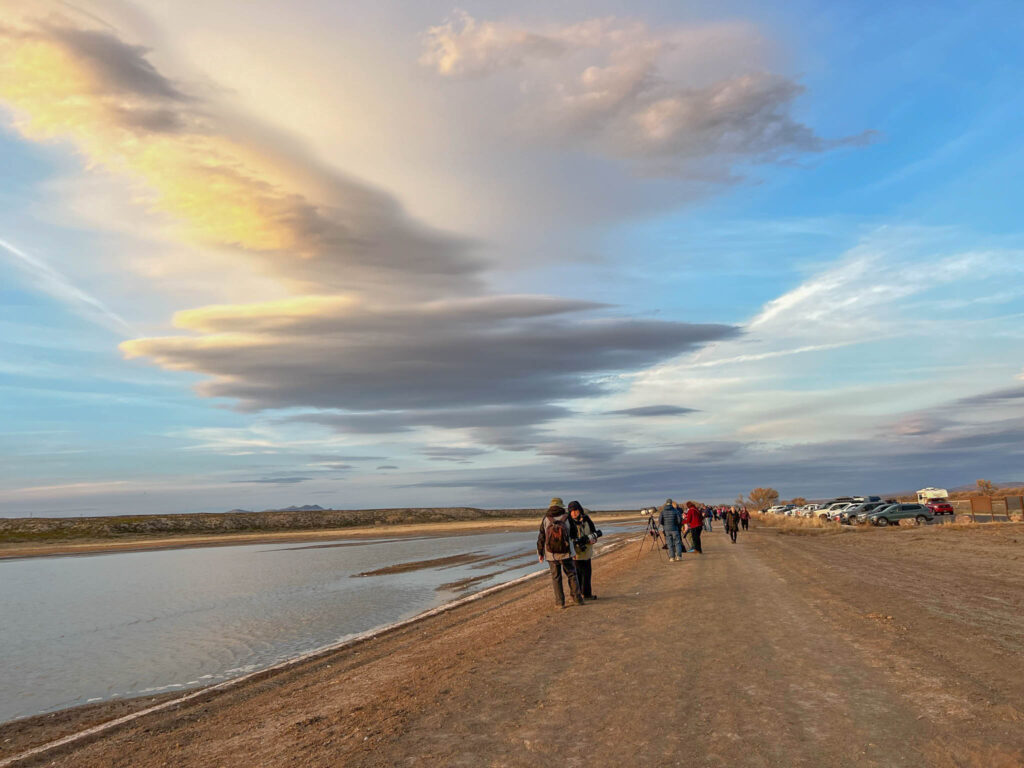 WHERE TO STAY IN SAN ANTONIO
Unless you're a bird, San Antonio doesn't have a lot of lodging options. Many people drive about 10 miles north to stay in the city of Socorro (population of ~9,000 people) as it has many more places to stay. You can find a few AirBnb listings in San Antonio and there's also the Casa Blanca Bed and Breakfast. Casa Blanca has three rooms available – The Heron Room, The Crane Room, and The Egret Room As you can see, those room names are tailored for bird nerds like me. Prices range from $125 – $145 per night. Note that Casa Blanca is only open from October 1st until April 1st.
My favorite place to stay in San Antonio is at Fite Ranch. Fite Ranch is a working family commercial cattle operation, but it also has 3 rooms that available for guests. Prices may vary, but it cost me around $125 per night the last time I stayed there. I should also add that I didn't see or hear any cattle or farm animals when I stayed there. Apparently the cattle are in a different part to the large ranch. While I would have enjoyed seeing the animals, my stay was very quiet, giving me a chance to enjoy the views of the surrounding Chihuahuan desert.
If camping or RVing is more your style, there are several options to choose from such as the Bosque Birdwatchers RV Park, Chupadero Mountain View RV Park, and San Antonio Riverine Park. Each of those options are pretty basic, but they are close to the Refuge. Just be aware that you might get an early morning wake up call from the train that passes by. But since you're likely a birder, you'll probably be up early anyway.
WHERE TO EAT IN SAN ANTONIO
Ok, it's time to bring out the boxing gloves, as this is a touchy subject. Owl Bar & Cafe vs. Buckhorn Tavern. Both of these places are famous for their green chile hamburgers and both have been around a long time.
San Antonio is home to the Original Owl Bar & Cafe. It's known as the "original" because there's a newer location in Albuquerque. The Original Owl Bar & Cafe is a famous place (by New Mexico standards) that's been around since 1945, when Frank and Dee Chavez opened it inside the grocery store of Dee's father, Jose Miera. Sadly, Frank was murdered in 1976 during a robbery at his home. After his death, Frank and Dee's daughter, Rowena, and her husband Adolph Baca took over and ran the place for over 40 years. Rowena and Adolph also opened the Albuquerque location in 1987. When Rowena and Adolph retired in 2018, their daughter, Janice Argabright, took over as the fourth generation of her family to manage the Owl.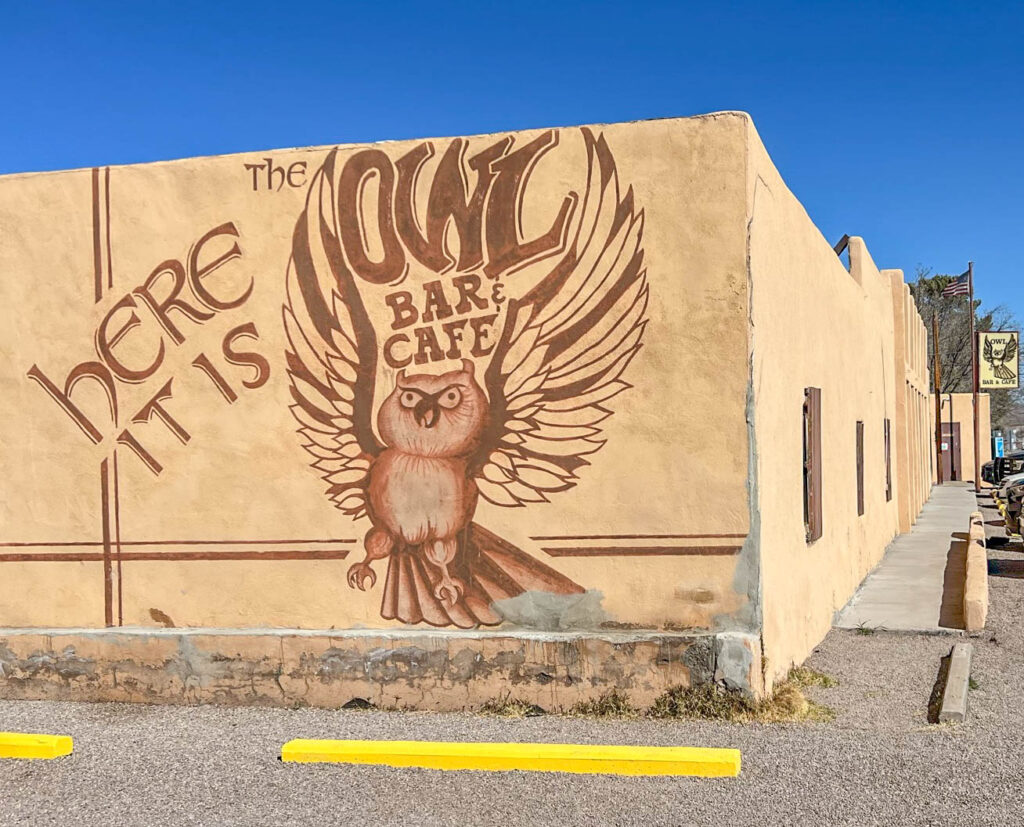 The Owl Bar & Cafe claims that it sold New Mexico's first green chile cheeseburger back in 1948, and it uses the same recipe today. As their website says "World Famous Owl Burgers – this stuff ain't bought! We grind our own beef and prepare the secret green chile sauce each day." If hamburgers aren't your thing, you'll find other options on the Owl menu including breakfast burritos (served until 10:30am), sandwiches, steak, and dessert. The Owl Bar & Cafe is open Monday – Friday from 9am – 8pm and they are closed on Sunday.
The other famous option is the Buckhorn Tavern. The Buckhorn opened up in its current location in San Antonio in 1943. The original location was opened by Miguel Olguin in 1918, right across the street from Conrad Hilton's first hotel. Miguel's son, Manuel "Manny" Olguin, inherited the business and moved the Buckhorn to its current location in 1943. When it opened, it was a multi-purpose place where you could fill up your car with gas, get a haircut, shoot pool, and grab a burger. In 1998, Manny's son Bobby Olguin inherited the business.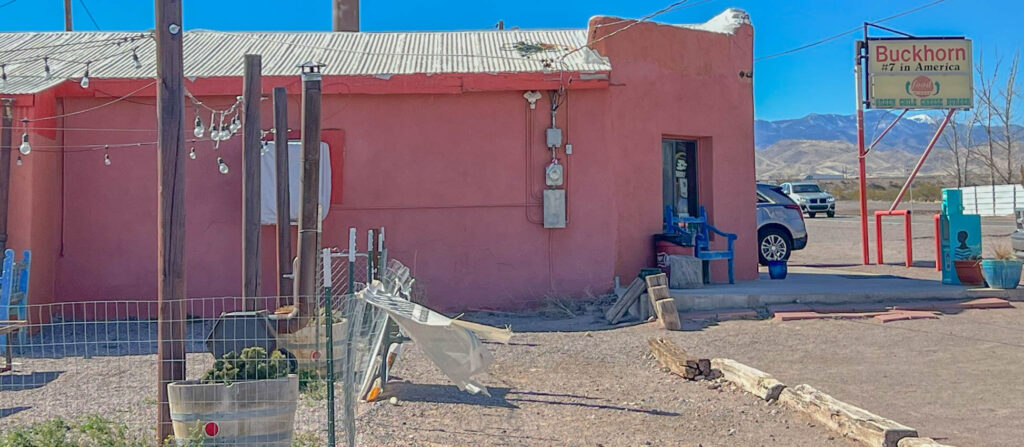 Buckhorn Tavern's burger has received accolades such as being the #7 burger in America according to GQ Magazine in 2005. It 's also where celebrity chef Bobby Flay lost to the Buckhorn Tavern when he challenged it to a competition as part of his "Throwdown with Bobby Flay" TV show. When Bobby Olguin decided to shut down the Buckhorn Tavern while he battled with cancer, Ernie and Stephanie Sichler met with Olguin and they worked out a deal to keep the Buckhorn alive. Ernie and Stephanie are San Antonio locals who have kept the Buckhorn running and they use the original Olguin family recipes from 1943. Today, the Buckhorn menu offers a variety of items including burgers, sandwiches, Mexican food, and salads. The Buckhorn is open Monday – Friday from 11am – 7pm, Saturday from 11am – 3pm, and they are closed on Sunday. The restaurant doesn't take reservations – it's walk-in only.
That brings us to the inevitable question. Which one is better?
To find out, I ordered one takeout hamburger from each place and ate them side-by-side in my car. I'm not a big fan of cheese, so I just ordered a hamburger with lettuce, tomato, and green chile (of course). In what could be the lowest score of presentation points for anyone displaying food in a blog post, here are two photos taken from the front seat of my car, at night. Just know that the food tastes a lot better than it looks in my pathetic photos.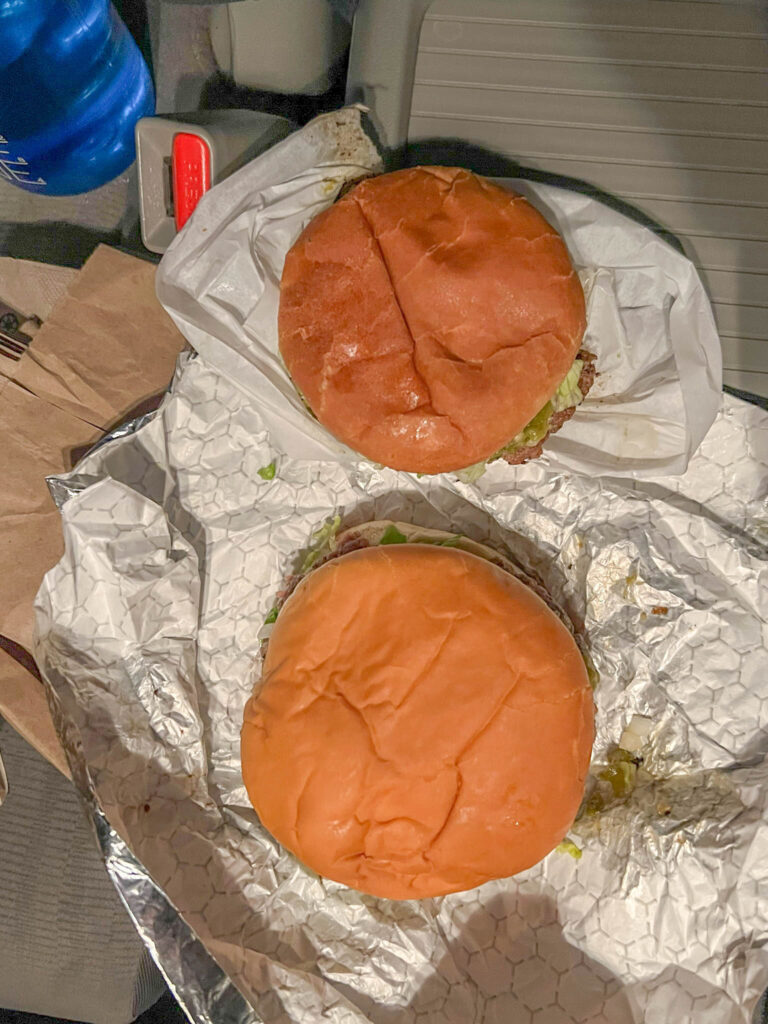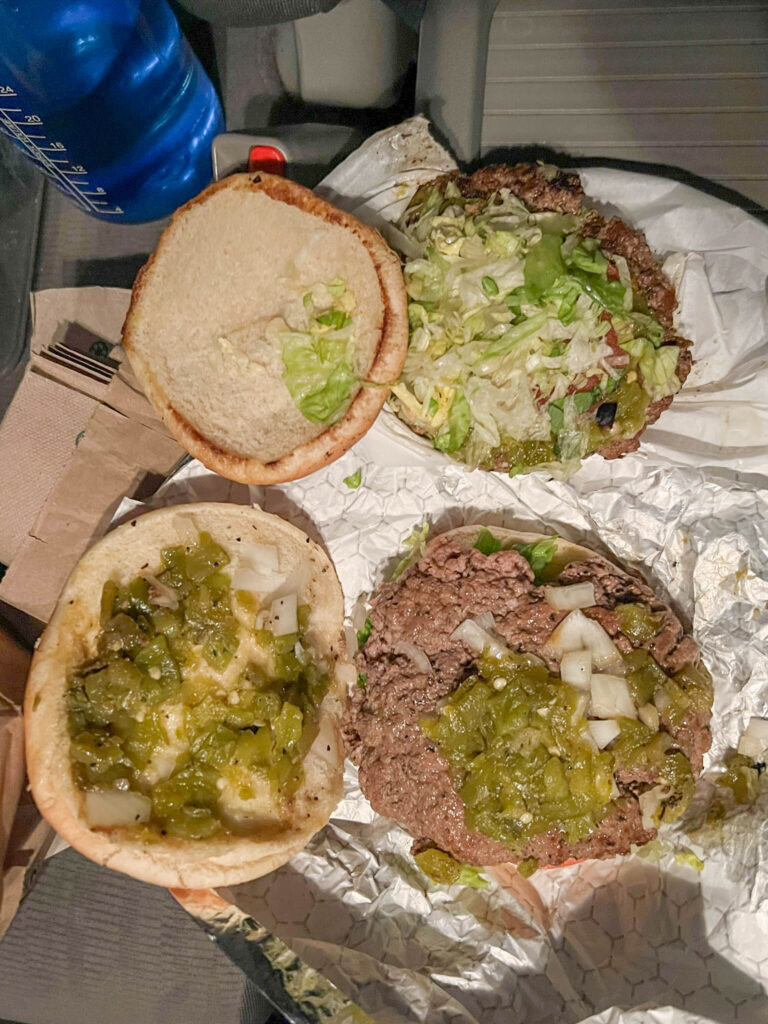 Not exactly mouth-watering photos, but I warned you,
Here are the key differences that I found:
Meat: The quality of meat seemed similar, although Buckhorn had a slightly larger patty.
Bun: Similar quality (nothing special at either place), but the Buckhorn is a bit bigger, which makes sense given the "meat" bullet above. There's a good chance that your burger bun will fall apart at either place, so plan accordingly. I didn't plan accordingly, which resulted in the opportunity to wear some of the burger juice and contents on my pants.
Cheese: I'm not a big fan of cheese so I didn't order any on my burger. But I did talk to a local birder about it and she told me that the cheese is better at Buckhorn. That person seemed to know her birds, so I don't question her judgment.
Green Chile: Both had very good flavor, but the green chile of the Owl Cafe tasted slightly better to me. That's probably because it seemed a bit spicier, which is a plus in my opinion.
Price: The total charge (including tax) for a burger at the Owl Cafe was $7.22 and the total charge at the Buckhorn was $8.99. That's just for the burger. I didn't order fries, drink, or anything else as I figured it would be hard enough for me to eat two burgers. And I was right about that. I ate about 2/3 of each before throwing in the towel … and wiping up burger juice and contents from my pants due to the bun issues that we've already discussed.
The Verdict: You really can't go wrong with either place. They are both tasty. Ok, I know that's a lame, diplomatic answer and not what you wanted to hear. Since you're forcing me into a corner and making me choose one, I'll say this. Based on a sample size of one, from the front seat of my car, I would pick Buckhorn. What I will likely do in the future is just alternate each time I'm in town, visiting the Buckhorn on my next visit and the Owl on the visit after that. While both are very good green chile hamburgers, I don't consider them to be the best that I've had in New Mexico. But there's a whole lot of competition in the state for that prize.
If the decision of Owl vs. Buckhorn is too much pressure for you, then you might want to try the San Antonio Crane Restaurant, simply known as "The Crane", which is "a Mexican restaurant done New Mexico style." I recently stopped by for lunch while passing through San Antonio, and I'm glad I made the stop.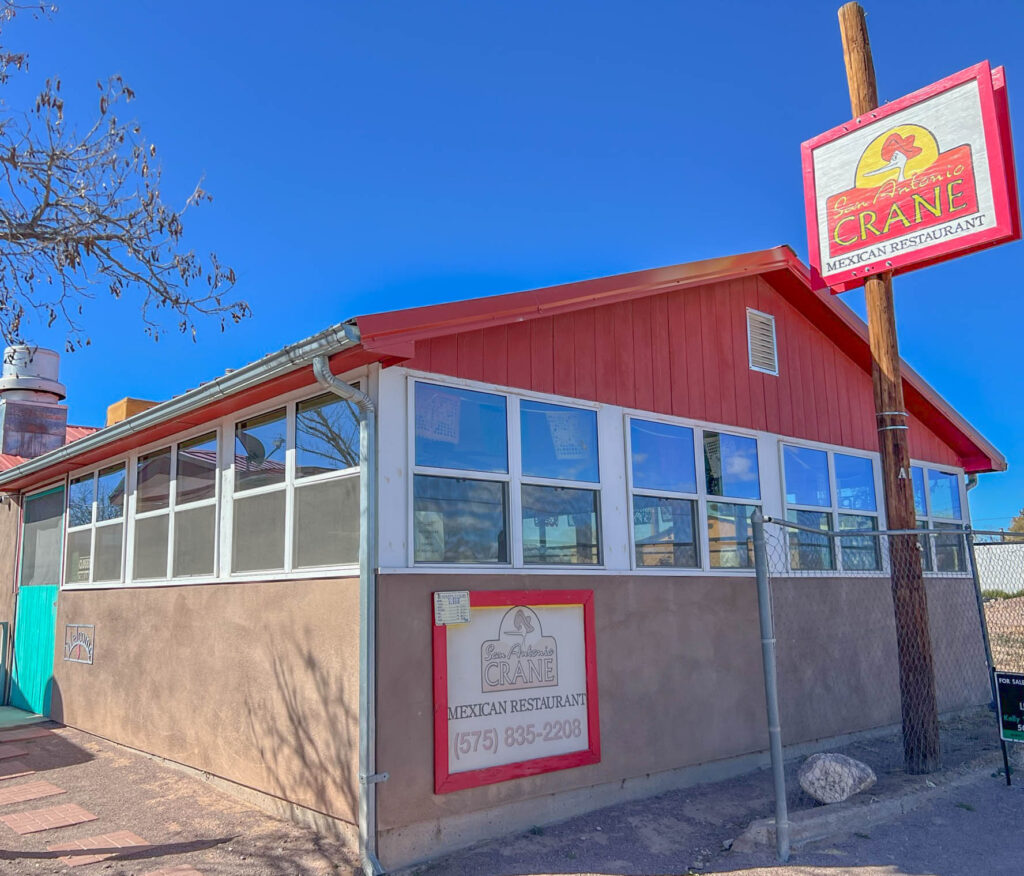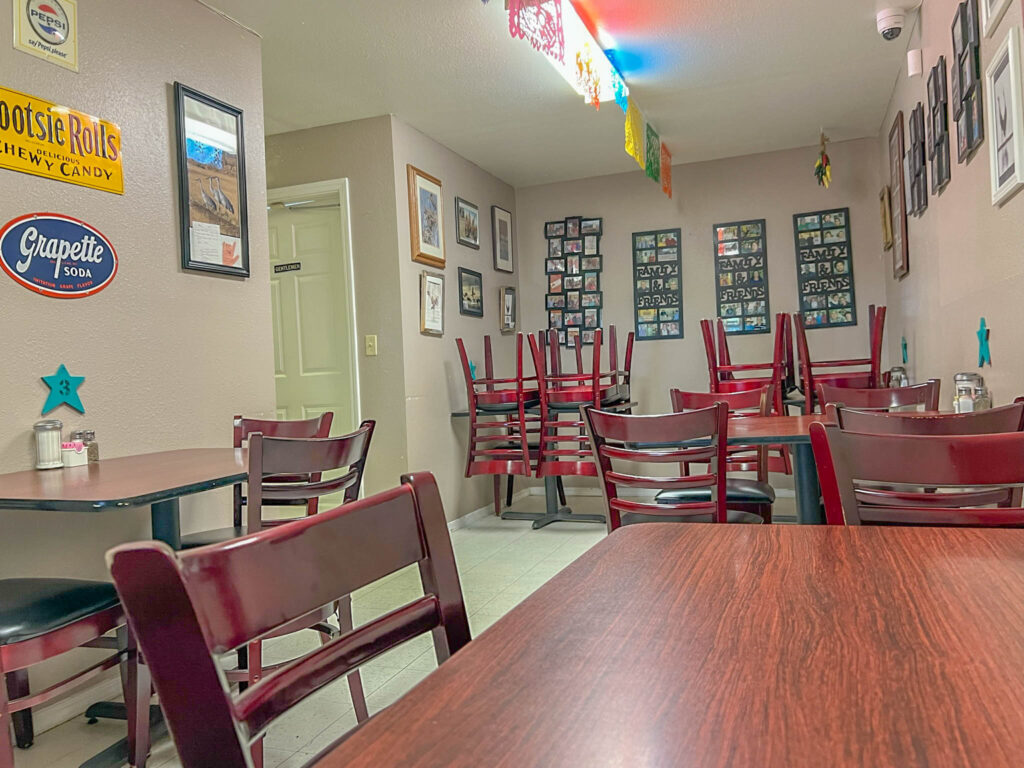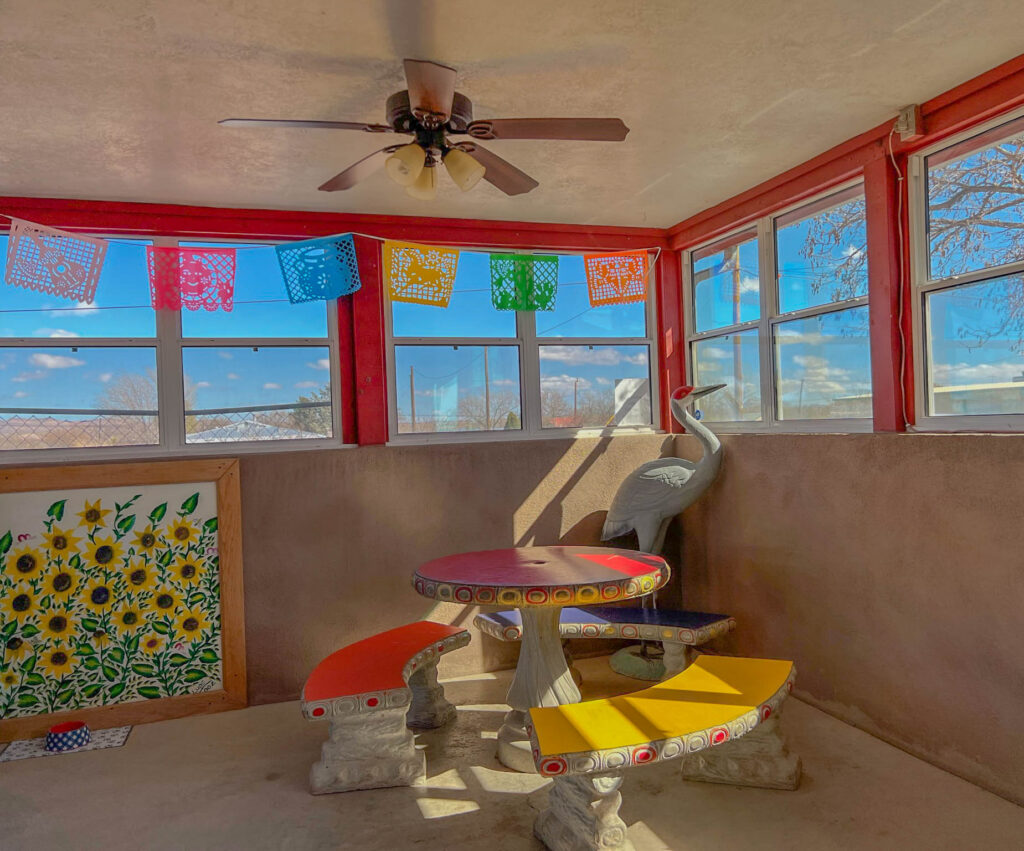 The San Antonio Crane offers a wide variety of options on their menu, including New Mexican classics such as tacos, burritos, enchiladas, stuffed sopapillas, and carne adovada, as well as a variety of burgers, sandwiches, and salads. I ended up trying the tacos, which were tasty.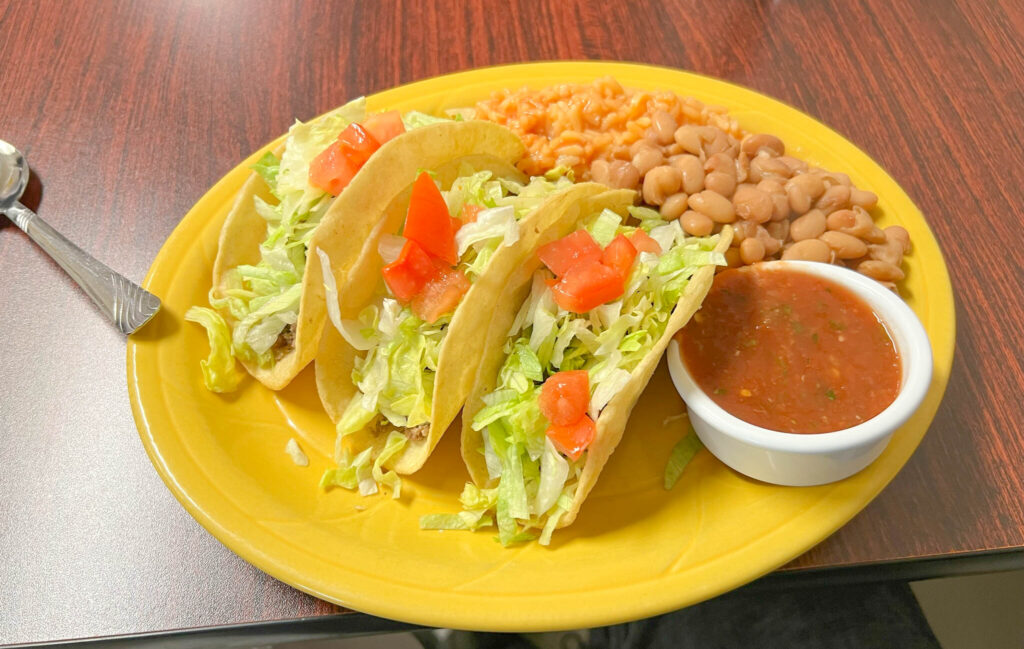 Their hours have recently changed and I was told this was temporary. They are currently open Wednesday through Sunday from 8:30am – 2:00pm. However, their normal hours used to be Tuesday through Saturday from 7am to 7pm and Sunday from 7am to 3pm. If you're planning to stop by, you might want to call first to confirm. I'll certainly be stopping by The Crane again in the future to try some other items on their menu.
For dessert, the restaurants above offer several options. However, if you want something fast, you may want to consider checking out the San Antonio General Store, which serves Dreyer's ice cream, homemade fudge, and smoothies. They were out of homemade fudge when I visited so I can't comment on that. Instead, I enjoyed a scoop of Dulce de Leche in a waffle cone.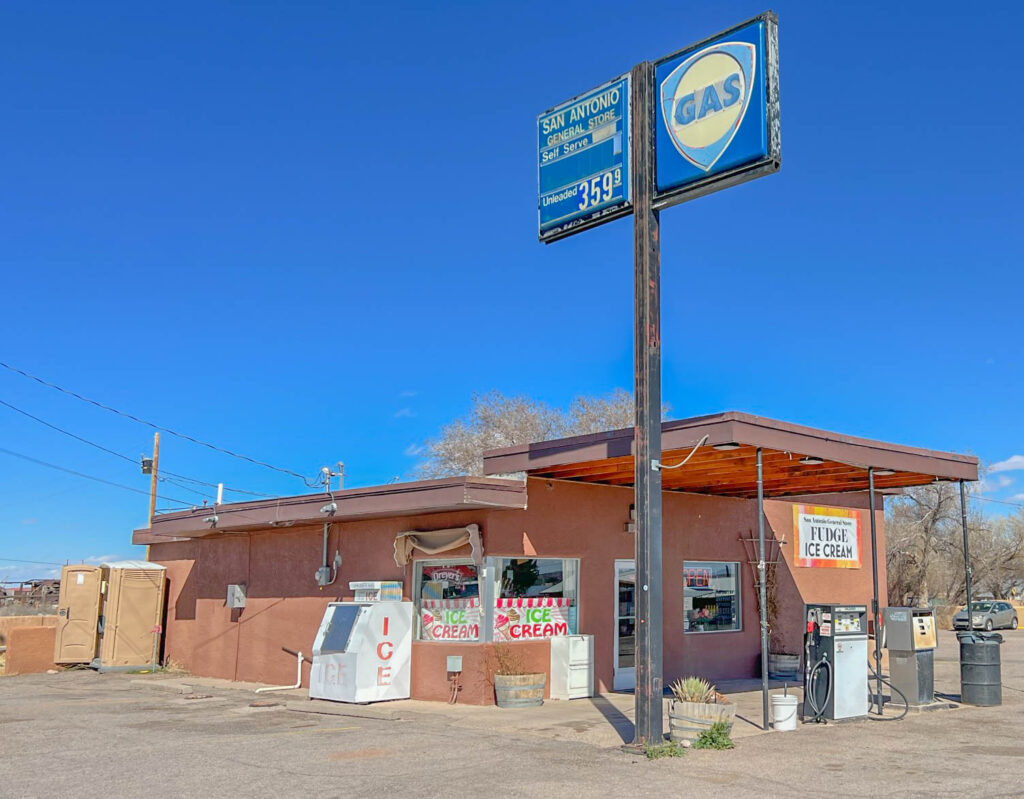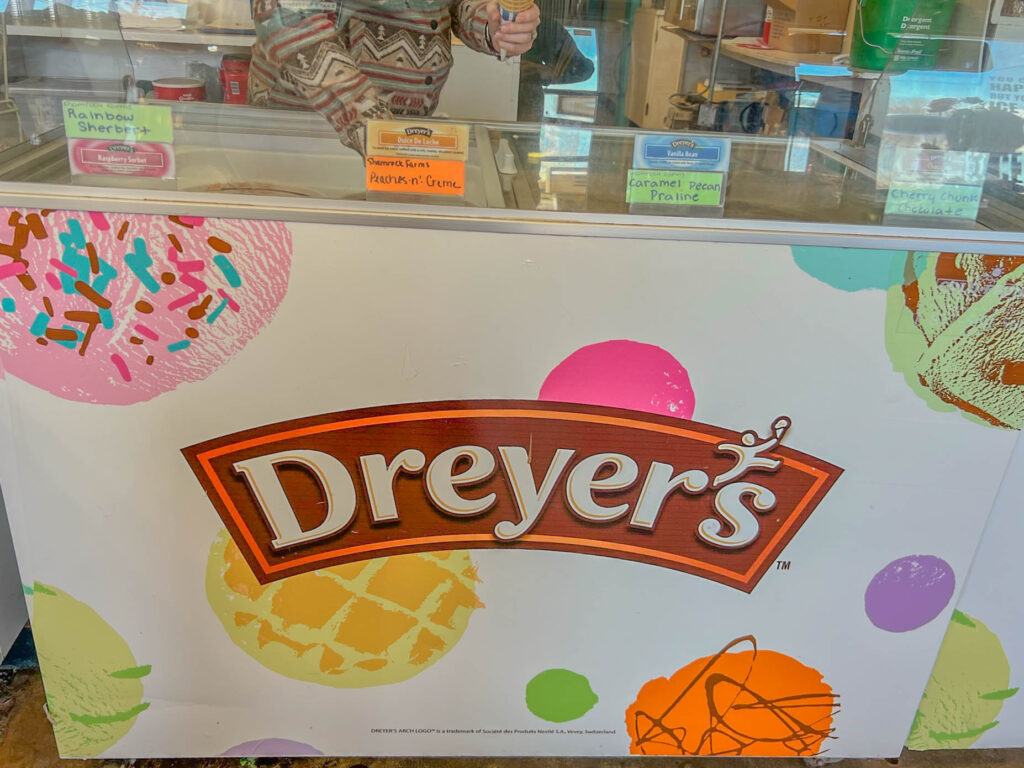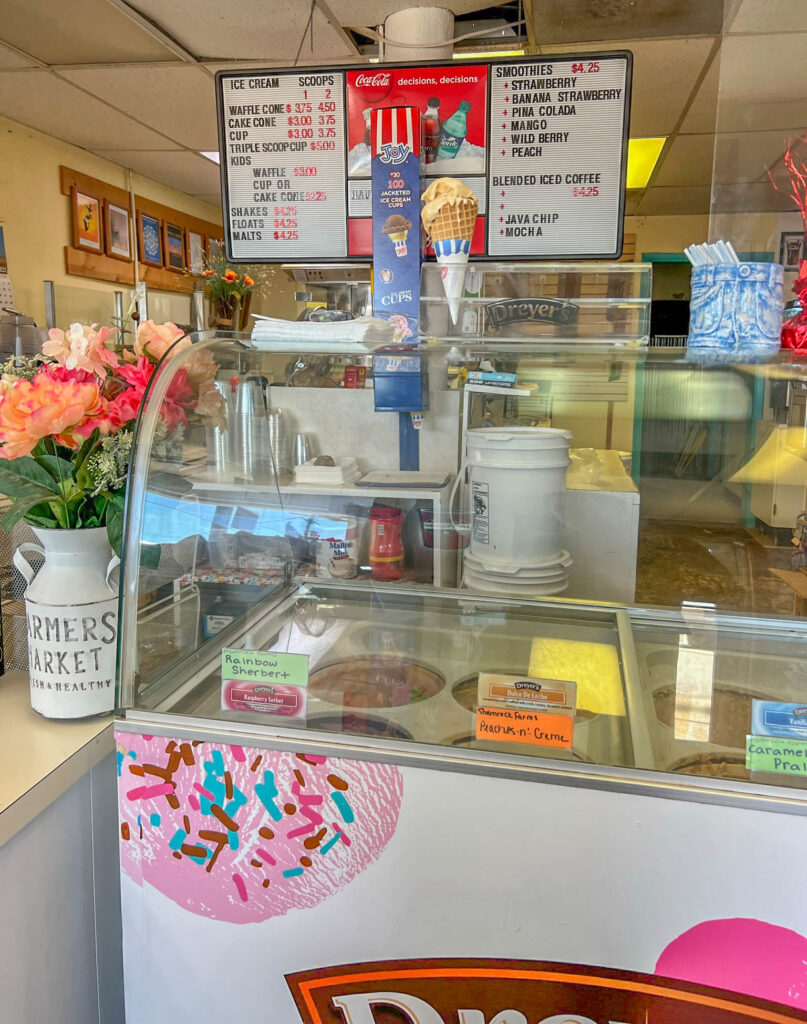 THINGS TO DO IN SAN ANTONIO
Umm, go birding. You can also hike on a variety of trails at Bosque del Apache and observe other animals like coyotes, rabbits, reptiles, and insects.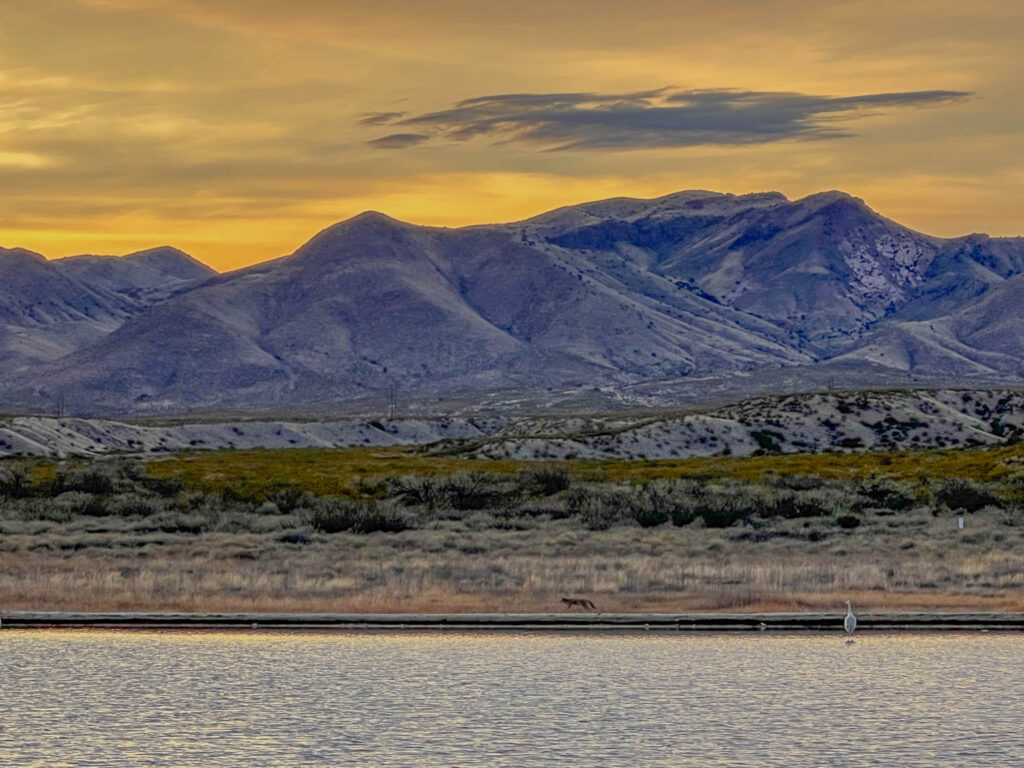 Another great activity is photography. All of the photos in this post were taken with my iPhone during my most recent visit on December 1, 2022 for the Festival of Cranes. The combination of scenery, interesting light (especially at sunrise and sunset), and wildlife make it pretty easy to look like a good photographer.
Other than that, you can hunker down at the Owl, Buckhorn, or The Crane and meet some friendly locals and visitors.
Here are a few more of my favorite photos that I took from my recent visit at the Festival of Cranes. Keep in mind that my photos are lame compared to the photos that I've seen professional photographers take at the Bosque del Apache National Wildlife Refuge.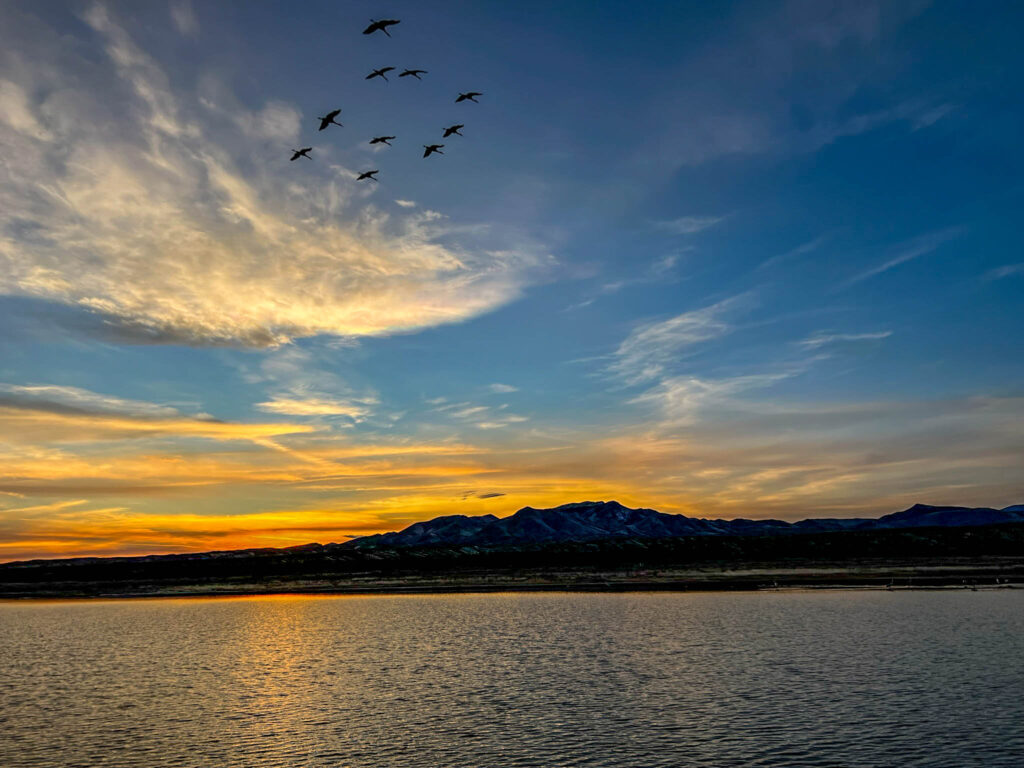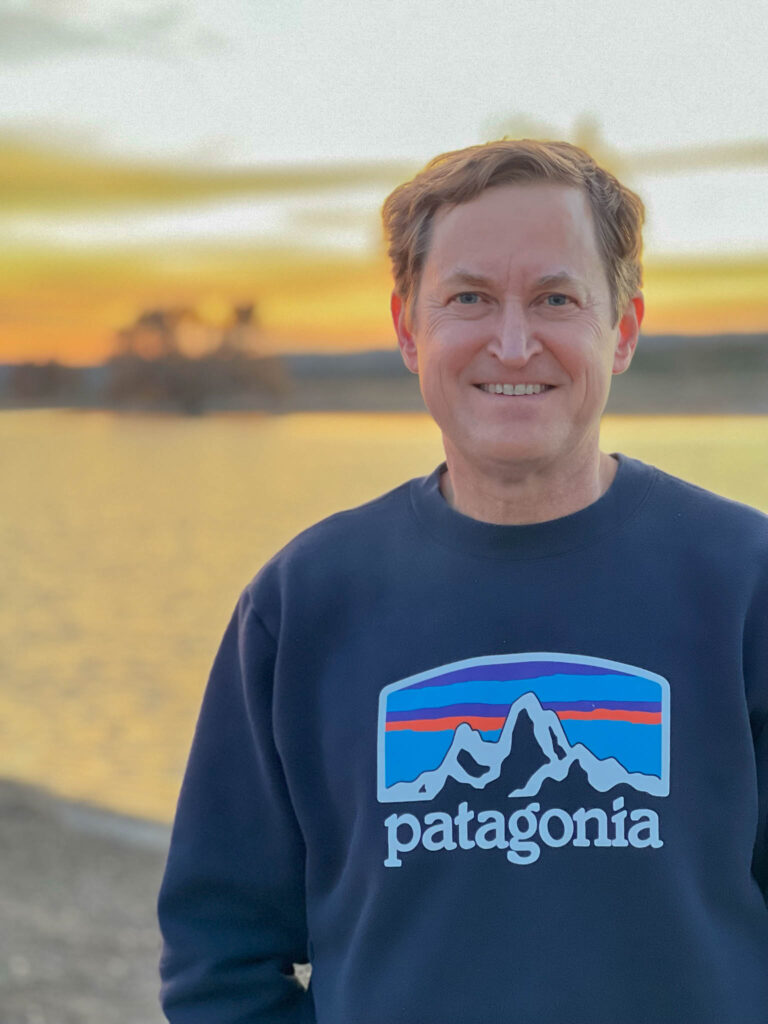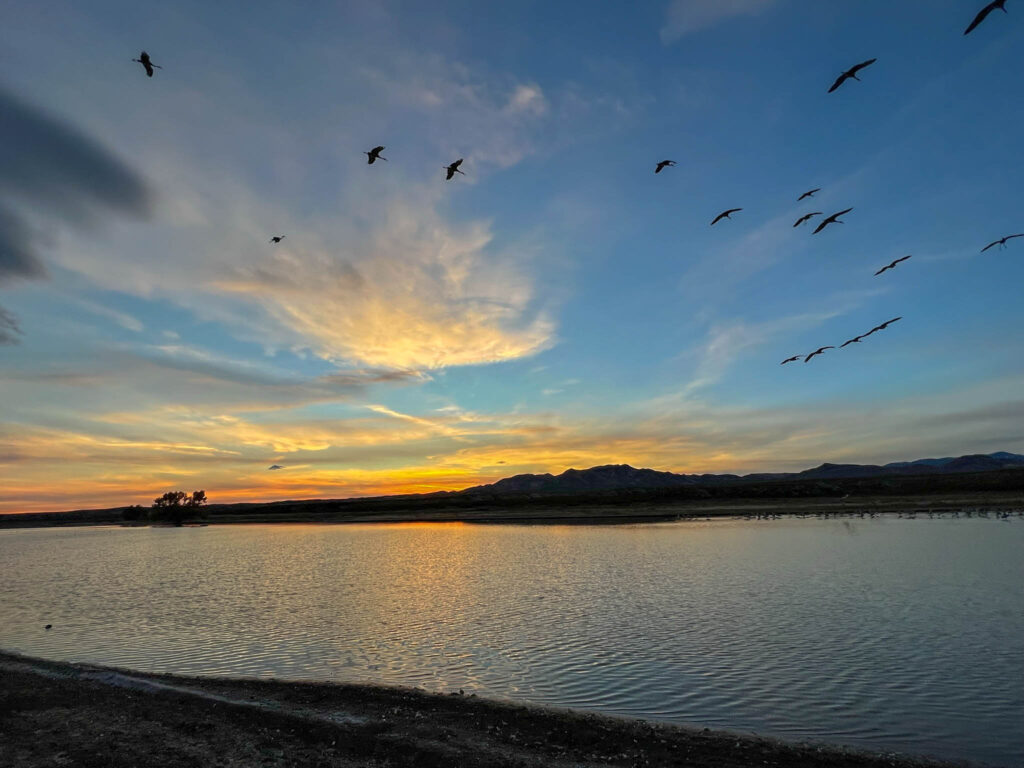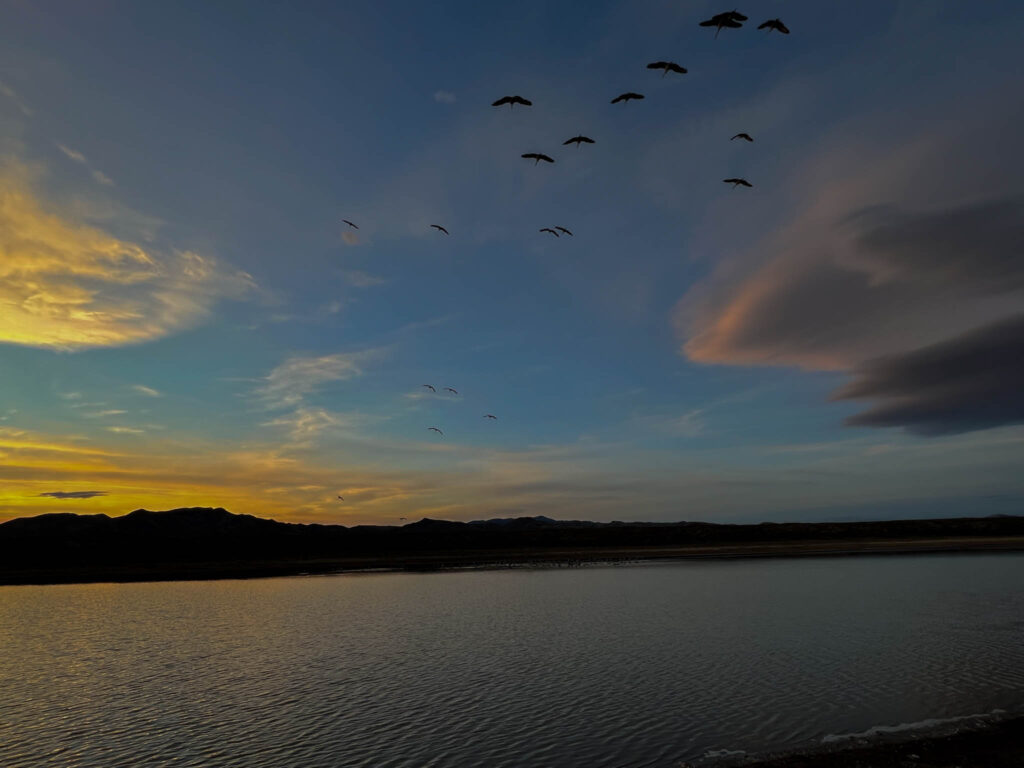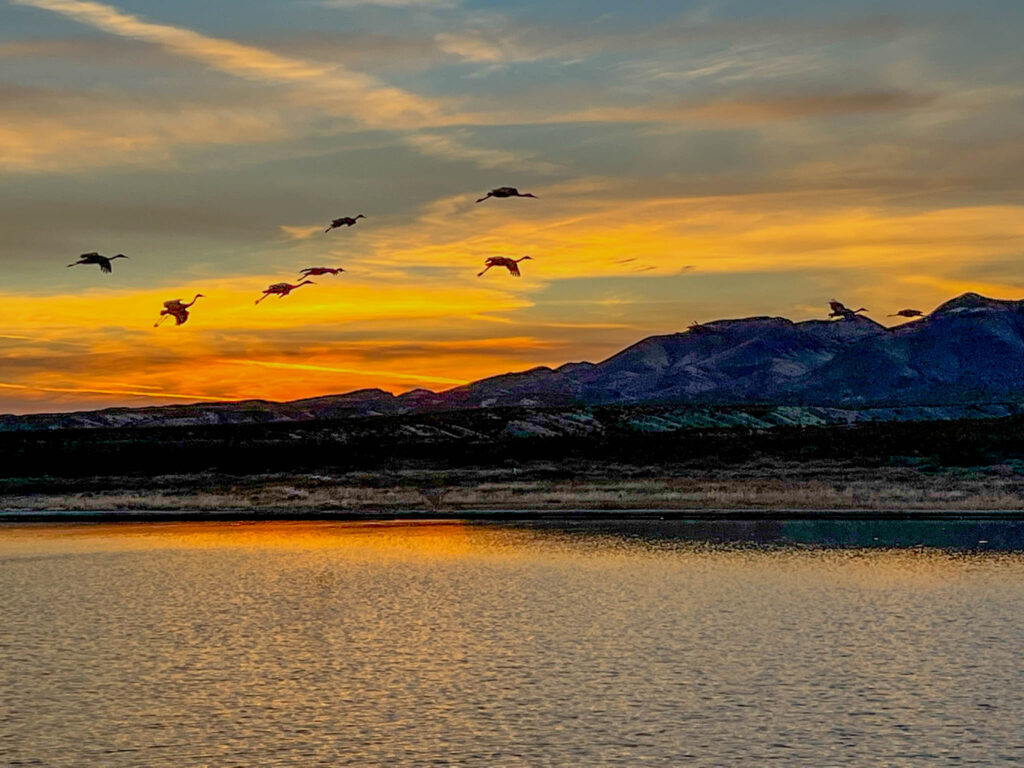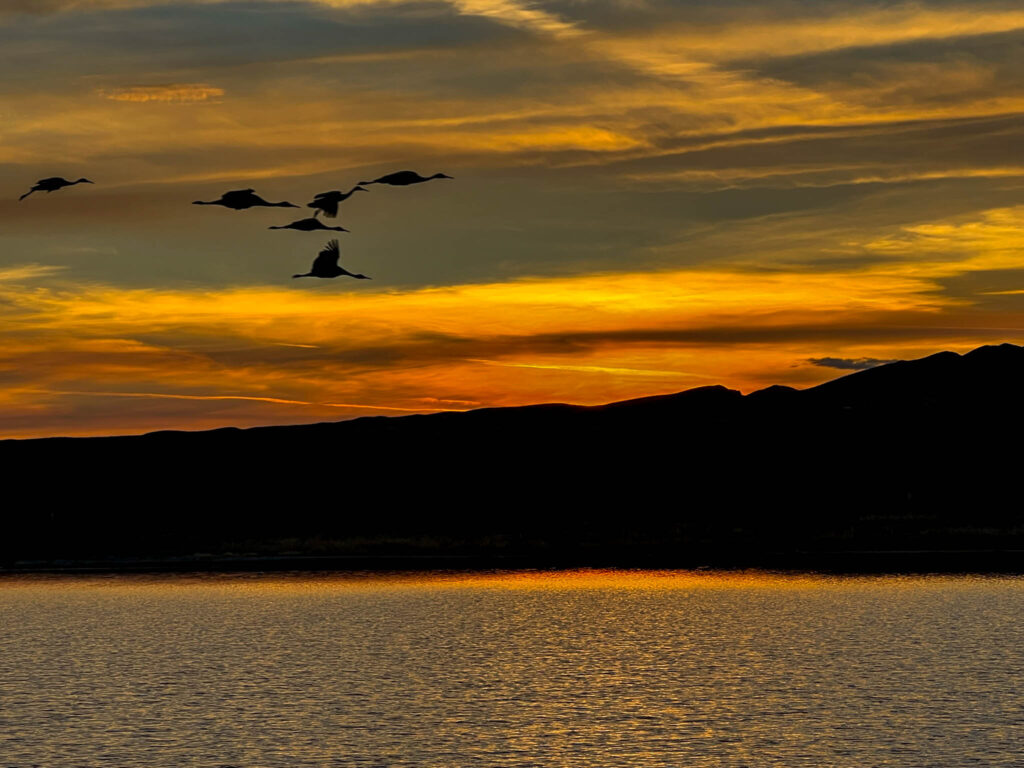 THOUGHT FOR THE WEEK
Since I'm a personal development junkie, I've decided to add a new section to close out each of my blog posts in 2023 called "Thought for the Week". Yes, I know that makes absolutely no sense in a travel blog. But hey, only a few people (Hi Mom!) will read this far anyway, so I'll just do it for me.
For this post's thought for the week, I'll start the new year with a quote from the Dalai Lama:
"Choose to be optimistic, it feels better"
— Dalai Lama XIV
Indeed it does. Have a great week and thanks for reading.
Happy Travels!
Mark (New Mexico Travel Guy)
Mark Aspelin, The New Mexico Travel Guy (www.newmexicotravelguy.com), is a travel writer and author of two books who has enjoyed a wide variety of adventures in his travels to over 100 countries and all 50 U.S. States. His current project involves visiting EVERY town in his home state of New Mexico (there's over 500 towns) and writing a story about each one. When not traveling, Mark lives as a recluse in the mountains outside of Albuquerque, New Mexico.