Visting "The Most Dangerous Town in America" for the Billy the Kid Pageant and Old Lincoln Days
In August of this year, I was rolling down the highway on a sunny Friday afternoon towards the Hondo Valley of New Mexico. My destination? The historic town of Lincoln, New Mexico, home of the annual Billy the Kid Pageant and Old Lincoln Days. Never heard of it? Well, you're not alone. I'd never heard of it either. But earlier this summer, I stumbled across an overview of the event through the Ruidoso Tourism Website (www.discoverruidoso.com). "This annual folk pageant with re-enactors portraying Billy the Kid's last escape and the notorious Lincoln County War is a regional favorite with food vendors, live music, food, arts & crafts, and a parade. Don't miss it!" Well, I didn't. And I'm not the only one. There was a good turnout for the Pageant. So here's everything you'll want to know about the Billy the Kid Pageant and Old Lincoln Days.
WHERE THE HECK IS LINCOLN, NEW MEXICO AND WHY IS THE BILLY THE KID PAGEANT HELD THERE?
Lincoln is a considered to be an unincorporated village located between the towns of Capitan and Hondo, New Mexico. You've probably never heard of those towns either, so let's just say that it's about an hour drive west of Roswell and 40 minutes east of Ruidoso. You won't have to worry about getting lost in Lincoln. After all, there's only one street! Lincoln is located on US Route 380, which is also known as the "Billy the Kid Trail".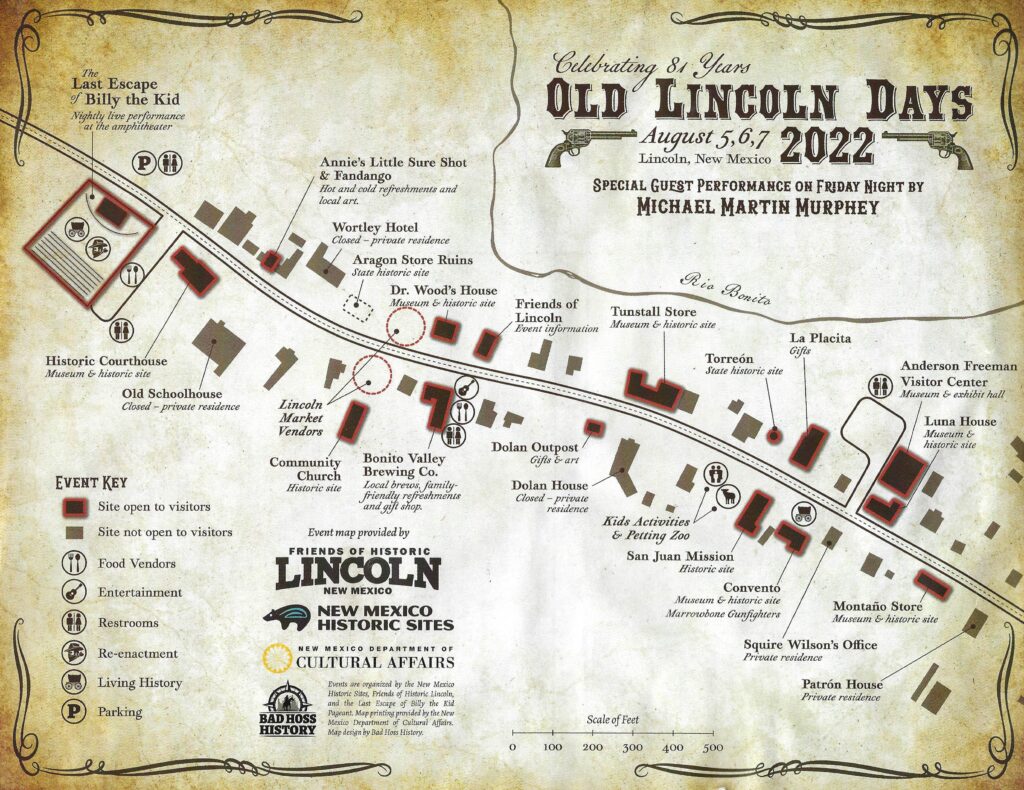 Lincoln has just under 200 residents, but it's full of interesting history and well-preserved historical buildings. And you won't be shocked to learn that part of that history involves Billy the Kid.
Like the rest of the Hondo Valley, the area was first home to the Apache tribe. In the 1849, Spanish-speaking settlers arrived and called the town "La Placita del Rio Bonito", which translates to "the village by the pretty river". The name was often shortened to "La Placita" or "Bonito". The river that passes near the town is still called Rio Bonito today. In 1869, Saturnino Baca proposed that a new county be created and proposed to name it Lincoln County in honor of president Abraham Lincoln who was assassinated four years earlier on April 15, 1865. With the creation of Lincoln County, the town name of "La Placita del Rio Bonito" was also changed to Lincoln. The town of Lincoln housed the Lincoln County offices until 1909, when the offices were relocated to Carrizozo. But I'm getting ahead of myself.
When the Spanish settlers arrived in the 1850s, they had frequent conflicts with the Apaches. To help protect themselves during Apache raids, they created a rock tower called El Torreón. The original structure was believed to be four stories tall, with portholes all around it. Apparently, the entire village was able to seek refuge in the structure, with women and children on the ground floor and armed men on the top three stories. El Torreón was also surrounded by a 10-foot-high wall, so that livestock could also be brought inside for protection.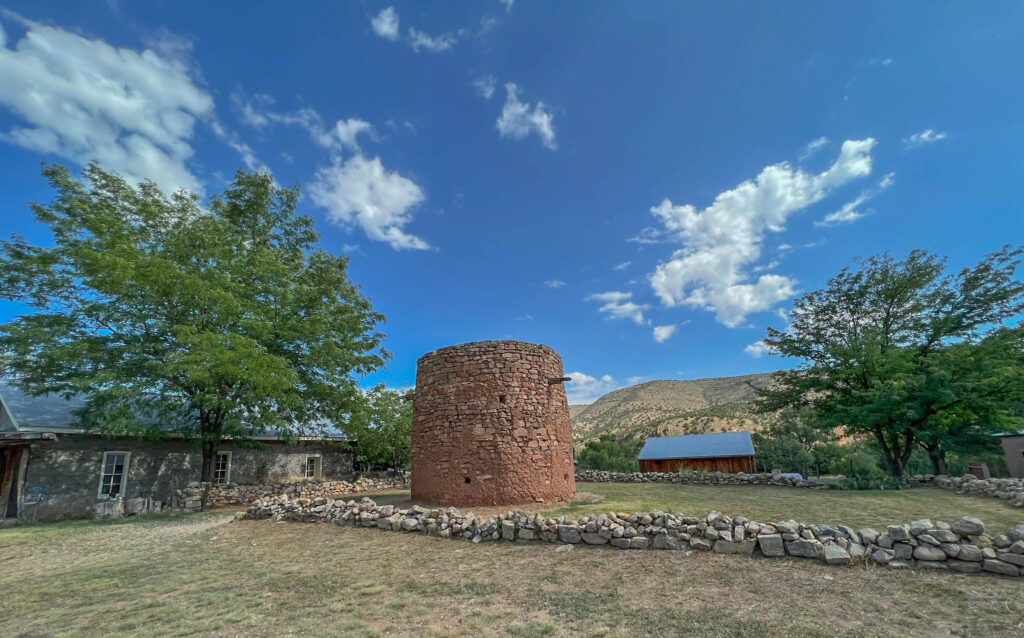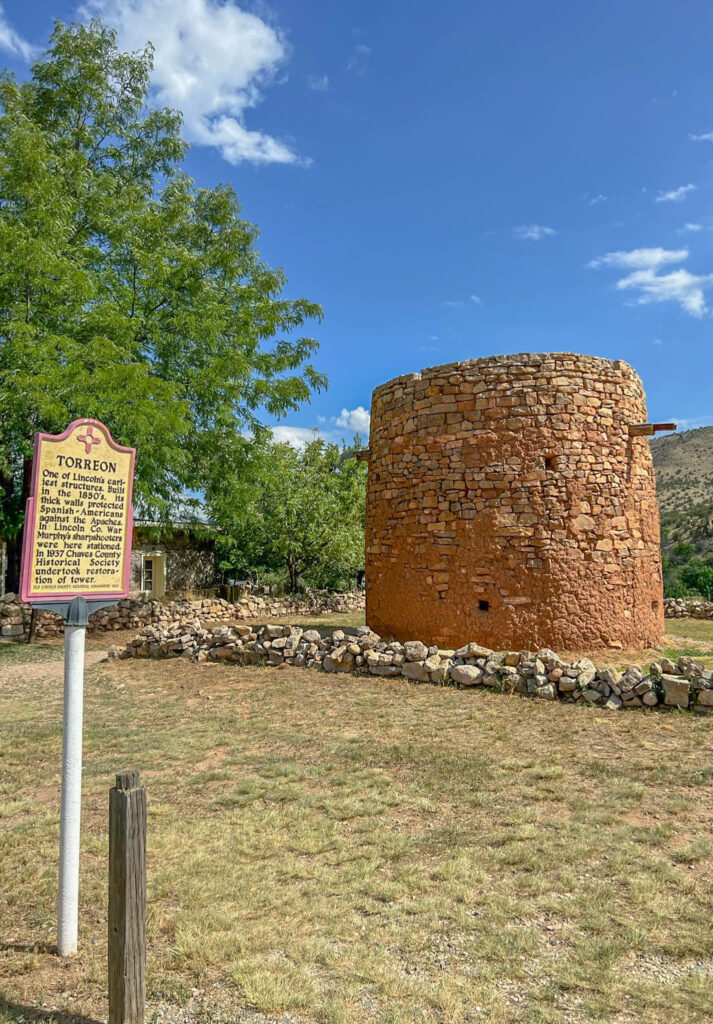 In the late 1870s, Lincoln was a central location in the Lincoln County War, which led to it's reputation as "the most dangerous town in America". What was the Lincoln County War? Well, that's what the Billy the Kid Pageant is all about. Rest assured, I'm not going to break down the Lincoln County War in excruciating detail. You can get the full scoop when you visit the museum in the Lincoln Courthouse and other historic sites in town.
The very short version is that the Lincoln County War was a fight between two rival cattle barons. One of the cattle barons, Murphy & Dolan Mercantile and Banking, was owned by Lawrence Murphy and James Dolan. They owned the only store in Lincoln County and they took advantage of that fact by monopolizing trade. They earned huge profits by charging high prices for goods they sold and paying low prices for the cattle they bought from local ranchers. Not surprisingly, the small farmers and ranchers of Lincoln County were not thrilled about this. Enter cattle baron #2. In 1877, a lawyer (Alexander McSween) and a cattleman and banker (John Tunstall) created a rival business called H.H. Tunstall & Company and set up shop near the operations of Murphy & Dolan Mercantile and Banking. They also partnered with John Chisum, who owned a large ranch with over 100,000 head of cattle. Tunstall also hired a "cattle guard" named Henry McCarty, who went under the pseudonym William H. Bonney … but you'll probably be more familiar with his other nickname, "Billy the Kid".
James Dolan was not a happy camper with this new development so he tried to lure John Tunstall into a gunfight. Tunstall was not interested. In February 1878, Murphy & Dolan obtained a court order to seize some horses from Tunstall as payment for an outstanding debt. Tunstall refused, so on February 18, 1878, the local Lincoln Country Sheriff (William Brady) was summoned to put together a group of people to get the horses. When Tunstall let them know that he didn't want them on his land, Tunstall was shot in the head by a member of the posse named William Morton. That was the beginning of the Lincoln County War.
To help make sense of what happened next, I should give some back story about Billy the Kid. Billy had been orphaned at the age of 15 and he started getting into trouble for stealing things. After escaping arrest, he fled New Mexico Territory into Arizona and started calling himself William H. Bonney. In August 1877, Billy killed a blacksmith during a fight in Arizona and became a wanted man, so he returned to New Mexico. At some point, William Bonney became known as Billy the Kid. When a $500 reward notice was put in the Las Vegas Gazette in December 1880, it referred to him as Billy the Kid, as well as "William Bonny" (an incorrect spelling of Bonney). Billy was eventually hired by John Tunstall. Billy respected Tunstall, who treated him well. With that background, you might not be surprised to hear that, after the funeral for John Tunstall, Billy the Kid vowed "I'll get every son-of-a bitch who helped kill John if it's the last thing I do." Rumor had it that Dolan and Murphy had ordered to kill Tunstall so they were likely added to Billy's vengeance list, in addition to William Morton and other members of the posse.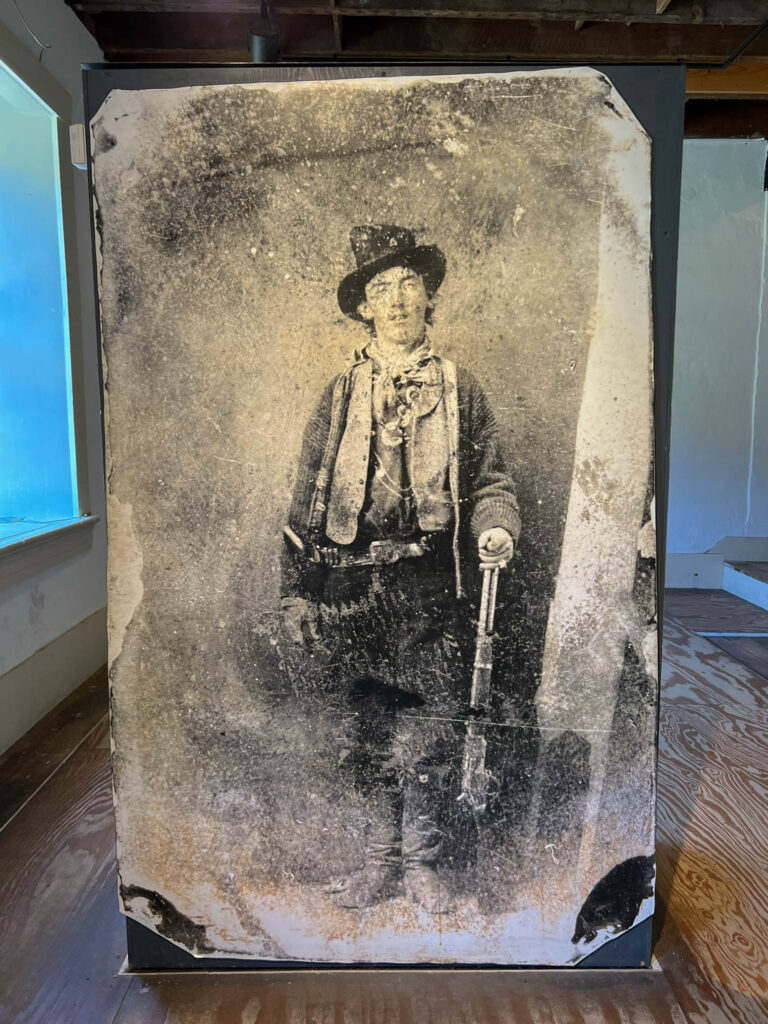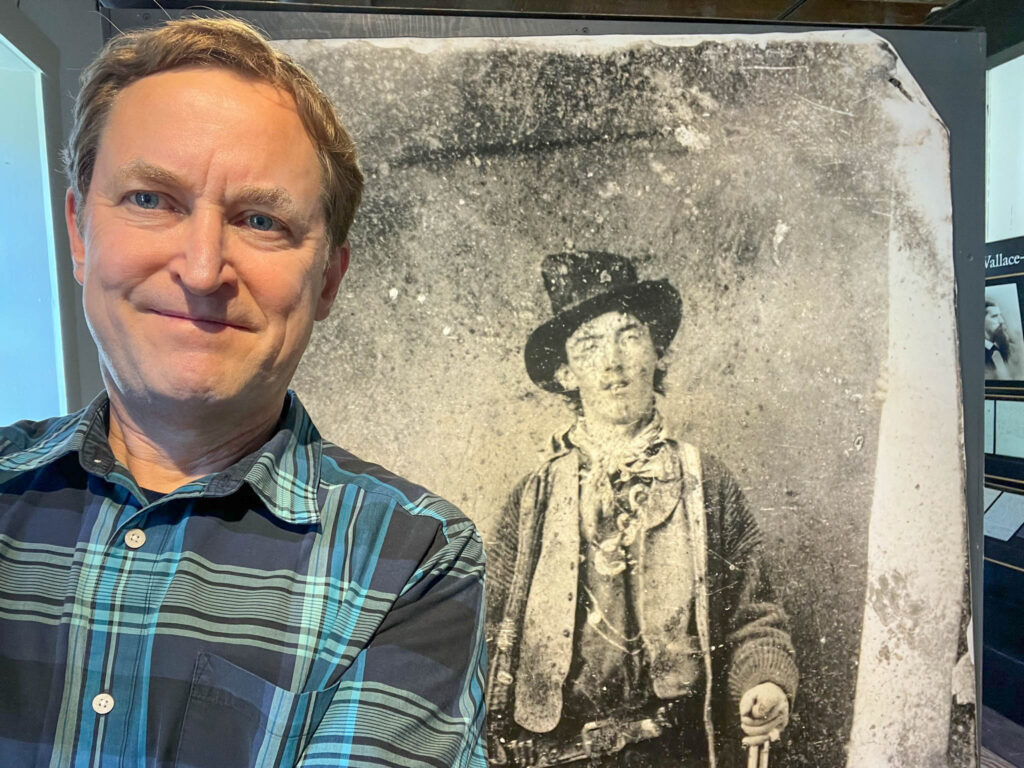 To make a long story short, Billy was part of group called "The Regulators" that tracked down and killed William Morton. They also ambushed and killed Sheriff William Brady. In the end, nineteen people were killed in the Lincoln County Wars. Billy the Kid was eventually captured by Pat Garrett and locked up in the Courthouse that you can still visit today in Lincoln. However, on April 28, 1881, Billy was able to escape on a horse, but not before killing two deputies. The story goes that Pat Garrett tracked down Billy the Kid to Fort Sumner, where Billy the Kid was shot and killed by Pat Garrett. However there are some folks who believe that Pat Garrett never killed Billy the Kid and instead let him go free. The Billy the Kid Pageant ends with Billy's escape from the Courthouse so it doesn't pick a side on that debate. From what I can gather, the evidence leans towards the version where Pat Garrett kills Billy the Kid.
WHAT CAN YOU EXPECT TO SEE AT THE BILLY THE KID PAGEANT?
Over the course of three days, the Billy the Kid Pageant is performed once per day. This year it was held on August 5, 6, and 7th. Apparently, it's the longest running pageant of it's kind in the United States, with 2022 being its 81st year. People travel from all over the US to see the Pageant and there were even a few international visitors according to the announcer.
Before you start envisioning massive crowds, remember, this is rural New Mexico. Here are some photos that give you a sense of the seating capacity and crowds, although many people choose to bring their own chairs to the Pageant. As you can see, this isn't Wembley Stadium.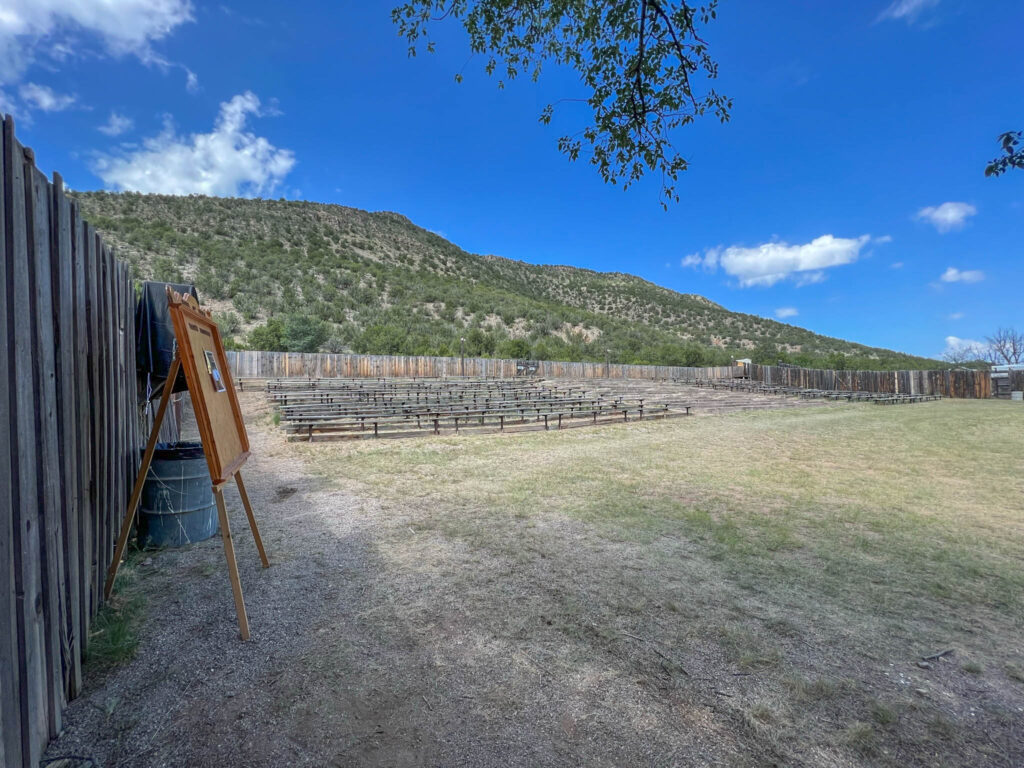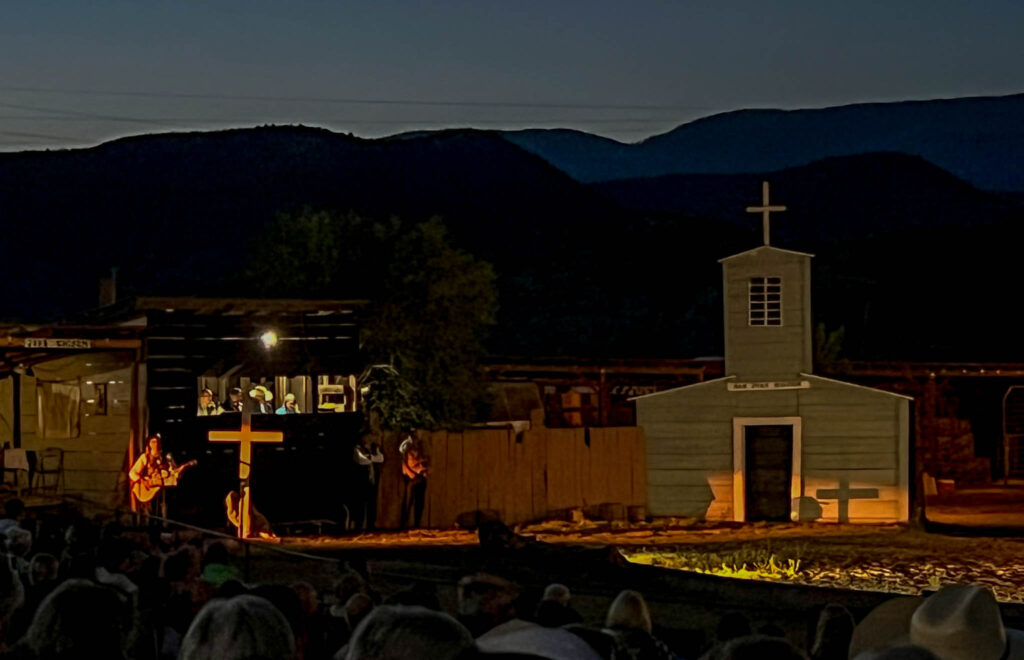 Another thing to note is that all of the performers are volunteers. For some of the performers, it's become a family tradition that's been passed down through the generations, with some members participating in the Pageant for nearly 50 years.
Keeping all of that in mind, it's worth checking out and I'm glad I made the trip. It was fun to see the local scene, with many farmers and ranchers in attendance with their families. I saw lots of people wearing cowboy hats and most looked like they weren't just doing it for the event.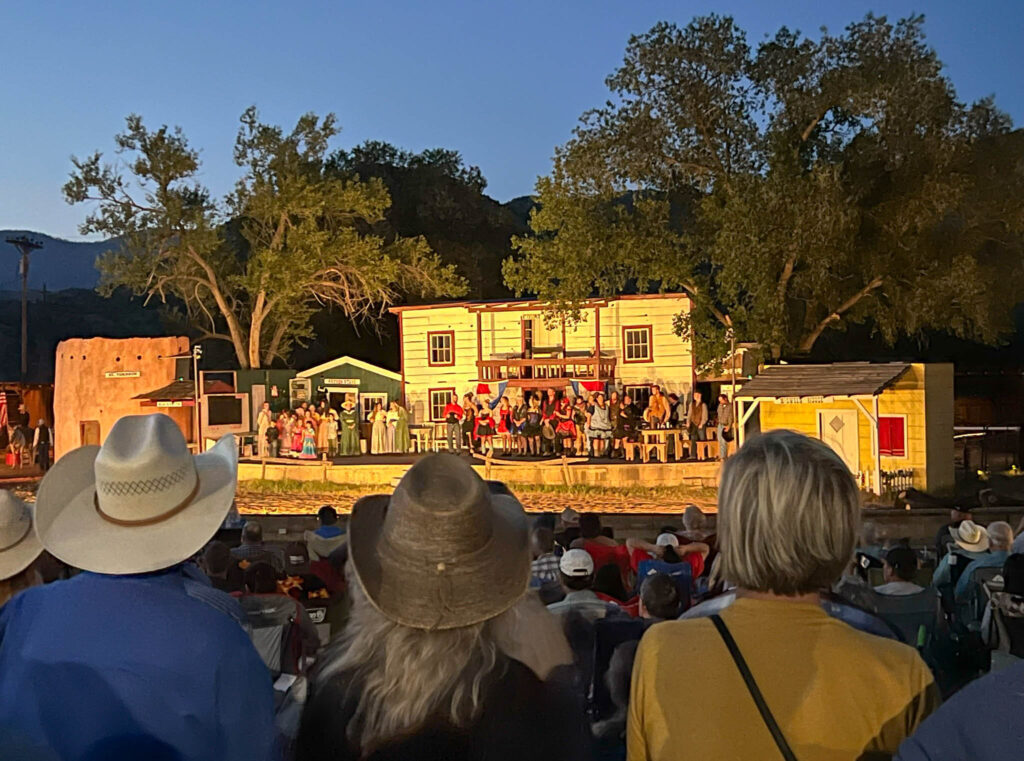 As for reservations, there didn't appear to be a need. I was able to get a ticket about 30 minutes before the show started. However, you might want to bring cash as phone/Wi-Fi reception is terrible, making credit card transactions unpredictable. Tickets are available at the gate beginning at 10am each morning. The cost of admission is $10 for adults, $6 for kids aged 6-12, and free for kids aged five and under.
WHAT CAN YOU EXPECT TO SEE AT OLD LINCOLN DAYS?
Outside of the actual Billy the Kid Pageant, there are plenty of other things to see and do. There are vendors, food trucks, a petting zoo, historical presentations, and live music performances. The museum inside the Courthouse is also open at no charge (but donations are welcome) with interesting exhibits documenting the Lincoln County War and the story of Billy the Kid.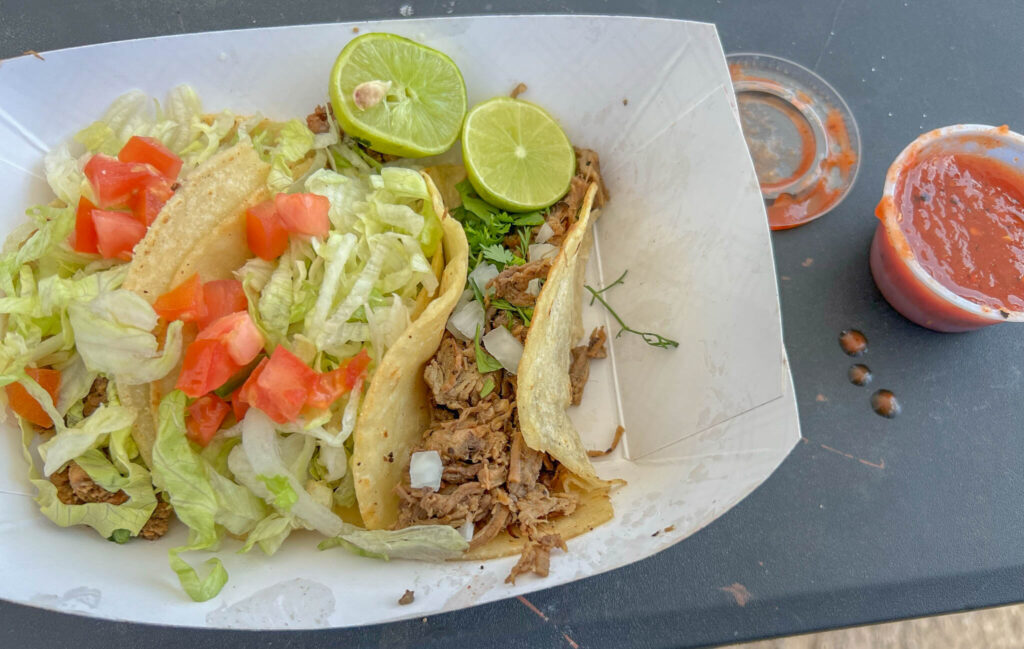 Finally, there's the Old Lincoln Days Parade on Sunday morning, featuring a mix of horses, farm equipment, local politicians and realtors, and costumes from the Old West.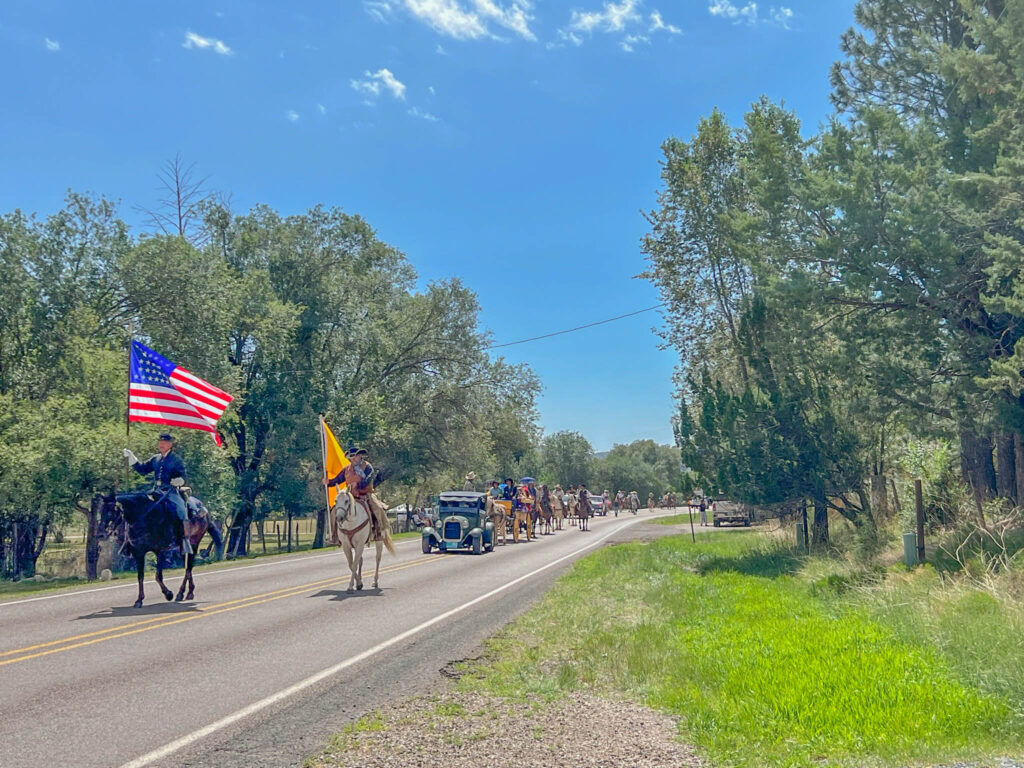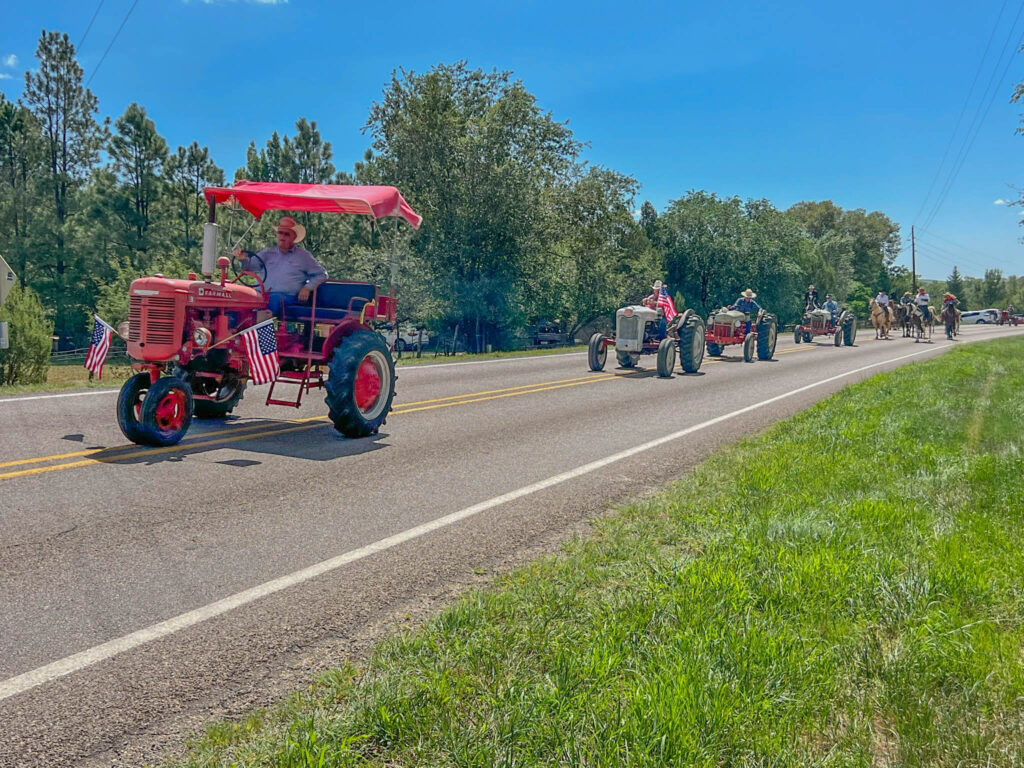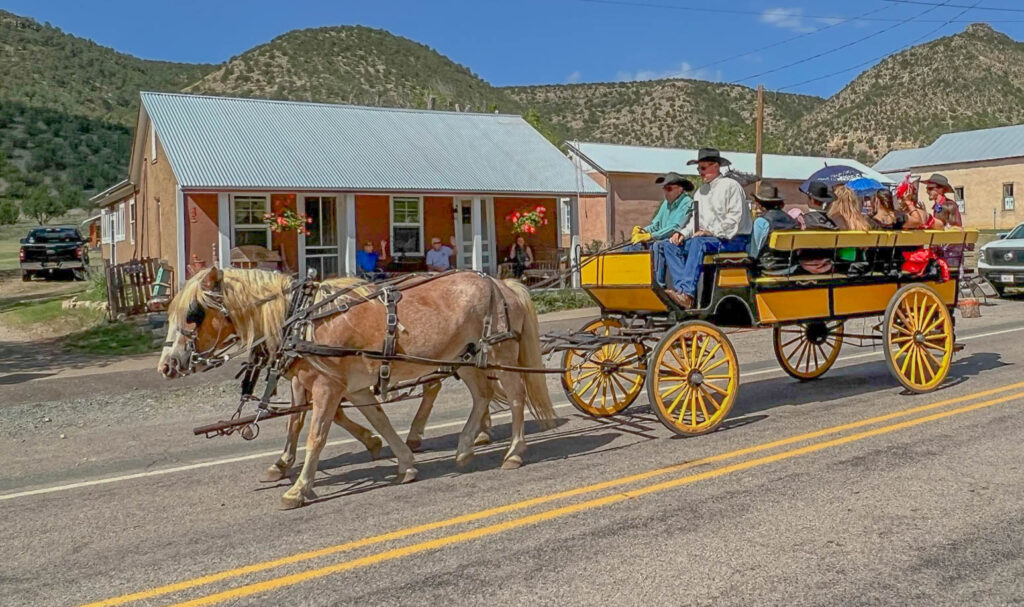 Here was the complete schedule for 2022 to give you an idea of what to expect in future years.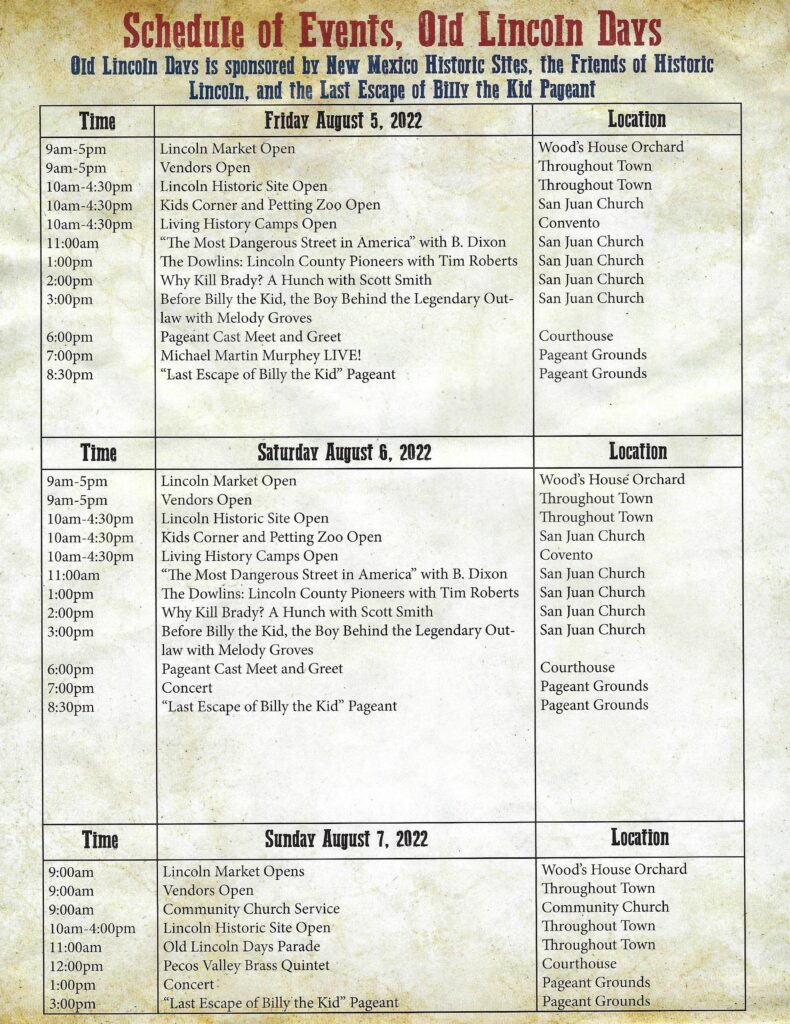 One helpful tip if you're checking out the parade is that they close the road for an about hour for the parade. If you need to leave early for any reason and you're parked along the side of the road in town, well, you won't be going anywhere. Those who need to leave early should park on the side of the road of the outskirts of Lincoln, behind the last vehicle of the parade or in front of the endpoint of the parade on the other side of town, depending on which direction you need to travel. It's probably a 0.75 mile walk into the center of town, but it will give you flexibility to leave early. If you aren't under any time pressure, then you might as well park as close as you can to the center of town.
Even if you happen to visit Lincoln outside Pageant weekend, it's still worth a stop to see the well-preserved buildings that give you a taste of what things looked like back in the 1870's and 1880's. And, unlike some other historical Wild West towns, Lincoln doesn't come across as overly touristy, and that's always a positive in my book. You can visit the historic buildings Thursday through Monday from 10am – 4pm. Many buildings are closed Tuesdays and Wednesdays. To learn more, visit the New Mexico Historic Sites website.
Happy travels!
Mark (New Mexico Travel Guy)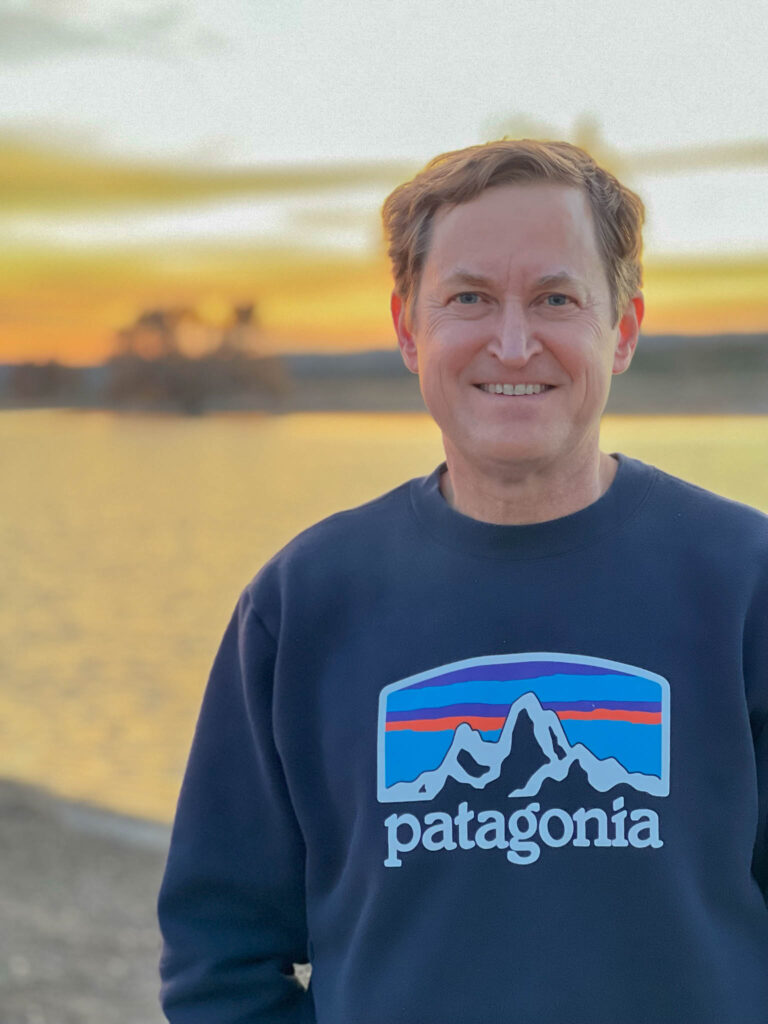 Mark Aspelin, The New Mexico Travel Guy (www.newmexicotravelguy.com), is a travel writer and author of two books who has enjoyed a wide variety of adventures in his travels to over 100 countries and all 50 U.S. States.  His current project involves visiting EVERY town in his home state of New Mexico (there's over 500 towns) and writing a story about each one.  When not traveling, Mark lives as a recluse in the mountains outside of Albuquerque, New Mexico where he's available to write well-researched, accurate, and entertaining articles on assignment for editors. He can be reached at [email protected]