San Patricio is one of those "blink and you'll miss it" towns along the Billy the Kid Trail in the Hondo Valley of Southeastern New Mexico. However, several artists apparently didn't blink when passing through town. The light of the Hondo valley attracted painters like moth to a flame, and some of them decided to settle down in San Patricio. Today, San Patricio is a small farming and ranching community that's also home to the Hurd La Rinconada Gallery, Sentinel Ranch Winery and Tasting Room, and San Patricio Orchards. It's certainly worth a stop if you're passing through on Highway 70 between Ruidoso and Roswell. San Patricio is about an hour drive from Roswell and 35-minute drive from Ruidoso.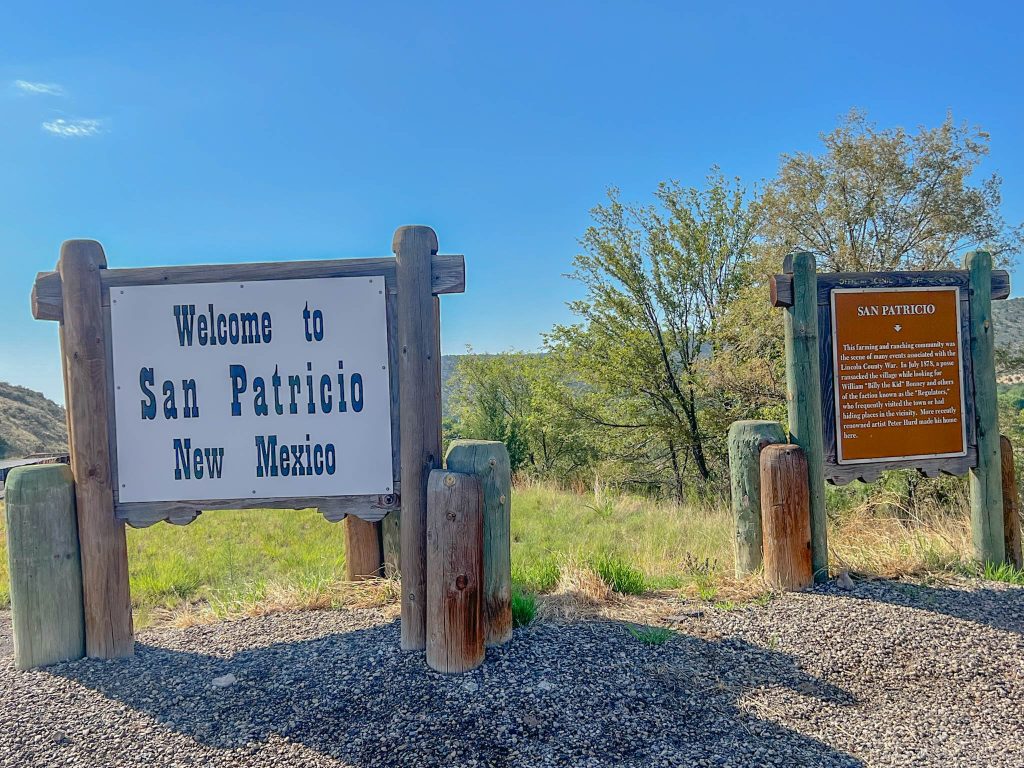 Table of Contents
Brief History of San Patricio
When the first Hispanic settlers arrived in the 1850's, they had frequent conflicts with the native Apache. As a result, the settlers build "placitas" which are "adobe family compounds enclosed for defensive purposes". These placitas had thick adobe walls and portholes on top of the house.
In the 1860s and 1870s, European-American settlers began to arrive, with about 40 families living there in 1867. Around that time, the town was called "Ruidoso", named after the Rio Ruidoso (river) that passes through town. This influx of settlers included an Irish priest who, in 1875, decided to build a church and call it La Iglesia de San Patricio in homage to patron saint, Saint Patrick. La Iglesia de San Patricio was the first church in the Honda Valley and it soon became an important hub for the community. As a result, the name of the town was changed in 1875 from Ruidoso to San Patricio. In other words, you can thank or blame the Catholics for the name change. Today, the town of Ruidoso is located 23 miles west of San Patricio.
The first school in San Patricio was a four-room elementary school that was built prior to 1880. In 1880, there were 70 students in the school district, which later grew to 153 students in 1920. The school closed in 1960 and students in the area were moved to Hondo elementary school a few miles east of San Patricio.
Given it's location on the Billy the Kid Trail, you won't be surprised to learn there's some Billy the Kid lore associated with the village. Billy the Kid is rumored to have attended dances in San Patricio in the 1870s. According to an historical sign outside of town, "In July 1878, a posse ransacked the village while looking for William "Billy the Kid" Bonney and others of the faction known as the "Regulators" who frequently visited the town or had hiding places in the vicinity". This was all part of the Lincoln County War saga that I'll write a bit more about in my next blog post about the Billy the Kid Pageant and Old Lincoln Days" in the town of Lincoln.
San Patricio's population grew to 822 in the 1920s. In the 1930s, two artists named Peter Hurd and Henriette Wyeth (Peter's wife) decided to purchase 8 acres in town, which later expanded to a 40-acre farm. The couple compared the hills and clean air of the Hondo Valley to the area around Siena, Italy. Over the years, a number of other artists settled down to call the Hondo Valley home. Peter, Henriette, and their family must have done fairly well, as their 40-acre farm is now a 2,200-acre ranch. You can view the family's artwork (from Peter, Henriette, and their kids) at the La Rinconada Hurd Gallery, which has been open to the public since 1986.
You can also sample local wine at their Sentinel Ranch Winery and Tasting Room. Peter and Henriette's son Michael, an accomplished artist in his own right, has renovated six guest houses that you can rent at the Sentinel Ranch. More on that in the Where to Eat, Where to Stay, and What to Do sections below.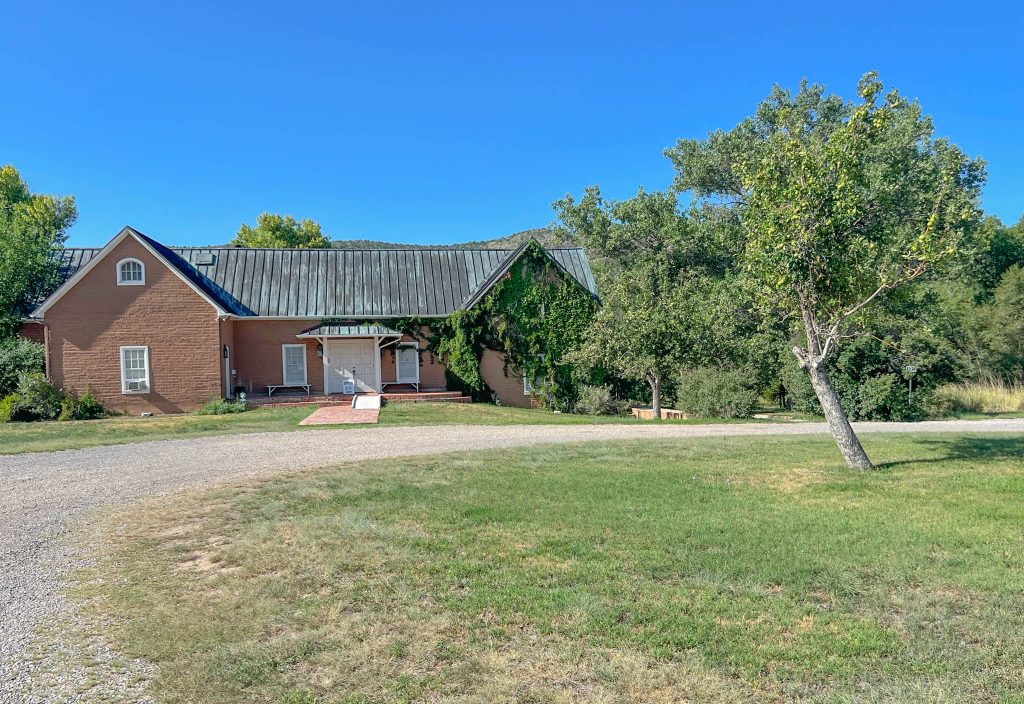 During World War II, the population of San Patricio declined. Over the years, businesses such as the local grocery store, general store, gas station, bar and pool hall have all shut town. Only the San Patricio post office is still up and running.
In 1967, another Catholic Church was built, called St. Jude Mission. As you can see from St. Jude Parish's Facebook page, the church is still active today to serve the residents of Hondo Valley. Even the bells from historical Catholic churches in Glencoe, Hondo, and San Patricio were added to St. Jude's, symbolizing the consolidation of the congregations from the Catholic churches of the Hondo Valley.
Where to Stay in San Patricio
Last time I checked, there were six guest homes that can be rented in San Patricio, all of them hosted by the Hurd La Rinconada Gallery and Sentinel Ranch. On the Hurd Gallery website, you can request to book one of four guest homes or you can book them directly on AirBnb. The other two guest homes are currently booked with longer term renters. Rates vary from $185 – $390 per night, depending on the size of the house and number of guests. You can even rent a wing or all of Peter and Henriette's personal home called the Wyeth House, which is part of the National Historic Registry. Here is a link to guest homes that you can rent at Sentinel Ranch. Some of the homes (not the Wyeth House or Apple House) are pet friendly, for an extra $20 per pet per night fee. The guests homes are available to rent year round.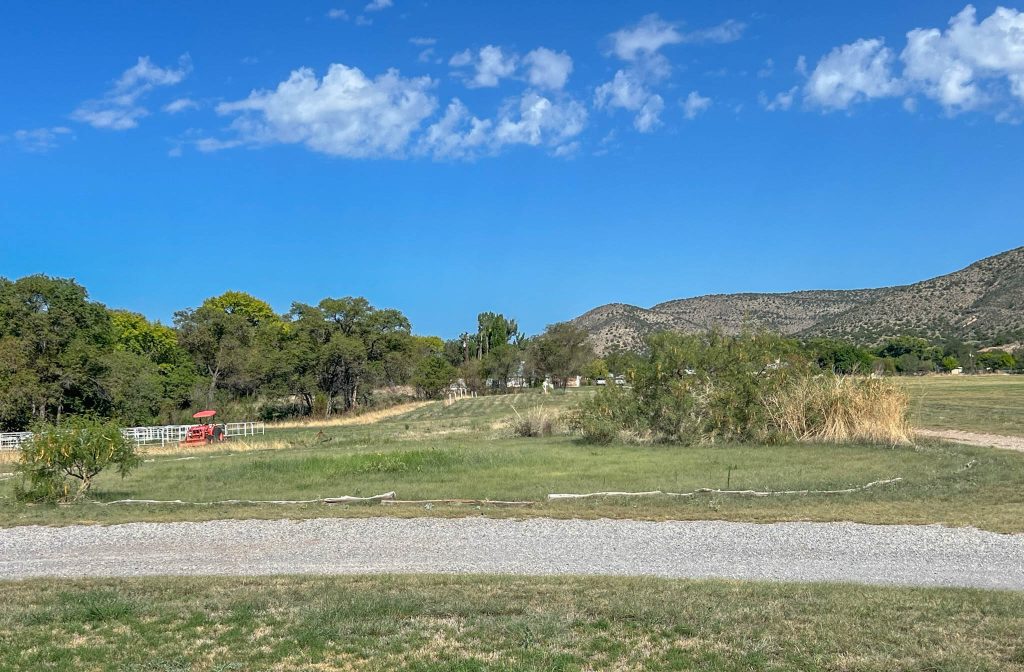 Another great lodging option to consider is San Patricio Orchards, which serves as a beautiful wedding and event venue and also offers Casita, Suite, and RV Spot Rentals.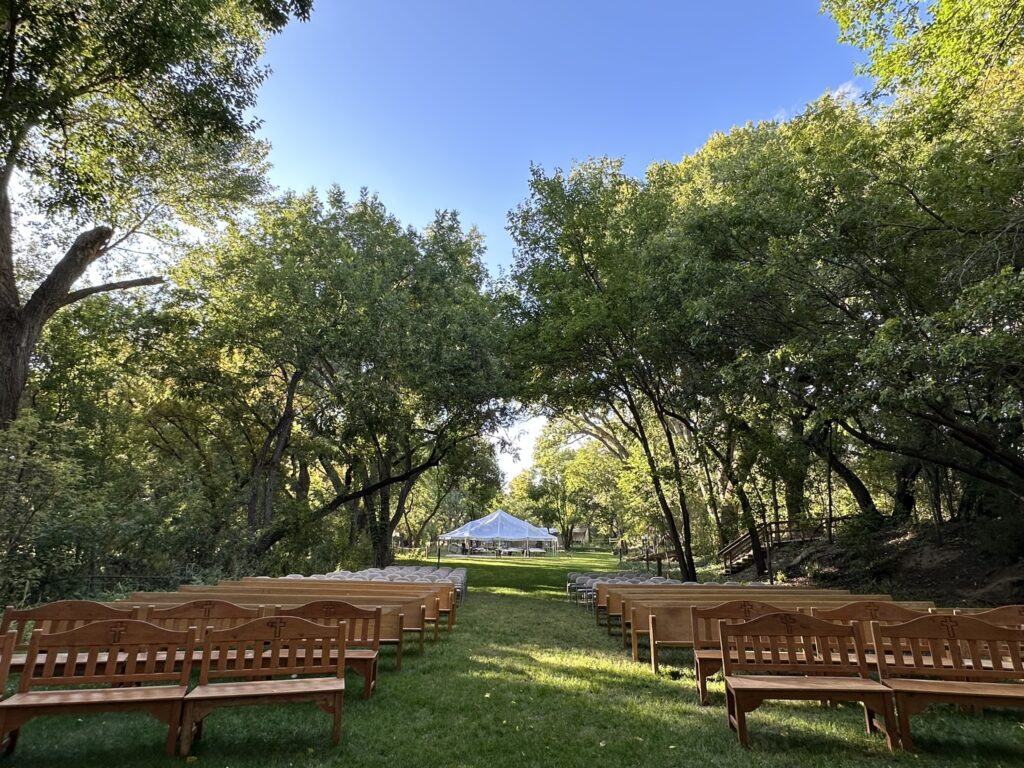 Where to Eat in San Patricio
At the time of this writing, there weren't any restaurants or food options in San Patricio other than charcuterie and bruschetta boards that are offered at the winery. The charcuterie boards include meats, cheeses, and fresh fruit and olives, served with a variety of crackers. Note that on Saturdays, there is live music (variety of styles) with no cover charge, and you have the option to pay $10 for all you can eat charcuterie. Here is a link that will take you to the wine and food menu at the wine tasting room and patio. The wine tasting room keeps the same hours as the gallery:
Tuesdays – Fridays, 9:00am, – 5:00pm (last serving is at 4:30pm)
Saturdays: from June 3rd to the end of November, there are extended hours on Saturdays for live music that lasts until 6:00pm. The rest of the year, the hours are the same as above for Tuesday – Friday.
Sundays – Mondays: Closed
If you're looking for a good restaurant in the area, check out the Tinnie Silver Dollar Steakhouse. See my blog post on Tinnie for more information about that. The Silver Dollar restaurant is about a 7-mile drive from San Patricio. There are also some excellent restaurant options in the town of Capitan, a 25-minute drive from San Patricio, as well as a few options in historic town of Lincoln, located about a 15-minutes away.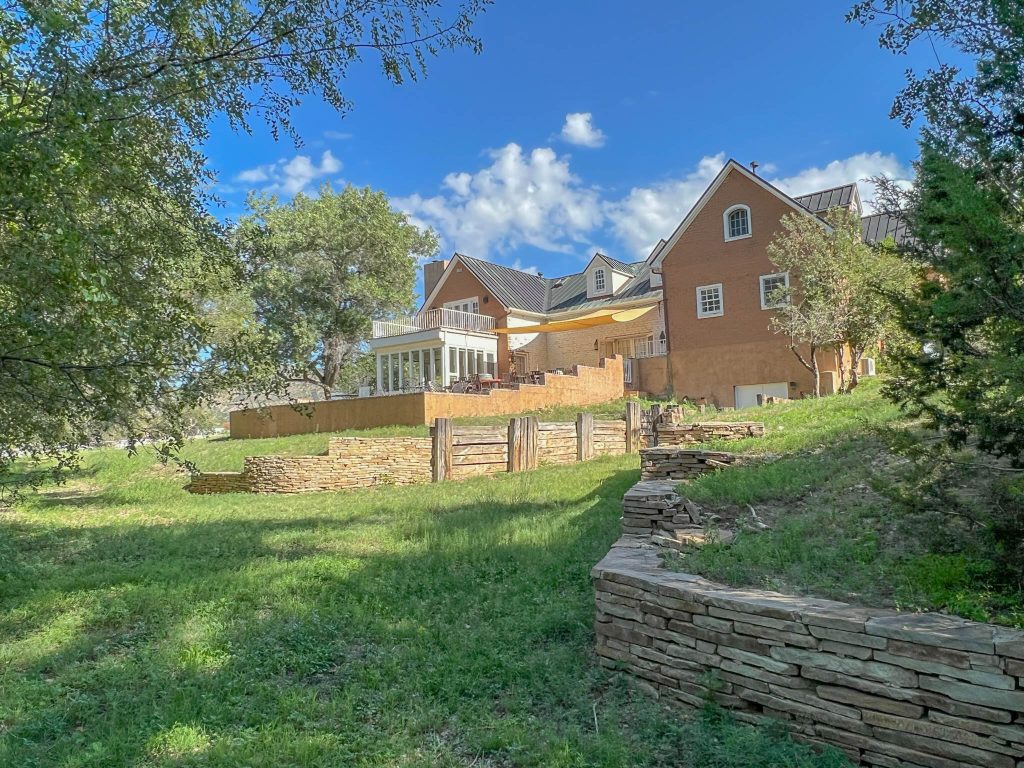 Things to do in San Patricio
La Rinconada Hurd Gallery and Sentinel Ranch Winery & Tasting Room
You probably won't be surprised by my recommended activities during a visit to San Patricio. Most activities focus around the La Rinconada Hurd Gallery and Sentinel Ranch Winery and Tasting Room. However, you can still visit the historical San Patricio Church and Cemetery and there are also activities such as live music at St. Jude's Parish on occasion.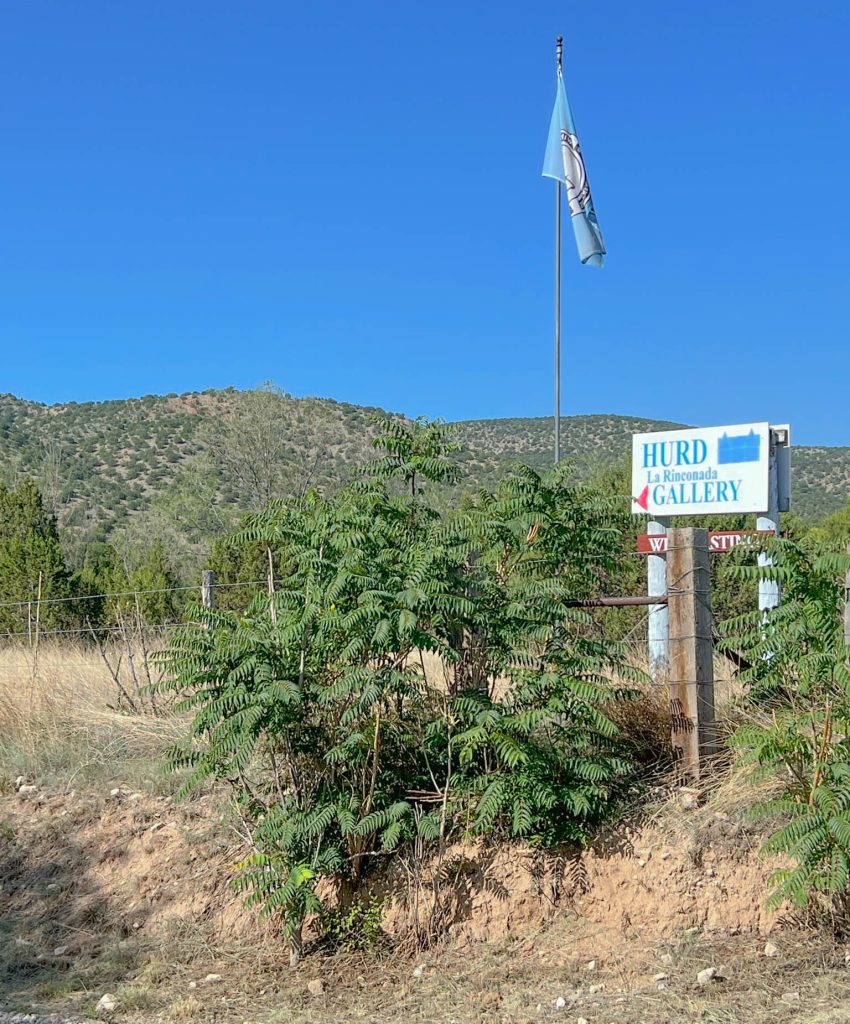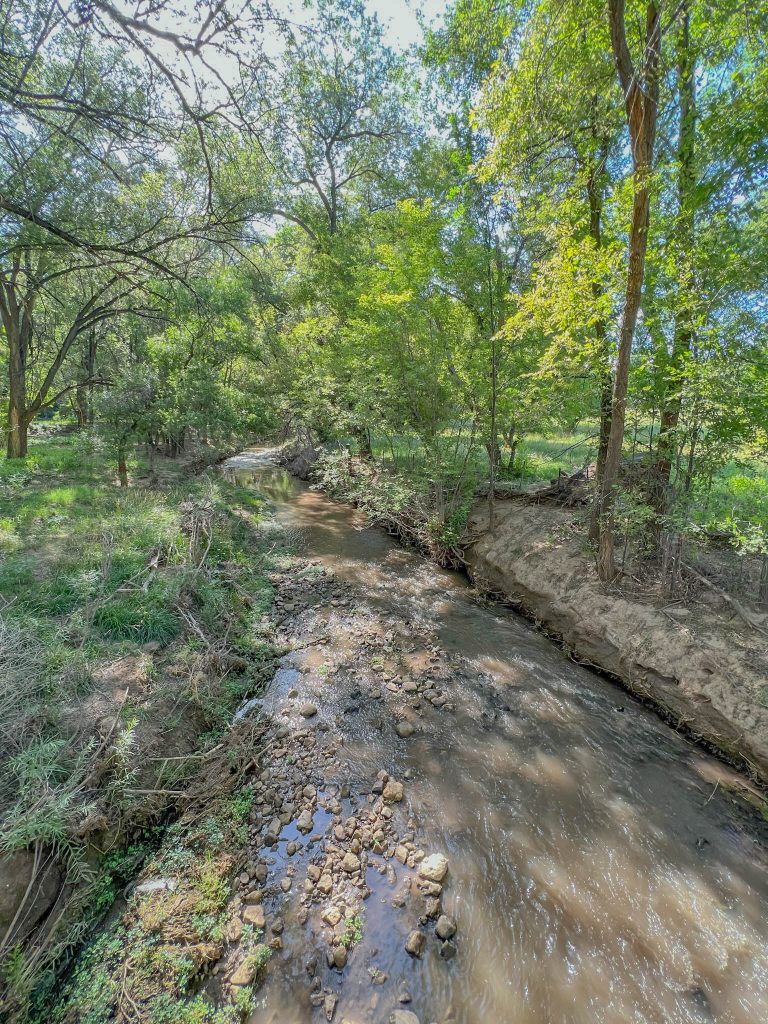 San Patricio Orchards
If you're looking for a great space for a wedding, reunion, or other special event, then you'll definitely want to want to check out San Patricio Orchards. It's located in a beautiful spot with an interesting backstory. The large building pictured below was a former art gallery, owned by artist John Meiggs (1916 – 2003). The building was then turned into a dormitory that was run by the Benedectines, which is why you see the "San Patricio Retreat Center" sign in the photo below. Then, in the summer of 2022, new owners purchased the property and completed extensive restoration and updates to prepare it for a new role. Starting in the summer of 2023, San Patricio Orchards opened for its first season. This family-owned business hosts weddings and other special events, and offers on-site catering and lodging. There's even an on-site chapel that pre-dates the arrival of the Benedectines.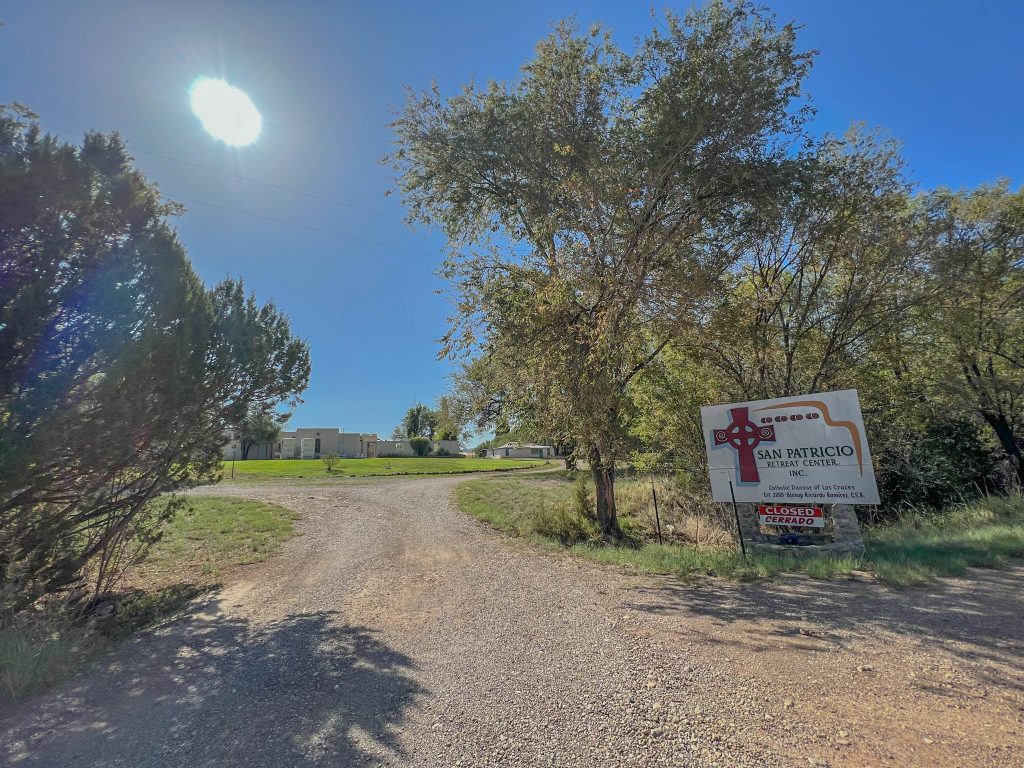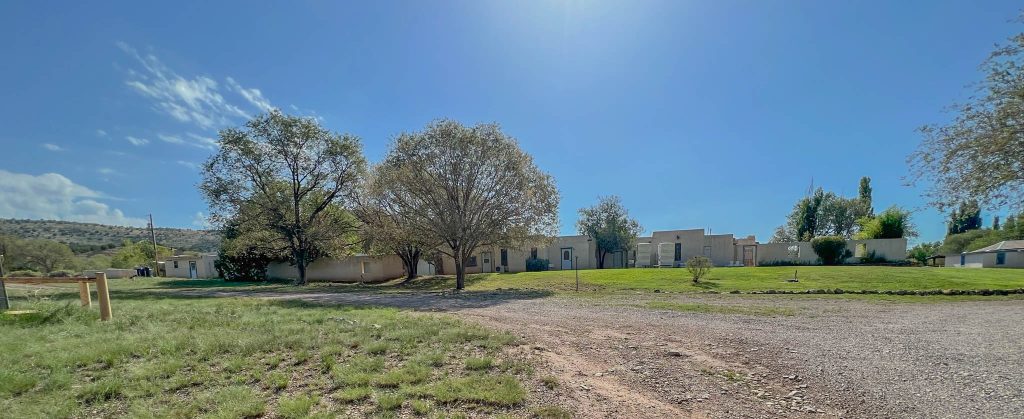 ---
And that's all that I have to report!
I enjoyed my short stay in San Patricio and I plan to return sometime to catch some live music and perhaps stay the night.
Hopefully you, too, now have a reason to pause in San Patricio the next time you're in the area, whether it's for a short break during your travels, an overnight destination to unplug, relax and rejuvenate, or to celebrate a wedding or other special event.
Happy travels!
Mark (New Mexico Travel Guy)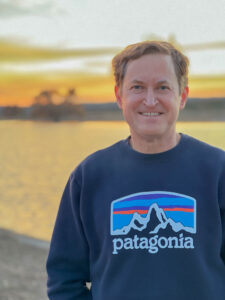 Mark Aspelin, The New Mexico Travel Guy (www.newmexicotravelguy.com), is a travel writer and author of two books who has enjoyed a wide variety of adventures in his travels to over 100 countries and all 50 U.S. States. His current project involves visiting EVERY town in his home state of New Mexico (there's over 500 towns) and writing a story about each one. When not traveling, Mark lives as a recluse in the mountains outside of Albuquerque, New Mexico.