The next few blog posts fall into the "and beyond" portion of my New Mexico and Beyond blog.
As a wildlife biology nerd, I recently made the requisite, once-in-a-lifetime pilgrimage to the Galapagos Islands of Ecuador. My 18-year old son is really into reptiles, and I'm into birds, so we made a great team as we explored Santa Cruz and Isabela islands in the Galapagos. We used Puerto Ayora as our base for 3 nights / 4 days in Santa Cruz and stayed in Puerto Villamil for 2 nights / 3 days while we explored Isabela Island. This post will focus on Santa Cruz Island, and my next post will feature Isabela Island. Hopefully, you'll find these tips to be helpful if you decide to visit these amazing islands. First up, Santa Cruz Island.
Table of Contents
Flying to the Galapagos Islands
To get to Santa Cruz Island, we took a two-hour flight from Albuquerque to Houston, followed by a 5-hour 20-minute flight from Houston to Quito. I was surprised to learn that there was no time change between Houston and Quito. But that's only true for part of the year, since Ecuador doesn't observe daylight savings time.
Since our flight arrived in Quito at 11:30pm, and our flight to the Galapagos wasn't until 10:25am the next day, I booked the closest airport hotel I could find – the Wyndham Quito Airport hotel. It turned out to be a great choice. It was within walking distance and it's a nice place to stay. There are airport shuttles between the airport and the hotel, but we decided to walk. Or more accurately, I wanted to walk and my son reluctantly agreed.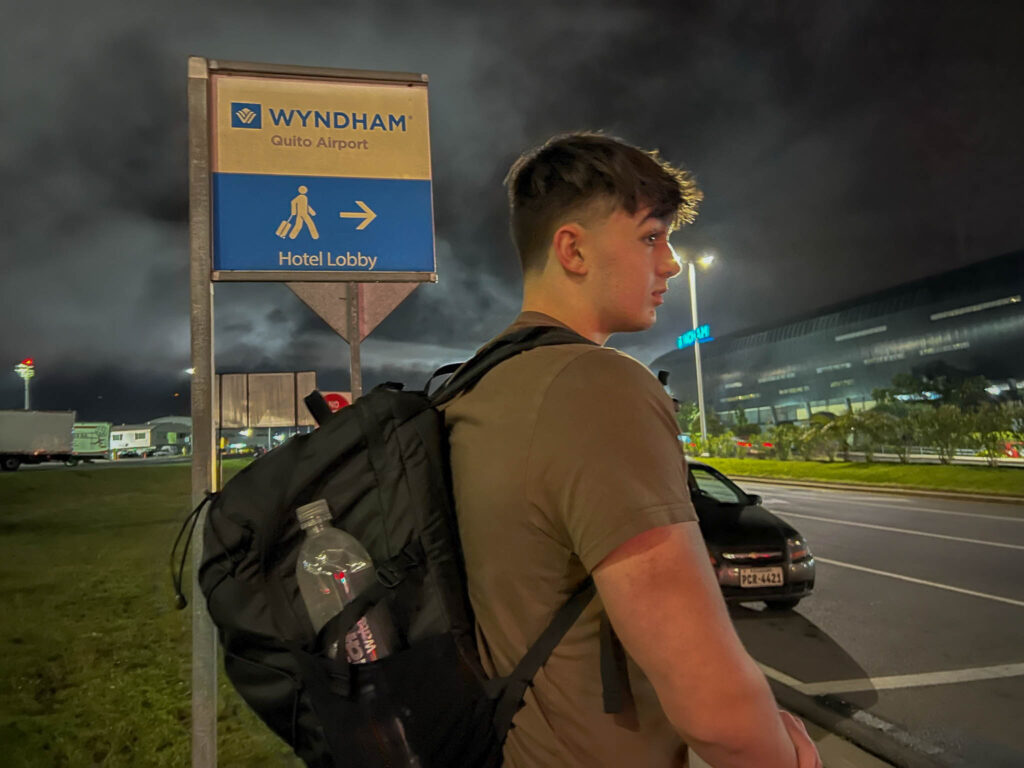 The next morning, we enjoyed the nice breakfast buffet at the hotel and walked to the airport. As a reward for choosing to walk, I saw my first new bird of the trip, a rufous-collared sparrow. Not that you care.
Now the important stuff. You'll definitely want to get to the airport at least 2 hours before your flight to the Galapagos, as you'll have several hoops to jump through, even if you aren't checking any bags. If possible, check in with your airline on-line prior to going to the Quito or Guayaquil airport. Once you enter the terminal, your first stop is to get in line at the Galapagos Government Council desk to obtain a Traffic Control Card for US $20 per person. It took us about 45 minutes to get through that line, which is why you'll want to get to the airport early.
Next up, you'll take all of your luggage to the Galapagos Biosafety Agency to have your bags checked for any organisms that aren't allowed to be transferred to the islands, which appeared to be defined as any living thing that doesn't already live on your body. Fortunately, it took us less than 5 minutes to get through that line. After your bags are inspected, you can check in your bags with the airline. Since we were carry-on only, we just proceeded to the gate.
After another two-hour flight, we landed at Baltra Airport, on Baltra Island of the Galapagos. You might be thinking, "Baltra Island? – I thought this article was about Santa Cruz and Isabela Islands?". Well, if you're visiting Santa Cruz Island, then you'll be flying to Baltra Island and taking a bus, a boat, and a taxi (or another bus) to get to your final destination on Santa Cruz Island … which is most likely the town of Puerto Ayora. Here's what to expect.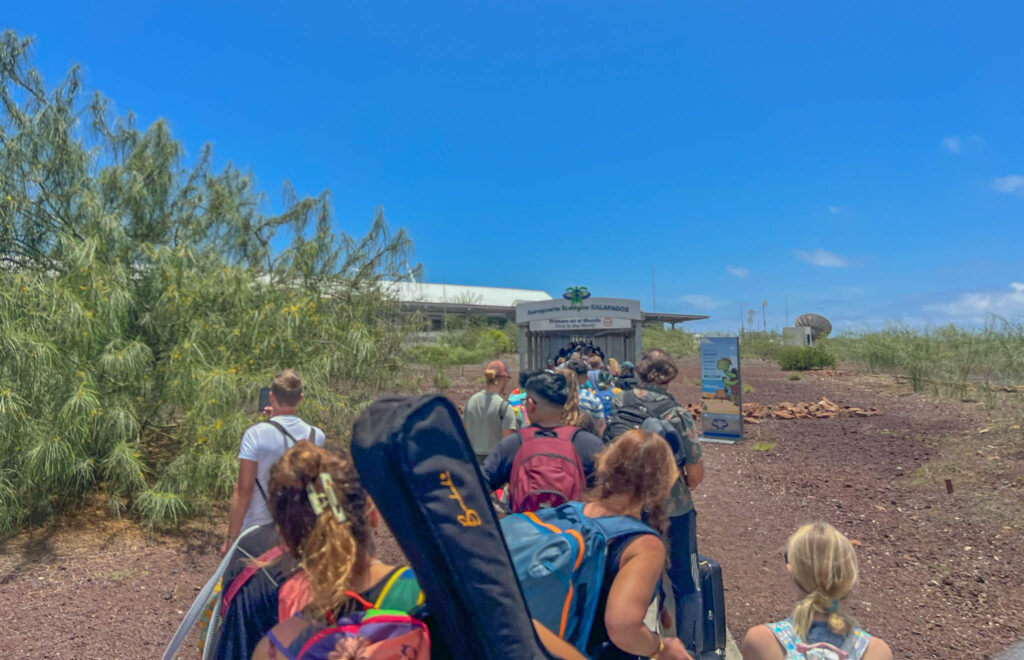 Navigating the journey from Baltra Airport to Puerto Ayora, Santa Cruz Island
The Baltra Airport used to be a military base. Today, it bills itself as the first "green airport" in the world. The biggest thing I noticed about the airport is that there isn't any air conditioning. Actually, that's the second thing I noticed. The most important thing that I noticed is that each passenger had to pay $100, IN CASH, to enter the Galapagos. I hadn't planned on coming up with $200 cash upon arrival, but thankfully my son had some cash in his wallet and we were able to piece it together. There's an ATM past the security area, so I'm sure they would have let me through to get cash, if needed. But it's best not to rely on that option in case you have issues with the ATM.
To be safe, you'll probably want to bring at least $200 cash per person just to get from the Quito airport to your destination on Santa Cruz Island. Bring US dollars, since that happens to the currency of Ecuador these days. All transactions are conducted in dollars, and much of it is cash-only in the Galapagos. Some of the fancier restaurants and shops will take credit cards, but that's about it. The rest are cash-only operations. There are just a few ATMs in Puerto Ayora and whoever owns them is probably getting a good return on their investment. There always seemed to be lines for the ATMs as the Galapagos isn't a cheap place to visit.
After parting with $100 cash per person, you'll get your luggage and walk outside to buy a bus ticket ($5 per person) to take you to the "Itabaca Channel". The ticket office is outside and it was easy to figure out which bus to get on as it seemed to be the same bus that everybody else was taking. The bus ride took about 5-10 minutes before we were dropped off near a big Galapagos Baltra sign.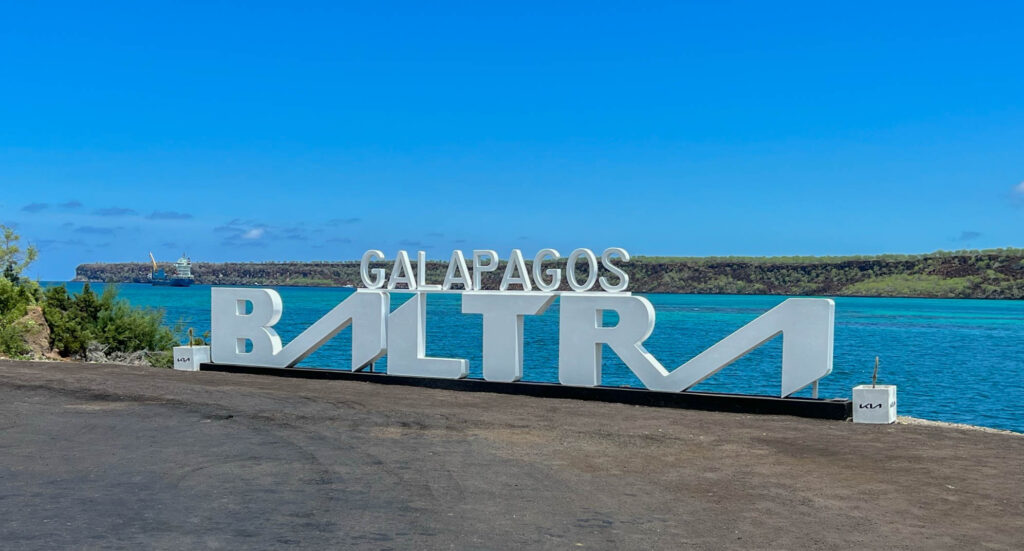 Your next task is to hop on a small boat (costs $1 per person) that will take you across the water to Santa Cruz island. It only takes a few minutes once you're on the boat.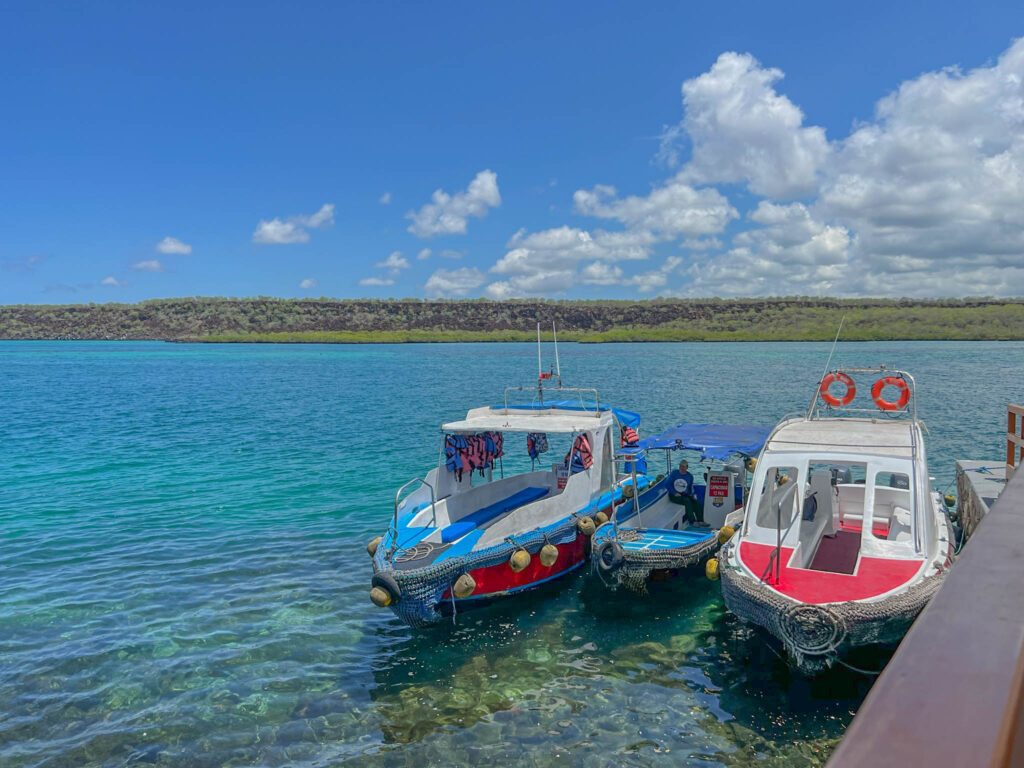 Now that you've been on a plane, a bus, and a boat, you get to make a decision: do I take a bus or taxi to Puerto Ayora? Here are the details to help you decide.
Bus option: The bus costs around $5 per person and takes about 40 minutes, not counting any waiting time. You would then take a taxi from the bus stop in Puerto Ayora to your final destination. Assuming you're staying close the city center, the taxi will cost around $1.50 plus a tip. The $1.50 is a standard taxi fare for all trips within the city center. You'll want to bring small bills for the taxi in case the driver does not have any change for larger bills.
Taxi Option: Your second option after getting off the boat is to take a taxi directly from the boat to your destination. This option comes in two flavors. You can show up and look for a taxi, or your hotel or AirBnb will often offer you the option to have a driver meet you at the boat. I made arrangements in advance to have a driver meet us at the boat and it turned out to be a good decision. Our AirBnb told us that the pre-arranged driver would cost $25, which we would pay in cash once we arrived at the AirBnb. Once again, bring small bills so you don't have to hand over $40, only to see the taxi driver gesture that he doesn't have any change. I only had $20 bills, since I had to use the ATM at the airport, so I was rewarded with the "I don't have any change" gesture and my driver enjoyed a $15 tip.
The town of Puerto Ayora
When you hear the word Galapagos, perhaps you think of desolate islands where Charles Darwin came up with his theory of evolution. Aside from the airport, the island of Baltra matched that vision pretty well – there wasn't much out there except for a few land iguanas and birds. Puerto Ayora on Santa Cruz Island is a different story. Puerto Ayora is a city of 12,000 people with streets that are lined with restaurants, gift shops, tour agencies, and plenty of tourists. The town has a laid back vibe, but it feels like a modern, buzzing metropolis compared to towns on the other islands of the Galapagos. More on that topic in my next post about Isabela Island.
Even though it's a small city, we found it to be confusing to navigate at times. One quick way to get re-oriented is to simply walk down to Charles Darwin Avenue that runs along the water. As soon as we arrived at the waterfront and walked along Charles Darwin Avenue, we were greeted by sights of marine iguanas, sea lions, brown pelicans, magnificent frigatebirds, Sally Lightfoot crabs, and tourists. These are things that I've seen in countless nature documentaries, with the notable exception of the tourists part. I certainly never expected to see all of these critters hanging out next to a restaurant along a busy road with people walking by. Still, we were thrilled to see them.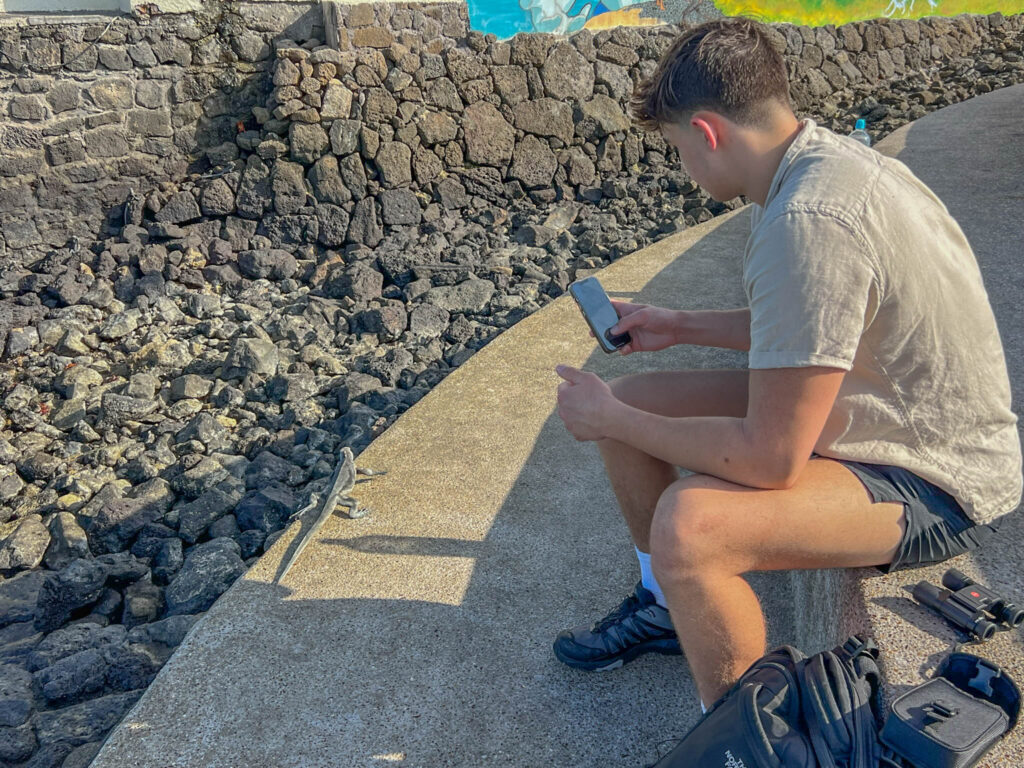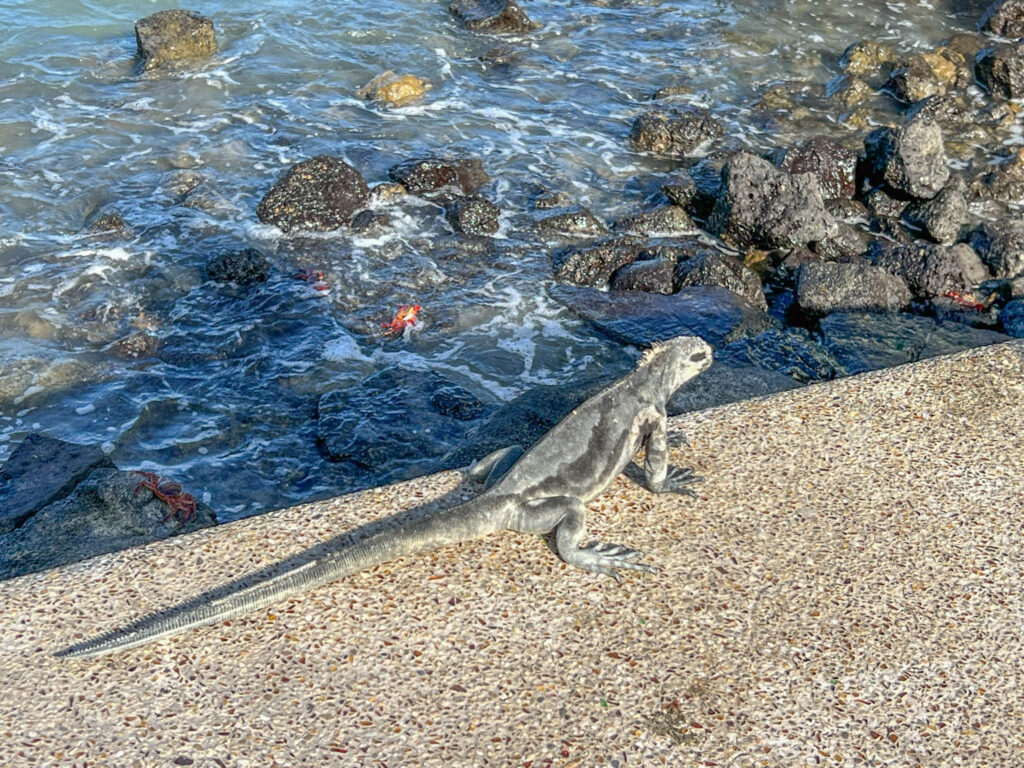 In Albuquerque, I'm used to seeing homeless people and/or drug addicts hanging out on many of our city benches. In Puerto Ayora, some of the city benches along the water are occupied by a different type of resident. Galapagos sea lions.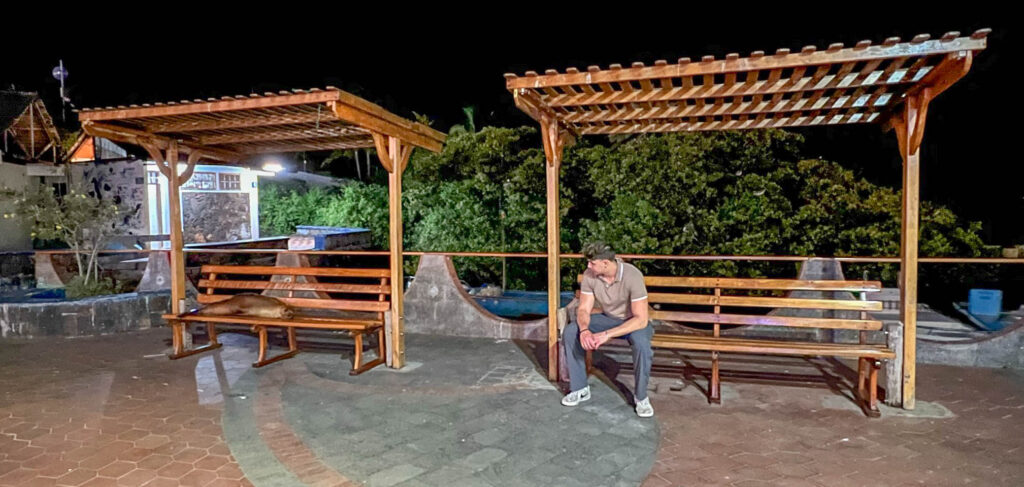 As you can see from the weather forecast below, it was pretty easy to guess the temperature each day. While 84 degrees sounds really nice, it felt much hotter to us, particularly when walking around town. We were often a sweaty mess after walking around town.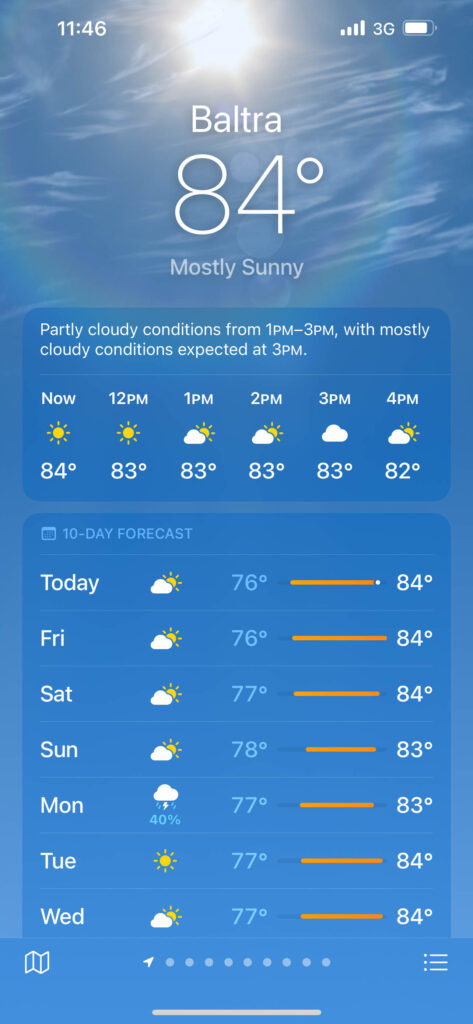 Where to eat in Puerto Ayora
You'll find plenty of good restaurants to choose from in Puerto Ayora. Here are some of our favorites that we sampled during our stay. One common feature of all the restaurants we tried was a lack of air conditioning. As a result, sweating was a consistent theme during many of our meals, particularly for lunch.
Galapagos Deli Restaurant: Features thin crust pizza, sandwiches, and fish and chips. And don't forget dessert. They have a good selection of ice cream to choose from.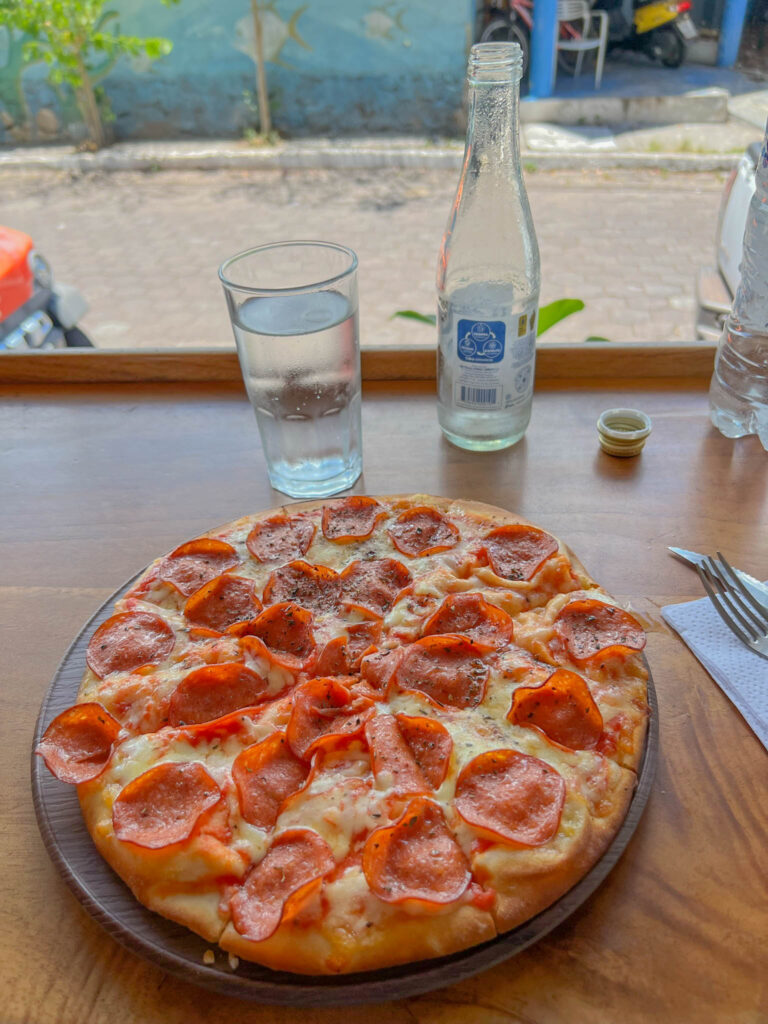 Midori Sushi Restaurant: We're told it's the best sushi in the Galapagos, and I can see why. It was tasty. Midori offers a laid-back pub atmosphere that serves drinks, cocktails, and beer to complement your sushi.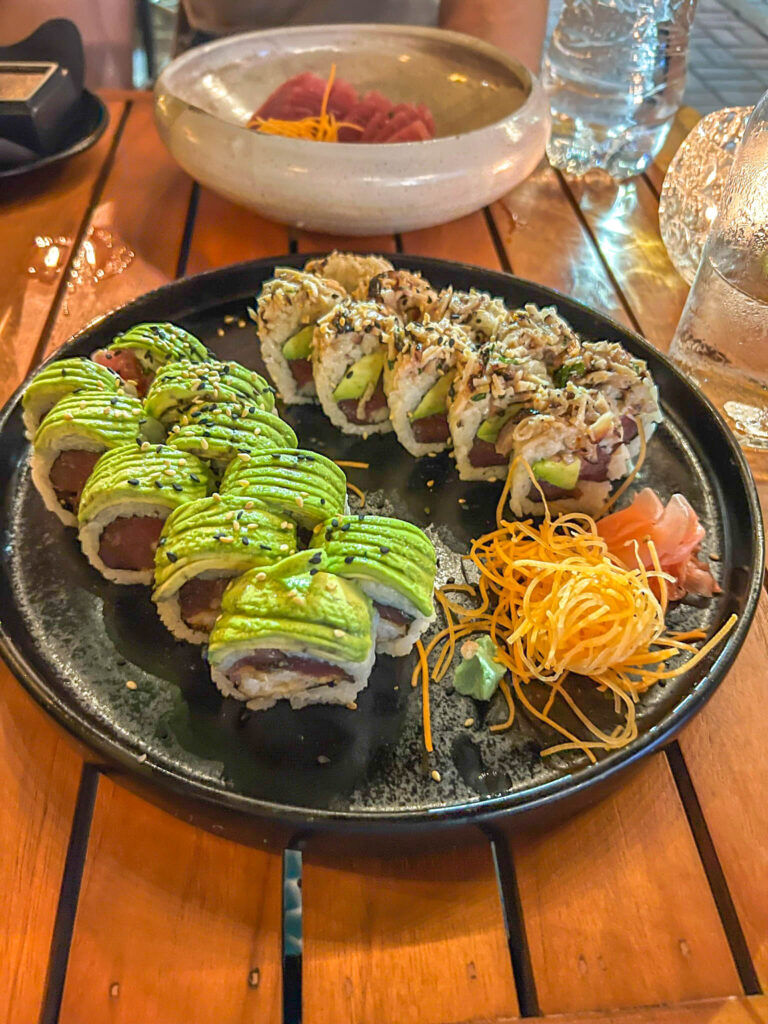 Bahia Mar Restaurant: Upscale, modern restaurant on the water, with many good seafood, grill, and local dishes. We were also fans of the many mourning geckos that were hanging out on the walls. Here's an interesting factoid about mourning geckos. Nearly all individuals of this species are female. There are some males but they're very rare. So how do mourning geckos reproduce? Parthenogenesis. Mourning gecko embryos develop from eggs without the need to combine with sperm.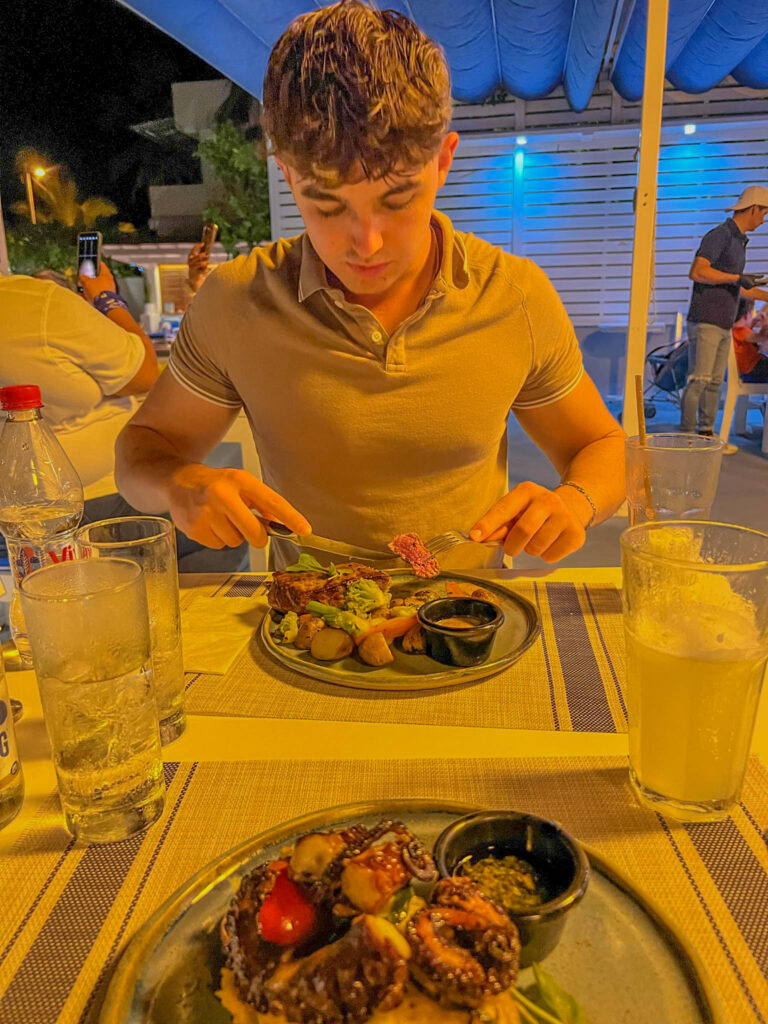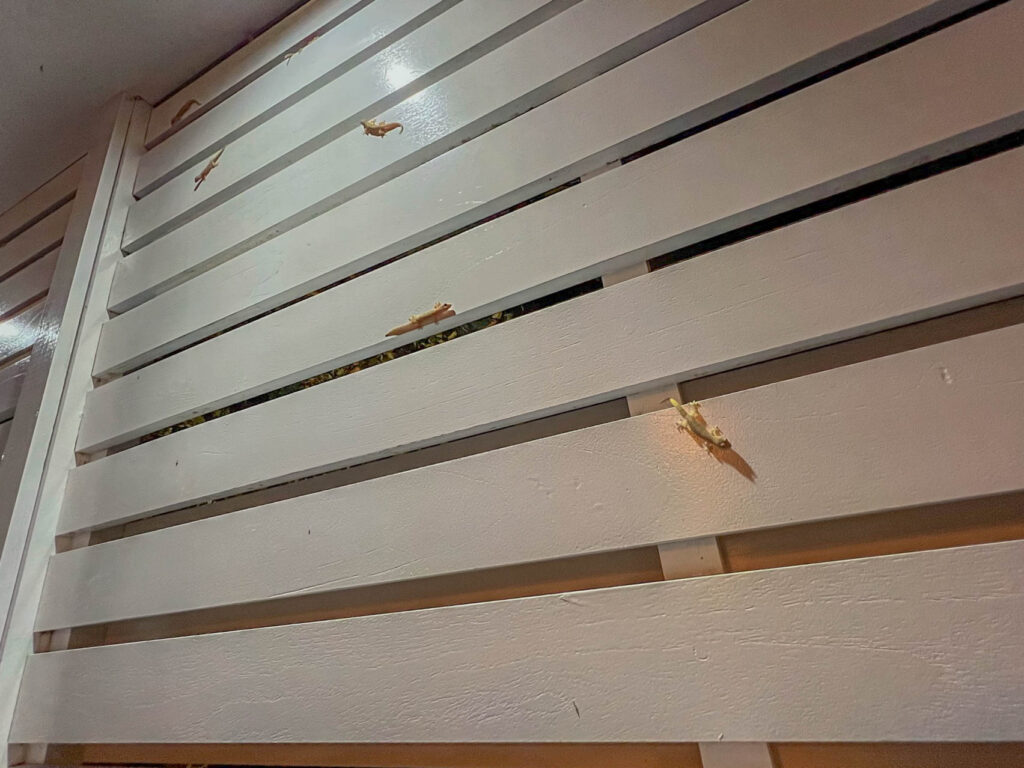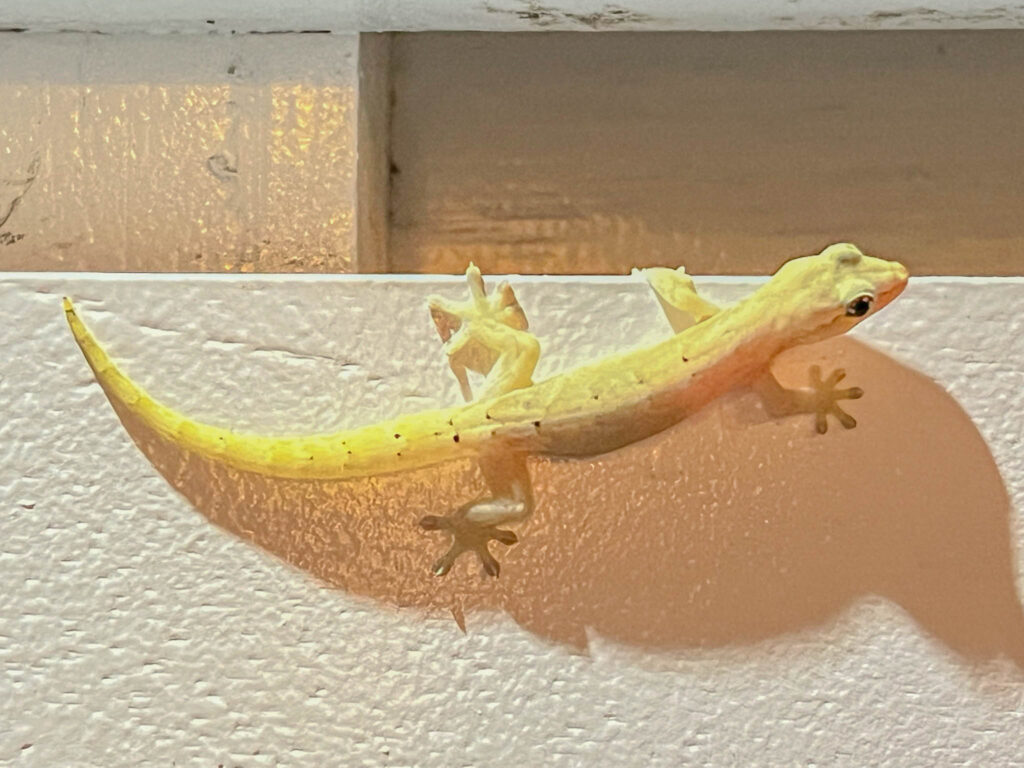 Isla Grill Water Front Restaurant: This restaurant takes a bit more effort to get to, as it involves a water tax ($1 each way) to get you there from the Municipal Pier. But we found that the water taxi was easy, quick, and well worth it. The food at Isla Grill was excellent.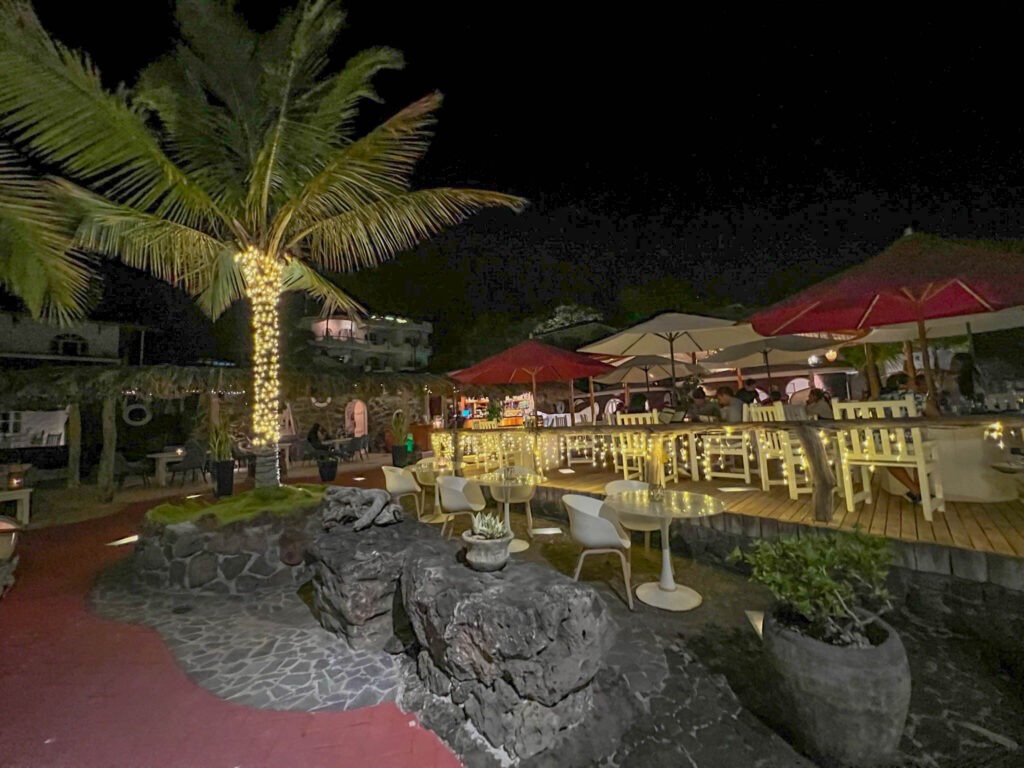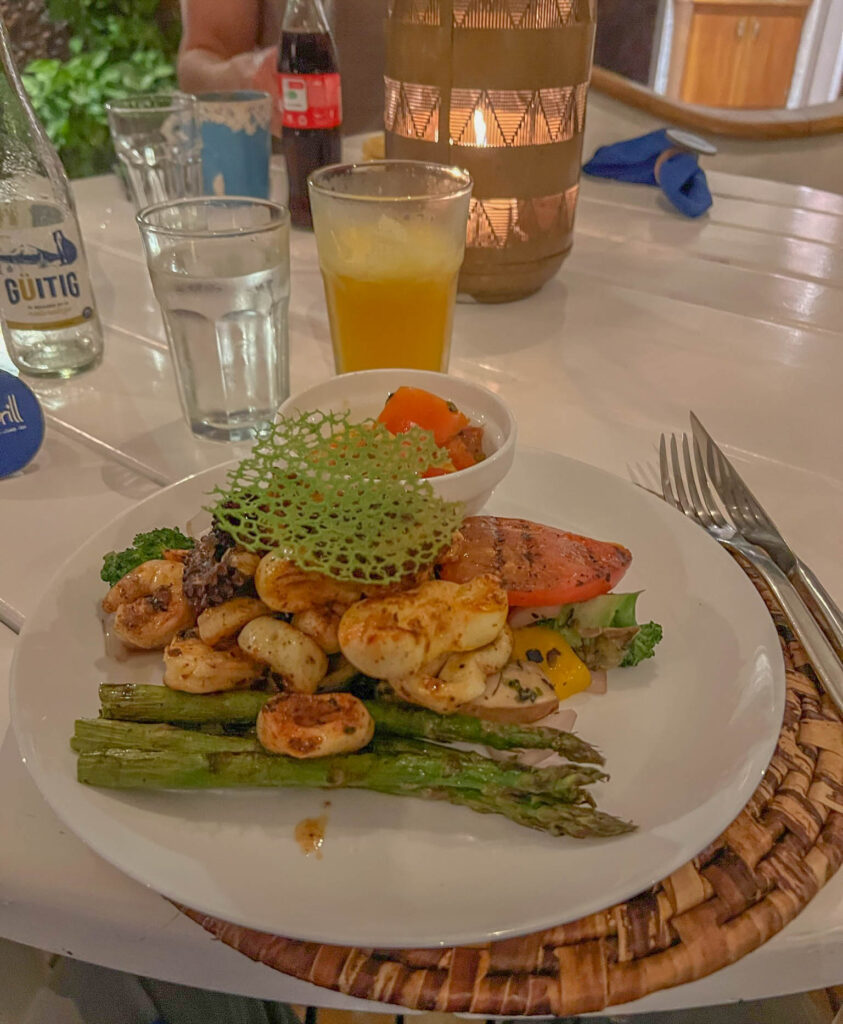 Gelato Bar: Tasty gelato, waffles, and other desserts.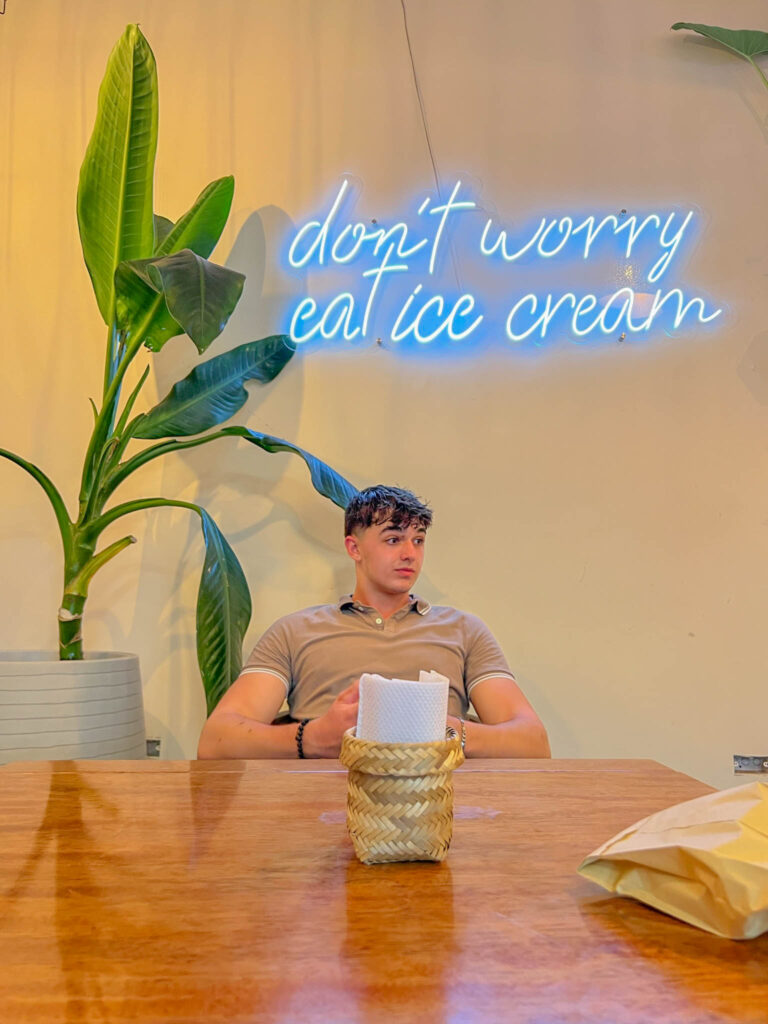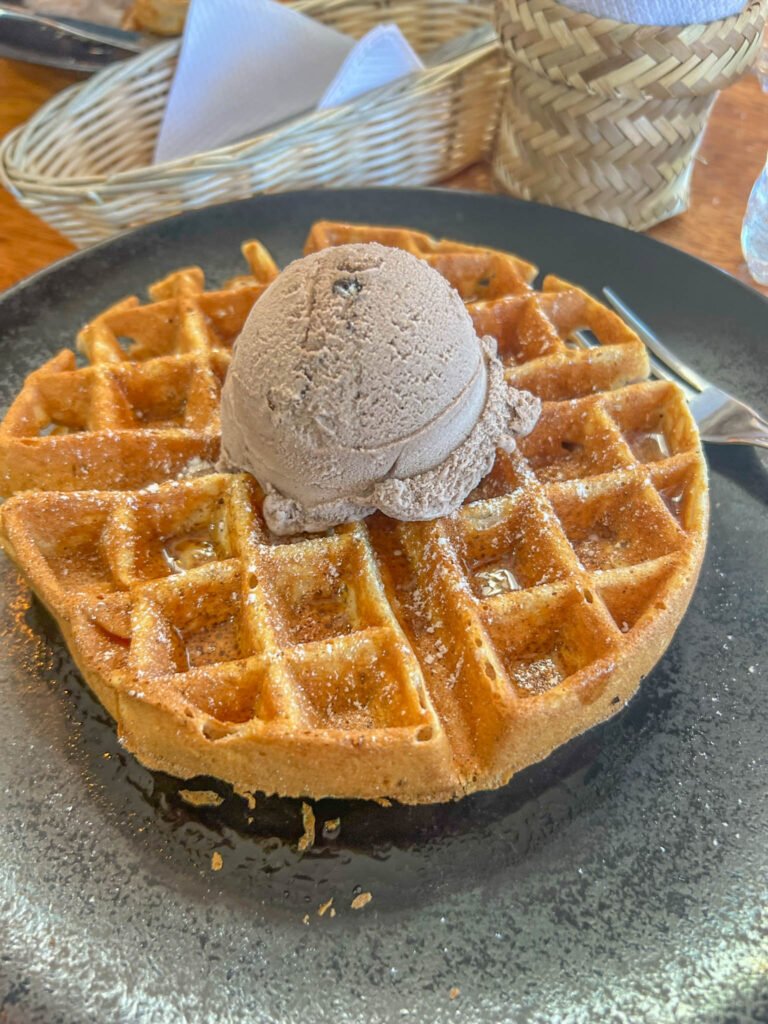 Things to do on Santa Cruz Island that don't require a guide
There are lots of things to do on Santa Cruz Island. Many things require a guide, since it's considered a National Park and people have a tendency to do stupid things when it comes to interacting with wildlife. But, if hiring a guide is not your thing or isn't in your budget, there are still plenty of fun things you can do on your own.
Municipal Pier
By day, this is where you can catch a speed boat to the other islands. At night, lights are turned on which attracts small sharks which, in turn, attracts people like me to go see the sharks. This is also where you'll find the water taxi to Isla Grill.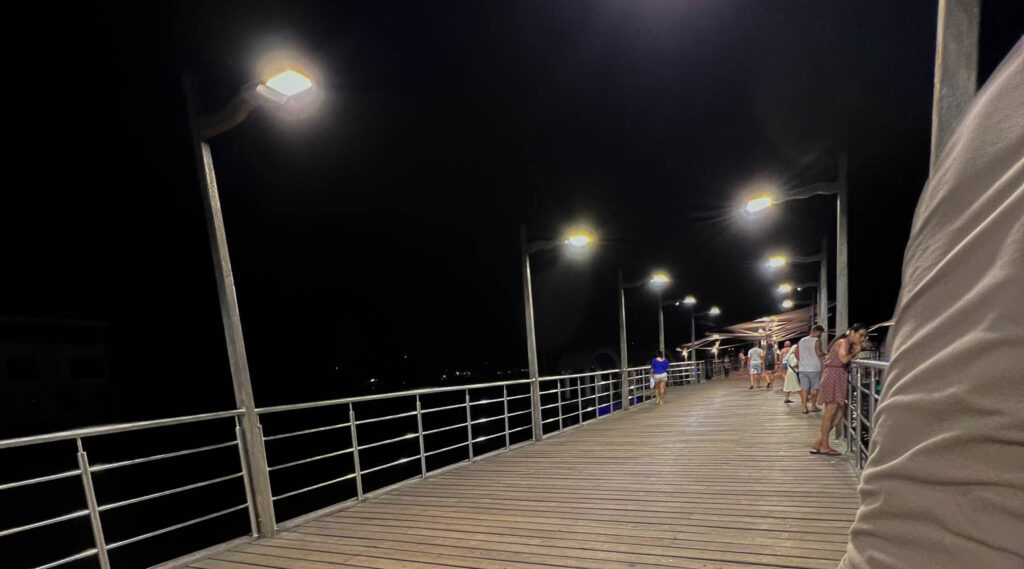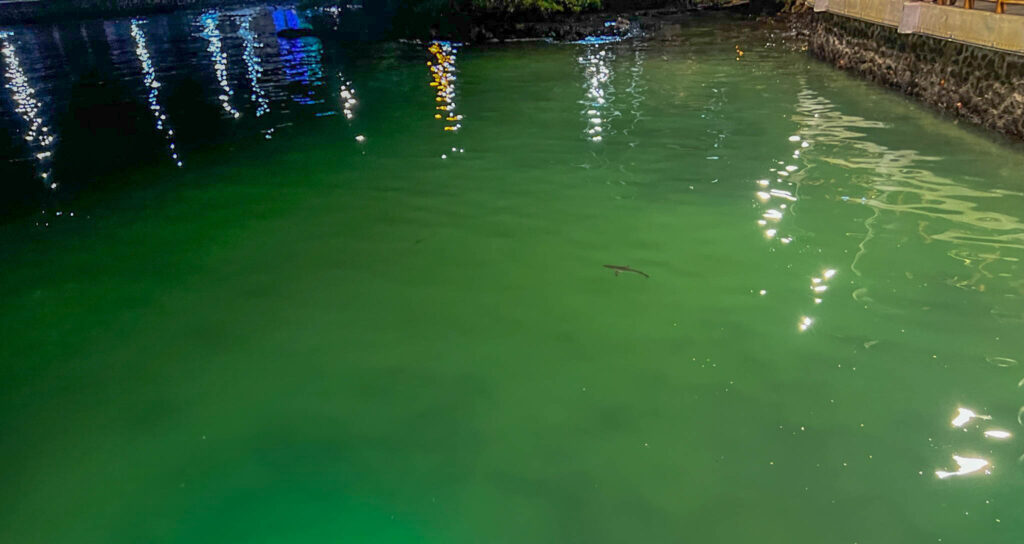 Fishing Pier
If you want to see wildlife up close, just walk to the fishing pier where fish are being prepared in the open air. Galapagos Sea Lions, Brown Pelicans, and other critters behave more like dogs as they wait for scraps. This is an interesting place to see humans and nature interact, thanks to the fish catch of the day. On Friday nights, you'll also find local artistic presentations from 20:00 until 21:00.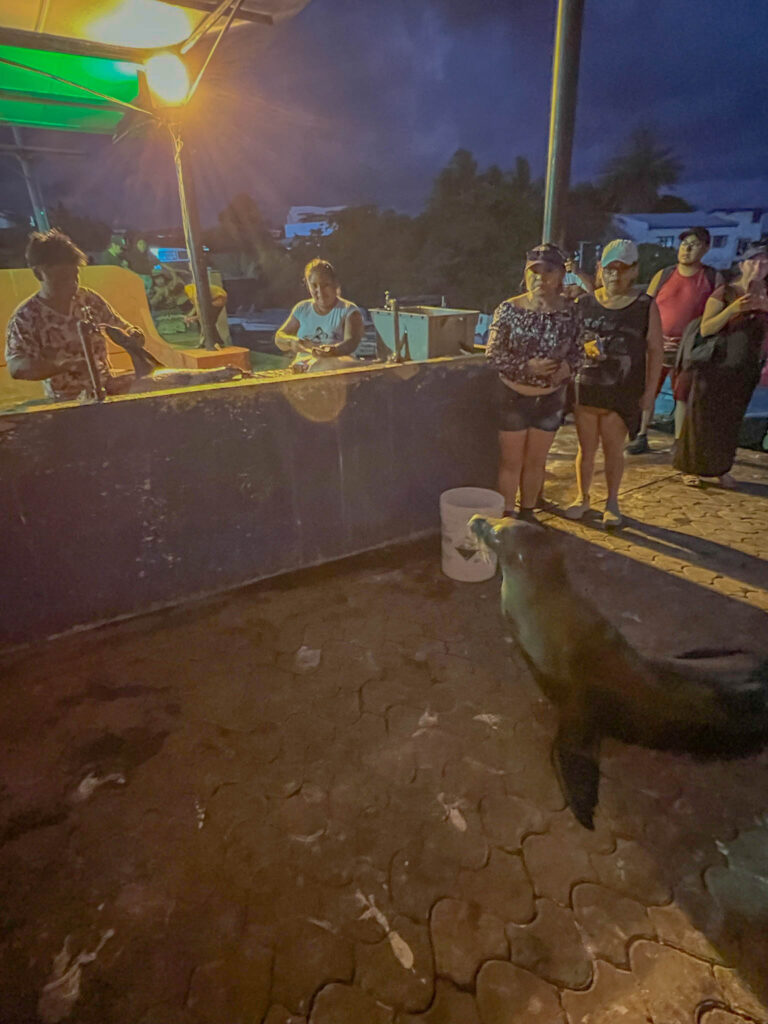 Tortuga Bay Beach
If you're ready for a long walk to a great beach, this is the place to go. There's a 3km pedestrian-only walkway that takes you from the trailhead to the beach. You can't drive to this beach so be ready to walk and sweat, but it's well worth it. You can swim, snorkel and kayak at the beach as a reward for your efforts. The beach is open from 6am to 6pm each day. During the walk, we saw Galapagos mockingbirds, a lava heron, small ground finches, ruddy turnstones, sanderlings, whimbrels, brown pelicans, a great blue heron, and plenty of marine iguanas and lava lizards.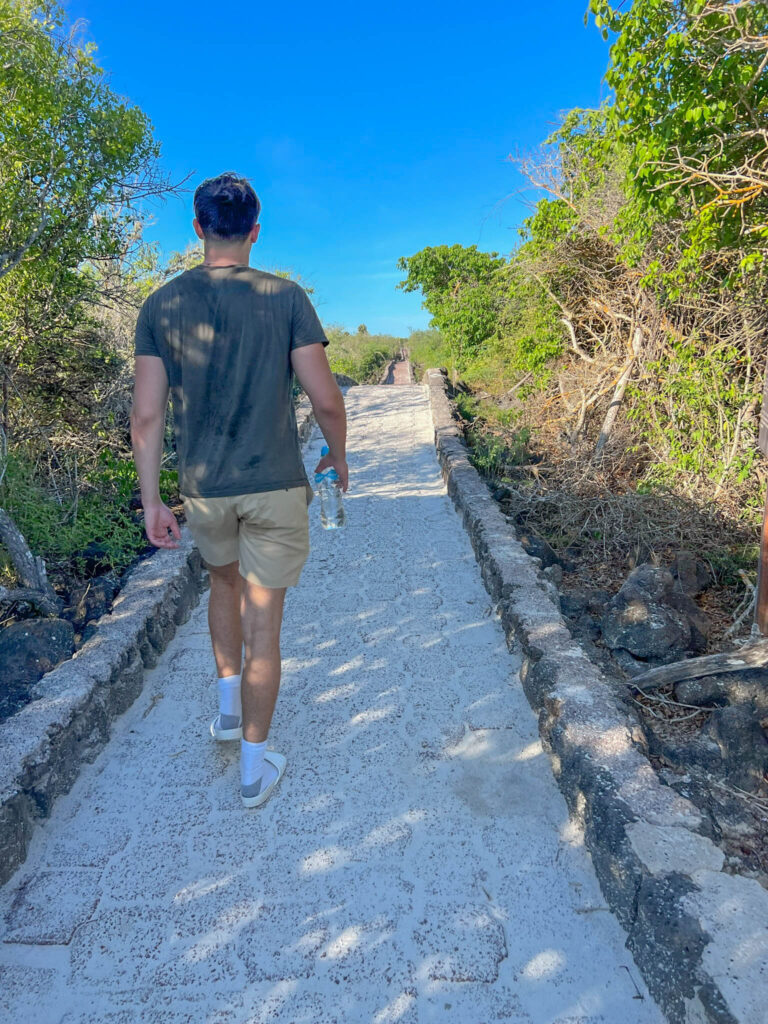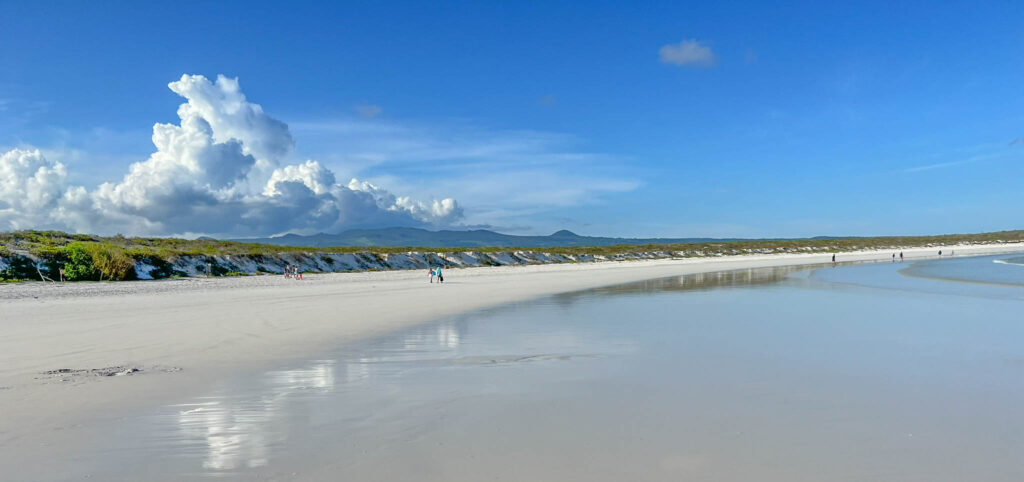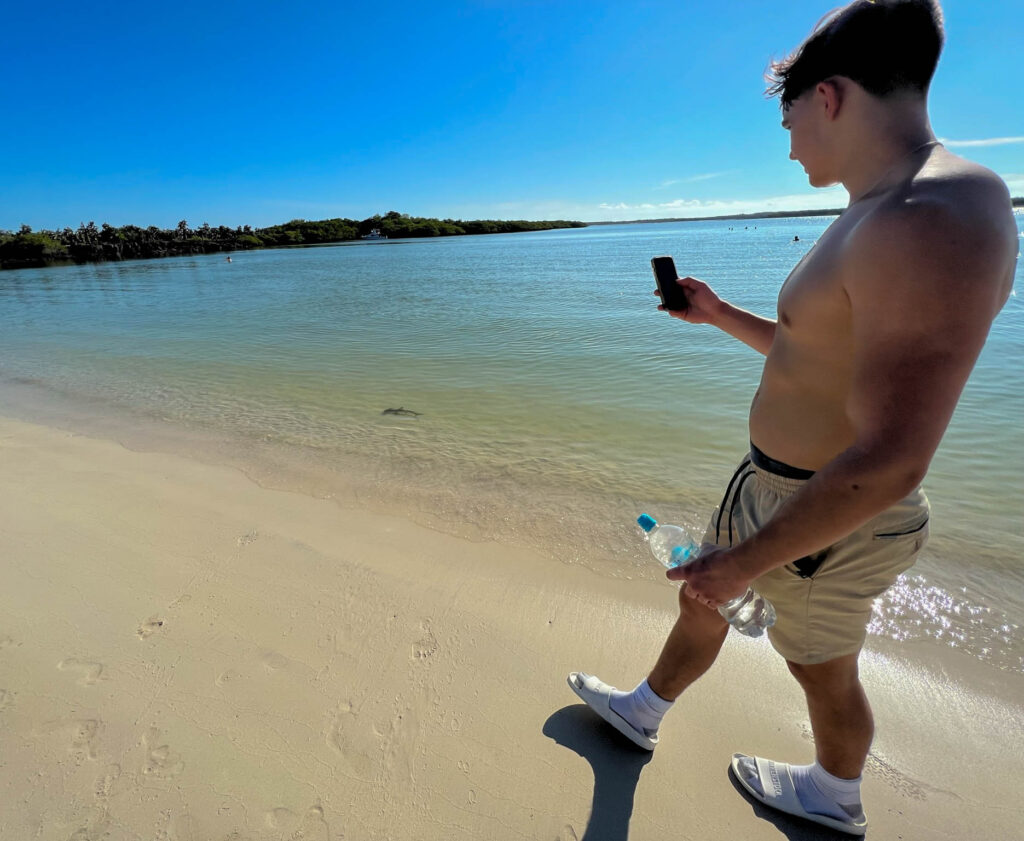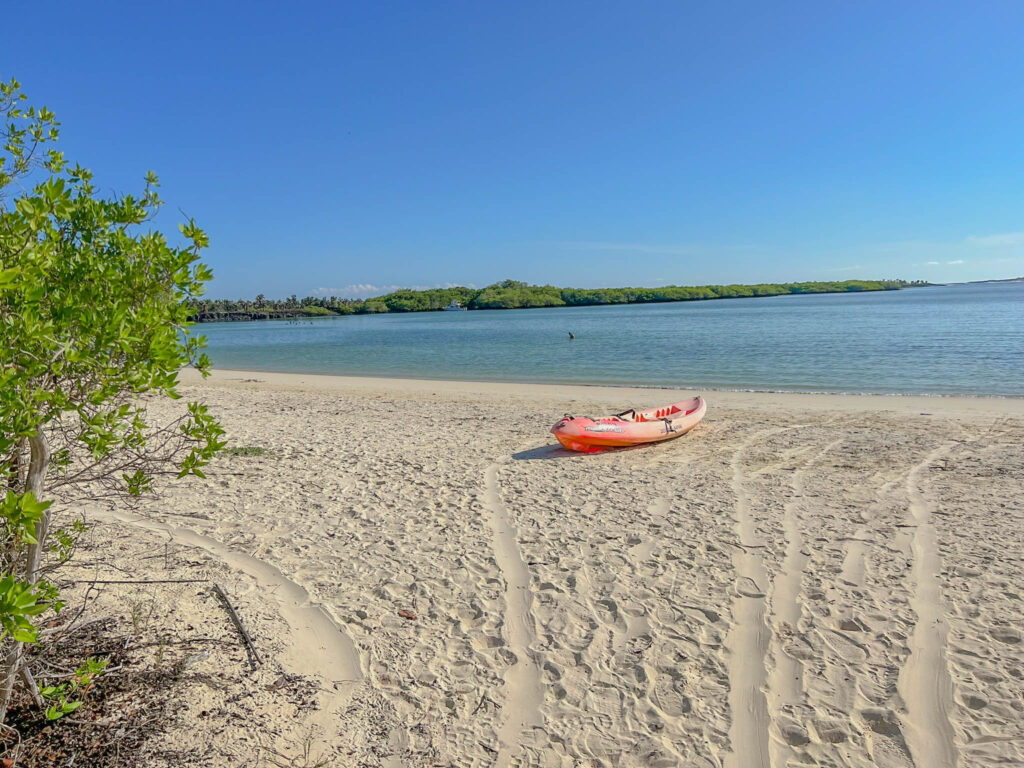 Charles Darwin Research Station and Galapagos National Park Headquarters
At the Charles Darwin Research Center there are some conservation displays and a gift shop that you can visit for free. There's also an option to pay for a scheduled group tour that includes viewing the Lonesome George memorial in honor of the last known giant tortoise from Pinta Island. The timing of the tour didn't work for us, so we missed out on seeing the memorial to Lonesome George.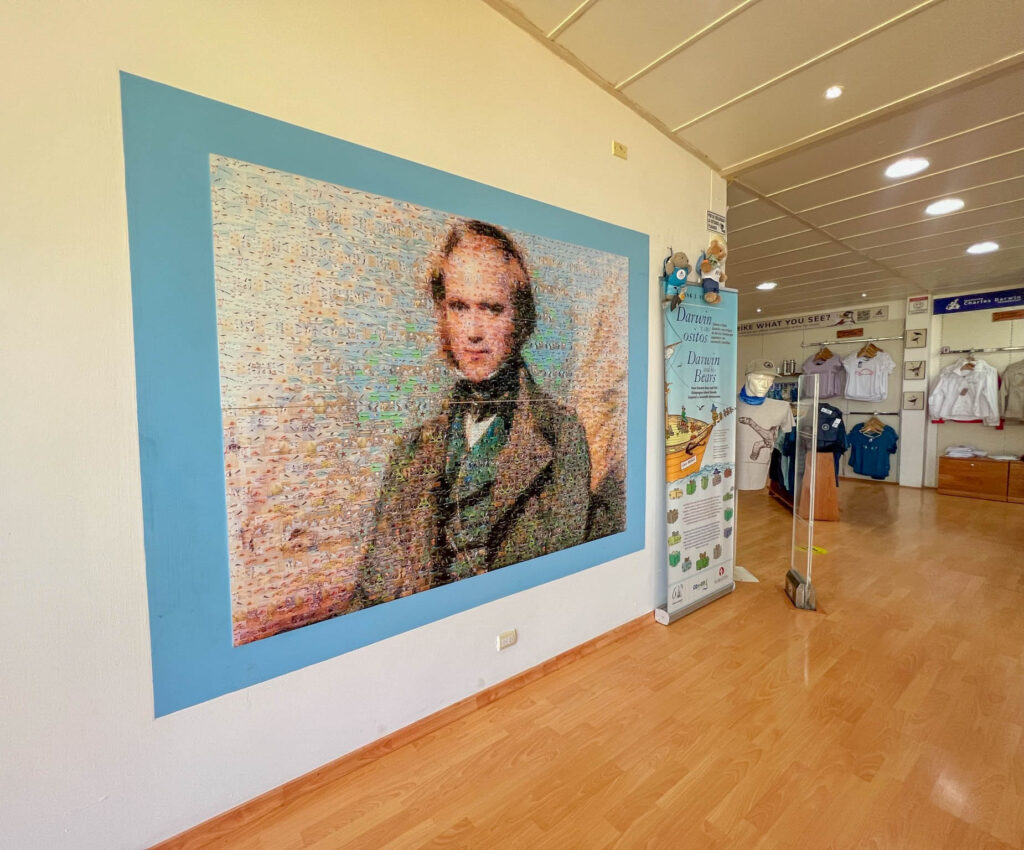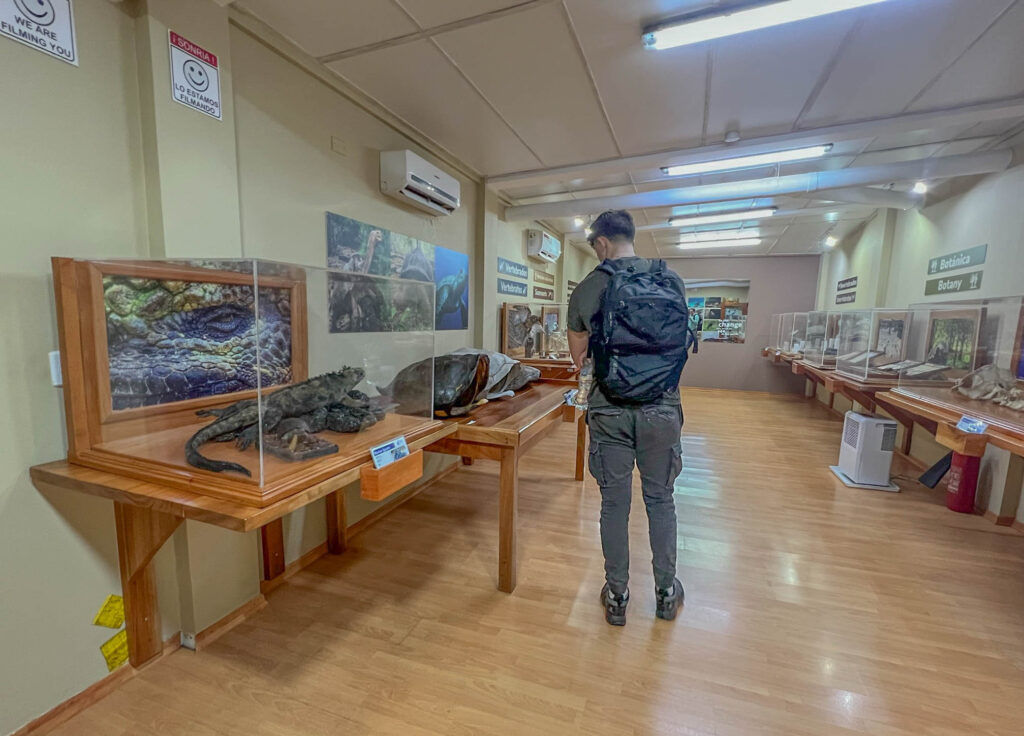 El Chato II Highland Giant Tortoise Reserve
If you'd like to have some close up encounters with living Galapagos Giant Tortoises, then you have several options to choose from. Our AirBnb host recommended El Chato II, so that's where we went. As part of your entry fee, you'll be assigned a guide to escort you around the grounds. It was nice to see the tortoises roaming around a natural setting. We also spotted some birds, including a barn owl, small ground finches, yellow warblers, and smooth-billed anis.
As a side note on the smooth-billed anis, they're considered to be an invasive pest species. They were initially brought to the island to live up to their "tick-eater" nickname. The plan was to have them remove ticks from cows. But the smooth-billed anis had other plans. They focused their attention on eating eggs and chicks of local bird species. There's a program on the island to attempt to remove the anis, but there are so many of them now that it's proving to be a very difficult task.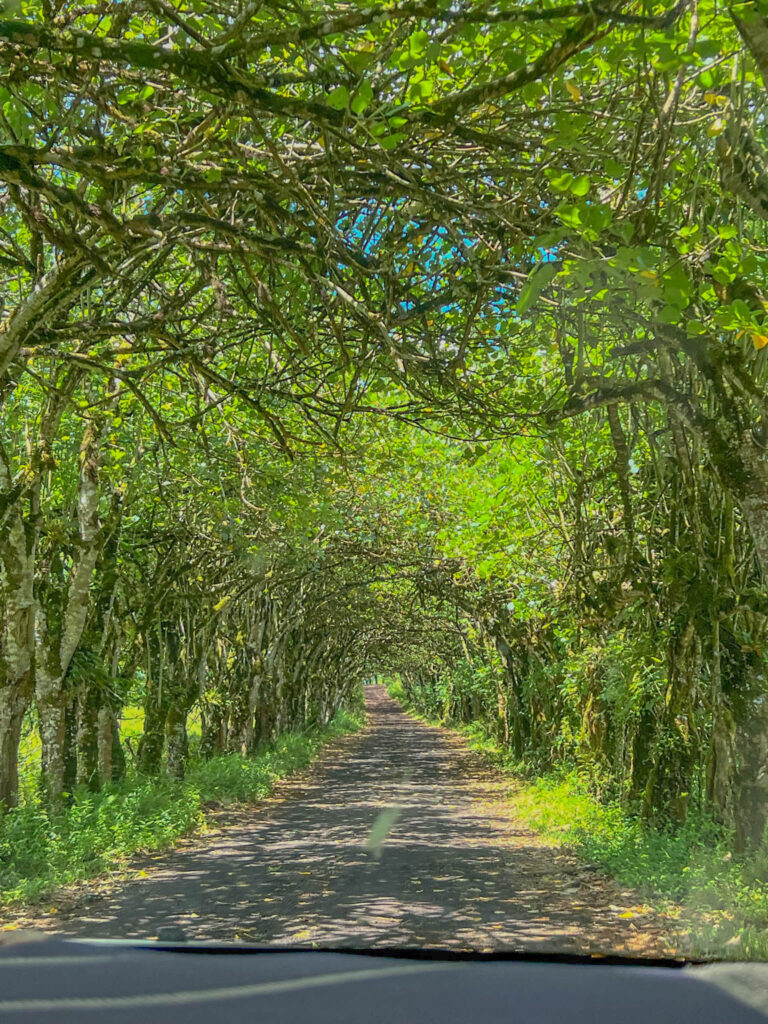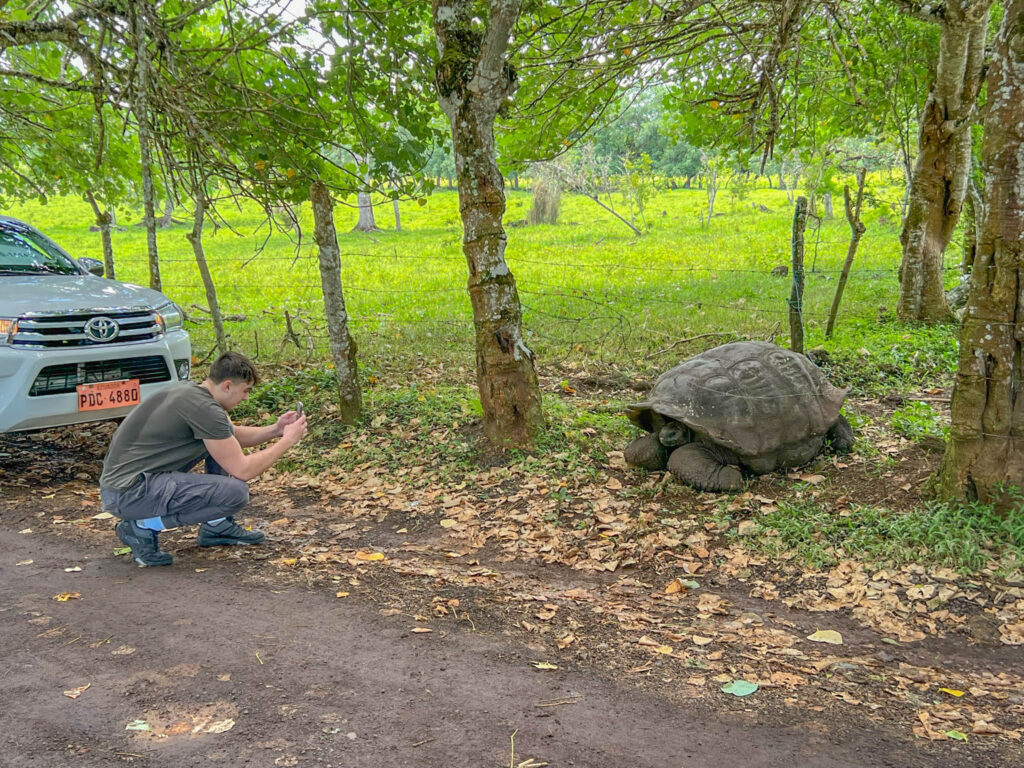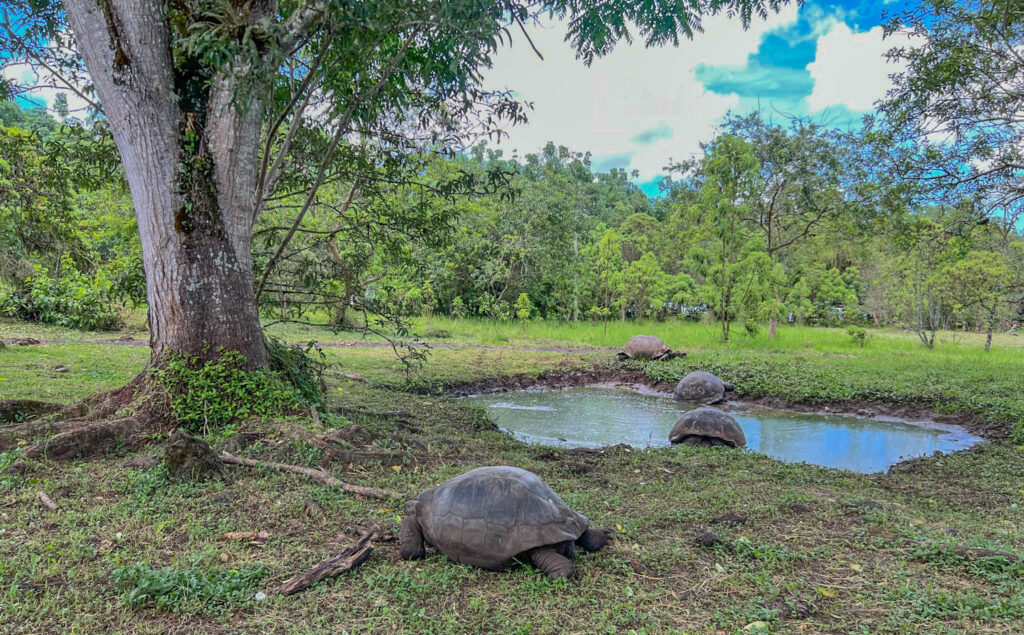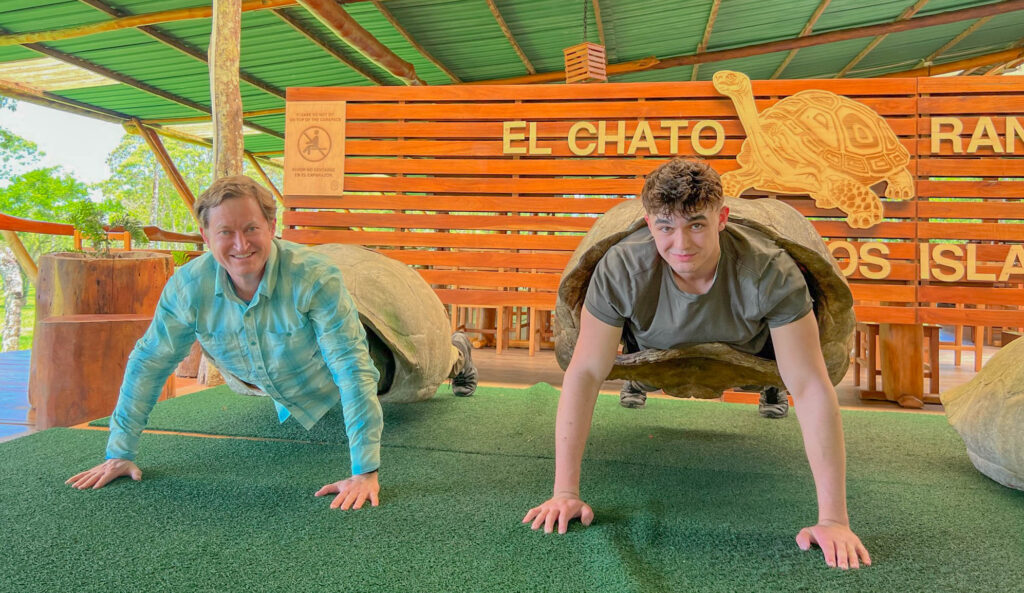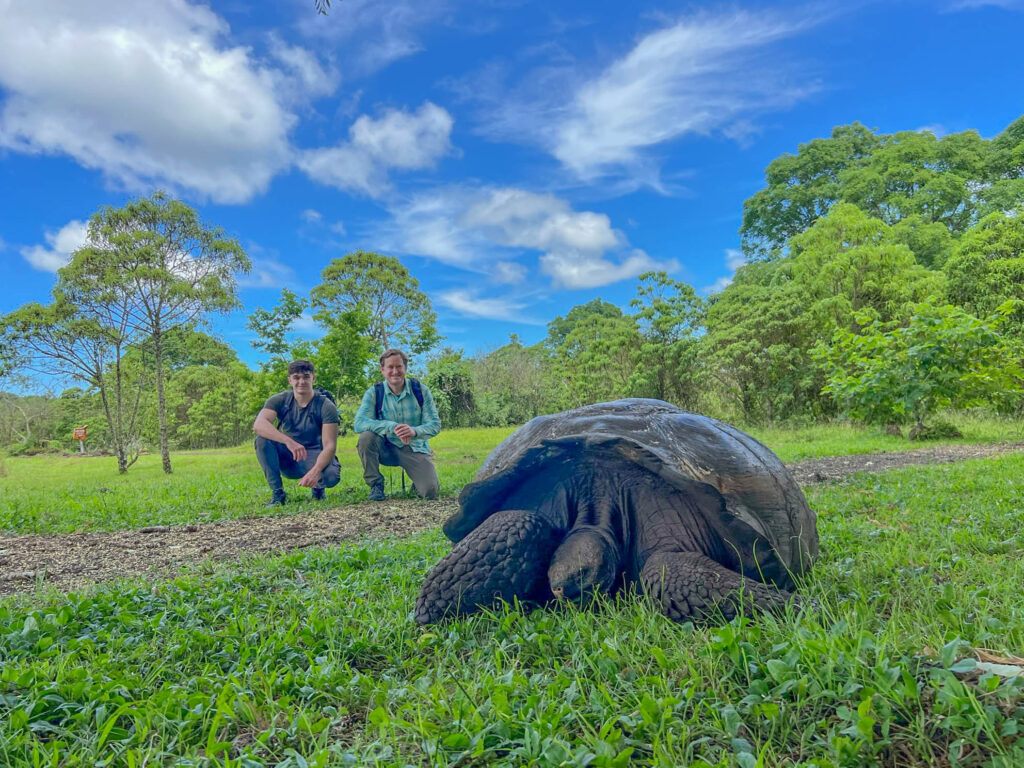 El Chato also has some Lava Tubes to explore during your tour.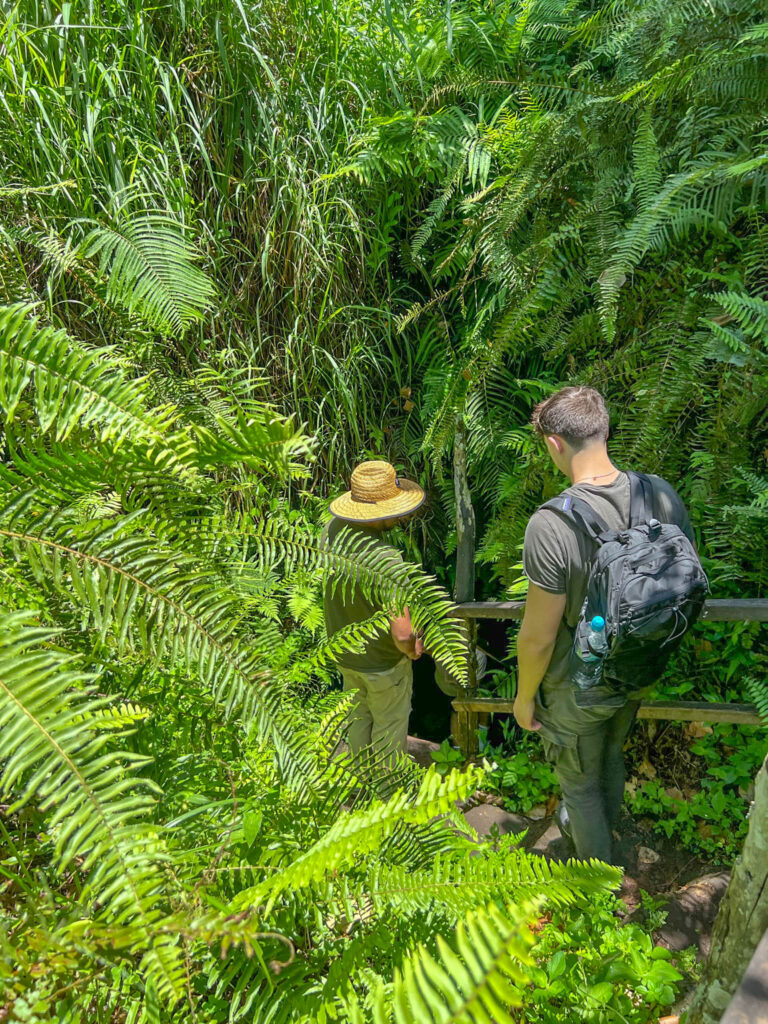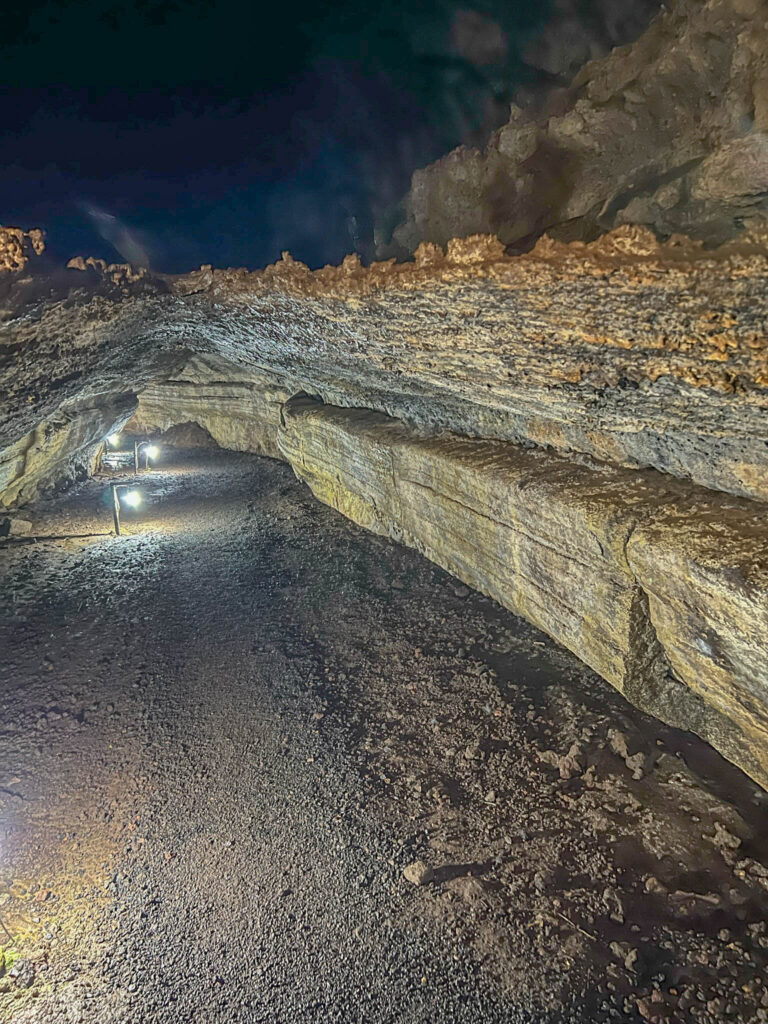 Los Gamelos (Twin Craters)
On our way to visit El Chato II, we stopped off at Los Gemelos (Twin Craters) in the highlands of Santa Cruz Island. I initially thought they were caused by some kind of impact, but learned they are sink holes that formed when the volcanic roof of empty magma chambers collapsed. You can visit two of these "craters" by walking along an easy trail. The area is also said to have vermillion flycatchers, but unfortunately we didn't see any during our visit. We only saw Galapagos finches and yellow warblers.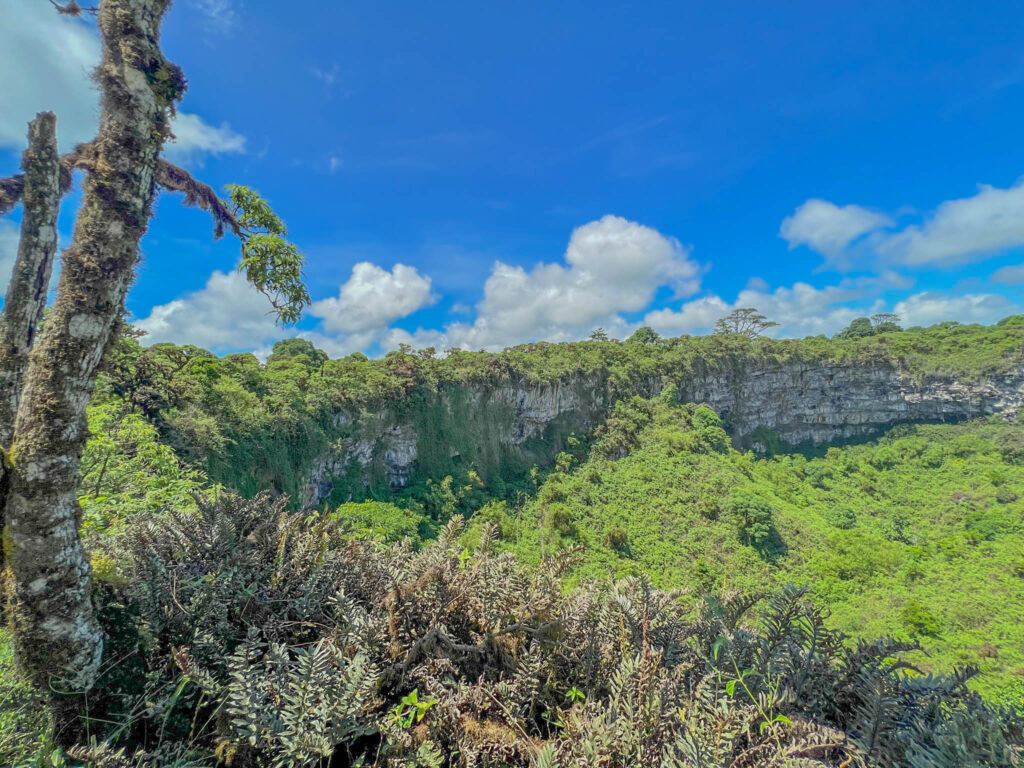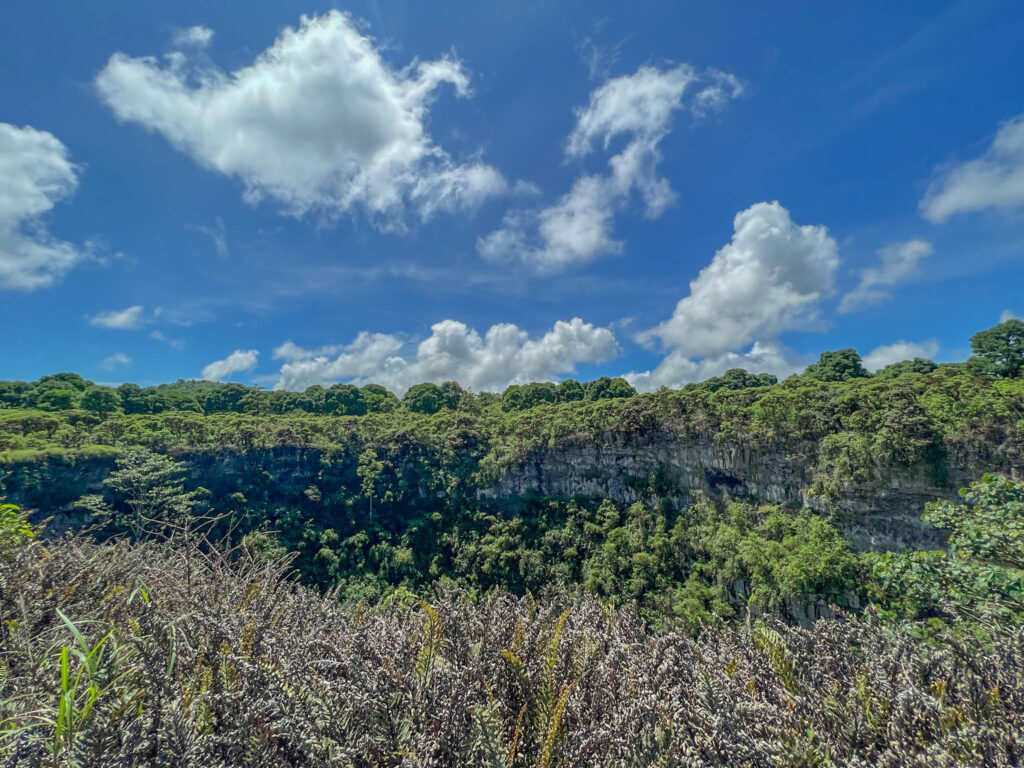 Gimnasio Bodywell
My son and I like to work out at local gyms when we travel, so we decided to check out Gimnasio Bodywell in Puerto Ayora since it had good reviews and was in a convenient location. We had no problem working up a good sweat since there's no air conditioning. The workout felt good and we ended up coming here on two different days. There were only a few other people in the gym during the day. Perhaps most people wait until the evening when the temperature cools down a few degrees. A visitor day pass costs $3 per person.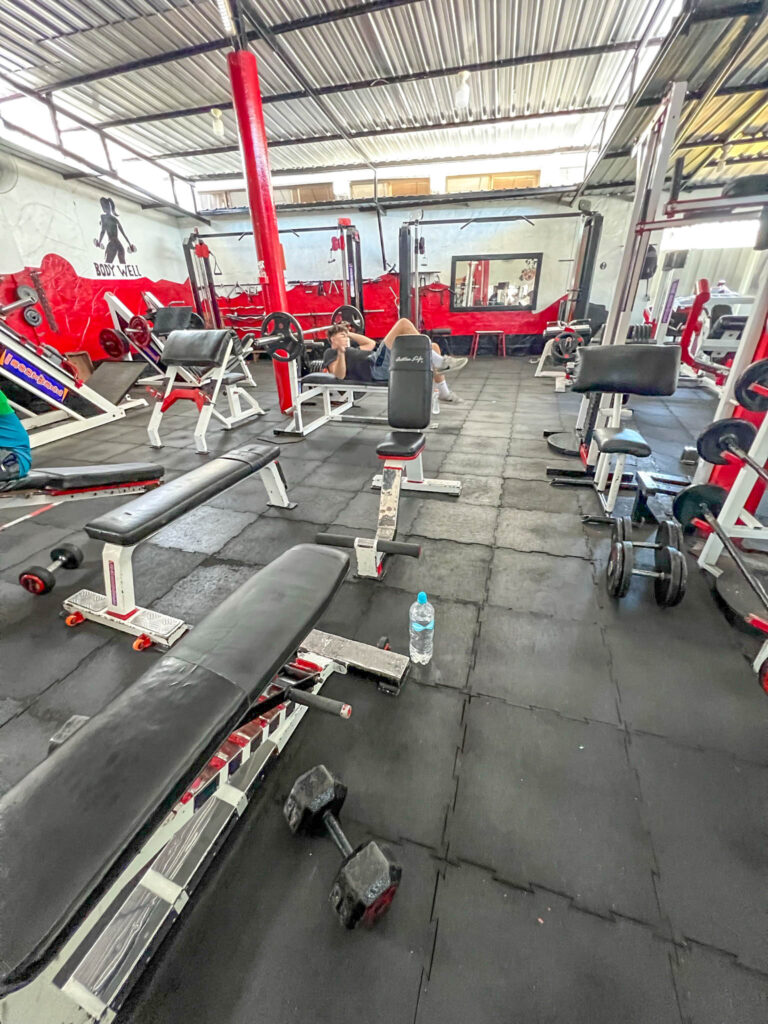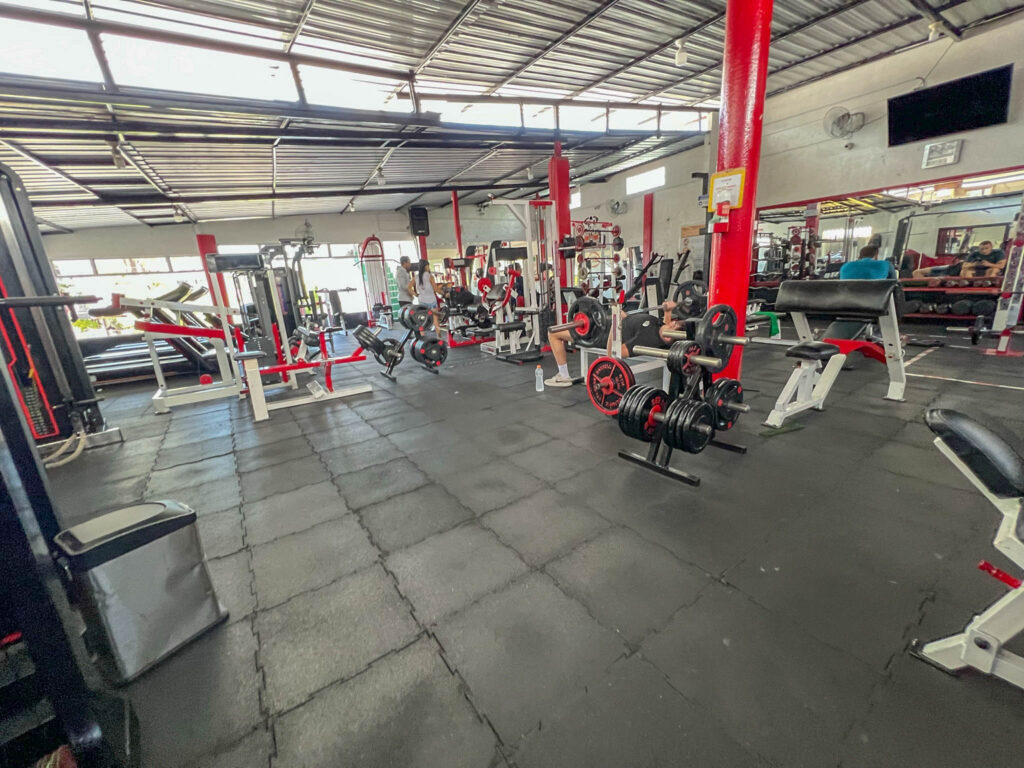 There are plenty of other things to do on Santa Cruz but hopefully these ideas are a good starting point to help you plan your Galapagos adventure.
---
Thought for the Week
Since this article is about the Galapagos, I couldn't resist looking for a quote by Charles Darwin. Charles provides us with a nice reminder to maintain a sense of curiosity and to keep experimenting in life.
"I love fools' experiments. I am always making them."
— Charles Darwin
---
Thanks for reading and happy travels!
Mark (The New Mexico Travel Guy)
Mark Aspelin, The New Mexico Travel Guy (www.newmexicotravelguy.com), is a travel writer and author of two books who has enjoyed a wide variety of adventures in his travels to over 100 countries and all 50 U.S. States. His current project involves visiting EVERY town in his home state of New Mexico (there's over 500 towns) and writing a story about each one. When not traveling, Mark lives as a recluse in the mountains outside of Albuquerque, New Mexico.