To follow up on my earlier post about Santa Cruz Island in the Galapagos, this article will feature another one of the 13 major islands of the Galapagos: Isabela Island. I picked Isabela Island as my second Galapagos destination as I'd heard there was a good chance of seeing blue-footed boobies there. What can I say, I'm a nerd.
Table of Contents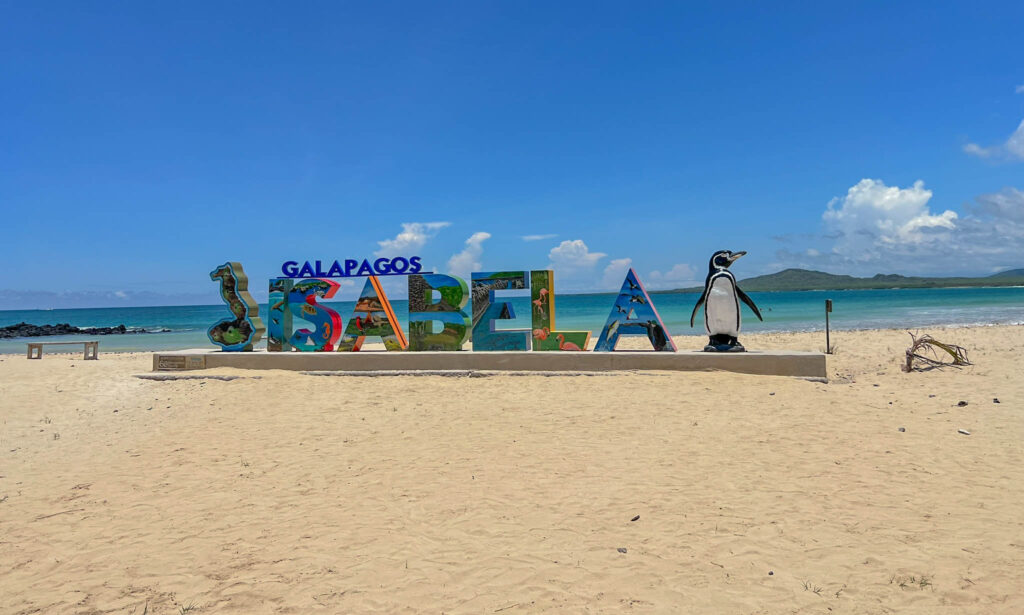 The ferry from Santa Cruz to Isabela Island
To get to Santa Cruz Island, we booked seats on one of the public ferries that run between Santa Cruz and Isabela Islands. Since we were on a tight schedule, I made the ferry reservation several months in advance via Book-ec to ensure we locked in the dates we needed. The cost was $40 per person (each-way) for a total of $80 per person round trip. You can likely find other booking sites that might be a few dollars cheaper but Book-ec seemed reliable, so I went with that option and it worked out well. There were 7am and 3pm ferry options from Santa Cruz to Isabela. Since I was traveling with my teenage son who, like me, doesn't thrive on 5am wake-up calls, we eagerly grabbed seats on the 3pm ferry.
My morning at the AirBnb in Santa Cruz started off with 15 minutes of desperately trying to unclog a low-flow toilet. Refreshed and invigorated from that pleasant start to the day, I took a shower and we grabbed breakfast in town. Gluttons for punishment, my son and I decided to go to Bodywork Gymansio to get in a good workout before our boat departure, as we didn't see any gyms on Isabela Island during our initial research. Dripping with sweat after our workout at the gym with no air-conditioning, I was already starting to pity our fellow travelers on the boat since we'd already checked out of our AirBnb and didn't have access to a shower before the boat ride.
Since we had more time to kill before our boat departure, we walked to Galapagos Deli to get a pepperoni pizza (my son's request). After that, it was off to the ATM again to hopefully get enough cash to last us for two days and two nights in Puerto Villamil because, rumor had it, there are no ATMs on Isabela Island, and most places don't take credit cards. Finally, it was time to grab our luggage that our AirBnb was kind enough to store for us while we worked out and had lunch.
Our taxi dropped us off at the pier on Santa Cruz, but it wasn't easy to find the actual check-in spot for our boat. With my rudimentary Spanish, I asked a few people where we could check-in for Gladel Yacht, the boat that Book-ec had booked for us. The answer, as best as I understood, was something along the lines of, "he's not here yet, wait a few more minutes". There were several other boat captains there too, each checking-in their respective passengers. Sure enough, about 15 minutes later, I noticed people gathering around a person standing in a different area. After another round of rudimentary Spanish, I confirmed this was our guy. We checked in and he handed us two lanyards with what resembled well-worn VIP backstage passes for a rock concert. We put the lanyards around our neck and proceeded through a small structure that contained an agricultural checkpoint. After they checked our luggage, we were directed to the dock to await further instruction. Finally a "water taxi" arrived to take a group of us to our ferry, charging $1 per person (cash) for the short journey. Yet another reason to carry small bills or coins with you.
When I hear the word "ferry", I picture a large boat with lots of passengers, a line of cars being transported, and the option to walk around the interior and exterior of the boat. That's not quite what we found. Our ferry looked similar to what was pictured below, but not as nice.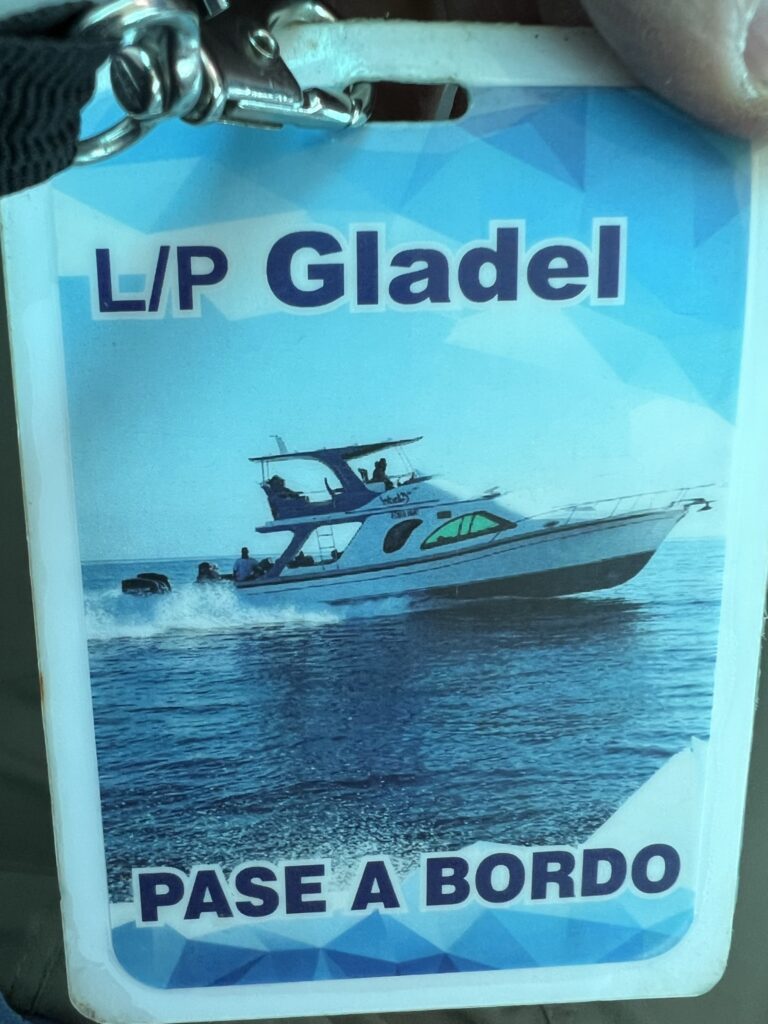 As you can see, it's a small boat that seats just over 20 people, and there were definitely no cars being transported. There were also no opportunities to get out of our seats and there was no bathroom. That last part was of particular interest to my son, given that he drank a lot of water after our workout and during lunch. As a result, he had the not so enjoyable experience of holding it for the 2 hour boat ride.
As the boat slowed down upon our arrival in the harbor area of Isabela Island, one of the first things we spotted were several blue-footed boobies dive-bombing into the water. They were far away, but we were thrilled to finally have a chance to see them. So I accomplished my goal of seeing a blue-footed booby before I even got off the boat. Little did I know, we hadn't seen anything yet.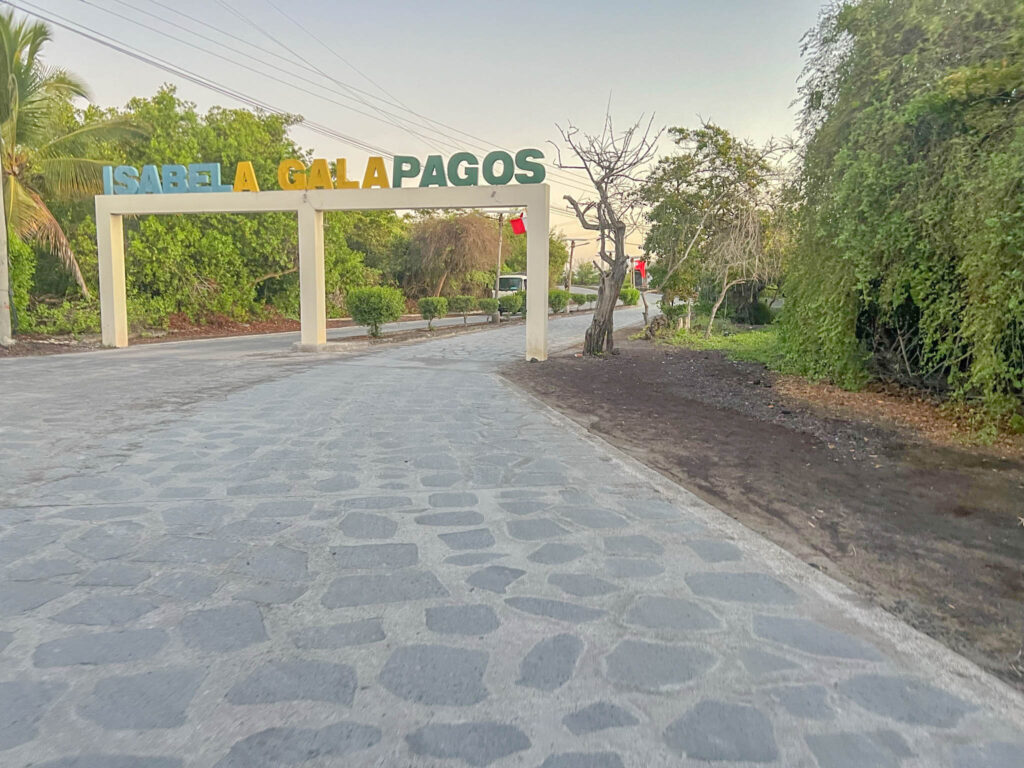 The sleepy town of Puerto Villamil
Isabela is the largest of the Galapagos Islands. It's largest city, Puerto Villamil, has a population of about 2,000 permanent residents. It has a rural feel, with a mixture of paved roads and sandy / dirt roads. There were plenty of tourists on Isabela Island, but they probably numbered in the hundreds, rather than the thousands we saw on Santa Cruz. I liked the laid back vibe of Puerto Villamil, and it's a great place to slow down and enjoy the simpler pleasures of life.
Puerto Villamil is also the launching pad for tours to see the wide variety of terrestrial and marine animals in and around Isabela Island, including wild tortoises, marine iguanas, flamingoes, penguins, Galapagos hawks, pelicans and, of course, blue-footed boobies. There also used to be over 100,000 goats on the island before they were eradicated by the Galapagos National Park Service back in 2006 – 2007 because of the damage they caused to the island's vegetation.
Ear-plugs and air conditioning
Since we had no idea where we were going, we had luggage, and it was hot, we took a taxi for $2 from the pier to the AirBnb apartment we'd rented. We checked-in, received a tour of our room in Spanish from the manager, and then she handed us what appeared to be two essential items: the remote control for the air conditioner and two sets of ear plugs. She didn't explain why we needed ear plugs, but my guess is that it was for dogs and roosters that lived next door. My guess proved to be partially accurate. I failed to add upstairs guests and early morning construction to that list. At least we wouldn't have to worry about over-sleeping.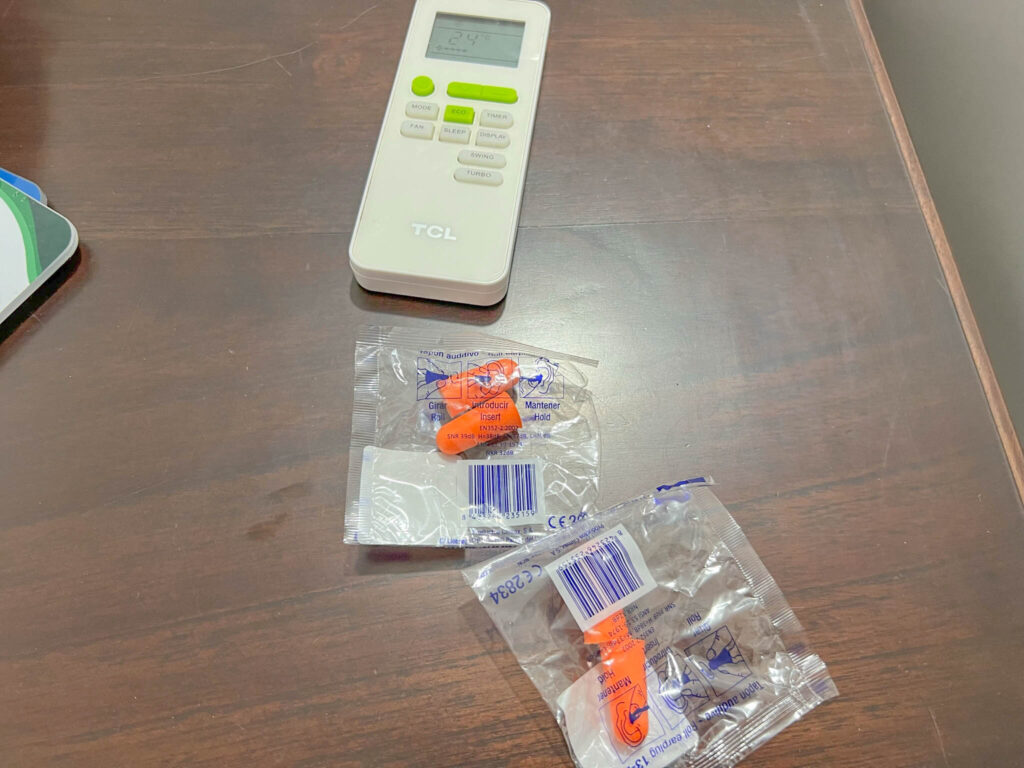 Dining out in Puerto Villamil
Food options were understandably much more limited in Puerto Villamil compared with Santa Cruz. We were there on a Saturday, so I was curious to see what the scene would be like. We found many of the locals were hanging out in the center square with the kids. Other locals were at church or playing soccer on a small field near the city center. Life in Puerto Villamil seemed very relaxed and relatively simple. The tourists seemed to be more concentrated on the sandy road that lines the beach.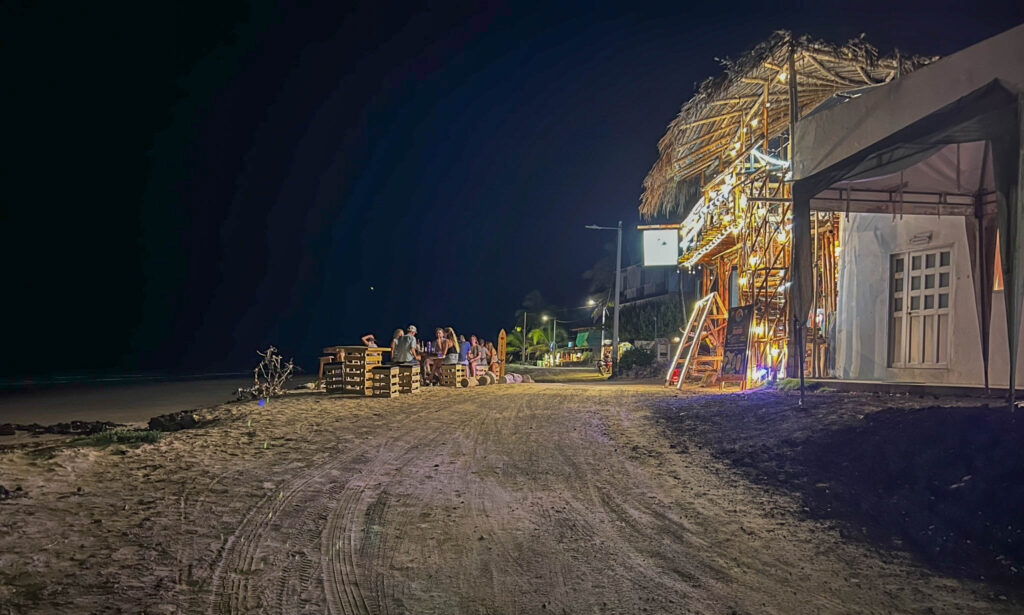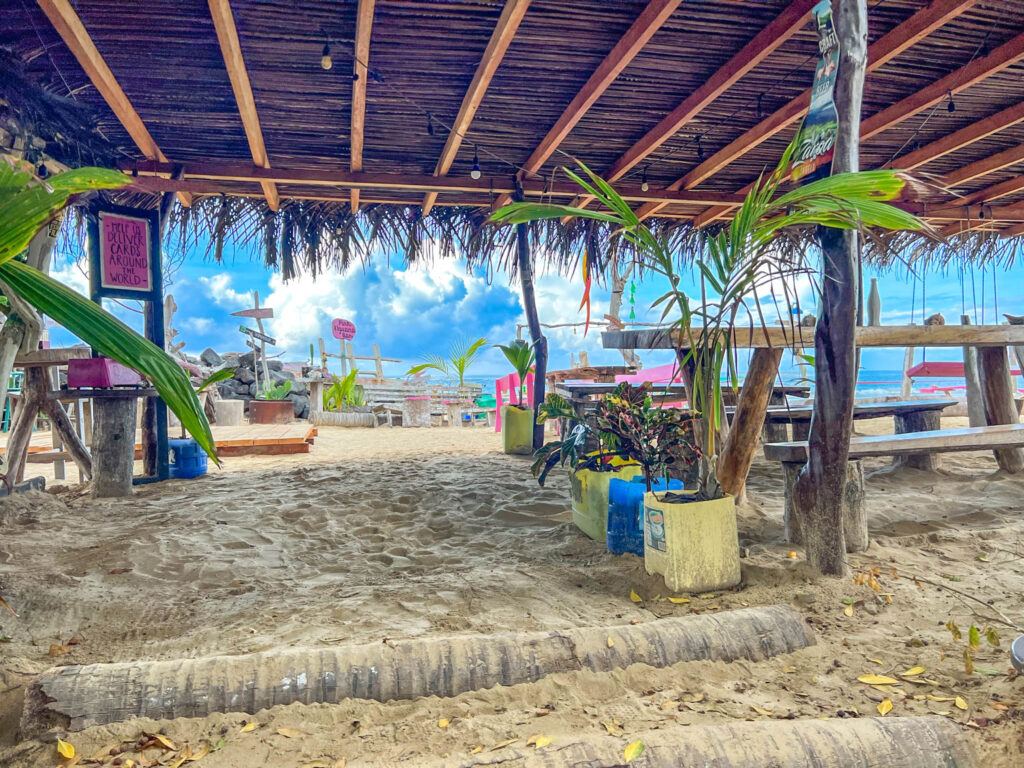 The Pink Iguana Bar was a popular spot at night, but not during the day, as you can see from this photo
On our first night, we rolled the dice on a sushi restaurant called Sakae Fusion Food. We were the only ones there. Eating raw fish in a very hot climate, outdoors, in a restaurant with no people, usually gives me pause, but we decided to try it anyway. It turned out to be pretty good, but expensive ($80 for the two of us).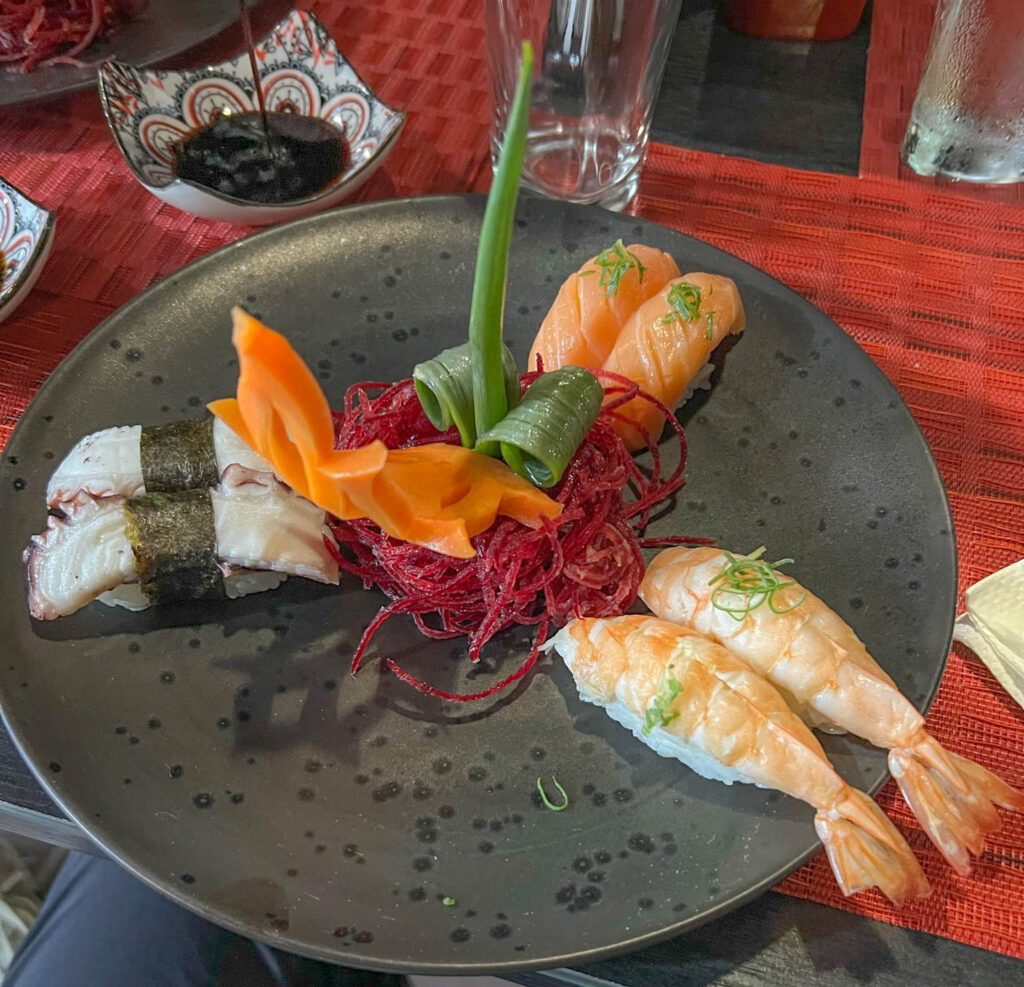 For breakfast on both days, we went to Cafeteria Las Gaviotas on the town square where we enjoyed freshly made juice, pancakes, and scrambled eggs. Well, I had the eggs. My son hates eggs. Regardless, it was a good breakfast. As a bonus, a yellow warbler perched near our table on one of the mornings to join us for breakfast.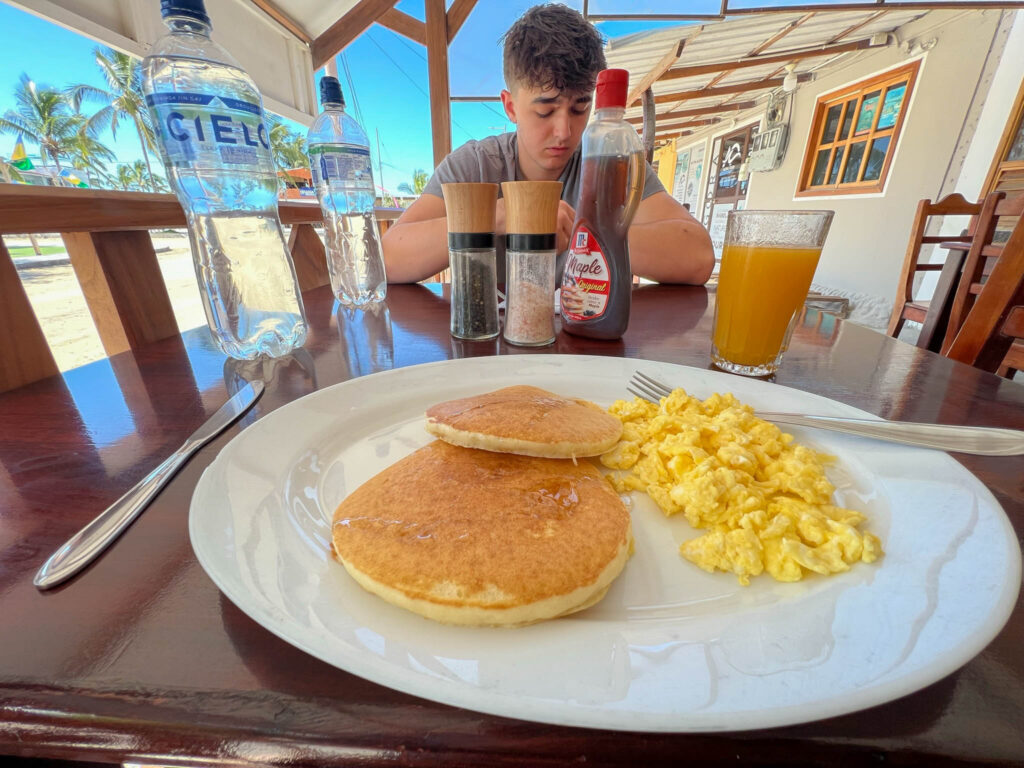 On our second night, we ended up opting for pizza (yet again). Our top choices didn't appear to be open on Sunday night, so we settled on a place that didn't inspire confidence based on the menu photo of their pizza. The photo was accurate. It turned out to be the worst pizza we've had in a very long time, as you can see from the pained look on my son's face below. We couldn't taste any tomato sauce. It was basically some kind of cheese on a thin, but not crispy, crust with some pepperoni, for $35.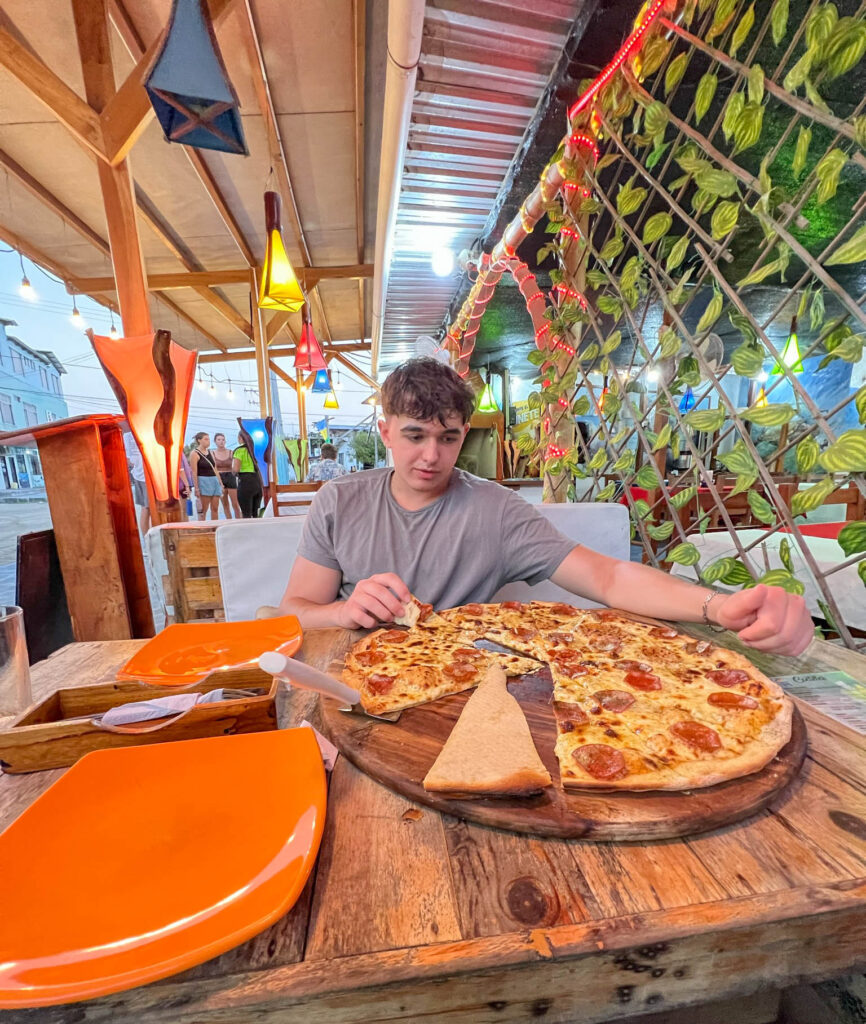 On a positive note, we ended up meeting a new friend that was sitting just outside of the restaurant. In the photo below, you can find him seated below the curb, wearing the white fur.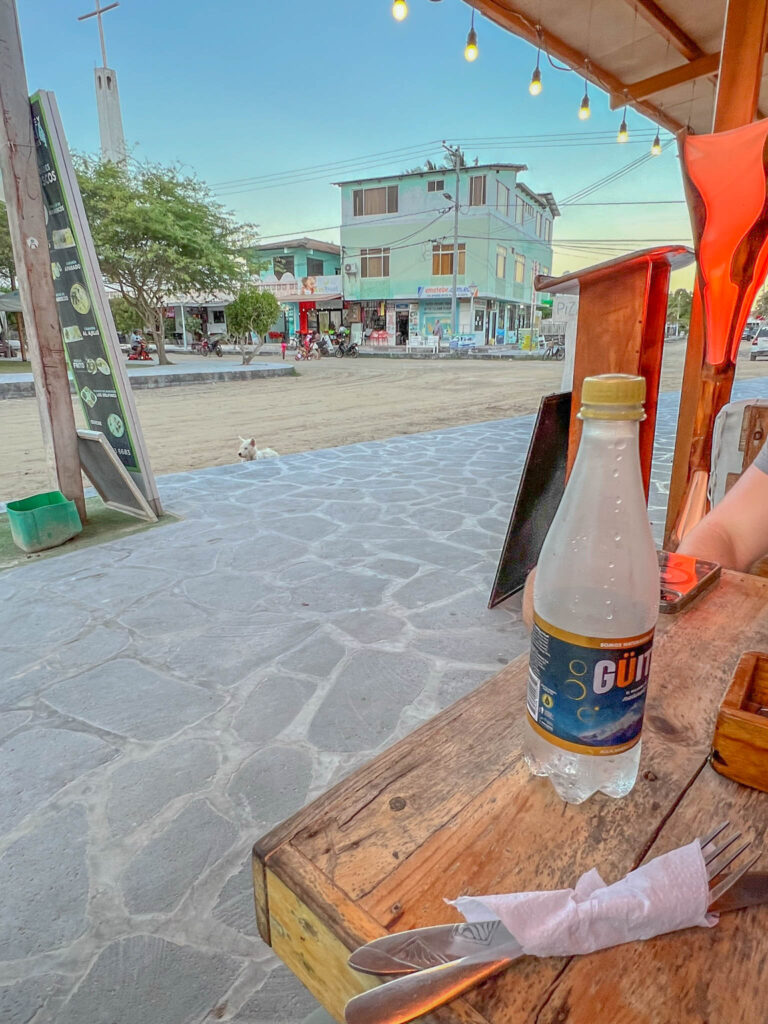 As we left the restaurant, we still had a few pieces of uneaten pizza so we decided to take a slice with us in a napkin and give it to our new friend. We said hi to the dog and he immediately seemed to know that we were trustworthy and he should follow us. We walked around the corner to a more private location, as if we were engaging in a drug deal. The dog eagerly followed. His reward: a piece of the not very impressive pizza. He didn't care. He thought it was great.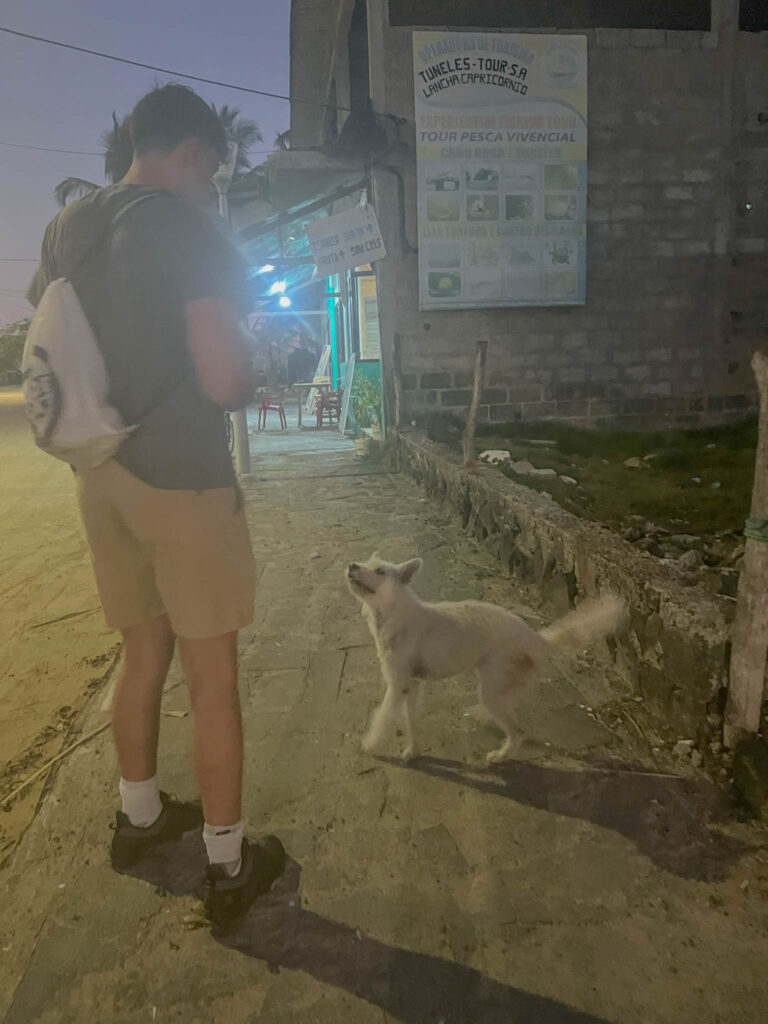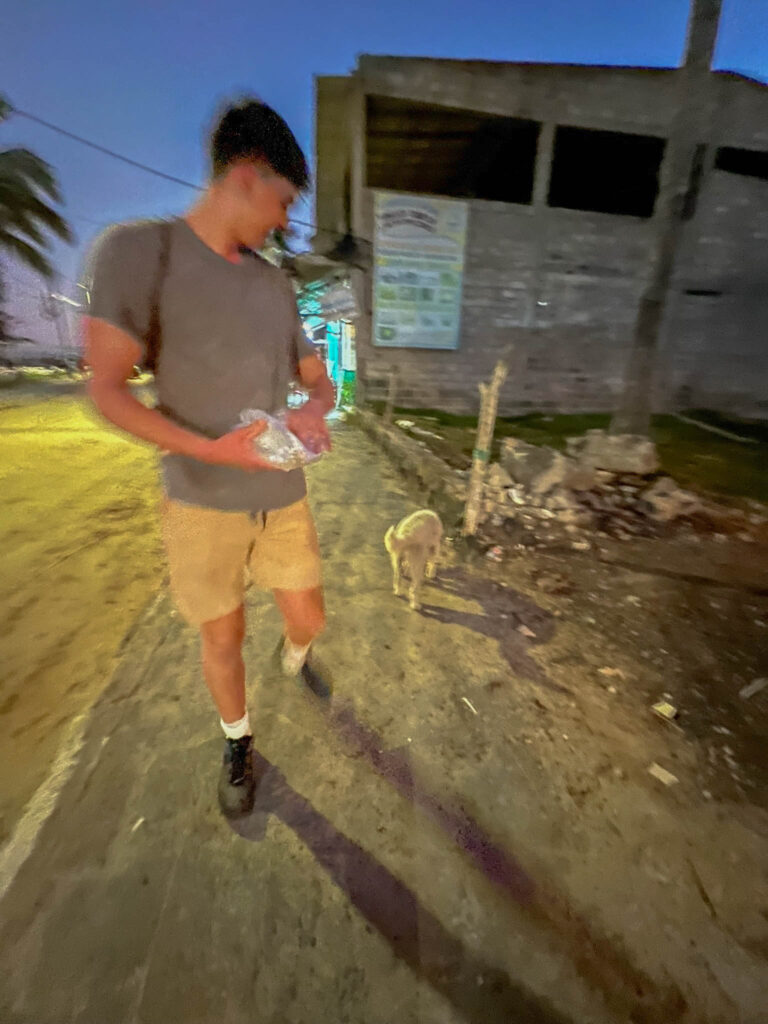 After feeding the dog, we went to an ice cream place to get the bad pizza taste out of our mouth. Well, that was our excuse. We would have gone to the ice cream place even if the pizza tasted outstanding.
On the last afternoon of our trip, we decided to get lunch in one of the restaurants that lined the water. It was called Iguana Point. My son opted for meat skewers while I ordered the fish of the day, only to be informed that it was out of stock. So, I did the "I'll have what he's having" thing and ordered the meat skewers. The skewers looked good, and the flavor was good, but the meat was very chewy, to the point that I had to cut it in very tiny pieces in order to partially chew and swallow it. But it filled the void. I'm sure they have many good things on the menu that I should have selected instead, so I would definitely try that restaurant again. Plus, it's located in a great spot along the water.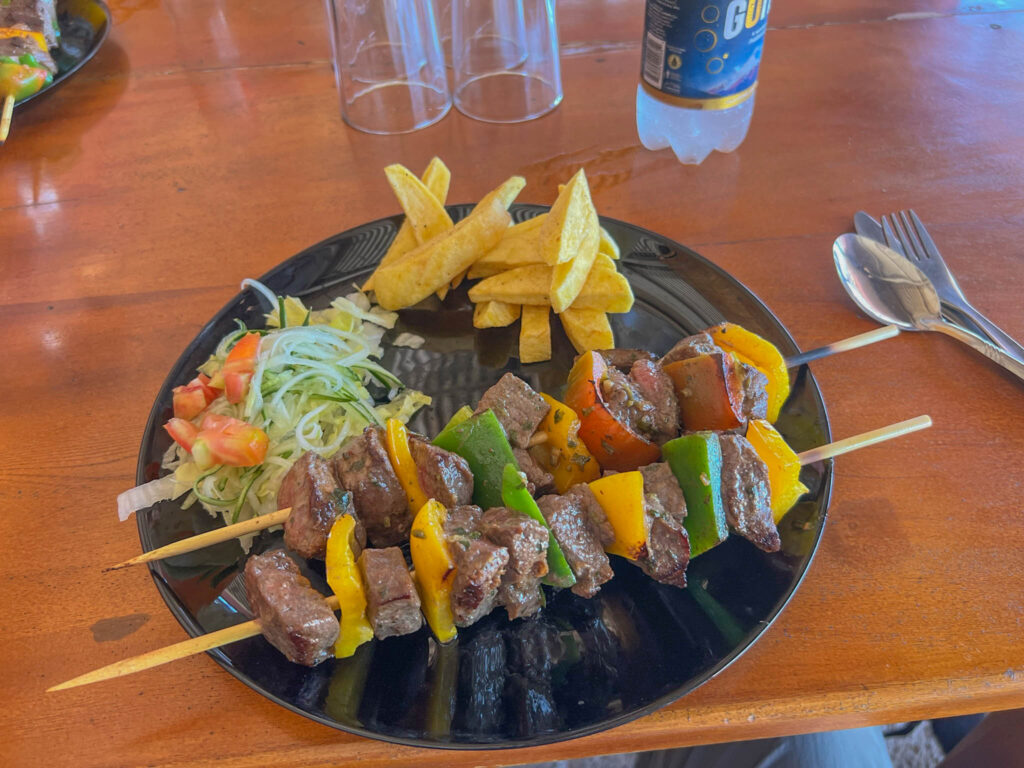 Fantastic wildlife encounters of Los Túneles
The highlight of our stay on Isabela Island was a tour of Los Túneles. The tour is a combination of snorkeling and on-land wildlife observation. Here's what to expect in case you're thinking about doing that tour.
After an early breakfast, we walked to one of the tour pick-up points located at a nearby hotel and a tour operator driver picked us up and took us to their office where we picked up snorkeling masks and flippers. We were given the option to use a wetsuit but we declined as it sounded like the water was pretty warm, which proved to be true. We were joined by two guys from Uruguay and a couple from Bern, Switzerland. Once we arrived on the pier, we were joined by another six people: two from Miami, two from Ecuador, and a couple from the French-speaking part of Belgium, so that gave me another chance to butcher some French. We were also joined by many sea lions and marine iguanas.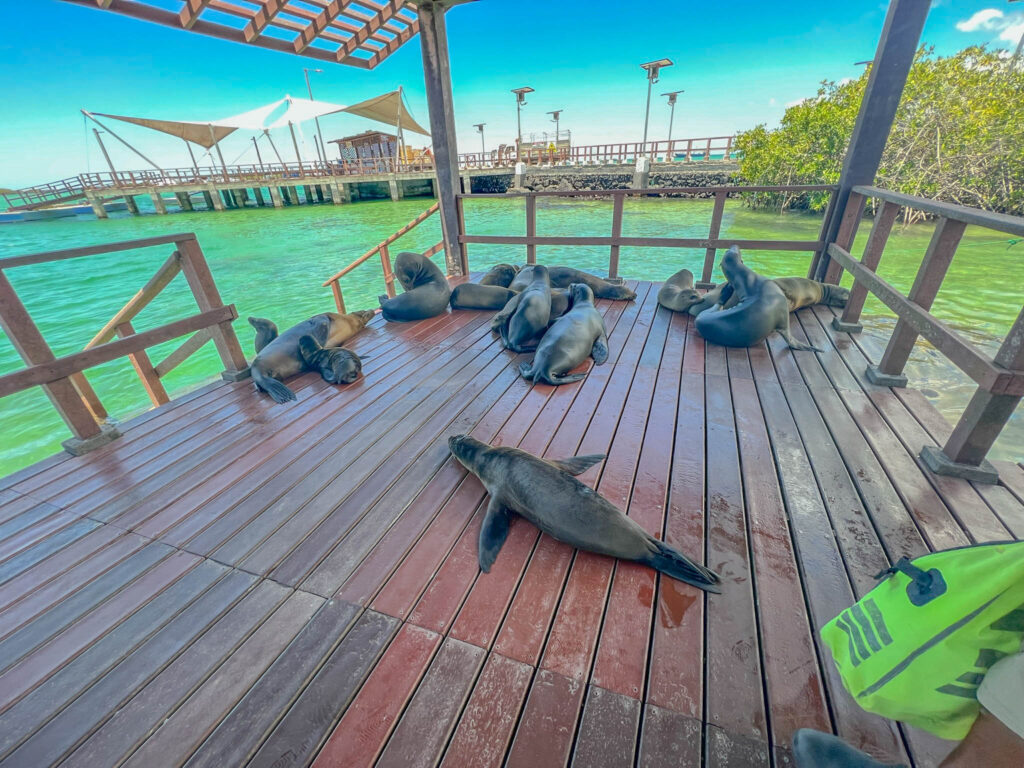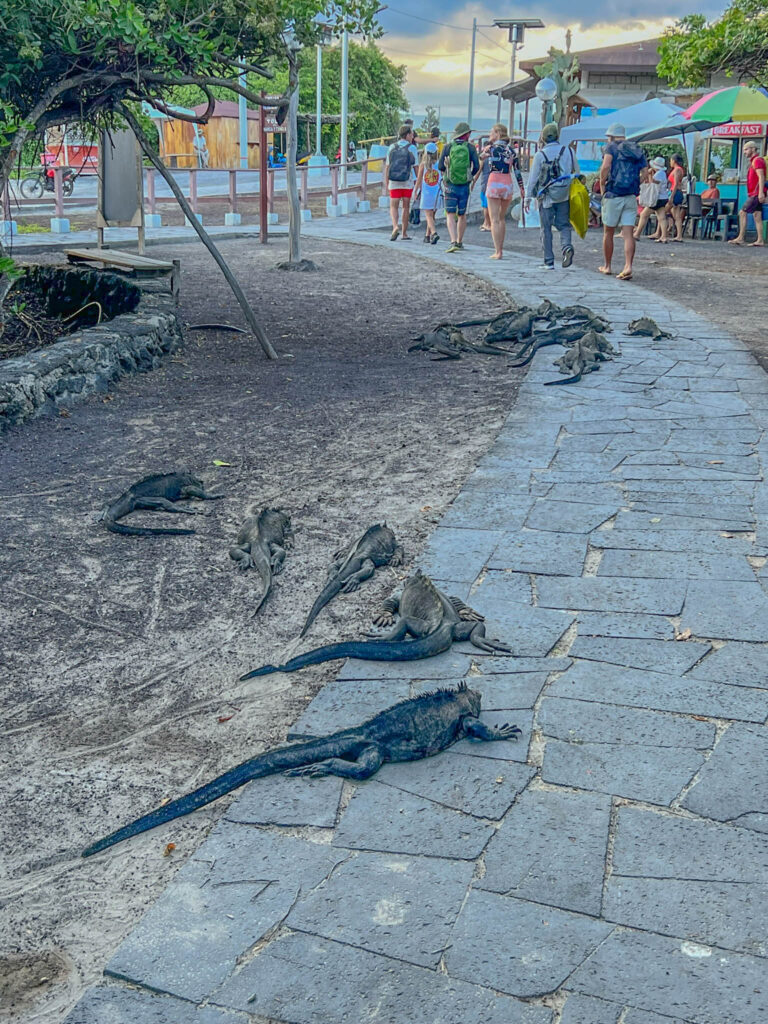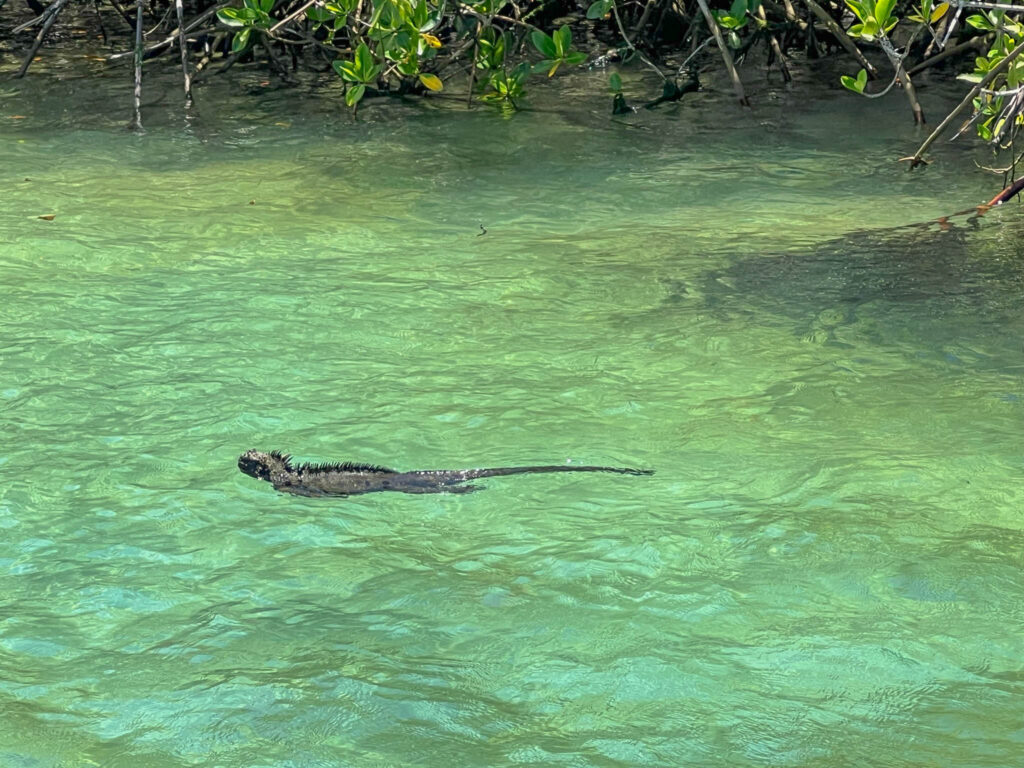 Our local guide's name was Darwin. He was a cool guy and seemed to know his stuff. After a 30-minute boat ride in choppy water, we arrived at our first snorkeling site. I put on my mask, snorkel, and flippers and jumped into the water, relieved to find that it wasn't too cold. What followed was an hour of snorkeling where we saw huge sea turtles, baby whitetip reef sharks, a sea horse, golden rays, and a variety of fish species. The sea turtles were amazing. At one point, a huge sea turtle swam just below me. It was so close that I could have easily touched it. It was a great experience. Darwin snapped photos of everyone and shared all of his photos with us afterwards, which is why I have photos to share below.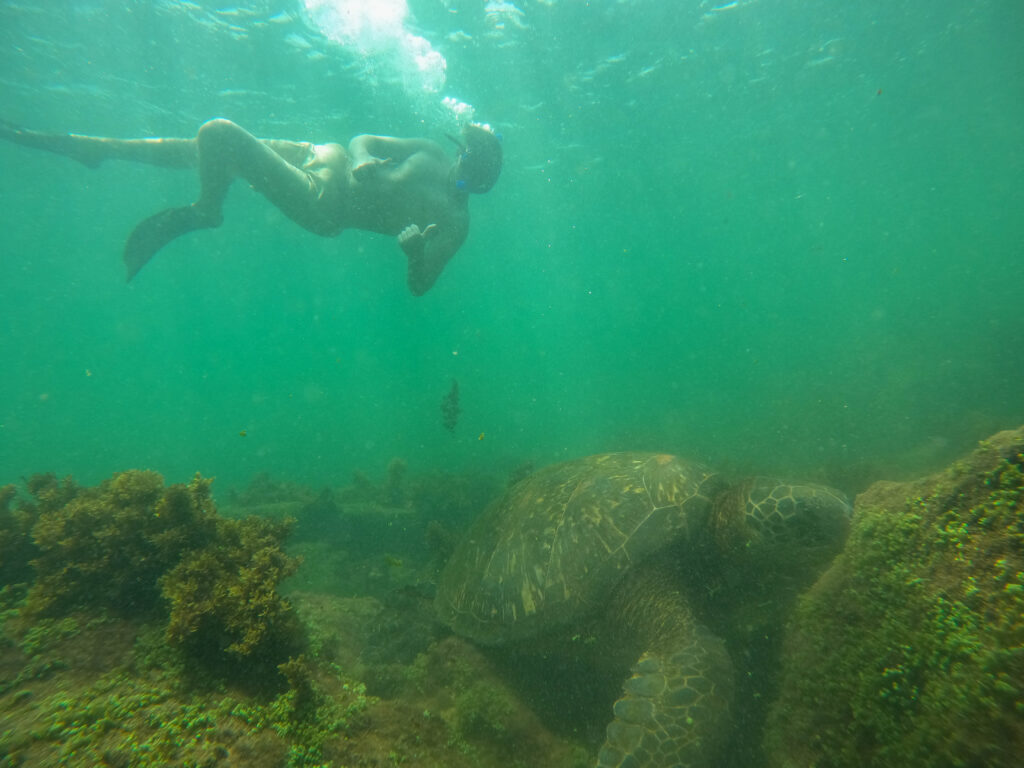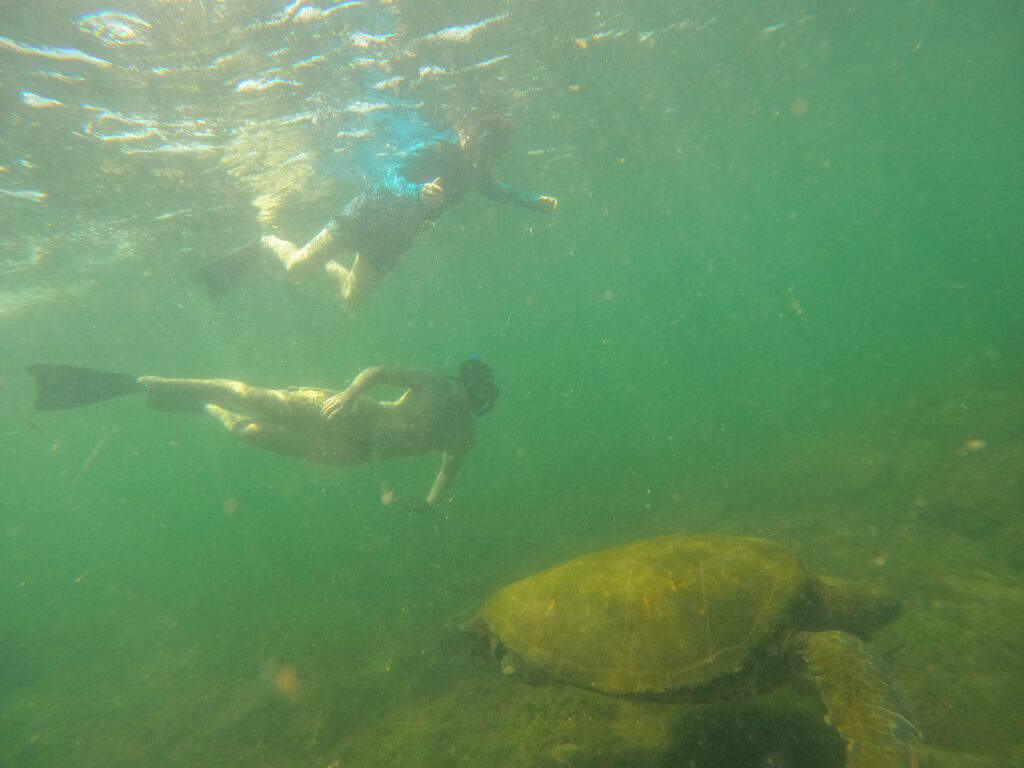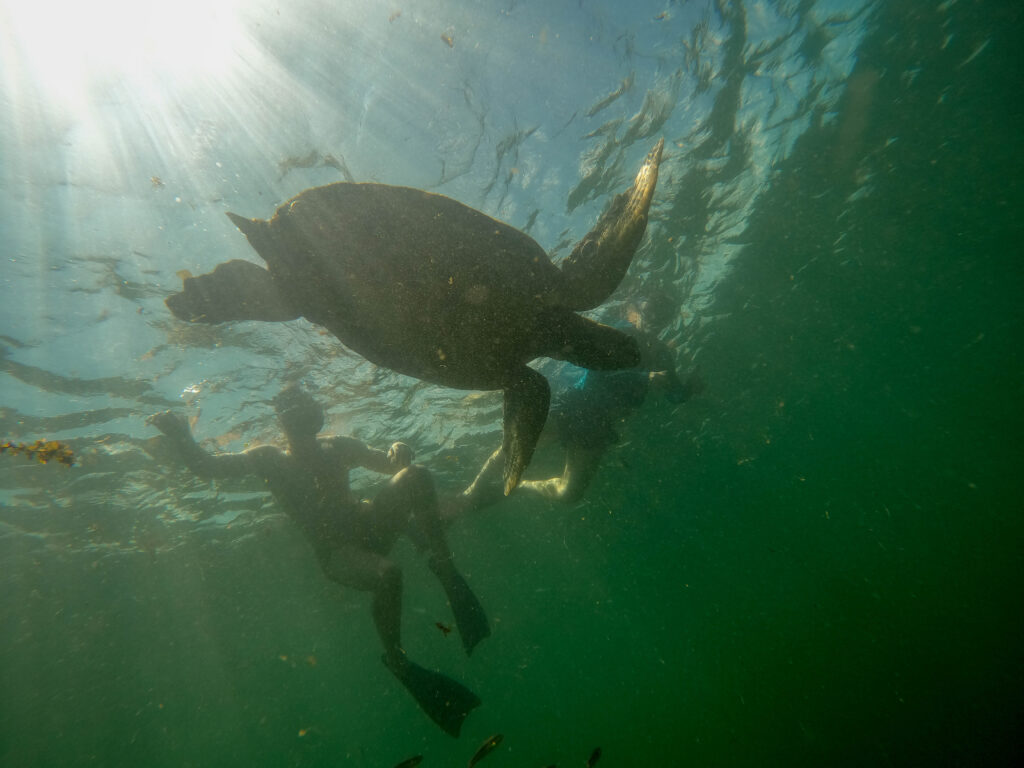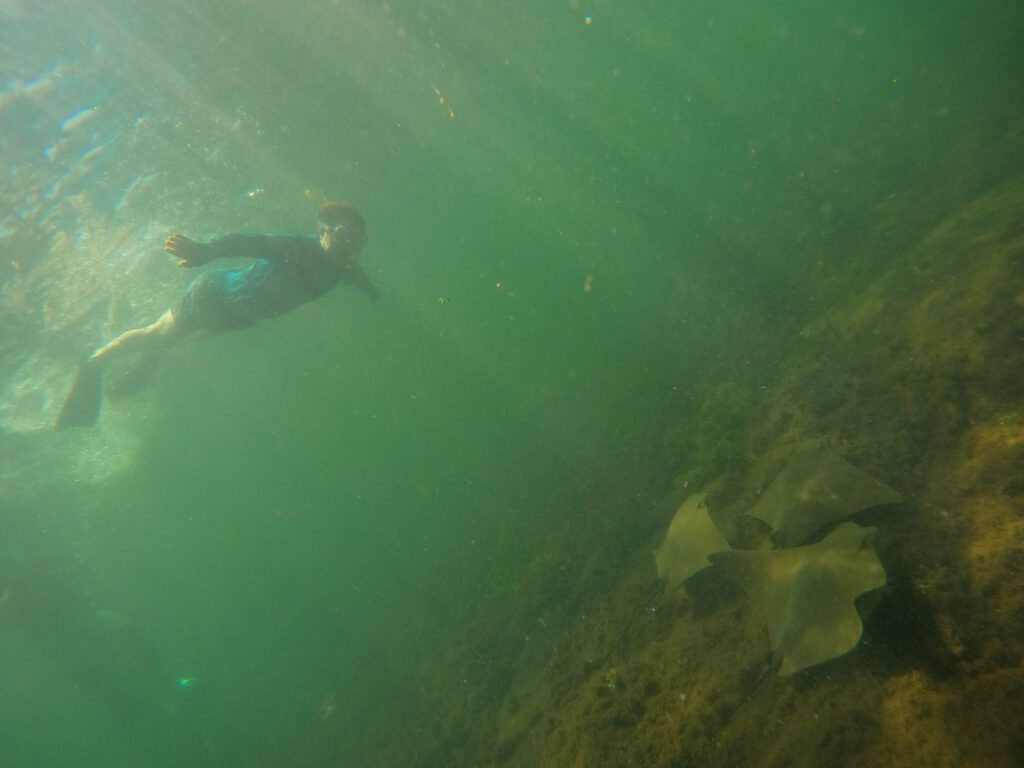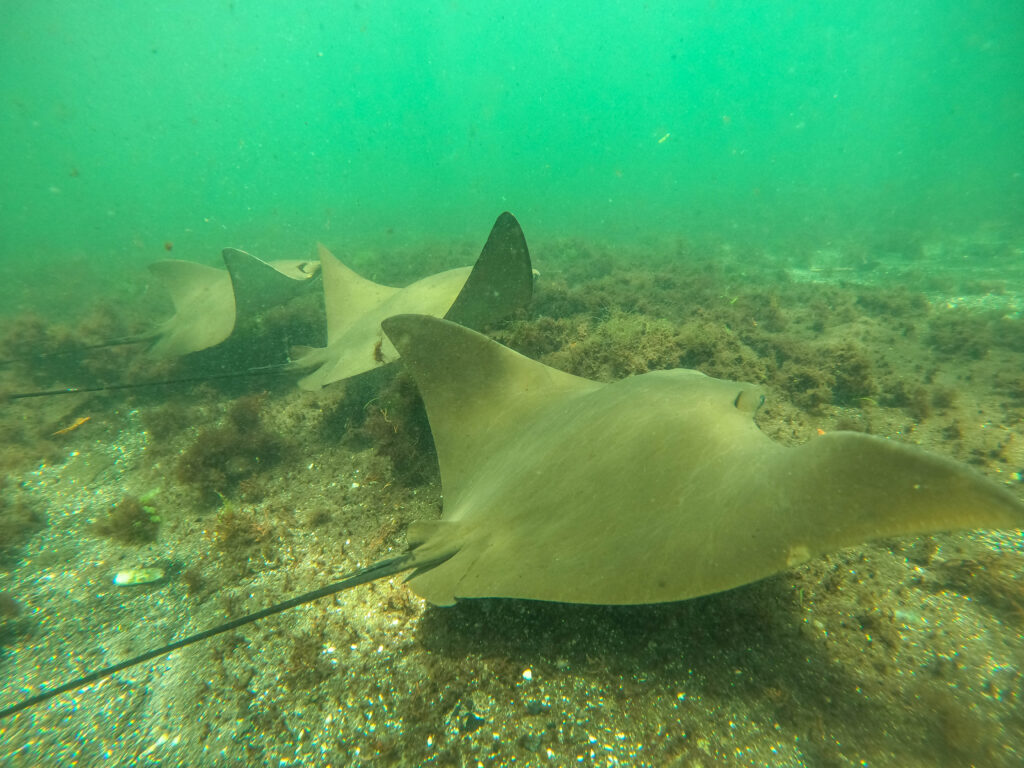 After we finished exploring that snorkeling site, we climbed back in the boat and went to a second site about ten minutes away. The water was much deeper at the second location. I was the last one off the boat and as I swam to catch up with the group, I spotted three bigger (~5 feet long) whitetip sharks swimming about 20 feet directly below me. These weren't babies. They were big enough to get my attention and they were fast. Relieved they weren't interested in me, I was motivated to quickly catch up with the rest of the tour group. At that location, we came across a very large sea horse and an amazing, colorful lobster that was super fast as it leapt from one rock to another until it found a good spot to hide. We also saw an octopus hiding in a crack, but we could only see a tiny part of it. Some people saw a moray eel but I didn't get a chance to see it before it was out of sight.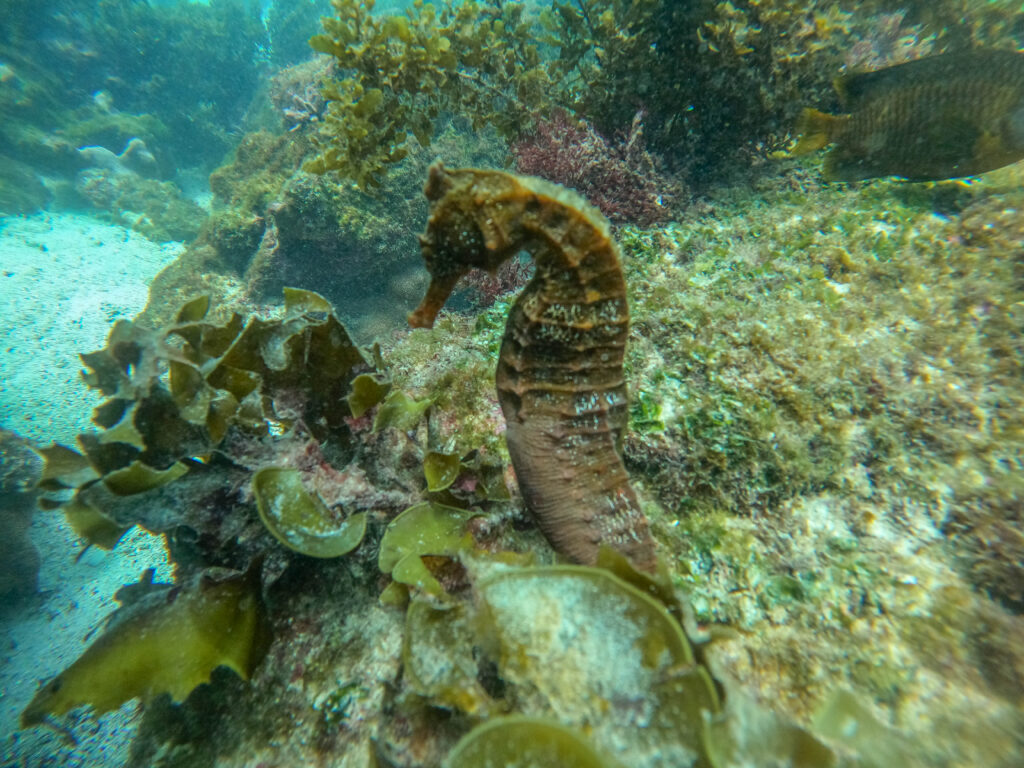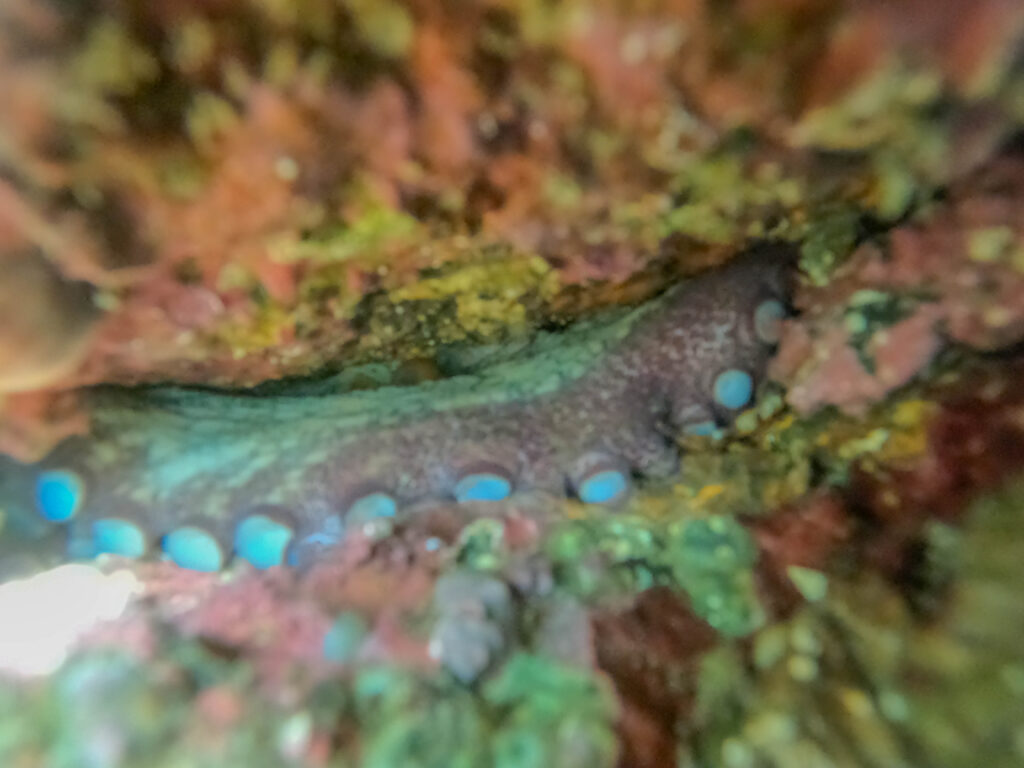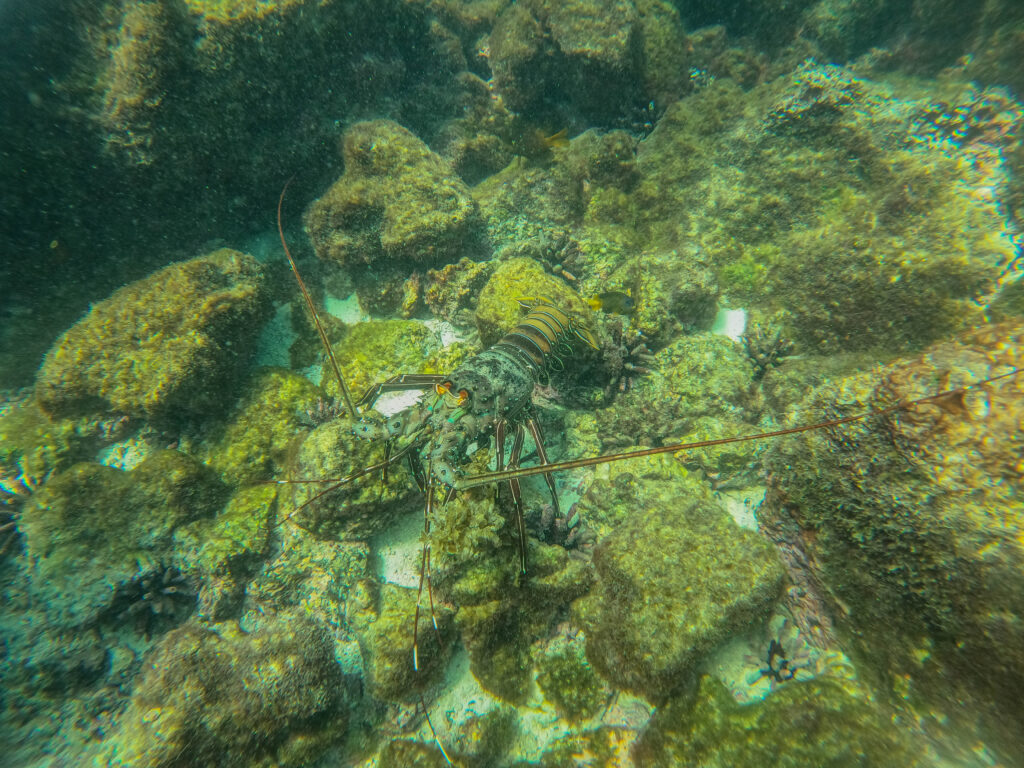 After our second round of snorkeling, we all climbed on the boat for a lunch of chicken, rice, and watermelon slices. Next, we took the boat another 15 minutes to Los Tuneles, where we got off the boat to walk on land and look at some birds. We saw some brown noddy terns and a cactus finch. But the most amazing part was that we had the opportunity to stand very close to two blue-footed boobies. The birds didn't seem to care at all. It was much closer than I would have ever dreamed and I wouldn't have considered trying to stand so close to the birds if it wasn't for the guide telling us it was ok. It was a once-in-a-lifetime photo with my son and definitely a highlight for me. My shirt nicely matched their feet.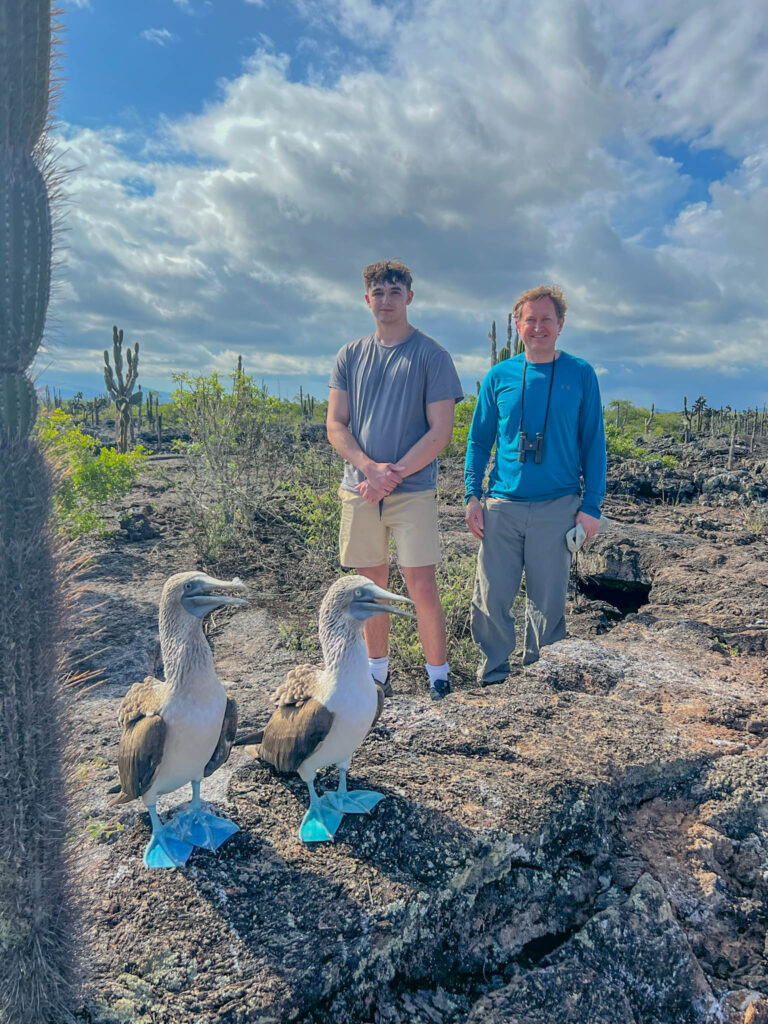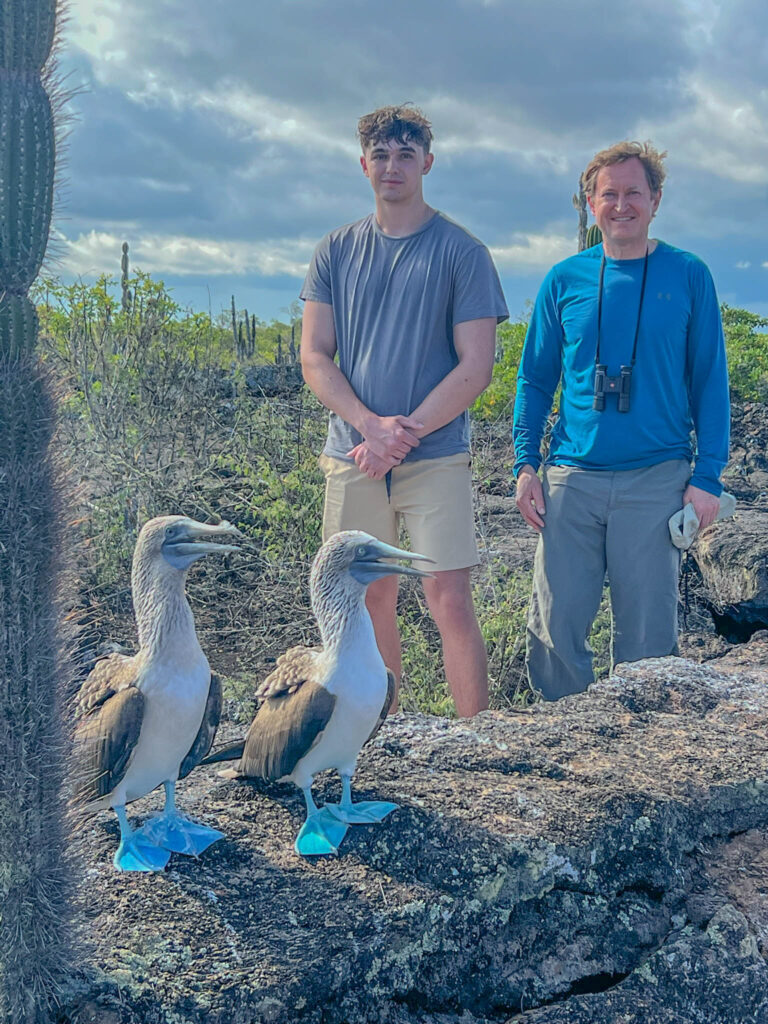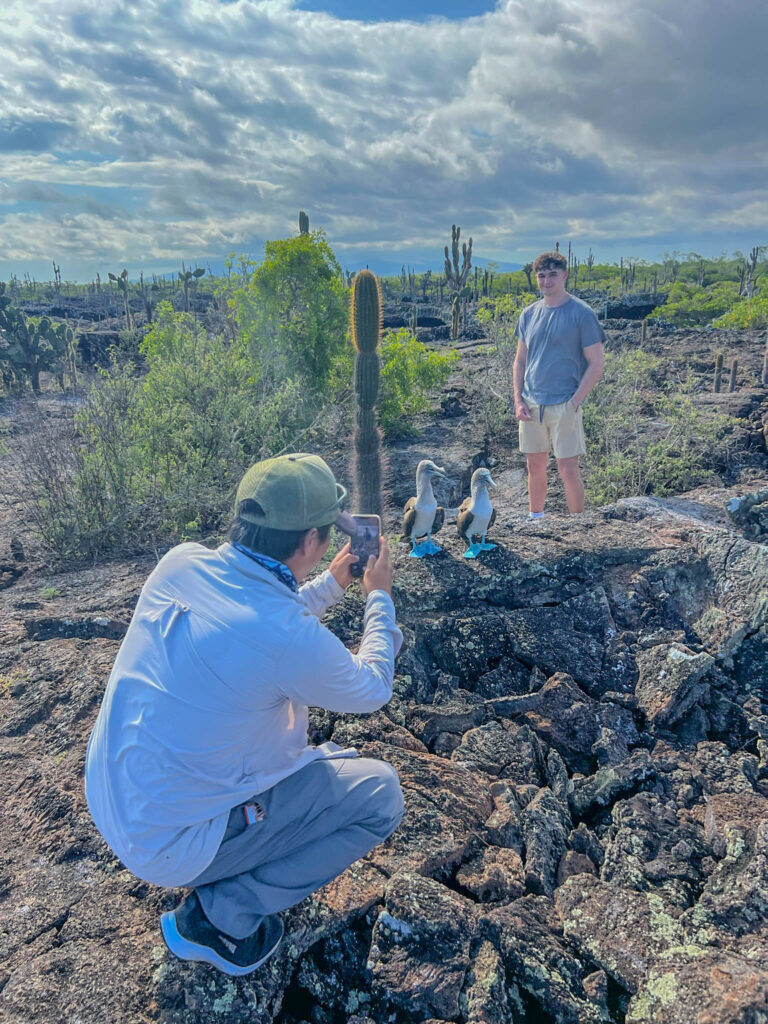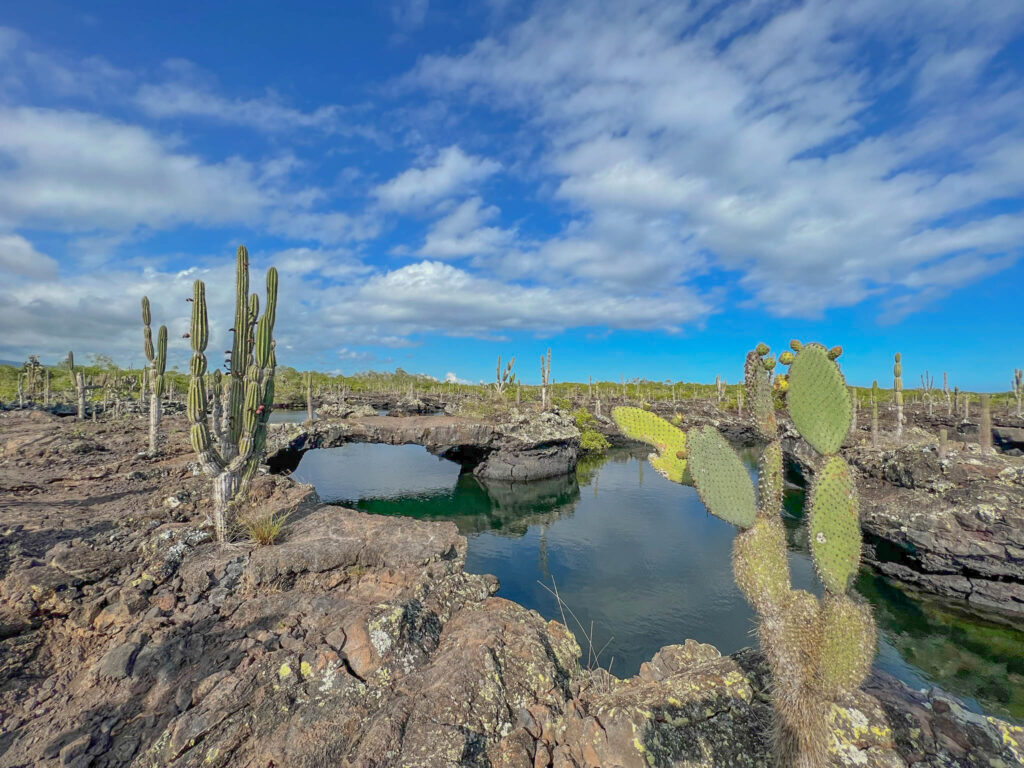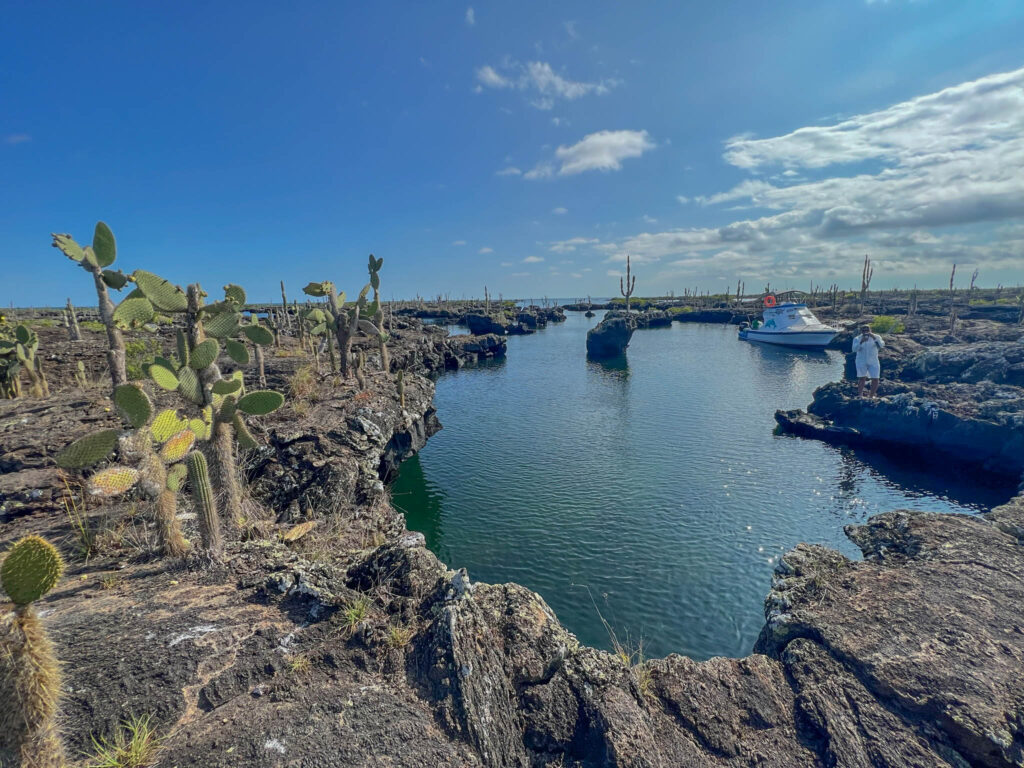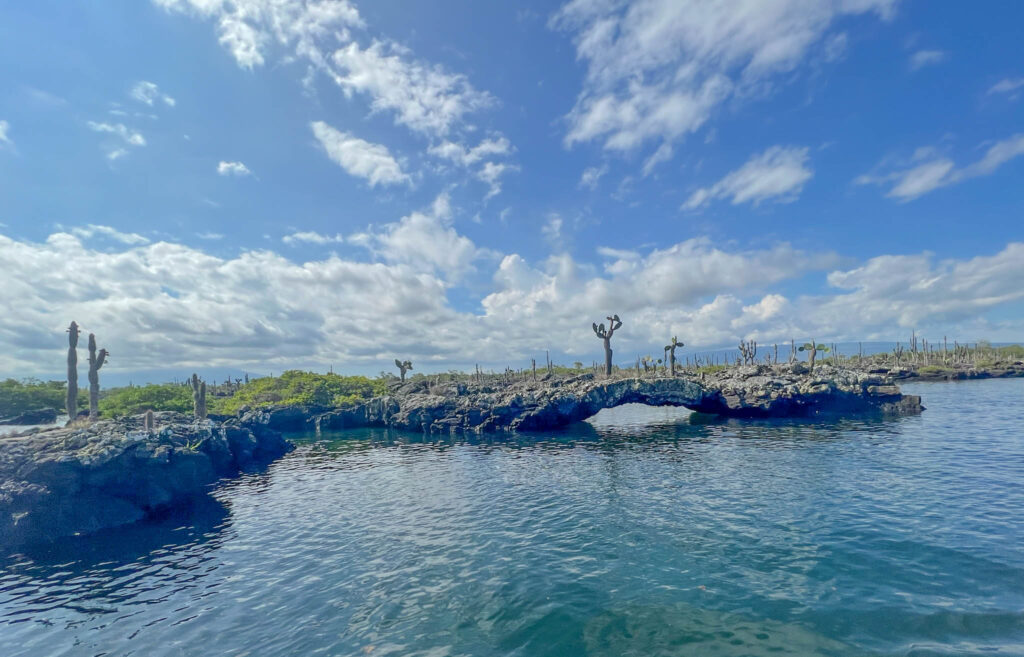 After that amazing experience, we had a 45-minute, very choppy boat ride back to the pier. The end of a great day of wildlife encounters on Isabela Island.
There are lots of other great things to do on Isabela Island, but if you get the chance, I'd recommend including Los Tuneles on your list.
---
---
Thought for the Week
Since birds were one of the highlights of Isabela Island, here's a bird-related quote to ponder from American author, professor of English literature at Princeton, diplomat, and Presbyterian clergyman, Henry Jackson van Dyke Jr. (1852 – 1933).
"Use what talents you possess: the woods would be very silent if no birds sang there except those that sang best."
— Henry Van Dyke
---
---
Thanks for reading and happy travels!
Mark (The New Mexico Travel Guy)
Mark Aspelin, The New Mexico Travel Guy (www.newmexicotravelguy.com), is a travel writer and author of two books who has enjoyed a wide variety of adventures in his travels to over 100 countries and all 50 U.S. States. His current project involves visiting EVERY town in his home state of New Mexico (there's over 500 towns) and writing a story about each one. When not traveling, Mark lives as a recluse in the mountains outside of Albuquerque, New Mexico.