When it comes to horse racing, I'm an idiot. Then again, I'm an idiot when it comes to most things in life, so perhaps that's not saying much. I have very limited experience with horses and I'm not into gambling or betting. So, it's probably a good thing that I've never been to a horse race before. But on a sunny August afternoon, I found myself pulling into the parking lot of the Ruidoso Downs Race Track and Casino. After all, I was writing a story about Ruidoso Downs, a town of about 3,000 people that's named after the Ruidoso Downs Race Track. It was time for an education, and here's what I learned.
Table of Contents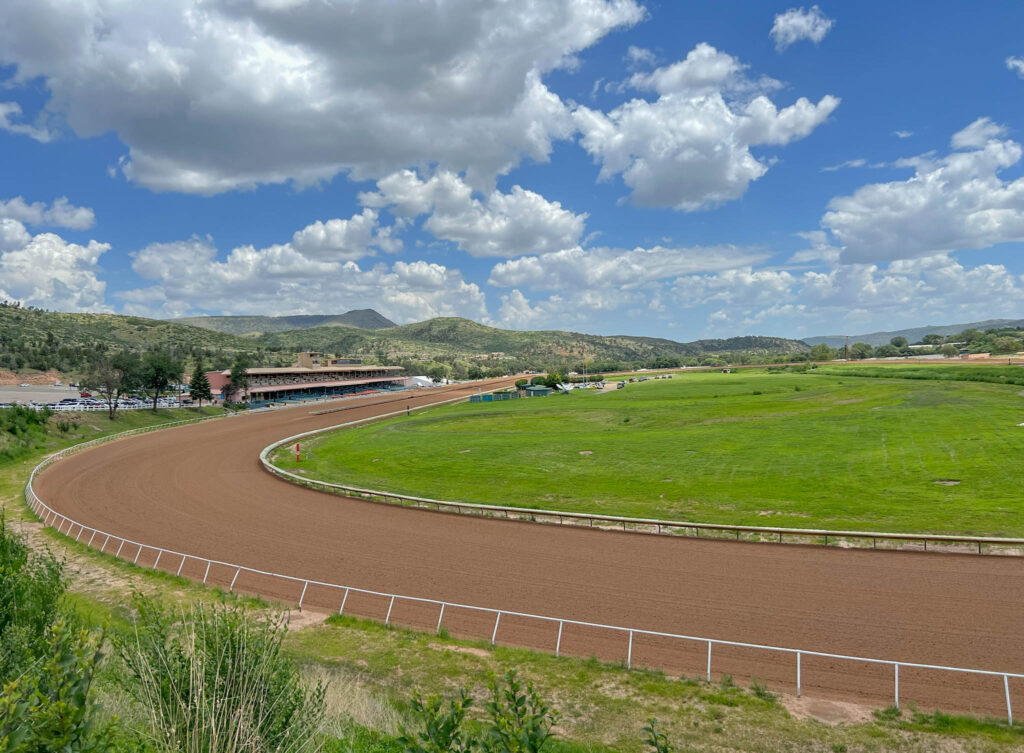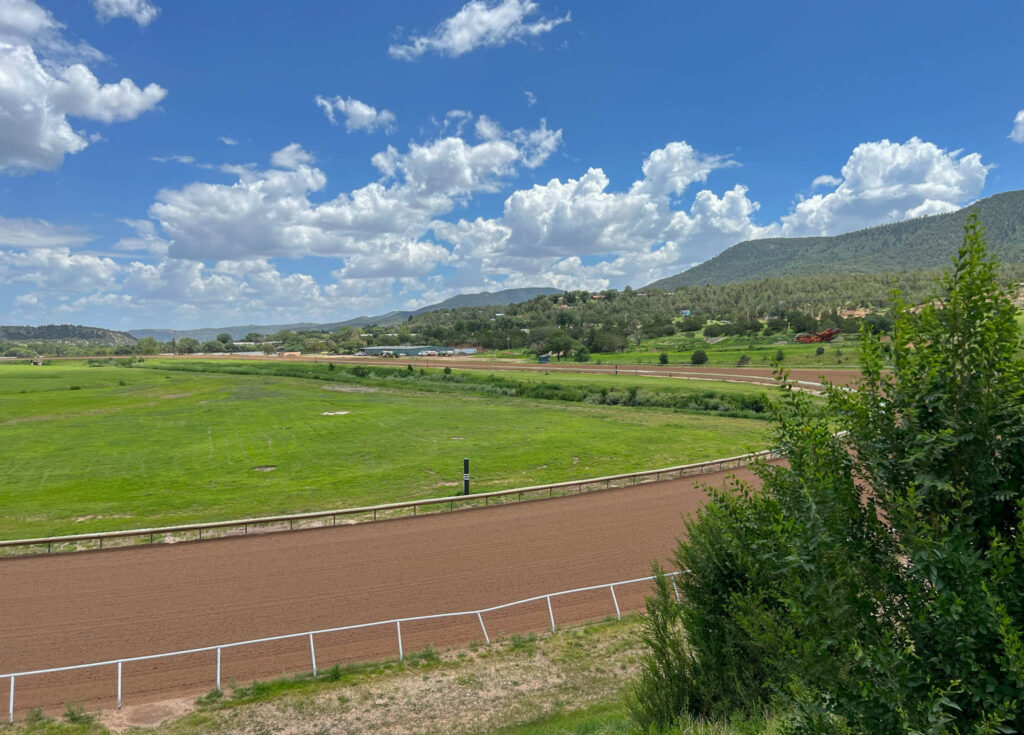 Brief History of Ruidoso Downs
Ruidoso Downs (aka "The Downs") is a suburb of Ruidoso and considered part of the Ruidoso Micropolitan Area. If the word "micropolitan" tripped you up, you're not alone. It was new to me too, and that's the first time I've ever used "micropolitan" in a sentence. I've come to learn that the term "metropolitan area" is only used for places with a core urban area of at least 50,000 people. "Micropolitan area" is used for places with a core urban area of at least 10,000 people, but fewer than 50,000 people. Ruidoso has a core urban area of over 21,000 people (including Ruidoso Downs and Alto), so micropolitan it is. How's that for a boring way to start this section?
Ruidoso Downs didn't become recognized as a city until May 2002. While the town name is relatively new, it's horse racing history goes back to the 1840s, when Spanish-speaking settlers started racing horses and setting up rodeos in the area. In the 1930s and 1940s, informal horse races took place in a meadow (previously cornfields) where the Ruidoso Downs Race Track stands today.
The various owners of Ruidoso Downs have made a variety of expansions and renovations over the years. This included moving a rodeo stand (in 1945) about 22 miles from its previous home in the village of Capitan, adding a sales pavilion and sports theater (1990s), and opening a casino (in 1999). Outside of horse racing, the facilities at Ruidoso Downs have hosted concerts as well as camel and ostrich races.
Today, Ruidoso Downs is "the only horse track in the United States and Europe that has a separate quarter horse straightaway and oval thoroughbred tracks". I put that in quotes, since I don't really understand the significance of that, but it's featured on their website, so I assume it's worth mentioning. In 2023, horse racing season runs from May 26 – September 4th.
Rather than pretend that I know something about horse racing, I'll share my experience as a first-timer at Ruidoso Downs Race Track.
A Day at the Races …. or at least 90 Minutes
I decided to go to Ruidoso Downs during its annual Zia Festival. When I read the word festival, I pictured large crowds of people and I considered purchasing a seat in advance. To play it safe, I decided to arrive early, around noon. As I pulled into the parking lot, there seemed to be plenty of spaces, so I was happy about that. My chances of getting a seat looked promising. From the parking lot, my first impression of the place was that it's certainly located in a beautiful setting. I could see why people would enjoy coming here even if they weren't into horse racing.
As I approached the race track, I was thinking that I would need to pay something to get it, but I was wrong. There was nobody collecting money or checking tickets. I just walked right in. As I entered the race track seating area, here's what I saw: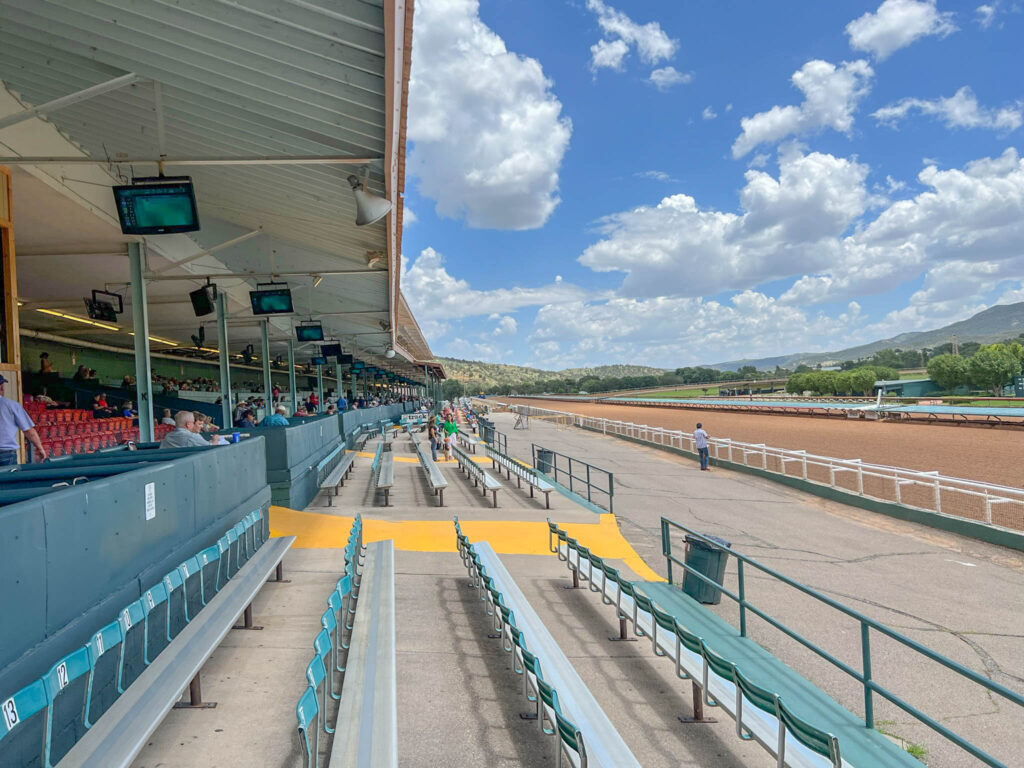 Not exactly seething masses of humanity. Needless to say, I didn't purchase a seat. My guess is that it gets crowded later in the day. But I wasn't complaining. The lack of crowds suited me just fine.
Purchasing a Ticket
I could see that a race was brewing, so my first line of business was to figure out how to place a bet. There were lots of windows available to place bets, so I decided to pick out someone who looked like an old timer. While I waited, I spotted an ad on the wall that suggested, "Be Who You Are." Consider it done. Who am I? I'm an idiot in horse racing. Feeling prepared, I approached the window.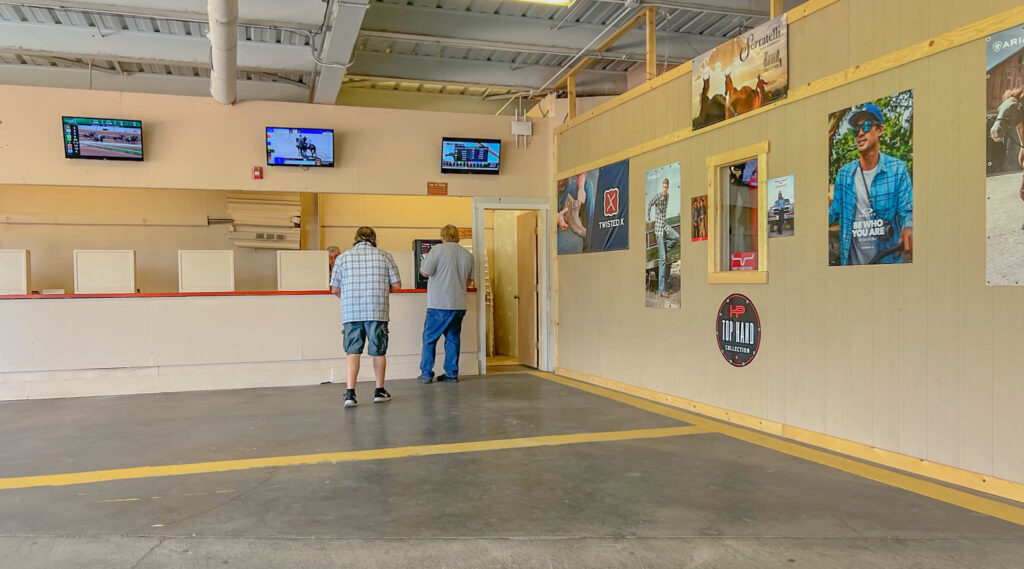 I greeted the seasoned gentleman behind the counter and confessed that it was my first time at a horse race and I welcomed his guidance on how to place a bet, preferably a winning bet. He smiled and told me to look at the monitors on the wall to check the odds, and then come back with the horse number I selected and how much money I want to bet. I asked him which horse he would pick based solely on the odds. He laughed and said he can't tell me which one to pick. He added that, by looking at the screen, there were two horses with the best odds and he told me which ones they were.
I thanked him and walked to a nearby monitor to study it in more detail. There were 9 horses in the race, but I only could see 6 horses listed on this particular monitor, so that left me confused.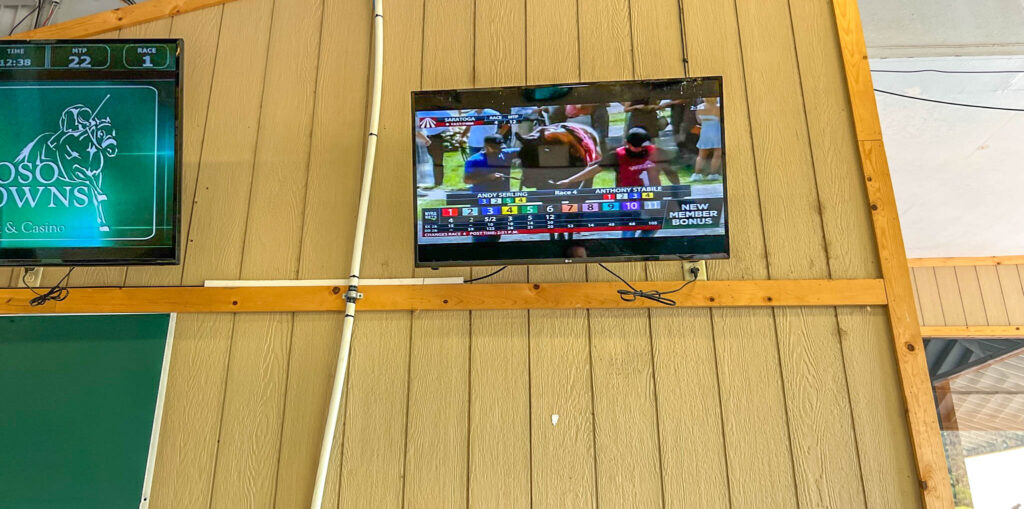 Rather than give it any more thought, I remembered the two horses that the man said had the best odds and I chose the number I liked better. After this thorough analysis, I went back to the ticket window and said that I'll choose horse #2. He asked me how much I want to bet, and I opted for $5. High roller, I know. The man said that if I win, then I can come back to his window (or any window) to cash in my winnings.
He printed out a ticket, handed it to me, and that was it.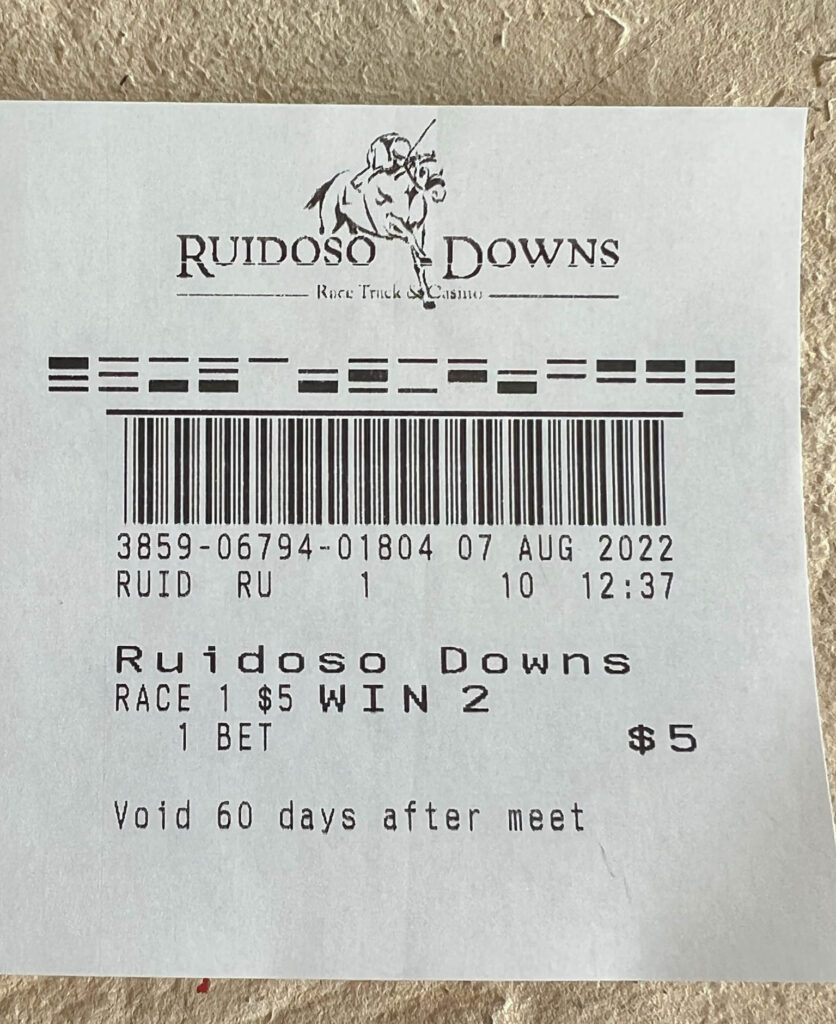 I had some time to kill before the race started, so I decided to walk around a bit. I came across another monitor that did have the odds and the names of all the horses.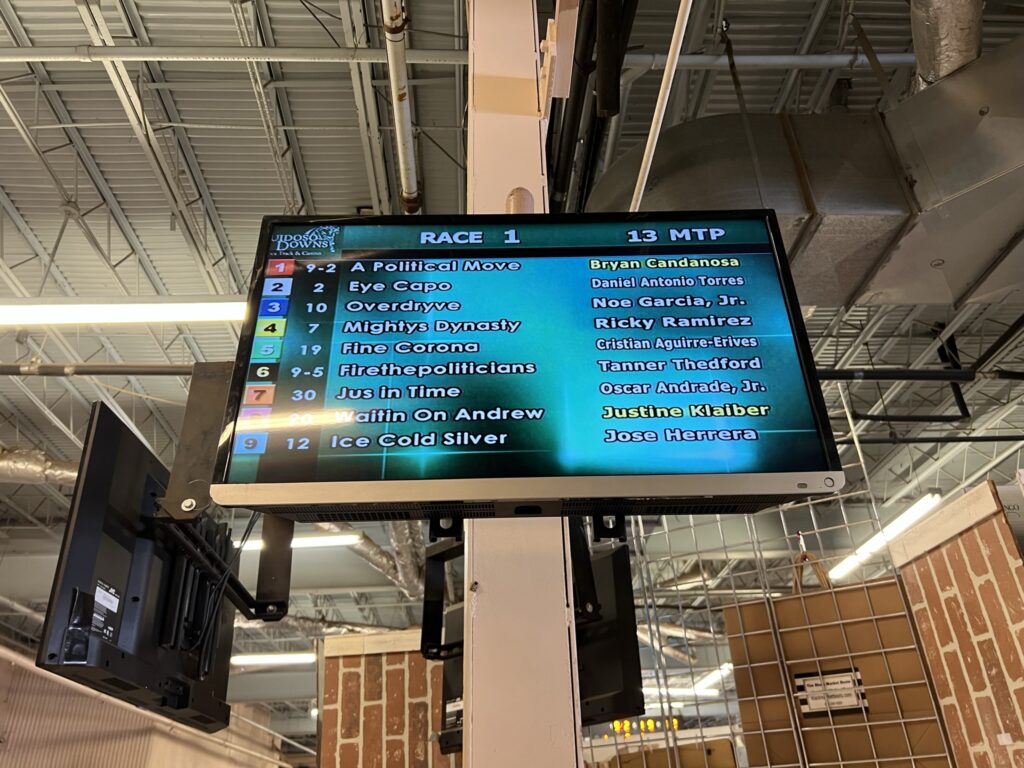 Had I seen this list prior to placing my bet, I might have leaned towards "Firethepoliticians", just because of the name. My horse was named "Eye Capo", which sounded kind of disturbing. I use a capo when I play guitar and I wouldn't want that thing anywhere near my eye. I later read that capo means "boss", "chief", or "head" (as in leader, in Italian), so that makes a lot more sense now.
Vendors of Ruidoso Downs
As I walked around the grounds, I visited some of the many vendors selling various western-themed clothing and other local items.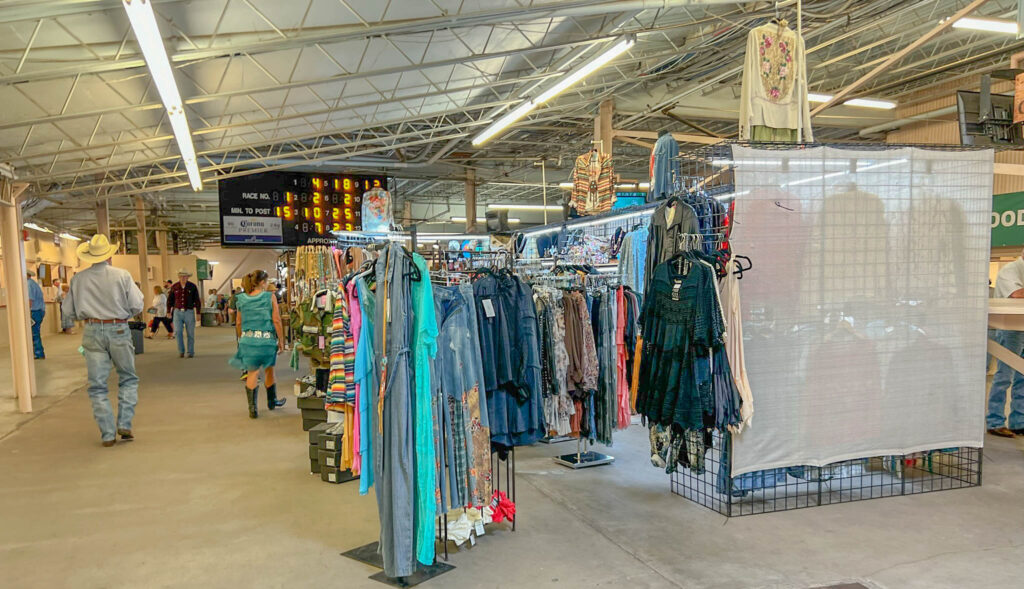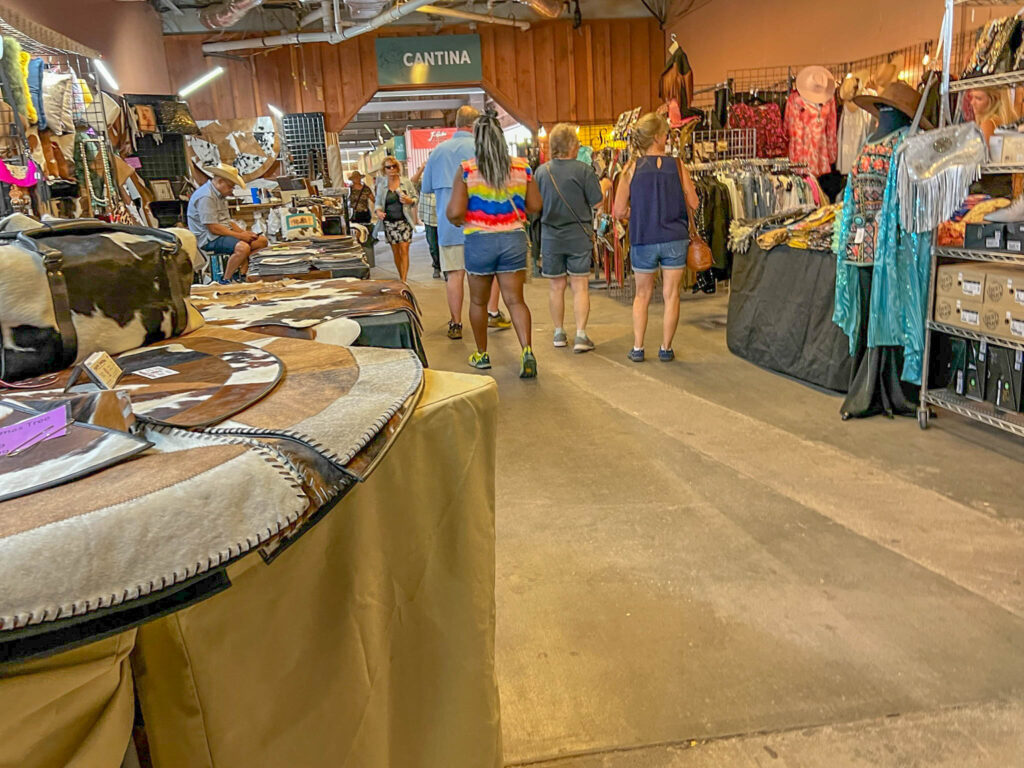 The Race Begins
Finally, it was time to get ready for the race. I decided to walk up to the railing where a handful of other people stood for the closest view of the race.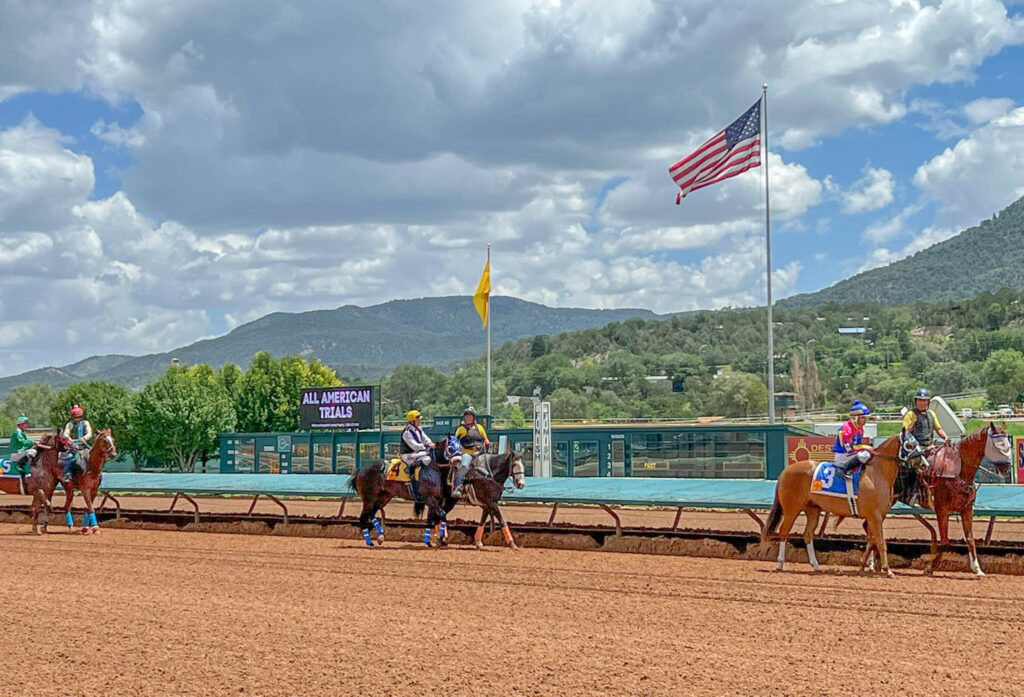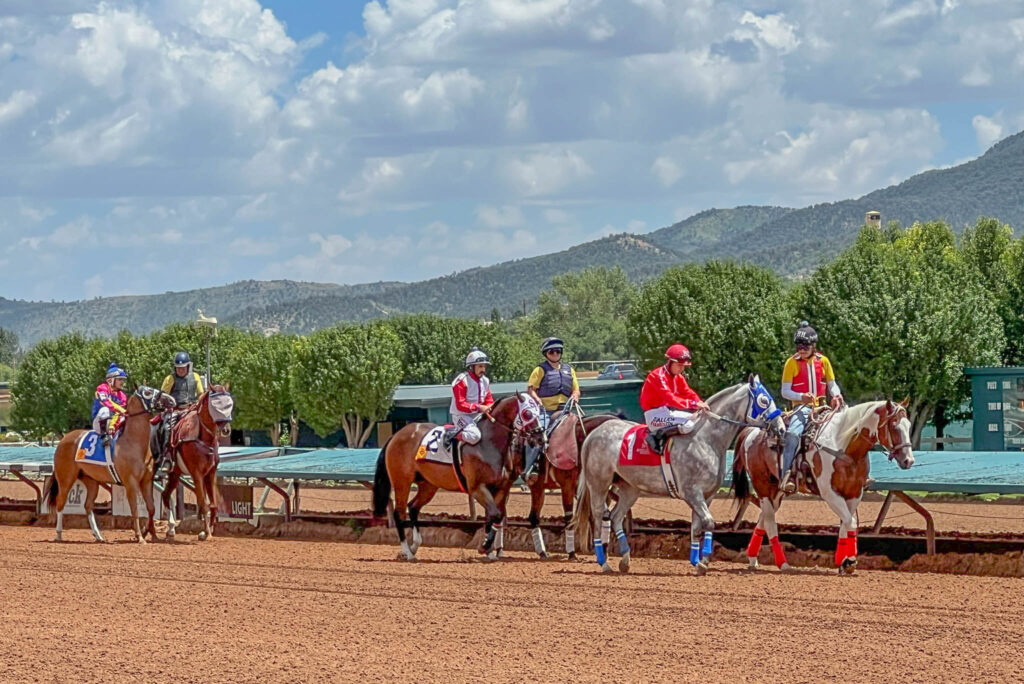 A short time later, it's go-time. The horses line up.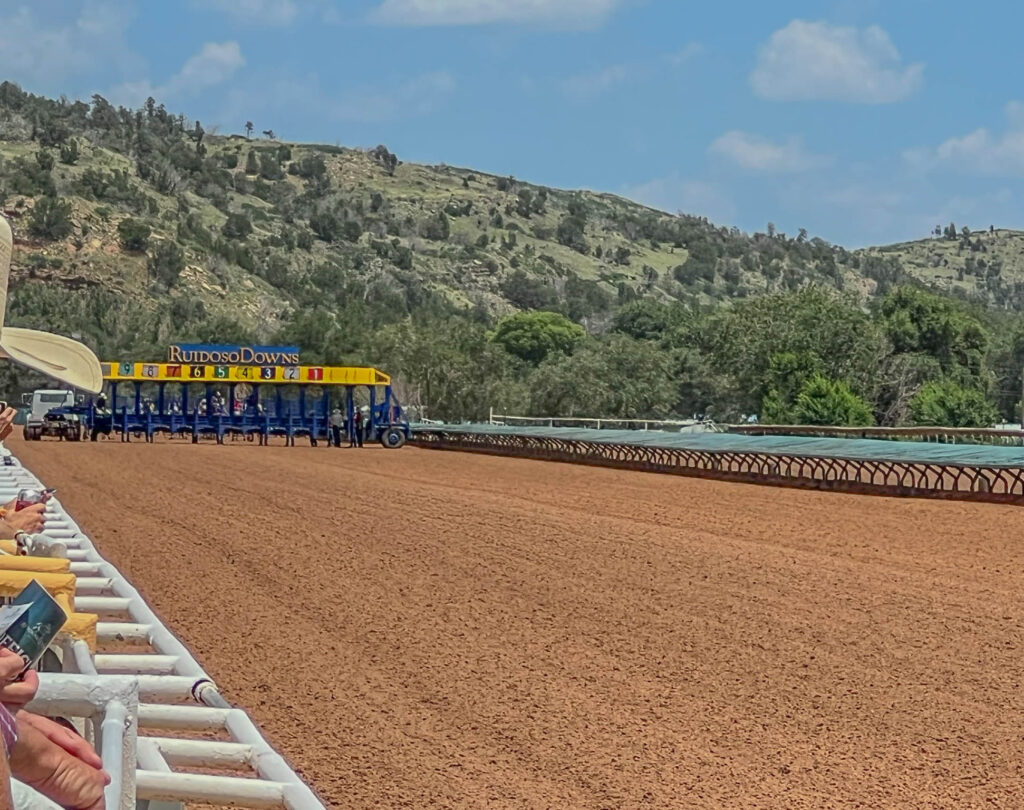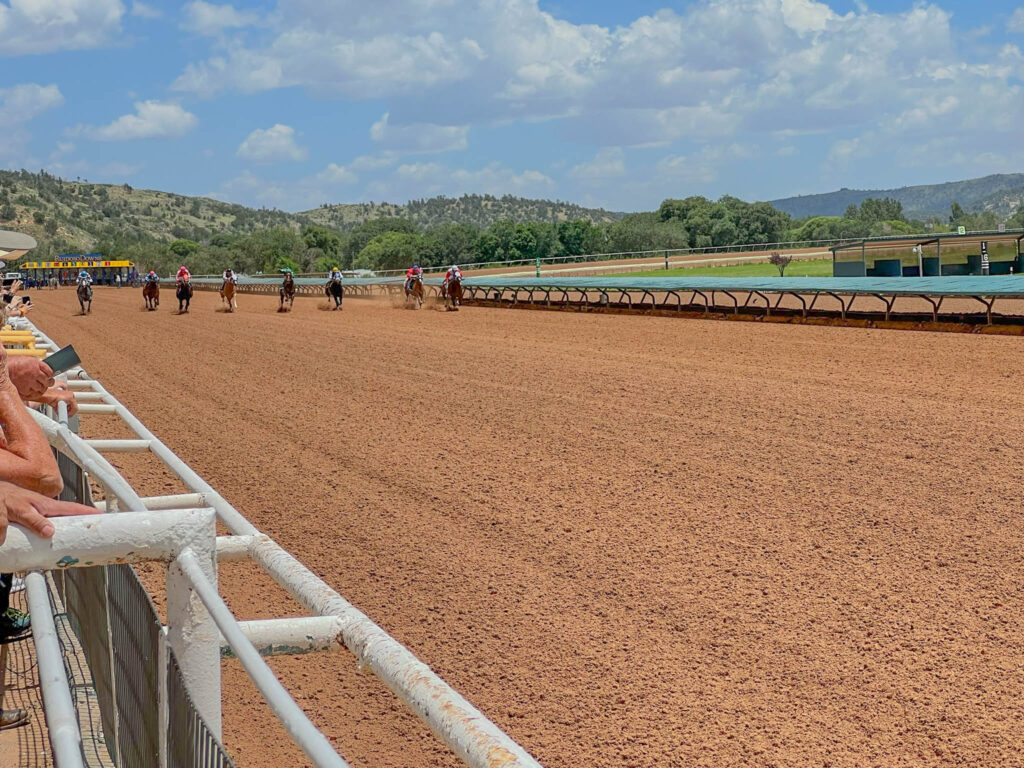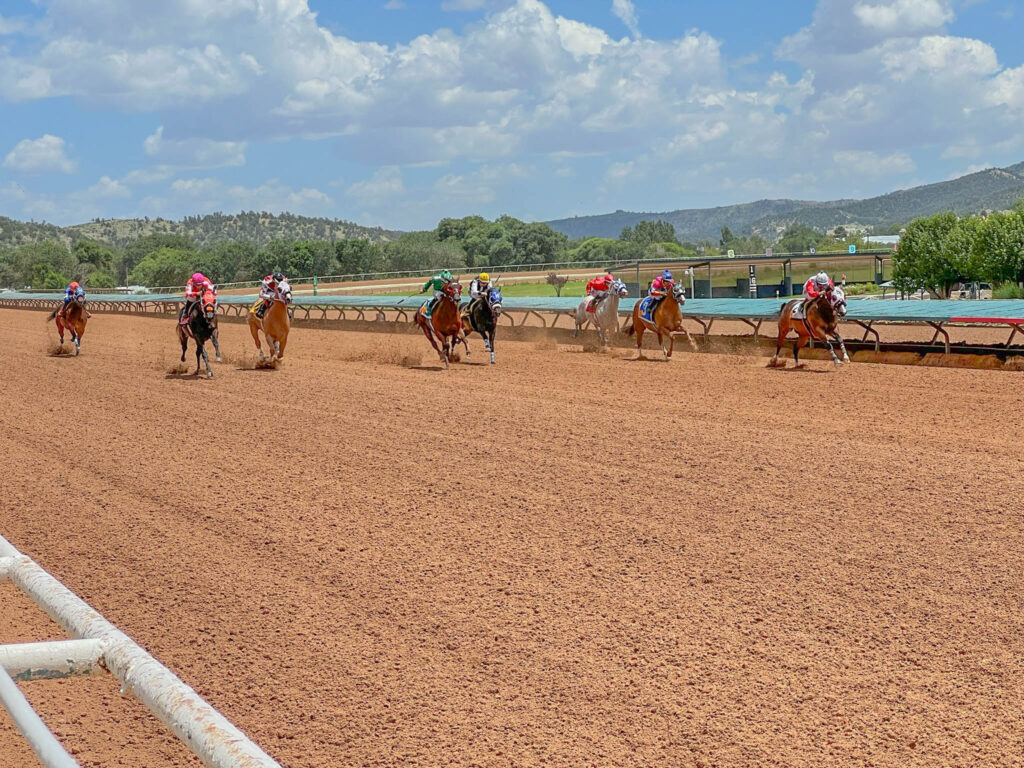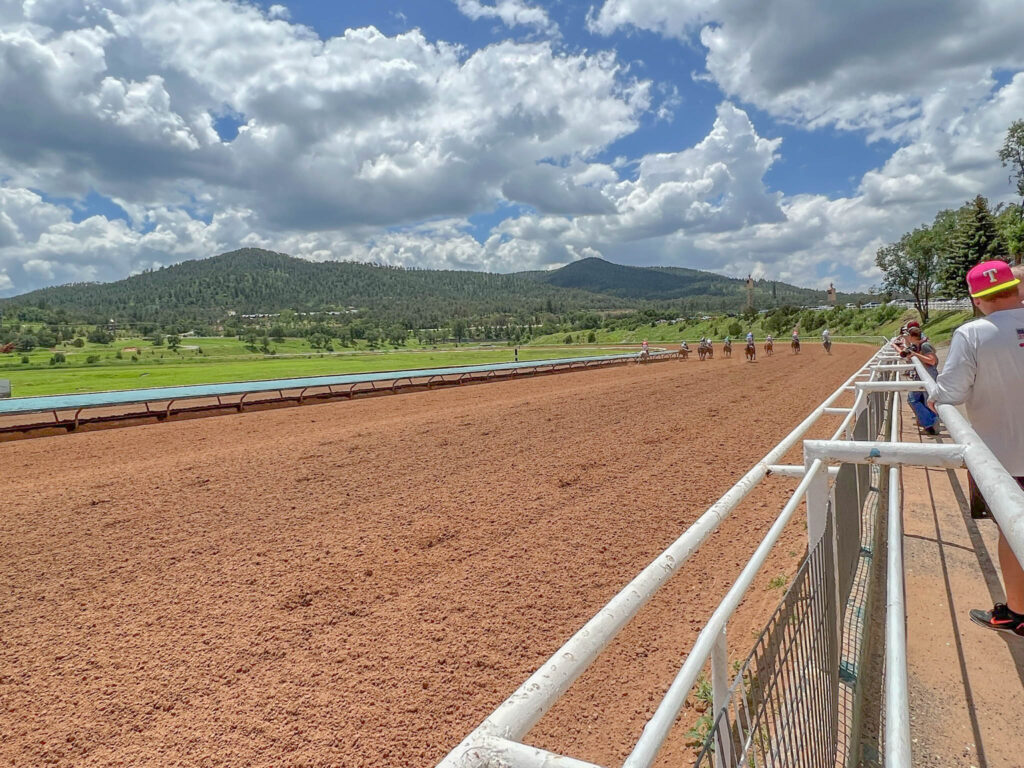 It's all over very fast. I quickly figure out that this race just goes down the straightaway, rather than around the track. Well, that works for me, since my horse won.
I check out the monitors just to make sure that my horse really did win. It's true, I picked a winner. My extensive horse research had paid off.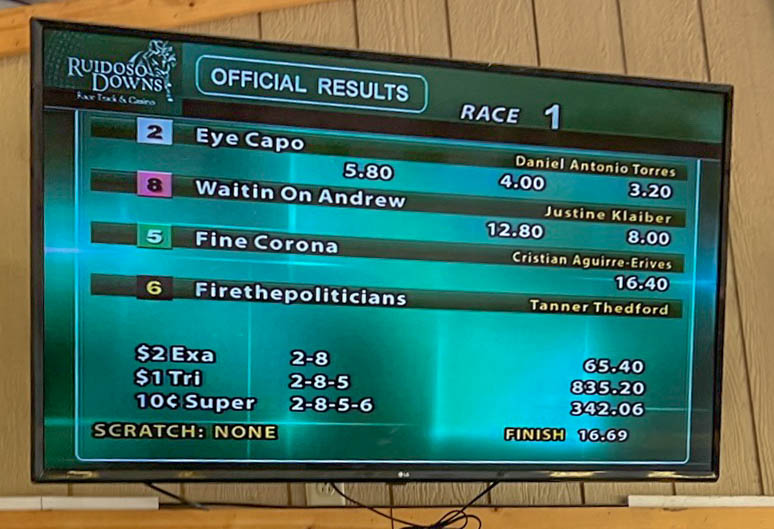 Collecting My Winnings
Feeling like I won the lottery, I walked quickly back to the ticket counter to collect my winnings, with visions of an early retirement on the horizon. My friend behind the ticket counter congratulated me, looked up my winnings, and handed me a stack of bills. A small stack. Ok, a few bills and two coins. I was now holding $14.50 in my hands.
Since nobody was in line, we talked for a bit. He joked that I'll be hooked on horse racing now that I've had a taste of success. I asked him how long he'd be involved with horse racing. He said that he's been coming to the track for 10 years and working there for the past 5 years. He joked that his wife used to complain about him spending too much time at the track so he decided to get a job at the track so he could tell his wife that he's just going to work. We shared a few laughs, and I was on my way.
Now that I was alone, it was time to bask in the glory of winning at the horse races. Factoring in my initial investment of $5, I was walking away with $9.50 in profit. Hmmm, not quite enough for an early retirement. But, it turned out to be enough for a Blue Bell ice cream cone, so I went with that option instead.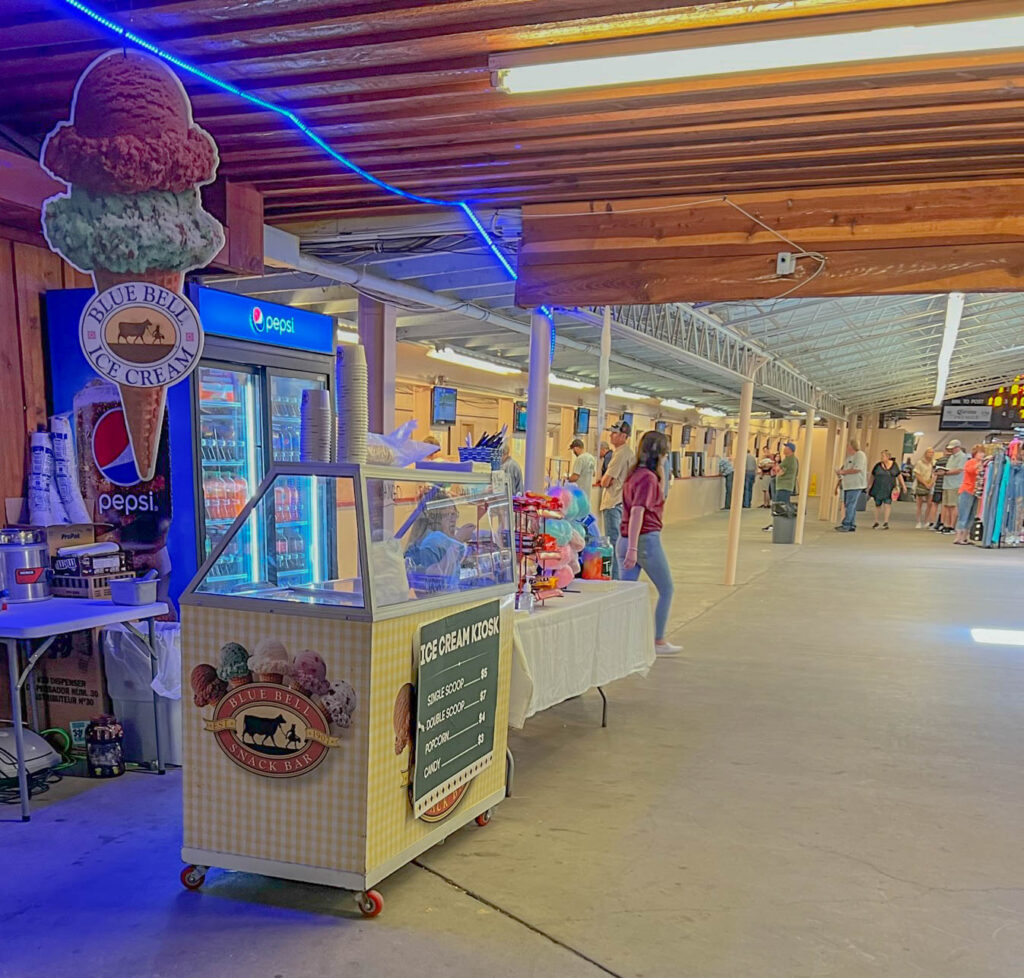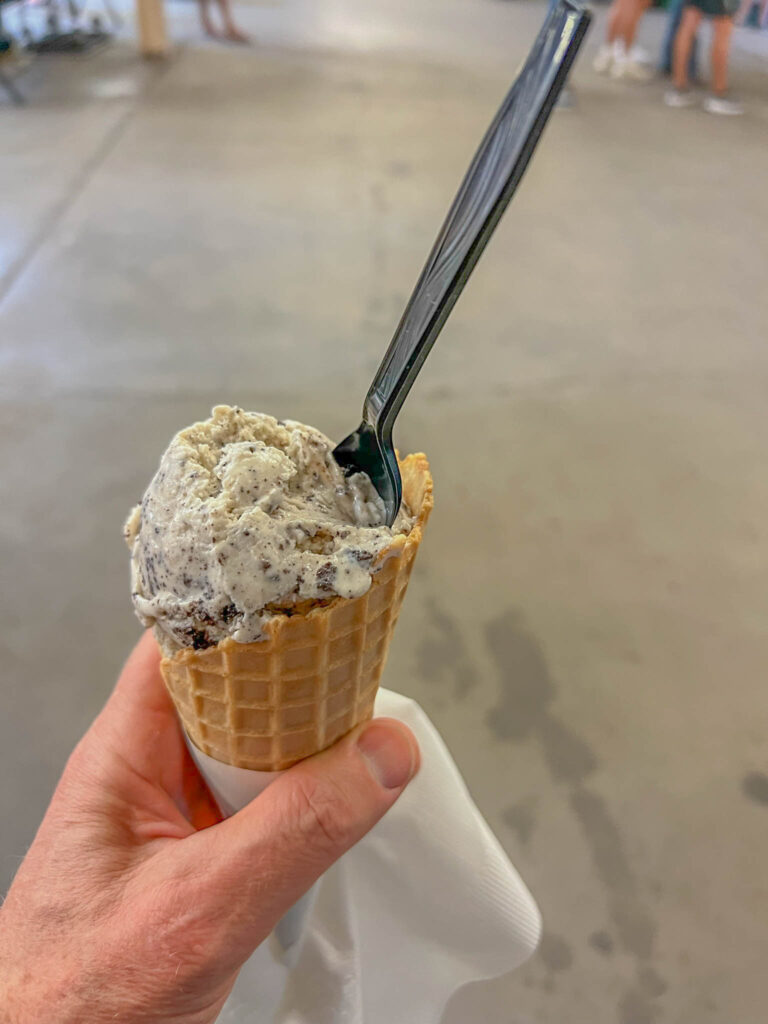 My Retirement From Horse Race Betting
After giving it some long, careful thought, I decided at that moment to put an end to my horse race betting career. After all, I was walking away with a positive return on investment. My career winnings tallied up to $3.50 in my pocket and a Blue Bell ice cream cone in my hand. It's always good to end a career on a high note.
As I walked away with the taste of cookies and cream ice cream in my mouth, I turned my head to look wistfully back on the race track that had made it all possible. I'd enjoyed my horse race betting career, all 90 minutes of it. I'll always look back on that period of my life with a smile. And I have a sneaking suspicion that I'll be back.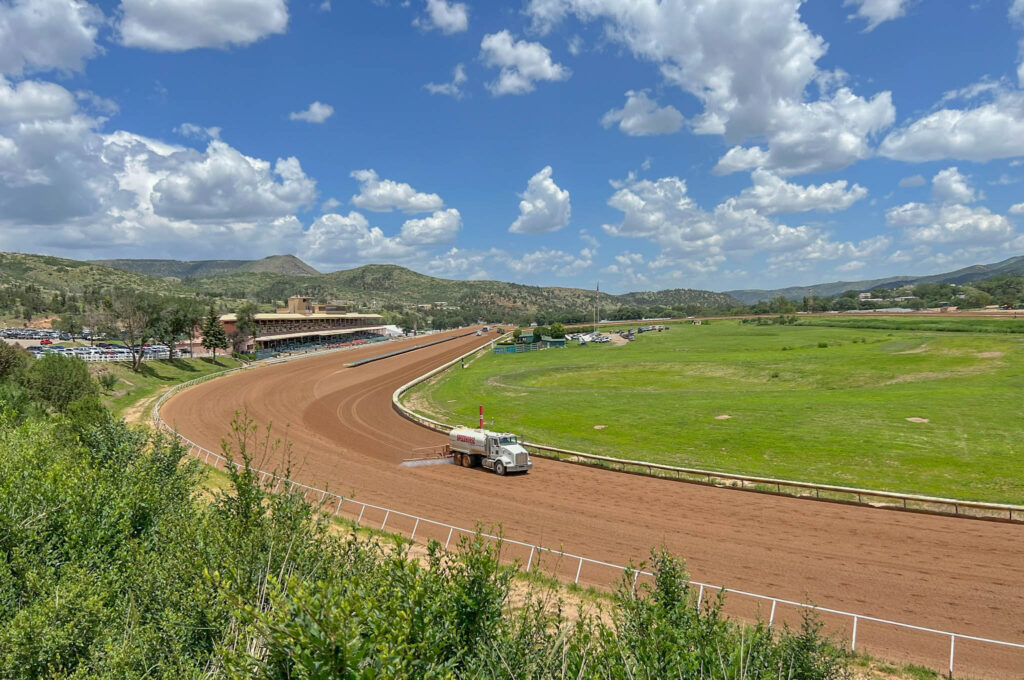 "Free Spirits at Noisy Water"
Soon after leaving the parking lot to start my journey home, I noticed some large horse statues that appeared to run through what looked to be a park. That's not something I see every day, so I decided to check it out and stretch my legs before the three-hour drive home. I'm definitely glad I stopped. It turned out to be a sculpture display called "Free Spirits at Noisy Water" by Dave McGary. The sculptures are located in front of the Hubbard Museum of the American West in Ruidoso Downs.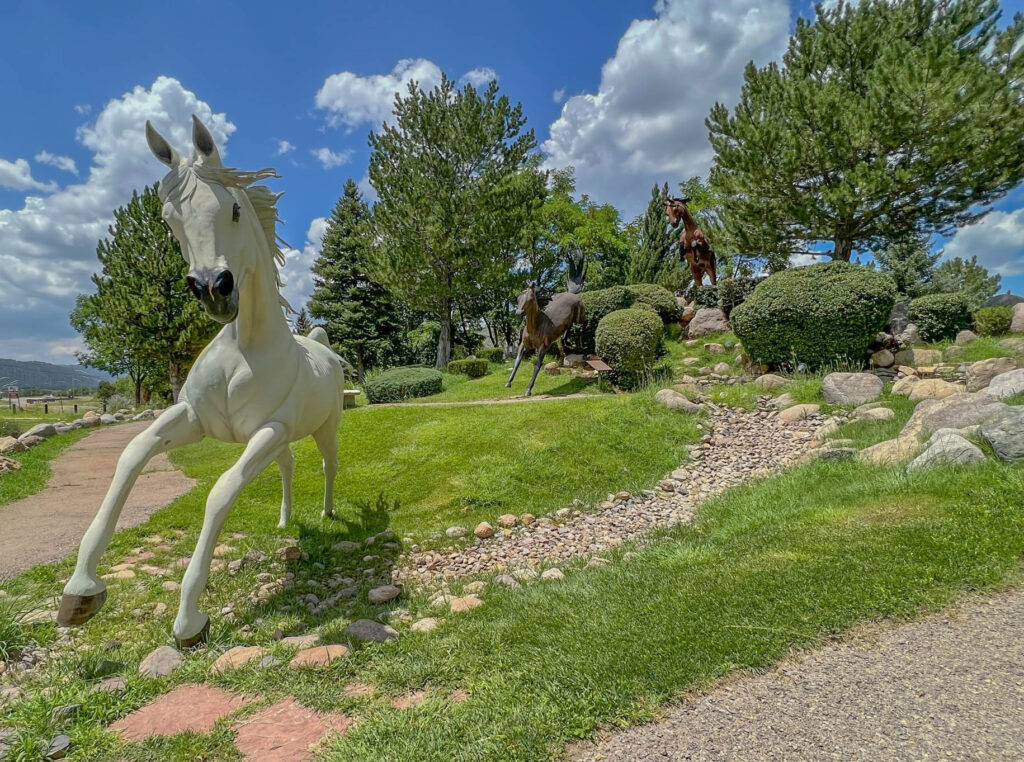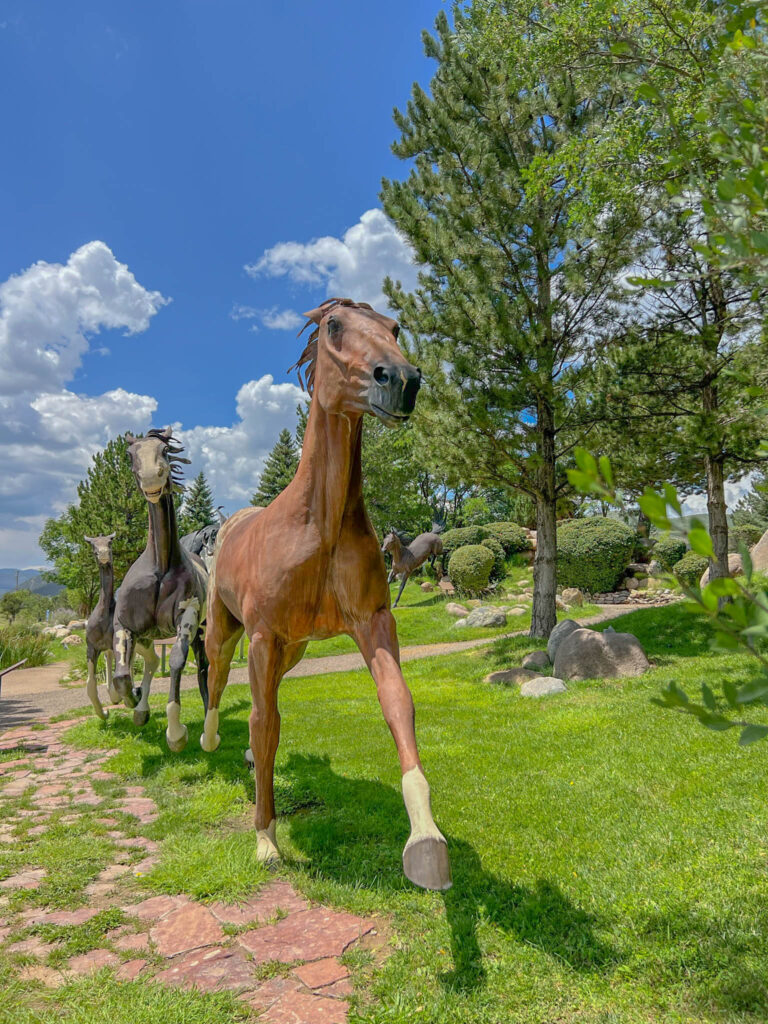 The display features eight large, bronze, horse sculptures that represent seven American breeds: Thoroughbred, Quarter, Appaloosa, Paint, Arabian, Morgan, and Standard. Each of the sculptures weighs 3,000 – 5,000 pounds. Despite the heavy weight, the eight horses are balanced on a total of nine hooves that hit the ground, which doesn't sound like an easy thing to pull off.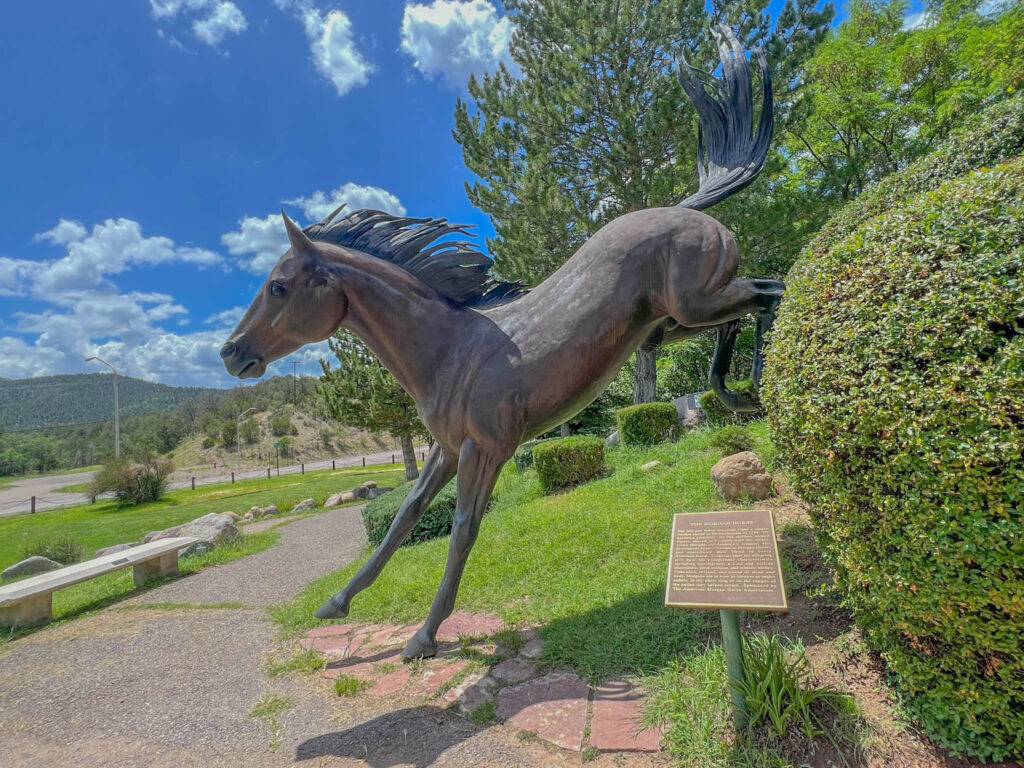 The sculptor, Dave McGary (1958 – 2013), was originally from Cody, Wyoming, where he started to learn his trade from a well-known artist and metalworker named Harry Jackson. After that, McGary went to Italy to study bronze casting techniques before settling down in New Mexico to open a studio and bronze gallery. His work features very realistic pieces that are primarily focused on Native American people and culture.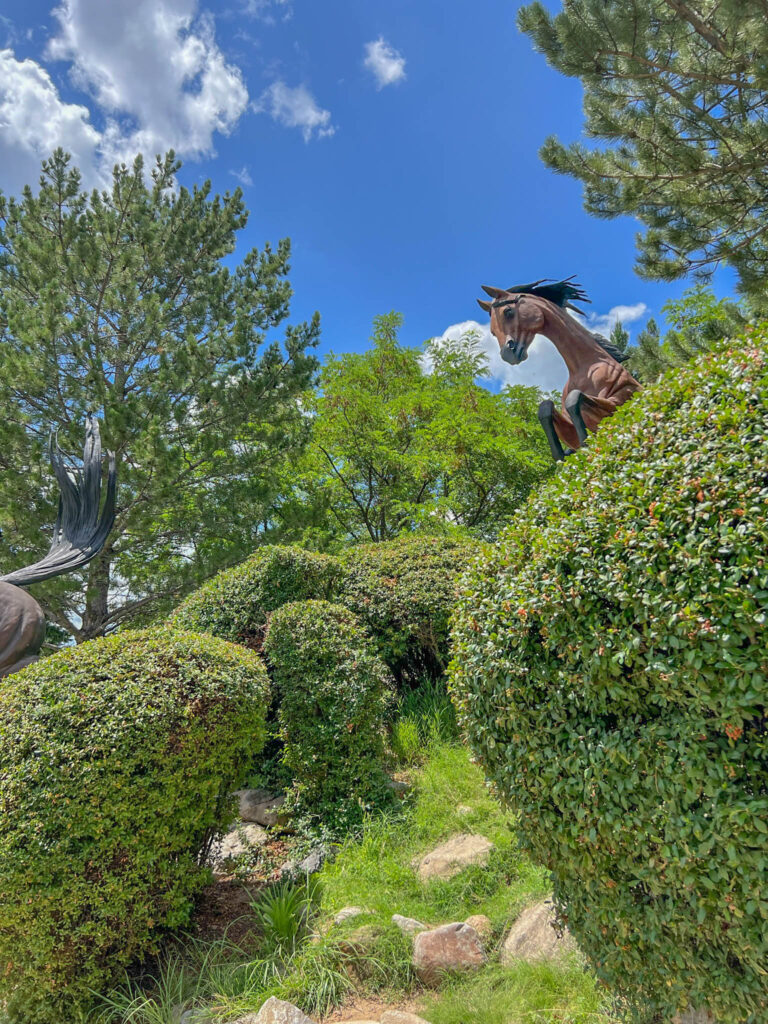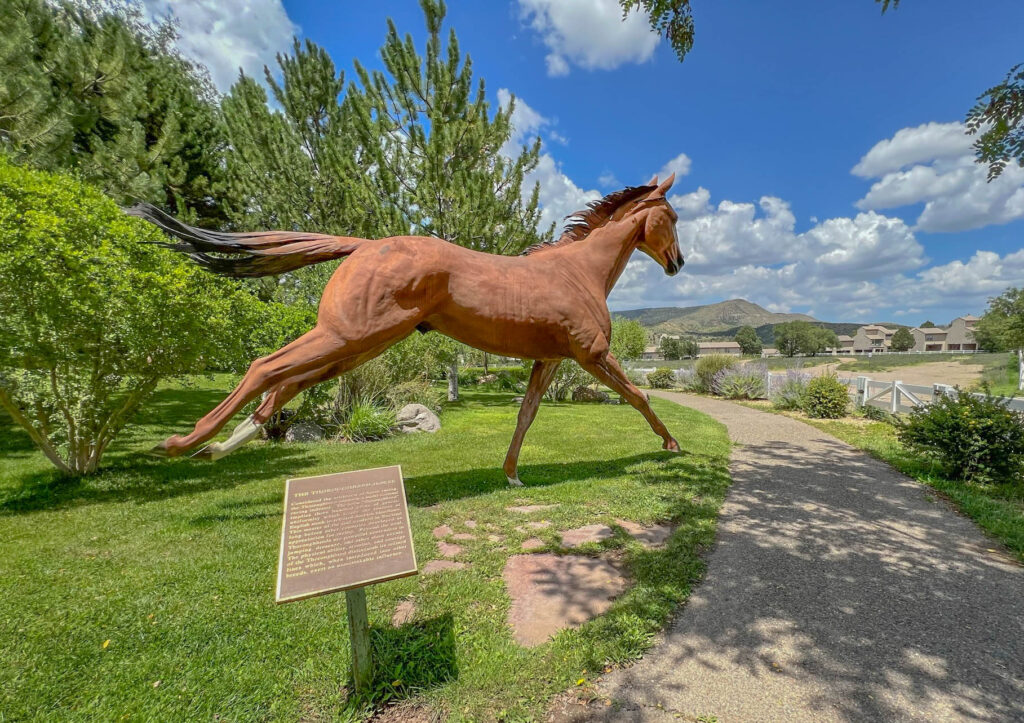 "Free Spirits at Noisy Water" runs 255 feet in length, making it one of the largest equine sculptures in the world. It's located in front of the Hubbard Museum of the American West, but unfortunately the museum has been closed since March 2019. It's still worth a stop to check out the horses running wild through the landscape. It's an impressive sight.
You can learn more about Dave McGary and his work at www.davemcgary.com.
Here's how Dave McGary wanted to be remembered:
"How I want to be remembered … For having documented, with respect, the culture of Native American people. For being innovative and establishing my own techniques and style of work. I hope I have changed the way people look at bronze sculpture. For showing that there really are no limits in what is possible in bronze, that we can capture an amazing amount of detail and depth of color for another level of realism" – Dave McGary
Mission accomplished Dave. A job well done.
---
Thought for the Week
For this week's edition of the "Thought for the Week", I decided to go with a horse theme, in honor of the Ruidoso Downs horse racing track and Dave McGary, sculptor and creator of the "Free Spirits at Noisy Water" display in Ruidoso Downs.
"You try to do the best with what you've got and ignore everything else. That's why horses get blinders in horse racing: You look at the horse next to you, and you lose a step."
— Jimmy Lovine
---
---
Thanks for reading and happy travels!
Mark (The New Mexico Travel Guy)
Mark Aspelin, The New Mexico Travel Guy (www.newmexicotravelguy.com), is a travel writer and author of two books who has enjoyed a wide variety of adventures in his travels to over 100 countries and all 50 U.S. States.  His current project involves visiting EVERY town in his home state of New Mexico (there's over 500 towns) and writing a story about each one.  When not traveling, Mark lives as a recluse in the mountains outside of Albuquerque, New Mexico.