Three great hiking options and everything you need to know about my favorite hike: Tree Spring Trail
As an avid hiker who has lived in the Albuquerque metro area for the past 20 years, visitors frequently ask me the question, "what is the best hike near Albuquerque?" My answer:
If you're looking for a longer, strenuous hike, then La Luz is the best trail in Albuquerque.
If you're looking for a place that offers a variety of hiking, mountain biking, and outdoor activities in Albuquerque, you may want to consider the Elena Gallegos Open Space in the foothills of the Sandia Mountains.
If you're looking for a shorter hike with nice views and you're willing to drive about 35 minutes to the other side of Sandia Peak, then my personal favorite is Tree Spring Trail.
The "La Luz" answer doesn't come as a surprise to most people. It's a classic, well known 7.5 mile trail (one-way), that climbs 3,200 feet from the trailhead to the upper terminal of the Sandia Peak Tram. You can learn more about La Luz by clicking here.
There's even an annual La Luz Trail Run. I've done the race several times and I highly recommend it if you don't mind some pain and suffering as you climb more than 4,000 feet over a nine mile course to the top of Sandia Peak. It's longer than the normal hike as the race starts lower down on a road to help spread people out before they hit the actual trail. If racing to the top of Sandia Peak sounds appealing to you, you're not alone. The race sells out every year and you'll need to enter a lottery to get one of the coveted 400 slots that are permitted by the U.S. Forest Service.
Elena Gallegos Open Space is another great option if you're in Albuquerque as there are a wide range of hiking and mountain biking options. There are short to moderate loop trails, out-and-back trails, as well as longer, more strenuous trails such as Pino Trail that climb up various parts of Sandia Peak.
But my favorite trail that I recommend for people looking for a relatively short hike with nice views is the topic of this post: Tree Spring Trail. Tree Spring Trail is located in the "East Mountains of Albuquerque." In other words, if you're in the city of Albuquerque, then you'll need to take I-40 East and drive to the other side of Sandia Peak. It's about a 35-minute drive to the Tree Spring trailhead from downtown Albuquerque, but it's well worth it.
Here are directions to the Tree Spring Trailhead:
Take I-40 East from Albuquerque and get off on Exit 175 toward Cedar Crest / N-14.
Take NM-14 North for about 6.5 miles to NM 536 (aka the Sandia Crest Scenic Byway). You'll also see a Shell gas station on your right as you approach NM 536, as well as the Lazy Lizard Grill … a good place to stop after your hike for pizza, beer, and other food (and Live Music if you time it right) to help ensure that you'll end up gaining weight despite going on a hike.
I should also note that if you need to use your phone for any reason, do it here. Phone service is very spotty once you get to the trailhead.
Take a left on NM 536 and follow it for 5.5 miles until you see the Tree Spring parking lot on your left side.
Your view as you approach the parking area will look something like this: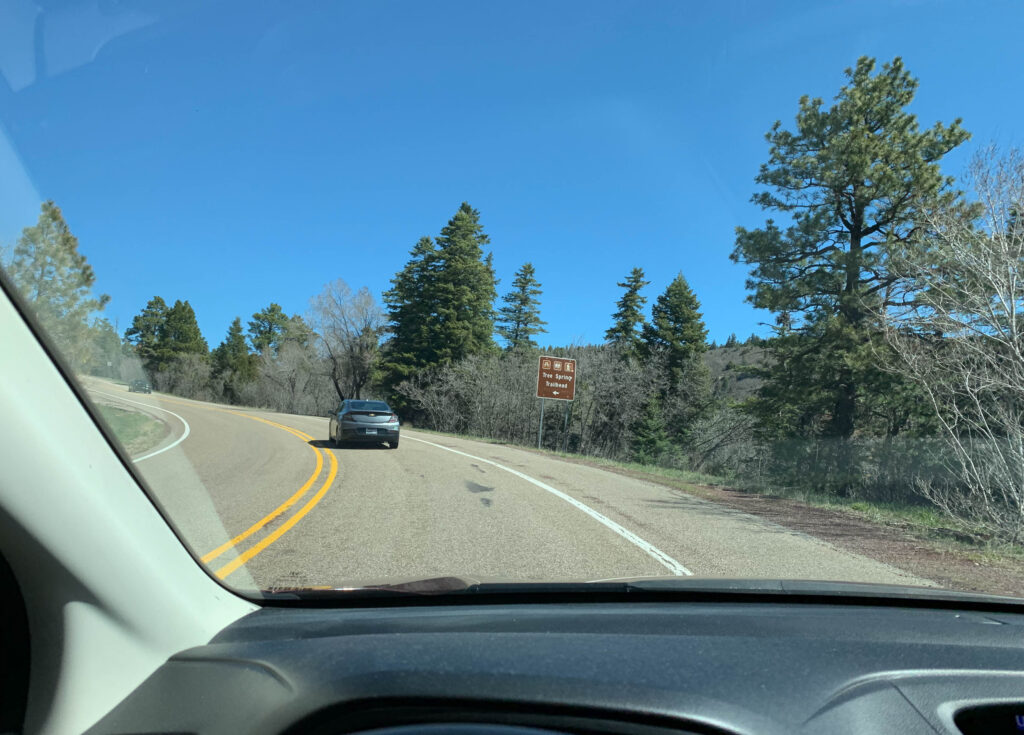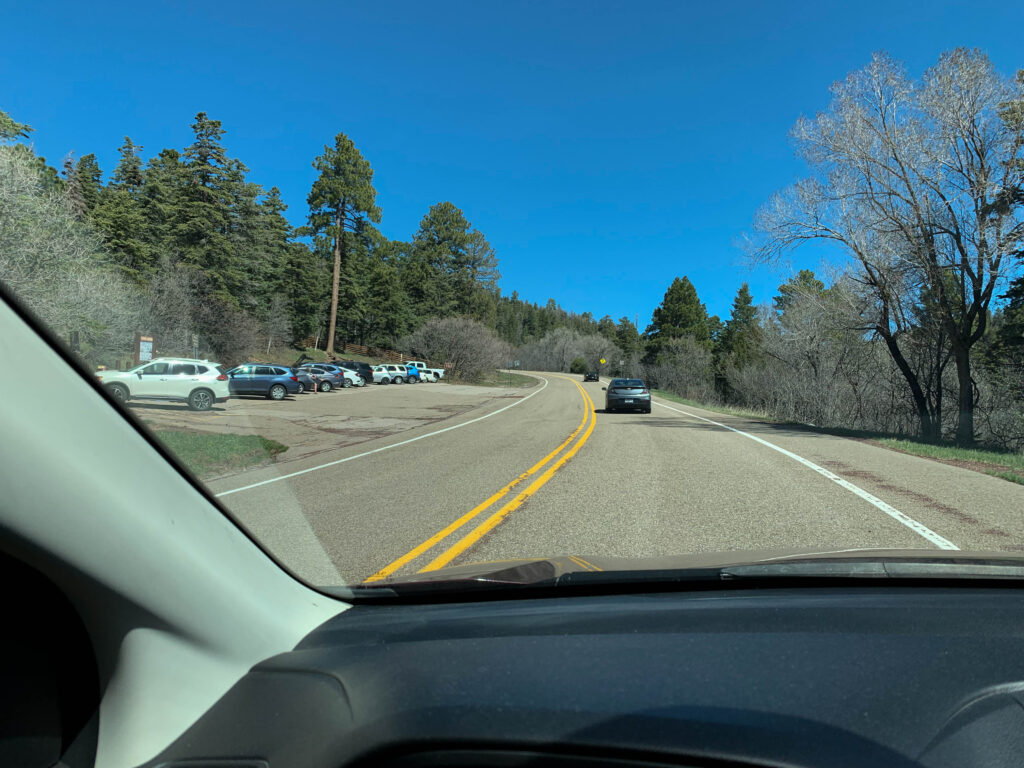 As of June 2019, you'll either need to pay $3 per vehicle or $10 for a high capacity vehicle (15 or more passengers). Bring exact change as you'll be putting the money in an envelope and dropping it in a narrow slot. Too many coins will make the envelope too thick to fit in the slot, so try to remember to bring some dollar bills. It's a self-service pay station so there's nobody there to give you change or charge your credit card.
For the detail-oriented readers out there, you may notice that the trailhead sign calls the trail "Tree Springs Trail", while the USDA Forest Service website calls it "Tree Spring Trail". Feel free to use whatever option sounds better to you. I usually hear it referred to as Tree Spring Trail, without the "s".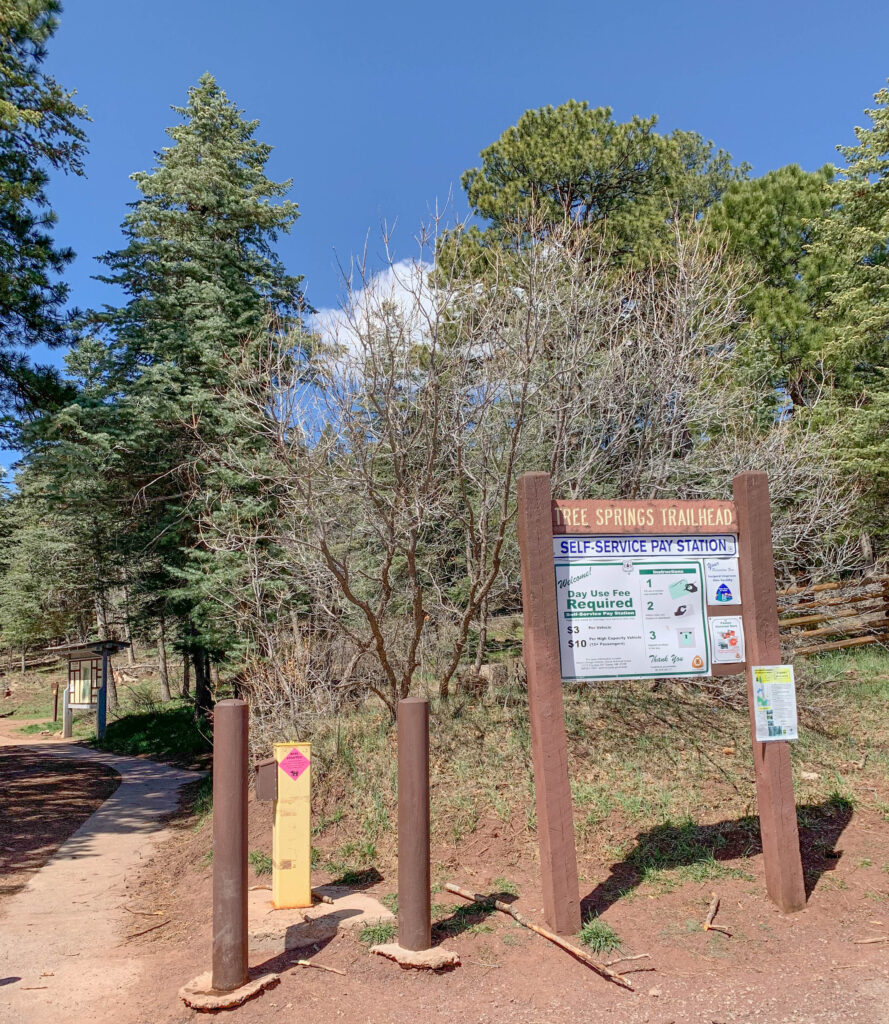 You can also use an annual pass if you happen to have one of the approved passes pictured below. The closest place to purchase the annual pass that I'm aware of is the Sandia Ranger District office at 11776 Hwy 337 in Tijeras.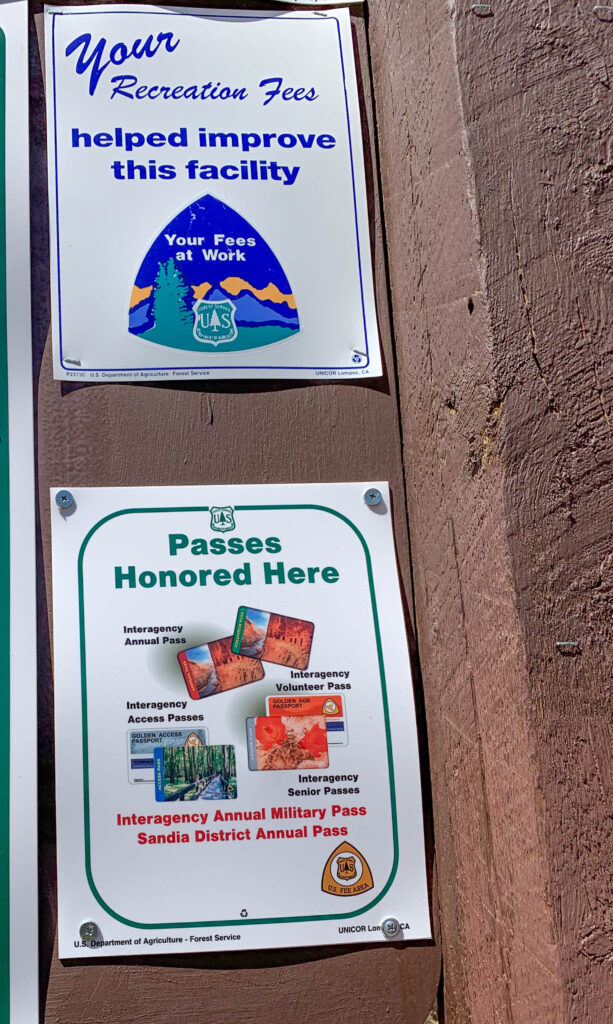 … and you'll also find some picnic tables and a toilet near the parking area.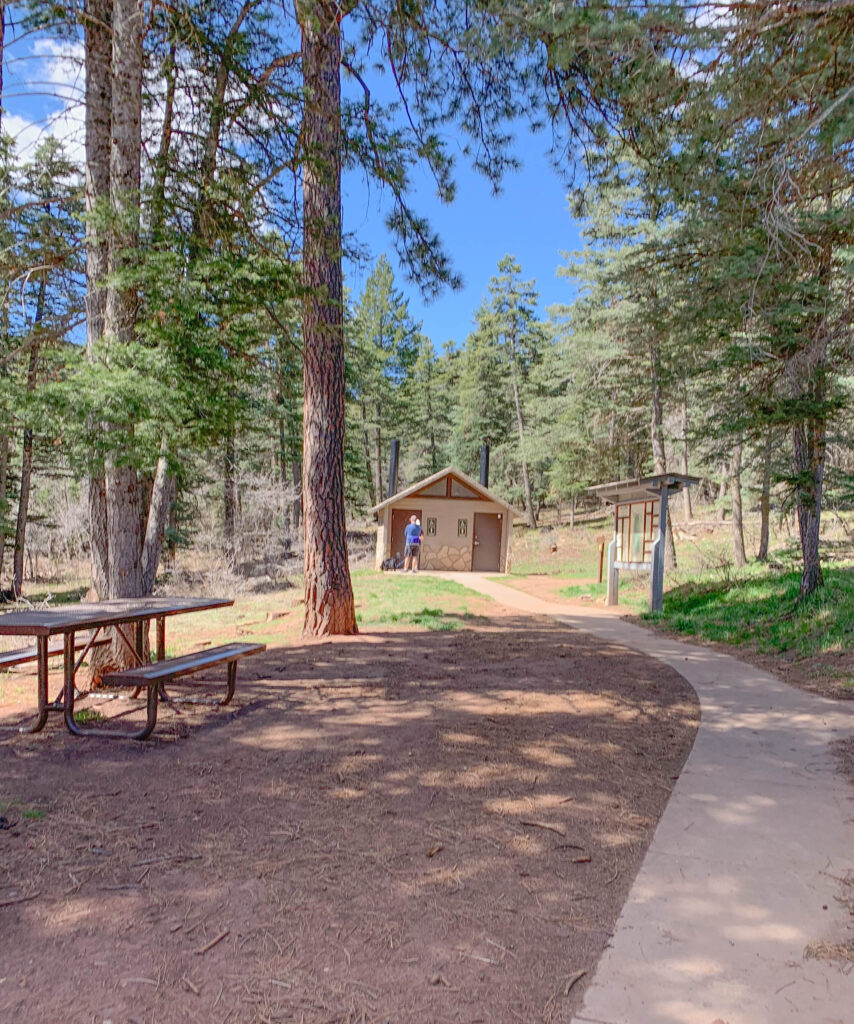 Now it's time to hit the trail.
As you can see from the signs below, Tree Spring is a multi-use trail and dogs are welcome if they're on a leash. Keep in mind that your dog will likely encounter quite a few other dogs during your hike so be prepared. In addition to dogs, I've seen quite a few mountain bikers, two crazy unicyclists, horses, and several alpacas in the 25+ times that I've hiked Tree Spring. In the winter, you may find some people snowshoeing. Yes, snow is common in the colder months since the trailhead is at 8,470 feet and the top of the trail is at 9,440 feet. This side of Sandia Peak has much more shade and it's about 5-10 degrees Fahrenheit cooler than the west side of the mountain, which feels nice in the summer.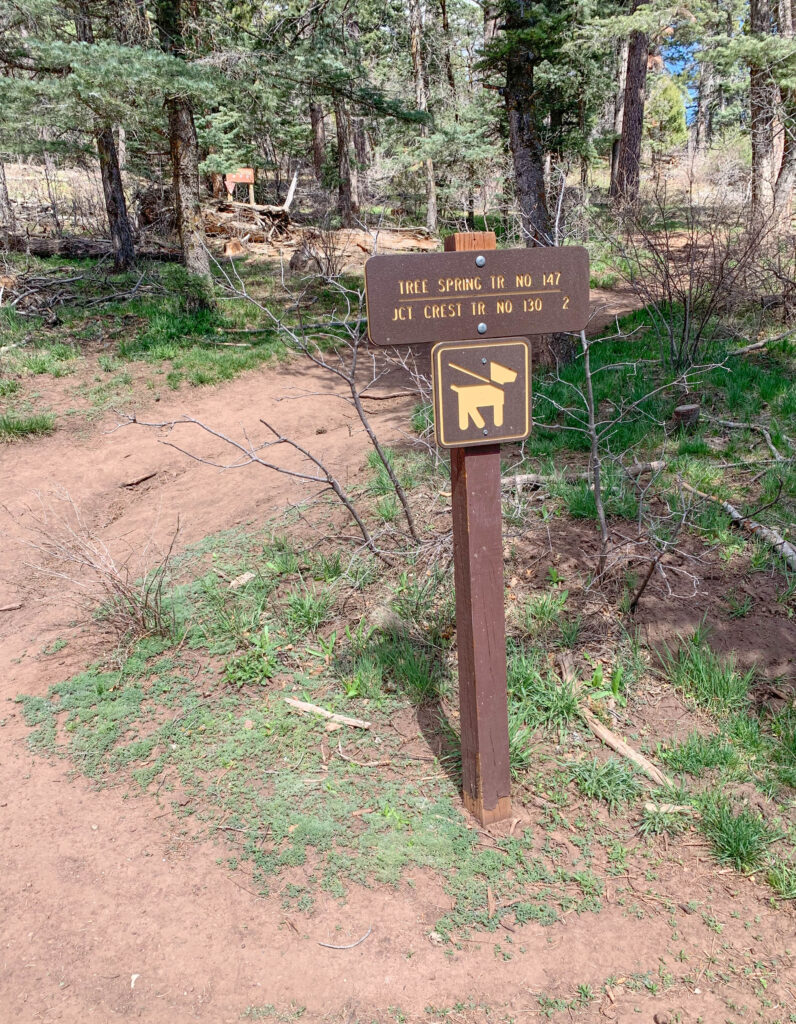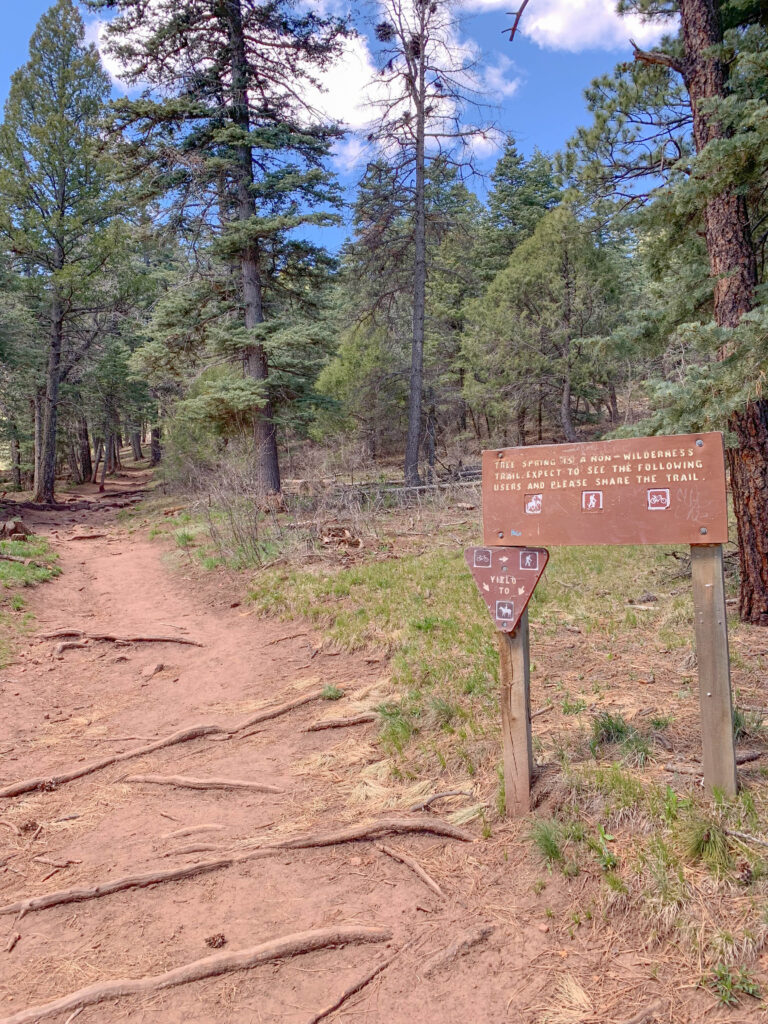 The shade and moisture means that you'll also find different flora and fauna on the east side of the mountain, such as ponderosa pine (pictured below).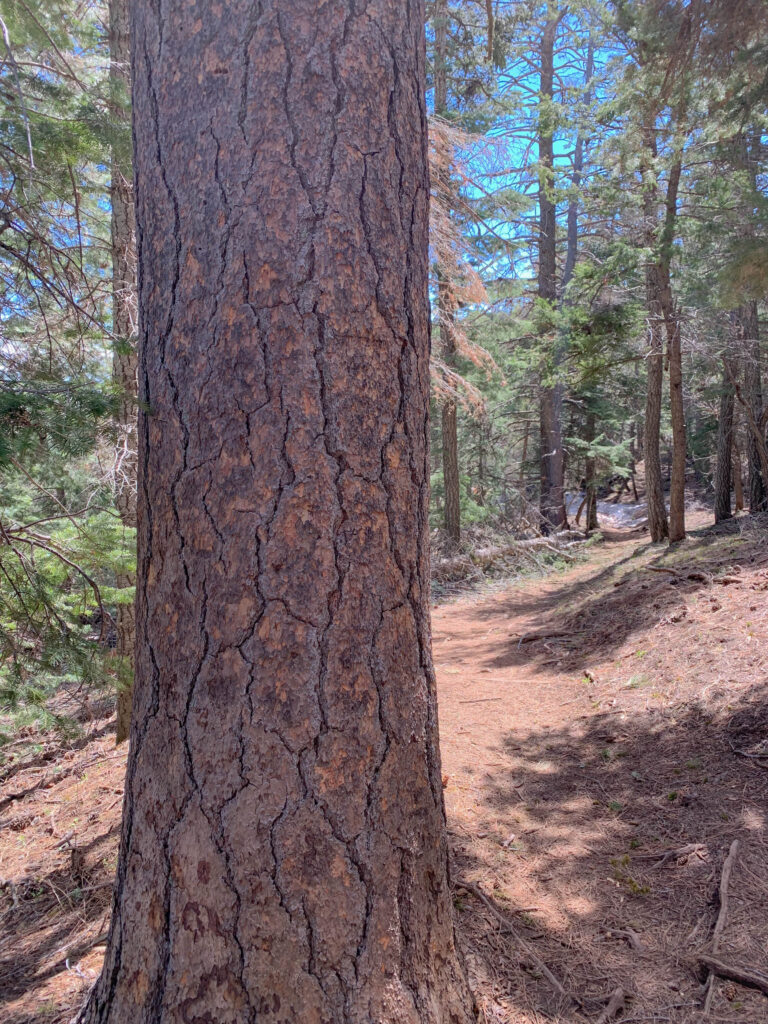 The trail is well-marked and easy to follow in the summer, as you can see below.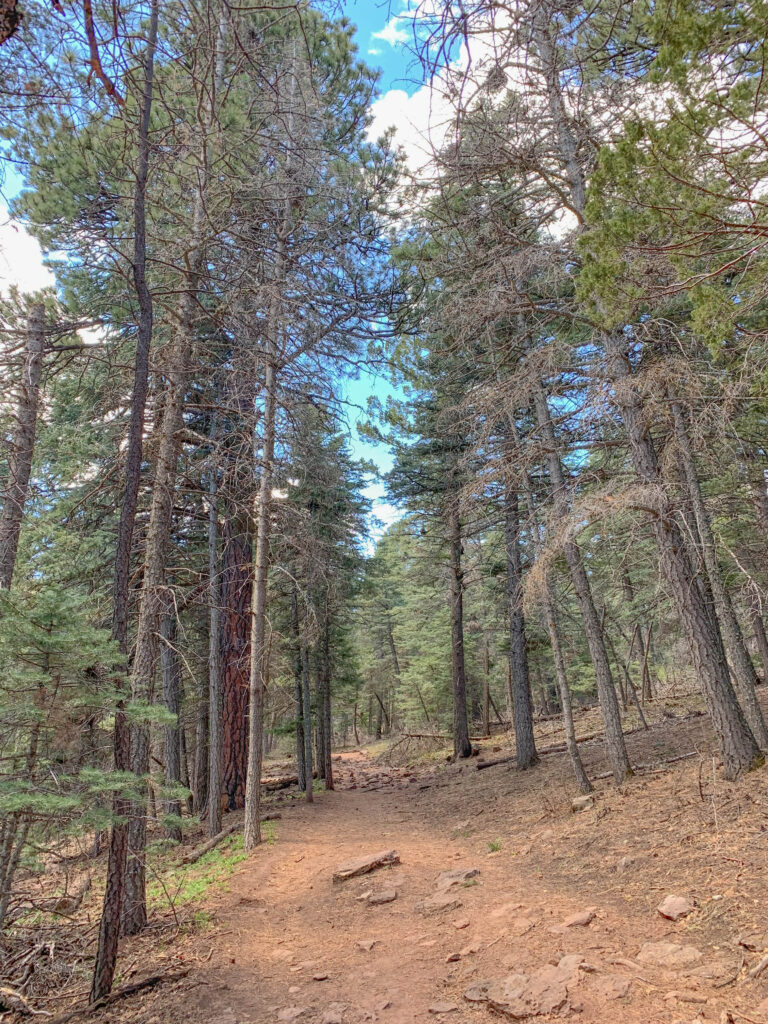 However, if you're hiking in the winter or spring, you may find quite a few downed trees that are blocking the trail. You should be able to walk around or over the tree and pick up the trail again without much of a problem. Here is an example of a downed tree (a relatively small one) that is blocking the trail.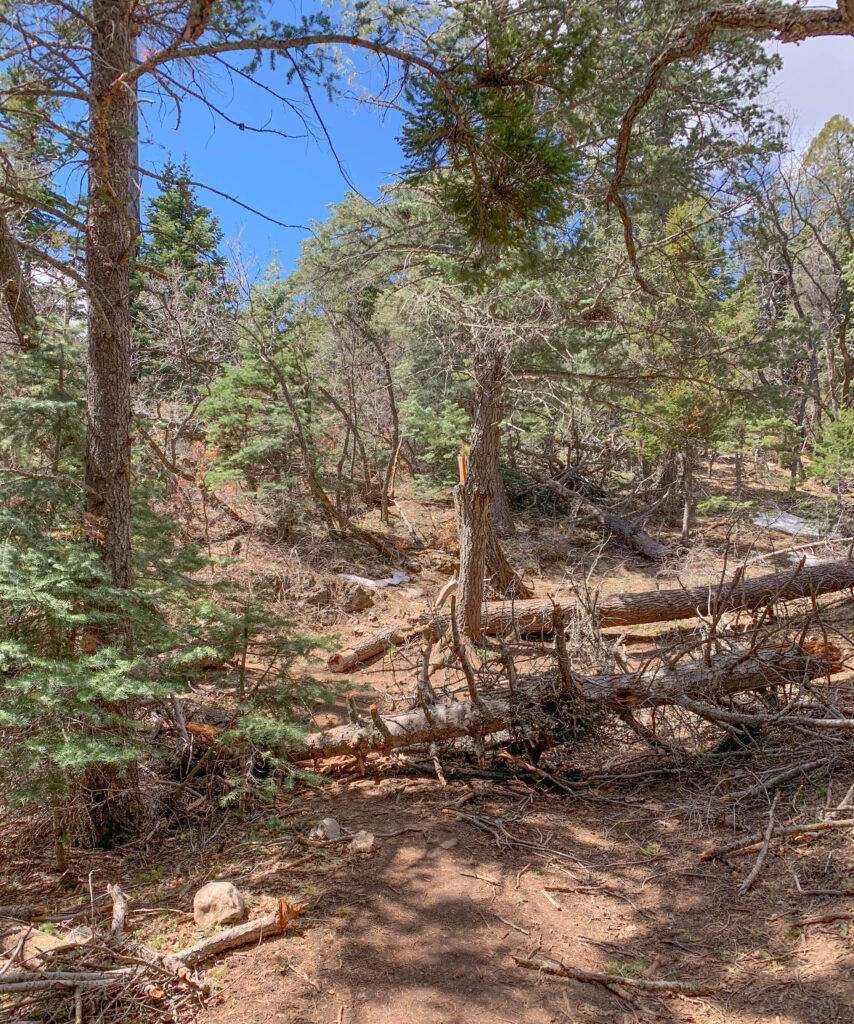 If you're hiking in the winter, snow may be completely covering the trail and you can quickly get off the trail without realizing it. To help keep you on track, many of the trees are tagged with a blue spot, but it can still get confusing at times, particularly after a fresh snowfall that covers up previous tracks.
As you climb up the trail, you'll be rewarded with nice views to the east, such as the picture below.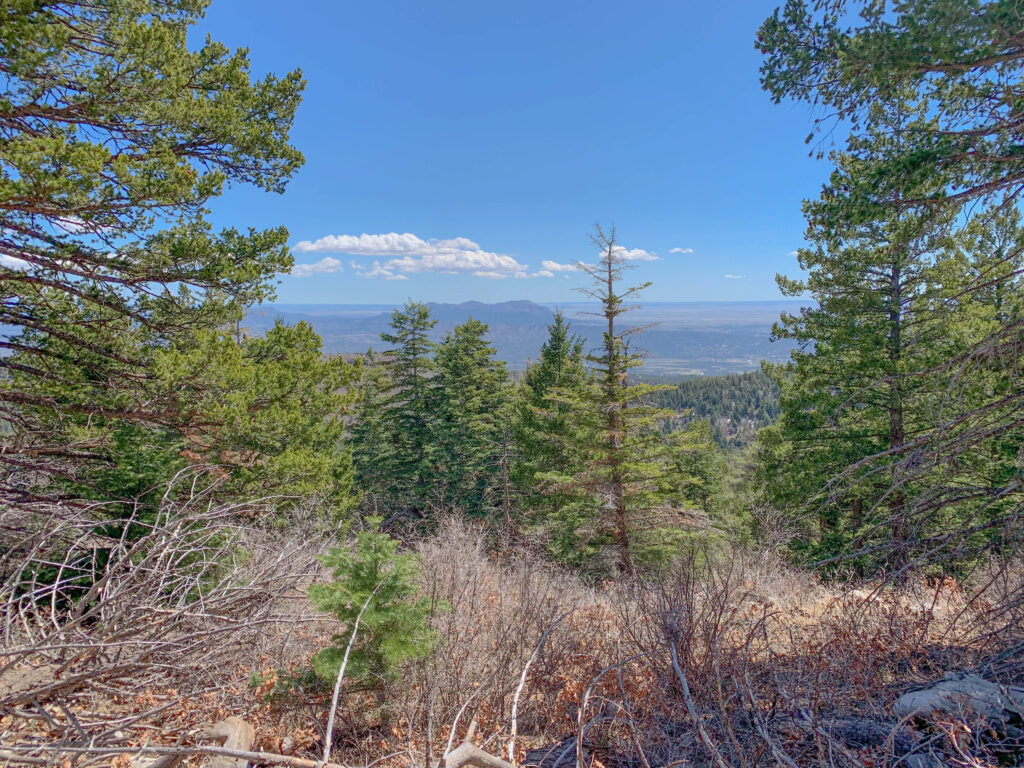 You'll also come across two signs indicating trails that run perpendicular to Tree Spring. In both cases, just keep going straight. The first sign that you'll see is for the Oso Corridor Trail (pictured below). You'll keep going straight over the rocky section of the trail in the photo below.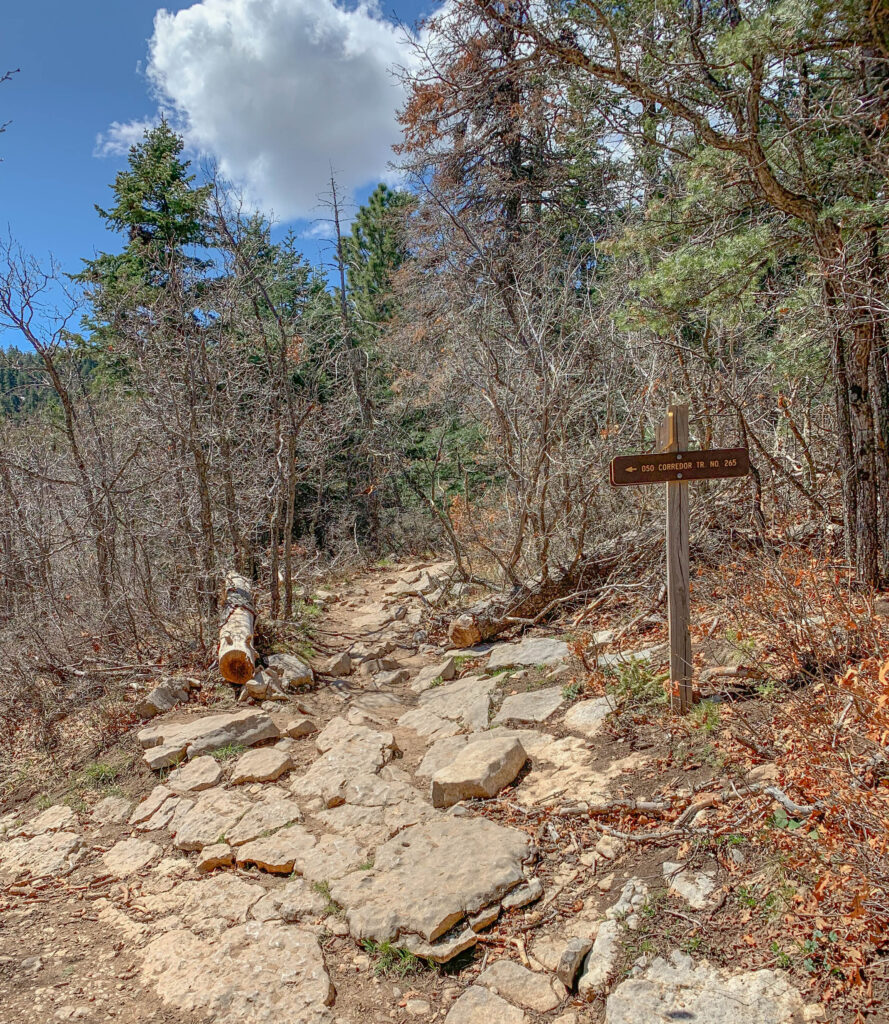 The second sign that you'll see is towards the very top of the trail – for 10K Trail. Just keep going straight through the opening between the two fence posts … otherwise you'll miss the best part!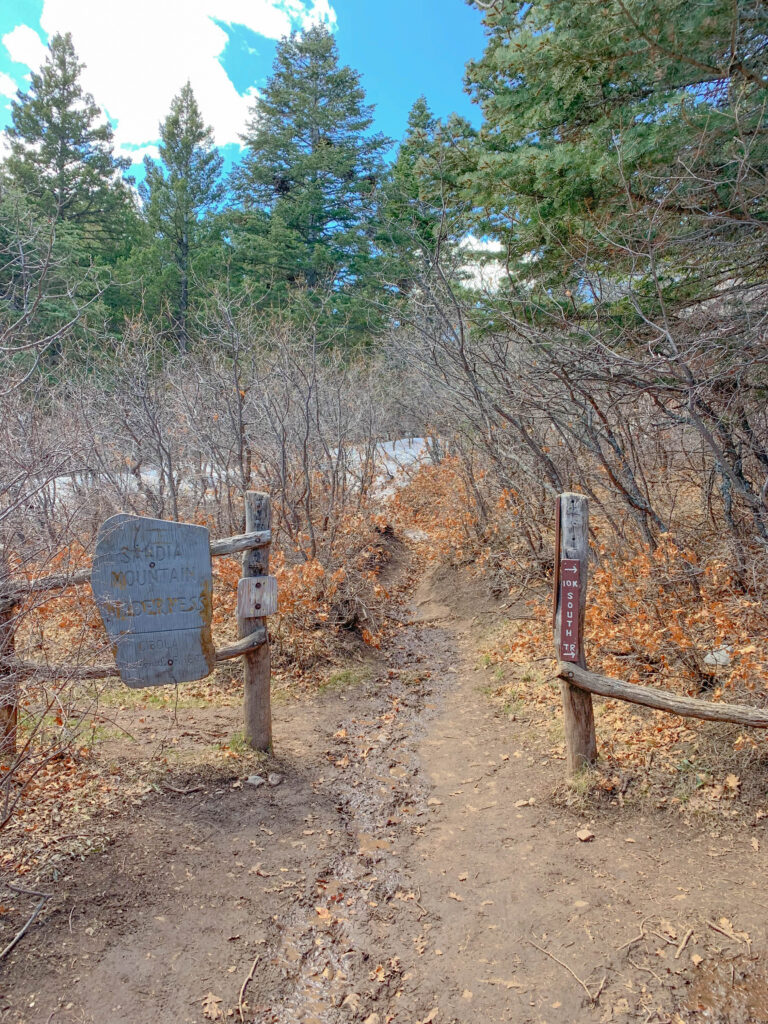 The trail is narrower now and it can be muddy due to melting snow.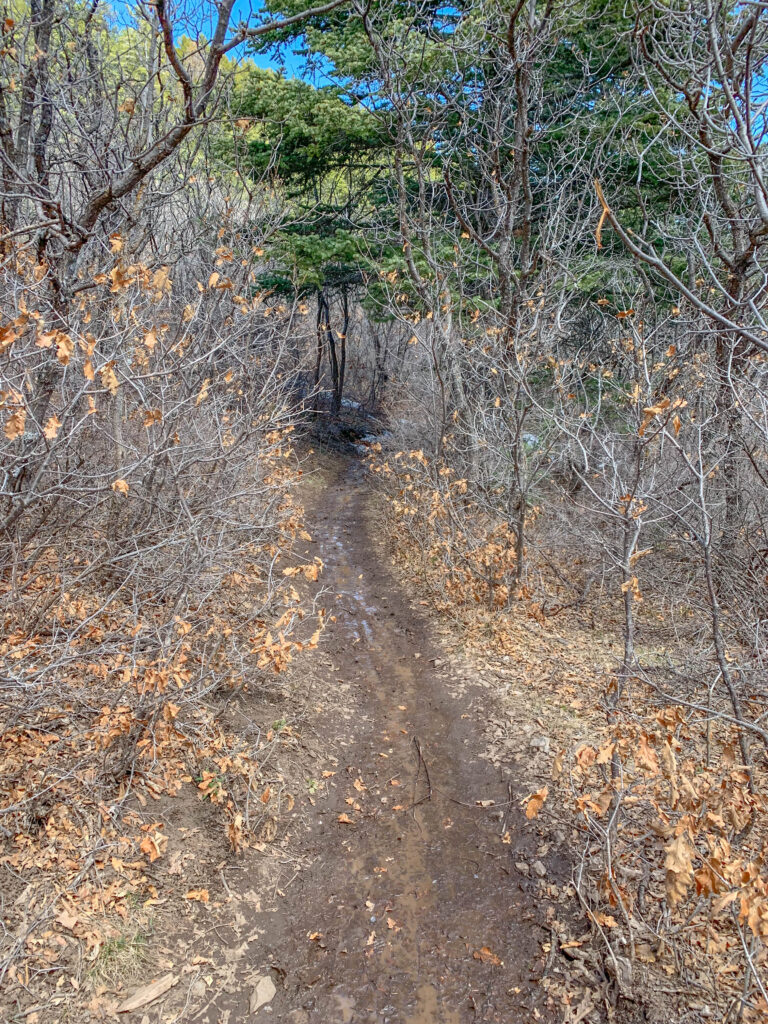 Finally, just 2.0 miles from the trailhead, you'll suddenly find yourself on top of a saddle of Sandia Peak, with fantastic views of Albuquerque to the west. It's often very windy at the overlook, so you'll literally want to hold on to your hat!
Here are the views from the top – a great place to snap some family photos such as the one below from a recent "Father's Day hike" with my father, brother, son, niece, and nephew (a crew ranging from 14 – 77 years old).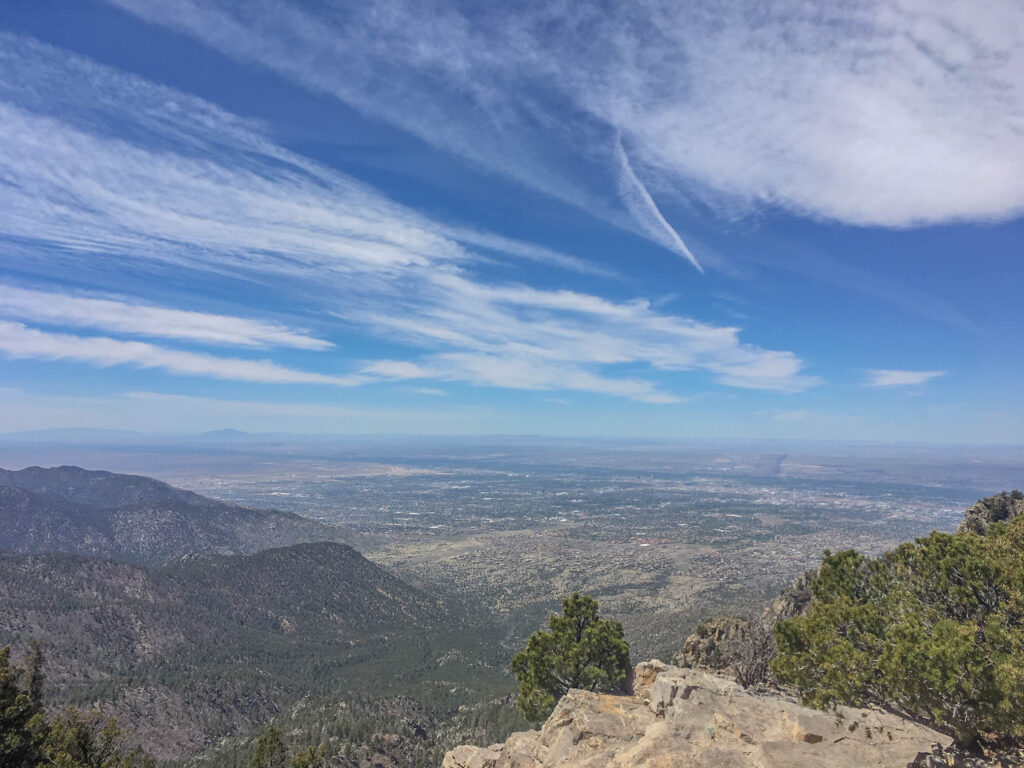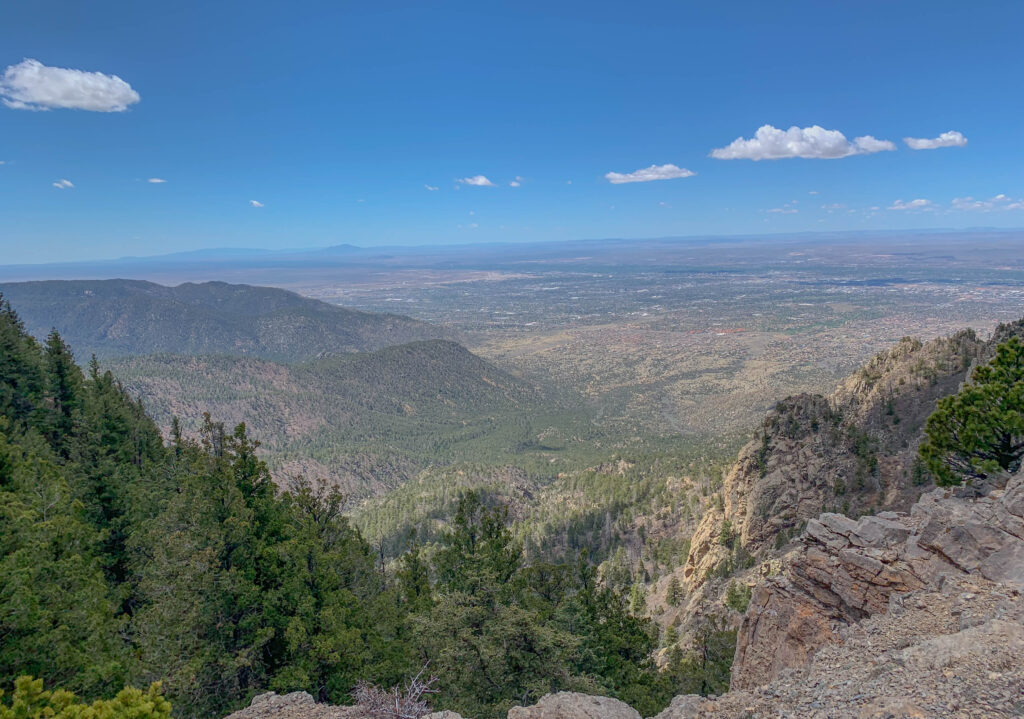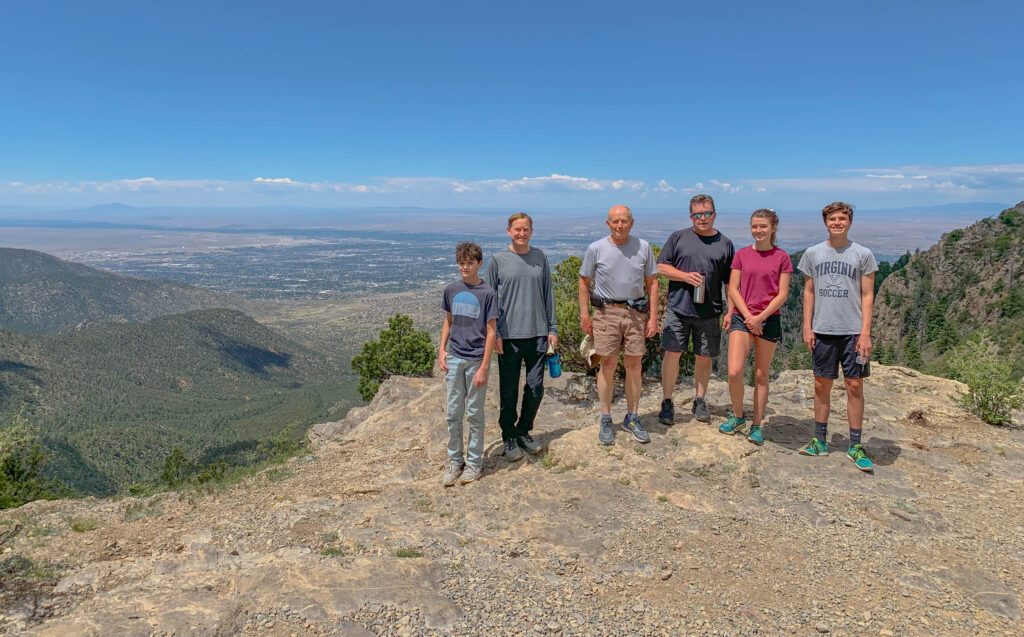 After you've had a chance to enjoy the view, then you'll simply descend 2.0 miles back down the same way you came up. It usually takes people around 45 – 90 minutes to climb up and 30 – 60 minutes to descend, depending on your fitness level and how many breaks you take. So you can expect to finish the hike in 1.5 – 2.5 hours round trip, including some time to enjoy the views at the top. If you're really going for it, you can do the hike much faster. My fastest time (back in my trail running days) was 31:42 up and 20:34 down for a total round trip of 52:16, and many people can do it much faster than that. But I recommend taking your time to enjoy the trail – it's a great hike … my favorite short hike near Albuquerque!
Thanks for reading and happy trails!

Mark (The New Mexico Travel Guy)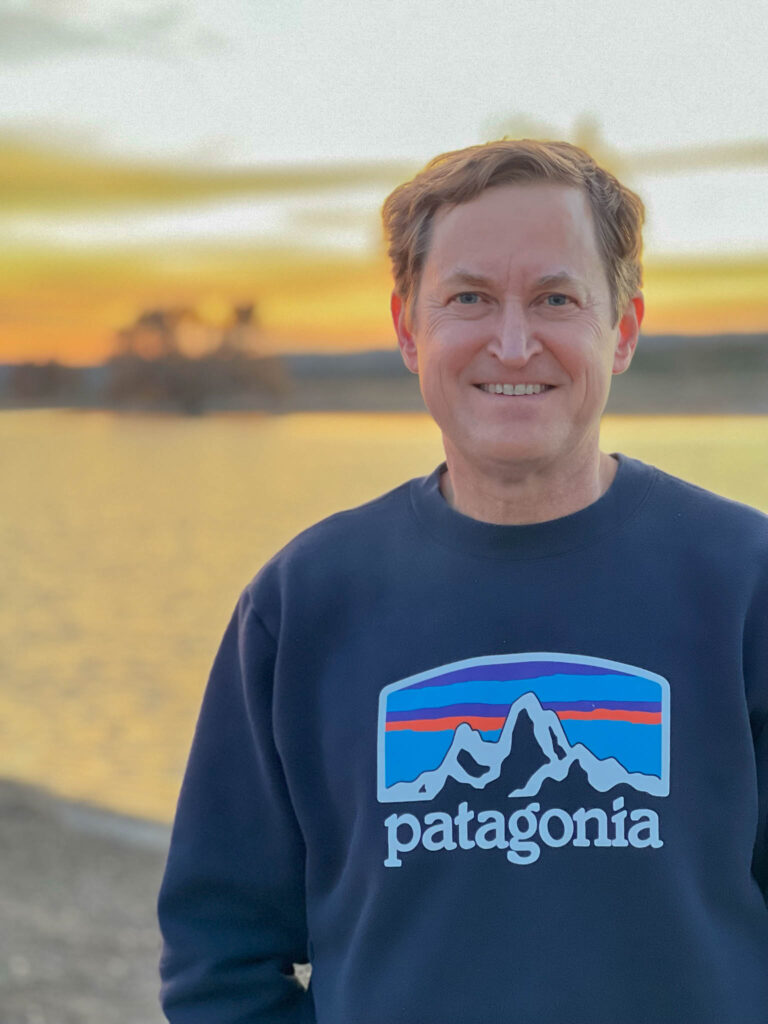 Mark Aspelin, The New Mexico Travel Guy (www.newmexicotravelguy.com), is a travel writer and author of two books who has enjoyed a wide variety of adventures in his travels to over 100 countries and all 50 U.S. States.  His current project involves visiting EVERY town in his home state of New Mexico (there's over 500 towns) and writing a story about each one.  When not traveling, Mark lives as a recluse in the mountains outside of Albuquerque, New Mexico where he's available to write well-researched, accurate, and entertaining articles on assignment for editors. He can be reached at [email protected]