Everything you need to know about the River of Lights Holiday lighting display in Albuquerque, and a few things you don't need to know
Each December, the ABQ BioPark in Albuquerque lights up with its nationally recognized outdoor lighting display known as the River of Lights. While some people think that walking around at night in the winter is about as appealing as dental work, over 127,000 people disagreed this winter. So what's the attraction? Here's everything you need to know, and a few things you don't need to know, about ABQ BioPark's River of Lights.
WHERE IS THE RIVER OF LIGHTS?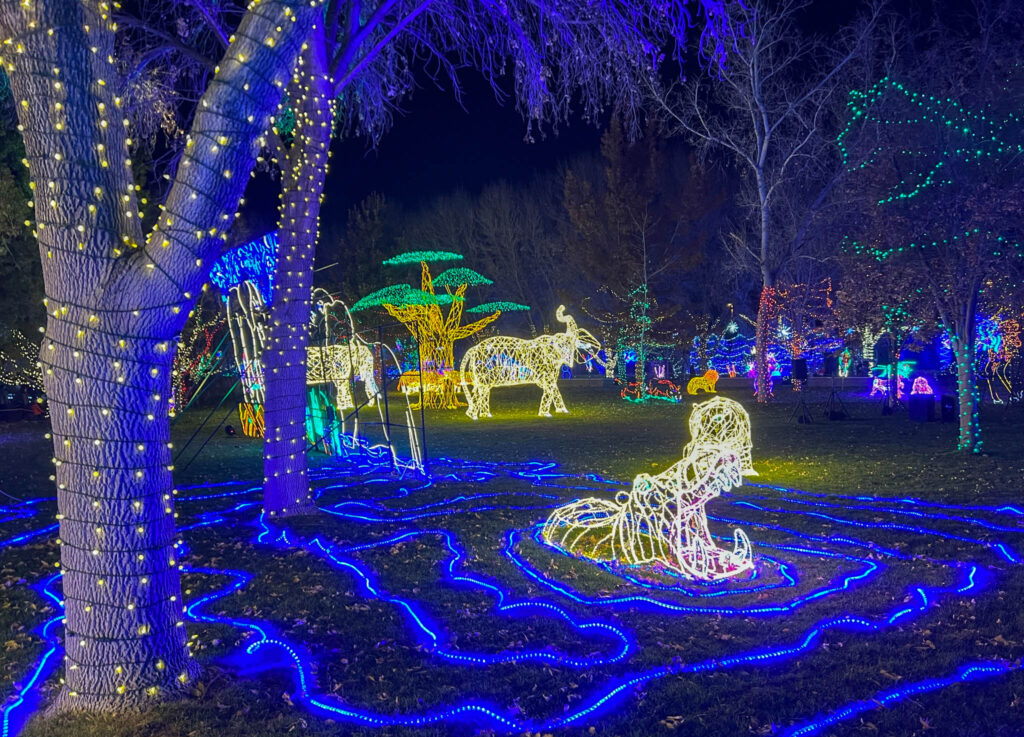 I wince whenever people ask me where the ABQ BioPark is located as I know that it's going to take some time to explain. Navigating the ABQ BioPark can be confusing because there are four parts to it: the zoo, the aquarium, the botanic garden, and Tingley Beach. The botanic garden and aquarium are located in the same place, but that still leaves visitors with three addresses to choose from when trying to figure out where the "ABQ BioPark" is located:
Zoo: 903 10th St. SW, Albuquerque
Botanic Garden & Aquarium: 2601 Central Ave. NW, Albuquerque
Tingley Beach: 1800 Tingley Drive SW, Albuquerque
The River of Lights is located in the Botanic Garden (2601 Central Ave NW). However, to add to the confusion, there's a free Park & Ride at the zoo (903 10th Street NW) that's a good option if the botanic garden parking lot is full … which often happens if you're arriving later in the evening. Finally, to ensure that your head explodes, there's also an option to park at Tingley Beach if you sign up for the "Santa's Magical Experience" VIP option. More about that later.
So let's keep it simple. Your mission, should you choose to accept it, is to get to the Botanic Garden. If the parking lot is full when you arrive at the botanic garden, or if you know in advance that it's going to be a busy night, then a great option is to drive five minutes to park at the zoo and take the free Park & Ride to and from the River of Lights. There's no need to pay money to park in any private parking lots or take your chances parking your car on neighborhood streets. While I love Albuquerque and I think most people in Albuquerque are awesome, I should point out that a popular hobby in Albuquerque is to break into vehicles and/or steal them. In fact, Albuquerque boasts one of the highest motor vehicle theft rates in the United States, at around three times the national average. Hey, we all need to be good at something. Sometimes we'll just take the car for a joyride, and sometimes we'll drive it across the Mexico border for resale. It's our way of offsetting our poor education and academic performance rankings. You might be smarter than us, but we'll steal your car.
The moral of the story is, park your car in the parking lot at the zoo or botanic garden when attending the River of Lights. It's free, it's safe, and there are enough spaces to accommodate the volume of visitors each night.
WHAT IS THE RIVER OF LIGHTS?
The New Mexico BioPark Society launched its first River of Lights in 1997, so 2022 marked its 25th anniversary. The River of Lights was created as a way to raise funds for the ABQ BioPark and create a new holiday tradition for residents and visitors. In its first year, the River of Lights consisted of 30 rented light displays that were viewed by roughly 32,000 visitors. I'm guessing the displays were pretty lame by today's standards, but I haven't seen photos so I could be wrong.
Over the years, the River of Lights has grown to become New Mexico's largest holiday light show and top holiday attraction. Don't ask me what our other holiday attractions are. On second thought, I take that back. Albuquerque has a fun Twinkle Light Parade (featuring lit up cars on a one-mile stretch of Route 66), and New Mexico features some amazing luminaria displays in Albuquerque, Santa Fe, and Las Cruces, and probably other towns too. Perhaps I'll cover those topics next year. But for now, let's get back to the River of Lights.
Today, the River of Lights includes over 700 lighted sculptures and displays, using over a million twinkle lights. It's an impressive sight. It's also proved to be a great fundraiser for the ABQ BioPark. In 2021, the River of Lights attracted over 130,000 visitors and raised over $1 million for the ABQ BioPark, making it the top fundraising event of the year.
For anyone with experience hanging up lights for the Holidays, you can imagine that stringing up over 700 lighted sculptures with millions of twinkle lights is not something you knock out over the course of an evening with a pitcher of strong eggnog. There are three staff members that work on the sculptures full-time, year-round, and I'm pretty sure they're sober for most, if not all, of that time. Their job is to create new sculptures and enhance old sculptures to make them even better over time. Each sculpture starts out as a concept or small toy before it is transformed into the final sculpture. Hmm, sounds like alcohol could be involved after all. Anyway, I digress.
To put it mildly, lots of rope lights are required to light up the 700+ sculptures. If the rope lights were lined up end-to-end, they would cover over 200 miles. That's enough lights to line the highway from Albuquerque to the Colorado or Arizona border, which would provide a cool experience for our car thieves. To attach the myriad of rope lights to the sculptures, staff members require over 100,000 zip ties to get the job done. Apparently, these three staff members don't suffer from arthritis … yet. The setup also requires 12 miles of extension cords to power up all of the sculptures.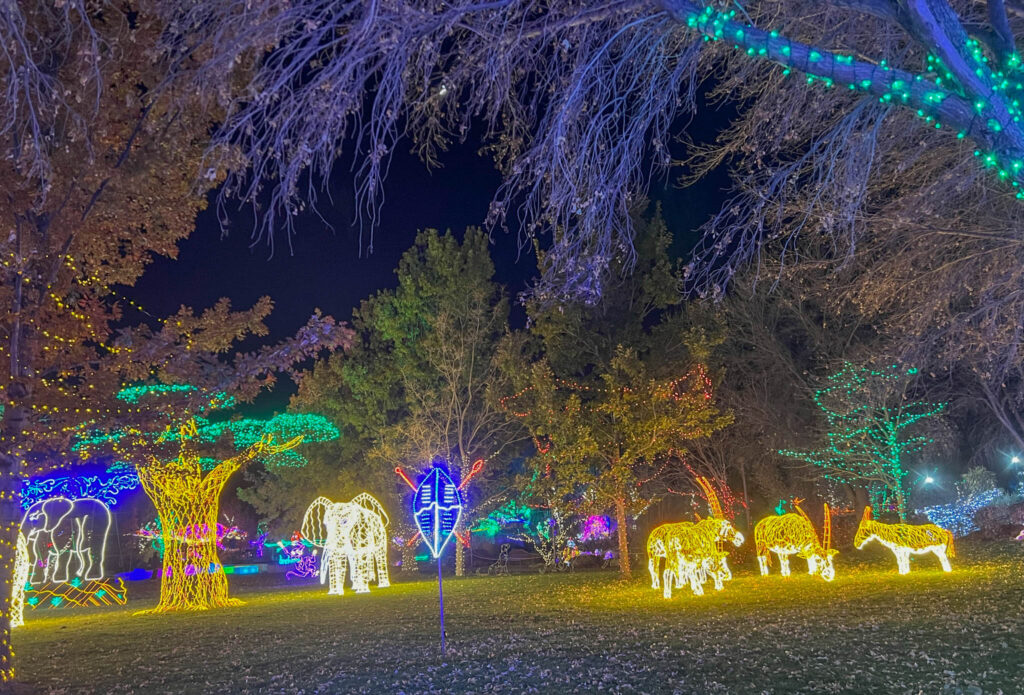 The size of the sculptures varies, ranging from the smallest 1-foot flower to the largest 30-foot Brachiosaurus. It took staff about 6 hours to make the flower and nearly 600 hours to make the Brachiosaurus. To get it all done on-time, staff and volunteers start setting up sculptures in the botanical garden in mid-September. In the off-season, the sculptures are stored in two large warehouses and four storage containers. In other words, this is a huge project each year.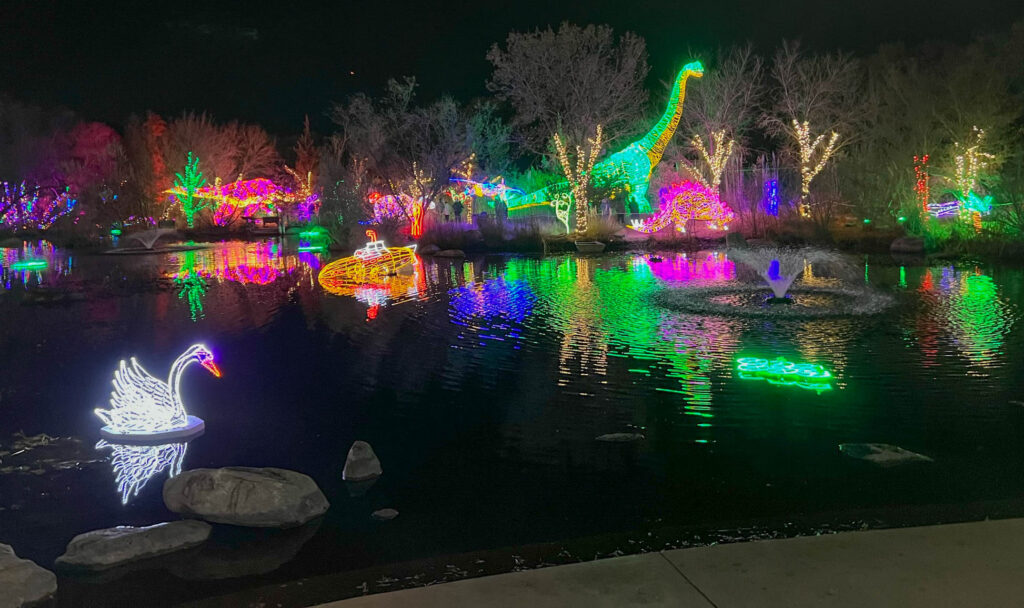 LOGISTICS OF GOING TO THE RIVER OF LIGHTS
The logistics of attending the River of Lights is best viewed on the River of Lights website, as the details may vary from year to year. But rather than dodge this topic completely, here are some helpful tips based on my experience of attending in 2022.
First, the River of Lights is considered to be an all-weather event, so it doesn't get canceled unless there are "extreme weather conditions". Based on my many years of experience with school closures for my son, "extreme weather" in Albuquerque means that we could have as much as 0.02 inches of snow sometime in the next day or two, which will obviously cause many accidents that will bring our roads to a standstill. Regardless, you do want to layer up and bring a hat and gloves as it can actually feel pretty cold at night. At the very least, your gloves will make it easier to hold a cup of hot chocolate without burning your hand.
Another important thing to know is that the River of Lights is a "timed ticketing" event. It used to be a free-for-all madhouse. But thanks in large part to COVID, you must now select an available timeslot when purchasing a ticket. This is a good thing, since it creates a better experience, unless you enjoy fighting for parking spots and walking among hordes of people. The important thing to know about timed ticketing is that you'll actually need to show up on-time. Yes, I know. This is New Mexico, not the Shinkansen (high-speed rail) of Japan that has an average delay of less than 60 seconds. Even though it's New Mexico, I'm told that if you show up after your ticketed timeslot, you could be turned away. To twist the knife, no refunds are given for late entries or missed visits since the River of Lights is considered to be a fundraiser. Note that the timed ticket only applies to the time you enter the River of Lights. The earliest timeslot entry is 5pm and the last timeslot entry is at 9pm. Once you're in, you can stay as long as you like, until it closes at 10pm.
Word to the wise: you may want to avoid purchasing your tickets from third parties as there are some issues with people selling fake tickets. It kind of goes along with our car theft hobby.
If you're antisocial like me, you'll probably want to go on a weekday (Monday – Thursday) earlier in the season (early December) to minimize the number of people who will be at the River of Lights with you. The closer you get to Christmas, the more likely the event will be sold out. The River of Lights runs from November 26 – December 30th, although it's closed on December 24th and 25th.
No pets are allowed unless it's an official service animal.
The regular price of admission for the River of Lights in 2022 was the following:
Monday – Thursday, adults were $14, children aged 3-12 were $7, and children aged 2 and under were free.
Friday – Sunday, adults were $17, children aged 3-12 were $9, and children aged 2 and under were free.
Full disclosure, I'm also a Docent at the ABQ BioPark Zoo so I was able to attend free of charge during during a volunteer thank-you night … one of the perks of being a volunteer at the ABQ BioPark.
If you're a BioPark member, you can purchase tickets earlier than the general public during the member ticket presale that runs from Nov 1 – 4th. General ticket sales open around November 4th.
There are no walk-up ticket sales available, but you might be able to order tickets on your phone from the entrance if you are nimble with your phone and lucky on your timing.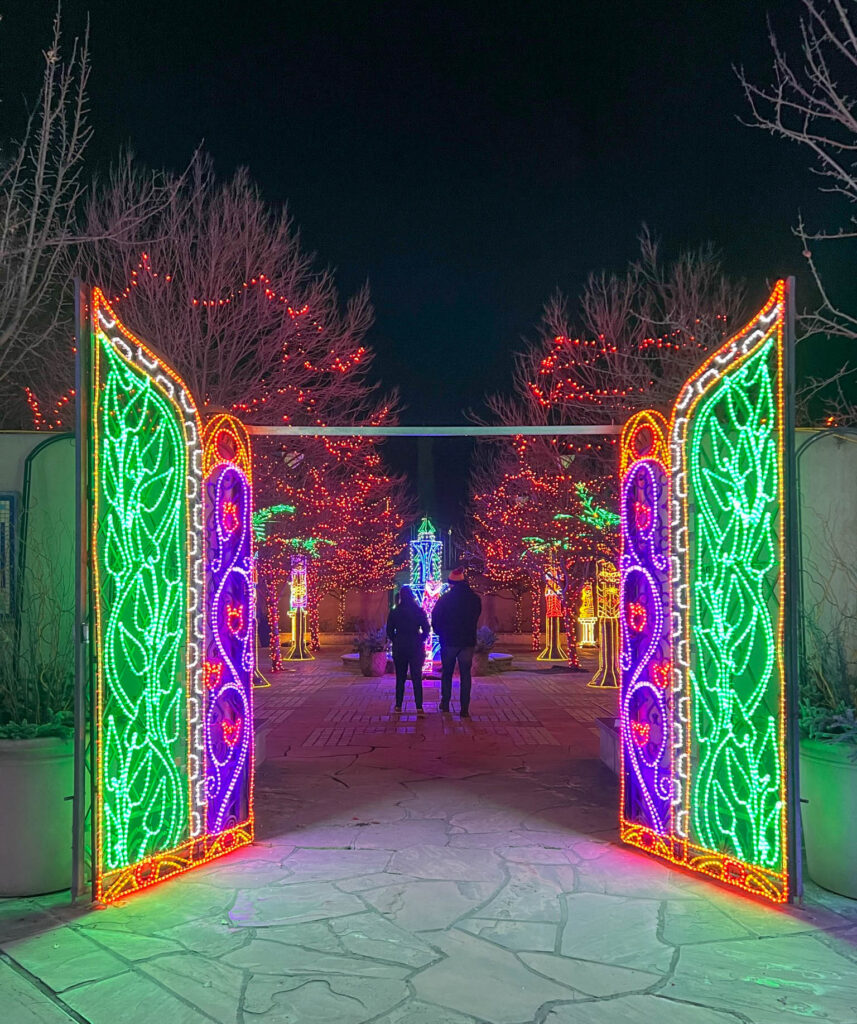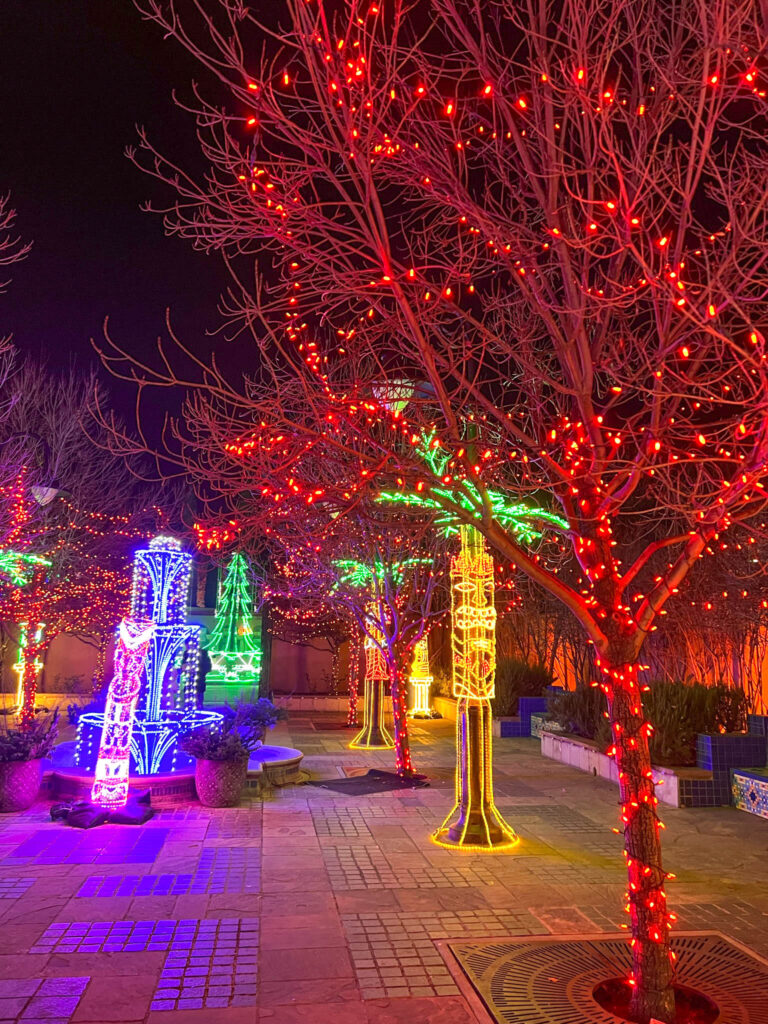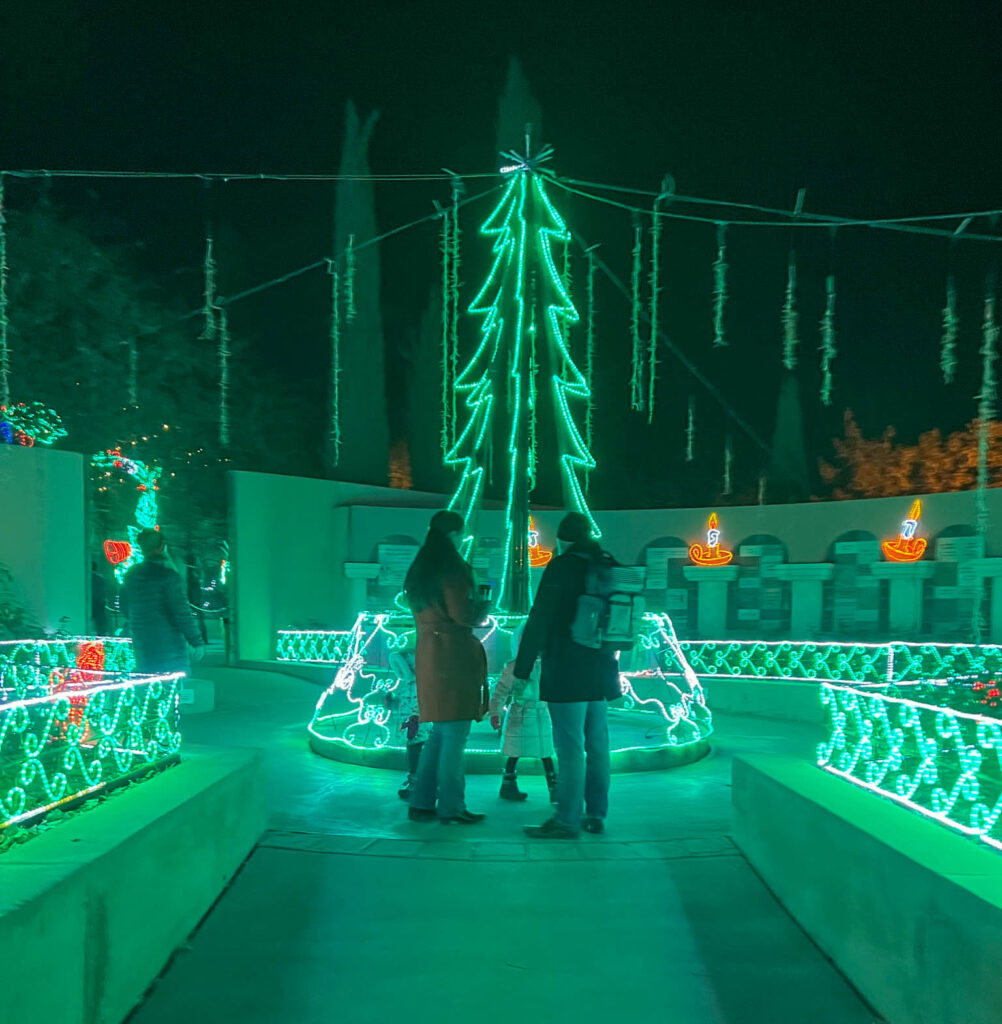 If you want the VIP treatment, you can sign up for "Santa's Magical Experience" option that begins at Tingley Beach, where you'll have a chance to meet Santa and the elves. You'll also get to enjoy a build-your own s'mores station along with hot chocolate prepared by elves. Next, an elf will read a holiday story. Then, it's the big event. Santa appears, ready to listen to your holiday wish list as an elf snaps a photo. Every child gets a winter-themed stuffed plush animal, and every parent gets a happier child.
After the festivities, you'll hop on an open-air shuttle to the River of Lights entrance, where Santa will personally escort you to the front of the line before turning you loose to enjoy the River of Lights. There are two Santa's Magical Experience timeslots per night, one at 5pm and one at 7pm. Pricing is $30 for children and adults 3 or over. Toddlers 2 and under are $18. There are no refunds if you can't attend.
If you REALLY want to go big, as in proposing marriage to your partner, then you can choose a "River of Lights Proposal Package". This package includes the placement of a 7-foot tall "Will You Marry Me?" light sculpture at the location of your choice. Then, when the time is right, the light will be flipped on by a staff member when you give the nod. I'm assuming you meet with the staff member in advance to agree on an appropriate "green light" signal to avoid an awkward moment. For that matter, it might be a good idea to agree on a "cut bait" signal if things aren't going as planned and the proposal is better left for another day. The cost for this experience is $250 … chump change compared to what you'll likely be paying for your wedding. There are quite a few spots at the River of Lights that seem like good candidates for popping that life-changing question.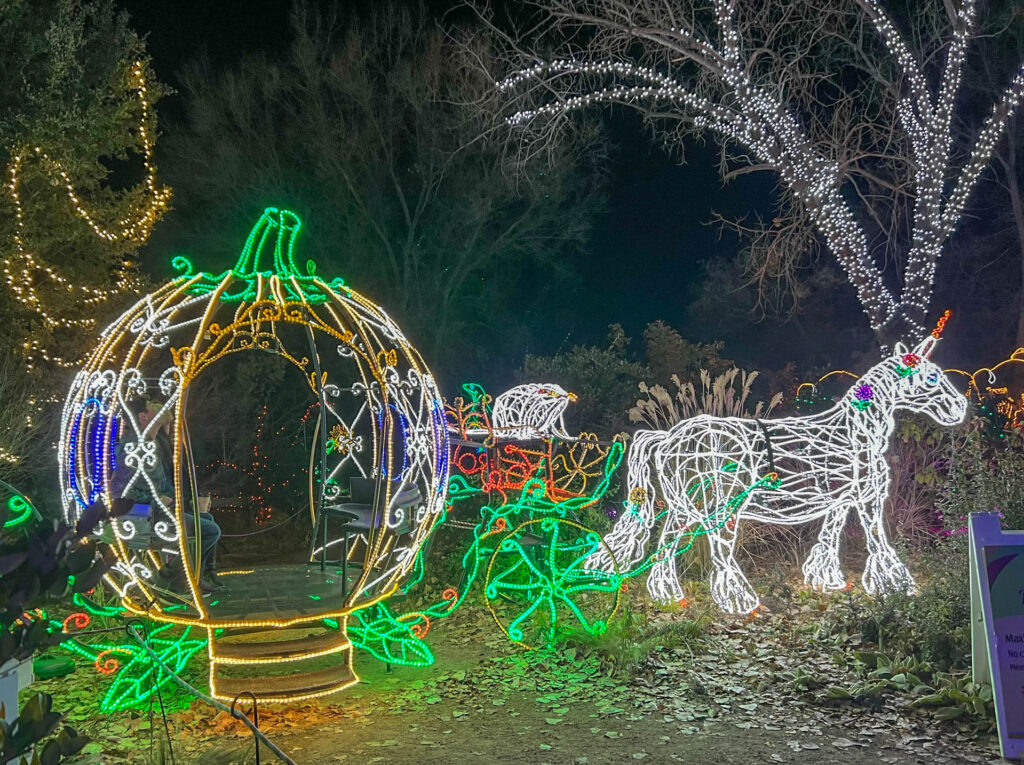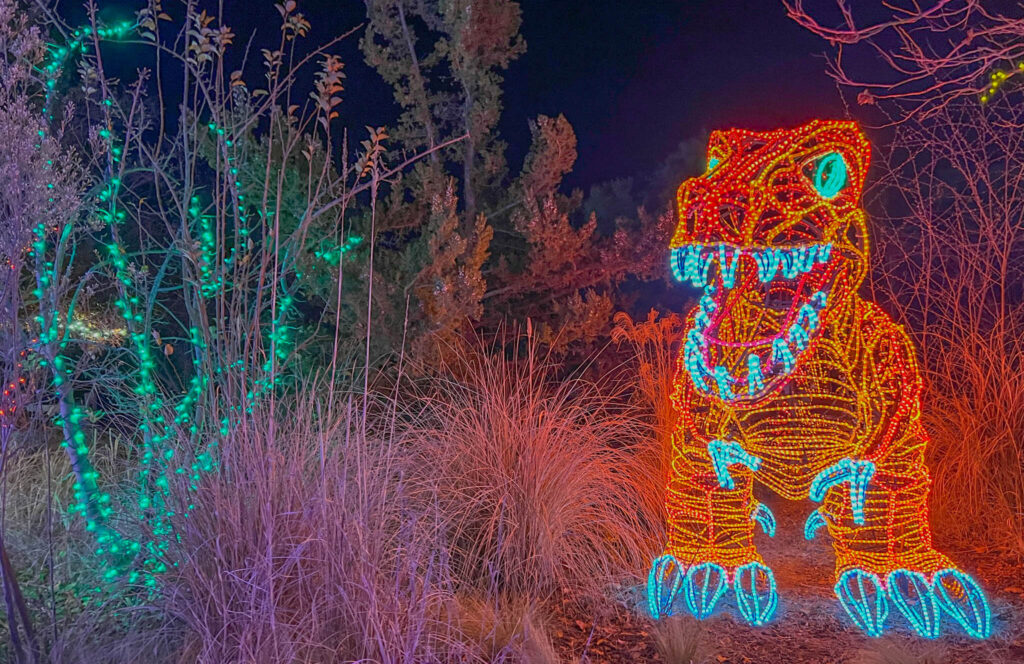 SO WHAT'S IT REALLY LIKE TO ATTEND?
I've been to the River of Lights several times over the 20+ years that I've lived in New Mexico. To put together this article, I decided to attend again this year (late-November 2022). Each time I've decided to attend, I haven't regretted my decision. This year was no exception. Granted, I walk through the exhibits at relatively high speed, but I still can't resist snapping lots of photos along the way.
As you can imagine, the River of Lights is a great place to bring your kids. Then again, it probably depends on your kids. Regardless, virtually everyone I see at the River of Lights seems happy to be there … adults and kids alike.
Once you enter the River of Lights, you'll walk along a 1.5-mile loop that weaves its way through many parts of the Botanic Garden. You'll go through the Spanish-Moorish Garden, the Festival Green, one of the Indoor Conservatories, the Heritage Farm, and the Japanese Garden before making your way back to the entrance. There are opportunities to turn around if the distance is too long or you want to avoid areas with an uneven / unpaved path.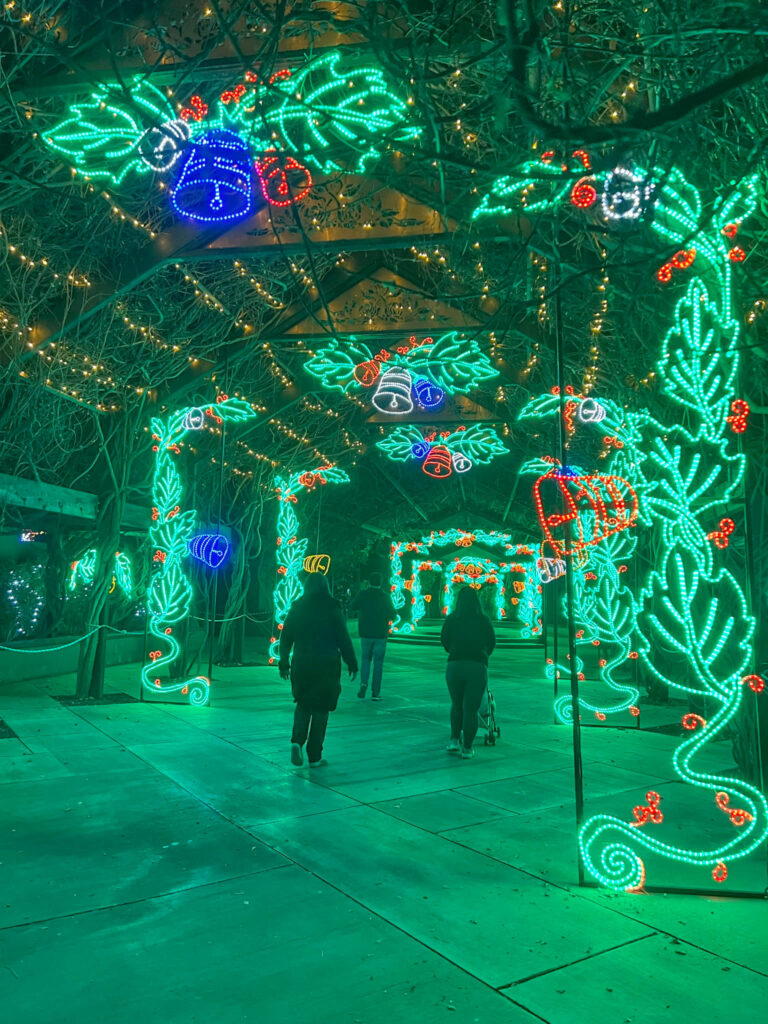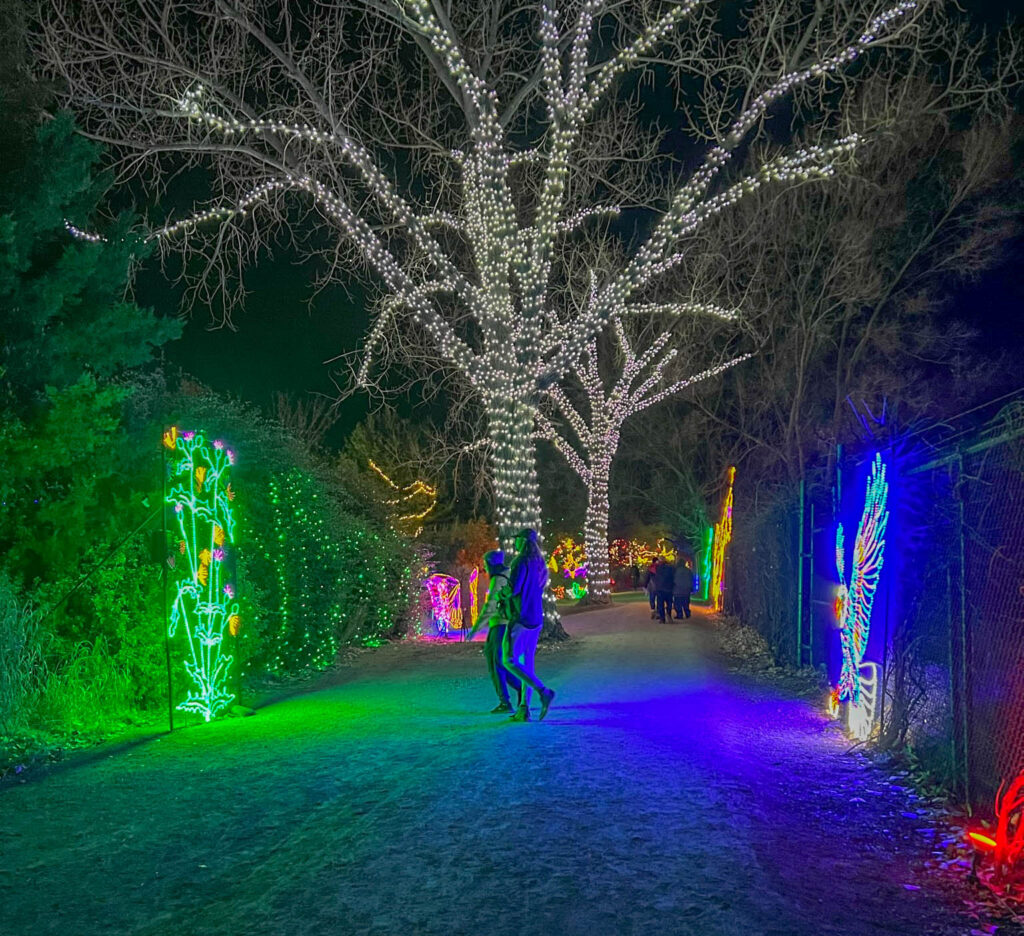 Nearly all the River of Lights exhibits are outdoors. The only exception is one small part of an indoor conservatory. The other indoor exhibits are off limits because the plants in those areas don't respond well to the cold weather that comes in from repeatedly opening and closing the door.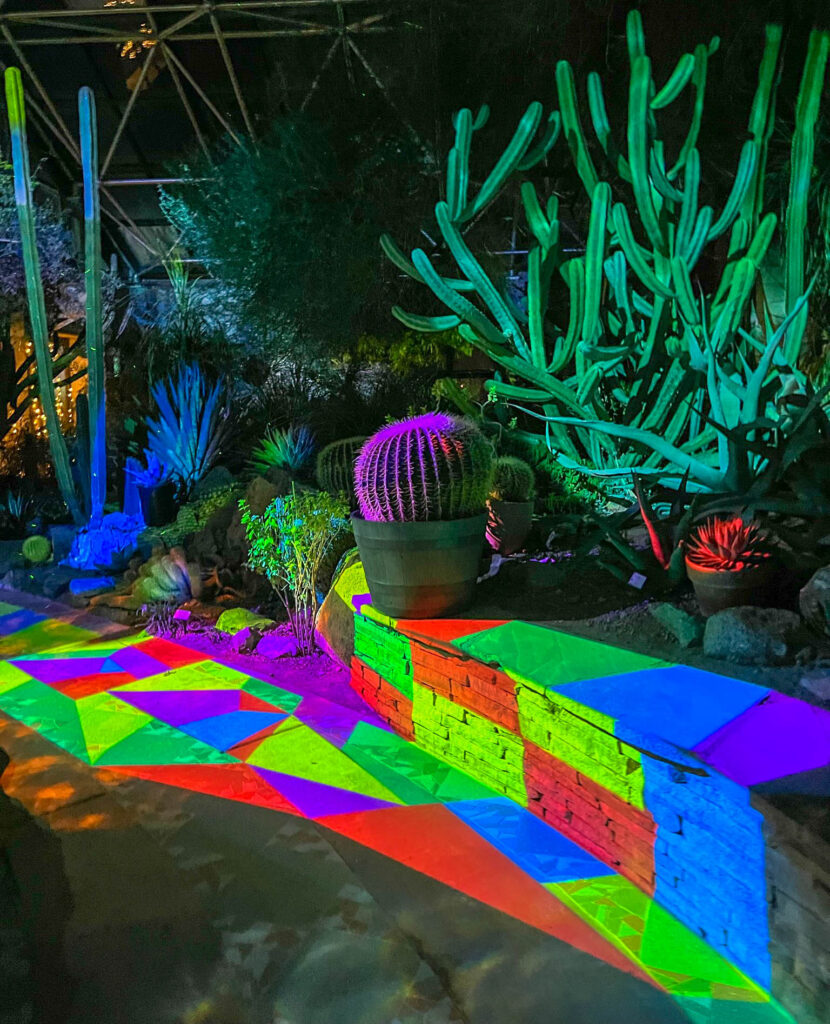 You don't have to walk the full loop if 1.5 miles sounds a bit daunting, but you might miss out on the Japanese Garden and an alien abduction of a cow.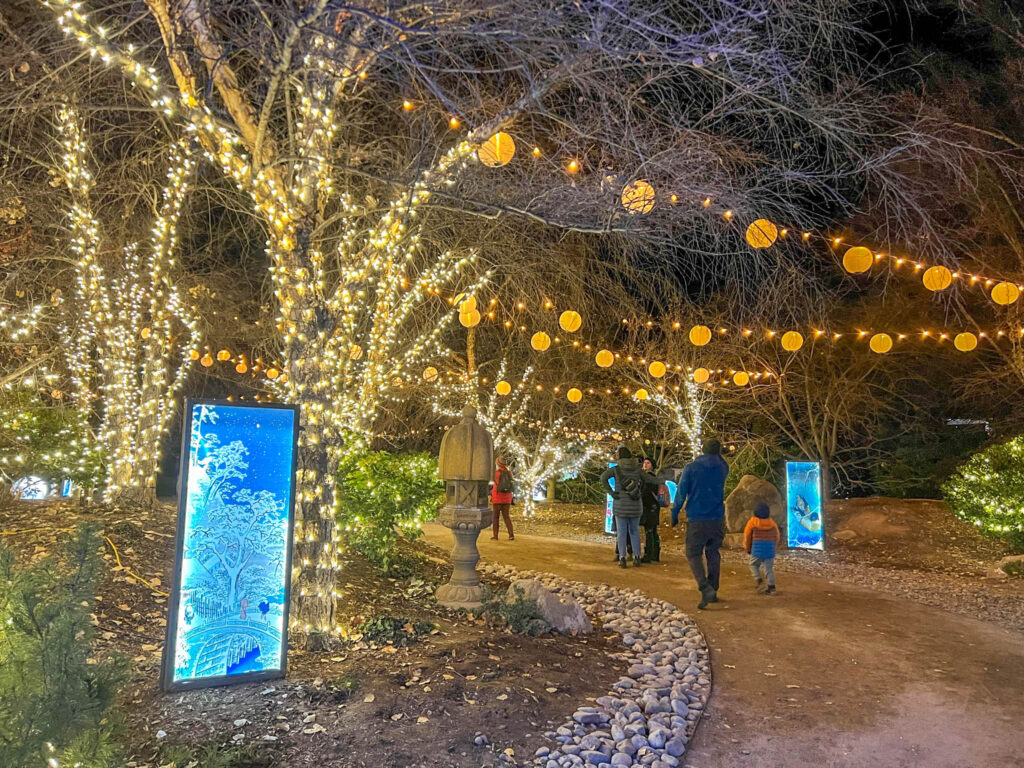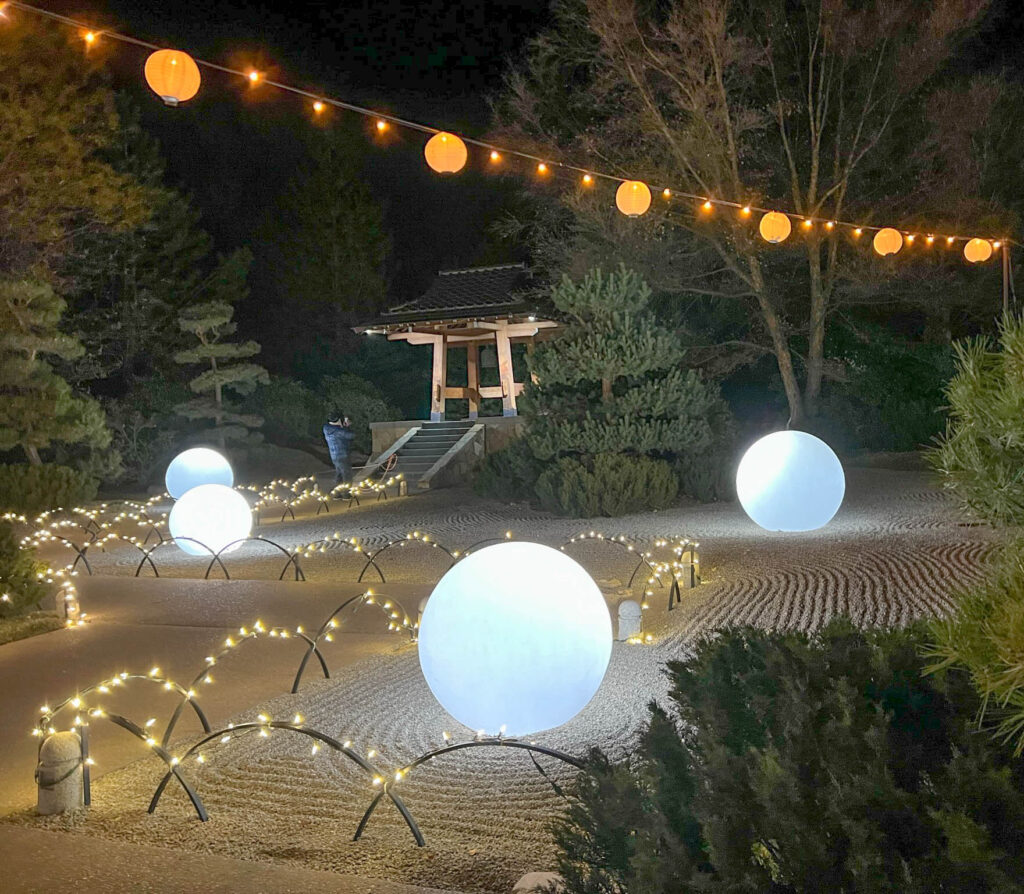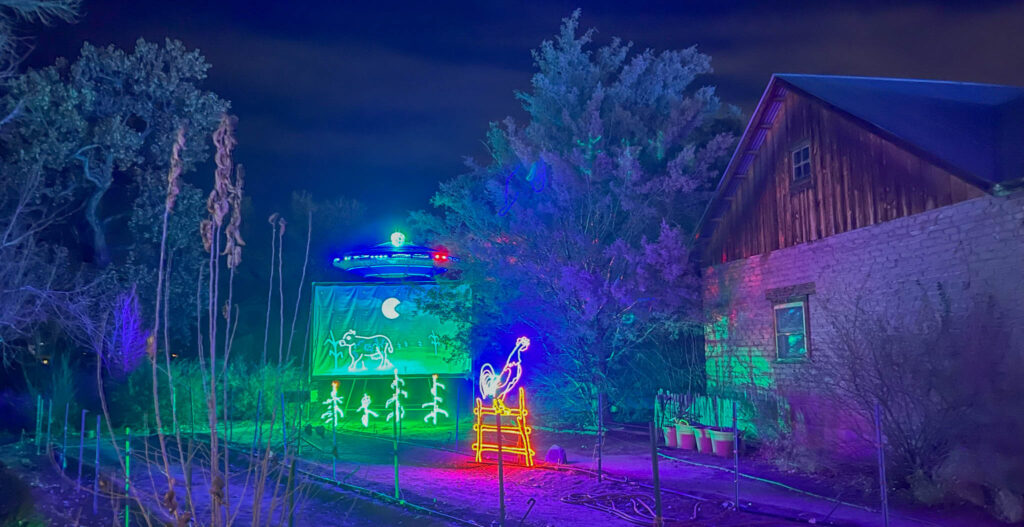 Here's a video of the cow abduction:
You can never go wrong with an alien cow abduction in New Mexico. It's always a hit. It makes me feel nostalgic for the Roswell UFO Festival.
Well, I think that gives you a taste of what to expect if you decide to attend the River of Lights at the ABQ BioPark, so I'll leave it at that!
THOUGHT FOR THE WEEK
Now, it's time for another edition of the "Thought for the Week", also known as "the section that makes no sense in a travel blog".
This week, I decided to include an obscure quote to ponder from Mary Browne, an American professional tennis player who played in the 1920's.
"Preconceived notions are the locks on the door to wisdom."
— Mary Browne
Let's choose to seek wisdom.
---
Thanks for reading and happy travels!
Mark (New Mexico Travel Guy)
---
Mark Aspelin, The New Mexico Travel Guy (www.newmexicotravelguy.com), is a travel writer and author of two books who has enjoyed a wide variety of adventures in his travels to over 100 countries and all 50 U.S. States.  His current project involves visiting EVERY town in his home state of New Mexico (there's over 500 towns) and writing a story about each one.  When not traveling, Mark lives as a recluse in the mountains outside of Albuquerque, New Mexico where he's available to write well-researched, accurate, and entertaining articles on assignment for editors. He can be reached at [email protected]