Everything you need to know about visiting the Breaking Bad statue in Albuquerque, and a few surprises from the statue unveiling day!
Update 5/31/23: Thank you to Redfin for mentioning New Mexico Travel Guy in a recent article called "The Ultimate Albuquerque, NM Bucket List". They added one of my suggestions related to Breaking Bad, so I figured this was a good opportunity to update this post and share the following link to the article on Redfin: The Ultimate Albuquerque, NM Bucket List | Redfin
---
Table of Contents
During a hot Friday afternoon (July 29, 2022), I found myself waiting (and sweating) in a long line outside of the Convention Center in downtown Albuquerque. What was the occasion? The unveiling of the new Breaking Bad statue. Not sure what the heck I'm talking about? Read on.
As someone who rarely watches TV, I can understand if you've never heard of Breaking Bad. Unless you're from Albuquerque. After all, that's where the 5 seasons and 62 episodes of the TV series were filmed from 2008 – 2013. It's a lot of fun to see various locations of your city featured in a popular TV series, particularly when you live in a not so famous place like Albuquerque. Apparently, people outside of New Mexico liked the show too. In 2013, Breaking Bad was named by Guinness World Records as the most critically acclaimed series ever.
Most importantly, my son thinks it's the best TV series.
Which brings me back to the long line on a hot Friday afternoon in Albuquerque. I learned from my son that a Breaking Bad statue was going to be unveiled in Albuquerque on Friday July 29, 2022. He was planning to check it out since there was a good chance that some of the actors would be there for the ceremony. After learning that my son would be going there solo, I asked if I could join him for this momentous occasion and he graciously agreed.
The public viewing was scheduled for 2:30pm. I figured there would be a lot of people going to this, so I decided to show up early. I arrived at the Albuquerque Convention Center parking lot at 1:30pm and walked around the Convention Center until I found the right location. It was hard to miss as there was already a large line snaking around the building even though I was 30 minutes early. Did I mention that Breaking Bad is popular in Albuquerque?
I texted my son to tell him where I was. He informed me that he was planning to show up around 3:00pm. Why so late? He was working out at the gym. While I appreciated his dedication, I wasn't sure that was the best decision. And it wasn't.
15 minutes later, there were loud cheers from the crowd. Apparently the cast were saying hello to the crowd. I couldn't see anything from where I was positioned in the line, and I didn't want to jump out of line and lose my place. So I stayed where I was. Eventually the cheering subsided and I assumed that I'd missed my chance to see the actors.
A few minutes later, some security guards came out and told us to line up against the wall and have our cameras ready in "selfie-mode" and "no touching". That sounded promising.
Next thing I knew, Bryan Cranston (the actor who played the main character, Walter White) walked down the line taking pictures with every person, one at a time. At first I wasn't sure it was him, given his hair and beard.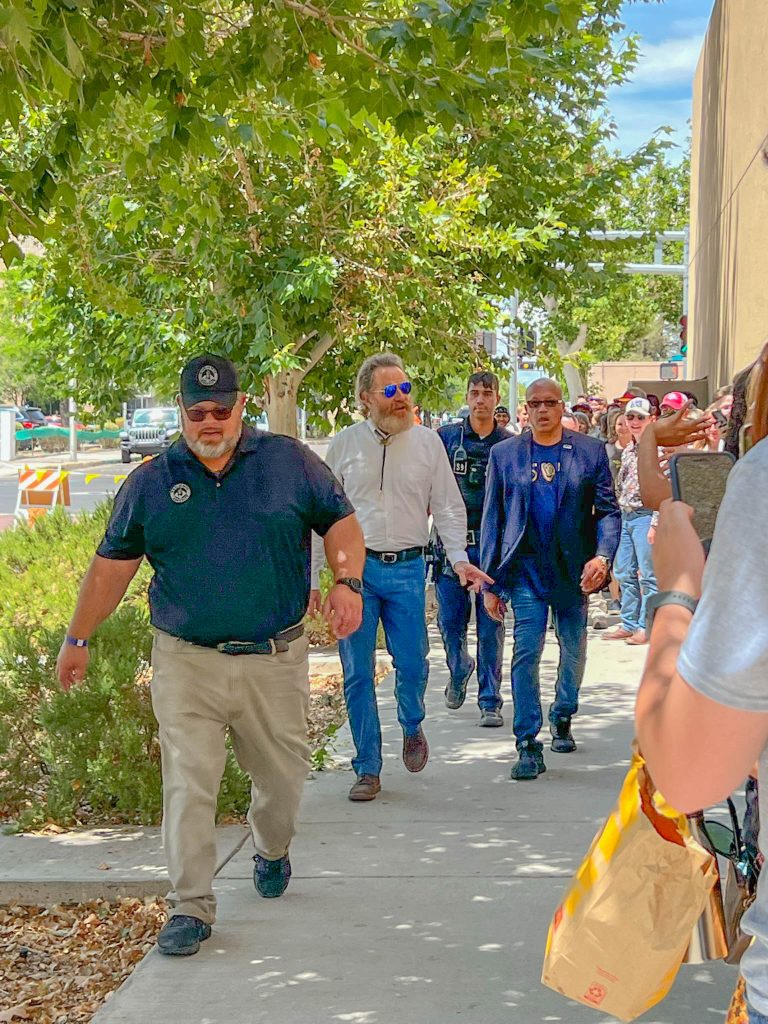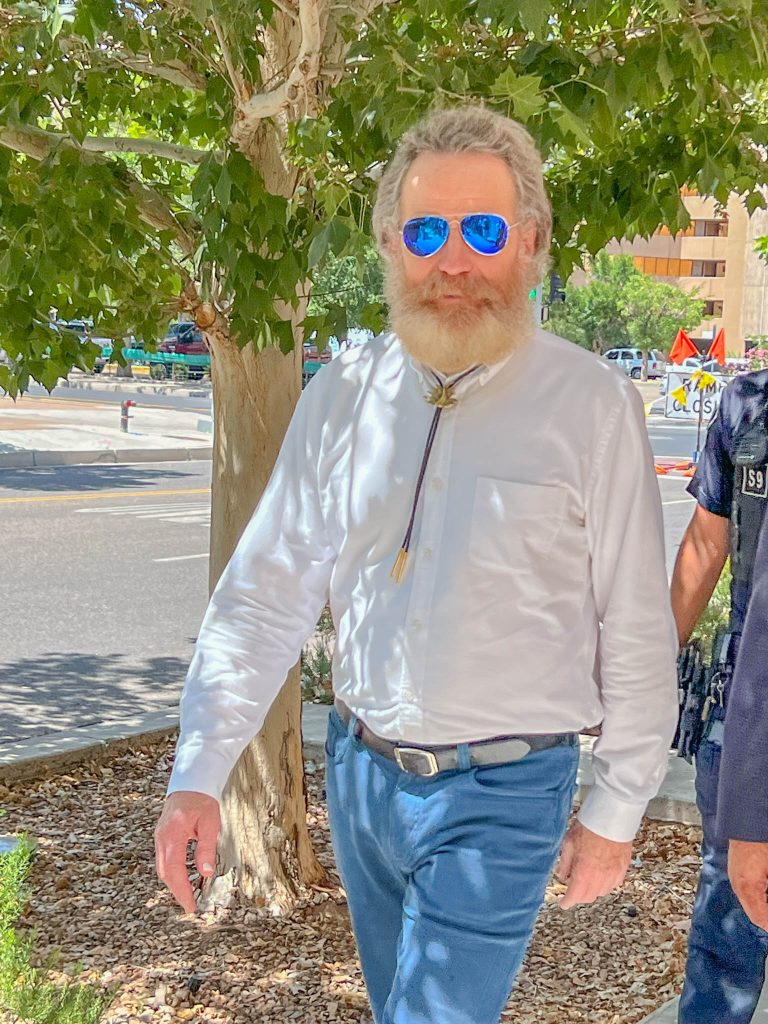 A few minutes later, Bryan approached, said hello, and I snapped a photo while I winced into the bright sun. A bright red "Tacos Make Me Happy" truck positioned itself nicely between us in the photo.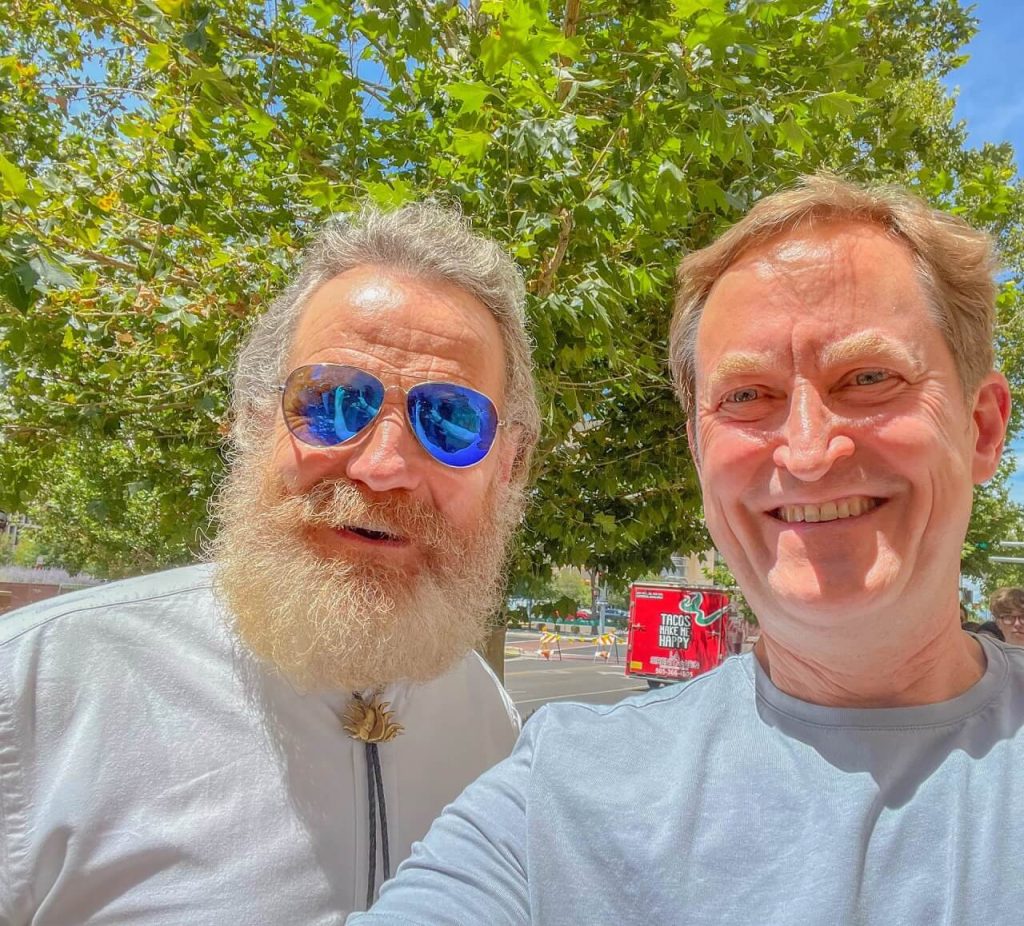 Michael Mando (who played Ignacio "Nacho" Varga in the prequel, "Better Call Saul") was following behind Bryan. He is one of my favorite characters from Better Call Saul so I was happy to get a photo with him.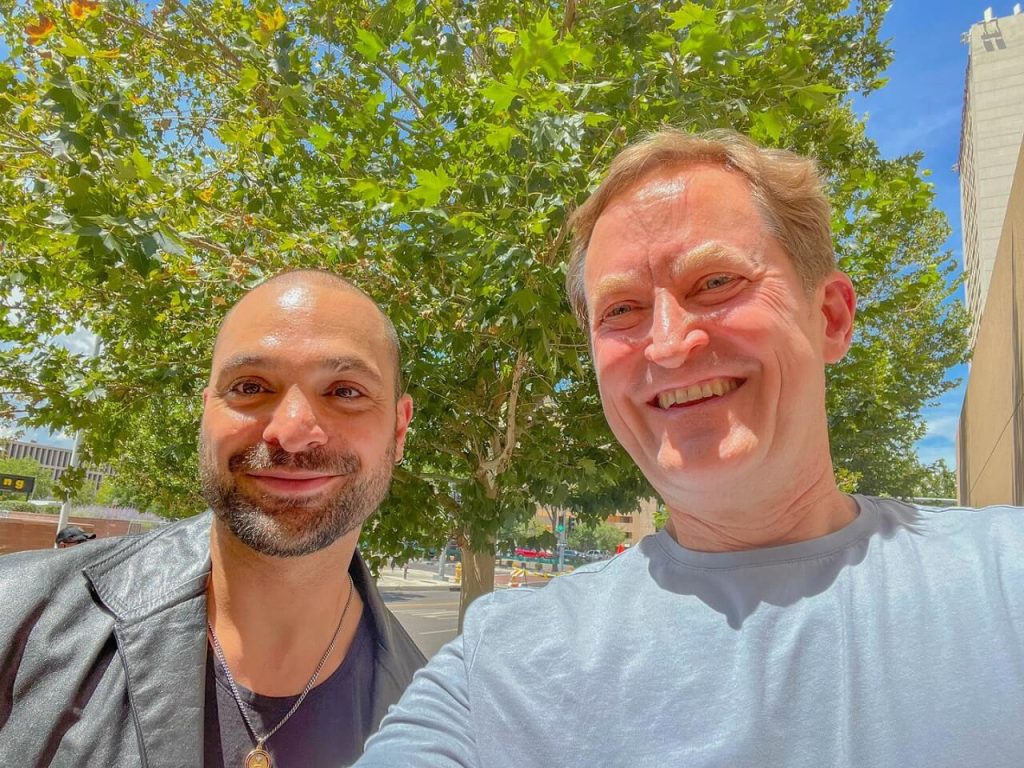 I was kicking myself for not speaking French to Michael to surprise him, as I knew he was from Canada and his native language is French. Michael also speaks fluent English and Spanish. Oh well, it all happened really fast.
Next, I saw Rhea Seehorn, who played Kim in "Better Call Saul". She was making her way down the line but was then called back as their 2:30pm event was starting. She said "I'm so sorry but I need to go back … they're calling me!" to the people she had not yet met, which included me. Bummer. But, I can't complain. I didn't expect to meet anyone. I thought I was just going to see a statue and possibly see some of the actors from far, far away.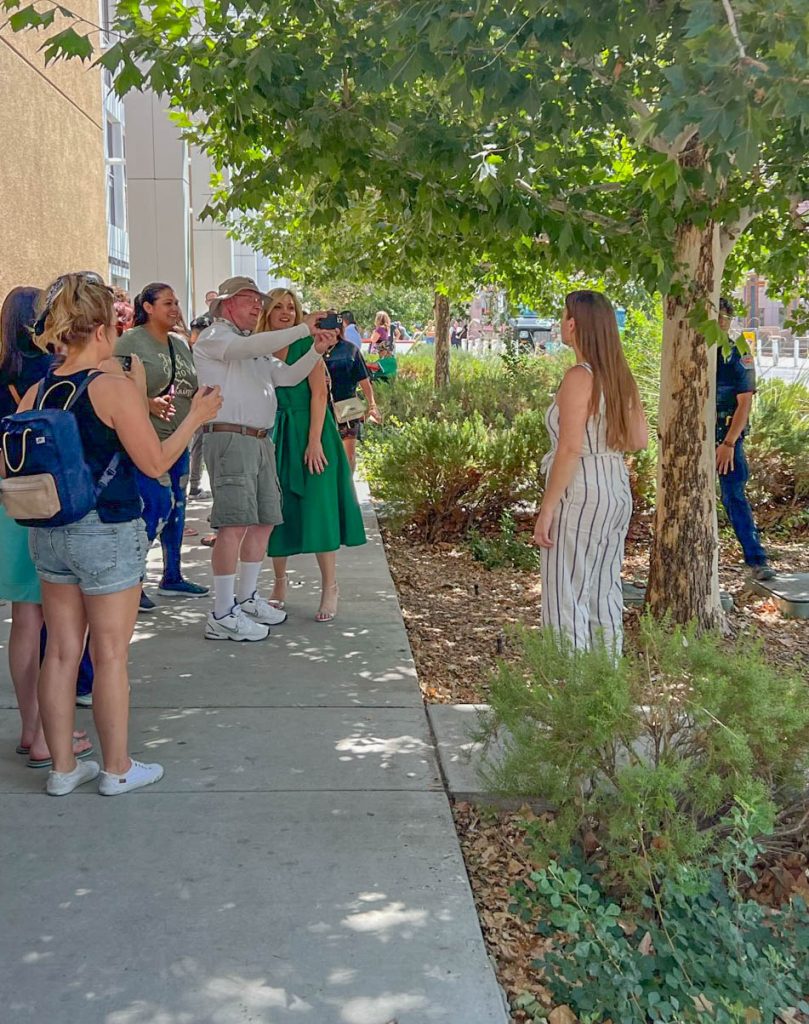 After taking the photos, I immediately texted them to my son. His response: "No way!!! I'm on my way". Unfortunately, by the time he arrived 30 minutes later, it was too late. I felt bad that he missed out on that experience given how much of a fan he is of the show. But I bet he'll show up early for similar events in the future!
Bryan Cranston, Michael Mando, and Rhea Seehorn were class acts for making the effort to take selfies with everyone in line. It made it a fun and memorable experience for those of us who were too far away to see anything else. Aaron Paul (played Jesse Pinkman), Dean Norris (played Hank Schrader), Patrick Fabian (played Howard Hamlin in Better Call Saul) and Vince Gilligan (series creator) were also at the statue unveiling, but those of us in the middle and back of the line never got to see them.
The funny part is that, after waiting another 30 minutes, my son and I decided to leave without seeing the Breaking Bad statue. Based on how things were going, we estimated that it would take at least another hour before we'd be able to see the statue. So, I returned a few weeks later to visit the statue and give you the scoop on everything you need to know about visiting the Breaking Bad statue.
Everything you need to know about visiting the Breaking Bad Statue
Where is the statue located?
It is located on the first floor within the west building of the Albuquerque Convention Center, near Hall 3.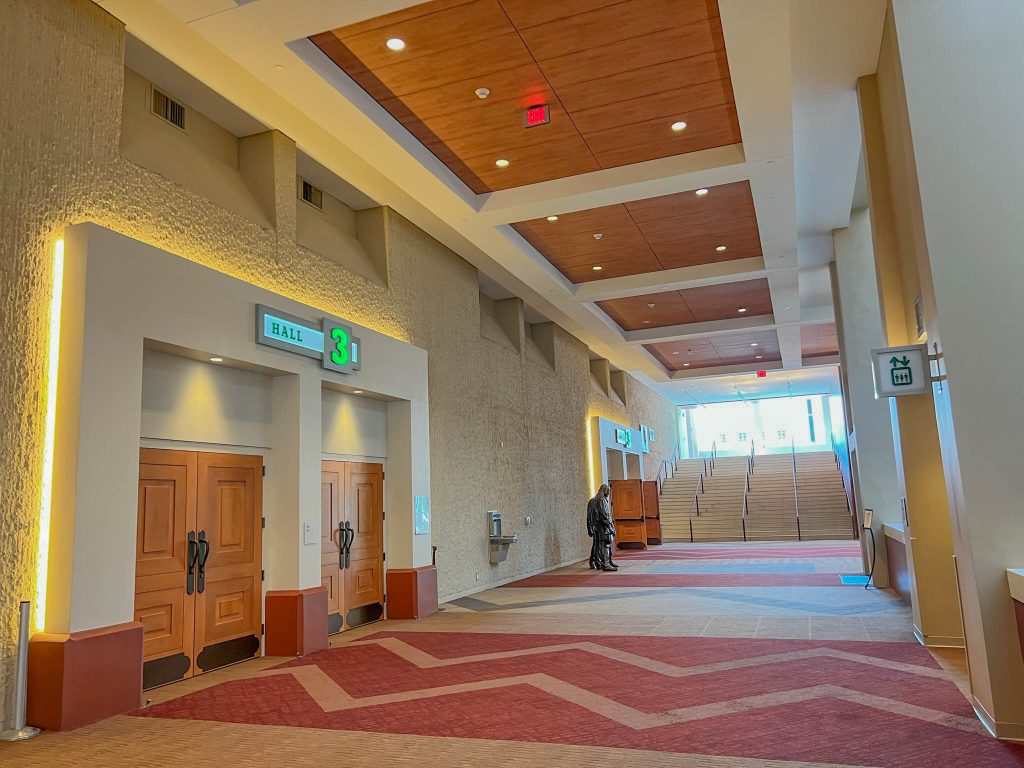 To enter the west building from the outside, you'll want to use the 2nd street entrance to the west building (near Tijeras and 2nd street) and use the far left doors. I learned this the hard way by literally trying to open every other door of the west building of the Convention Center.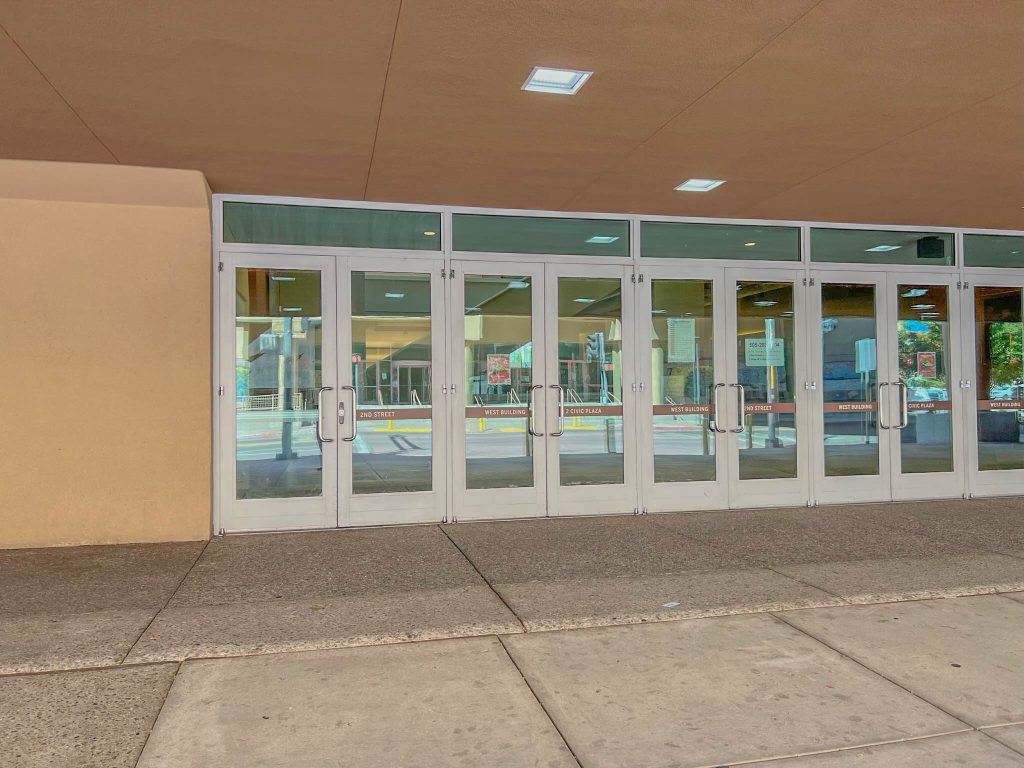 If you're parked in the Convention Center parking lot, the best way to get to the statue is as follows:
Park in the Convention Center parking garage (was free of charge the day I visited, but likely varies depending on the event)
Walk to Level 1 of the parking garage and use the entrance from the parking garage to the east building of the Convention Center and weave your way through the east building to get to the covered walkway that crosses over 2nd street to get to the west building.

If the door from the parking garage to the east building is locked, then you'll need to go outside by descending the parking garage stairwell to the very bottom, where you'll open a door and come out on Tijeras. Walk west (to your right) until you get to 2nd street. Cross the street and take a right and, a short walk later, you'll see the doors to the west building on your left hand side.
Where can I park?
I used the Convention Center parking garage but I'm sure there are other options. Parking was free the day I visited, but it may vary depending on the event.
What times and days can I see the statue?
This one caught me by surprise. I spoke to a person who works at the Albuquerque Convention Center and confirmed that you can only visit the Breaking Bad statue when there is an event taking place at the Albuquerque Convention Center! The hours will vary, depending on the event. In other words, you can't just show up any day of the week and expect to see the statue. The week I called, I learned that there was an event taking place at the Convention Center on Wednesday and Thursday from 8am – 4pm, so those were the only days/hours that I could visit the statue for the week. It's free of charge to see the statue, other than a possible charge for parking.
How do I confirm if there is an event at the Convention Center?
I spoke with the Albuquerque Convention Center and asked them the question: "What is the best way for visitors to confirm if the Convention Center will be open to see the Breaking Bad statue?" The person said that the Convention Center website (albuquerquecc.com) is currently getting updated, so your best bet is to call 505-768-4575 and ask if there is an event. The only problem with the phone number approach is that I was usually put through to voicemail. On my fifth attempt to call the Convention Center over the course of two days, someone actually answered the phone. I'm hoping that the revamped website will solve some of these problems. I'll update this post once the new Albuquerque Convention Center website is up and running.
What will I actually see and who created the statue?
You'll see a statue of the Breaking Bad characters Walter White and Jesse Pinkman, standing in an open area of the Convention Center. They were sculpted by Trevor Grove. Trevor was contacted in the summer of 2019 to see if he'd be interested in working on Vince Gilligan's Breaking Bad bronze project. After being selected, Trevor created the sculpture and then the American Fine Arts Foundry crafted the final bronze piece from Trevor's sculpture. The statue unveiling took place on Friday July 29, 2022 at the Albuquerque Convention Center.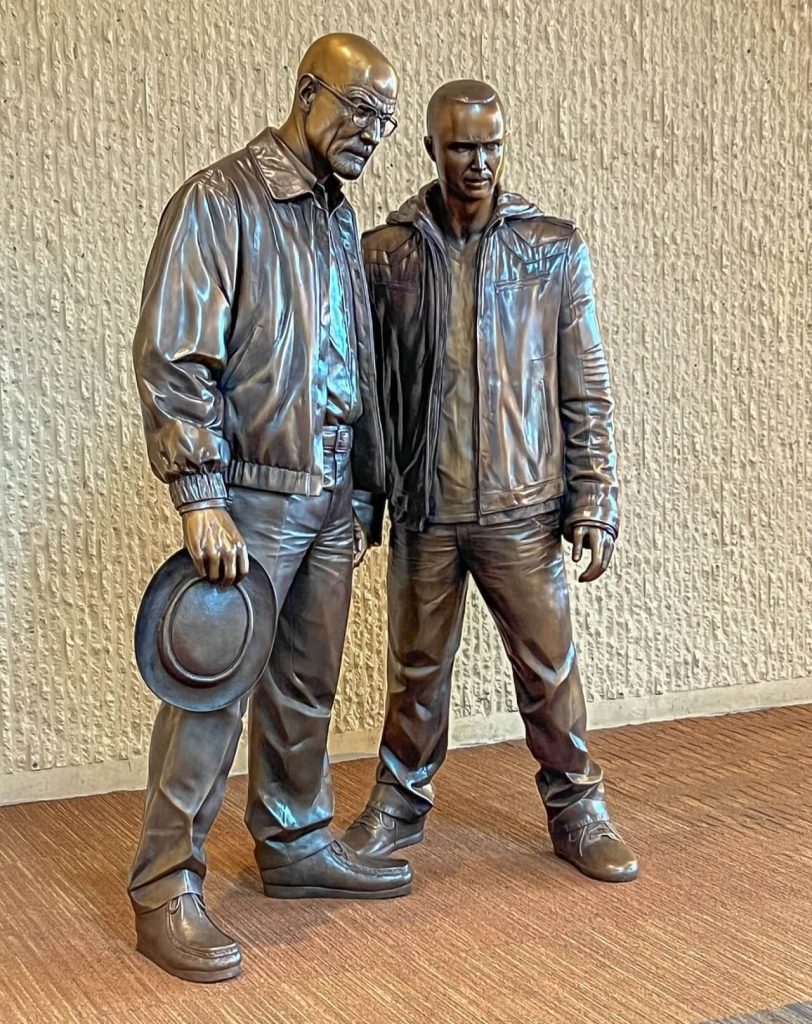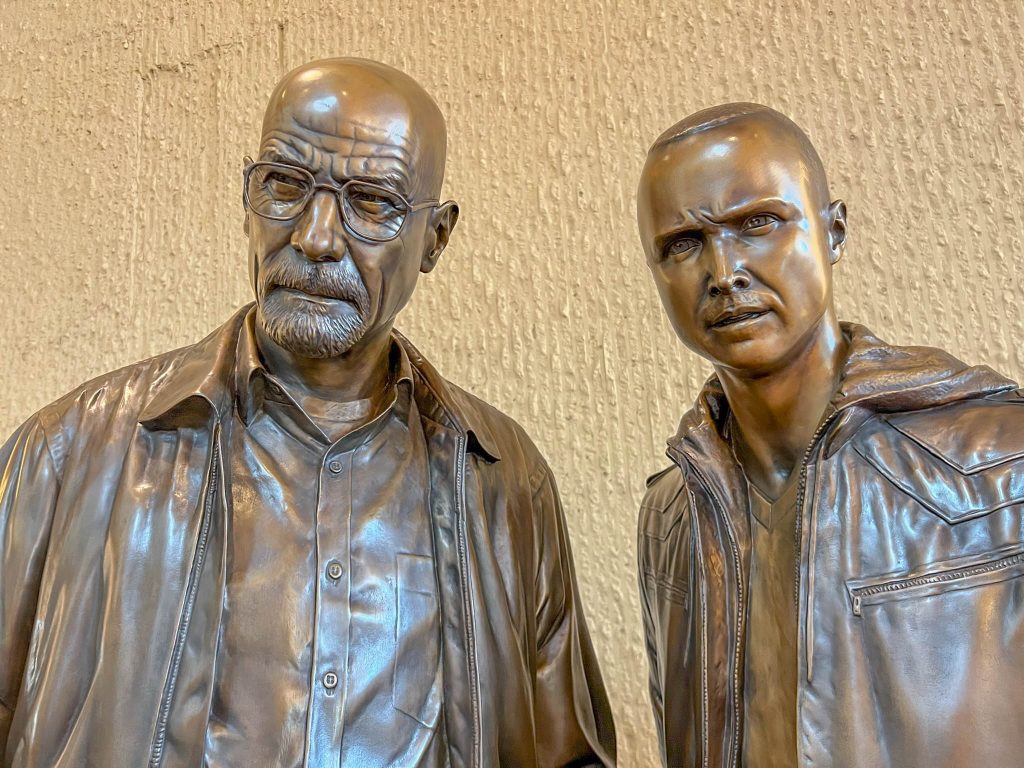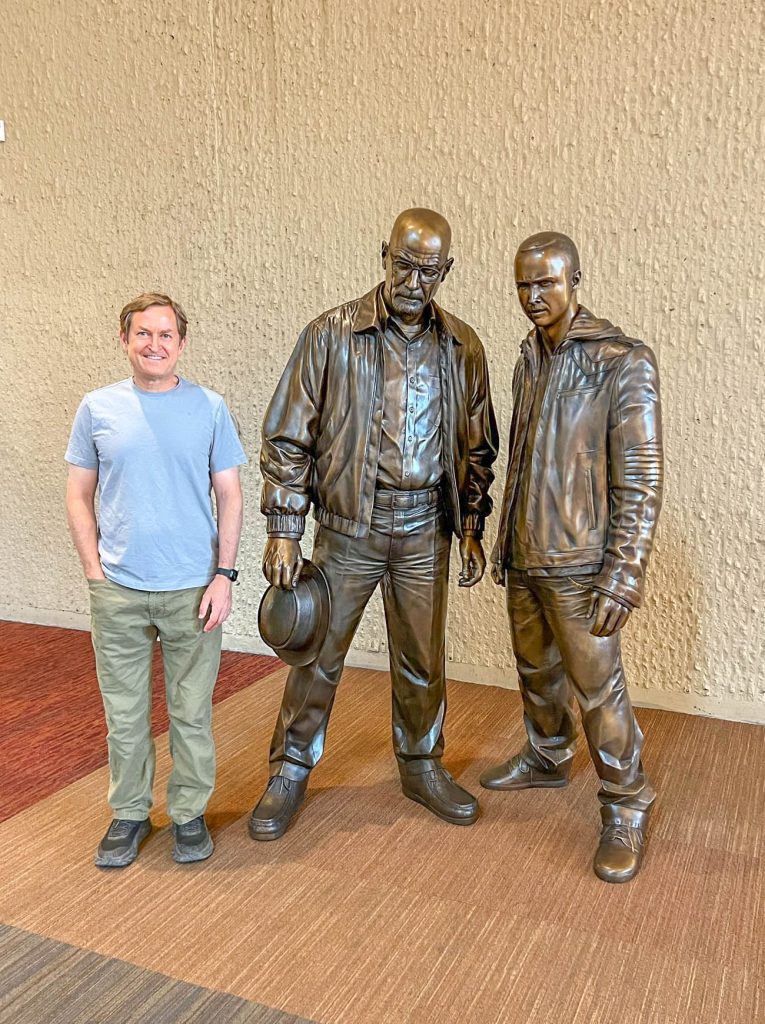 Enjoy your visit to Albuquerque!
Mark (New Mexico Travel Guy)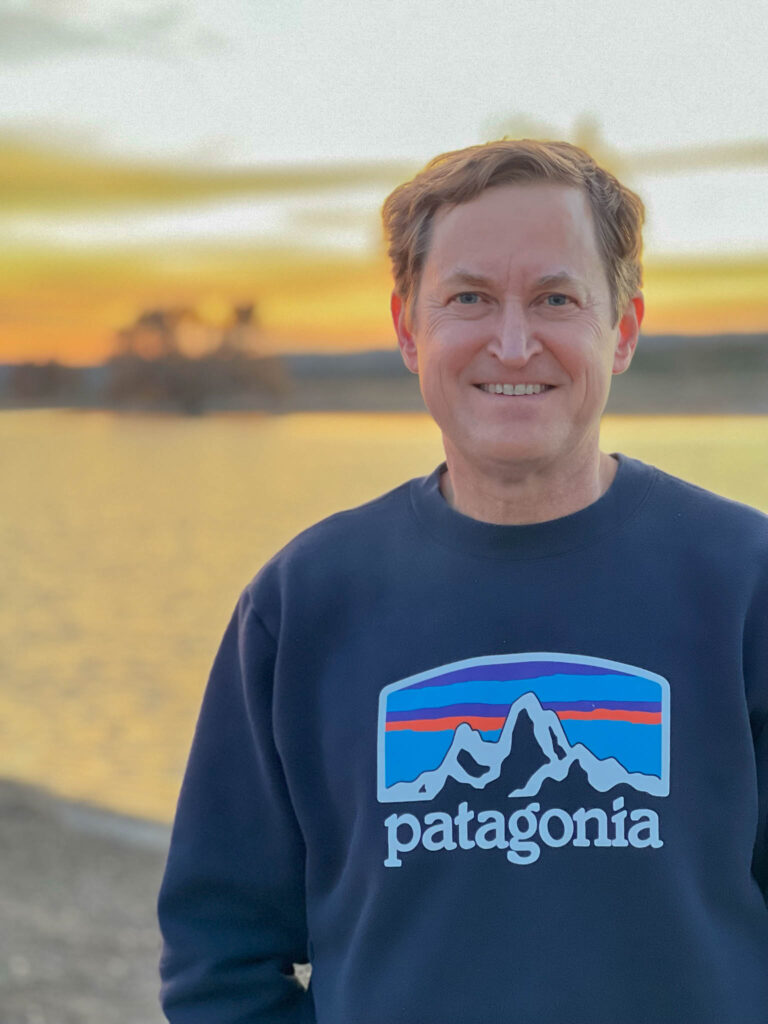 Mark Aspelin, The New Mexico Travel Guy (www.newmexicotravelguy.com), is a travel writer and author of two books who has enjoyed a wide variety of adventures in his travels to over 100 countries and all 50 U.S. States.  His current project involves visiting EVERY town in his home state of New Mexico (there's over 500 towns) and writing a story about each one.  When not traveling, Mark lives as a recluse in the mountains outside of Albuquerque, New Mexico.