Driving from Halifax, Nova Scotia to Prince Edward Island and making the most of an overnight stay in Charlottetown, PEI
On the morning of June 11th 2022, I reluctantly crawled out of bed at an AirBnb in Elmsdale, Nova Scotia after a late evening arrival in Halifax the previous day. The three-hour time change (from Mountain Time) didn't help. Today, my brother and I were off on a 24-hour road trip to PEI (Prince Edward Island). Yes, that's one of the 10 provinces of Canada. I initially thought there were 13 provinces in Canada, but I was quickly corrected by someone we met from Yellowknife, Northwest Territories that there are 10 Provinces and 3 Territories (Northwest Territories, Yukon, and Nunavut) in Canada. The Cliff Notes version is that the difference between a Province and a Territory is a constitutional one that impacts how they are administered. The details are boring (unless you live there), so we'll leave it at that.
Prince Edward Island is the smallest province in terms of land area, and it has the smallest population (I like that!). On the flip side, it's also the most densely populated (drat!). Having said that, the total population is only around 165,000 people. So, if you're used to living in a big city, Prince Edward Island will feel like an abundance of wide-open spaces. Even the largest (and capital) city, Charlottetown, has a total population around 40,000 people. Not exactly New York City, Tokyo, or Delhi. As someone who generally avoids big cities like the plague, Charlottetown suited me just fine. But I'm getting ahead of myself.
Armed with a rental car and a not-so-healthy donut breakfast at Canadian fast food restaurant chain Tim Hortons (hey, we had to try it!), we began our 3-hour drive from the outskirts of Halifax to Charlottetown.
Our route took us through a small piece of New Brunswick, which my brother and I were happy about since we both have travel checklist addiction issues, particularly me. My name is Mark and I have a problem with travel checklists.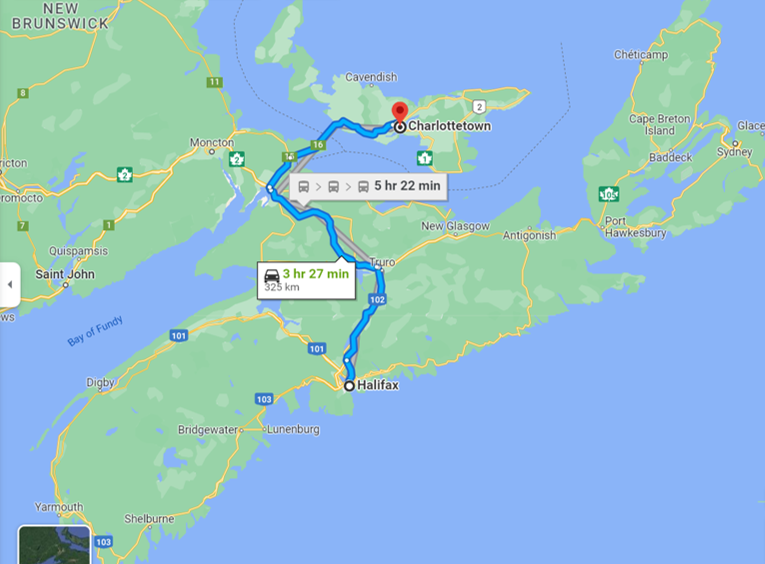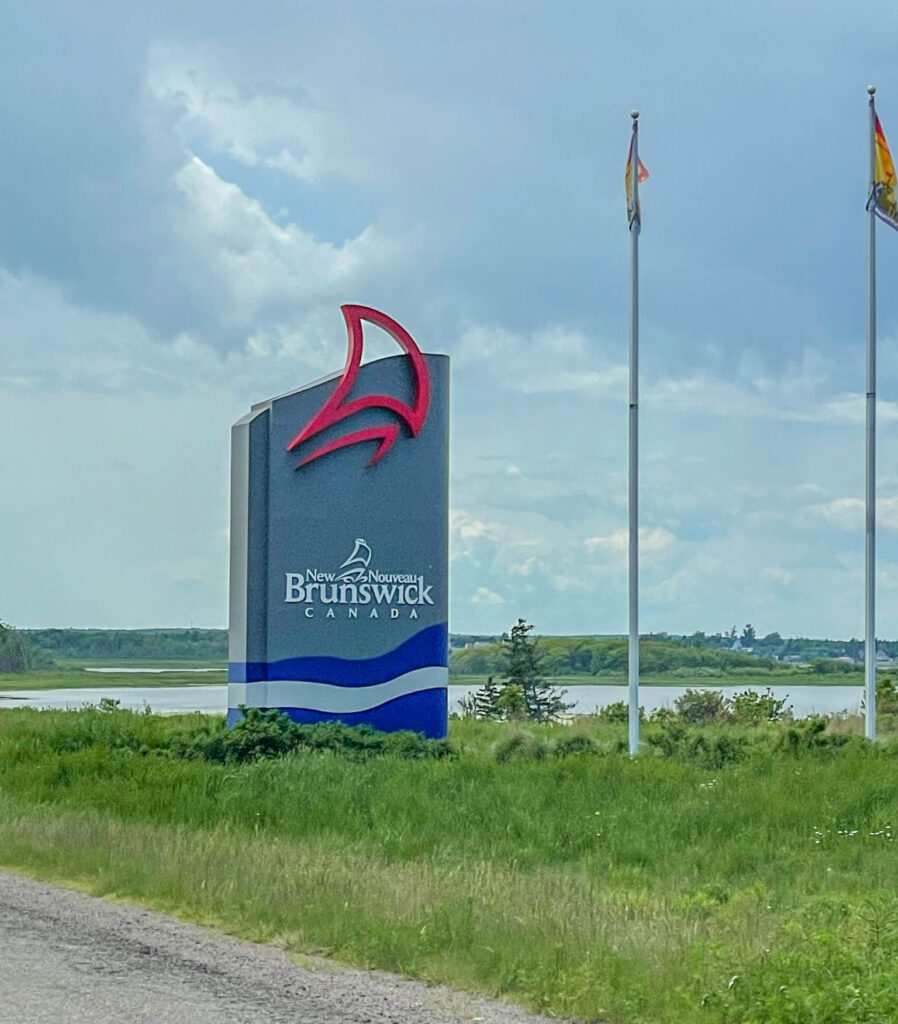 The only thing I can tell you about New Brunswick during our "limited" stay is that we upset an osprey there, and we saw a very large potato holding a vodka bottle. As a birder (a bad one), I try to avoid stressing out birds. So, I was a bit bummed that the remote road we pulled off on for a bio break positioned our car near a telephone pole where an osprey had decided to build a nest. I apologized to the osprey, but it didn't seem to help.
As for the large potato holding a vodka bottle, that's best addressed with a photo …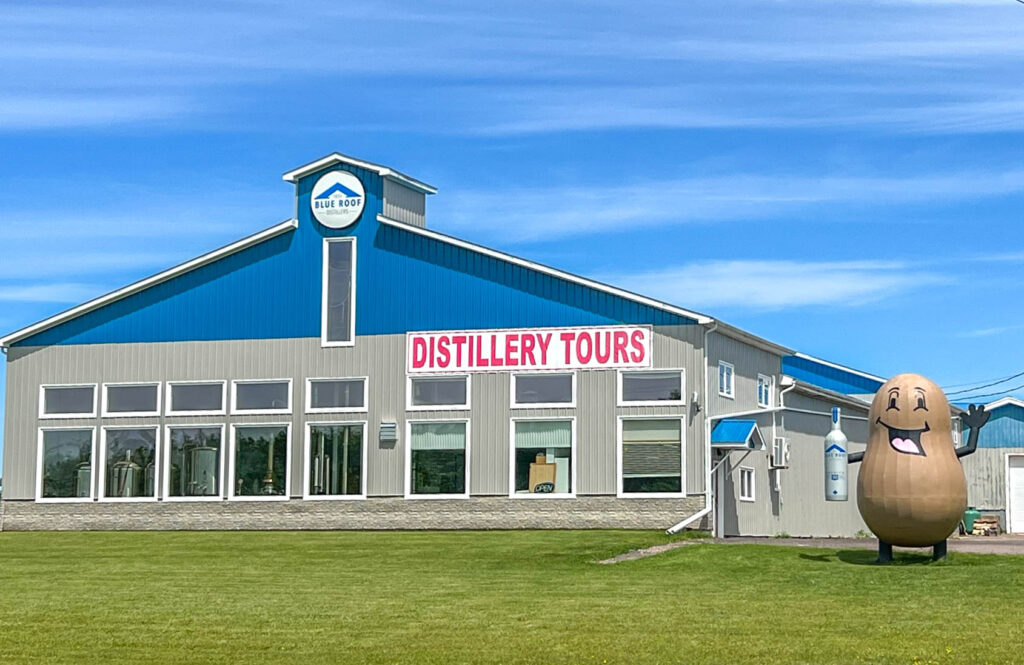 According to the Blue Roof Distillers website, it is Canada's first field to bottle distillery … a "micro distillery built on the 6th generation Strang family farm" that uses raw materials from the farm as ingredients for its Blue Roof premium spirits. Sounds like a fun stop! But given that I quit drinking 10 years ago, we kept moving, stopping long enough to snap a photo of the vodka-toting potato.
After our enjoyable time in New Brunswick, we crossed the longest bridge in the world over ice-covered waters, The Confederation Bridge, that connects New Brunswick and Prince Edward Island. My brother asked me how long I thought the Confederation Bridge was. Having done little to no research about this overland journey to PEI, I had no idea. But, being an idiot, I took the bait and guessed 2 miles. Nope. Not even close. The bridge is 12.9 km (aka 8 miles). The "over ice-covered waters" caveat is an important one, since there are other bridges that are longer. The longest bridge in the world is a mind-boggling 102 miles long … the Danyang-Kunshan Grand Bridge between Shanghai and Nanjing in China. Although, to add yet another caveat, that bridge is strictly for high-speed rail, not cars.
The Confederation Bridge was completed in May 1997 at a cost of $840 million. That's a good chunk of change. As a result, you won't be surprised to learn that this is a toll bridge. You don't pay anything on your journey from New Brunswick to PEI, but if you want to return … well, that's going to set you back just over $50 Canadian for a regular car.
After crossing the bridge, we were officially in Prince Edward Island. Now that we had checked off another Province … ahem … let's try that again. Now that we had arrived in PEI, it was time for the next order of business, a lobster roll. After some quick research, we settled on the Lobster Barn in Victoria, PEI. Victoria is a small fishing village on the south-central coast. When I say small, I mean that the estimated population is somewhere around 100 people. It turned out to be a nice place to visit, with quaint shops, art studios, historic buildings, blah, blah, blah. We didn't care much about any of that. We were there for a lobster roll. Thankfully, it's easy to find Lobster Barn. It's at the end of the Main Street. Drive any further and you'll be in the water.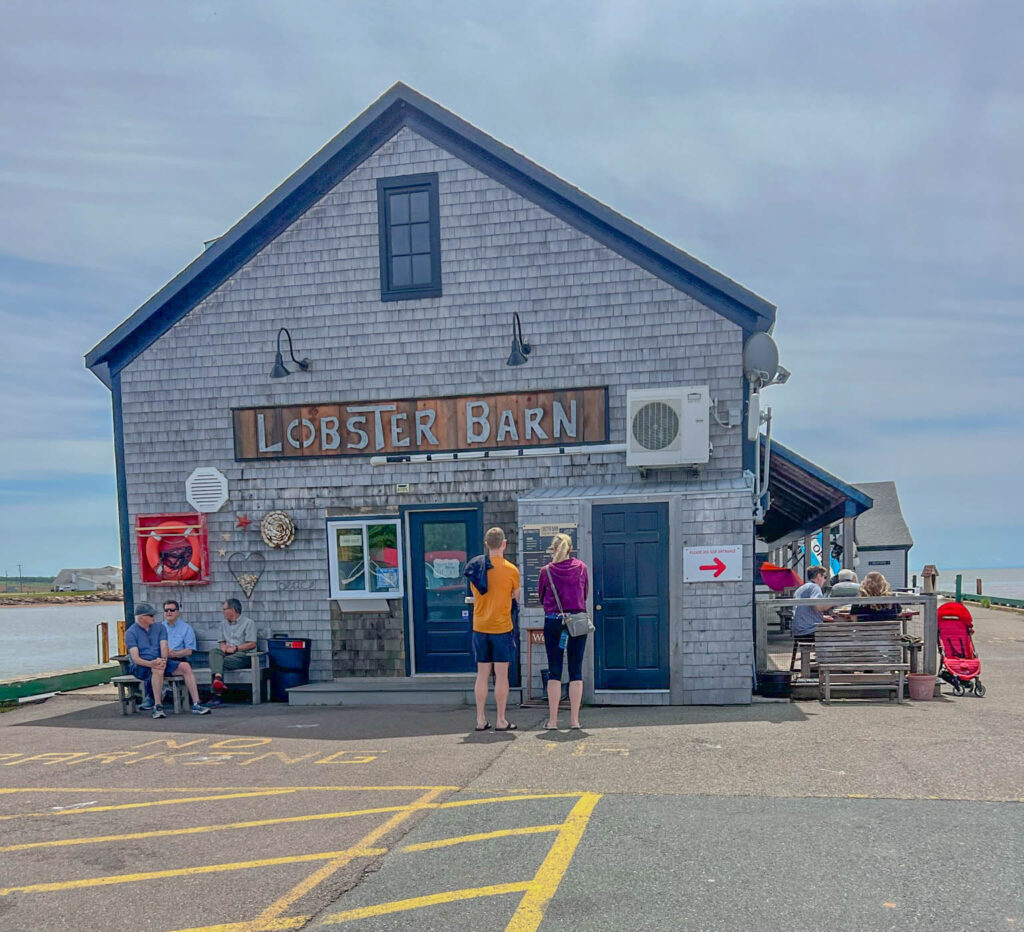 We both ordered the homemade clam chowder, which had the largest clam and potato chunks that I think I've ever had in a chowder, as well as a lobster roll. Obviously. Although, I always horrify restaurants by ordering lobster rolls with no mayo or butter. Just put good pieces of lobster (not too many of those claw tips!) on a roll or piece of bread, and I'm happy. But restaurants often struggle with this request. It's just too simple. Thankfully, Lobster Barn got it right, with the addition of one piece of lettuce, which works for me. It was tasty.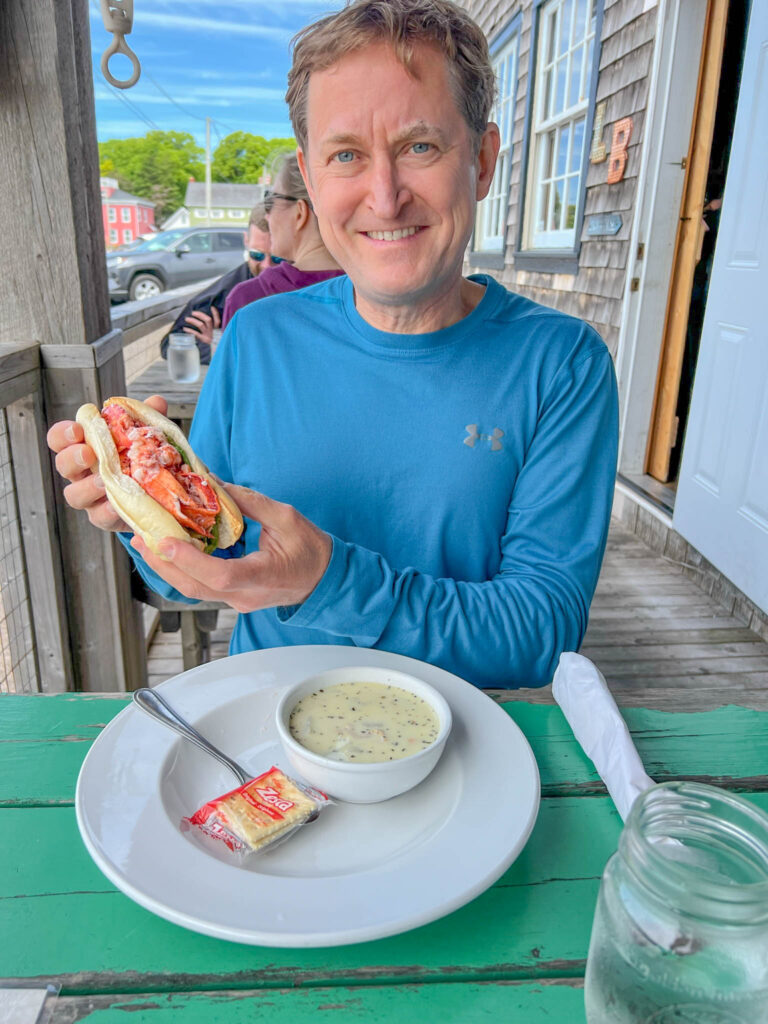 After our nice lunch, our next stop was Brackley Beach, located within Prince Edward Island National Park. It was a nice beach but sitting down on beaches is not our thing. Instead, we drove to nearby Robinson Island Trail System to give the 5K loop a try. It was a nice trail meandering through the forest. I came across some birds that I don't see at my home in New Mexico such as the Common Yellowthroat, American Redstart, and Yellow Warbler. Definitely a good place to stretch your legs with some easy hiking or mountain biking.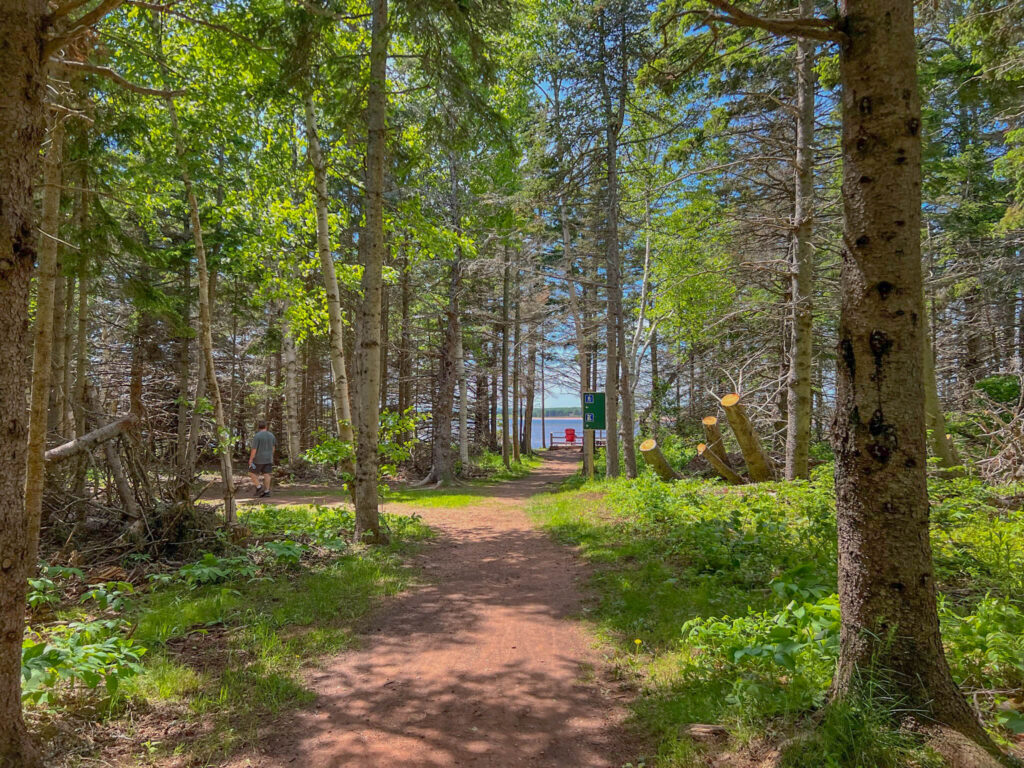 Next, we drove to Charlottetown to check in at our AirBnb that was conveniently located within walking distance (0.75 mile) of downtown. After unpacking and relaxing for a bit, it was once again time to find a place to eat. We decided to call the Water Prince Corner Shop to see if we could get a reservation. It was fully booked, unless we wanted some kind of funky seating arrangement next to the kitchen. We'll take it! That sounded interesting, and I'm glad we went. Our seats actually turned out to be great. They were barstools in the kitchen area that overlook the dining area. And the food was excellent. My brother ordered a lobster that came with a ginormous appetizer of PEI mussels that we shared, and I had scallops. Both proved to be great choices, although the lobster requires a whole lot more work to eat compared to my scallops.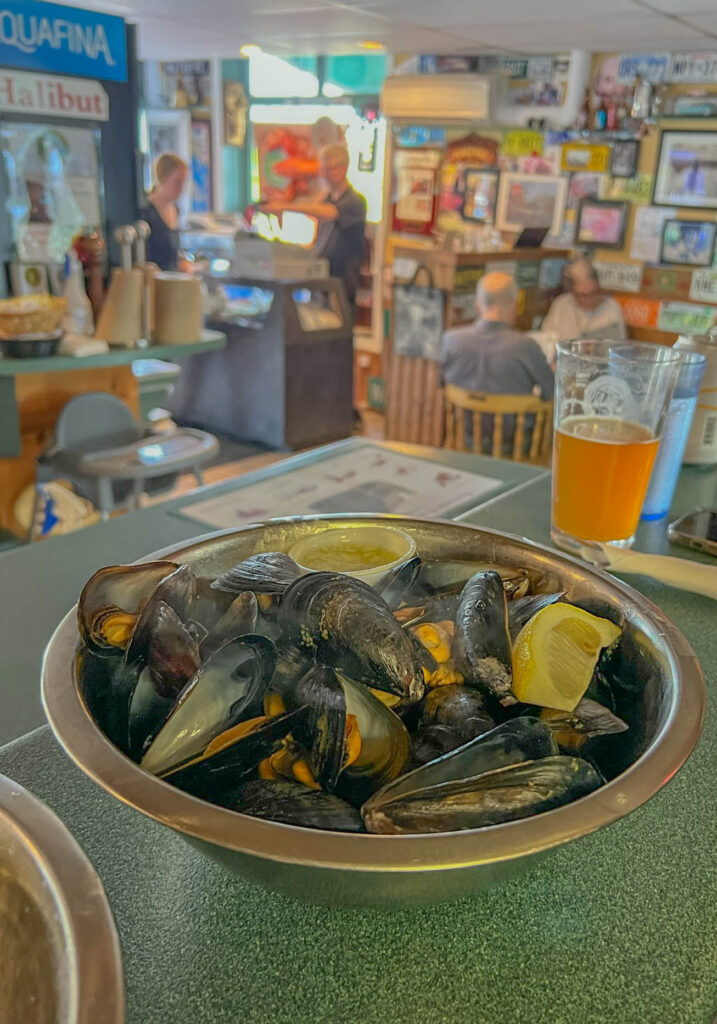 After dinner, we walked around town, went past St. Dunstan's Basilica and came across The Gahan House, where we heard some live music outside on the patio. The weather was beautiful (mid-60s) so, naturally, we grabbed seat. It was a solo guitar player who performed a wide range of tunes, from Stevie Ray Vaughn to Audioslave, while we enjoyed some people-watching.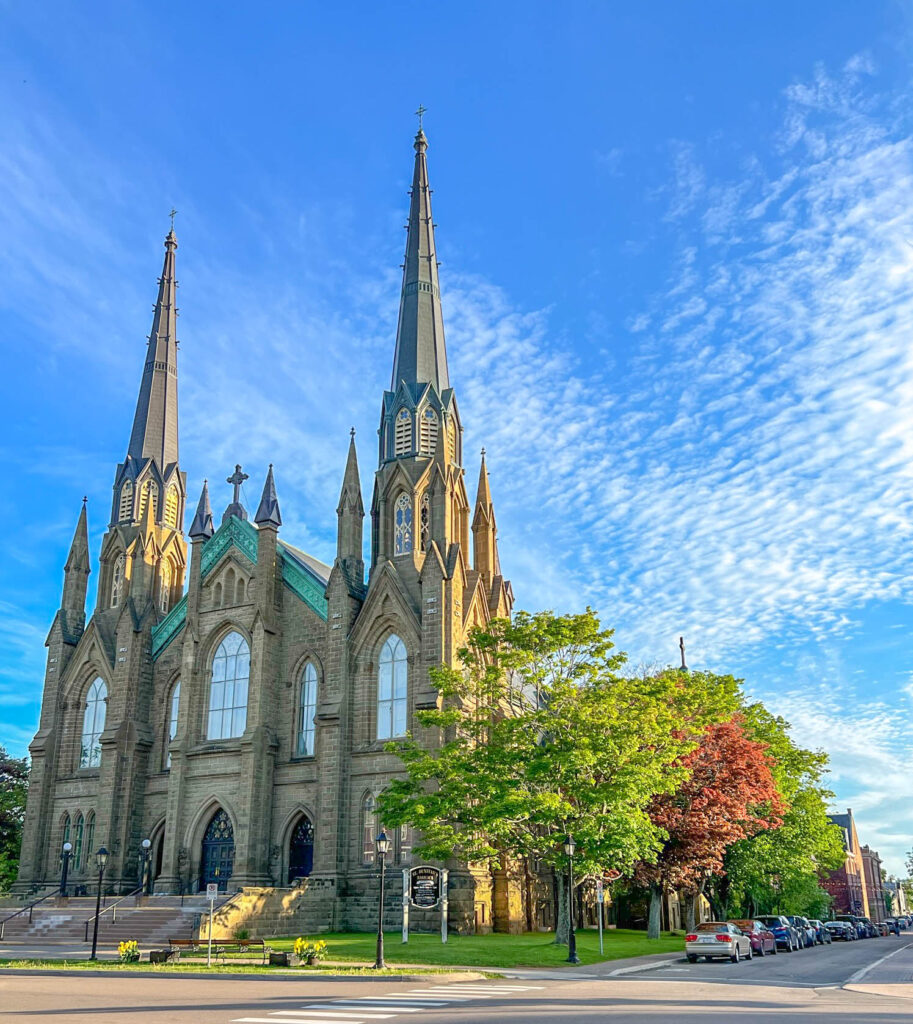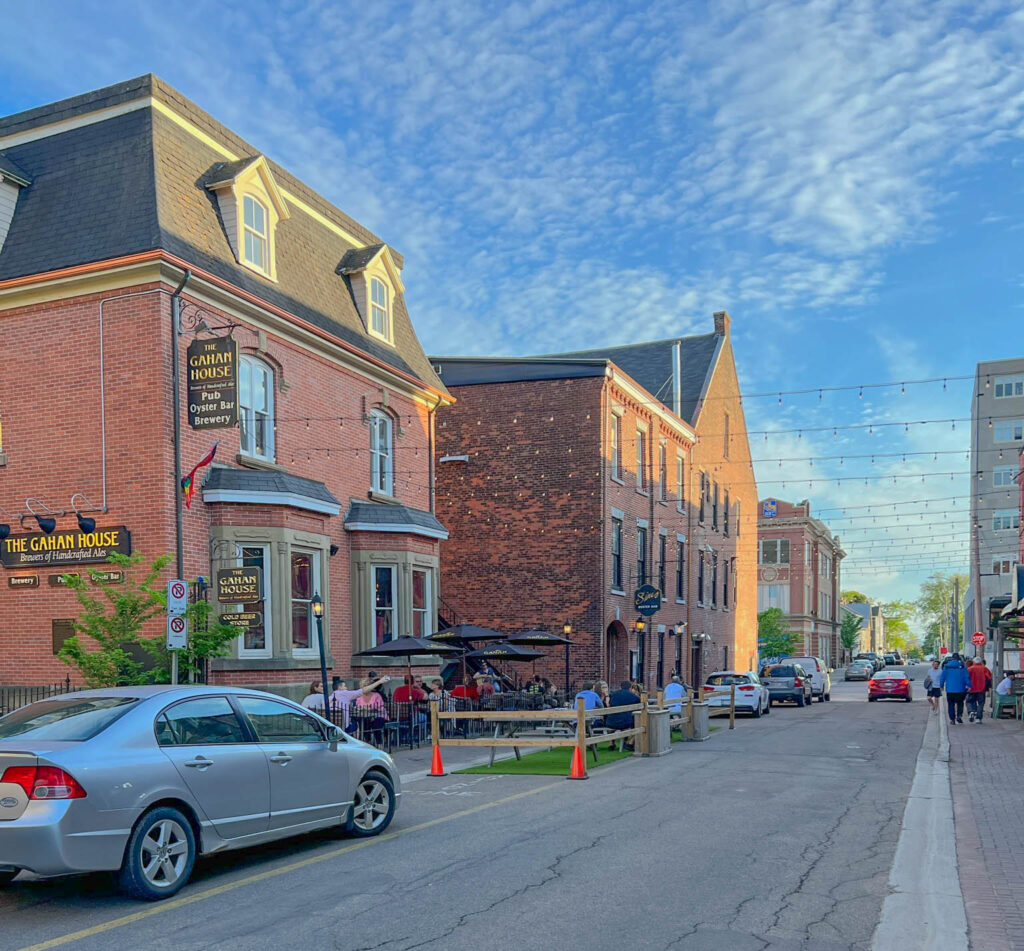 We only caught the tail end of his set, so we asked the waitress for other places with live music. She suggested we try Peakes Quay, and off we went. Our walk took us down Queen Street in downtown Charlottetown where were fortunate to catch the beginning of a terrific sunset.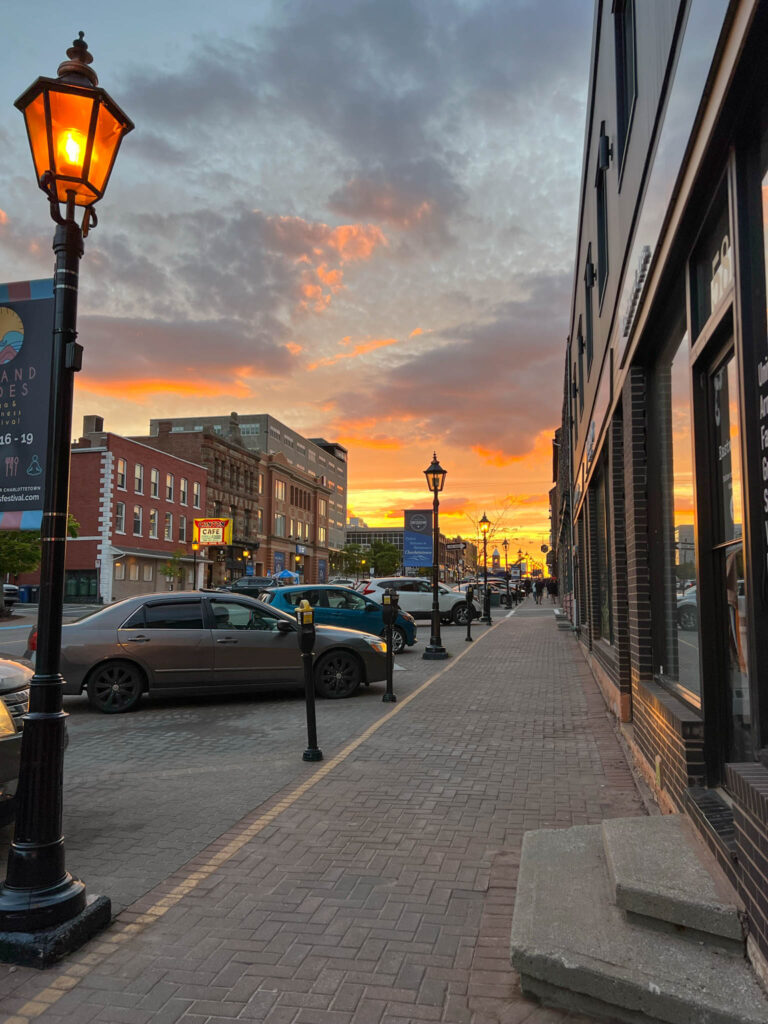 We also came across a large Great Blue Heron statue on Queen Street so I couldn't resist a photo. The steel and stucco statue was created by local artist, Ahmon Katz, and installed on Queen Street in 2013.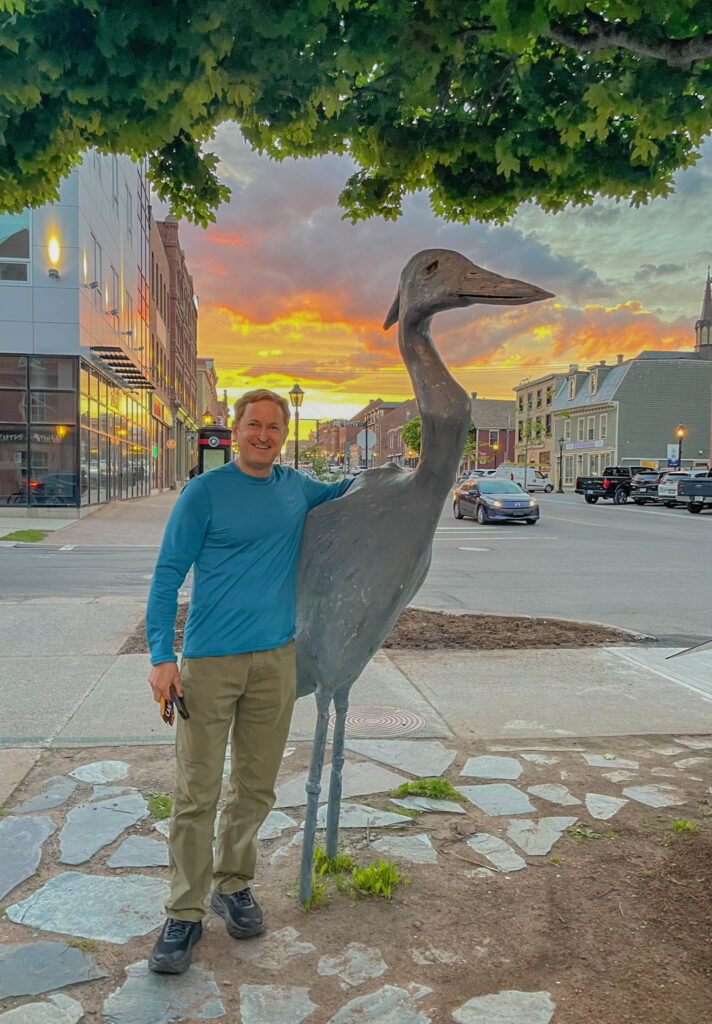 We continued to wander the streets to explore the town a bit …
… and we finally made our way down to the Peakes Quay. The outdoor seating looked packed, and we could hear some live music, but it seemed to be coming from somewhere else. We located the music source even closer to the water at Nimrod's Floating Pizza Bar. Classic name. It's actually on the water, so it's hard to get closer to the water than that. Nimrod's was also packed but we managed to score two barstools right on the water. It was definitely an eclectic crowd, with my brother and I representing the "not so young" crowd. There were a few others our age, but not many. But we didn't care. We parked ourselves there for about an hour, people-watching and enjoying the band that played everything from Weezer, The Ramones, Cream (Crossroads), and Rod Stewart (Stay With Me). People seemed to be enjoying the pizza – looked tasty but we were far from hungry, so we never tried it.
At 10:30pm, we started our walk back to our BnB. It looked like Peakes Quay was getting ready to transform into a night club. There was a massive line outside of the place. Looking at the people in line, my brother and I were DEFINITELY feeling a bit old. I would feel about as comfortable there as I would dancing with my 17-year-old son's friends. No thanks. About 15 minutes later, we were back at our Bnb, the end of a great day.
After a good night of sleep, we checked out of our AirBnb and hit the road around 9am. Our last stop on our way out of PEI was to visit the town of Cavendish, mecca to everything related to the book, Anne of Green Gables. The Cavendish area served as the inspiration for the setting of the book. I'd never read the book before so, the week prior to my trip to Canada, I decided to listen to it via Audible (I'm an audiobook junkie … but mostly non-fiction). I'm glad that I did, as the book gave me a lot more context behind our visit to the Green Gables Heritage Place. We had beautiful weather again and the scenery was terrific. We paid the reasonable $7 Canadian each to tour the exhibits about the book's author, Lucy Maud Montgomery, and tour the Green Gables House. The entry fee also gives you access to hike two short trails, which we did. The trails are named after trails mentioned in the book: "Lover's Lane" and "Haunted Forest". They were very nice trails and well worth doing. There's nothing quite like walking a trail called "Lover's Lane" with your brother. The Haunted Forest trail felt much more appropriate.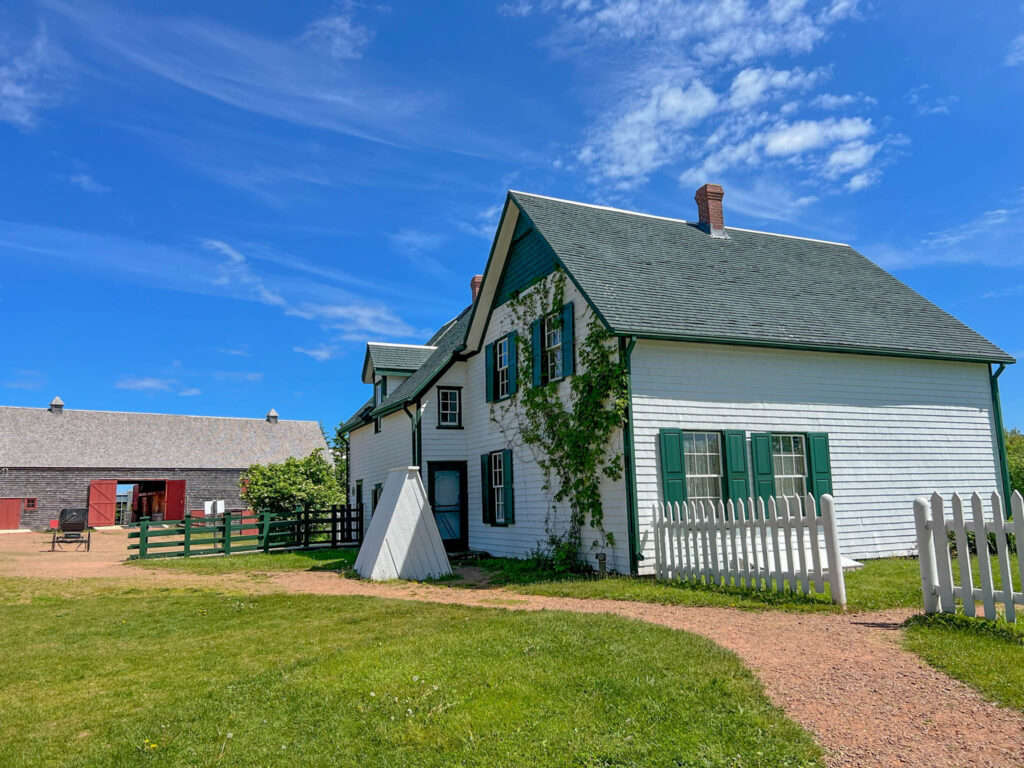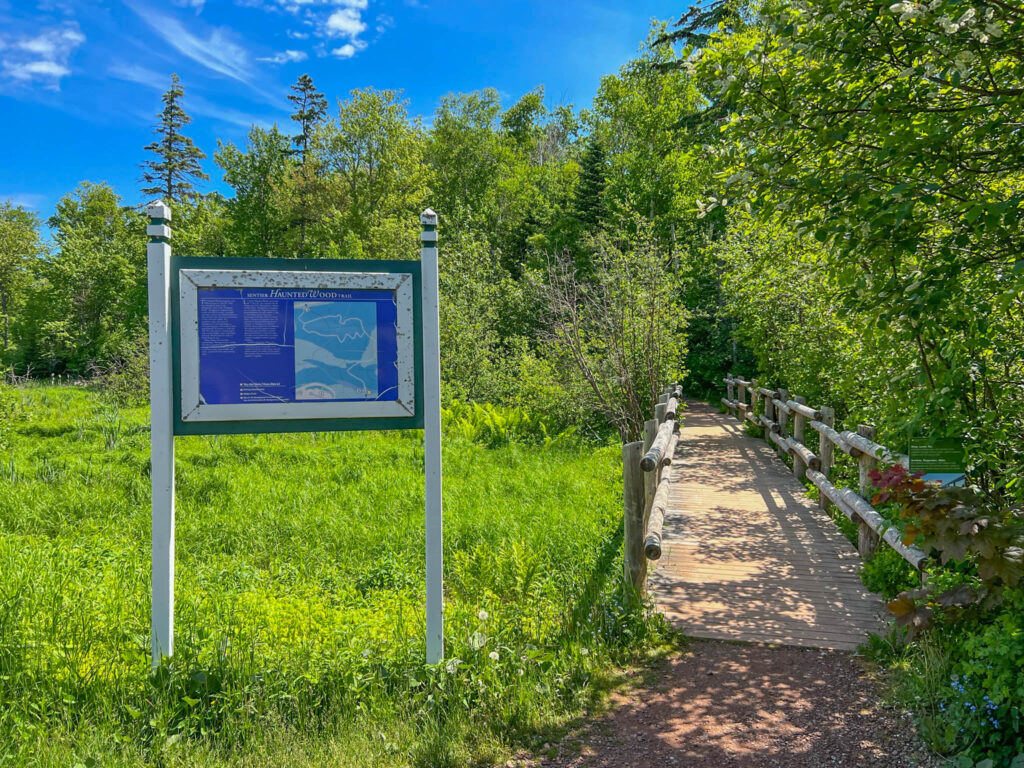 After our short hike, we grabbed lunch at nearby restaurant, The Lost Anchor. We managed to get a table on the upper deck outside patio, where we enjoyed the great weather while eating fish tacos with an asian pear slaw … hold the mayo. With they did perfectly. A nice way to end our trip to PEI.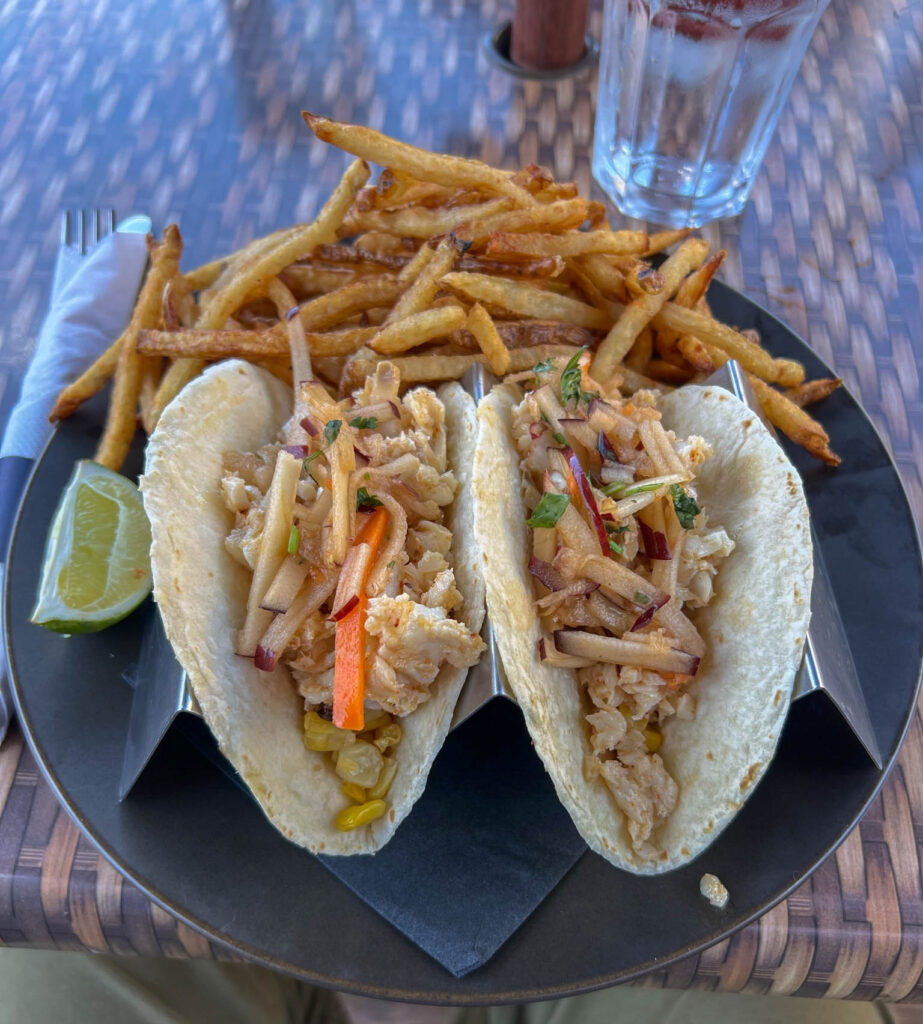 As we drove through Cavendish a bit more, we were surprised at just how touristy and built up it is: amusement parks, golf courses, mini-golf, laser tag, and so on. We commented that it was hard to believe that all of this was created from a fictional book. Then we reminded ourselves about Hobbiton, New Zealand and The Lord of the Rings. "Yeah, but that was cool" was the best lame, guy-answer we could muster for our double-standard. However, after reading Anne of Green Gables, I can see why Anne's character had such an impact on so many people over the years.
After lunch, we drove back to the Confederation bridge, paid our toll of just over $50 Canadian to cross it, and made our way to Halifax.
Perhaps it's appropriate to sign off with a quote from Anne of the Green Gables:
"It has always seemed to me, ever since early childhood, amid all the commonplaces of life, I was very near to a kingdom of ideal beauty. Between it and me hung only a thin veil. I could never draw it quite aside, but sometimes a wind fluttered it and I caught a glimpse of the enchanting realms beyond-only a glimpse-but those glimpses have always made life worthwhile."

Our road trip to PEI offered many glimpses of the things that make life worthwhile.
Thanks for reading!
Mark
Mark Aspelin, The New Mexico Travel Guy, is a travel writer and author of two books who has enjoyed a wide variety of adventures in his travels to over 100 countries and all 50 U.S. States. Mark lives in the mountains outside of Albuquerque, New Mexico, which serves as a great home base for his New Mexico Travel Guy blog (www.newmexicotravelguy.com)