What to do during your visit to St. John's, Newfoundland
In the Part 1 of this post, I focused on outdoor activities such as hiking Signal Hill, whale and puffin-watching tours, and visiting Cape Spear. Now it's time to share some indoor highlights of St. John's, Newfoundland.
Getting Screeched-In
A well-known tradition for all first-timers to Newfoundland is to get screeched-in. If you haven't visited Newfoundland before, you're probably asking "what the hell is that?" Glad you asked. A screech-in is a ceremony for "mainlanders" that involves kissing a cod, doing a shot of Newfoundland Screech rum, and reciting a particular phrase, all for the purpose of becoming an honorary Newfoundlander. The ceremony can be performed in a wide variety of places – people's homes, a boat, or a bar. But if you're in St. John's, then it's hard to beat going to Christian's Pub on George Street. The screech-in at Christian's Pub was even featured on Anthony Bourdain's show "Parts Unknown", back in 2018. If you decide that you want to get screeched-in at Christian's, then I highly recommend you get a reservation at least a day or two in advance. I was told that Trapper John's is a good fallback plan if you can't get into Christian's Pub.
The ceremony at Christian's consisted of the following steps:
First, the future honorary Newfoundlanders line up at the bar while the master of ceremonies, Captain Lukey (real name Brian Day), asked each of us to say our first name and where we're from. The impressive part was that Brian was able to memorize each one of our names in the process. After the introductions, the Captain cooked up a "Newfie steak", which is a piece of bologna that is cut into pieces and passed around for each of us to eat.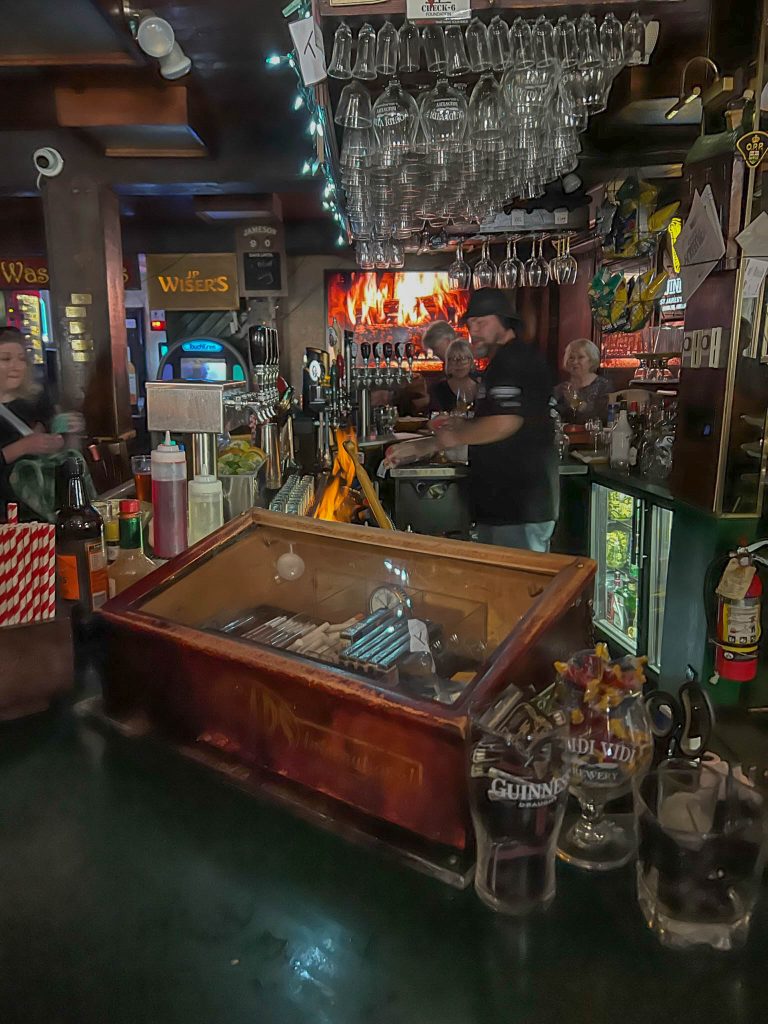 Next, it was time to kiss a frozen codfish. The Captain held the fish as he walked around the bar for each of us to kiss it. As you might guess, COVID concerns are not top of mind.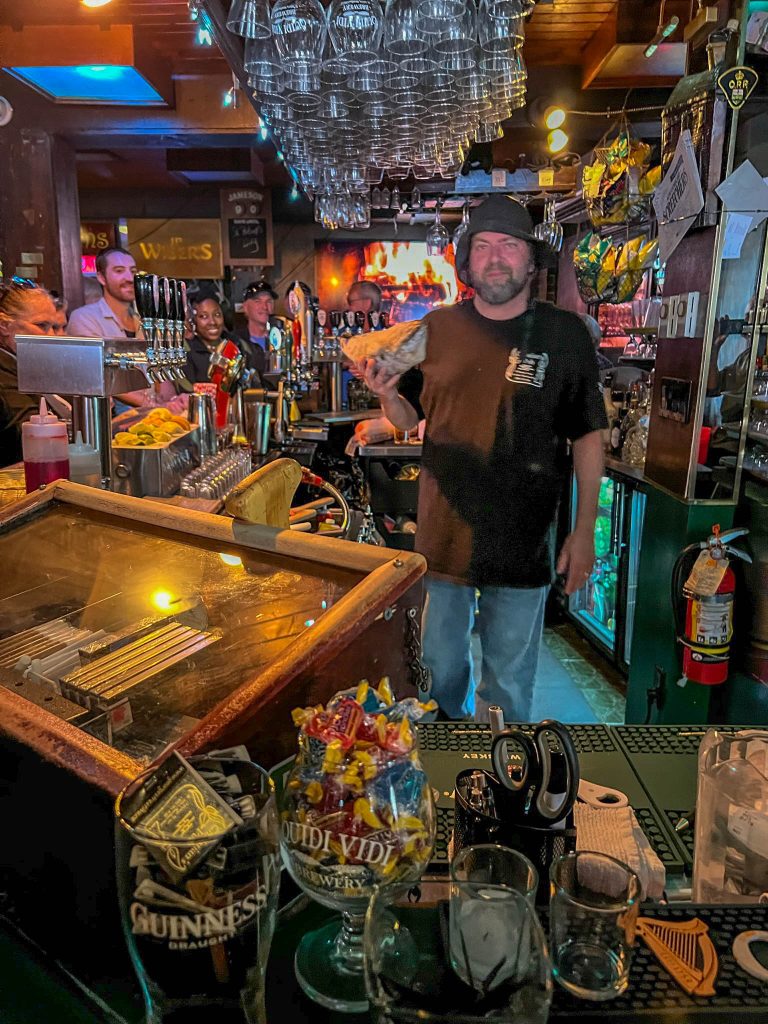 For the next hurdle on our journey to become an honorary Newfoundlander, it was time to do a shot of Newfoundland Screech – an 80 proof (40% alcohol) rum that is imported from Jamaica and then blended and bottled in Newfoundland. Given that I had already used up my lifetime quota of alcohol in my youngers days and no longer touch the stuff (I wanted to save some for the rest of you), I opted for an alternative: "Purity Syrup". Purity syrup is some kind of sugar water that the Captain mixed up on the spot. If you don't drink alcohol, then you'll want to let them know when you book your reservation and remind them again when you show up to be screeched-in.
Last, but not least, it's time to learn and recite the proper answer to the question: "Are ye a screecher?" or "Is you a Newfoundlander?". What's the answer to that question, you ask? It's a safe bet that it's not the first thing you'd think of. "Indeed I is, me ol' cock! And long may yer big jib draw!" I'm told this translates to "Yes I am, my old friend, and may your sails always catch wind." Or something like that.
After uttering those words in unison with your fellow screechers, you're official! We each received a certificate and then the celebration party begins.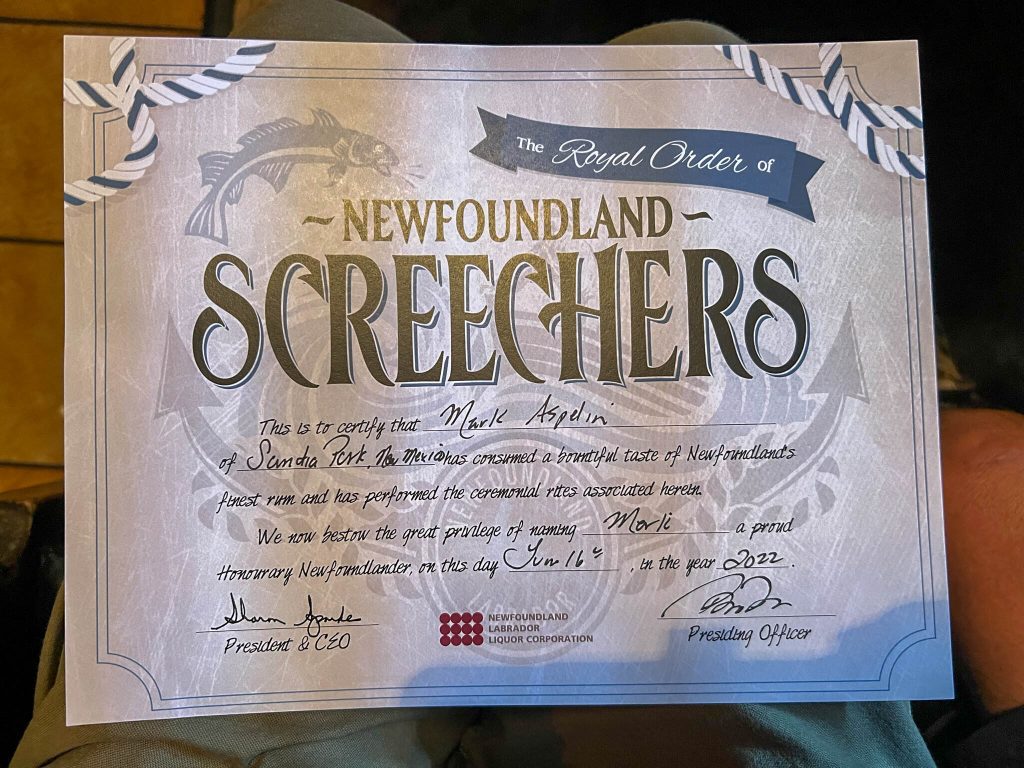 The screech-in ceremony was a lot of fun and I'm very glad we did it. Definitely worth it!
Restaurants and Nightlife of St. John's
For a relatively small city of about 115,000 people, I was impressed at the abundance of restaurants and nightlife, featuring live music seven days a week. In fact, St. John's has the most bars per 10,000 people in Canada. I didn't bothering counting, but I read that George Street has 23 bars in just one or two blocks! There's also a George Street Festival that takes place in late July / early August every year. This festival attracts an estimated 120,000 revelers for six days of music and partying. St. John's is certainly a good place for nightlife. But, as a geezer in my 50's, I was in bed before things really start to pick up.
One thing that I particularly enjoyed about nightlife in St. John's was the abundance and quality of live music. In the four days we were there, we saw a wide variety of musicians and all of them were good. Some of the pubs feature live music seven days a week, including: Shamrock City, O'Reilly's, Kelly's Pub, Green Sleeves Pub, and Bridie Molloy's. Yep, there's definitely a Celtic theme going on in St. John's, which you can also tell by the accent of many of the locals.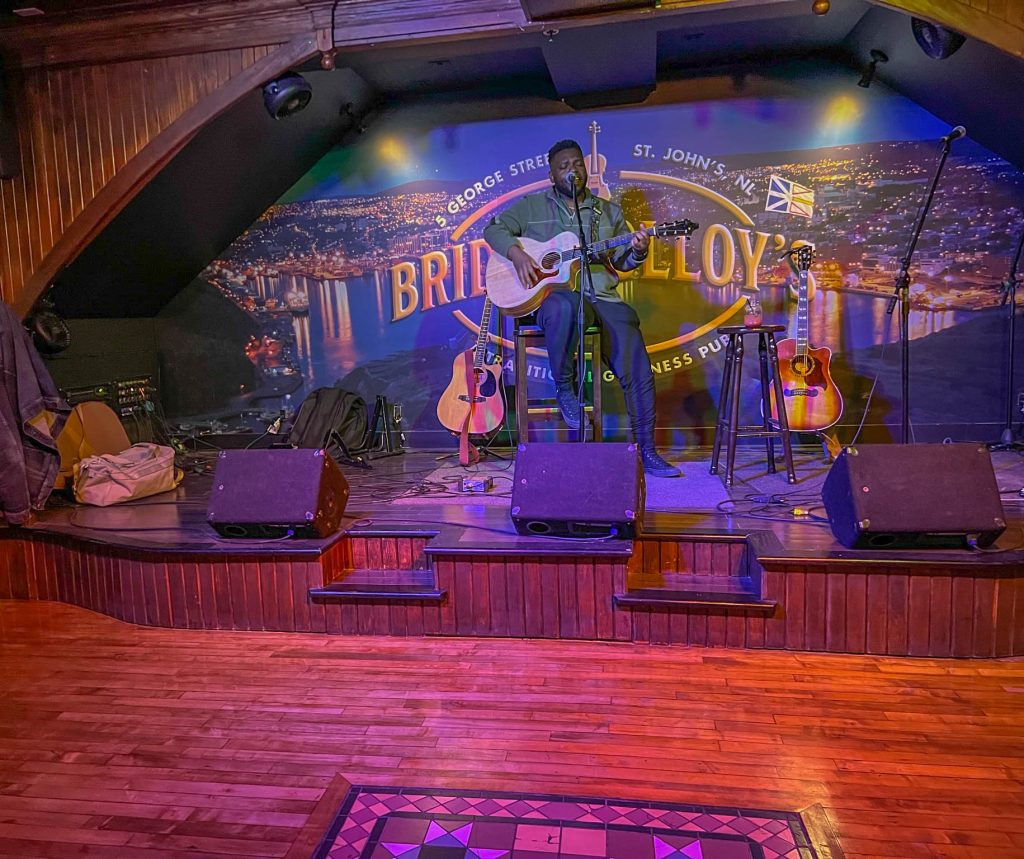 St. John's also has a few breweries that are worth checking out. The most famous (or infamous) brewery in Newfoundland is Dildo Brewing. For real. It gets it's name from the town of Dildo, Canada, about an hour drive from St. Johns. One brewery in St. John's that is definitely worth checking out, if for no other reason than its setting, is Quidi Vidi Brewery, pronounced "Kiddy Viddy".
As for restaurants, there are plenty to choose from. Most of the places we went to were pubs, so they had typical pub fare and it was all pretty good. A solid 6 or 7 out of 10. I also tried a moose burger at Shamrock City Pub – a novelty that was a bit gamy but good. The standout restaurant that we tried was St. John's Fish Exchange. That's more in the 9 out of 10 range, but it also costs a bit more. We liked it so much that we went there twice! I'm sure there are many other great places to eat. We only scratched the surface.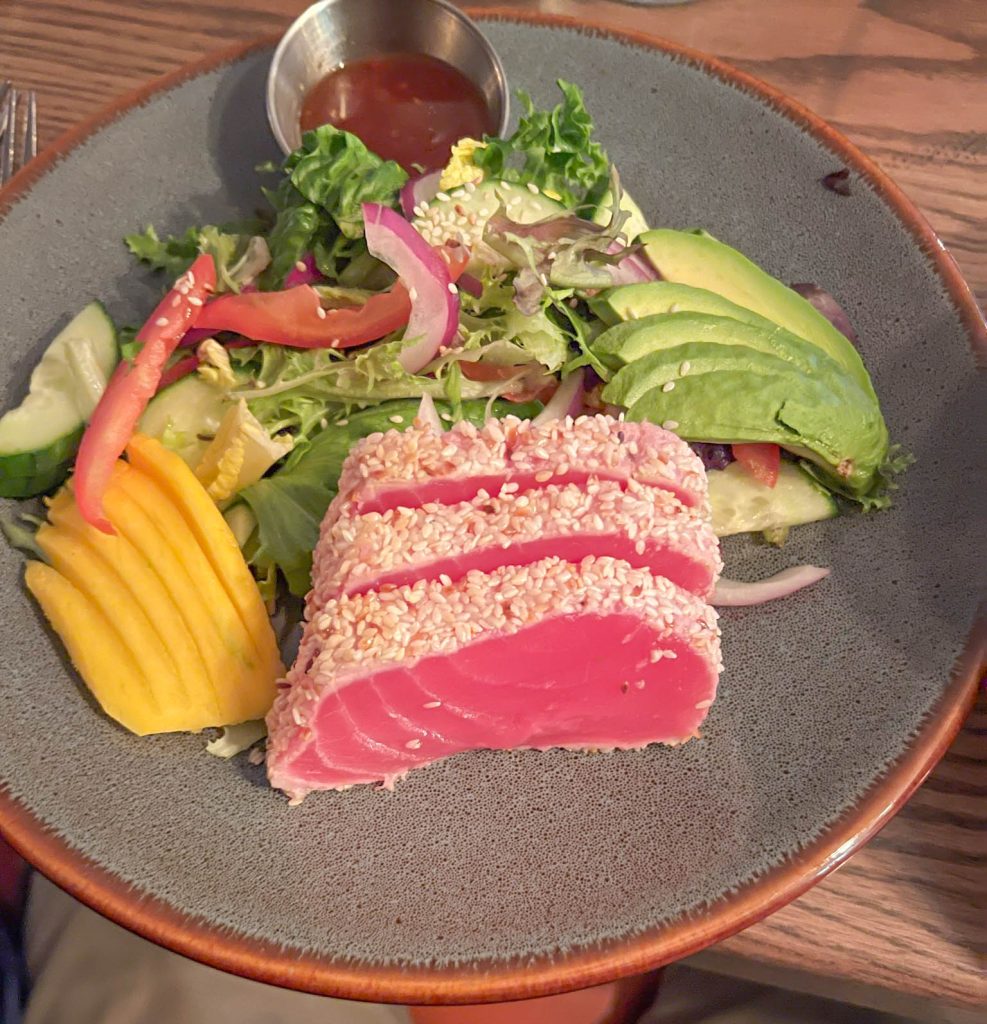 To offset all of the eating out at restaurants, I was eager to hit the gym. I was fortunate to find Goodlife Fitness – St. John's Atlantic Place. Goodlife Fitness is the largest health club chain in Canada, with over 450 locations across the country. I told them I was just passing through and they were nice enough to give me a free 3-day trial membership, which I took advantage of every day. It's a nice gym with great views of the harbour from their cardio area.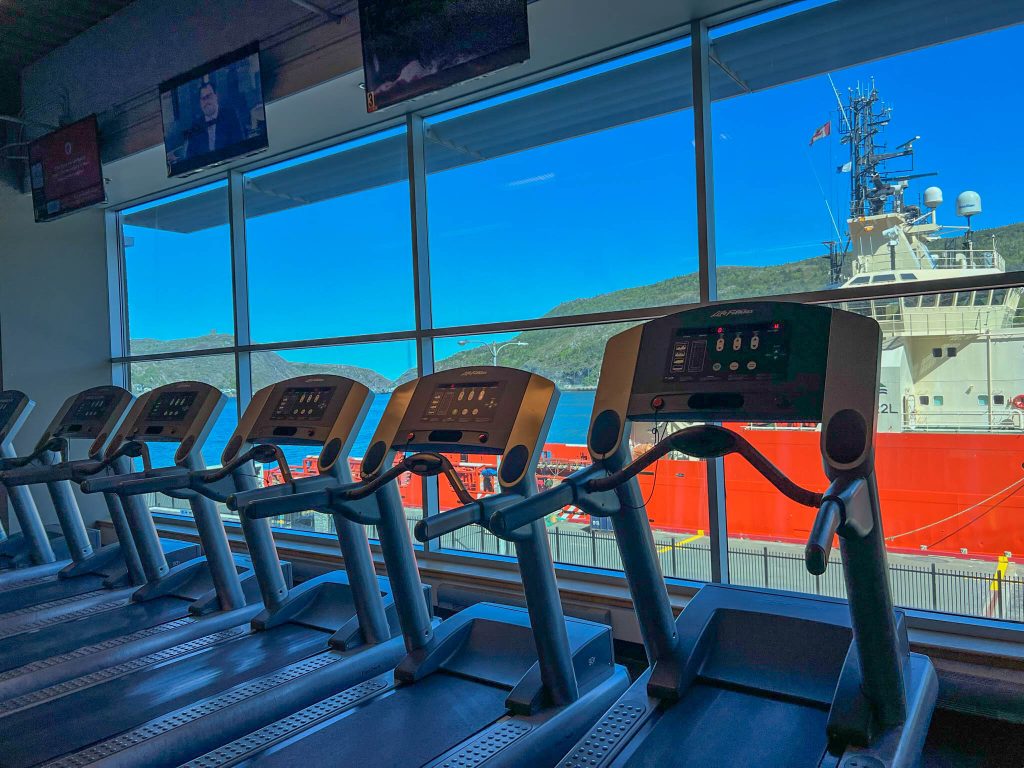 Celebration of Life for my Aunt Annmarie
On June 15, 2022, we attended the celebration of life for my Aunt Annmarie at her brother's house in St. John's. Annmarie passed away on November 21, 2021 in Florida. But rather than have a winter celebration, the family decided to wait until her birthday on June 15th, to celebrate in her true home, Newfoundland.
I'm guessing there were about 40 people in attendance, mostly gathered in the kitchen. "Kitchen parties" are a tradition in Newfoundland.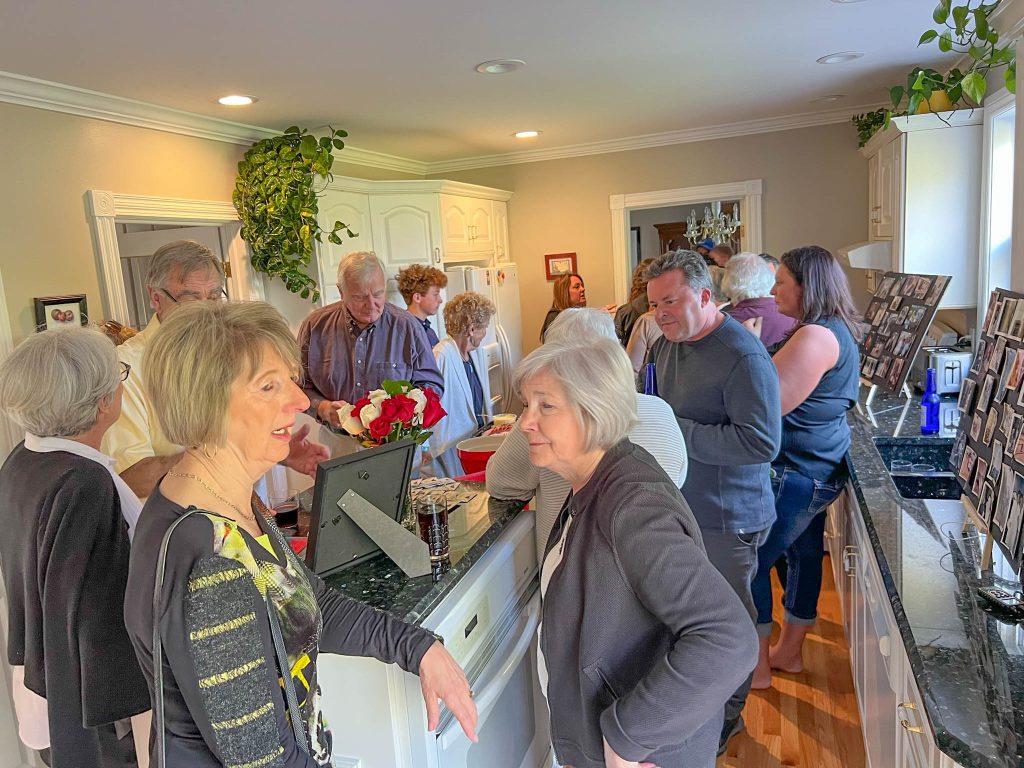 It was fun to meet meeting everyone and see the photos from Annmarie's life. My cousin Jim gave a great speech and we all enjoyed some tasty food and drinks.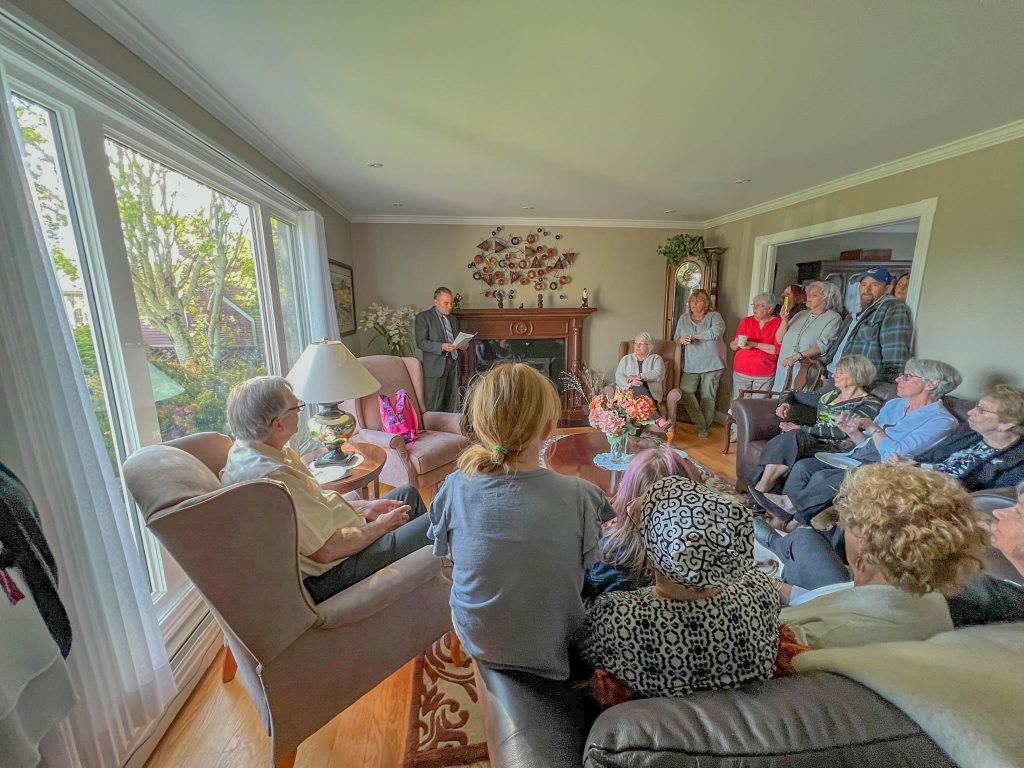 As part of the remembrance, each person received a small packet of bird seed to feed to the birds in her memory, which I did at my home in New Mexico! I thought that was a wonderful way to remember Annmarie.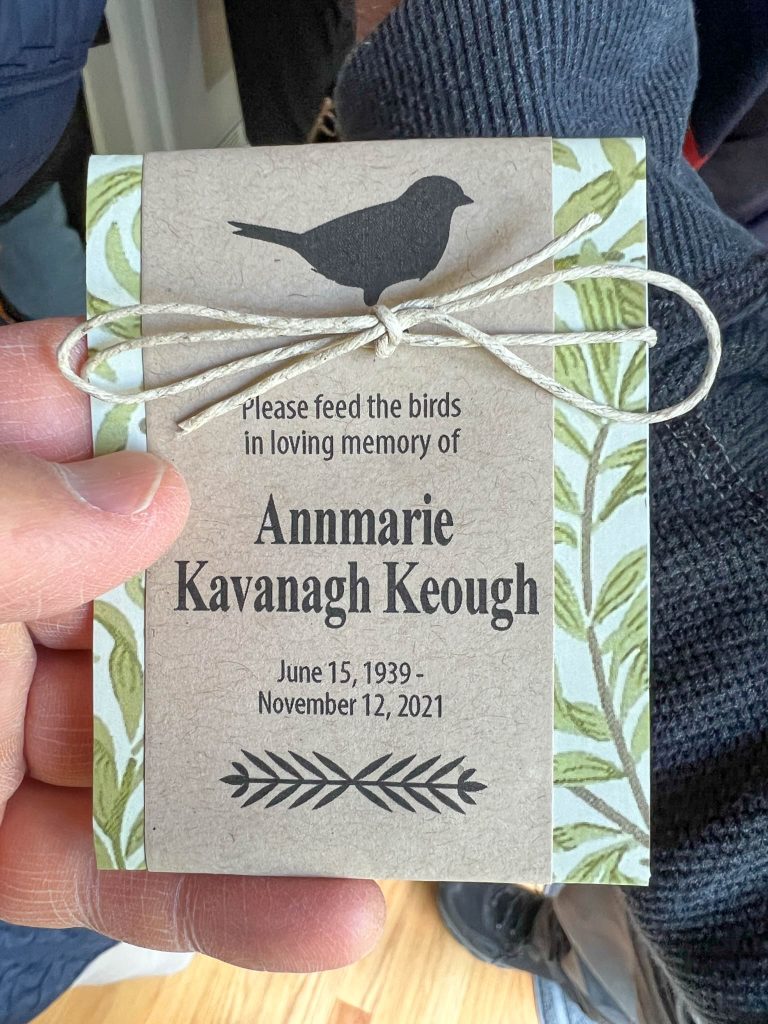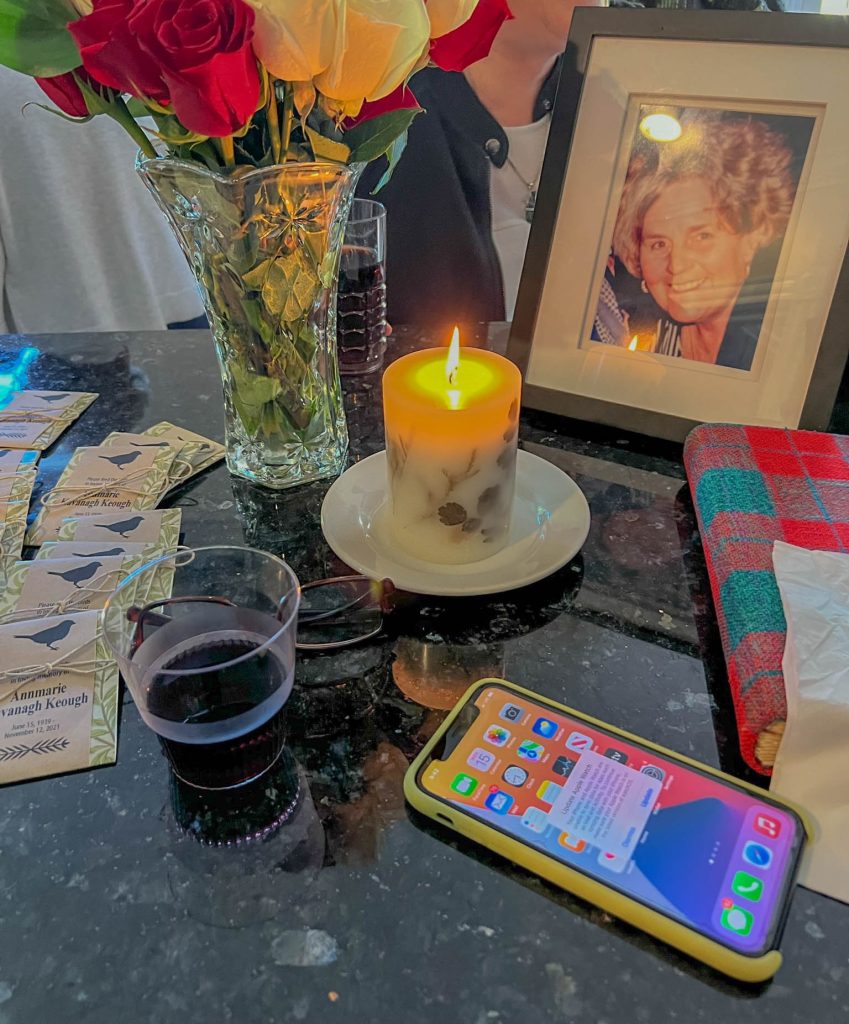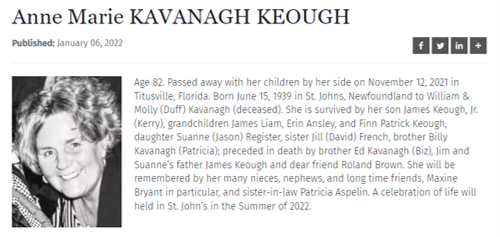 Mark Aspelin, The New Mexico Travel Guy, is a travel writer and author of two books who has enjoyed a wide variety of adventures in his travels to over 100 countries and all 50 U.S. States. Mark lives in the mountains outside of Albuquerque, New Mexico, which serves as a great home base for his New Mexico Travel Guy blog (www.newmexicotravelguy.com)