Apples, Rolling Hills, and the Hondo Valley Eagles
Hondo is one of many New Mexico towns that you won't find in most guidebooks. After all, there are no hotels, restaurants, or bars in town. One of the only attractions, the Hondo Iris Farm, has closed down. The main attractions that remain in this community of just over 1,000 residents, are the landscape of rolling hills, ranches, farms, and the people. On August 6 – 7, I had the opportunity to meet with two Hondo residents and this is what I learned about the community.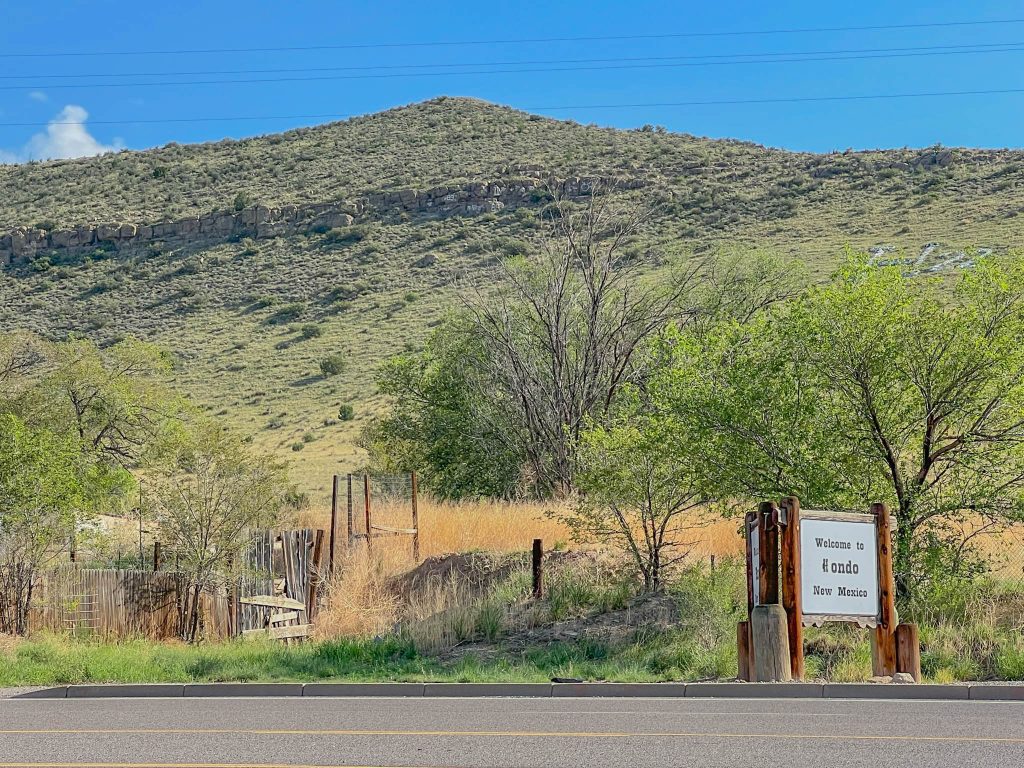 BRIEF HISTORY OF HONDO
The area was originally home to the Apache tribe. As early settlers arrived, they formed enclosed family compounds for protection during battles with the Apache. Eventually, the US army "controlled the Apache", and Hispanic settlers began to arrive from the Rio Grande Valley of Texas and Mexico. These settlers established ranches and farms that we still see today in the Hondo Valley.
In the early days, the town of Hondo was known as "La Junta", which means "the junction" in Spanish. This is because the town is located at the junction where the Rio Bonito and Rio Ruidoso meet to form the Rio Hondo. Rio means "river" in Spanish, in case you're wondering. Later, the town's name changed to Hondo. "Hondo" means "deep" in Spanish, as in "deep river". I couldn't find the date of the name change, but it appears to have switched over sometime in the late 1800s. When researching the meaning of "hondo", I came across a very different definition in the urban dictionary. Feel free to look that up for your entertainment. Hint: it's something that you're not encouraged to do in the Rio Hondo.
Today, Hondo is considered an unincorporated town in Lincoln County, New Mexico. Roughly 2/3 of the estimated 1,081 residents are Hispanic. Many residents work in the agricultural industry. Lincoln County, New Mexico leans conservative, and Hondo is no exception. You may see some evidence of this political leaning in some of the, often humorous, signs in the area.
As you drive through town, about the only places you'll notice from the road, aside from ranches and farms, are the Hondo Valley School, the Hondo post office (opened in 1900), and the Tangle – Y Wood-N Art shop. The Tangle – Y has all kinds of fun stuff and is worth checking out if you're passing through. They also happened to have one of those humorous signs I mentioned in the previous paragraph (see photo below).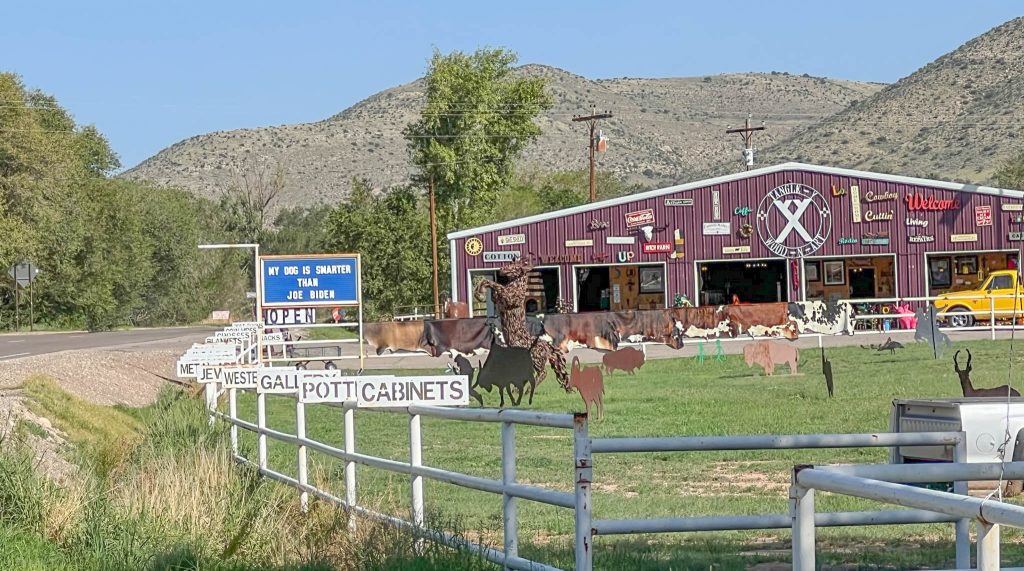 WHERE TO STAY IN HONDO
The topic of lodging is pretty easy to cover for Hondo. There are no hotels or motels. But there's at least one AirBnb in Hondo. I know this to be true because I stayed there! I spent one night at the Tierra del Alma ranch in Hondo (you can also find Tierra del Alma on AirBnb). The casita at Tierra del Alma is suitable for one or two people (2 bedrooms, 2 beds, 1 bath). It's a small but comfortable space located on 18 acres in Hondo, with nice views of the surrounding hills. With advance notice, guests can request to have dinner, wine, or a light continental breakfast served to the casita, and the options looked tasty.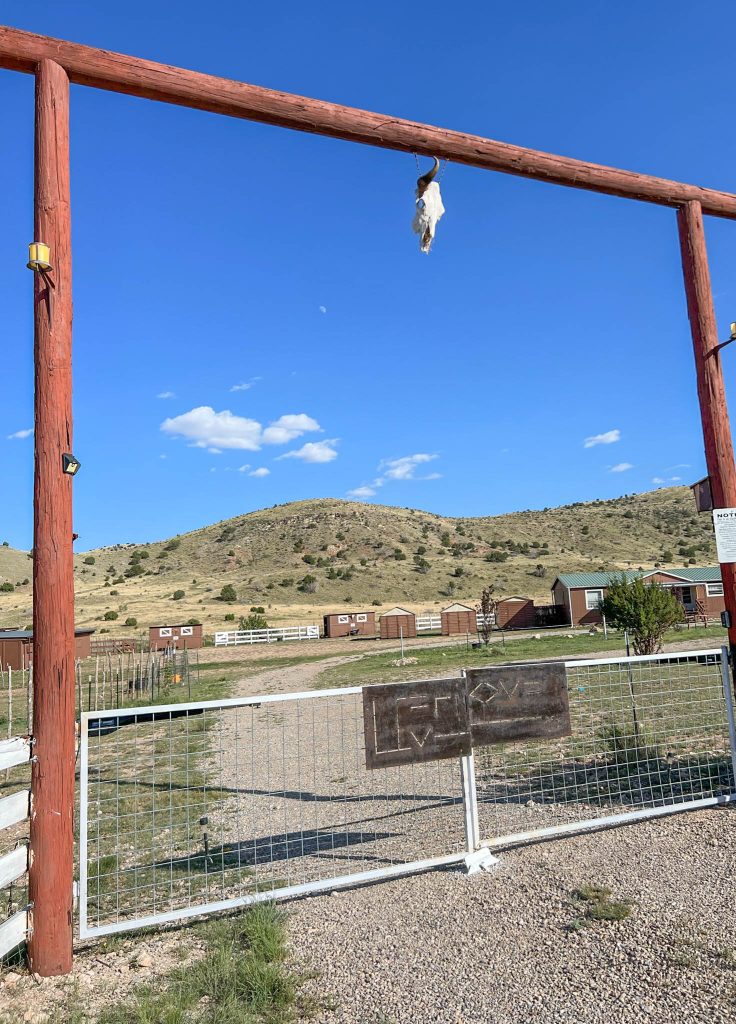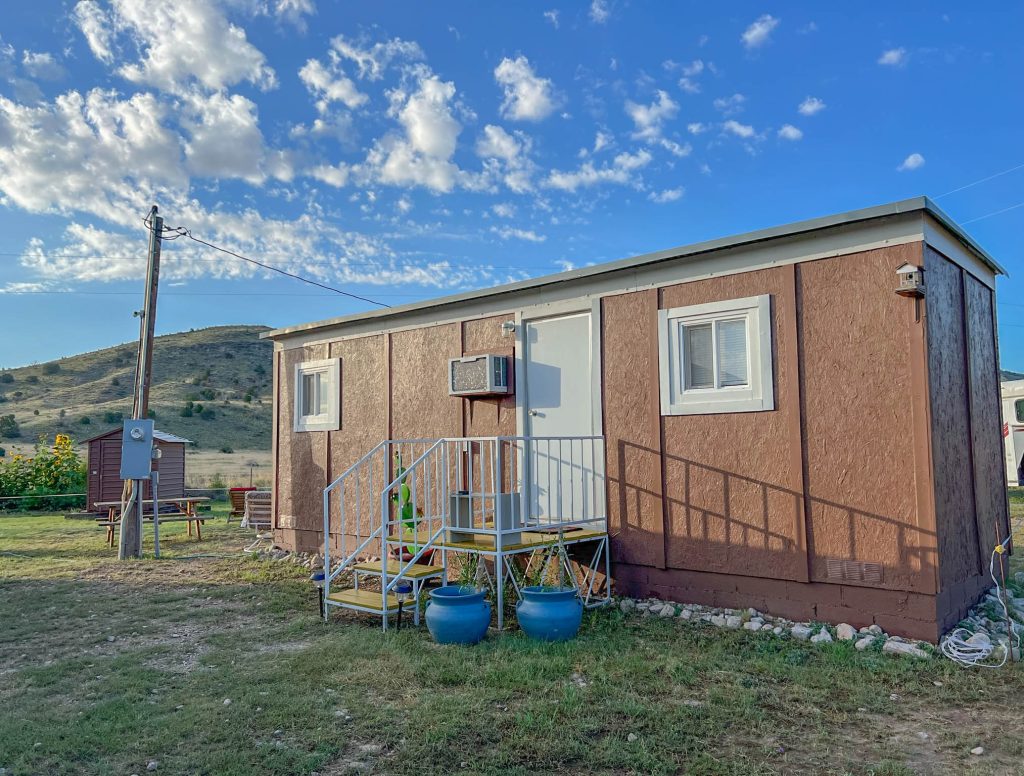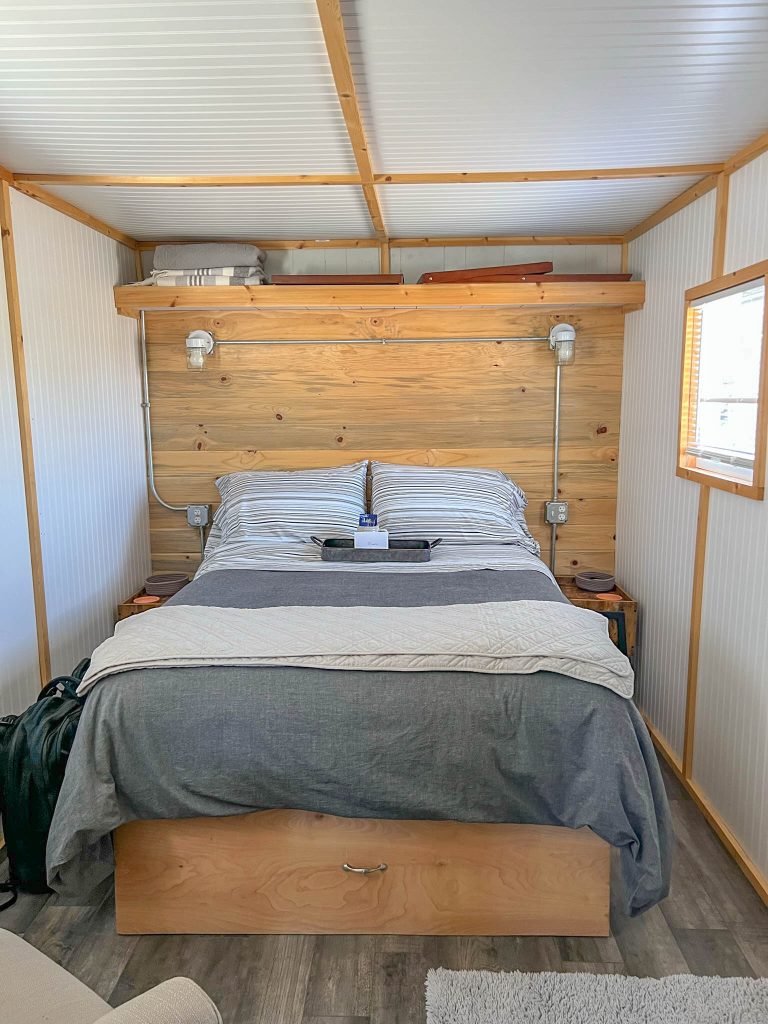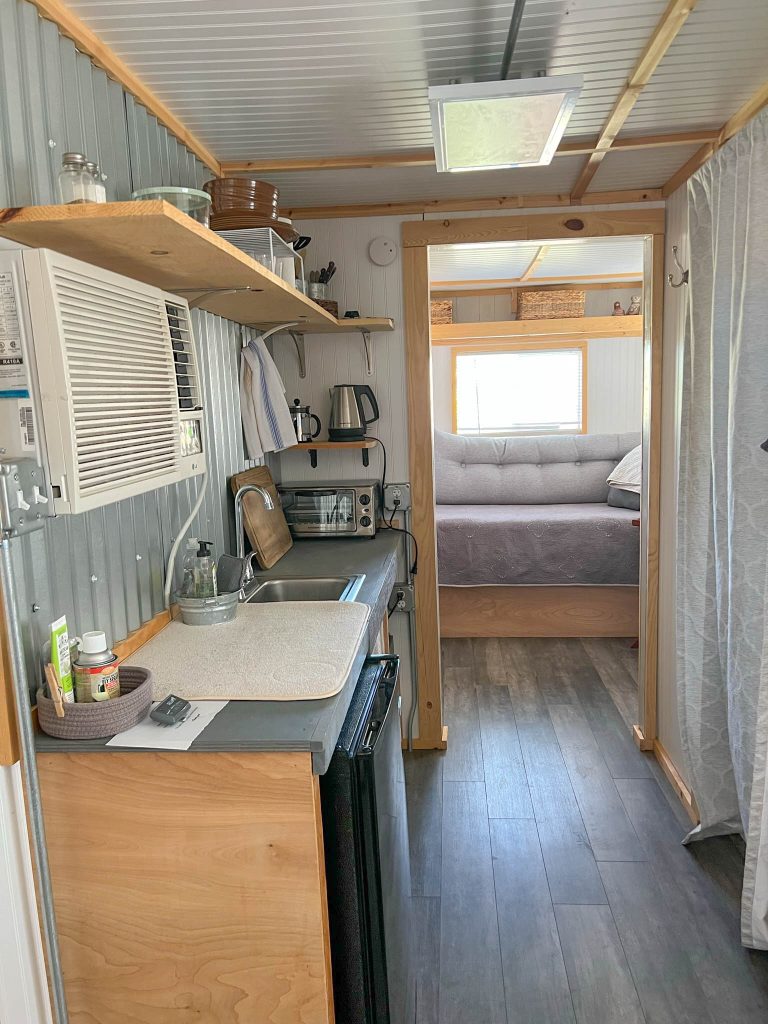 Another fun part of staying at Tierra del Alma is the opportunity to meet the terrific owner, Melissa, and her crew of horses, dogs, and a friendly donkey named Millie. Melissa also mentioned that she will be offering Private Equine-Assisted Life Coaching weekends (transformative life coaching work with horses) in the future, so you can ask her about that too!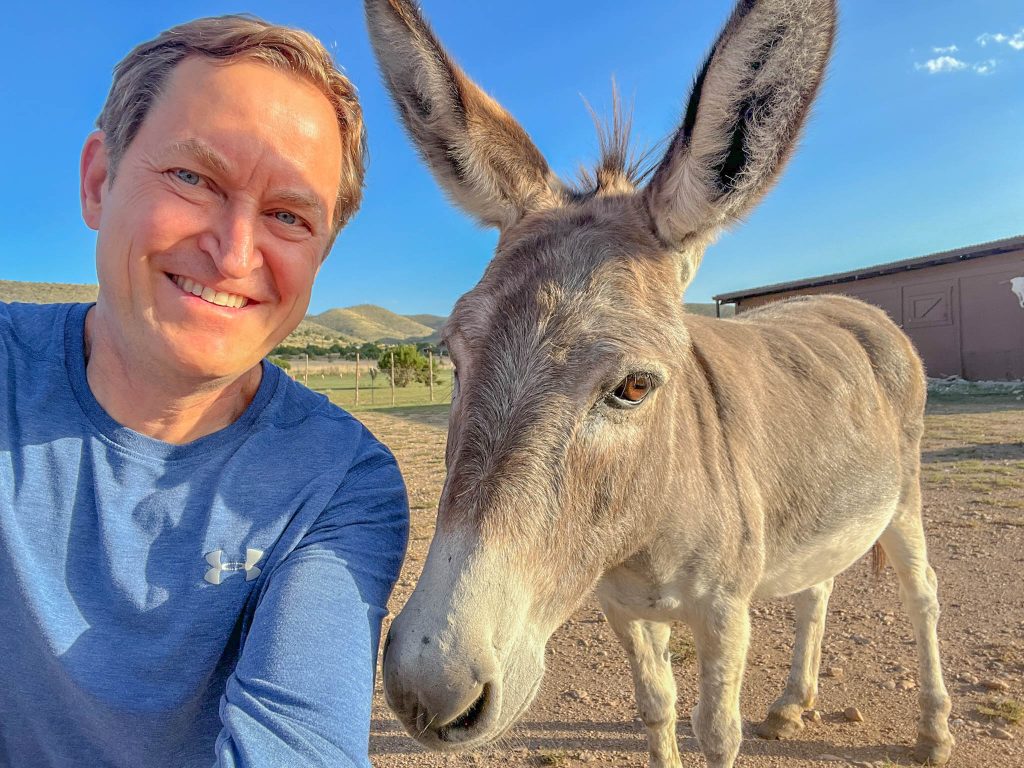 WHERE TO EAT IN HONDO
Food is another easy topic to cover for Hondo. There are no restaurants or grocery stores. Google maps shows a Hondo Valley Cafe in town, but it appeared to be closed for business when I visited in August 2022. However, there's a great restaurant to check out that's only a five minute drive from Hondo called the Silver Dollar in the adjacent town of Tinnie. I feature this restaurant in my blog post on the town of Tinnie. If you're just looking for a snack, there's an Allsup's Convenience Store in Tinnie that has typical gas station fare as well as decent hamburgers. Although if it's a good hamburger you're looking for, the Silver Dollar restaurant is a MUCH better choice.
THINGS TO DO IN HONDO
There are a variety of things to do in the Hondo Valley and the town of Hondo can serve as a good base for exploring the area. It's also not that far from larger towns such as Ruidoso Downs (25-minute drive) and Roswell (50-minute drive). Since the focus of this post is on the town of Hondo itself, here are some activities that you might enjoy during your visit.
Fiesta de Hondo
If you happen to be visiting Hondo in May, your timing may coincide with an annual event called Fiesta de Hondo, or the Hondo Fiesta. This annual tradition has taken place each year since May of 1948, when Fermín and Cirenia Montes started this fiesta that features traditional Spanish, Mexican, and New Mexican dances. Today, the dances are performed by students in colorful costumes from grades preschool through 12th grade. Admission is free, unless you want to enjoy their enchilada dinner plate for the very reasonable price of $6.
Hondo Valley High School Football and Basketball
I don't follow football of any kind, but I did find it interesting to see a sign indicating that Hondo Valley High School was crowned state champs in football in 2008, 2014, and 2015. That was perplexing to me. How could a school with only 133 students in Pre-K through 12th grade have a state championship team? So, I did some homework. I learned that Hondo Valley was crowned state champion of six-man football in 2008, 2014, and 2015. I didn't even know that six-man football was a thing. It's basically the same as regular football, just with 6 people rather than 11, and there are a few rule and scoring modifications. Six-man football seems like a great idea. It gives schools from smaller communities an opportunity to participate in competitive sports without getting wiped out by big city schools with lots of students.
Hondo Valley High School has also been state champions in basketball on two occasions, in 2013 and 2014. Today, there are now 5 divisions of basketball in New Mexico, ranging from Class AAAAA (large schools) to A (small schools like Hondo Valley).
So, if you happen to be staying in the area during a game day, you might want to join the local community to cheer on the Hondo Valley Eagles at a six-man football or Class A basketball game.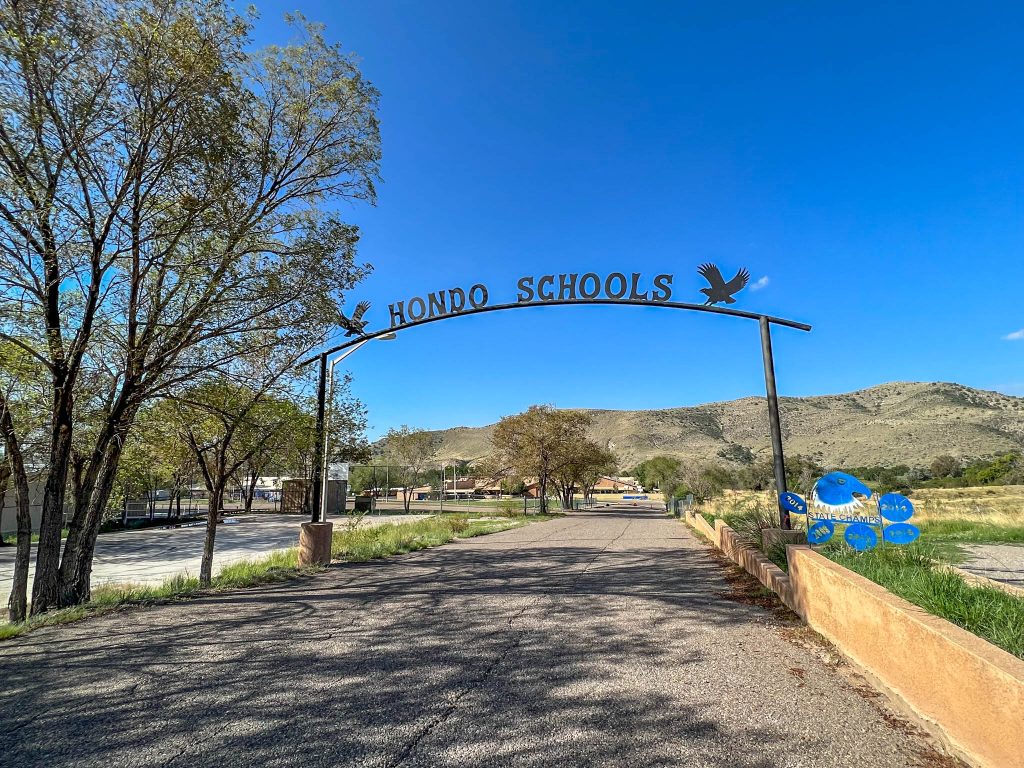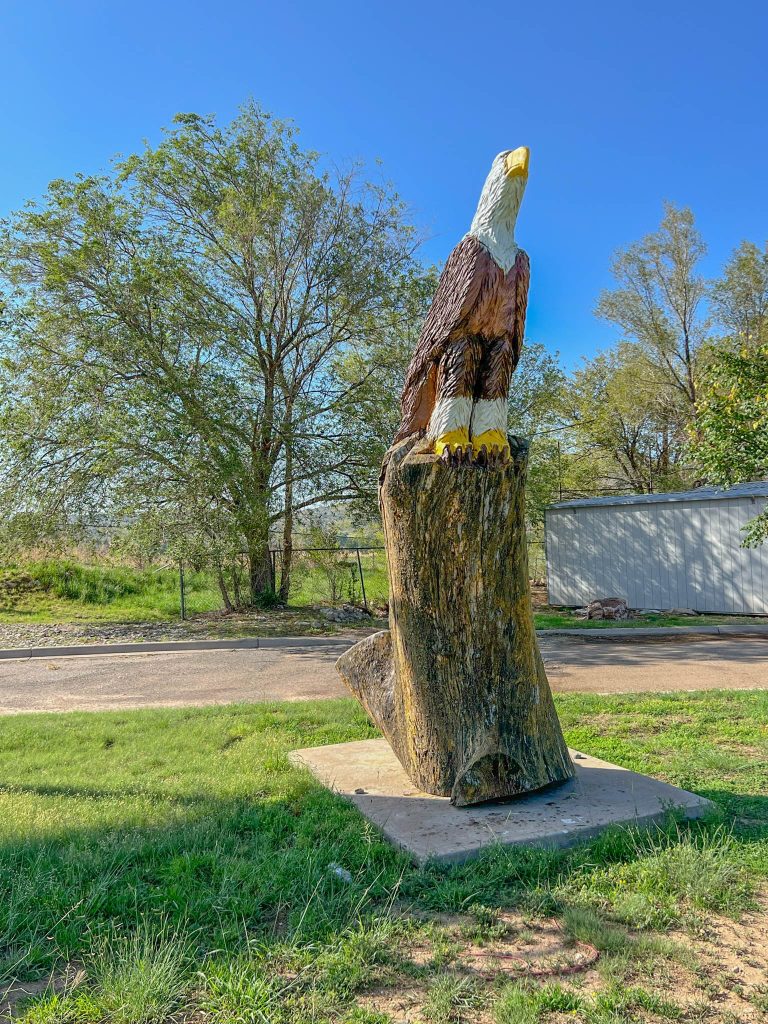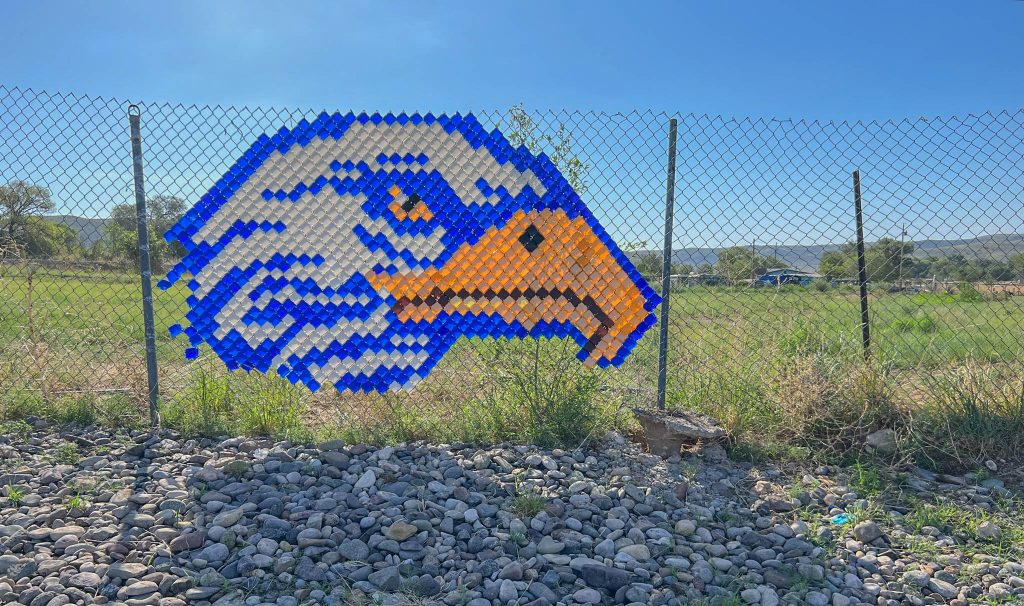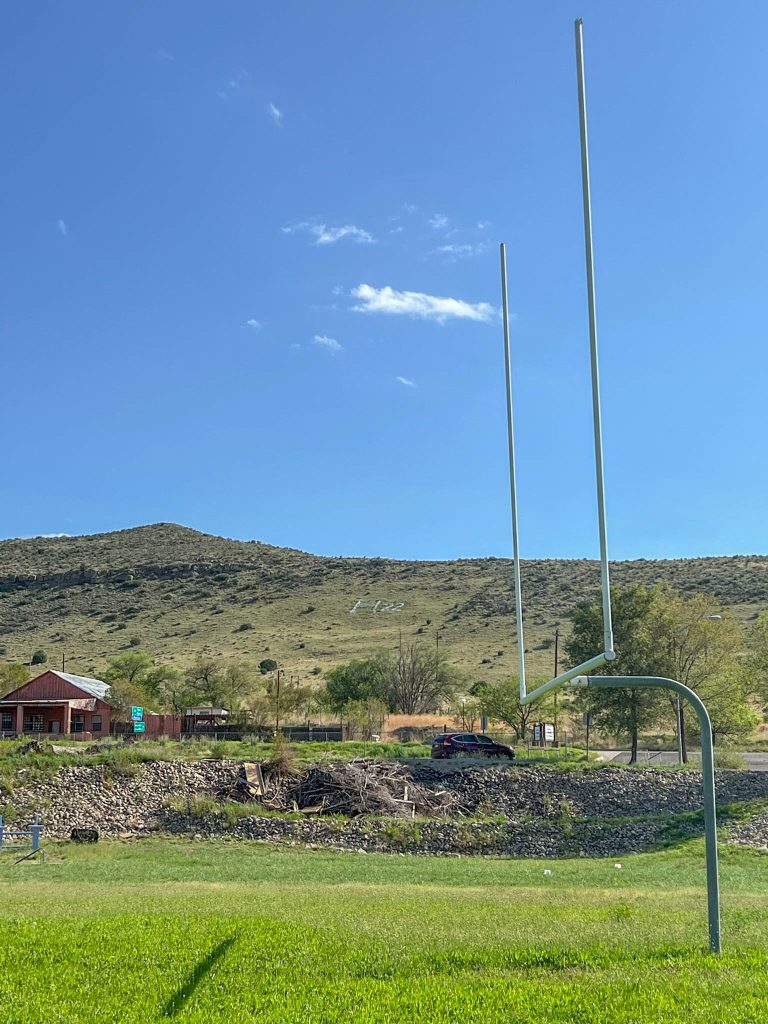 Apples
Another thing that I learned from speaking with Hondo residents is that Hondo valley is known for its apple orchards. Only certain parts of Hondo (not in the canyon) have apples, but there are places you can visit to get fresh produce, such as Longwill Farm in Hondo. I spoke with the owner of Longwill Farm and he said they have a variety of produce that can be available as early as June (depending on any late freezes) until October. Longwill Farm has several varieties of apples (with the option to pick them yourself in the orchard), as well as pears, peaches, plums, cherries, and tomatoes, depending on the month. Peaches and pears typically start around June / July and wind down in August, while apples kick into gear in August and September. The farm also sells homemade jams and relish. It's worth a stop if you're in the area. Go to mile marker 283 on Hwy 70 and look for the apple flags.
The Hills of Hondo
Another great activity if you are staying in Hondo is to simply unplug and relax, enjoying the views of the surrounding hills. One well-known artist from neighboring town, San Patricio, was so captivated by the people and landscapes of the area that he focused much of his artwork on the Hondo valley. His name was Peter Hurd (1904 – 1984) and you can visit the Hurd La Rinconada Gallery and the Sentinel Ranch Winery and Tasting Room in San Patricio, a six-minute drive from Hondo. The Gallery is located inside the original home of artists Peter Hurd and Henriette Wyeth-Hurd, and their son, Michael Hurd. Michael is an artist in his own right and he also works to preserve Sentinal Ranch and his family's artwork. I write more about the Hurd La Rinconada Gallery and Sentinel Ranch Winery on my post on San Patricio.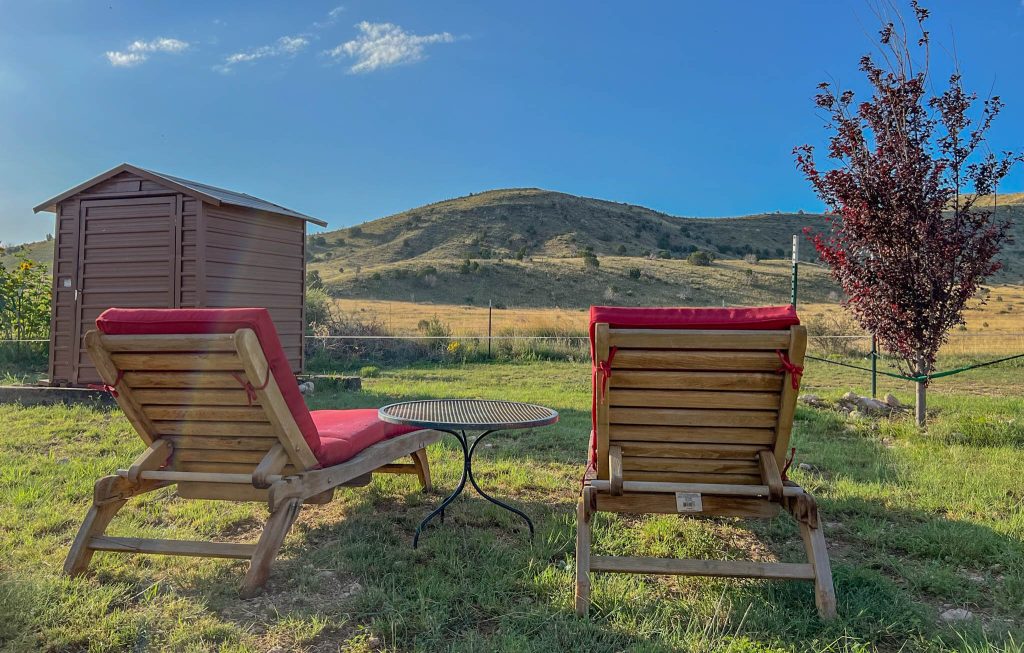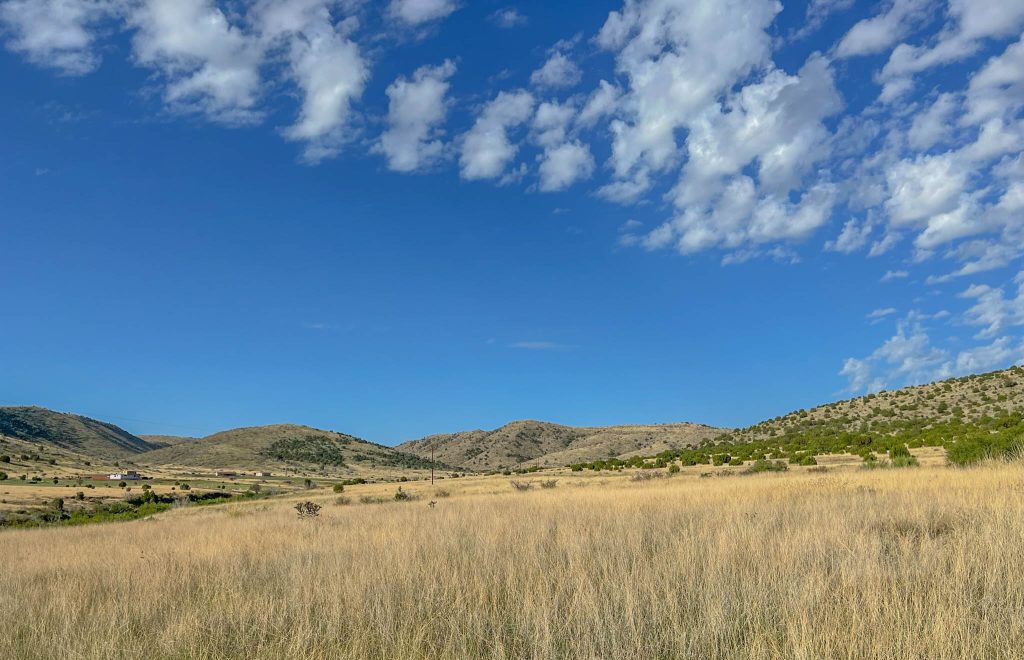 Enjoy your time in Hondo!
Mark (New Mexico Travel Guy)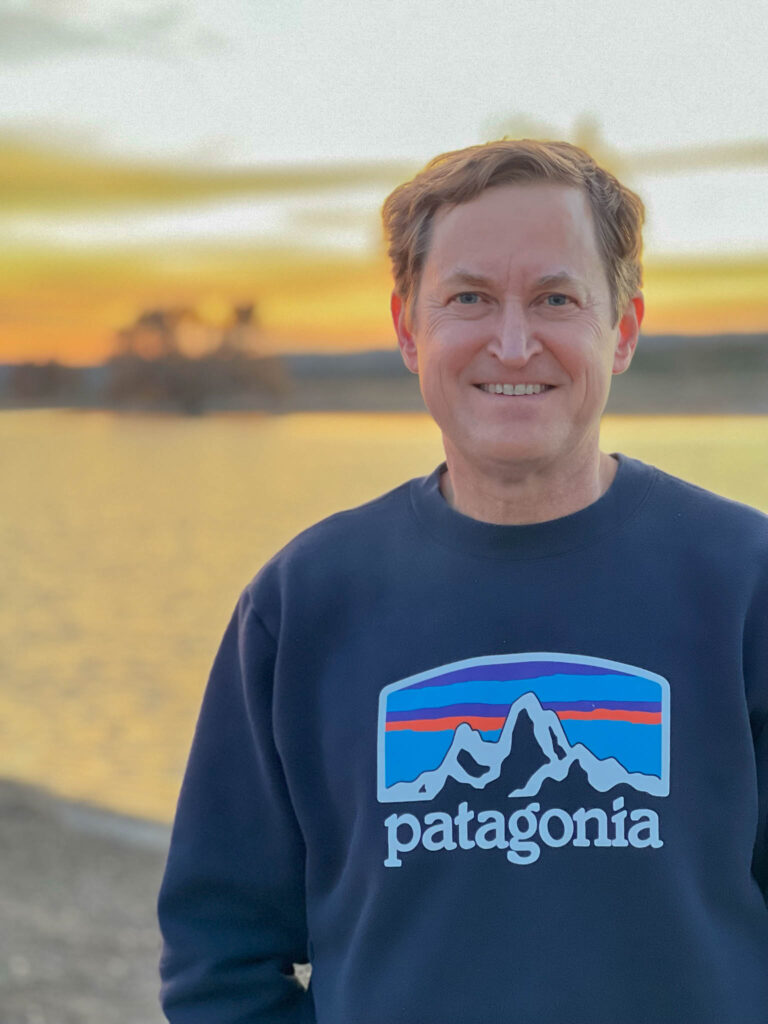 Mark Aspelin, The New Mexico Travel Guy (www.newmexicotravelguy.com), is a travel writer and author of two books who has enjoyed a wide variety of adventures in his travels to over 100 countries and all 50 U.S. States.  His current project involves visiting EVERY town in his home state of New Mexico (there's over 500 towns) and writing a story about each one.  When not traveling, Mark lives as a recluse in the mountains outside of Albuquerque, New Mexico where he's available to write well-researched, accurate, and entertaining articles on assignment for editors. He can be reached at [email protected]