On June 12, 2022, my brother and I had just finished a drive from Charlottetown, Prince Edward Island to Halifax, Nova Scotia (click here to see that post). By the time we arrived at our AirBnb in downtown Halifax, it was already 3pm, and we were catching a flight to St. John's tomorrow morning. So what did we do during our ridiculously short stay in Halifax? Glad you asked! Here are some ideas to consider to give you a tiny flavor of this city of 440,000 people.
First of all, I should say that we had amazing weather. It was sunny and in the high 60s, so that certainly played a role in deciding what to do. Since we had been in the car for a good chunk of the day, our first order of business was to stretch our legs. And what better place to start than a walk up the hill to see the Halifax Citadel National Historic Site.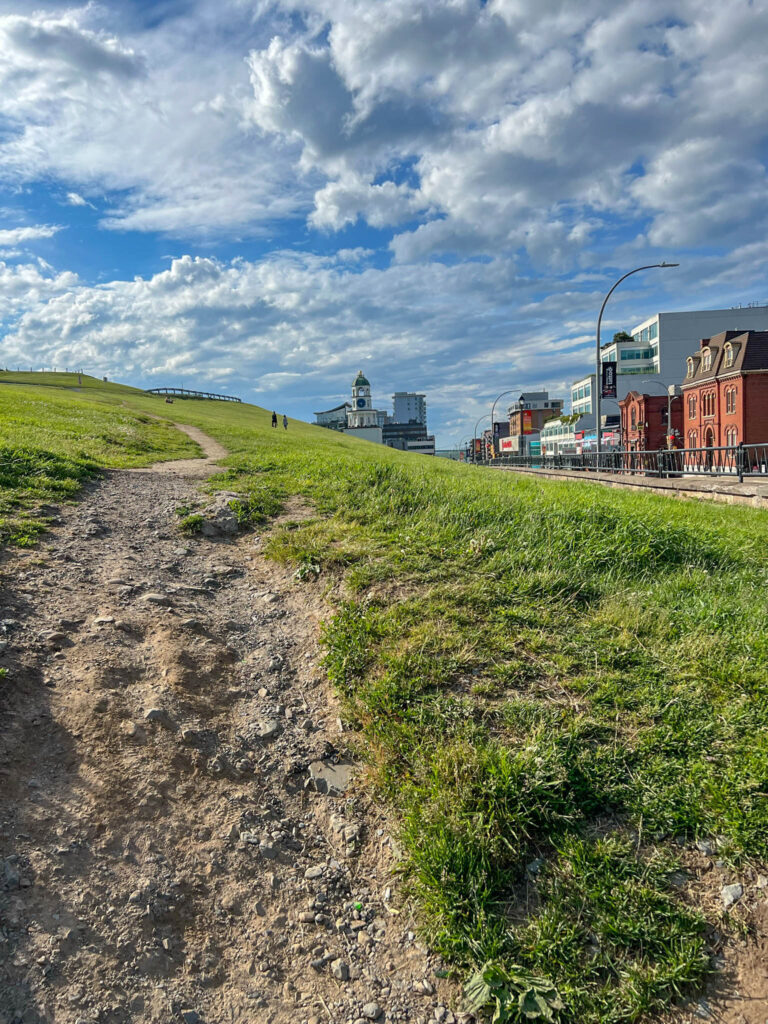 The Citadel, officially called Fort George (after Britain's King George II), is located in some prime real estate, situated on top of a large hill that overlooks the city and harbor below. Which, of course, was the whole reason why the British built it there in the first place. The current, star-shaped citadel was completed in 1856 on top of "Citadel Hill" to protect the city from any ambitions the French may have had to attack the place.
Unfortunately, my brother and I arrived at the Citadel after 5pm … closing time. In other words, we weren't able to tour the place. All we could do was walk around the Citadel. But the great views of the city, combined with the beautiful weather, made it well worth our time.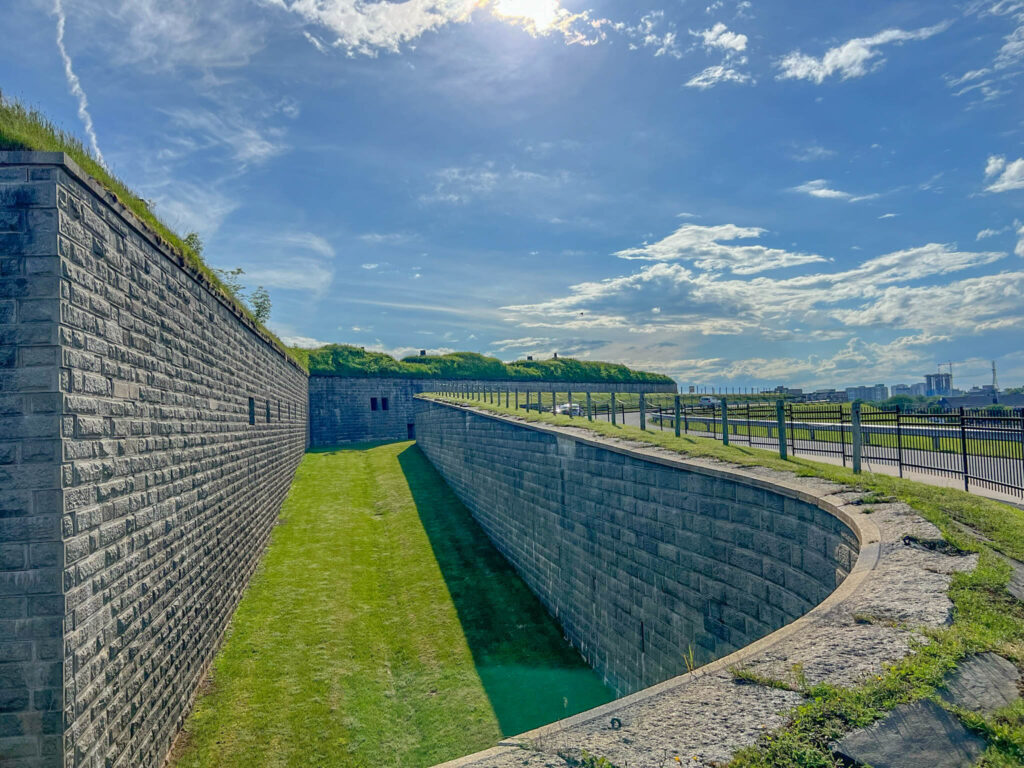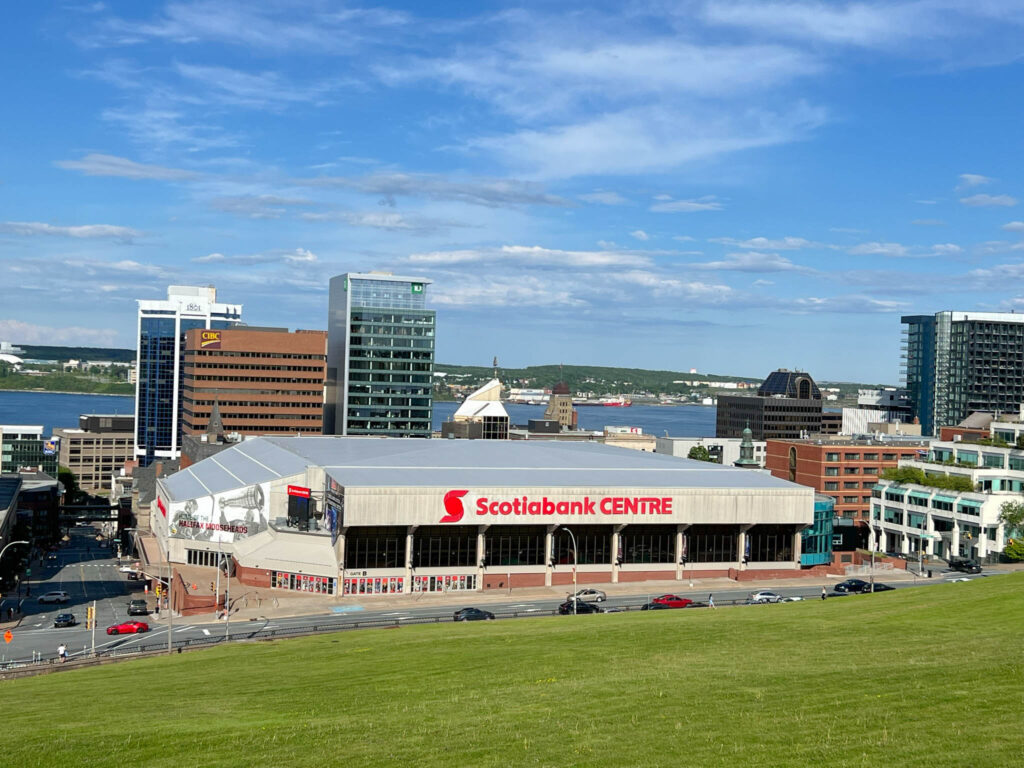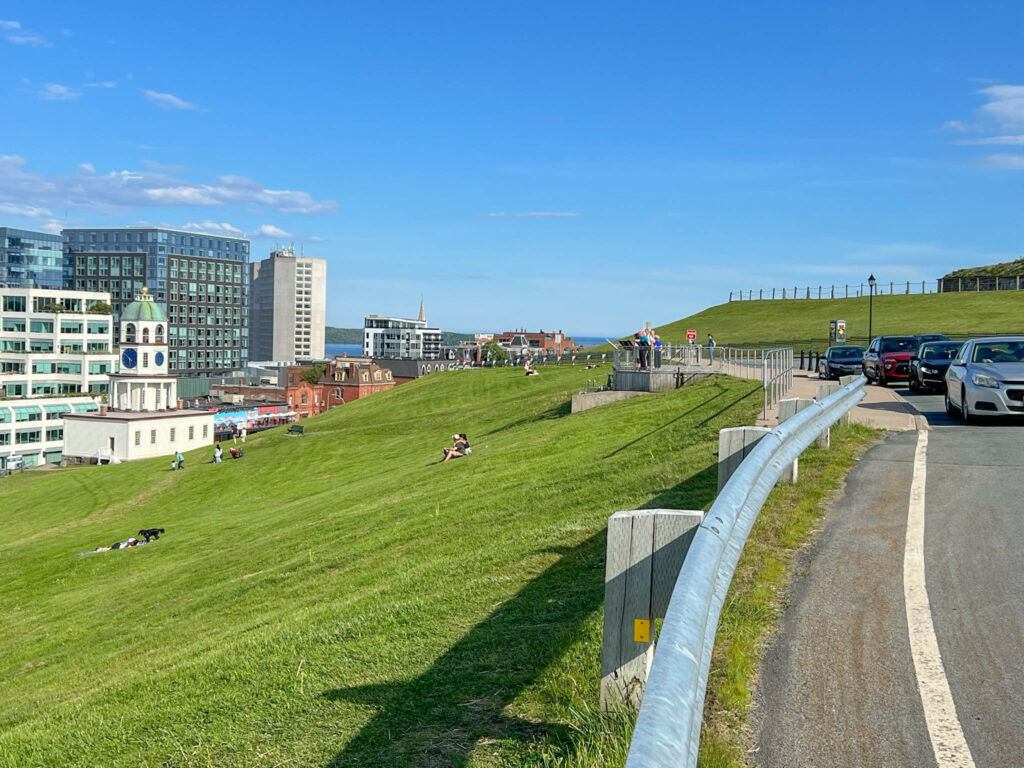 I later learned that there's a sentry change every hour that the Citadel is open. There's also a tradition (since 1857) where a gun is fired daily by the 3rd Brigade Royal Artillery to let the city know that it is noon, so if you hear gunfire around lunchtime, rest easy.
As we made our way down the grass slope and wandered around the city streets, we quickly came across "The Grand Parade". No this wasn't some kind of parade with music and performers. The Grand Parade is the name of a public square that was created in 1749 to serve as a central gathering place for a wide variety of events. At one end of the square is City Hall, and at the other end, St. Paul's Anglican Church. There is also a cenotaph for Haligonians. I didn't know what that meant either until about five minutes ago. A cenotaph is a monument or empty tomb in honor of a person or group of people whose remains are located elsewhere. Haligonian is the word used to describe someone from Halfax. When I first saw the word, I thought it was some kind of misspelling of hooligan. But that's far from the case. Then again, I've never been to a hockey game in Halifax, so perhaps there are Haligonian hooligans.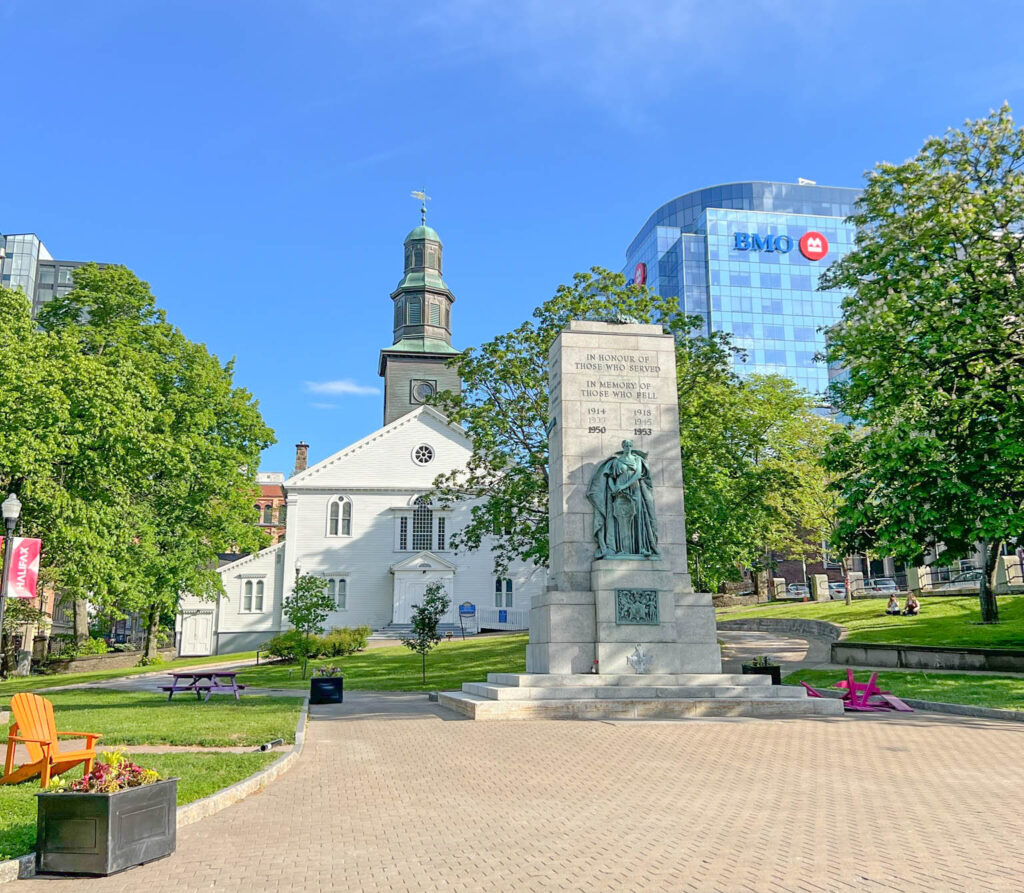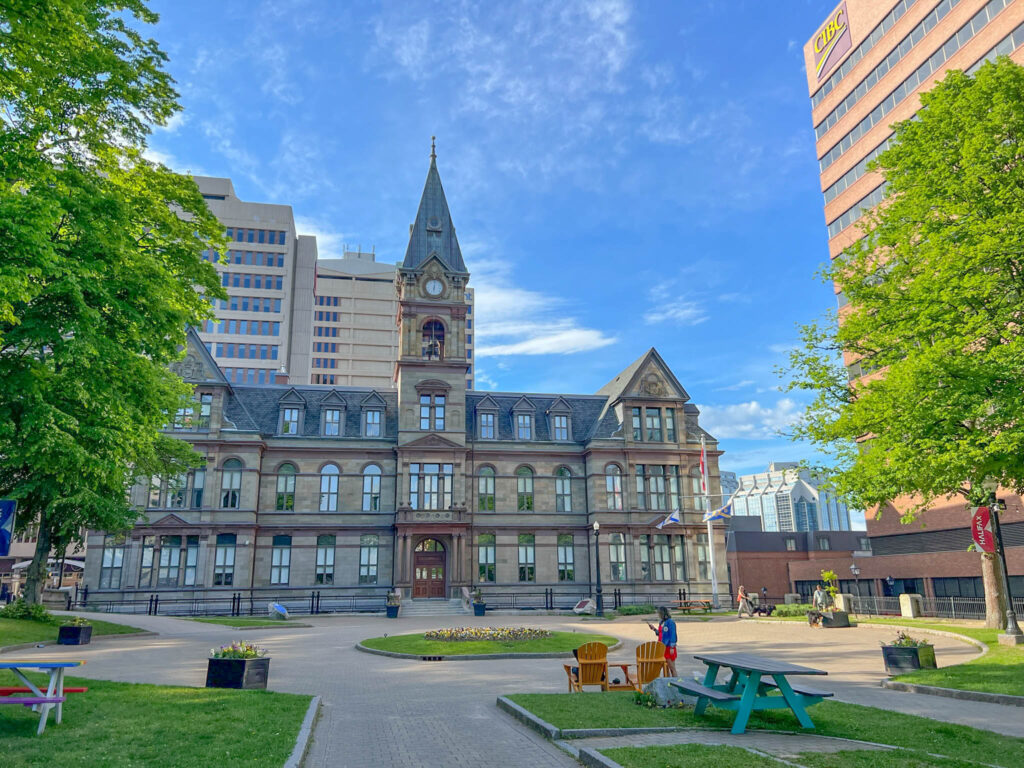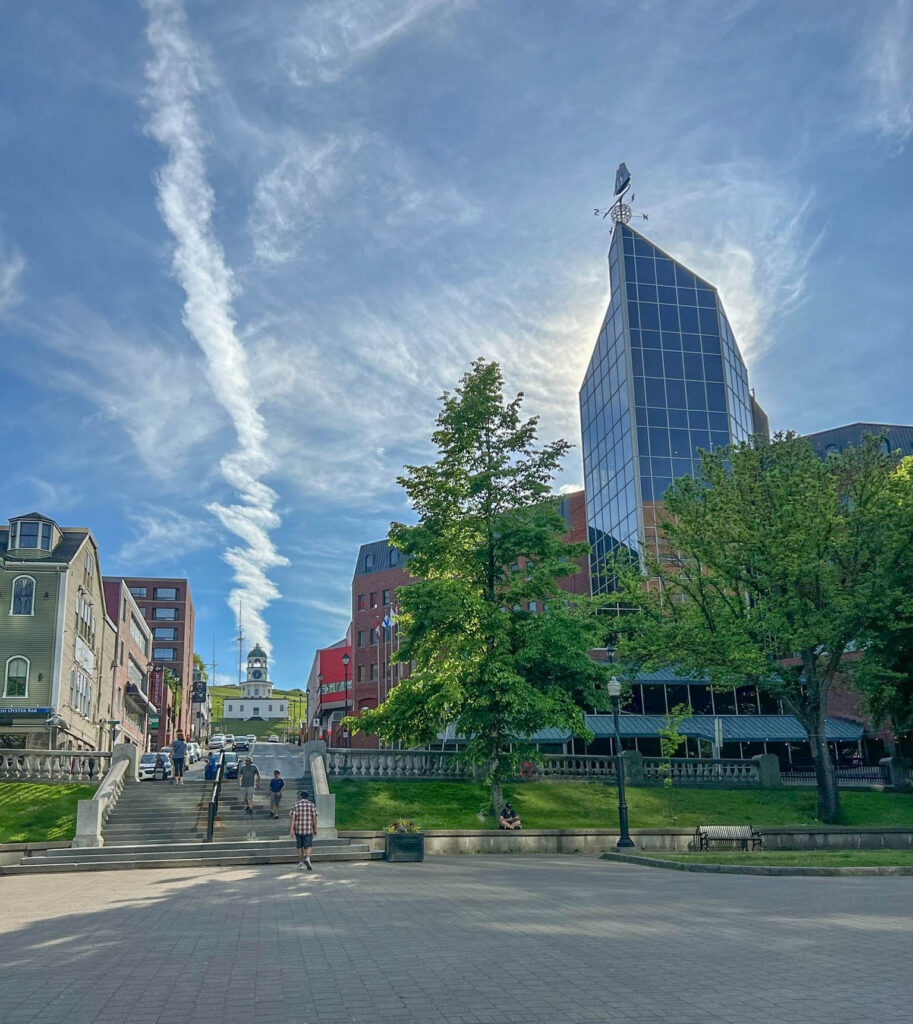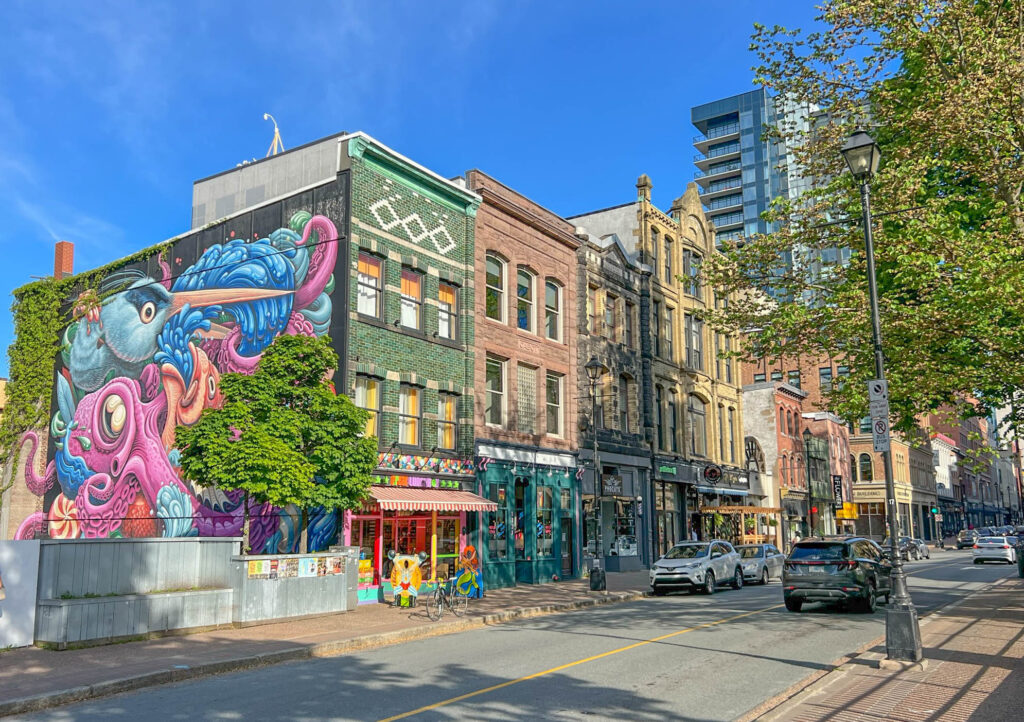 We continue to make our way downhill towards the water and, not surprisingly, we ended up at the pier. We were not alone. Lots of people enjoying the sunshine, particularly at the outdoor beer garden. What did surprise us was the apparent "playground" for kids. Sharp-edged anchors and propellers in one area and a large wave sculpture, standing at just under 12 feet high, that kids were climbing. To be fair, there was a "For your safety, please do not climb on anchors" sign and a "For your protection do not climb" sign in front of The Wave, so these places are not intended to serve as playgrounds. But, true to form, kids were ignoring the signs and having fun.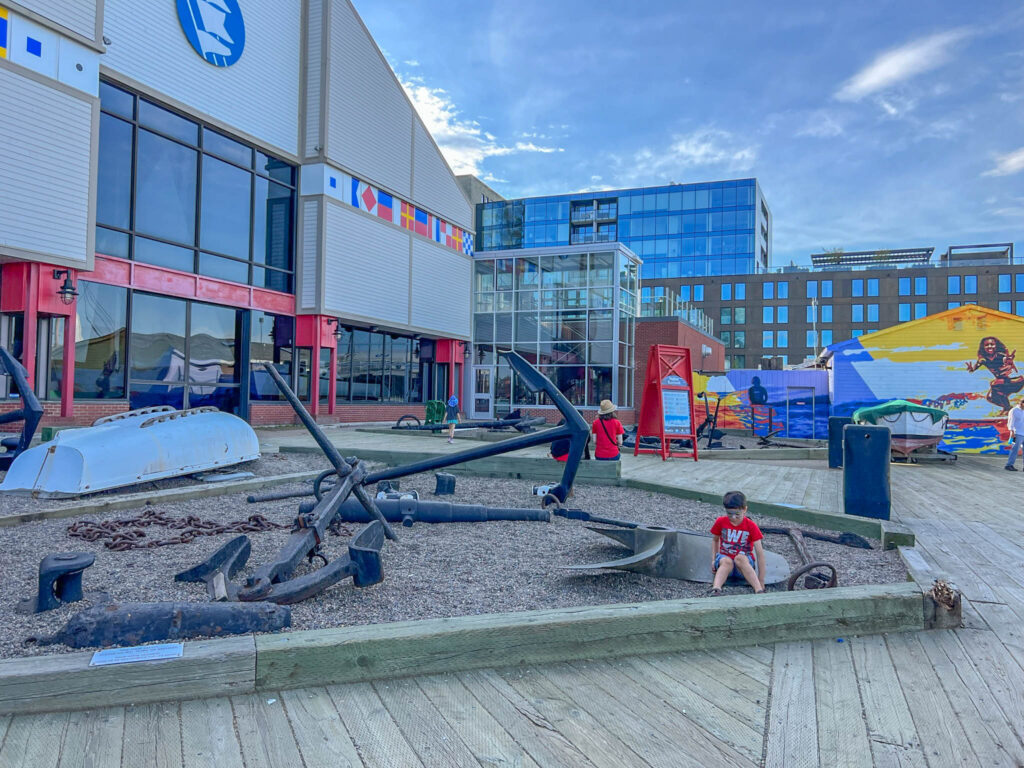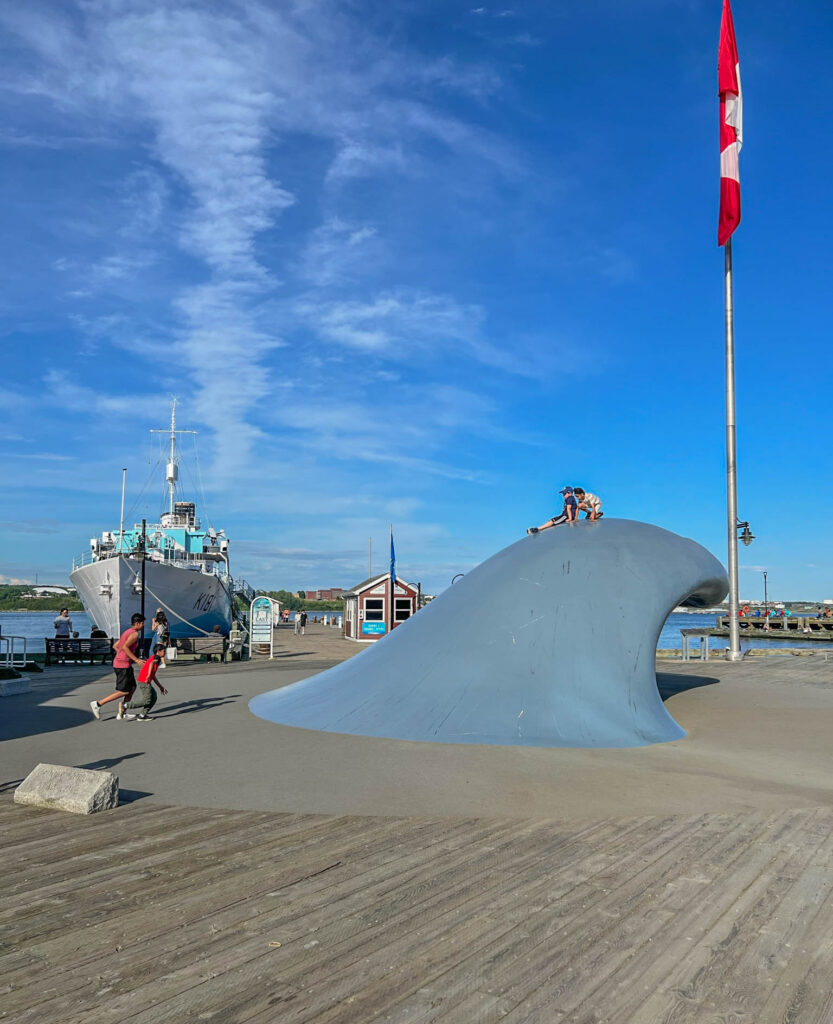 After the trip, I did some research and learned that there have been some incidents with kids on the wave sculpture. I also learned that The Wave was created in 1988 by local artist, Donna Hiebert, who intended for people to interact with the sculpture. For a period of time, it was surrounded by a chain link fence, but that was eventually removed. Gravel was then installed at the base and kids began to fall off the wave into the gravel. As a result, the city replaced the gravel with a softer foam-based material. In a world of helicopter parenting and legal insanity, it was refreshing to see kids and adults interacting with the anchors, propellers, and The Wave, and having fun.
For our first stop at the pier, we decided to grab a drink at the Halifax Beer Garden (BG for short) and watch the world go by. Since there were no non-alcoholic beer options there, I was stuck with water. But hey, the price was right.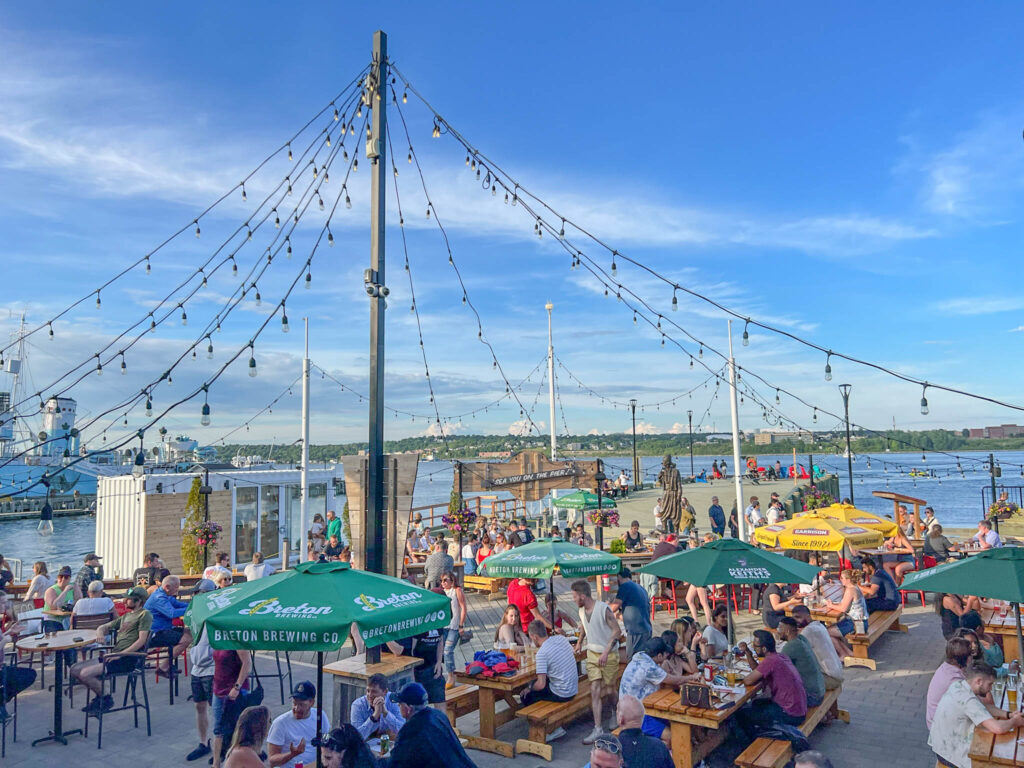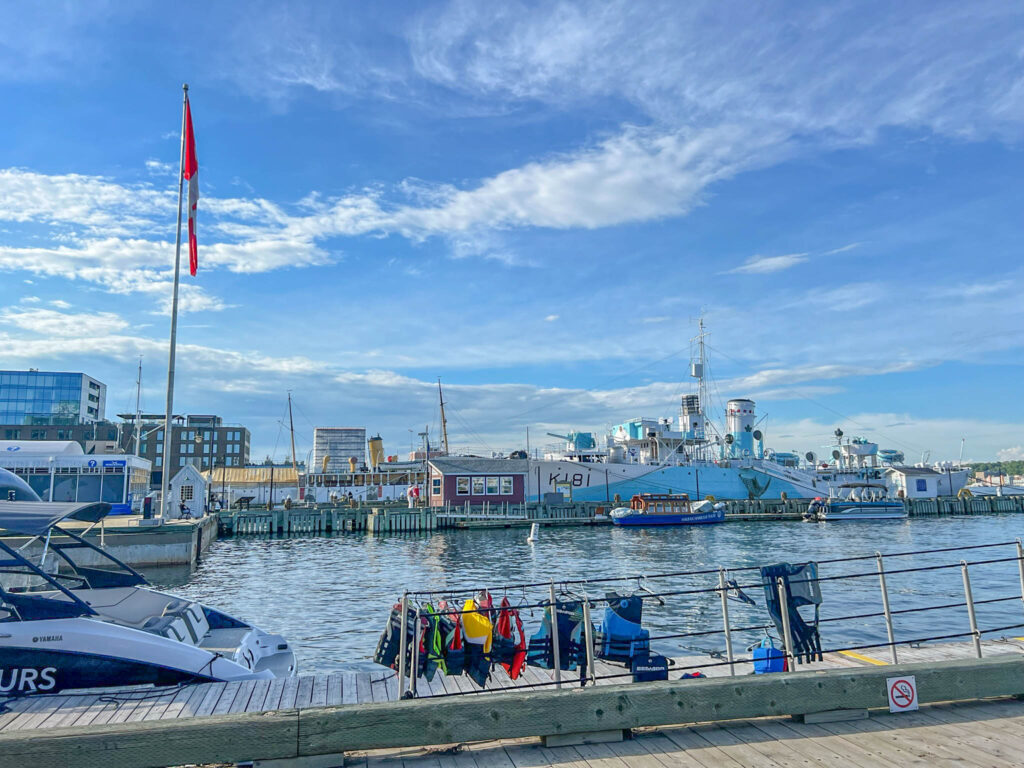 Around 7:15pm, we decided it was time to get some food. We walked around and soon came across McKelvies Restaurant and were fortunate to get an outdoor table that just freed up. My brother and I split calamari (decent but not great), and I had corn bread, a cup of seafood chowder, and a spinach salad. My brother opted for shellfish fettucine. And for dessert, I had warm gingerbread with vanilla ice cream, drizzled with caramel. That dessert proved to be a good choice!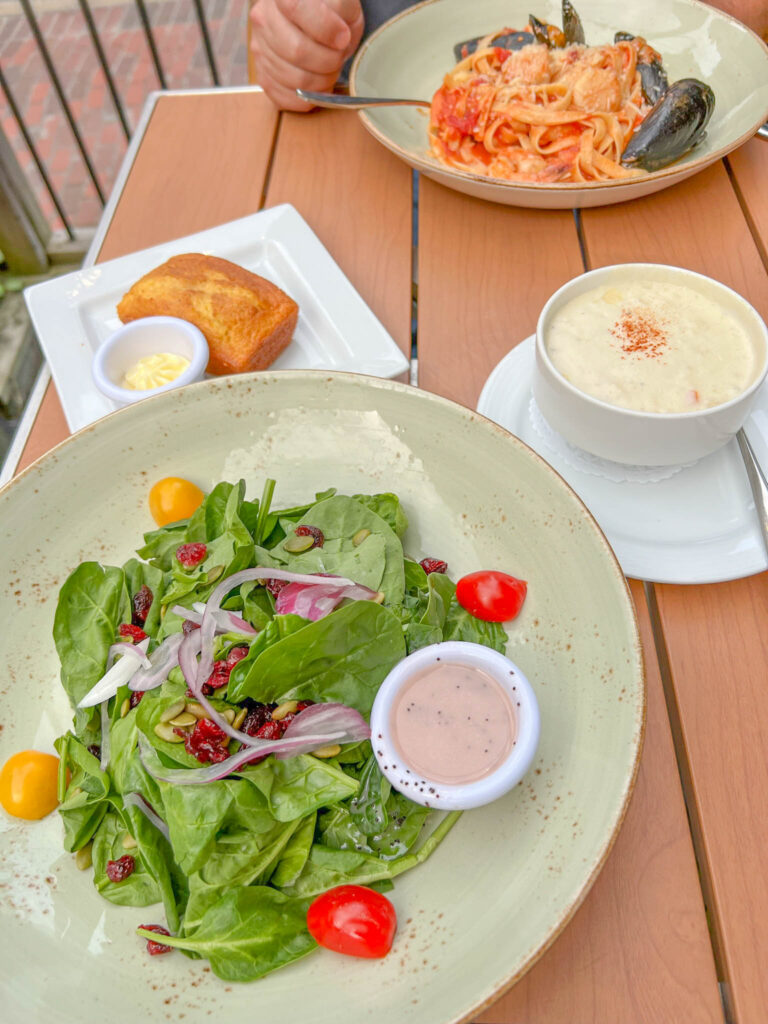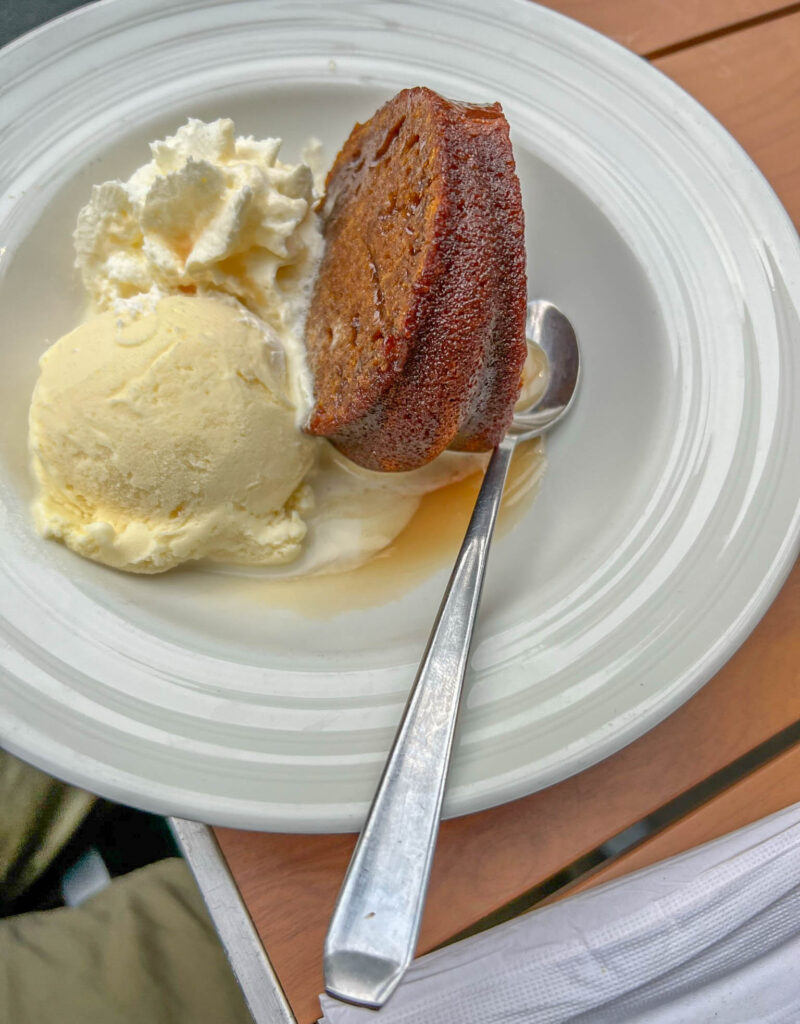 As we started walking back towards our AirBnb, we heard some live music coming from an Irish pub. We were powerless and had to enter. The pub was called The Old Triangle Irish Alehouse, featuring live music 7 nights a week. We grabbed an open table and I ordered a nonalcoholic beer that I had never heard of before – Erdinger wheat beer (from Germany). It was nice to finally have a non-alcoholic beer with some substance to it. Tristan Lee was the performer on stage and he played a wide variety of songs, using a rhythm backtrack as he played lead guitar. The crowd particularly liked it when he played "local songs" at their urging.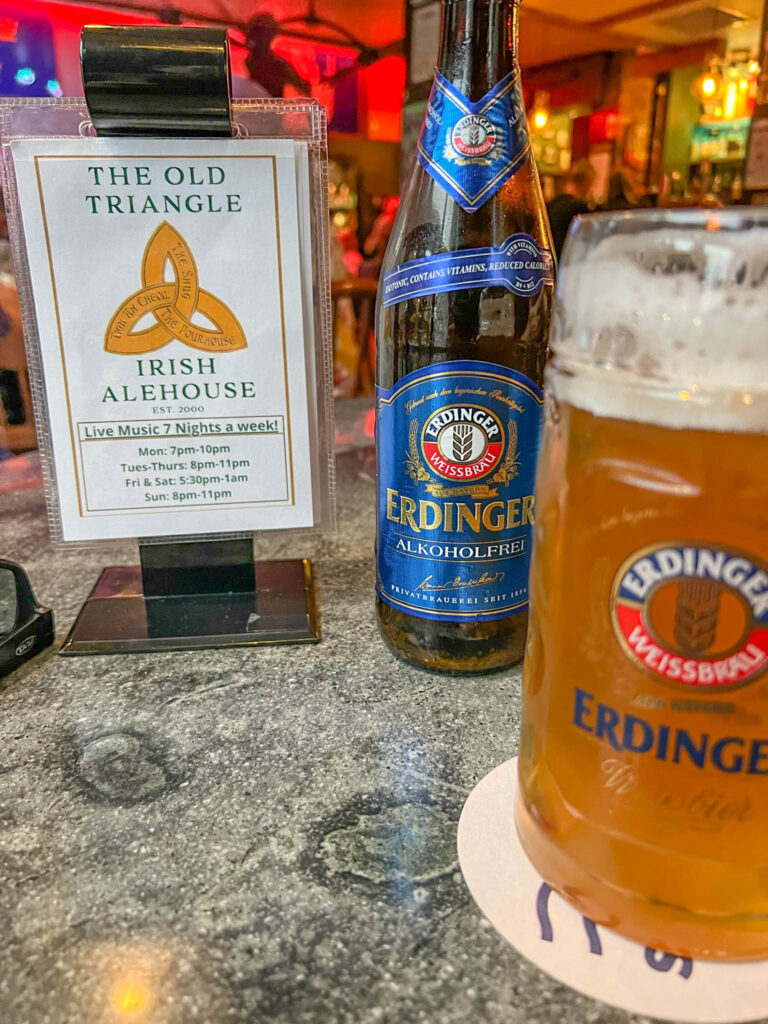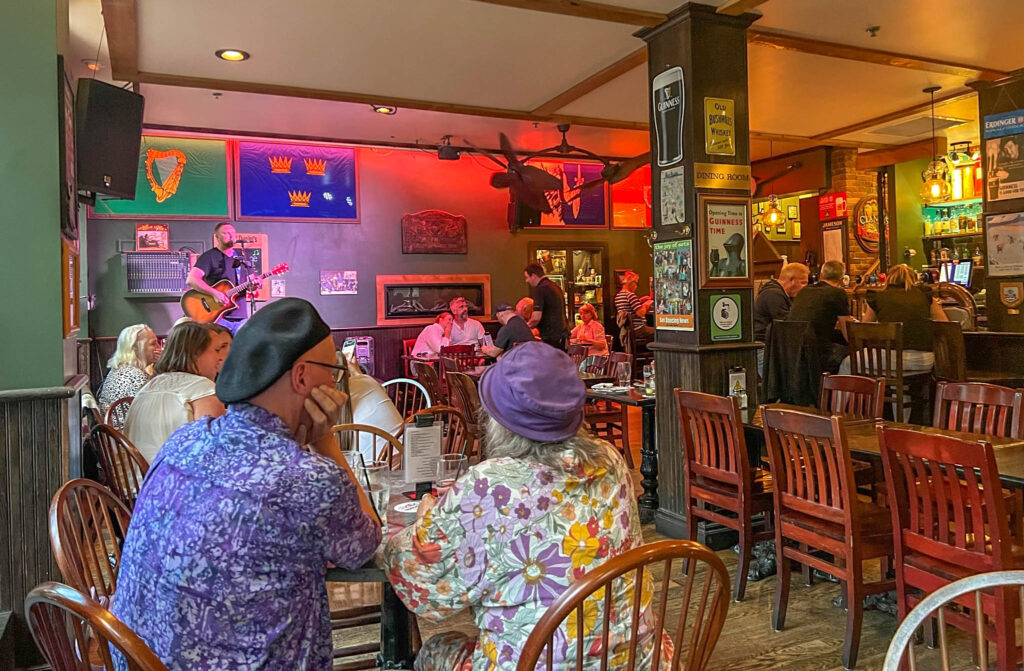 By now, it was around 10pm, so we made our way up the hill to our AirBnb and called it a night. The end of a fun afternoon and evening in Halifax, Nova Scotia.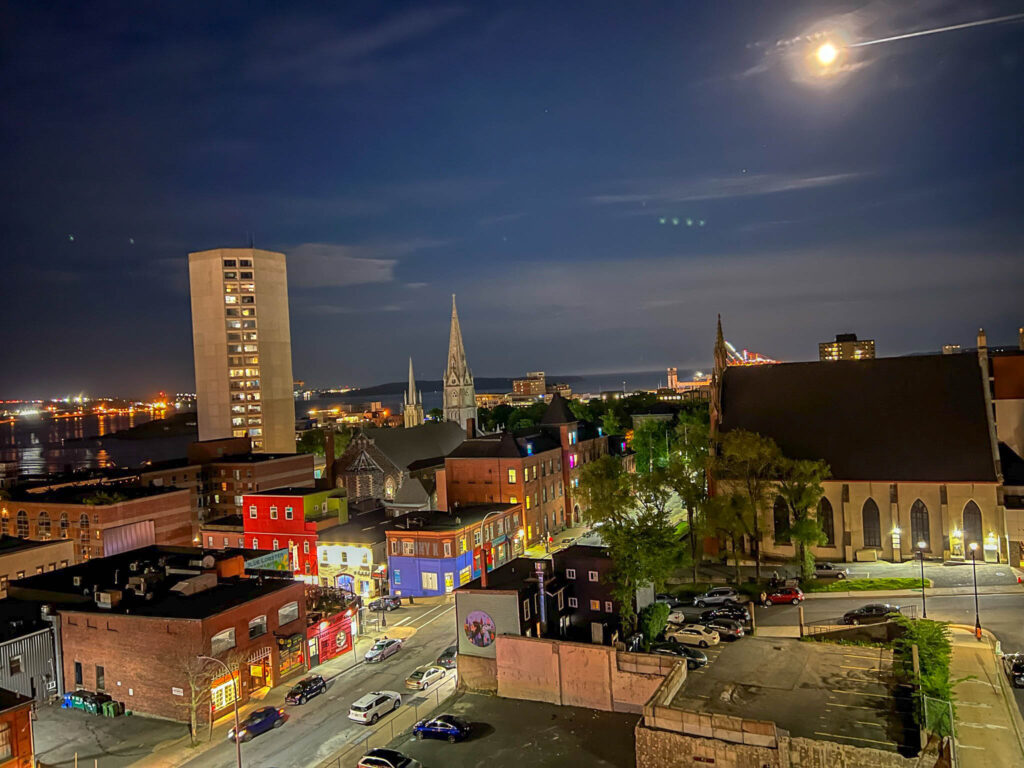 Tomorrow we'll have to be up early to catch a flight to St. John's Newfoundland.

Thanks for reading!
Mark
Mark Aspelin, The New Mexico Travel Guy, is a travel writer and author of two books who has enjoyed a wide variety of adventures in his travels to over 100 countries and all 50 U.S. States. Mark lives in the mountains outside of Albuquerque, New Mexico, which serves as a great home base for his New Mexico Travel Guy blog (www.newmexicotravelguy.com)